With Seattle Dance Collective, Two Pacific Northwest Ballet Stars Try Directing on for Size
James Yoichi Moore and Noelani Pantastico warm up onstage. Angela Sterling, Courtesy SDC.
On a sunny July weekend, hundreds of Seattle-area dance fans converged on tiny Vashon Island, a bucolic enclave in Puget Sound about 20 miles from the city. They made the ferry trek to attend the debut performance of the fledgling Seattle Dance Collective.
SDC is not a run-of-the-mill contemporary dance company; it's the brainchild of two of Pacific Northwest Ballet's most respected principal dancers: James Yoichi Moore and Noelani Pantastico. The duo wanted to create a nimble organization to feature dancers and choreographers they felt needed more exposure in the Pacific Northwest.
---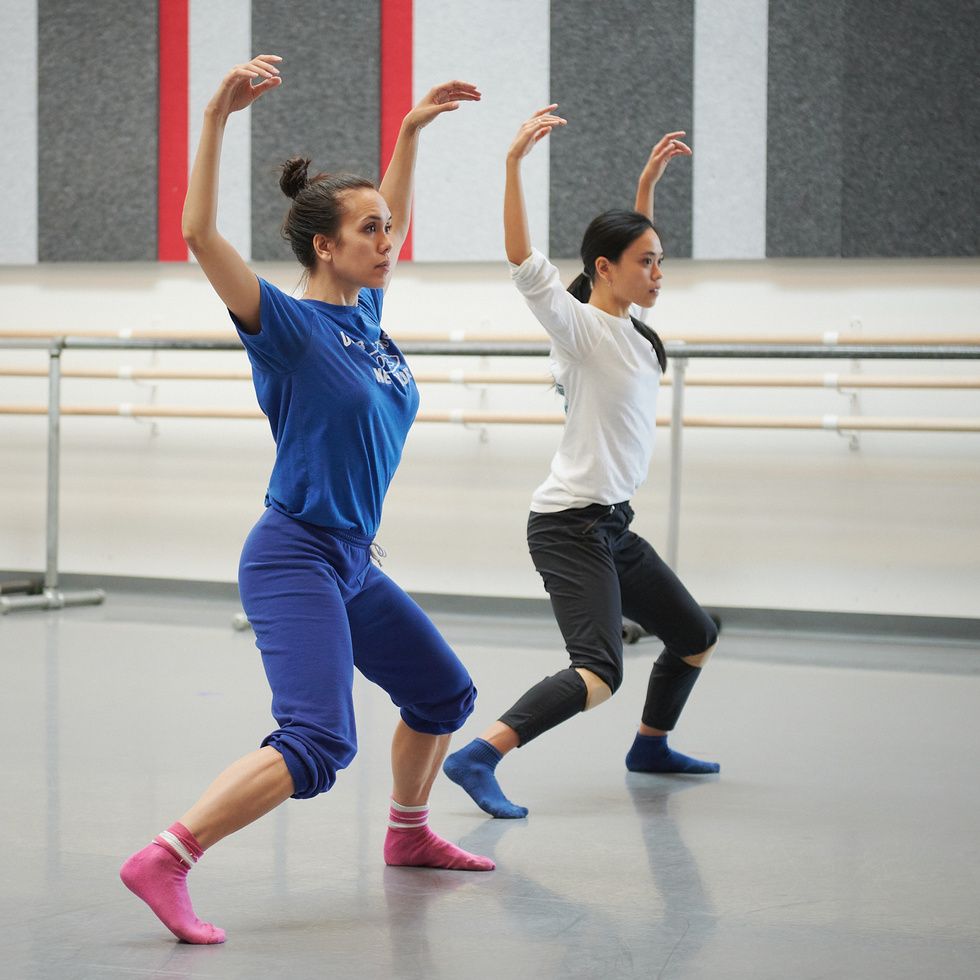 Pantastico and Angelica Generosa in rehearsal for Bruno Roque's Frugivory
Brett Doss Photogray, Courtesy SDC.
Moore says PNB's artistic director Peter Boal first broached the idea to him about three years ago.
"I was shocked. I never saw myself as a director," Moore said recently. "It took me years to get used to that idea of me in a leadership position."
Unbeknownst to Moore, a PNB board member had proposed to Pantastico that she consider forming her own dance company. The frequent dance partners and longtime friends discovered each other's plans after a number of conversations in the back of the studio.
"We stand next to each other at barre," Moore explained. "We always talk, and that's where this company grew from. We realized we had similar ideas and one day we decided to look into it more."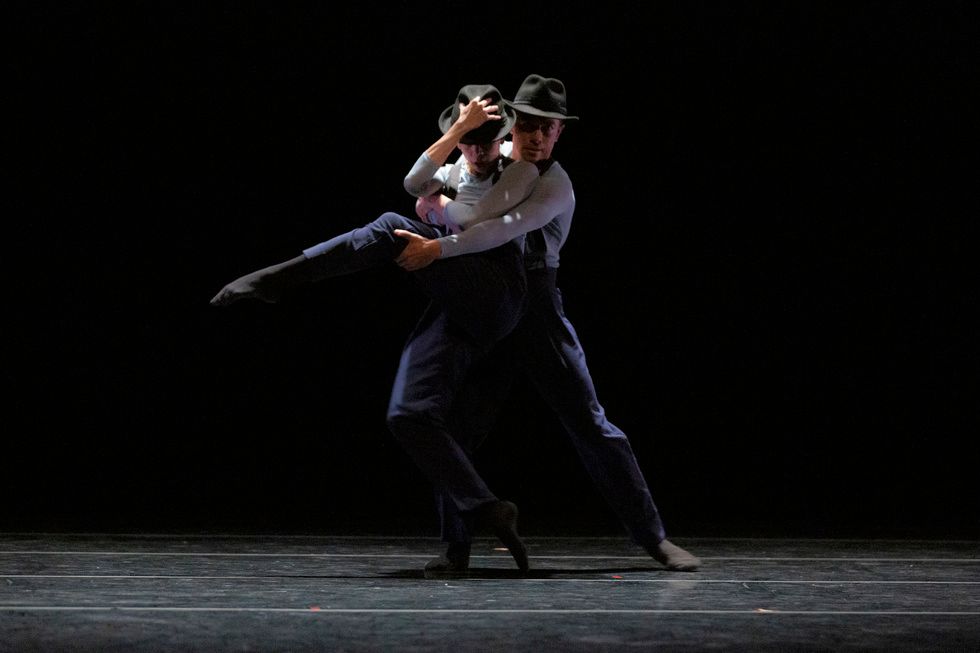 Liane Aung and Jim Kent in Penny Saunders' Sur La Fil
Angela Sterling, Courtesy SDC
The duo envisioned SDC as a small side project; they invited six fellow PNB company members and two well-known Seattle contemporary dancers (Whim W'Him's Liang Aung and Jim Kent) to join them for the inaugural program, comprised of seven works by such choreographers as David Dawson, Marco Goecke, Penny Saunders and Pantastico's husband, Bruno Roque. They intentionally sought out choreographers whose work they admired; only Dawson and Goecke had previously been presented by PNB.
"I think we're in a more contemporary mindset at this point in our careers," said Pantastico. But she and Moore don't want SDC to be pigeonholed as a contemporary ballet company. "Because we have access to phenomenal classical dancers," Moore said. "We have ideas to do a full classical evening."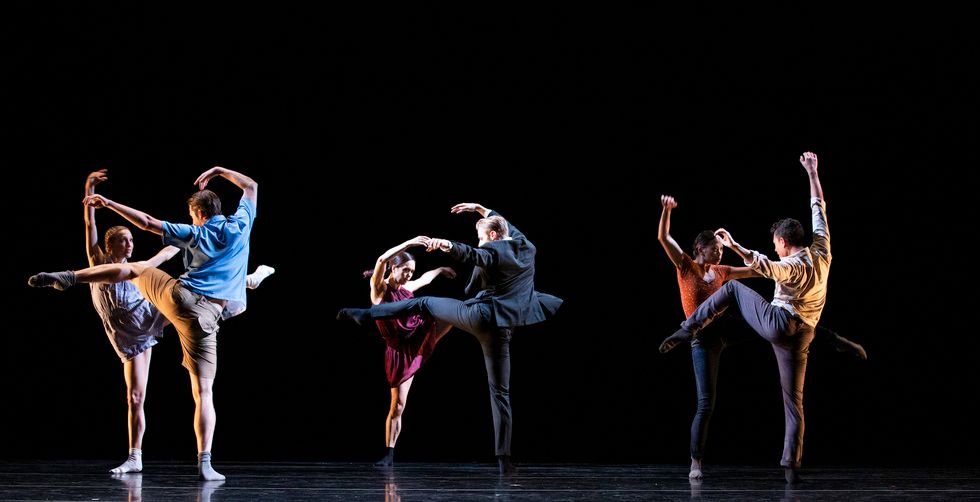 Members of Seattle Dance Collective in Bruno Roque's Frugivory
Angela Sterling, Courtesy SDC
Since Moore and Pantastico officially formed SDC only last October, they had to rush to nail down the details for their initial program: choosing the repertoire, finding a venue, writing up contracts and the like. "We'd never obtained music rights, or done costuming. We never put together a rehearsal schedule," Moore admitted. "We wanted to give ourselves an education, and the best way is by doing."
They had encouragement from friends in high places: Boal offered artistic guidance, while PNB audience education manager Doug Fullington (now SDC's company manager) and former PNB board president Aya Hamilton, who now presides over the SDC board, provided organizational and financial guidance, as well as the initial introduction to leadership at Vashon Center for the Arts.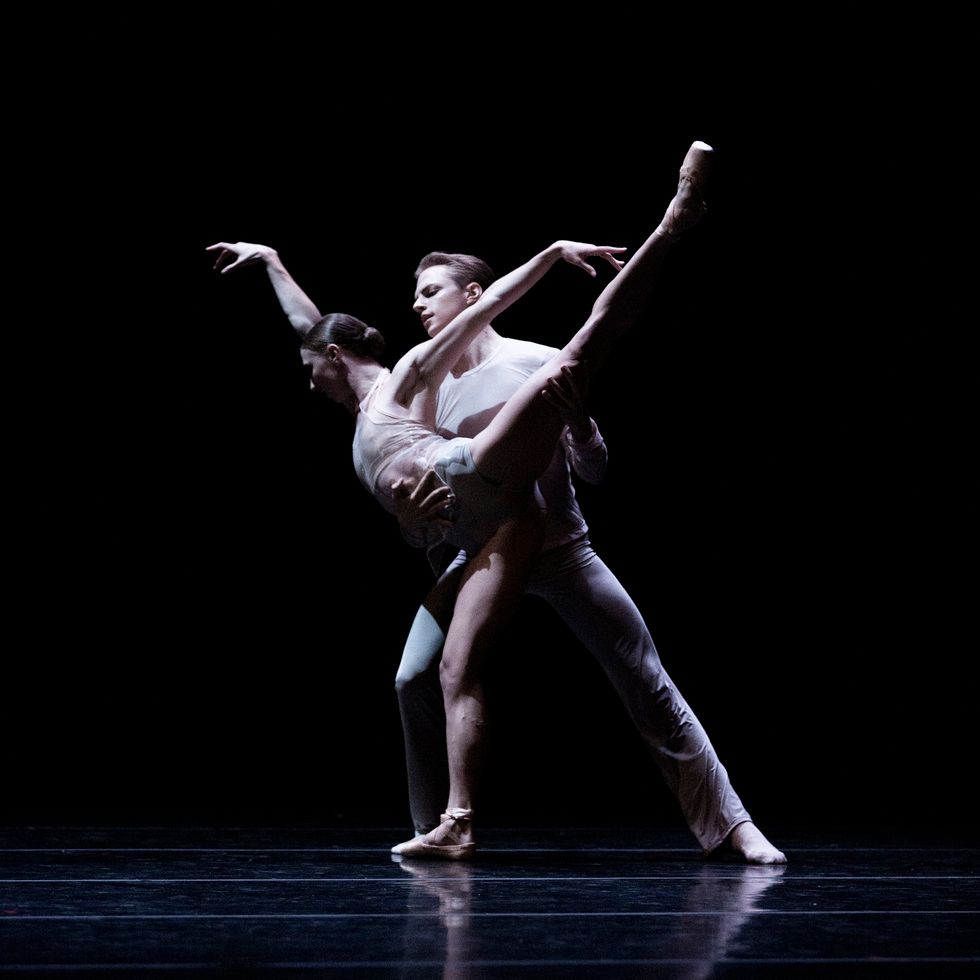 Elle Macy and Dylan Wald in David Dawson's The Grey Area
Angela Sterling, Courtesy SDC
As soon as PNB's artistic season ended in mid-June, Moore and Pantastico dove full-time into rehearsals with their new company. Saunders spent several weeks in residence with SDC, and Roque was an almost full-time presence. Moore and Pantastico cast themselves in several of the dances, but when they weren't rehearsing, they donned their managerial hats, answering calls and emails and putting out pre-production fires. The week before the performance, the entire company relocated to Vashon Island for final rehearsals and to offer master classes, lodging with locals who opened their homes. The influx of artists fostered a mini-festival vibe on the island of 10,000 residents.
That sense of excitement carried over to the performances themselves, a treat for area ballet fans. PNB normally performs in the 3,000 seat McCaw Hall. By contrast, the Vashon Island theater seats 300, providing a more intimate experience for both the audience and the dancers. Pantastico hasn't ruled out a return Vashon Island engagement, but both she and Moore envision building a company that will perform locally in Seattle while also touring nationally and internationally.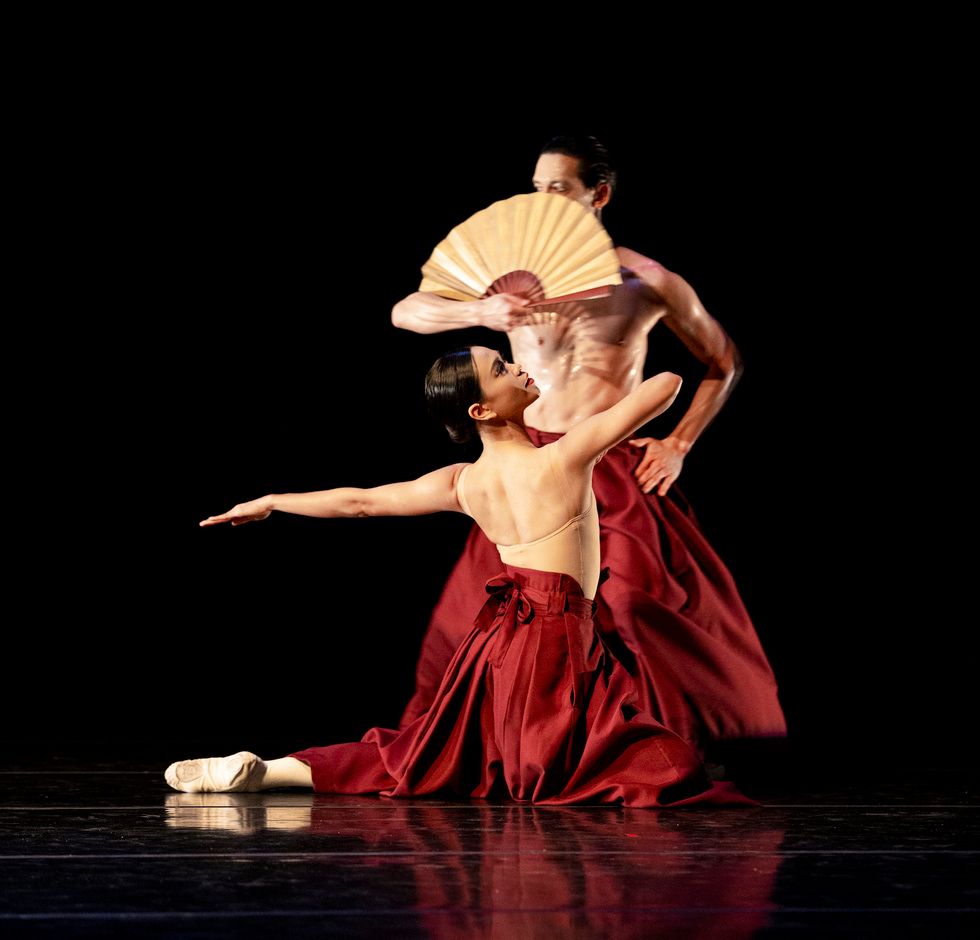 Generosa and Moore in Ivonice Satie's Shogun
Angela Sterling, Courtesy SDC
One of the biggest challenges will be scheduling. PNB dancers have a 41-week contract, with a series of short layoffs during the season plus a more significant summer break, unless the company goes on tour. Pantastico acknowledged the difficulty of squeezing in rehearsal time for other projects. Nevertheless, she and Moore are keenly aware that any aspiring performing arts organization needs consistent visibility to stay on the audience radar. That could mean producing a small pop-up performance over the winter, as well as planning for another significant production next summer.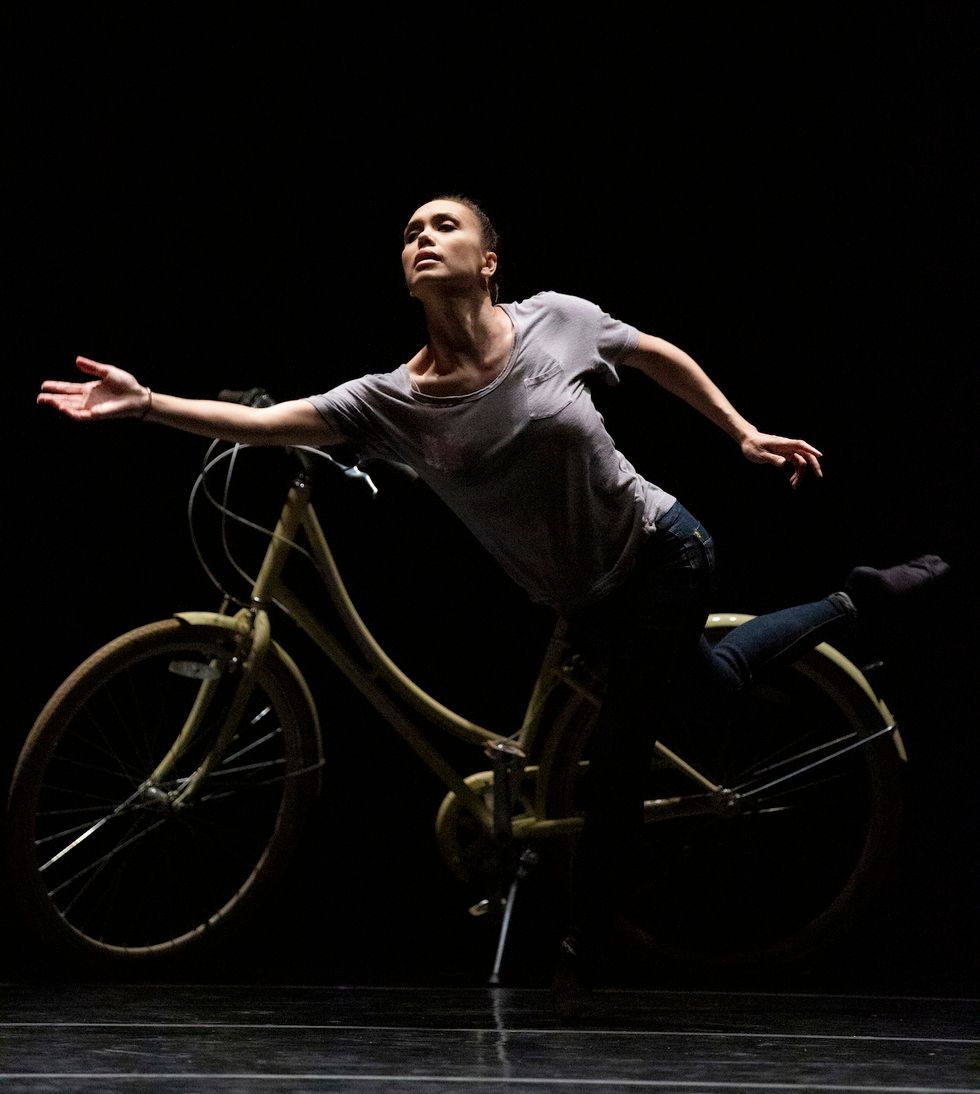 Pantastico in in Bruno Roque's Anamnesis
In the meantime, Moore and Pantastico (and most of their company members) continue to dance full-time with PNB. Although they have no imminent plans to retire, both are in their late 30s, and Seattle Dance Collective provides them a clear transition path from ballet to their next steps in the dance world.
"Noe and I realize there's only so much time left in our careers," said Moore. "We have so many ballets we want to perform still, and choreographers we want to work with. Why not create it for ourselves?"
Courtesy Boneau/Bryan-Brown
If "Fosse/Verdon" whet your appetite for the impeccable Gwen Verdon, then Merely Marvelous: The Dancing Genius of Gwen Verdon is the three-course meal you've been craving. The new documentary—available now on Amazon for rental or purchase—dives into the life of the Tony-winning performer and silver-screen star lauded for her charismatic dancing.

Though she's perhaps most well-known today as Bob Fosse's wife and muse, that's not even half of her story. For starters, she'd already won four Tonys before they wed, making her far more famous in the public eye than he was at that point in his career. That's just one of many surprising details we learned during last night's U.S. premiere of Merely Marvelous. Believe us: You're gonna love her even more once you get to know her. Here are eight lesser-known tidbits to get you started.
Keep reading...
Show less
Lindsay Thomas
Every dancer knows that how you fuel your body affects how you feel in the studio. Of course, while breakfast is no more magical than any other meal (despite the enduring myth that it's the most important one of the day), showing up to class hangry is a recipe for unproductive studio time.
So what do your favorite dancers eat in the morning to set themselves up for a busy rehearsal or performance day?
Keep reading...
Show less
News
Sep. 20, 2019 09:17AM EST
Simon Soong, Courtesy DDT
When it comes to dance in the U.S., companies in the South often find themselves overlooked—sometimes even by the presenters in their own backyard. That's where South Arts comes in. This year, the regional nonprofit launched Momentum, an initiative that will provide professional development, mentorship, touring grants and residencies to five Southern dance companies.
Keep reading...
Show less
News
Sep. 19, 2019 12:46PM EST
Alice Pennefather, Courtesy ROH
You ever just wish that Kenneth MacMillan's iconic production of Romeo and Juliet could have a beautiful love child with the 1968 film starring Olivia Hussey? (No, not Baz Luhrmann's version. We are purists here.)
Wish granted: Today, the trailer for a new film called Romeo and Juliet: Beyond Words was released, featuring MacMillan's choreography and with what looks like all the cinematic glamour we could ever dream of:
Keep reading...
Show less