Secrets of Longevity: 6 Tips From 20-Year Veteran Ballerina Xiao Nan Yu
Xiao Nan Yu in rehearsal for A Month In The Country. Photo by Bruce Zinger, courtesy National Ballet of Canada
What does it take to sustain a 20-year ballet career? The luminous principal dancer Xiao Nan Yu, who just marked two decades with National Ballet of Canada, shares how she's kept her body strong for long-term success:
---
Find Balance in Your Body
Naturally flexible, Yu spends most of her cross-training time counter-acting her body's elasticity. "Having a flexible body is a treat, but it can sometimes be a curse," she says. To control her limbs, she strengthens her core with lots of planks, especially during her daily pre-class warm-up (which can take up to an hour). She also books private Pilates sessions with NBoC's instructor whenever her schedule allows, and does yoga videos or a half-hour of floor barre at home on the weekends.
Don't Skip Morning Class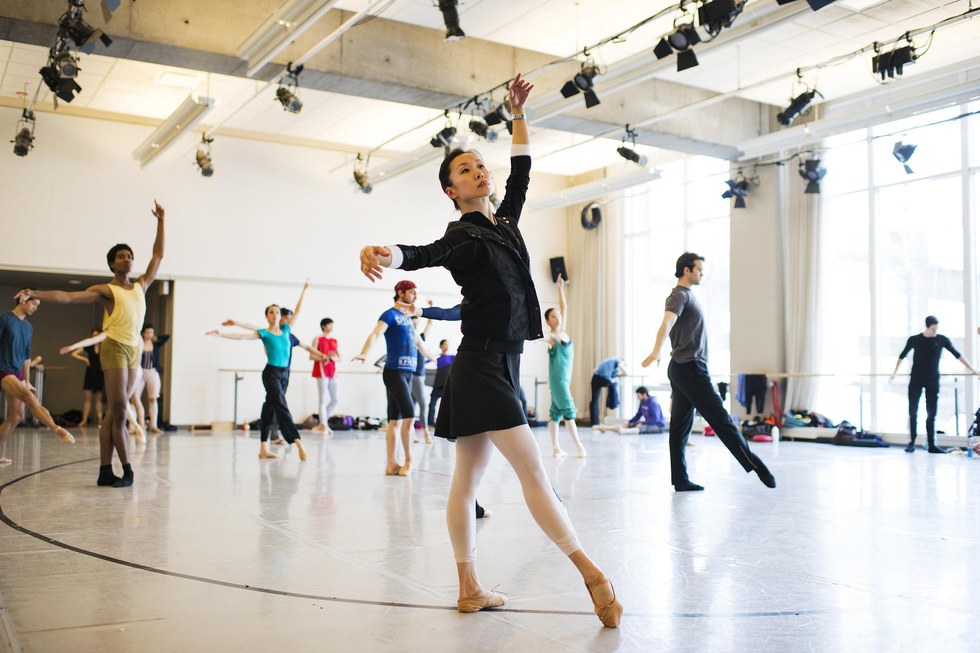 Aaron Vincent Elkaim, Courtesy NBoC
"Ballet class is like brushing my teeth," says Yu. "I have to start every day with it or else my body does not feel right."
Go To Bed Early

Quinn B. Wharton
Now that she's a mom (her daughters are ages 5 and 12), Yu wakes up around 6:30 or 7:30 am. She's forced to go to bed earlier, which she feels actually benefits her body: Studies have shown it increases sleep quality and could be connected to improved heart health.
Strengthen Your Weaknesses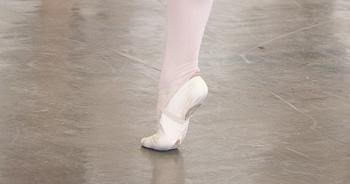 Due to an extra bone in her left foot, that ankle often rolls in. To build strength to counteract that habit, Yu practices this exercise in soft ballet slippers:
1. Holding the barre with both hands, she rises to demi-pointe with both feet in parallel.
2. From there, she rises onto full pointe using just the strength of her foot muscles, then slowly rolls down.
She repeats this with both feet, and then on single legs, first turned in and then turned out. She'll add an extra set or two on her left side.
Just Keep Drinking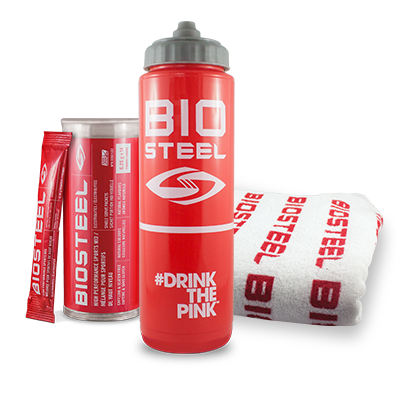 Yu drinks at least three bottles of water and sports drinks every day. Her favorite brand is BioSteel, which is filled with electrolytes but is low in calories and has no sugar. "It has a bubble gum flavor! Even my kids like it."
Don't Waste Energy Stressing Out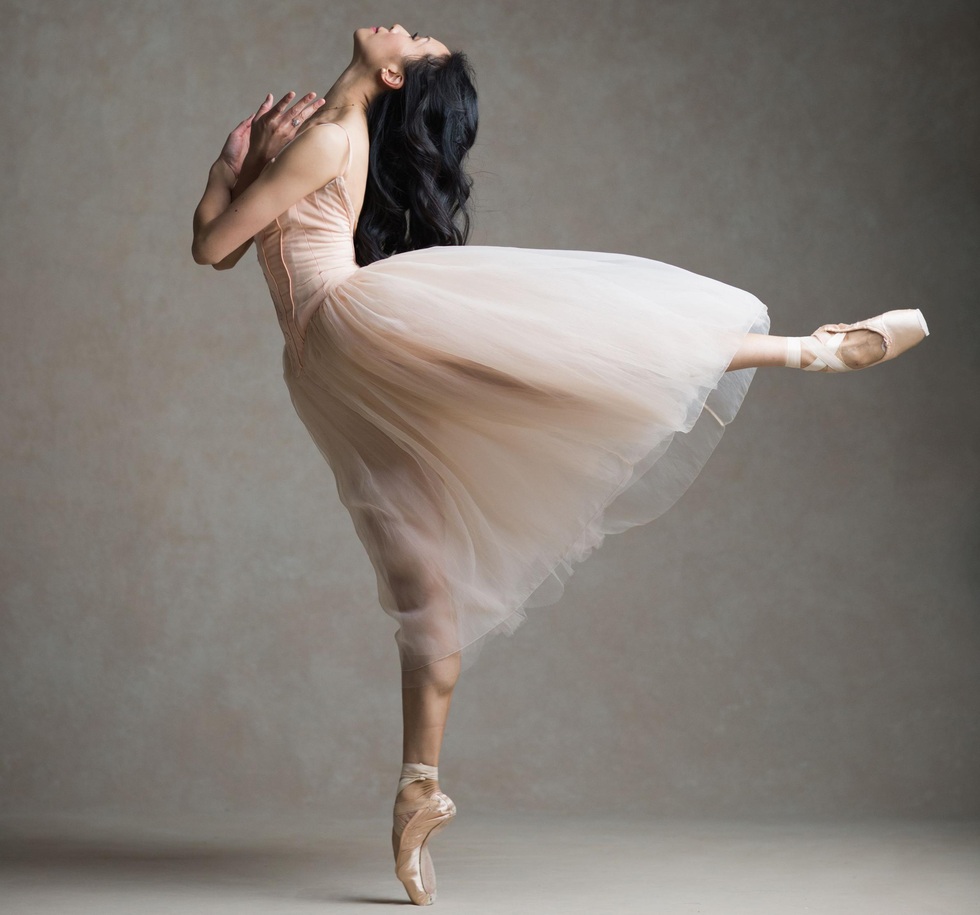 Karolina Kuras, courtesy NBoC
Yu found her body grew even looser after going through pregnancy. But having children also made her mind tougher. "My muscles don't fight me as much," she says. "After having children, I don't think, 'Oh, holding my leg up is so difficult.' It's just something I have to do, so I do it. Maybe I just don't have much time to agonize over it anymore. My daughters have made me realize how precious my time is when I come to work."
PC Kevin Berne, courtesy Boneau/Bryan-Brown
Choreographer Sergio Trujillo asked the women auditioning for ensemble roles in his newest musical to arrive in guys' clothing—"men's suits, or blazers and ties," he says. He wasn't being kinky or whimsical. The entire ensemble of Summer: The Donna Summer Musical is female, playing men and women interchangeably as they unfold the history of the chart-busting, Grammy-winning, indisputable Queen of Disco.
courtesy www.today.com
Keep reading...
Show less
Dance in Pop Culture
Apr. 20, 2018 12:37PM EST
Ballet Zaida; Courtesy Agnes Muljadi
Have a scroll through Agnes Muljadi's Instagram feed (@artsyagnes), and you'll notice that in between her ballet shots is a curated mix of lifestyle pics. So what exactly sets her apart from the other influencers you follow? Muljadi has made a conscious effort to only feature natural beauty products, sustainable fashion and vegan foods. With over 500k followers, her social strategy (and commitment to making ethical choices) is clearly a hit. Ahead, learn why Muljadi switched to a vegan lifestyle, and the surprising way it's helped her dance career.
Keep reading...
Show less
StockSnap
When I wrote about my struggle with depression, and eventual departure from dance because of it, I expected criticism. I was prepared to be challenged. But much to my relief, and horror, dancers from all over the world responded with support and stories of solidarity. The most critical response I saw was this one:
"Dance isn't for everyone."
This may as well be a mantra in the dance world. We have become entrenched in the Darwinian notion that the emotionally weak will be weeded out. There is no room for them anyway.
Keep reading...
Show less
News
Apr. 16, 2018 02:42PM EST
Maria Kochetkova in Helgi Tomasson's Trio // © Erik Tomasson
San Francisco Ballet star Maria Kochetkova just announced that she'll be leaving the company at the end of this season, after the much-anticipated Unbound Festival. The exact date will be announced later.
Keep reading...
Show less
The Creative Process
Apr. 20, 2018 09:30AM EST
Brandon Sterling Baker never tries to make it a "light show." Photo by Lora Robertson, courtesy Baker
He may not be a household name, but you probably know Brandon Stirling Baker's work. The 30-year-old has designed the lighting for most of Justin Peck's ballets—including Heatscape for Miami City Ballet, and the edgy The Times Are Racing for New York City Ballet—but also Jamar Roberts' new Members Don't Get Weary at Alvin Ailey American Dance Theater and a trio of Martha Graham duets for L.A. Dance Project.
He's been fascinated by lighting ever since he attended a public performing arts middle school in Sherman Oaks, California, where he had his first experiences lighting shows. He also has a background in music (he plays guitar and bass) and in drawing. Both, he says, are central to the way he approaches lighting dance.
Keep reading...
Show less
Update: Due to an overwhelming response, the in-person audition has been moved to a larger location to accommodate more dancers. See details below.

For the first time in more than 10 years, Janet Jackson is holding an open audition for dancers.
Even better? You could land a spot in her #JTribe simply by posting a video on social media.
Keep reading...
Show less


Get Dance Magazine in your inbox