Secrets of Longevity: 6 Tips From 20-Year Veteran Ballerina Xiao Nan Yu
Xiao Nan Yu in rehearsal for A Month In The Country. Photo by Bruce Zinger, courtesy National Ballet of Canada
What does it take to sustain a 20-year ballet career? The luminous principal dancer Xiao Nan Yu, who just marked two decades with National Ballet of Canada, shares how she's kept her body strong for long-term success:
---
Find Balance in Your Body
Naturally flexible, Yu spends most of her cross-training time counter-acting her body's elasticity. "Having a flexible body is a treat, but it can sometimes be a curse," she says. To control her limbs, she strengthens her core with lots of planks, especially during her daily pre-class warm-up (which can take up to an hour). She also books private Pilates sessions with NBoC's instructor whenever her schedule allows, and does yoga videos or a half-hour of floor barre at home on the weekends.
Don't Skip Morning Class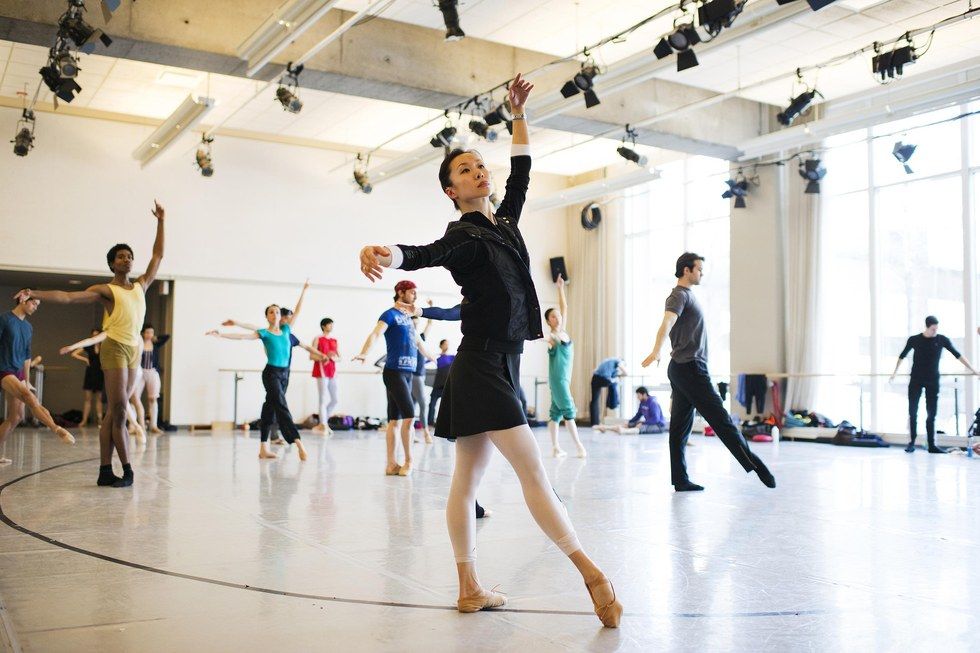 Aaron Vincent Elkaim, Courtesy NBoC
"Ballet class is like brushing my teeth," says Yu. "I have to start every day with it or else my body does not feel right."
Go To Bed Early

Quinn B. Wharton
Now that she's a mom (her daughters are ages 5 and 12), Yu wakes up around 6:30 or 7:30 am. She's forced to go to bed earlier, which she feels actually benefits her body: Studies have shown it increases sleep quality and could be connected to improved heart health.
Strengthen Your Weaknesses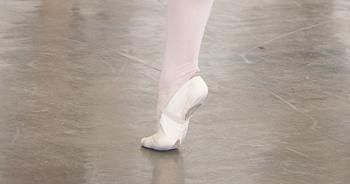 Due to an extra bone in her left foot, that ankle often rolls in. To build strength to counteract that habit, Yu practices this exercise in soft ballet slippers:
1. Holding the barre with both hands, she rises to demi-pointe with both feet in parallel.
2. From there, she rises onto full pointe using just the strength of her foot muscles, then slowly rolls down.
She repeats this with both feet, and then on single legs, first turned in and then turned out. She'll add an extra set or two on her left side.
Just Keep Drinking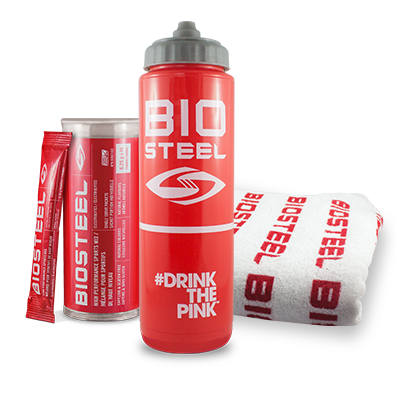 Yu drinks at least three bottles of water and sports drinks every day. Her favorite brand is BioSteel, which is filled with electrolytes but is low in calories and has no sugar. "It has a bubble gum flavor! Even my kids like it."
Don't Waste Energy Stressing Out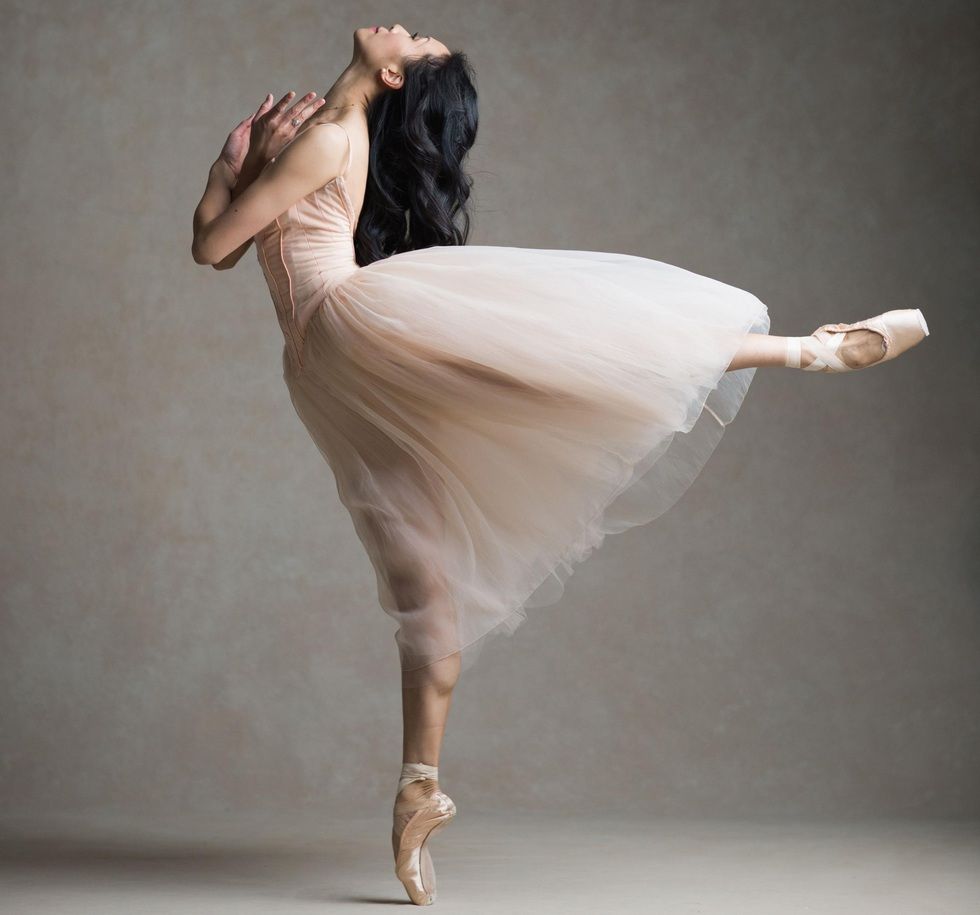 Karolina Kuras, courtesy NBoC
Yu found her body grew even looser after going through pregnancy. But having children also made her mind tougher. "My muscles don't fight me as much," she says. "After having children, I don't think, 'Oh, holding my leg up is so difficult.' It's just something I have to do, so I do it. Maybe I just don't have much time to agonize over it anymore. My daughters have made me realize how precious my time is when I come to work."
Chantelle Pianetta competing at a West Coast swing event. Courtesy Pianetta.
Just hearing the word "improvisation" is enough to make some ballet dancers shake in their pointe shoes. But for Chantelle Pianetta, it's a practice she relishes. Depending on the weekend, you might find her gracing Bay Area stages as a principal with Menlowe Ballet or sweeping in awards at West Coast swing competitions.

She specializes in Jack and Jill events, which involve improvised swing dancing with an unexpected partner in front of a panel of judges. (Check her out in action below.) While sustaining her ballet career, over the past four years Pianetta has quickly risen from novice to champion level on the WCS international competition circuit.
Keep reading...
Show less
Jayme Thornton
Sean Dorsey was always going to be an activist. Growing up in a politically engaged, progressive family in Vancouver, British Columbia, "it was my heart's desire to create change in the world," he says. Far less certain was his future as a dancer.
Like many dancers, Dorsey fell in love with movement as a toddler. However, he didn't identify strongly with any particular gender growing up. Dorsey, who now identifies as trans, says, "I didn't see a single person like me anywhere in the modern dance world." The lack of trans role models and teachers, let alone all-gender studio facilities where he could feel safe and welcome, "meant that even in my wildest dreams, there was no room for that possibility."
Keep reading...
Show less
Getty Images
It's hour three of an intense rehearsal, you're feeling mentally foggy and exhausted, and your stomach hurts. Did you know the culprit could be something as simple as dehydration?
Proper hydration helps maintain physical and mental function while you're dancing, and keeps your energy levels high. But with so many products on the market promising to help you rehydrate more effectively, how do you know when it's time to reach for more than water?
Keep reading...
Show less
James Beaudreau, Courtesy Roberto Lara
Inside a bustling television studio in Los Angeles, Lindsay Arnold Cusick hears the words "Five minutes to showtime." While dancers and celebrities covered head to toe in sequins whirl around preparing for their live performances on "Dancing with the Stars," Cusick pauses to say a prayer to God and express her gratitude.
"I know that it's not a given, and I'm grateful for the opportunity to do what I love for a living," says Cusick, a member of The Church of Jesus Christ of Latter-day Saints. For her, prayer is a ritualized expression of her faith that she has maintained since she was a girl in Provo, Utah. Even with her seven-plus years of industry experience, she always takes a moment to steady herself and close her prayer in Christ's name before rushing onto the stage.
Keep reading...
Show less