Should Dancers Get Political Online?
Lurking on dancers' social media pages, among the video clips of superhuman pirouettes and the photos that immortalize them above the stage in grand jeté or crouched on a windowsill wearing lingerie, pointe shoes and a sultry expression, is the occasional political post.
It's hard not to have a political opinion in the age of Trump. And on social media, opinions are easy to express. We might have to thumb the history book all the way back to Abraham Lincoln to find a more polarizing president (alas, the two leaders' similarities decisively end there).
---
In my lifetime, no president has been so far removed from the arts as our current one. Ronald Reagan was, of course, an actor before becoming a politician and GOP deity (although he, like Trump, sought to abolish the National Endowment for the Arts). Bill Clinton had decent chops on the tenor saxophone. George W. Bush paints. Barack Obama actually wrote his own books. Trump's closest proximity to anything artistic was through the highbrow sophistication of reality television, or maybe via the foul creativity of his "locker room talk" and the free-wheeling fictions of his tweets.
So should dancers share their political views on social media?
"Dance and the arts are of no value to the current administration," Wendy Whelan observes. "Of course, I think it's up to the individual artist whether to get political or not. But I do think we, as artists, have developed a voice, and that we're capable of communicating on the deepest levels with the world around us."
Misty Copeland echoes that sentiment: "I don't think it's our responsibility to speak about politics as artists. But if you feel strongly about your opinion, I think there are people in the public that feel empowered and supported when someone that has the platform to be heard uses it."
Many dancers are troubled not just by Trump's apathy toward the arts, but by his swerve away from the progressive mores that artists largely share. "This recent election has been a huge stimulus to stand up even more for my beliefs," Ashley Bouder tells me. "I feel that too many groups, women and the LGBTQ community in particular, are fighting a war with the leaders of this country. If I add my voice to the noise, perhaps we can create real change."
Any foray into the political discussion is a kick to the hornets' nest; the reactions are swift and sometimes uncivil. But Bouder considers the stakes high enough to be worth a few stings. "I think I've alienated some followers," she says. "I've alienated some family too, actually. But, in my opinion, the political situation in the U.S. is so extreme and intolerant, I just cannot imagine not doing all I can to bring about positive change." She adds that she doesn't mind debate, but that she's received "some truly hateful comments"—mostly from individuals with anonymous online profiles.
For Copeland—whose public image, to some people, intrinsically involves politics—losing fans who reject her values isn't necessarily a bad thing; it lets the chaff winnow from the grain. "I feel like I'm very open and honest and my political views don't differ from my daily practices, beliefs, and the way I present myself to the public. So if there are people out there who support me but are bigoted and racist, then it's not a loss for me to 'alienate' them."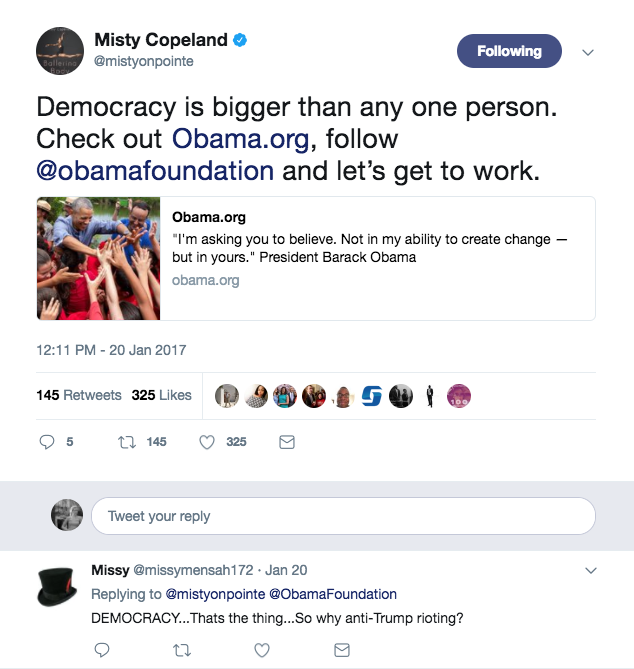 The alienation burns both ways. One dancer, after posting on social media in support of Trump, experienced such a backlash, online and from her colleagues, that she turned down a request to be interviewed, even anonymously, for this article. In fact, most of the dancers I contacted declined to comment. Maybe they were too busy, or they felt there was nothing further to add to this mosh pit of a conversation, or they didn't wish to estrange any fans. Or maybe they recognized the incongruity of speaking out against a right-wing administration while performing in a theater named after a powerful right-wing figure.
Professional ballet, at least in the U.S., exists because of the generosity of patrons. By voicing their views publicly, do dancers risk losing not only fans but also sponsorship, guesting opportunities, or endorsement deals? Where should dancers' primary loyalties lie? Is it in poor taste to publicly oppose a patron's views—or is it, in some instances, a moral obligation? (Is taste now a moot consideration, given the leader of our country's boorishness, the savagery of the political discourse, and the sense of urgency many people feel about our planet's problems?) The answers to these knotty questions are as elusive as certain income tax returns.
I think we can all agree that a beautifully danced and crafted performance will always be the strongest argument for the value of ballet. And maybe, in a way, it can offer a gesture toward a broader kinship. "I think artists hold a lot of power," Copeland says. "Speaking or not, performing in times of stress, weakness and turmoil, we definitely can bring people together." I agree. Watching a ballet is a shared experience. A theater is a kind of church, where folks gather to examine or escape their world, and—to paraphrase Oskar Eustis—to remember the dream of who they can be. For a few magical hours, as they wax into a single audience, the distinctions between right and left, red and blue fade away.
So how to lure President Trump into a theater to see a ballet today? Do we get tricky and tell him he's attending a beauty pageant or Wrestlemania? The man adores Twitter, so maybe dancers' political posts will find him, after all. But let's be real. The only way President Trump will ever attend a ballet is if Putin takes him to the Bolshoi.
Sergei Diaghilev, who was terrified of the sea, posing with a life preserver aboard a ship. Photo courtesy DM Archives
On August 19, 1929, shockwaves were felt throughout the dance world as news spread that impresario Sergei Diaghilev had died. The founder of the Ballets Russes rewrote the course of ballet history as the company toured Europe and the U.S., championing collaborations with modernist composers, artists and designers such as Igor Stravinsky, Pablo Picasso and Coco Chanel. The company launched the careers of its five principal choreographers: Michel Fokine, Vaslav Nijinsky, Léonide Massine, Bronislava Nijinska and George Balanchine.
Keep reading...
Show less
The USC Kaufman graduating class with Mikhail Baryshnikov. Gus Ruelas/USC
Just four years ago, the University of Southern California's Glorya Kaufman School of Dance welcomed its first class of BFA students. The program—which boasts world-class faculty and a revolutionary approach to training focused on collaboration and hybridity—immediately established itself as one of the country's most prestigious and most innovative.
Now, the first graduating class is entering the dance field. Here, six of the 33 graduates share what they're doing post-grad, what made their experience at USC Kaufman so meaningful and how it prepared them for their next steps:
Keep reading...
Show less
Alice Sheppard/Kinetic Light in DESCENT, which our readers chose as last year's "Most Moving Performance." Photo by Jay Newman, courtesy Kinetic Light
Yes, we realize it's only August. But we can't help but to already be musing about all the incredible dance happenings of 2019.
We're getting ready for our annual Readers' Choice feature, and we want to hear from you about the shows you can't stop thinking about, the dance videos that blew your mind and the artists you discovered this year who everyone should know about.
Keep reading...
Show less
Courtesy Chiara Valle
Chiara Valle is just one of many dancers heading back to the studio this fall as companies ramp up for the season. But her journey back has been far more difficult than most.
Valle has been a trainee at The Washington Ballet since 2016, starting at the same time as artistic director Julie Kent. But only a few months into her first season there, she started experiencing excruciating pain high up in her femur. "It felt like someone was stabbing me 24/7," she says. Sometimes at night, the pain got so bad that her roommates would bring her dinner to the bathtub.
Keep reading...
Show less