Should Dancers Get Political Online?
Lurking on dancers' social media pages, among the video clips of superhuman pirouettes and the photos that immortalize them above the stage in grand jeté or crouched on a windowsill wearing lingerie, pointe shoes and a sultry expression, is the occasional political post.
It's hard not to have a political opinion in the age of Trump. And on social media, opinions are easy to express. We might have to thumb the history book all the way back to Abraham Lincoln to find a more polarizing president (alas, the two leaders' similarities decisively end there).
---
In my lifetime, no president has been so far removed from the arts as our current one. Ronald Reagan was, of course, an actor before becoming a politician and GOP deity (although he, like Trump, sought to abolish the National Endowment for the Arts). Bill Clinton had decent chops on the tenor saxophone. George W. Bush paints. Barack Obama actually wrote his own books. Trump's closest proximity to anything artistic was through the highbrow sophistication of reality television, or maybe via the foul creativity of his "locker room talk" and the free-wheeling fictions of his tweets.
So should dancers share their political views on social media?
"Dance and the arts are of no value to the current administration," Wendy Whelan observes. "Of course, I think it's up to the individual artist whether to get political or not. But I do think we, as artists, have developed a voice, and that we're capable of communicating on the deepest levels with the world around us."
Misty Copeland echoes that sentiment: "I don't think it's our responsibility to speak about politics as artists. But if you feel strongly about your opinion, I think there are people in the public that feel empowered and supported when someone that has the platform to be heard uses it."
Many dancers are troubled not just by Trump's apathy toward the arts, but by his swerve away from the progressive mores that artists largely share. "This recent election has been a huge stimulus to stand up even more for my beliefs," Ashley Bouder tells me. "I feel that too many groups, women and the LGBTQ community in particular, are fighting a war with the leaders of this country. If I add my voice to the noise, perhaps we can create real change."
Any foray into the political discussion is a kick to the hornets' nest; the reactions are swift and sometimes uncivil. But Bouder considers the stakes high enough to be worth a few stings. "I think I've alienated some followers," she says. "I've alienated some family too, actually. But, in my opinion, the political situation in the U.S. is so extreme and intolerant, I just cannot imagine not doing all I can to bring about positive change." She adds that she doesn't mind debate, but that she's received "some truly hateful comments"—mostly from individuals with anonymous online profiles.
For Copeland—whose public image, to some people, intrinsically involves politics—losing fans who reject her values isn't necessarily a bad thing; it lets the chaff winnow from the grain. "I feel like I'm very open and honest and my political views don't differ from my daily practices, beliefs, and the way I present myself to the public. So if there are people out there who support me but are bigoted and racist, then it's not a loss for me to 'alienate' them."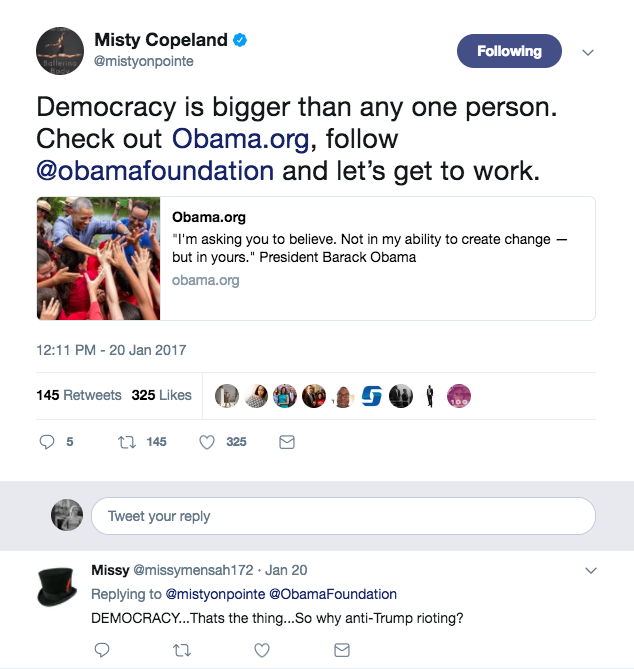 The alienation burns both ways. One dancer, after posting on social media in support of Trump, experienced such a backlash, online and from her colleagues, that she turned down a request to be interviewed, even anonymously, for this article. In fact, most of the dancers I contacted declined to comment. Maybe they were too busy, or they felt there was nothing further to add to this mosh pit of a conversation, or they didn't wish to estrange any fans. Or maybe they recognized the incongruity of speaking out against a right-wing administration while performing in a theater named after a powerful right-wing figure.
Professional ballet, at least in the U.S., exists because of the generosity of patrons. By voicing their views publicly, do dancers risk losing not only fans but also sponsorship, guesting opportunities, or endorsement deals? Where should dancers' primary loyalties lie? Is it in poor taste to publicly oppose a patron's views—or is it, in some instances, a moral obligation? (Is taste now a moot consideration, given the leader of our country's boorishness, the savagery of the political discourse, and the sense of urgency many people feel about our planet's problems?) The answers to these knotty questions are as elusive as certain income tax returns.
I think we can all agree that a beautifully danced and crafted performance will always be the strongest argument for the value of ballet. And maybe, in a way, it can offer a gesture toward a broader kinship. "I think artists hold a lot of power," Copeland says. "Speaking or not, performing in times of stress, weakness and turmoil, we definitely can bring people together." I agree. Watching a ballet is a shared experience. A theater is a kind of church, where folks gather to examine or escape their world, and—to paraphrase Oskar Eustis—to remember the dream of who they can be. For a few magical hours, as they wax into a single audience, the distinctions between right and left, red and blue fade away.
So how to lure President Trump into a theater to see a ballet today? Do we get tricky and tell him he's attending a beauty pageant or Wrestlemania? The man adores Twitter, so maybe dancers' political posts will find him, after all. But let's be real. The only way President Trump will ever attend a ballet is if Putin takes him to the Bolshoi.
A flyer showing Alberto Alonso, Fernando Alonso, Benjamin Steinberg and Alicia Alonso. Photo courtesy the author
Alicia has died. I walked around my apartment feeling her spirit, but knowing something had changed utterly.
My father, the late conductor Benjamin Steinberg, was the first music director of the Ballet de Cuba, as it was called then. I grew up in Vedado on la Calle 1ra y doce in a building called Vista al Mar. My family lived there from 1959 to 1963. My days were filled with watching Alicia teach class, rehearse and dance. She was everything: hilarious, serious, dramatic, passionate and elegiac. You lost yourself and found yourself when you loved her.
Keep reading...
Show less
Left: Hurricane Harvey damage in Houston Ballet's Dance Lab; Courtesy Harlequin. Right: The Dance Lab pre-Harvey; Nic Lehoux, Courtesy Houston Ballet.
"The show must go on" may be a platitude we use to get through everything from costume malfunctions to stormy moods. But when it came to overcoming a literal hurricane, Houston Ballet was buoyed by this mantra to go from devastated to dancing in a matter of weeks—with the help of Harlequin Floors, Houston Ballet's longstanding partner who sprang into action to build new floors in record time.
Keep reading...
Show less
Hansuke Yamamoto in Helgi Tomasson's Nutcracker at San Francisco Ballet, which features an exciting and respectful Chinese divertissement. Photo by Erik Tomasson, Courtesy SFB
It's Nutcracker time again: the season of sweet delights and a sparkling good time—if we're able to ignore the sour taste left behind by the outdated racial stereotypes so often portrayed in the second act.
In 2017, as a result of a growing list of letters from audience members, to New York City Ballet's ballet master in chief Peter Martins reached out to us asking for assistance on how to modify the elements of Chinese caricature in George Balanchine's The Nutcracker. Following that conversation, we founded the Final Bow for Yellowface pledge that states, "I love ballet as an art form, and acknowledge that to achieve a diversity amongst our artists, audiences, donors, students, volunteers, and staff, I am committed to eliminating outdated and offensive stereotypes of Asians (Yellowface) on our stages."
Keep reading...
Show less
Allegra Bautista in Nevertheless, by ka·nei·see | collective. Photo by Robbie Sweeny
An audience member once emailed Dallas choreographer Joshua L. Peugh, claiming his work was vulgar. It complained that he shouldn't be pushing his agenda. As the artistic director of Dark Circles Contemporary Dance, Peugh's recent choreography largely deals with LGBTQ issues.
"I got angry when I saw that email, wrote my angry response, deleted it, and then went back and explained to him that that's exactly why I should be making those works," says Peugh.
With the current political climate as polarized as it is, many artists today feel compelled to use their work to speak out on issues they care deeply about. But touring with a message is not for the faint of heart. From considerations about how to market the work to concerns about safety, touring to cities where, in general, that message may not be so welcome, requires companies to figure out how they'll respond to opposition.
Keep reading...
Show less