4 Exercises That Will Strengthen Your Port de Bras
The baby swan can help strengthen your serratus anterior. Modeled by Marimba Gold-Watts, photographed by Jayme Thornton
Ever wonder why some dancers' port de bras appears to be disconnected from their body? It typically comes down to how they stabilize their shoulder blades, says Marimba Gold-Watts, Pilates instructor to dancers like Robert Fairchild.
"Dancers often hear the cue to pull down on their latissimus,"—the biggest muscle in the back—"which doesn't allow the shoulder blades to lie flat," she says. "It makes the bottom tips of the shoulder blades wing, or flare out, off the rib cage."
---
Instead, she encourages dancers to use the serratus anterior muscle, which attaches the shoulder blade to the rib cage. To locate it, Gold-Watts suggests dancers imagine that the collarbones and shoulder blades are widening across the body in opposite directions.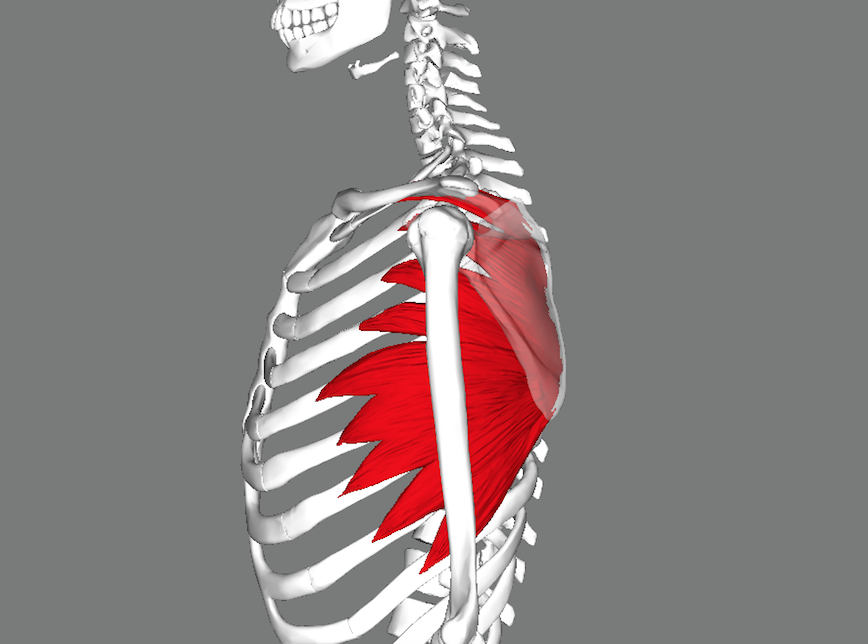 The serratus anterior in red. Photo via Wikimedia Commons
"As soon as your shoulder blade is lying flat, you can get other muscles around the shoulder girdle to turn on, allowing you to connect your arms to your back."
Try these at-home exercises to strengthen your serratus anterior and the rest of the shoulder girdle for stronger, smoother port de bras:
Baby Swan
Lie facedown with your feet together. Extend the arms down by your sides, palms flat on the floor.
Engage the deep abdominals to lengthen the lower back and pull your belly button to the spine. Imagine rolling the collarbone up and back as you slowly lift your head, keeping the neck long. Aim to articulate the spine bone by bone as you lift, stopping at the bra line. When your shoulders begin to lift, raise the hands as well.
Hold this position for three to five breaths.
Do 10 reps. To make it harder, lift the feet as well.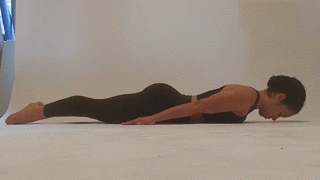 Plank Prep
To work up to a plank, start with a modification: With forearms on the floor and hands pointing straight ahead, let your knees touch the ground to help support your weight. Hold for 30 seconds, completing three sets.
When ready to progress, try three sets of one-minute kneeling planks, and then do the same progression in full forearm plank with knees off the floor. Keep the abdominals engaged and shoulder blades wide and flat against the back.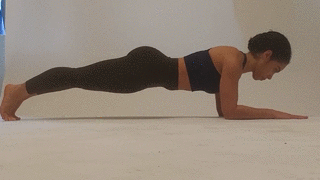 Sword Arm
Standing on a Thera-Band with feet hip-distance apart, reach across the body with your right hand to hold the Thera-Band by your left hip.
With the arm straight but the elbow unlocked, pull the band up and out to the right, as if you're pulling a sword from its sheath.
When the arm is above the shoulder, rotate the trunk to the right as well, looking back over the right shoulder. To keep the shoulder blades from lifting, Gold-Watts cues her dancers to "imagine sliding the shoulder blades down into your back pockets as you lift the arm."
Complete 10 reps per side.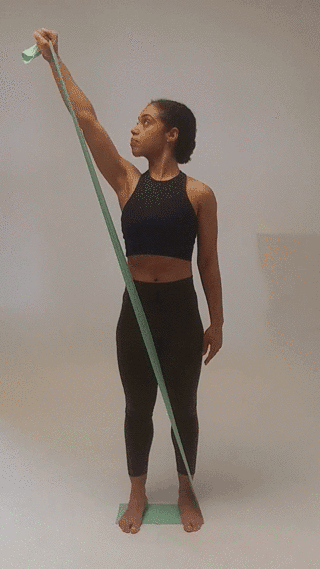 Wall Push-Up
Stand two to three feet away from a wall with your legs together. Place your hands on the wall at forehead height, making a diamond shape.
Slowly bend your elbows, bringing your trunk closer to the wall while maintaining a plank position in the body.
Press back out.
Complete 10 reps. To modify, step closer to the wall. For an additional challenge, try one arm at a time without allowing the body to rotate.
Courtesy Boneau/Bryan-Brown
If "Fosse/Verdon" whet your appetite for the impeccable Gwen Verdon, then Merely Marvelous: The Dancing Genius of Gwen Verdon is the three-course meal you've been craving. The new documentary—available now on Amazon for rental or purchase—dives into the life of the Tony-winning performer and silver-screen star lauded for her charismatic dancing.

Though she's perhaps most well-known today as Bob Fosse's wife and muse, that's not even half of her story. For starters, she'd already won four Tonys before they wed, making her far more famous in the public eye than he was at that point in his career. That's just one of many surprising details we learned during last night's U.S. premiere of Merely Marvelous. Believe us: You're gonna love her even more once you get to know her. Here are eight lesser-known tidbits to get you started.
Keep reading...
Show less
Lindsay Thomas
Every dancer knows that how you fuel your body affects how you feel in the studio. Of course, while breakfast is no more magical than any other meal (despite the enduring myth that it's the most important one of the day), showing up to class hangry is a recipe for unproductive studio time.
So what do your favorite dancers eat in the morning to set themselves up for a busy rehearsal or performance day?
Keep reading...
Show less
News
Sep. 20, 2019 09:17AM EST
Simon Soong, Courtesy DDT
When it comes to dance in the U.S., companies in the South often find themselves overlooked—sometimes even by the presenters in their own backyard. That's where South Arts comes in. This year, the regional nonprofit launched Momentum, an initiative that will provide professional development, mentorship, touring grants and residencies to five Southern dance companies.
Keep reading...
Show less
News
Sep. 19, 2019 12:46PM EST
Alice Pennefather, Courtesy ROH
You ever just wish that Kenneth MacMillan's iconic production of Romeo and Juliet could have a beautiful love child with the 1968 film starring Olivia Hussey? (No, not Baz Luhrmann's version. We are purists here.)
Wish granted: Today, the trailer for a new film called Romeo and Juliet: Beyond Words was released, featuring MacMillan's choreography and with what looks like all the cinematic glamour we could ever dream of:
Keep reading...
Show less