4 Exercises That Will Strengthen Your Port de Bras
The baby swan can help strengthen your serratus anterior. Modeled by Marimba Gold-Watts, photographed by Jayme Thornton
Ever wonder why some dancers' port de bras appears to be disconnected from their body? It typically comes down to how they stabilize their shoulder blades, says Marimba Gold-Watts, Pilates instructor to dancers like Robert Fairchild.
"Dancers often hear the cue to pull down on their latissimus,"—the biggest muscle in the back—"which doesn't allow the shoulder blades to lie flat," she says. "It makes the bottom tips of the shoulder blades wing, or flare out, off the rib cage."
---
Instead, she encourages dancers to use the serratus anterior muscle, which attaches the shoulder blade to the rib cage. To locate it, Gold-Watts suggests dancers imagine that the collarbones and shoulder blades are widening across the body in opposite directions.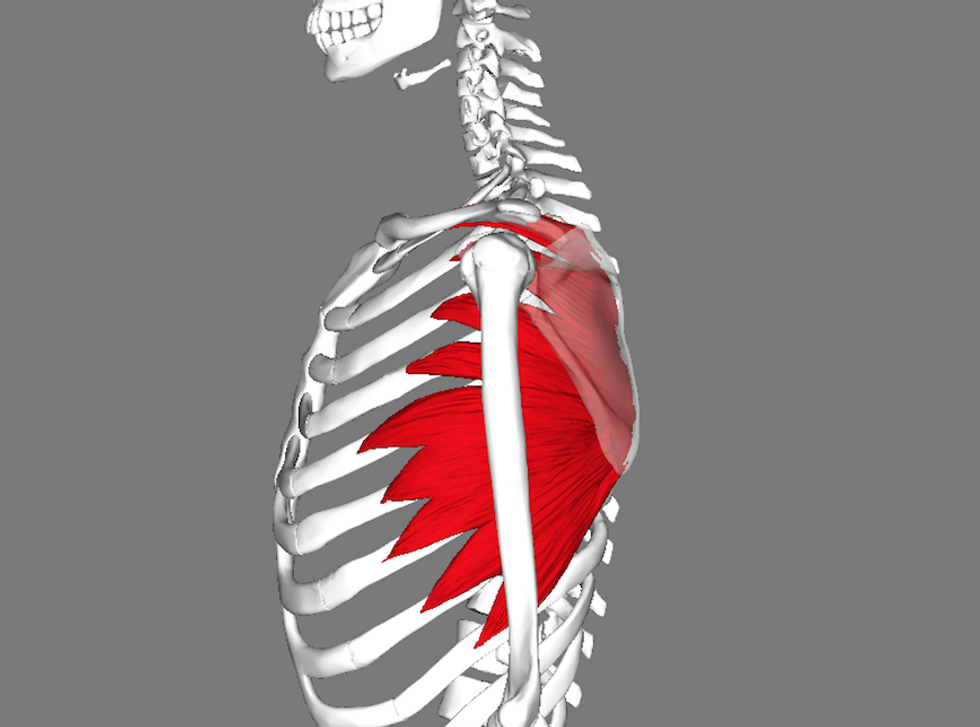 The serratus anterior in red. Photo via Wikimedia Commons
"As soon as your shoulder blade is lying flat, you can get other muscles around the shoulder girdle to turn on, allowing you to connect your arms to your back."
Try these at-home exercises to strengthen your serratus anterior and the rest of the shoulder girdle for stronger, smoother port de bras:
Baby Swan
Lie facedown with your feet together. Extend the arms down by your sides, palms flat on the floor.
Engage the deep abdominals to lengthen the lower back and pull your belly button to the spine. Imagine rolling the collarbone up and back as you slowly lift your head, keeping the neck long. Aim to articulate the spine bone by bone as you lift, stopping at the bra line. When your shoulders begin to lift, raise the hands as well.
Hold this position for three to five breaths.
Do 10 reps. To make it harder, lift the feet as well.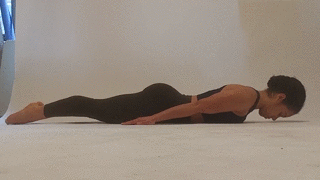 Plank Prep
To work up to a plank, start with a modification: With forearms on the floor and hands pointing straight ahead, let your knees touch the ground to help support your weight. Hold for 30 seconds, completing three sets.
When ready to progress, try three sets of one-minute kneeling planks, and then do the same progression in full forearm plank with knees off the floor. Keep the abdominals engaged and shoulder blades wide and flat against the back.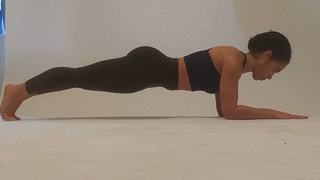 Sword Arm
Standing on a Thera-Band with feet hip-distance apart, reach across the body with your right hand to hold the Thera-Band by your left hip.
With the arm straight but the elbow unlocked, pull the band up and out to the right, as if you're pulling a sword from its sheath.
When the arm is above the shoulder, rotate the trunk to the right as well, looking back over the right shoulder. To keep the shoulder blades from lifting, Gold-Watts cues her dancers to "imagine sliding the shoulder blades down into your back pockets as you lift the arm."
Complete 10 reps per side.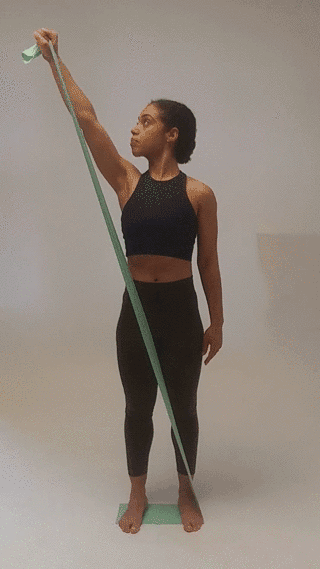 Wall Push-Up
Stand two to three feet away from a wall with your legs together. Place your hands on the wall at forehead height, making a diamond shape.
Slowly bend your elbows, bringing your trunk closer to the wall while maintaining a plank position in the body.
Press back out.
Complete 10 reps. To modify, step closer to the wall. For an additional challenge, try one arm at a time without allowing the body to rotate.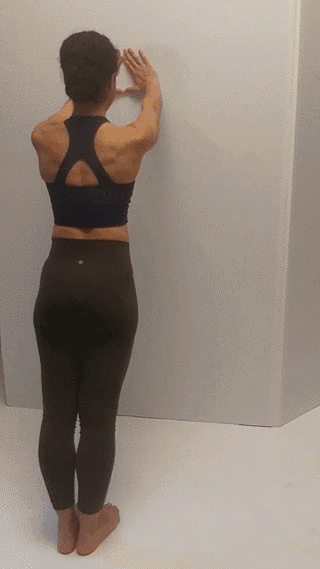 Rachel Papo
In the middle of one of New York City Center's cavernous studios, Misty Copeland takes a measured step backwards. The suggestion of a swan arm ripples before she turns downstage, chest and shoulders unfurling as her legs stretch into an open lunge. She piqués onto pointe, arms echoing the sinuous curve of her back attitude, then walks out of it, pausing to warily look over her shoulder. As the droning of Ryuichi Sakamoto and Alva Noto's mysterious "Attack/Transition" grows more insistent, her feet start to fly with a rapidity that seems to almost startle her.
And then she stops mid-phrase. Copeland's hands fall to her hips as she apologizes. Choreographer Kyle Abraham slides to the sound system to pause the music, giving Copeland a moment to remind herself of a recent change to the sequence.
"It's different when the sound's on!" he reassures her. "And it's a lot of changes."
The day before was the first time Abraham had seen Copeland dance the solo in its entirety, and the first moment they were in the studio together in a month. This is their last rehearsal, save for tech, before the premiere of Ash exactly one week later, as part of the opening night of City Center's Fall for Dance festival.
Keep reading...
Show less
Ailey II artistic director Troy Powell teaching an Ailey Workshop at NYCDA. Courtesy NYCDA
Back in 2011 when Joe Lanteri first approached Katie Langan, chair of Marymount Manhattan College's dance department, about getting involved with New York City Dance Alliance, she was skeptical about the convention/competition world.
"But I was pleasantly surprised by the enormity of talent that was there," she says. "His goal was to start scholarship opportunities, and I said okay, I'm in."
Today, it's fair to say that Lanteri has far surpassed his goal of creating scholarship opportunities. But NYCDA has done so much more, bridging the gap between the convention world and the professional world by forging a wealth of partnerships with dance institutions from Marymount to The Ailey School to Complexions Contemporary Ballet and many more. There's a reason these companies and schools—some of whom otherwise may not see themselves as aligned with the convention/competition world—keep deepening their relationships with NYCDA.
Now, college scholarships are just one of many ways NYCDA has gone beyond the typical weekend-long convention experience and created life-changing opportunities for students. We rounded up some of the most notable ones:
Keep reading...
Show less
Getty Images
Dancers are understandably obsessed with food. In both an aesthetic and athletic profession, you know you're judged on your body shape, but you need proper fuel to perform your best. Meanwhile, you're inundated with questionable diet advice.
"My 'favorite' was the ABC diet," says registered dietitian nutritionist Kristin Koskinen, who trained in dance seriously but was convinced her body type wouldn't allow her to pursue it professionally. "On the first day you eat only foods starting with the letter A, on the second day only B, and so on."
Keep reading...
Show less
Left: Hurricane Harvey damage in Houston Ballet's Dance Lab; Courtesy Harlequin. Right: The Dance Lab pre-Harvey; Nic Lehoux, Courtesy Houston Ballet.
"The show must go on" may be a platitude we use to get through everything from costume malfunctions to stormy moods. But when it came to overcoming a literal hurricane, Houston Ballet was buoyed by this mantra to go from devastated to dancing in a matter of weeks—with the help of Harlequin Floors, Houston Ballet's longstanding partner who sprang into action to build new floors in record time.
Keep reading...
Show less