Op-Ed: The Problem With So You Think You Can Dance's Fast-Food Activism
Wall's piece for SYTYCD
Last week for "So You Think You Can Dance," Travis Wall choreographed a routine to Nina Simone's "Strange Fruit." It had beautiful dancers, liquid movement and subtle lighting. The concept no doubt had good intentions. But the execution was troublesome.
My complicated relationship with "So You Think You Can Dance" will never cease. I was in the second row when the "SYTYCD" Season 2 tour hit my city; I've taken class from Season 1 winner Nick Lazzarini; I saved Melanie and Marco's duets to my "Favorites" on YouTube.

The show creates opportunities for dancers and choreographers, yet consistently holds the artistic integrity of dance to such a low standard. The nature of this competitive dance show is quick-paced, where choreographers set several dances on performers in one week or less. The repercussions of this learn-dance-eliminate cycle are such that the process, research and discussion of the dance—namely the work in spotlight—are condensed into a week.
---
I will turn a blind eye to Travis Wall's choice of dressing his dancers in plantation clothes of the 1800s. I will not critique his choice of a song that resonates with the black community on a level beyond white people's understanding—and even that of my community of other people of color. I will ignore his use of movement that is commercialized and un-archived in the bodies affected by/leading conversations on race. I am not even bothered by the fact that not all the dancers are of color—because every body is allowed to use dance as a response, and everybody should be talking about race regardless of heritage or skin tone.
However, I cannot excuse the fact that Travis Wall, as a white man with credible dance accolades, reduced the topic of blackness in America's past, present and future to a loose creative process of seven days or less.
Of course, it's possible that he created this dance months ago after spending time in communities with histories of systemic/social oppression, and that he acknowledged to his dancers his privilege of being white—that his own struggles in society are not written directly on his skin. And I have no doubt that Travis Wall, as an award-winning choreographer and major commercial-dance personality, sat down with his dancers to discuss the residual effects of slavery in America. He has every right and obligation to respond to the current state of the Union; we do not have to be black to make or perform work about black bodies and racism.
But even if Travis Wall were a person of color I would not excuse the foolery.
Where he could have used his white voice to reiterate the black call for equality, he has instead voiced the white plea for peace, ending his dance with a still of the darkest male in the cast shaking hands with a white woman. Had he utilized his dancers' skin tone throughout the whole of the work, rather than just the ending, he might have better succeeded in a call for equality. I guarantee only a white choreographer could get away with such a bold, direct statement on national TV without hypercriticism. (Remember how the nation responded to Beyoncé's "Formation" performance using only black dancers?)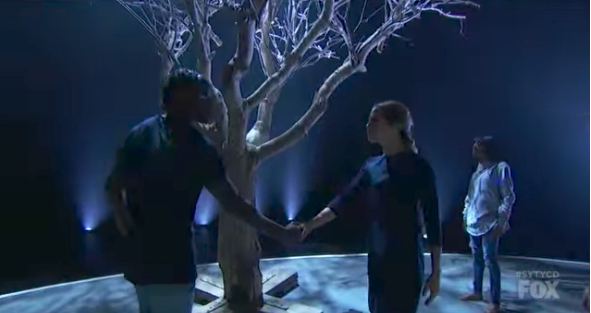 Unsurprisingly, Travis Wall has become a victim of fast-food activism, just like many of us (myself included) in a world run by social media. Not only has he consumed it, he is also now serving it. It is so clear that the impact is lost when the creative process, particularly research and incubation, is cut short. We cannot watch a two-minute piece about racism and suddenly be "woke," even if accompanied by the 30-second behind-the-scenes clips. We cannot be considered allies or accomplices without researching, listening and rallying. We must educate ourselves before utilizing our platforms.
There are countless choreographers who have dedicated their entire body of work to the story-telling of blackness in America (Kyle Abraham, Camille Brown, Okwui Okpokwasili and the collaborators/choreographers of Urban Bush Women, to name a few). There are the nameless choreographers working four part-time jobs in order to share their stories and experiences in a downtown factory-turned-studio-turned-theatre. A white man creates a vaguely political two-minute work and he goes viral, turning the purpose of his work on its head.
At the end of the day, dance is our way of responding to the human experience, and this must have been Travis Wall's well-intentioned way of sympathizing—not to be confused with empathizing—with people of color. For this I commend him, but not without a firm reality-check of his whiteness and surface-level interpretations of American race-relations.

Yes, "SYTYCD" brings dance to the masses and has potential to be the sole reason a child opens the door to dance. But it is such a shallow view of our art's endless possibilities and its means of communication and story-telling. As artists, we should be holding each other accountable for disclosing the entirety of dance, not just churning out work for media.
Peter Smith, courtesy of University Musical Society
What happens during a performance is the product of the painstaking process of realizing an artistic vision. Whether held beforehand, afterward, offsite or online, audience discussions tend not to be so preordained, easily thrown off track without a skilled moderator at the helm.
"I'm someone who dreaded talkbacks and Q&As," admits Bill Bragin, former director of public programming at Lincoln Center. "While I was in New York, a lot of the time it was just audience members trying to show off how smart they were."
These events present a pile of difficult questions: How much do you reveal about a piece before it's shown? How can a conversation designed to hit key points feel casual and spontaneous? How do you cater to the needs of diverse attendees, from novice dancegoers to lifelong fans to scholars and critics? And how do you avoid smothering dance with language, flattening all its complexity?
Keep reading...
Show less
UA Dance Ensemble members Candice Barth and Gregory Taylor in Jessica Lang's "Among the Stars." Photo by Ed Flores, courtesy University of Arizona
If you think becoming a trainee or apprentice is the only path to gaining experience in a dance company environment, think again.
The University of Arizona, located in the heart of Tucson, acclimates dancers to the pace and rigor of company life while offering all the academic opportunities of a globally-ranked university. If you're looking to get a head-start on your professional dance career—or to just have a college experience that balances company-level training and repertory with rigorous academics—the University of Arizona's undergraduate and graduate programs have myriad opportunites to offer:
Keep reading...
Show less
Alice Sheppard/Kinetic Light in DESCENT, which our readers chose as last year's "Most Moving Performance." Photo by Jay Newman, courtesy Kinetic Light
Yes, we realize it's only August. But we can't help but to already be musing about all the incredible dance happenings of 2019.
We're getting ready for our annual Readers' Choice feature, and we want to hear from you about the shows you can't stop thinking about, the dance videos that blew your mind and the artists you discovered this year who everyone should know about.
Keep reading...
Show less
Silas Farley in his Songs from the Spirit at the Metropolitan Museum of Art. Rosalie O'Connor, Courtesy Farley
I dance to encourage others. The longer I dance, the more I see that much of my real work is to speak life-giving words to my fellow artists. This is a multidimensionally grueling profession. I count it a privilege to remind my colleagues of how they are bringing beauty into the world through their craft. I recently noticed significant artistic growth in a fellow dancer, and when I verbalized what I saw, he beamed. The impact of positive feedback is deeper than we realize.
Keep reading...
Show less