Starting a Dancewear Line is Trickier Than You Might Think
Launching a dancewear line seems like a great way for professional dancers to flex new artistic muscles and make side money. Several direct-to-consumer brands founded by current or former professional dancers, like Elevé and Luckleo, currently compete with bigger retailers, like Capezio.
But turning your brand into the next Yumiko is more challenging than some budding designers may realize.
---
When the Business Grows Faster Than You Can Keep Up With
Abigail Mentzer Designs, which sells what it calls the original slinky skirt, largely looks like a success story. Started by Mentzer in 2007 in her apartment, the brand steadily grew into a business with a manufacturer and part-time employees. Mentzer says the company has sold nearly 30,000 skirts.
Yet Mentzer shut down the store today and is in the process of trying to sell the brand. She says keeping up with the demand for the skirts, especially while continuing to perform, has been daunting. And financially, she's never been able to make much profit.
"It's just become something that doesn't spark joy," Mentzer says. "I'm hopeful that in the right hands it'll continue to succeed and grow, and I'll be a part of it somehow." She'd like to continue working on the brand under a new owner.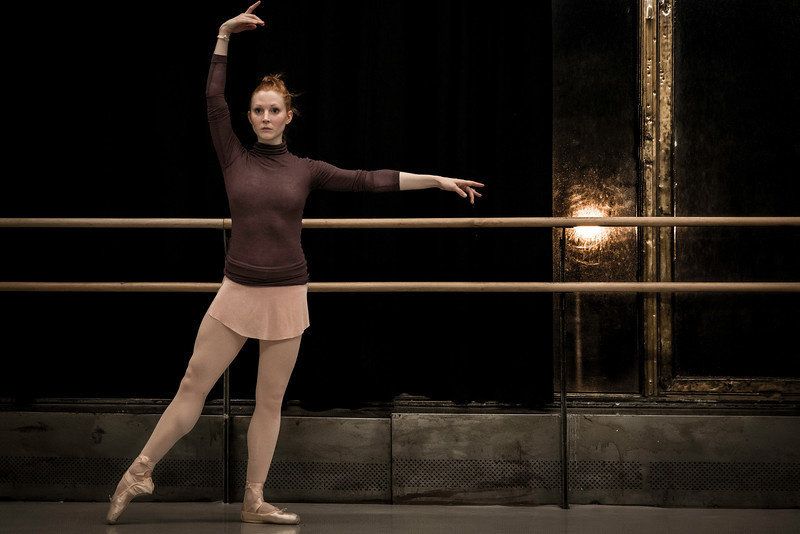 Abigail Mentzer dancing for Tom Gold in 2011, wearing one of her skirts
Mentzer, a former soloist with Pennsylvania Ballet, started making the skirts when she was in the corps there. Fellow dancer Martha Chamberlain, who is now a full-time costume designer, invited Mentzer to come to her studio, play with fabric and try out some ideas.
Mentzer made her version of what she calls an ice-skater skirt, cut high on the sides with slinky fabric, and gave them to some of her friends in the company.
"They loved them and started asking for them for friends. It just spread like wildfire," she says.
From the beginning, Mentzer was uncomfortable with the business aspect. Determining what the skirts were worth was difficult and she felt awkward charging her friends. She waited about four years to incorporate as a business.
She saw the skirts more as an artistic and therapeutic venture. She loved coming home from rehearsal and sewing for a few hours, and producing a tangible artistic product.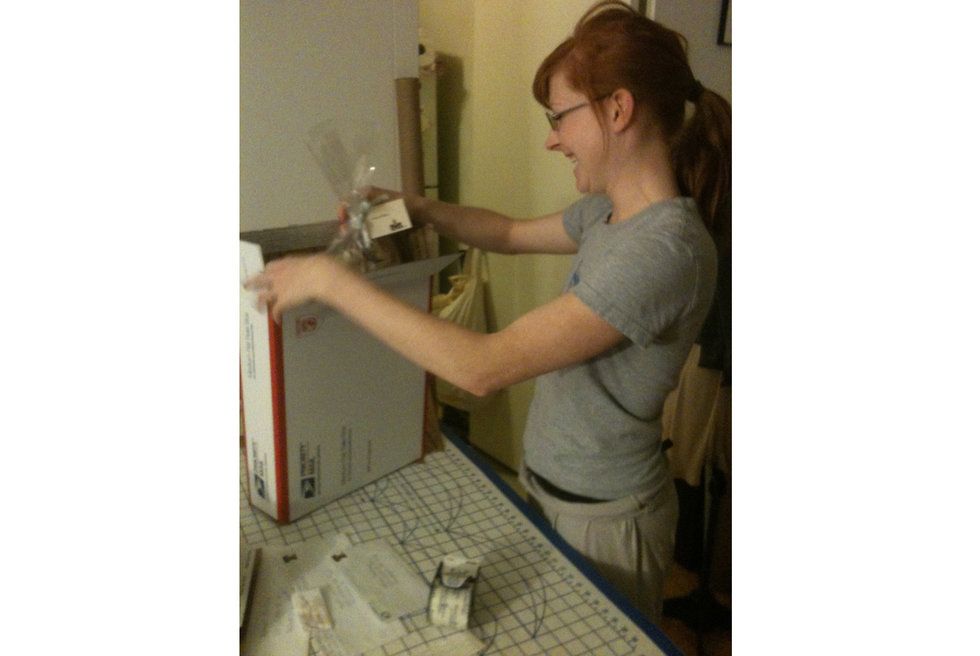 Mentzer opening a shipment of skirts
"It felt so good to make something and see it afterwards," she says. "As opposed to being in the studio dancing, where you make something and you never get to see it."
She eventually enlisted a factory in New York City for help to keep up with demand, which made her feel frustratingly out of control. She describes lost fabric orders that cost her thousands of dollars, and once coming home to find a shipment waiting outside her apartment in the rain with the skirts bursting out of ripped cardboard boxes, strewn on her steps and the sidewalk.
The popularity of the skirts was encouraging, but it eventually became its own problem. Around 2013, she noticed other brands selling very similar designs. She consulted lawyers but learned that she couldn't protect the design of the skirt.
"I was told to just be the better business, that's how I could fight it," she says.
When Mentzer joined the national tour of Phantom of the Opera in 2013, she hired part-time staff to handle the day-to-day operations. Still, managing the business from the road was challenging. Pretty soon, she felt she didn't want to keep the business going, but didn't know how to abandon what she'd built.
"I didn't know the first thing about selling a company," she says. "I had just figured out how to start one."
Finding Your Audience Isn't a Guarantee
Starting a dancewear line while still dancing requires serious time management, says Erica Sabatini, founder of CÔTÉ COUR dancewear. A former first soloist with Carolina Ballet, Sabatini left the company in 2011 to work in fashion. She earned a degree in fashion merchandising from Meredith College then spent time interning for fashion brands and working in retail before working full-time on the selling side for fashion houses in New York City.
But when she launched her dancewear line, she didn't have a ready network of dancers to wear the leotards and spread the word by taking class and posting on social media.
"I had to work much harder to get the word out," says Sabatini, who credits her Instagram with early sales.
The inspiration for her line was to "elevate" what professional dancers wear with sexy, fashion-oriented design and high-quality fabric. To make that level of product viable however, her price point was $145 for a leotard.
"My measure of success wasn't profit; it was the positive reaction from the community," she says. "I would have designed something different, appropriate for students, if money was the goal."
After three years, she recently decided to put sales on hold as she makes some professional changes to her other fashion work and ponders the next evolution of CÔTÉ COUR.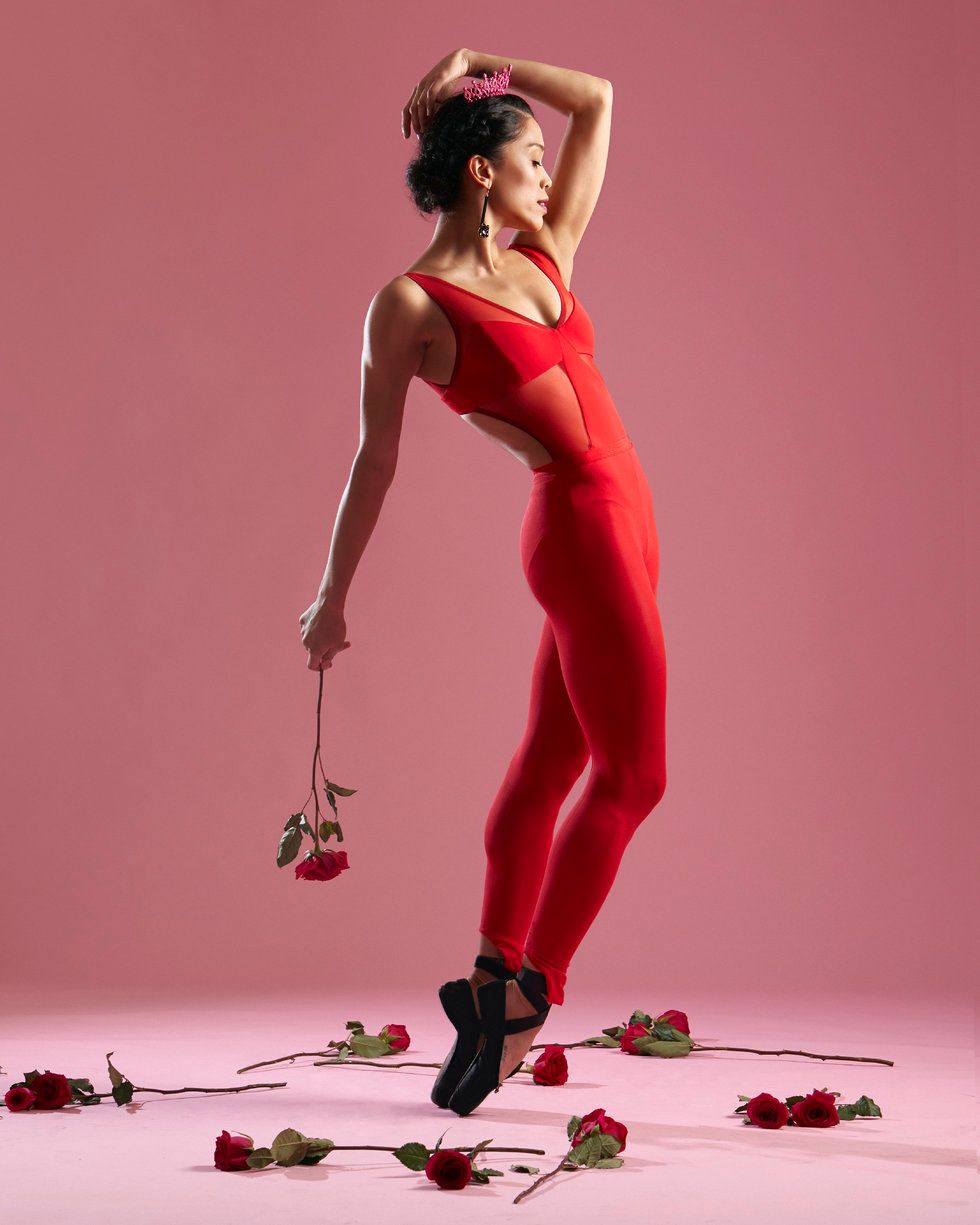 Lia Cirio modeling for CÔTÉ COUR.
The Basic Question: Is it for Passion or Profit?
Mentzer wound up keeping her company going for the three years she was on tour and for a year that she spent freelancing out of New York City. Her sketchbook of other design ideas kept growing, but consumer desire for the skirts meant she put all her time and money into them, not expanding the product line.
"I couldn't get out from underneath the demand for the skirts," she says.
Before launching a line, Sabatini suggests figuring out if the product is for passion or for profit, and she recommends spending time interning in the fashion industry to understand what will be involved as the business grows.
"You need to see how product goes from point A to point B," she says. "Someone else may be sewing but they'll have questions and you'll need to know what you're talking about."
Mentzer is proud she introduced a new look for rehearsal skirts. She just didn't realize how hard it would be to be a business manager while dancing.
Though she's had ups and downs, she doesn't regret the journey.
"As dancers, we stand in front of a mirror all day long, thinking we might look good in this look or that piece," she says, "and I made mine."
News
Oct. 18, 2019 11:54AM EST
Photo by Gabriel Davalos, Courtesy Valdés
For decades the name Alicia Alonso has been virtually synonymous with Ballet Nacional de Cuba, the company she co-founded in Havana in 1948. Alonso died on October 17, just shy of what would have been her 99th birthday. In recent years, she had stepped back from day-to-day decision-making in the company. As if preparing for the future, in January, the company's leading ballerina, 42-year-old Viengsay Valdés, was named deputy director, a job that seems to encompass most of the responsibilities of a traditional director. Now, presumably, she will step into her new role as director of the company. Her debut as curator of the repertory comes in November, when the troupe will perform three mixed bills selected by her at the Gran Teatro de la Habana Alicia Alonso. The following has been translated from a conversation conducted in Spanish, Valdés' native tongue.
Keep reading...
Show less
Left: Hurricane Harvey damage in Houston Ballet's Dance Lab; Courtesy Harlequin. Right: The Dance Lab pre-Harvey; Nic Lehoux, Courtesy Houston Ballet.
"The show must go on" may be a platitude we use to get through everything from costume malfunctions to stormy moods. But when it came to overcoming a literal hurricane, Houston Ballet was buoyed by this mantra to go from devastated to dancing in a matter of weeks—with the help of Harlequin Floors, Houston Ballet's longstanding partner who sprang into action to build new floors in record time.
Keep reading...
Show less
Sara Mearns in the gym. Photo by Kyle Froman.
New York City Ballet principal Sara Mearns wasn't sure she was strong enough. A ballerina who has danced many demanding full-length and contemporary roles, she was about to push herself physically more than she thought was possible.
"I said, 'I can't. My body won't,' " she says. "He told me, 'Yes, it will.' "
She wasn't working with a ballet coach, but with personal trainer Joel Prouty, who was asking her to do squats with a heavier barbell than she'd ever used.
Keep reading...
Show less
Alicia Alonso with Igor Youskevitch. Sedge Leblang, Courtesy Dance Magazine Archives.
Her Dying Swan was as fragile as her Juliet was rebellious; her Odile, scheming, her Swanilda, insouciant. Her Belle was joyous, and her Carmen, both brooding and full-blooded. But there was one role in particular that prompted dance critic Arnold Haskell to ask, "How do you interpret Giselle when you are Giselle?"
At eight, Alicia Alonso took her first ballet class on a stage in her native Cuba, wearing street clothes. Fifteen years later, put in for an ailing Alicia Markova in a performance of Giselle with Ballet Theatre, she staked her claim to that title role.
Alonso received recognition throughout the world for her flawless technique and her ability to become one with the characters she danced, even after she became nearly blind. After a career in New York, she and her then husband Fernando Alonso established the Cuban National Ballet and the Cuban National Ballet School, both of which grew into major international dance powerhouses and beloved institutions in their home country. On October 17, the company announced that, after leading the company for a remarkable 71 years, Alonso died from cardiovascular disease at the age of 98.
Keep reading...
Show less