This Program Is Turning Teen Girls Into Coders—By Teaching Them Dance
The confidence students learn through dance can be transferred to many other fields. Photo by Damon Plant, courtesy STEM From Dance
As an audience cheers, three teenage girls cross the stage in a line, to the high-energy beat of The Chainsmokers' "Don't Let Me Down." They're dressed in head-to-toe black, but each of their shirts is decorated with bright bulbs, flashing and blinking in various colors as they move.
The performance is a product of STEM From Dance, a New York City-based nonprofit founded by Yamilee Toussaint—an MIT grad who's been dancing since age 5. The program targets middle and high school girls of color, who are vastly underrepresented in STEM (science, technology, engineering and math) fields, and might not otherwise see STEM as an option or be encouraged to try it.
---
As a mechanical engineering student, Toussaint was well aware of the lack of women of color in her own MIT class. The idea of bridging the worlds of STEM and dance came after graduation, when she was teaching algebra at a high school in Brooklyn. She noticed her students struggling with the subject, sometimes hesitating to even try to solve a problem, because they didn't believe they could do it.

"The way that we view our own success is a large determinant of whether or not we thrive," Toussaint says. "That to me is a really important barrier to address—how do students see themselves as somebody who can be good in math and science, or go on to become an engineer? It begins with that perception that we have of ourselves."
Toussaint realized that, in her own case, dance had helped give her the confidence she needed, especially the camaraderie she got from her student dance group at MIT.
"That's what got me thinking: Is there a way dance can be used to encourage girls of color to pursue an education or career in STEM?" she says. "We want to expose them to STEM in a way that is relevant to who they are, where they come from. If you look at that community, dance is often a way that we celebrate and connect and learn."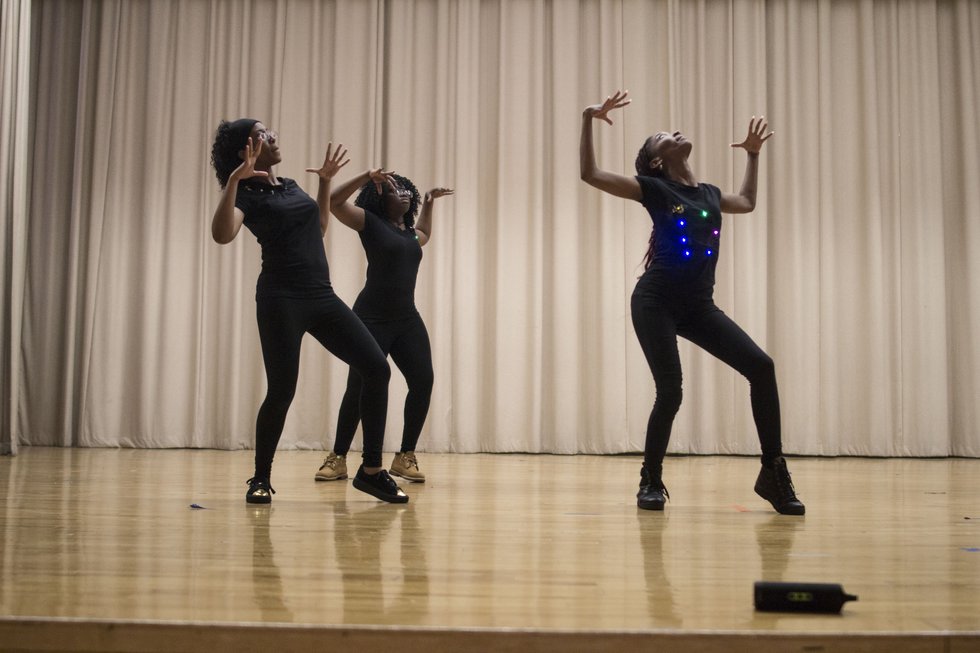 "Dance is often a way that we celebrate and connect and learn," says Yamilee Toussaint. Photo by Damon Plant, courtesy STEM From Dance.
Most students are initially attracted to the "dance" component of STEM From Dance. But the program integrates the two disciplines seamlessly, asking students to think about the ways STEM is used in a performance space. They choreograph their own dances, while learning how to incorporate technical components, from light-up costumes to onstage projections.
Movement is also used to teach certain STEM concepts, drawing on the students' penchant for kinesthetic learning. For instance, the concept of loops in coding: "It's a sort of code that's repeated over and over again, and a similar concept in dance is a canon," says Toussaint. So, when teaching loops, they'll have students practice a canon, repeating a set of movements across the group.
Since its 2011 start, the program has worked with about 400 students in 25 schools across New York City. This month, they'll also launch Girls Rise Up, a two-week summer camp.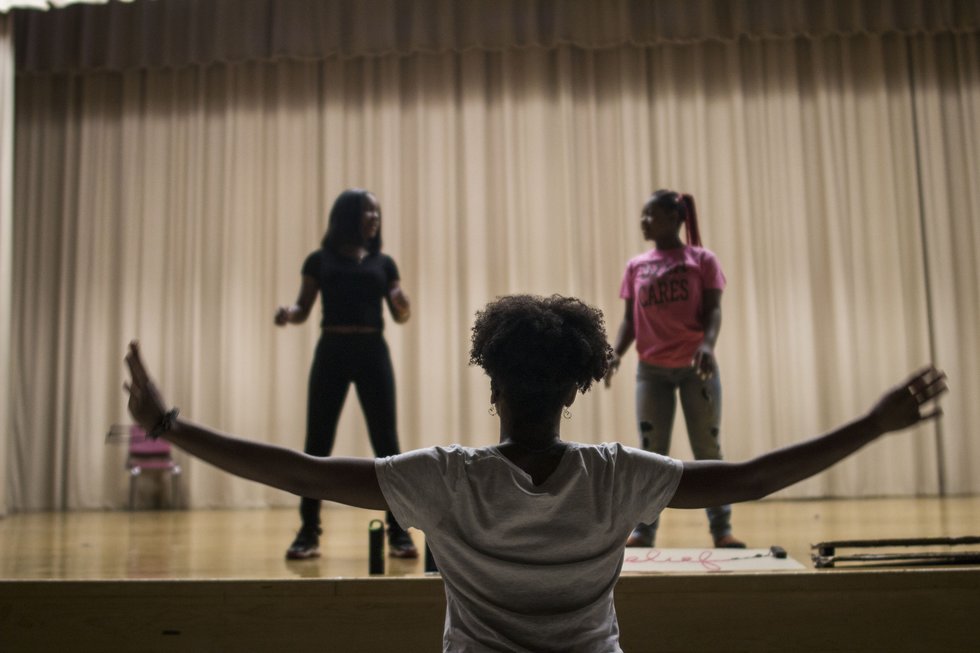 The dancers apply scientific principles to choreography. Photo by Damon Plant, courtesy STEM From Dance.
While Toussaint finds that about 75% of the students join her program because they like to dance, she also notes that 75% of those students are trying coding for the first time. They get to do something they already enjoy, while trying something new in the process.
"I think it shows the potential we have for tapping into a new generation of students to be our future scientists and engineers," she says. And dance is the way in.
Popular
Oct. 01, 2018 03:29PM EST
Photo by Ed Flores/MFA candidate Kara Madden rehearses undergraduate dance majors Gregory Taylor and Joe Ogren
In the final years of her decade-long career with the Lewitzky Dance Company, University of Arizona Associate Professor Amy Ernst began to develop an interest in dance injury prevention. She remembers feeling an urge to widen her understanding of dance and the body. Soon after retirement from the Company, she was hired by the Kerlan-Jobe Orthopaedic Clinic in Inglewood, California as a physical therapy assistant, where she worked for the next three and a half years. This work eventually led her to pursue an M.F.A. in dance at the University of Washington-Seattle. She remembers growing into the role of a professor during her time pursuing her degree. That incubation phase was critical. Ernst joined the faculty at the University of Arizona in 1995, and now as director of the M.F.A. program, mentors the new generation of dance faculty, company directors and innovators.
Keep reading...
Show less
San Francisco Ballet soloist Koto Ishihara stretches in her warm-up boots. Photo by Quinn Wharton for Dance Magazine.
With cooler weather finally here, it's time to talk warm-ups. And while your dancewear drawer is probably overflowing with oversized sweaters, leggings and enough leg warmers to outfit the whole class, warm-up boots are often forgotten. To keep your feet and ankles cozy in between rehearsals, we rounded up dance warm-up boots that suit every style.
Bloch Inc. Printed Warm-up Bootie
via Bloch Inc.
Created by Irina Dvorovenko and Max Beloserkovsky, this collection comes in a variety of tie dye, floral and even butterfly prints.
blochworld.com, $48
Many of the dancers of 10000 Gestures weren't wearing much clothing when they started climbing on audience members. Photo by Ursula Kaufmann via nyuskirball.org
Some of my favorite experiences as both an audience member and a dancer have involved audience participation. Artists who cleverly use participatory moments can make bold statements about the boundaries between performer and spectator, onstage and off. And the challenge to be more than a passive viewer can redefine an audience's relationship to what they're watching. But all the experiences I've loved have had something in common: They've given audiences a choice.
A few weeks back, I had a starkly different experience—one that has caused me to think deeply about how consent should play into audience-performer relationships.
Keep reading...
Show less


Get Dance Magazine in your inbox