A Long-Awaited Return: Inside Suzanne Farrell's "Diamonds" Rehearsal at NYCB
Suzanne Farrell rehearses Sara Mearns in George Balanchine's "Diamonds." Rosalie O'Connor, Courtesy NYCB.
In a large practice studio inside Lincoln Center's Koch Theater, Suzanne Farrell watches quietly as New York City Ballet principals Sara Mearns and Russell Janzen work through a series of supported poses. As Janzen kneels to face her, Mearns brushes through to croisé arabesque, extending her leg high behind her. "I wouldn't penché there," says Farrell, gently. "You can, but I wouldn't."
"I get so excited here," says Mearns with a laugh. The three are slowly working through the pas de deux of "Diamonds," the ballet George Balanchine created on Farrell and Jacques D'Amboise in 1967 that makes up the third act of his full-length Jewels.
"I know," Farrell says. "But it's more exciting if the arabesque turn afterwards is sustained."
---
Indeed, the pirouette's sailing, majestic quality is what makes this particular moment of the pas de deux so dramatic. It's one of many illuminating details brought out over three rehearsal days in April, when Farrell coached two principal casts—Maria Kowroski and Tyler Angle, who perform tonight, being the other—for the company's performances of "Diamonds" this week and next.
But there's another reason why Farrell's presence here is so significant: While she is arguably one of the most important ballerinas in NYCB's history, one who collaborated closely with Balanchine and originated roles in 24 of his ballets, this day marked her first time back to the company in 26 years. After her retirement from the stage in 1989, then ballet master in chief Peter Martins kept her on staff as a teacher and coach, but rarely gave her opportunities to work with the dancers. In 1993, he dismissed her from the company entirely.
Farrell was deeply hurt, but she moved forward. She continued to work as a répétiteur for The George Balanchine Trust, became a professor of dance at Florida State University, and for 17 years directed The Suzanne Farrell Ballet (where I was a longtime dancer) out of the Kennedy Center in Washington, DC. But for over two decades, she hasn't been able to pass her knowledge on to those inheriting her roles at NYCB.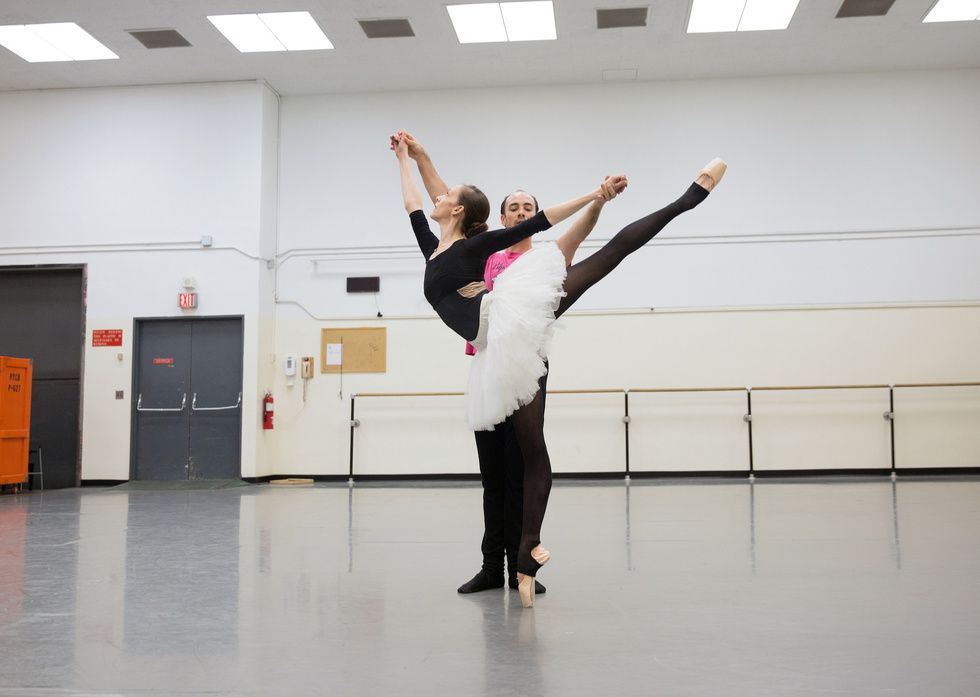 Maria Kowroski and Tyler Angle in rehearsal for Balanchine's "Diamonds." Rosalie O'Connor, Courtesy NYCB.
Her return came about through a series of separate inquiries. One was from newly appointed artistic director Jonathan Stafford, who has brought in past NYCB luminaries, such as Edward Villella and Patricia McBride, to coach dancers in the roles they originated since Martins' resignation in 2018. The other was a personal letter from Kowroski; now the company's most senior ballerina, she wrote to Farrell expressing how much she'd love to work with her before she retires.
Mearns, who says working with Farrell has been a lifelong dream, says she and Kowroski weren't sure what to expect when they found out she had agreed to come. "We knew it would probably be an emotional experience for her," she says.
In a phone interview, Farrell admitted to feeling a "wide spectrum of emotions" walking into the theater. "But whenever I get into a studio everything falls away," she says. "It becomes about the work and Mr. B. And what was wonderful was working on 'Diamonds' again in the very room where it came into being: Mr. B, Jacques, the pianist—it all started in that room."
Farrell's first rehearsal was with Mearns and Janzen, and she suggested an initial run-through to acquaint herself with them. "Before we started she came over and said, 'I have to be honest, I haven't seen either of you dance,'" says Mearns, who has performed the role for 11 years. "It took a lot of the pressure off that she had no pre-conceived notions of what we were going to look like; we could just be ourselves."
"I didn't want them to feel they had to perform for me and be perfect," Farrell says. "I wanted them to feel vulnerable to the moment and to suggestions."
For the next two hours, the three worked through the ballet moment by moment. Farrell frequently stopped the couple to rework their spacing, creating sharper angles. "Mr. B designed all my ballets on a diagonal," she says, adding that it's a motif that repeats itself in each section of Jewels. "It's the longest dimension you can have. You're onstage longer."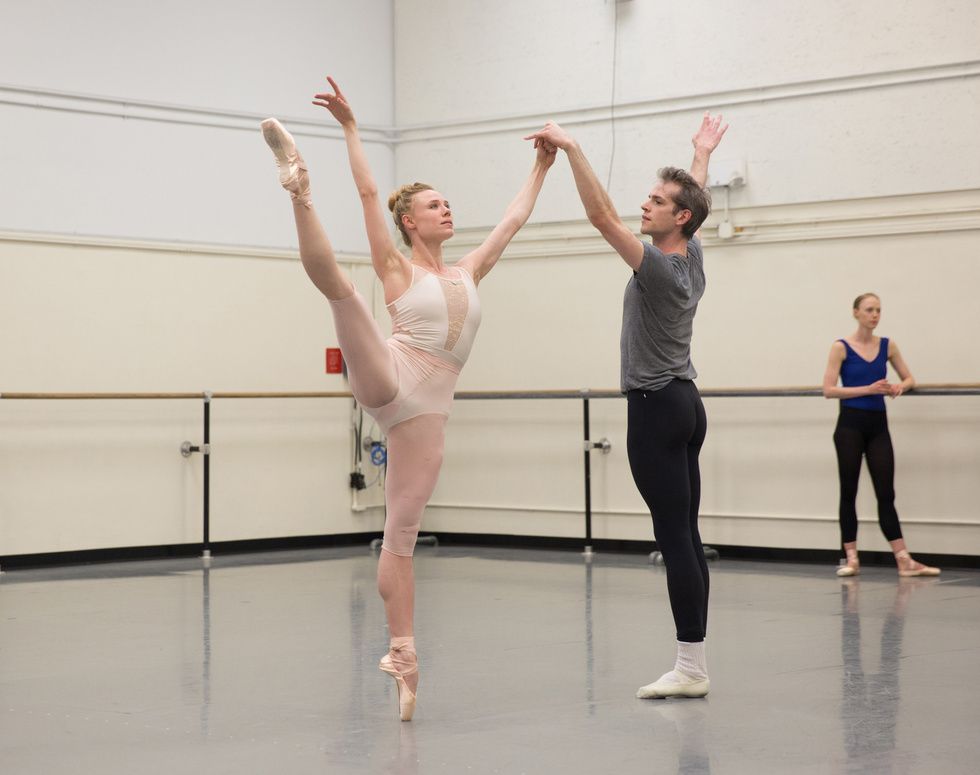 Mearns and Russell Janzen rehearse the pas de deux of Balanchine's "Diamonds." Rosalie O'Connor, Courtesy NYCB.
Mearns was surprised by how much certain aspects of the ballet had changed over time. "Those diagonals have flattened out, or they've become circles. But the original spacing makes more sense and actually makes things easier—we're able to move more expansively."
Along the way Farrell clarified counts and steps—simplifying assemblés that had become embellished, restoring attitudes that had straightened into arabesques, or pointing out musical syncopations that needed more emphasis. A punchy relevé développé in the scherzo, she told Mearns, "should feel more like a yawn," while during a series of promenades in the polonaise, she advised the couple to pause briefly in between each new position. "That had gotten blurred over the years, probably because someone wanted to keep getting around, and then that's what we were taught," says Mearns. "But she's right—there's so much going on during the finale and we're right there in front. You have to bring focus to something."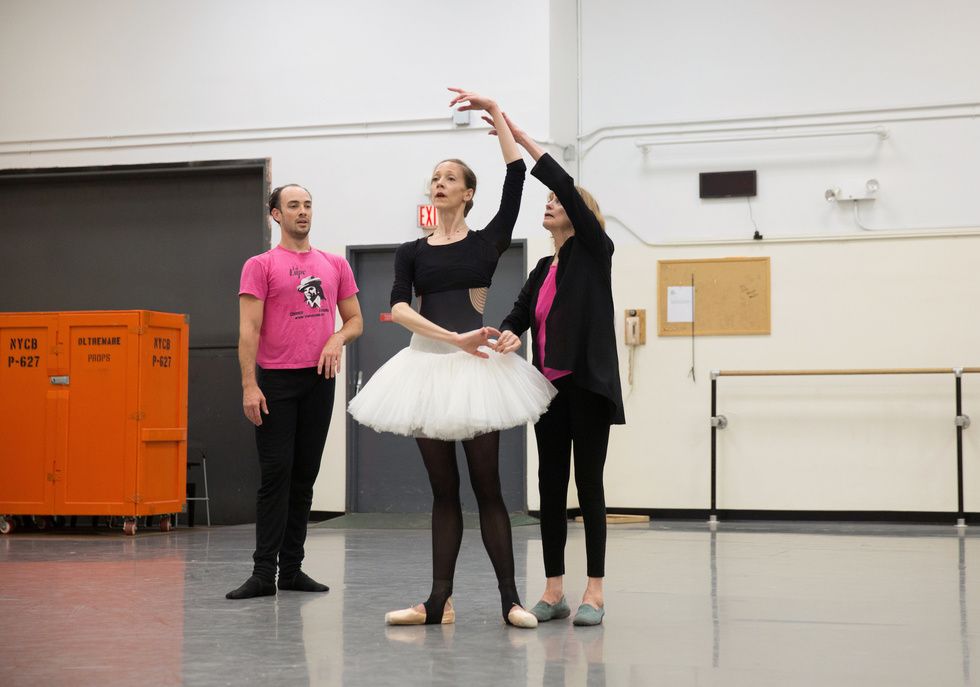 Farrell works with Kowroski and Angle on a partnering sequence from "Diamonds." Rosalie O'Connor, Courtesy NYCB.
Farrell often presented her suggestions to the couple as options rather than dictations. "I don't want to take anybody's interpretation away from them," she explained later. "But I do want them to understand how Mr. B intended it to look and what he was going after at the time. And I want to give dancers a thesaurus of ways they can be, instead of just one adjective, so that they can take the one that's appropriate for the time."
While there aren't any immediate plans for Farrell to come back, Mearns describes their time with her as sacred: "You could see that the ballet had not left her, and that she was so in tune with Balanchine." She predicts the role will feel newly layered when she and Janzen perform it on May 7. "I think it will be heightened, I think it will be deepened, and I think it will be a very new experience onstage."
News
Oct. 18, 2019 11:54AM EST
Photo by Gabriel Davalos, Courtesy Valdés
For decades the name Alicia Alonso has been virtually synonymous with Ballet Nacional de Cuba, the company she co-founded in Havana in 1948. Alonso died on October 17, just shy of what would have been her 99th birthday. In recent years, she had stepped back from day-to-day decision-making in the company. As if preparing for the future, in January, the company's leading ballerina, 42-year-old Viengsay Valdés, was named deputy director, a job that seems to encompass most of the responsibilities of a traditional director. Now, presumably, she will step into her new role as director of the company. Her debut as curator of the repertory comes in November, when the troupe will perform three mixed bills selected by her at the Gran Teatro de la Habana Alicia Alonso. The following has been translated from a conversation conducted in Spanish, Valdés' native tongue.
Keep reading...
Show less
Left: Hurricane Harvey damage in Houston Ballet's Dance Lab; Courtesy Harlequin. Right: The Dance Lab pre-Harvey; Nic Lehoux, Courtesy Houston Ballet.
"The show must go on" may be a platitude we use to get through everything from costume malfunctions to stormy moods. But when it came to overcoming a literal hurricane, Houston Ballet was buoyed by this mantra to go from devastated to dancing in a matter of weeks—with the help of Harlequin Floors, Houston Ballet's longstanding partner who sprang into action to build new floors in record time.
Keep reading...
Show less
Sara Mearns in the gym. Photo by Kyle Froman.
New York City Ballet principal Sara Mearns wasn't sure she was strong enough. A ballerina who has danced many demanding full-length and contemporary roles, she was about to push herself physically more than she thought was possible.
"I said, 'I can't. My body won't,' " she says. "He told me, 'Yes, it will.' "
She wasn't working with a ballet coach, but with personal trainer Joel Prouty, who was asking her to do squats with a heavier barbell than she'd ever used.
Keep reading...
Show less
Alicia Alonso with Igor Youskevitch. Sedge Leblang, Courtesy Dance Magazine Archives.
Her Dying Swan was as fragile as her Juliet was rebellious; her Odile, scheming, her Swanilda, insouciant. Her Belle was joyous, and her Carmen, both brooding and full-blooded. But there was one role in particular that prompted dance critic Arnold Haskell to ask, "How do you interpret Giselle when you are Giselle?"
At eight, Alicia Alonso took her first ballet class on a stage in her native Cuba, wearing street clothes. Fifteen years later, put in for an ailing Alicia Markova in a performance of Giselle with Ballet Theatre, she staked her claim to that title role.
Alonso received recognition throughout the world for her flawless technique and her ability to become one with the characters she danced, even after she became nearly blind. After a career in New York, she and her then husband Fernando Alonso established the Cuban National Ballet and the Cuban National Ballet School, both of which grew into major international dance powerhouses and beloved institutions in their home country. On October 17, the company announced that, after leading the company for a remarkable 71 years, Alonso died from cardiovascular disease at the age of 98.
Keep reading...
Show less