This Intercontinental Ballet Phenom Used to Swim Competitively—and Still Praises Its Benefits
Emma Hawes in class at National Ballet of Canada. Photo by Karolina Kuras, courtesy NBoC
Growing up with a father who's a swim coach at Ohio Wesleyan University, Emma Hawes was in the water almost from the time she was born. From ages 6 to 12, she swam competitively.
"I would have two swim practices a day during season, then go to ballet class," says Hawes, who's now a first soloist at both National Ballet of Canada and English National Ballet. "It was pretty normal for me since my parents are both athletes." (Her father is also an avid cyclist and triathlete; her mom was a competitive runner.)
While swimming gave Hawes stamina, dance helped her body awareness in the pool. "I was able to make fine-tuning adjustments—like rotating the angle of my forearm—because of ballet," she says.
---
Although she eventually chose ballet rather than swimming professionally, she still returns to the pool for the endurance and injury-prevention benefits. "Anything done in the water takes pressure off your body, eliminating the impact," says Hawes. "Yoga is nice, and I like treadmills for stamina. But swimming makes my whole body feel good."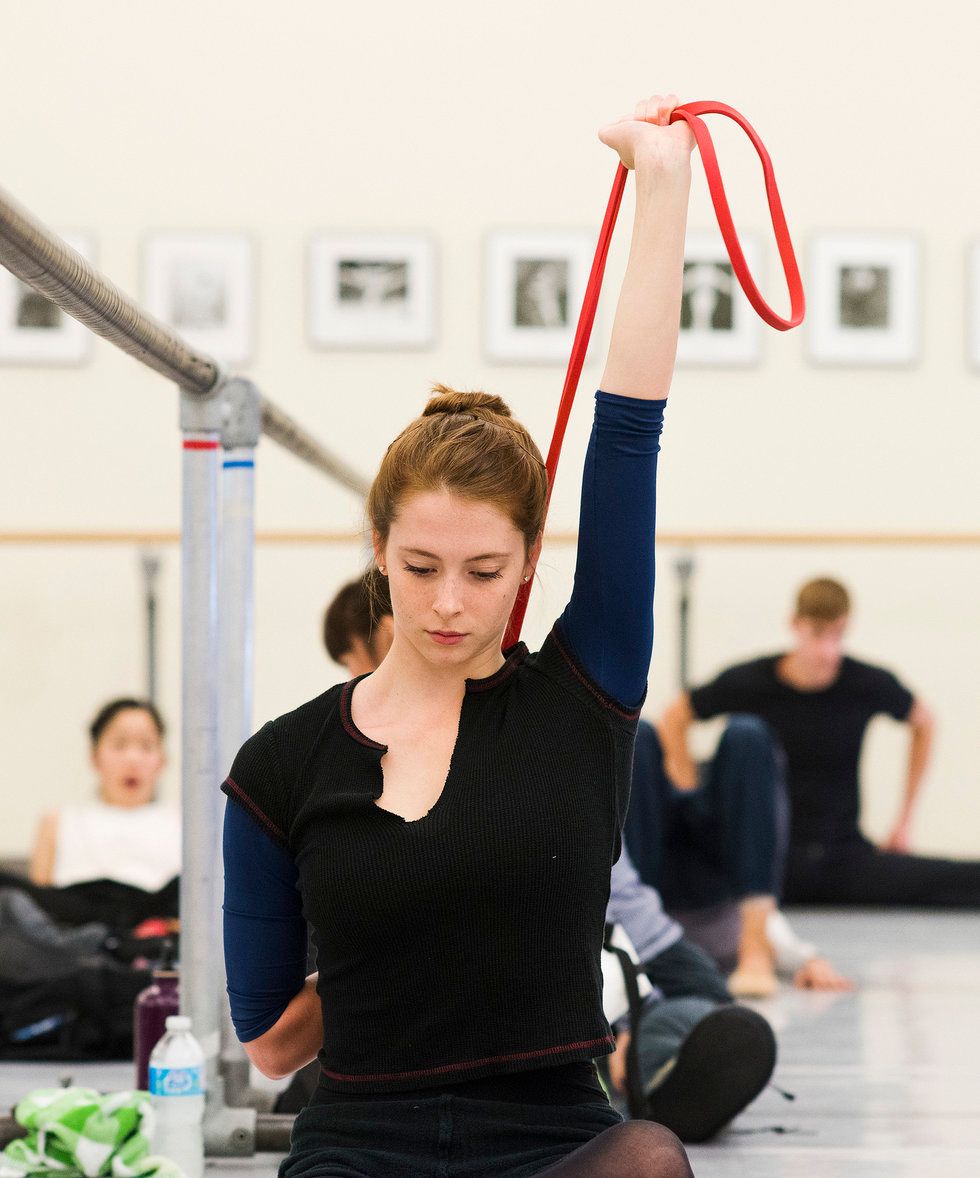 Hawes warms up before company class. Photo by Aaron Vincent Elkaim, courtesy NBoC
Swimming not only helped her lung capacity but her awareness of her breath.
Swimming has helped Hawes pay attention to her breath onstage. "When I was young, we did exercises like swim an entire length of the pool holding your breath or breathing every third stroke," she says.
Although she doesn't have the same lung capacity that she did when she was swimming regularly, that awareness is still available.
"When you're breathing every third stroke, you need to hold your breath a bit longer than you want to, rotate to breathe on both sides—including the one that is uncomfortable. There are a lot of times while dancing that your only moment to take a breath is in a super-uncomfortable position. If you can find a sort of peace with breathing in that place, you can more effectively manage your energy."
She uses laps as meditation.
For Hawes, one benefit of the water is its calming effect. "Swimming is quite monotonous, which is ultimately why I chose ballet over it. But that also makes it a great meditative place to tune in with your body."
Try Hawes' go-to workout in the pool:
During breaks, Hawes swims up to three times a week. One of her standard options includes:
Warm-Up: 100 meters freestyle, 100 meters kickboard, 100 meters stroke drill (focusing on one element, like breathing)
Sets: She might do eight sets of 50 meters, alternating strokes and drills, or six sets of 100 meters, with the even sets focused on kicking and the odds breathing every third stroke. She aims for 1,500 meters total.
From Your Site Articles
Related Articles Around the Web
Courtesy Boneau/Bryan-Brown
If "Fosse/Verdon" whet your appetite for the impeccable Gwen Verdon, then Merely Marvelous: The Dancing Genius of Gwen Verdon is the three-course meal you've been craving. The new documentary—available now on Amazon for rental or purchase—dives into the life of the Tony-winning performer and silver-screen star lauded for her charismatic dancing.

Though she's perhaps most well-known today as Bob Fosse's wife and muse, that's not even half of her story. For starters, she'd already won four Tonys before they wed, making her far more famous in the public eye than he was at that point in his career. That's just one of many surprising details we learned during last night's U.S. premiere of Merely Marvelous. Believe us: You're gonna love her even more once you get to know her. Here are eight lesser-known tidbits to get you started.
Keep reading...
Show less
Lindsay Thomas
Every dancer knows that how you fuel your body affects how you feel in the studio. Of course, while breakfast is no more magical than any other meal (despite the enduring myth that it's the most important one of the day), showing up to class hangry is a recipe for unproductive studio time.
So what do your favorite dancers eat in the morning to set themselves up for a busy rehearsal or performance day?
Keep reading...
Show less
News
Sep. 20, 2019 09:17AM EST
Simon Soong, Courtesy DDT
When it comes to dance in the U.S., companies in the South often find themselves overlooked—sometimes even by the presenters in their own backyard. That's where South Arts comes in. This year, the regional nonprofit launched Momentum, an initiative that will provide professional development, mentorship, touring grants and residencies to five Southern dance companies.
Keep reading...
Show less
News
Sep. 19, 2019 12:46PM EST
Alice Pennefather, Courtesy ROH
You ever just wish that Kenneth MacMillan's iconic production of Romeo and Juliet could have a beautiful love child with the 1968 film starring Olivia Hussey? (No, not Baz Luhrmann's version. We are purists here.)
Wish granted: Today, the trailer for a new film called Romeo and Juliet: Beyond Words was released, featuring MacMillan's choreography and with what looks like all the cinematic glamour we could ever dream of:
Keep reading...
Show less