This Intercontinental Ballet Phenom Used to Swim Competitively—and Still Praises Its Benefits
Emma Hawes in class at National Ballet of Canada. Photo by Karolina Kuras, courtesy NBoC
Growing up with a father who's a swim coach at Ohio Wesleyan University, Emma Hawes was in the water almost from the time she was born. From ages 6 to 12, she swam competitively.
"I would have two swim practices a day during season, then go to ballet class," says Hawes, who's now a first soloist at both National Ballet of Canada and English National Ballet. "It was pretty normal for me since my parents are both athletes." (Her father is also an avid cyclist and triathlete; her mom was a competitive runner.)
While swimming gave Hawes stamina, dance helped her body awareness in the pool. "I was able to make fine-tuning adjustments—like rotating the angle of my forearm—because of ballet," she says.
---
Although she eventually chose ballet rather than swimming professionally, she still returns to the pool for the endurance and injury-prevention benefits. "Anything done in the water takes pressure off your body, eliminating the impact," says Hawes. "Yoga is nice, and I like treadmills for stamina. But swimming makes my whole body feel good."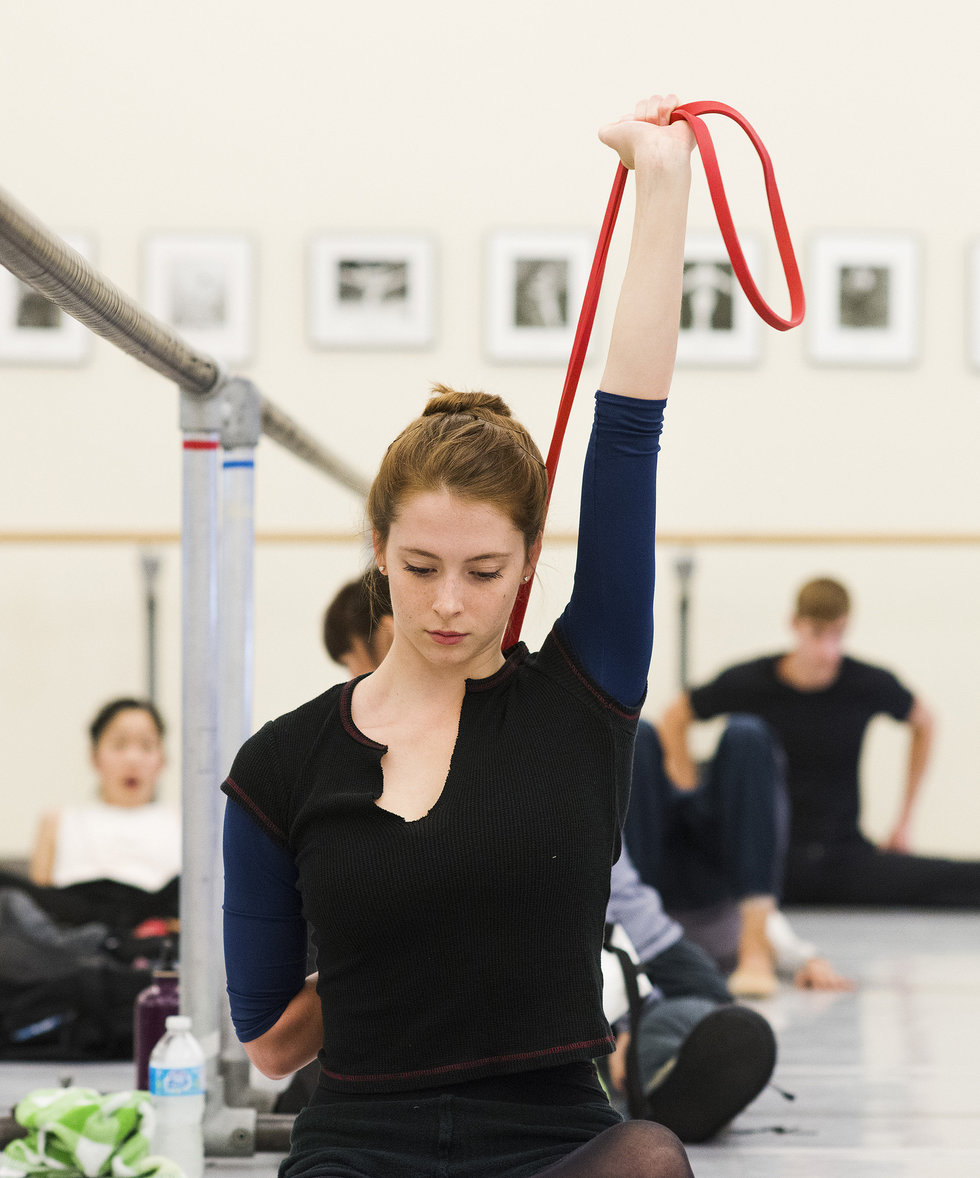 Hawes warms up before company class. Photo by Aaron Vincent Elkaim, courtesy NBoC
Swimming not only helped her lung capacity but her awareness of her breath.
Swimming has helped Hawes pay attention to her breath onstage. "When I was young, we did exercises like swim an entire length of the pool holding your breath or breathing every third stroke," she says.
Although she doesn't have the same lung capacity that she did when she was swimming regularly, that awareness is still available.
"When you're breathing every third stroke, you need to hold your breath a bit longer than you want to, rotate to breathe on both sides—including the one that is uncomfortable. There are a lot of times while dancing that your only moment to take a breath is in a super-uncomfortable position. If you can find a sort of peace with breathing in that place, you can more effectively manage your energy."
She uses laps as meditation.
For Hawes, one benefit of the water is its calming effect. "Swimming is quite monotonous, which is ultimately why I chose ballet over it. But that also makes it a great meditative place to tune in with your body."
Try Hawes' go-to workout in the pool:
During breaks, Hawes swims up to three times a week. One of her standard options includes:
Warm-Up: 100 meters freestyle, 100 meters kickboard, 100 meters stroke drill (focusing on one element, like breathing)
Sets: She might do eight sets of 50 meters, alternating strokes and drills, or six sets of 100 meters, with the even sets focused on kicking and the odds breathing every third stroke. She aims for 1,500 meters total.
From Your Site Articles
Related Articles Around the Web
Alice Sheppard/Kinetic Light in DESCENT, which our readers chose as last year's "Most Moving Performance." Photo by Jay Newman, courtesy Kinetic Light
Yes, we realize it's only August. But we can't help but to already be musing about all the incredible dance happenings of 2019.
We're getting ready for our annual Readers' Choice feature, and we want to hear from you about the shows you can't stop thinking about, the dance videos that blew your mind and the artists you discovered this year who everyone should know about.
Keep reading...
Show less
The USC Kaufman graduating class with Mikhail Baryshnikov. Gus Ruelas/USC
Just four years ago, the University of Southern California's Glorya Kaufman School of Dance welcomed its first class of BFA students. The program—which boasts world-class faculty and a revolutionary approach to training focused on collaboration and hybridity—immediately established itself as one of the country's most prestigious and most innovative.
Now, the first graduating class is entering the dance field. Here, six of the 33 graduates share what they're doing post-grad, what made their experience at USC Kaufman so meaningful and how it prepared them for their next steps:
Keep reading...
Show less
Courtesy Chiara Valle
Chiara Valle is just one of many dancers heading back to the studio this fall as companies ramp up for the season. But her journey back has been far more difficult than most.
Valle has been a trainee at The Washington Ballet since 2016, starting at the same time as artistic director Julie Kent. But only a few months into her first season there, she started experiencing excruciating pain high up in her femur. "It felt like someone was stabbing me 24/7," she says. Sometimes at night, the pain got so bad that her roommates would bring her dinner to the bathtub.
Keep reading...
Show less
A Ladies of Hip-Hop battle. Photo by Loreto Jamlig, Courtesy Ladies of Hip-Hop
Michele Byrd-McPhee's uncle was a DJ for the local black radio station in Philadelphia, where she was born. As a kid she was always dancing to the latest music, including a new form of powerful poetry laid over pulsing beats that was the beginning of what we now call hip hop.
Byrd-McPhee became enamored of the form and went on to a career as a hip-hop dancer and choreographer, eventually founding the Ladies of Hip-Hop Festival and directing the New York City chapter of Everybody Dance Now!. Over the decades, she has experienced hip hop's growth from its roots in the black community into a global phenomenon—a trajectory she views with both pride and caution.
On one hand, the popularity of hip hop has "made a global impact," says Byrd-McPhee. "It's provided a voice for so many people around the world." The downside is "it's used globally in ways that the people who made the culture don't benefit from it."
Keep reading...
Show less