This Intercontinental Ballet Phenom Used to Swim Competitively—and Still Praises Its Benefits
Emma Hawes in class at National Ballet of Canada. Photo by Karolina Kuras, courtesy NBoC
Growing up with a father who's a swim coach at Ohio Wesleyan University, Emma Hawes was in the water almost from the time she was born. From ages 6 to 12, she swam competitively.
"I would have two swim practices a day during season, then go to ballet class," says Hawes, who's now a first soloist at both National Ballet of Canada and English National Ballet. "It was pretty normal for me since my parents are both athletes." (Her father is also an avid cyclist and triathlete; her mom was a competitive runner.)
While swimming gave Hawes stamina, dance helped her body awareness in the pool. "I was able to make fine-tuning adjustments—like rotating the angle of my forearm—because of ballet," she says.
---
Although she eventually chose ballet rather than swimming professionally, she still returns to the pool for the endurance and injury-prevention benefits. "Anything done in the water takes pressure off your body, eliminating the impact," says Hawes. "Yoga is nice, and I like treadmills for stamina. But swimming makes my whole body feel good."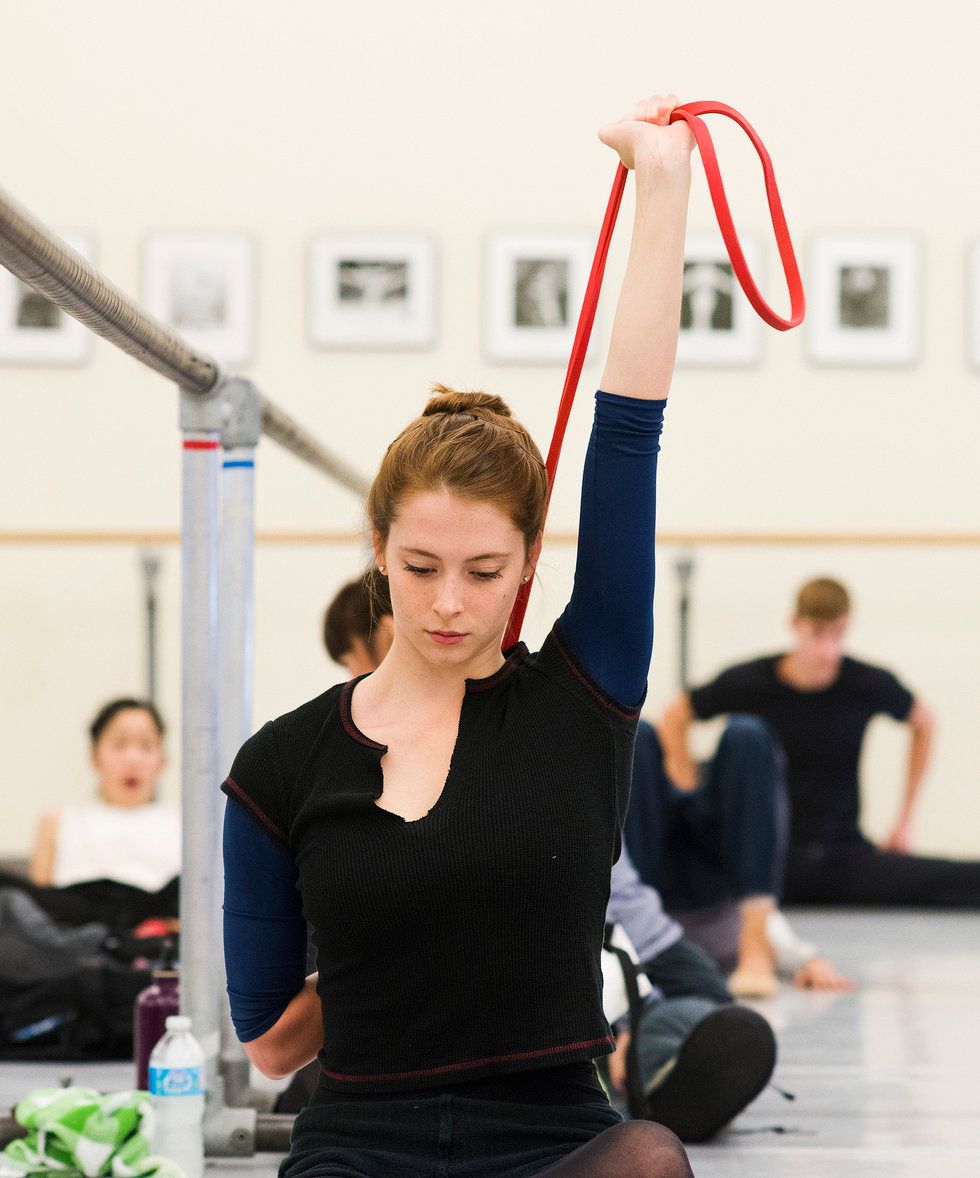 Hawes warms up before company class. Photo by Aaron Vincent Elkaim, courtesy NBoC
Swimming not only helped her lung capacity but her awareness of her breath.
Swimming has helped Hawes pay attention to her breath onstage. "When I was young, we did exercises like swim an entire length of the pool holding your breath or breathing every third stroke," she says.
Although she doesn't have the same lung capacity that she did when she was swimming regularly, that awareness is still available.
"When you're breathing every third stroke, you need to hold your breath a bit longer than you want to, rotate to breathe on both sides—including the one that is uncomfortable. There are a lot of times while dancing that your only moment to take a breath is in a super-uncomfortable position. If you can find a sort of peace with breathing in that place, you can more effectively manage your energy."
She uses laps as meditation.
For Hawes, one benefit of the water is its calming effect. "Swimming is quite monotonous, which is ultimately why I chose ballet over it. But that also makes it a great meditative place to tune in with your body."
Try Hawes' go-to workout in the pool:
During breaks, Hawes swims up to three times a week. One of her standard options includes:
Warm-Up: 100 meters freestyle, 100 meters kickboard, 100 meters stroke drill (focusing on one element, like breathing)
Sets: She might do eight sets of 50 meters, alternating strokes and drills, or six sets of 100 meters, with the even sets focused on kicking and the odds breathing every third stroke. She aims for 1,500 meters total.
From Your Site Articles
Related Articles Around the Web
A flyer showing Alberto Alonso, Fernando Alonso, Benjamin Steinberg and Alicia Alonso. Photo courtesy the author
Alicia has died. I walked around my apartment feeling her spirit, but knowing something had changed utterly.
My father, the late conductor Benjamin Steinberg, was the first music director of the Ballet de Cuba, as it was called then. I grew up in Vedado on la Calle 1ra y doce in a building called Vista al Mar. My family lived there from 1959 to 1963. My days were filled with watching Alicia teach class, rehearse and dance. She was everything: hilarious, serious, dramatic, passionate and elegiac. You lost yourself and found yourself when you loved her.
Keep reading...
Show less
Left: Hurricane Harvey damage in Houston Ballet's Dance Lab; Courtesy Harlequin. Right: The Dance Lab pre-Harvey; Nic Lehoux, Courtesy Houston Ballet.
"The show must go on" may be a platitude we use to get through everything from costume malfunctions to stormy moods. But when it came to overcoming a literal hurricane, Houston Ballet was buoyed by this mantra to go from devastated to dancing in a matter of weeks—with the help of Harlequin Floors, Houston Ballet's longstanding partner who sprang into action to build new floors in record time.
Keep reading...
Show less
Hansuke Yamamoto in Helgi Tomasson's Nutcracker at San Francisco Ballet, which features an exciting and respectful Chinese divertissement. Photo by Erik Tomasson, Courtesy SFB
It's Nutcracker time again: the season of sweet delights and a sparkling good time—if we're able to ignore the sour taste left behind by the outdated racial stereotypes so often portrayed in the second act.
In 2017, as a result of a growing list of letters from audience members, to New York City Ballet's ballet master in chief Peter Martins reached out to us asking for assistance on how to modify the elements of Chinese caricature in George Balanchine's The Nutcracker. Following that conversation, we founded the Final Bow for Yellowface pledge that states, "I love ballet as an art form, and acknowledge that to achieve a diversity amongst our artists, audiences, donors, students, volunteers, and staff, I am committed to eliminating outdated and offensive stereotypes of Asians (Yellowface) on our stages."
Keep reading...
Show less
Allegra Bautista in Nevertheless, by ka·nei·see | collective. Photo by Robbie Sweeny
An audience member once emailed Dallas choreographer Joshua L. Peugh, claiming his work was vulgar. It complained that he shouldn't be pushing his agenda. As the artistic director of Dark Circles Contemporary Dance, Peugh's recent choreography largely deals with LGBTQ issues.
"I got angry when I saw that email, wrote my angry response, deleted it, and then went back and explained to him that that's exactly why I should be making those works," says Peugh.
With the current political climate as polarized as it is, many artists today feel compelled to use their work to speak out on issues they care deeply about. But touring with a message is not for the faint of heart. From considerations about how to market the work to concerns about safety, touring to cities where, in general, that message may not be so welcome, requires companies to figure out how they'll respond to opposition.
Keep reading...
Show less