This Intercontinental Ballet Phenom Used to Swim Competitively—and Still Praises Its Benefits
Emma Hawes in class at National Ballet of Canada. Photo by Karolina Kuras, courtesy NBoC
Growing up with a father who's a swim coach at Ohio Wesleyan University, Emma Hawes was in the water almost from the time she was born. From ages 6 to 12, she swam competitively.
"I would have two swim practices a day during season, then go to ballet class," says Hawes, who's now a first soloist at both National Ballet of Canada and English National Ballet. "It was pretty normal for me since my parents are both athletes." (Her father is also an avid cyclist and triathlete; her mom was a competitive runner.)
While swimming gave Hawes stamina, dance helped her body awareness in the pool. "I was able to make fine-tuning adjustments—like rotating the angle of my forearm—because of ballet," she says.
---
Although she eventually chose ballet rather than swimming professionally, she still returns to the pool for the endurance and injury-prevention benefits. "Anything done in the water takes pressure off your body, eliminating the impact," says Hawes. "Yoga is nice, and I like treadmills for stamina. But swimming makes my whole body feel good."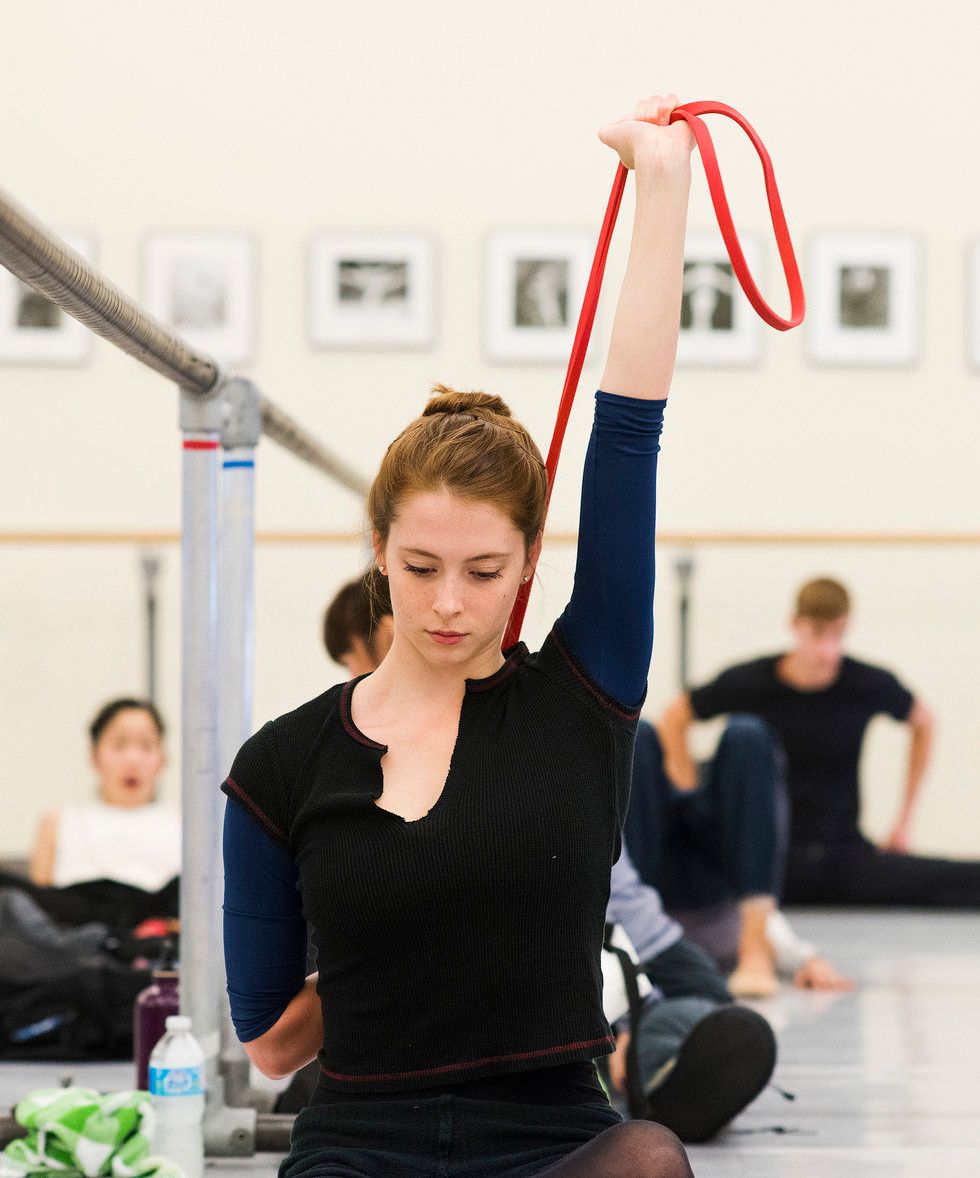 Hawes warms up before company class. Photo by Aaron Vincent Elkaim, courtesy NBoC
Swimming not only helped her lung capacity but her awareness of her breath.
Swimming has helped Hawes pay attention to her breath onstage. "When I was young, we did exercises like swim an entire length of the pool holding your breath or breathing every third stroke," she says.
Although she doesn't have the same lung capacity that she did when she was swimming regularly, that awareness is still available.
"When you're breathing every third stroke, you need to hold your breath a bit longer than you want to, rotate to breathe on both sides—including the one that is uncomfortable. There are a lot of times while dancing that your only moment to take a breath is in a super-uncomfortable position. If you can find a sort of peace with breathing in that place, you can more effectively manage your energy."
She uses laps as meditation.
For Hawes, one benefit of the water is its calming effect. "Swimming is quite monotonous, which is ultimately why I chose ballet over it. But that also makes it a great meditative place to tune in with your body."
Try Hawes' go-to workout in the pool:
During breaks, Hawes swims up to three times a week. One of her standard options includes:
Warm-Up: 100 meters freestyle, 100 meters kickboard, 100 meters stroke drill (focusing on one element, like breathing)
Sets: She might do eight sets of 50 meters, alternating strokes and drills, or six sets of 100 meters, with the even sets focused on kicking and the odds breathing every third stroke. She aims for 1,500 meters total.
From Your Site Articles
Related Articles Around the Web
When the news broke that Prince George, currently third in line for the British throne, would be continuing ballet classes as part of his school curriculum this year, we were as excited as anyone. (Okay, maybe more excited.)
This was not, it seems, a sentiment shared by "Good Morning America" host Lara Spencer.
Keep reading...
Show less
UA Dance Ensemble members Candice Barth and Gregory Taylor in Jessica Lang's "Among the Stars." Photo by Ed Flores, courtesy University of Arizona
If you think becoming a trainee or apprentice is the only path to gaining experience in a dance company environment, think again.
The University of Arizona, located in the heart of Tucson, acclimates dancers to the pace and rigor of company life while offering all the academic opportunities of a globally-ranked university. If you're looking to get a head-start on your professional dance career—or to just have a college experience that balances company-level training and repertory with rigorous academics—the University of Arizona's undergraduate and graduate programs have myriad opportunites to offer:
Keep reading...
Show less
Alice Sheppard/Kinetic Light in DESCENT, which our readers chose as last year's "Most Moving Performance." Photo by Jay Newman, courtesy Kinetic Light
Yes, we realize it's only August. But we can't help but to already be musing about all the incredible dance happenings of 2019.
We're getting ready for our annual Readers' Choice feature, and we want to hear from you about the shows you can't stop thinking about, the dance videos that blew your mind and the artists you discovered this year who everyone should know about.
Keep reading...
Show less
News
Aug. 23, 2019 10:30AM EST
A still from Dancing Dreams. Courtesy OVID
If you're seeking an extra dash of inspiration to start the new season on the right—dare we say—foot, look no further than dance documentaries.
Starting August 23, OVID, a streaming service dedicated to docs and art-house films, is adding eight notable dance documentaries to its library. The best part? There's a free seven-day trail. (After that, subscriptions are $6.99 per month or $69.99 annually.)
From the glamour of Russian ballet stars to young dancers training in Cuba to a portrait of powerhouse couple Carmen de Lavallade and Geoffrey Holder, here's what's coming to a couch near you:
Keep reading...
Show less