This Intercontinental Ballet Phenom Used to Swim Competitively—and Still Praises Its Benefits
Emma Hawes in class at National Ballet of Canada. Photo by Karolina Kuras, courtesy NBoC
Growing up with a father who's a swim coach at Ohio Wesleyan University, Emma Hawes was in the water almost from the time she was born. From ages 6 to 12, she swam competitively.
"I would have two swim practices a day during season, then go to ballet class," says Hawes, who's now a first soloist at both National Ballet of Canada and English National Ballet. "It was pretty normal for me since my parents are both athletes." (Her father is also an avid cyclist and triathlete; her mom was a competitive runner.)
While swimming gave Hawes stamina, dance helped her body awareness in the pool. "I was able to make fine-tuning adjustments—like rotating the angle of my forearm—because of ballet," she says.
---
Although she eventually chose ballet rather than swimming professionally, she still returns to the pool for the endurance and injury-prevention benefits. "Anything done in the water takes pressure off your body, eliminating the impact," says Hawes. "Yoga is nice, and I like treadmills for stamina. But swimming makes my whole body feel good."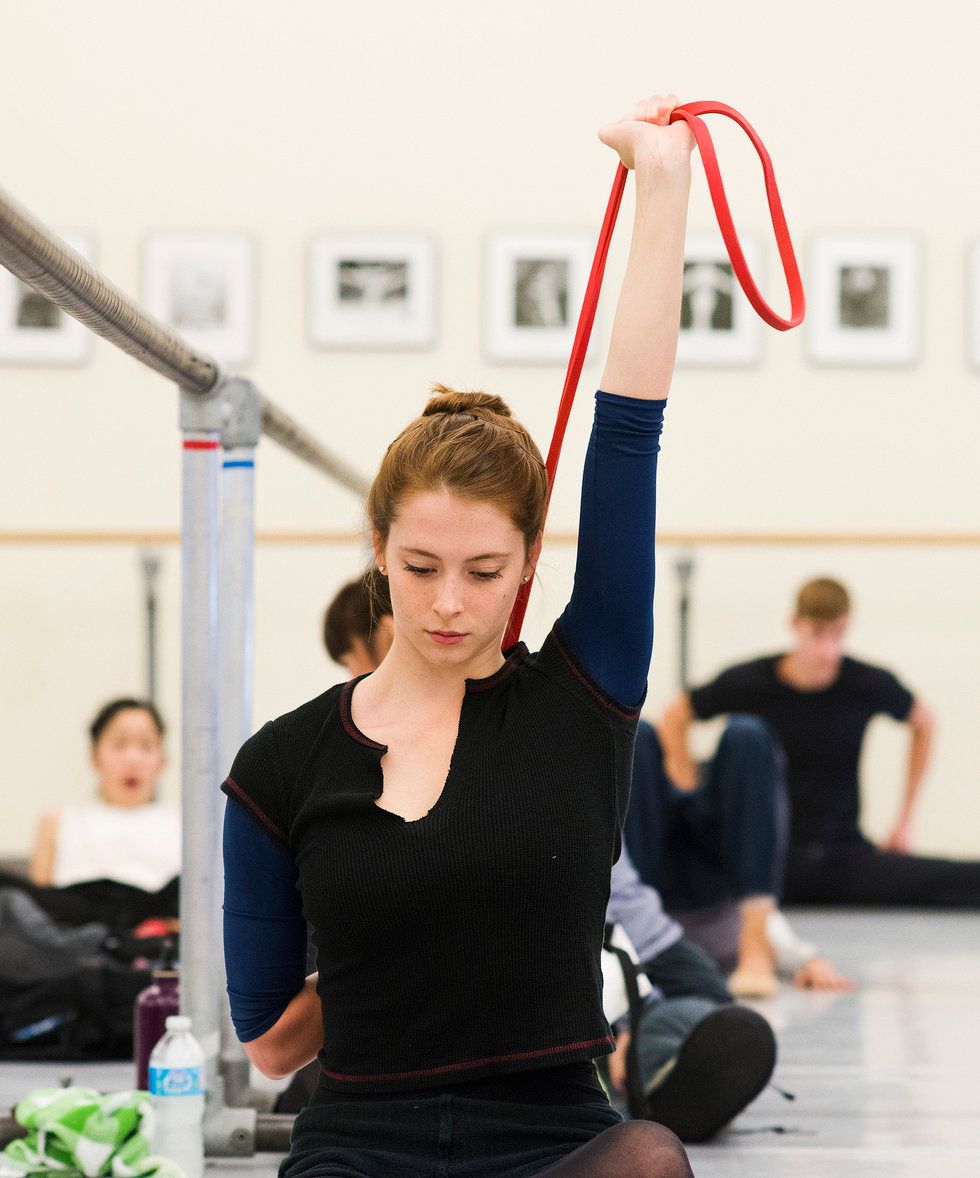 Hawes warms up before company class. Photo by Aaron Vincent Elkaim, courtesy NBoC
Swimming not only helped her lung capacity but her awareness of her breath.
Swimming has helped Hawes pay attention to her breath onstage. "When I was young, we did exercises like swim an entire length of the pool holding your breath or breathing every third stroke," she says.
Although she doesn't have the same lung capacity that she did when she was swimming regularly, that awareness is still available.
"When you're breathing every third stroke, you need to hold your breath a bit longer than you want to, rotate to breathe on both sides—including the one that is uncomfortable. There are a lot of times while dancing that your only moment to take a breath is in a super-uncomfortable position. If you can find a sort of peace with breathing in that place, you can more effectively manage your energy."
She uses laps as meditation.
For Hawes, one benefit of the water is its calming effect. "Swimming is quite monotonous, which is ultimately why I chose ballet over it. But that also makes it a great meditative place to tune in with your body."
Try Hawes' go-to workout in the pool:
During breaks, Hawes swims up to three times a week. One of her standard options includes:
Warm-Up: 100 meters freestyle, 100 meters kickboard, 100 meters stroke drill (focusing on one element, like breathing)
Sets: She might do eight sets of 50 meters, alternating strokes and drills, or six sets of 100 meters, with the even sets focused on kicking and the odds breathing every third stroke. She aims for 1,500 meters total.
From Your Site Articles
Related Articles Around the Web
The "Merde" bag. Courtesy Scenery
Jennifer Kahn knew the theater industry could do better. As a professional stage manager for 17 years she worked on regional, off-Broadway and Broadway shows. Nearly each time a show closed, something unsettling happened: "I would watch them throw away our shows. All of the beautiful artwork by my friends in the paint shop would go in the trash." The elaborate backdrops? Gone.

But she had an idea: What if the material used in the backdrops and legs could be upcycled into something new? And what if theater lovers could literally keep a piece of a beloved show?
Keep reading...
Show less
Left: Hurricane Harvey damage in Houston Ballet's Dance Lab; Courtesy Harlequin. Right: The Dance Lab pre-Harvey; Nic Lehoux, Courtesy Houston Ballet.
"The show must go on" may be a platitude we use to get through everything from costume malfunctions to stormy moods. But when it came to overcoming a literal hurricane, Houston Ballet was buoyed by this mantra to go from devastated to dancing in a matter of weeks—with the help of Harlequin Floors, Houston Ballet's longstanding partner who sprang into action to build new floors in record time.
Keep reading...
Show less
News
Oct. 18, 2019 11:54AM EST
Photo by Gabriel Davalos, Courtesy Valdés
For decades the name Alicia Alonso has been virtually synonymous with Ballet Nacional de Cuba, the company she co-founded in Havana in 1948. Alonso died on October 17, just shy of what would have been her 99th birthday. In recent years, she had stepped back from day-to-day decision-making in the company. As if preparing for the future, in January, the company's leading ballerina, 42-year-old Viengsay Valdés, was named deputy director, a job that seems to encompass most of the responsibilities of a traditional director. Now, presumably, she will step into her new role as director of the company. Her debut as curator of the repertory comes in November, when the troupe will perform three mixed bills selected by her at the Gran Teatro de la Habana Alicia Alonso. The following has been translated from a conversation conducted in Spanish, Valdés' native tongue.
Keep reading...
Show less
Sara Mearns in the gym. Photo by Kyle Froman.
New York City Ballet principal Sara Mearns wasn't sure she was strong enough. A ballerina who has danced many demanding full-length and contemporary roles, she was about to push herself physically more than she thought was possible.
"I said, 'I can't. My body won't,' " she says. "He told me, 'Yes, it will.' "
She wasn't working with a ballet coach, but with personal trainer Joel Prouty, who was asking her to do squats with a heavier barbell than she'd ever used.
Keep reading...
Show less