On Monday night, a memorial was held at Riverside Church to honor the life and achievements of Dance Theatre of Harlem co-founder Arthur Mitchell. With nearly three months to process and grieve (Mitchell passed away on September 19) the atmosphere was not that of mourning as much as reflection, reverence and admiration for who he was, what he built and what remains. (Watch the full livestream here.)
The church filled with family, artistic friends, fans and admirers. What was most gratifying was the volume of DTH alumni from the school, company and organization who traveled across the globe to pay their respects, from founding members to present dancers and students. The house of worship was filled with the sentiment of a family reunion. As Mitchell was sent home, it was a homecoming for many who have not shared air together in decades. What was palpable was the authentic bonds that Dance Theatre of Harlem and Mitchell fostered in all.
Keep reading...
Show less
Arthur Mitchell was always aware of his charm. Photo courtesy Dance Magazine Archives
Last Wednesday, Dance Theatre of Harlem co-founder and ballet pioneer Arthur Mitchell died. He was 84 years old and, though vibrant and tenacious as ever, this past year the toll that illness and age were taking on him was visible.
In October when he hosted "An Informal Performance on the Art of Dance" to celebrate the donation of his archives to Columbia University's Rare Book & Manuscript Library and the upcoming Wallach Art Gallery Exhibition, he shared that his recent hip surgery left him requiring a shoe with a lift. He acknowledged his "altered state" with panache, that side-eyed smirk catching the light with a cheek bone, and ending with a chuckle that broadened to a dazzling open-mouthed smile.
Mr. Mitchell's acute awareness of his pulchritude and charm, and the adroit manner in which he wielded them, have always been key factors of his influence.
Keep reading...
Show less
Arthur Mitchell encourages Mister Rogers to try some basic ballet positions. A screenshot from episode 1574.
The late pioneering dancer Arthur Mitchell was an icon in the dance world—as well as a touchstone in popular culture. Not only did he break boundaries at New York City Ballet, where he performed under Balanchine as a black male principal, but he also went on to co-found Dance Theatre of Harlem. But his international acclaim wasn't limited to the stage: Mitchell and DTH were featured in a special 1987 episode of "Mister Rogers Neighborhood," bringing ballet into living rooms across America.
Keep reading...
Show less
Arthur Mitchell and Diana Adams in George Balanchine's Agon. Photo courtesy DM Archives
Former New York City Ballet principal dancer and Dance Theatre of Harlem founder Arthur Mitchell passed away today in a Manhattan hospital. He was 84 years old.
Mitchell originated the role of Puck in Balanchine's A Midsummer Night's Dream. Photo by Oleaga Photography, Courtesy DM Archives
As a leading dancer with NYCB in the 1950s and '60s, Mitchell became indelibly associated with two roles created on him by George Balanchine: the central pas de deux in Agon (1957) and Puck in A Midsummer Night's Dream (1962). Mitchell's performance of the athletic, entwining Agon pas de deux with Diana Adams—a white woman—caused a major stir during a moment in which America was rife with racial tension.
Keep reading...
Show less
Black Panther, screenshot via
YouTube
Recently, I went to see Black Panther. When the aircraft penetrated the invisible force-field cloaking the fictional African nation of Wakanda—a country unmolested by European colonization, one that is powerful, prosperous, thriving and the most technologically advanced society in the world—I literally gasped.
Evan Narcisse, a pop culture critic who co-writes "The Rise of the Black Panther" miniseries told The Washington Post, "Wakanda represents this unbroken chain of achievement of black excellence that never got interrupted by colonialism." It presents African peoples with agency, self-definition and identity. In Wakanda there is no "black" excellence, there is just excellence.
Keep reading...
Show less
Edward Villella, Arthur Mitchell and Jacques dAmboise. Photo by Noam Galai/Getty Images for National Dance Institute
After 50 years, George Balanchine's New York City Ballet male dancers—Jacques d'Amboise, Edward Villella and Arthur Mitchell—were reunited. The one-night-only event at the National Dance Institute in New York City (founded by d'Amboise in 1976) provided a rare glimpse of what it was like to work with Mr. B. during ballet's golden years at NYCB.
The three men, all in their early 80s, discussed everything from their ballet beginnings: Villella being dragged with his sister to class, to dancing with "Balanchine's gals" (as d'Amboise referred to them), several of whom were in attendance, including Patricia McBride and Suki Schorer. Sprinkled throughout the discussion was video footage of the three men performing memorable roles choreographed by Balanchine. Current NYCB members Joaquin de Luz, Sterling Hyltin, Adrian Danchig-Waring, Teresa Reichlen, Daniel Ulbricht and Ask La Cour Rasmussen also performed live excerpts from Prodigal Son, Agon, Apollo and Tarantella.
Keep reading...
Show less
Arthur Mitchell in The Four Temperaments
When Arthur Mitchell set out to prove that African Americans could excel in ballet, there were many skeptics. He not only created a world-class ballet company—Dance Theatre of Harlem—but he launched a discussion about race and ballet that we are still engaged in.
Who was Arthur Mitchell and how did he get the chutzpah to start a (mostly) black ballet company? Now we have a multi-faceted answer in an exhibit at Columbia University titled "Arthur Mitchell: Harlem's Ballet Trailblazer." It's curated by 2016 Dance Magazine Awardee Lynn Garafola, who is considered the foremost American dance historian.
Keep reading...
Show less
Get Dance Magazine in your inbox
Arthur Mitchell in class, 1960s. Photo by Milton Oleaga. Arthur Mitchell Collection, Rare Book & Manuscript Collection, Columbia University.
Throughout his remarkable career, the fiercely determined, intelligent and energetic Arthur Mitchell has become accustomed to being called a trailblazer. "Being a typical Aries, I like being the first," he says, laughing. "That's what I've been doing all my life."

This is true, especially when it comes to the discussion at the forefront of today's national dialogue about dance: diversity in ballet.
Keep reading...
Show less
Is ballet ready for a redesign?
2017 felt like we were living the Upside Down of the popular Netflix series "Stranger Things." From Donald Trump becoming president, to the sexual harassment scandals that ricocheted into the ballet world, everything we thought we knew was turned on its head.
Yet while the deconstruction of institutional paradigms is frightening, it also presents an unprecedented opportunity for redesign.
Ballet, much like our political parties, seems to be stuck in an antiquated format that's long overdue for a makeover. With the world changing at lightning speed, if ballet wants to survive it will have to undergo a radical reimagining. But what would that look like?
Keep reading...
Show less
Popular
Jun. 13, 2017 09:10AM EST
Eunhye Lee of South Korea received the silver medal in the senior division.
For a small competition, Valentina Kozlova International Ballet Competition is packed with 20 power judges and loads of promising talent. More than 100 serious students ages 11 to 25 gathered in New York to dance at Symphony Space, culminating in a gala Sunday June 10. Judges included top figures like Nina Ananiashvili, director of State Ballet of Georgia; Andris Liepa, People's Artist of Russia; Jeon Mi Sook, faculty of Korea National University of Arts; Victoria Morgan, artistic director of Cincinnati Ballet; choreographer Margo Sappington; and Olga Guardia de Smoak, artistic advisor to the Ministry of Culture of the Republic of Panama.
Keep reading...
Show less
Francesa Hayward, courtesy Royal Ballet
Janet Collins, Raven Wilkinson, Debra Austin, Nora Kimball, Misty Copeland, Francesca Hayward. All of these successful black ballet dancers have something in common: they skew toward the fairer end of the sepia spectrum.
Onstage, the duskiness of their complexions can be all but washed out, bleached by the lights. From the audience, they could present as a white girl back from a beachside vacation, or be perceived as Latina.
This observation is in no way meant to challenge these women's "blackness," or their talent. It's to highlight a long-overlooked fact that, historically, artistic directors have shown a predilection towards black ballerinas with lighter skin tones.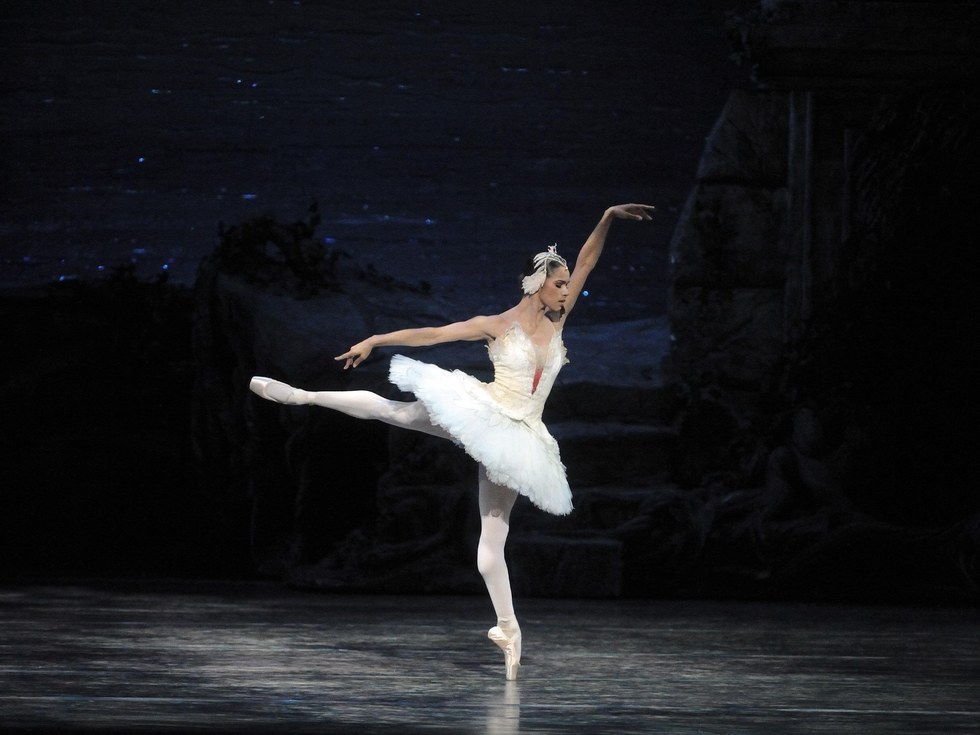 Misty Copeland in Swan Lake. Photo by Gene Schiavone, courtesy ABT
Keep reading...
Show less
Magazine
Aug. 01, 2012 10:54AM EST
Dancers remember New York City Ballet's historic 1962 tour.
Allegra Kent at curtain call with Balanchine, St. Petersburg. Photo by Bert Stern, Courtesy Stern.
Fifty years ago New York City Ballet toured five cities in the USSR—Moscow, Leningrad (St. Petersburg), Kiev, Tbilisi, and Baku. By any definition it was a historic trip, marking the company's first appearance in the Soviet Union, the first time most Soviets had seen any Balanchine ballets, and the first time Balanchine had returned to his homeland since his departure in 1924. There was no compromise in the choice of repertoire: The company performed Agon and Episodes, in addition to Serenade, Symphony in C, Western Symphony, Concerto Barocco, and other Balanchine works, as well as two ballets by Robbins: Interplay and Fanfare. Considering that most of the Russian repertoire consisted of full-evening story ballets, these choices were daring indeed. Plotless ballets were new to audiences in the Soviet Union. Perhaps in deference to their tradition, Balanchine brought three story ballets of his own—Prodigal Son, La Sonnambula, and La Valse. (He had wanted to bring A Midsummer Night's Dream, but was told that for the Soviet children, appearing with Western dancers would be "corrupting.") Lincoln Kirstein, general director of NYCB, was said to have been both surprised and jubilant at the Russians' overwhelmingly enthusiastic response.
Herewith, some reminiscences of five dancers—three American, two Soviet—who were witnesses to that history.
Arthur Mitchell, founder, Dance Theatre of Harlem; former principal dancer, NYCB.
"In 1962 everyone was very nervous because it was the first time Mr. B had been back since 1924, and there was a rumor going around that if Russians who had left returned they would be put in jail. Mr. B, although not a depressive person, was very internal, so everyone said, 'Arthur, go sit beside him because he likes you and you make him laugh.' When we got there, I could see that he was nervous—not nervous like frightened, but very introspective. We were concerned because we knew he was under a great deal of pressure. You could see it wearing on him.
"We were all revved up because it was the first time the Russians had seen the company, and because of the adoration and love that we all had for Mr. B. We all worked to keep him in a good mood, but everybody was on pins and needles. The State Department told us that the hotel rooms were bugged, and that if we had something really terrible to say we should write it on a piece of paper and then tear it up and flush it down the toilet.
"Dancing there was particularly exciting for me, because they had never seen a black man dancing ballet. There was great interest and so my goal was to kill myself being the best I could possibly be. When I came on in Agon, you could hear rustling around the theater. It was exhilarating but nerve-racking, like being under a microscope. The response from audiences was tremendous.
"The Cuban missile crisis occurred while we were in Moscow. One morning we looked out of our windows and saw guns and tanks and people marching, and we thought, We're at war! We found out later that it was a celebration of one of Russia's armistice days. That calmed everybody."
Andrei Kramarevsky, faculty member, School of American Ballet; former principal dancer, Bolshoi Ballet (translation by Alla Reznik).
"At the Bolshoi theater, I watched Balanchine giving a class. There was no pianist; he kept time by snapping his fingers. I thought the technique was much better than ours. I noticed the special use of the feet, coming up and down through the foot, through demi-pointe. For our dancers it was just up and down with no in-between. Unlike ours, his accent was always up, on the 'one' (and-ONE), whereas ours was always down (ONE-and). I noticed the speed; for example, our glissade was done in two different movements, one foot finishing after the other in fifth. For NYCB it was much faster, with almost no preparation. It was done almost as a single movement, with both feet nearly finishing together. I was also impressed with the stamina. The dancers worked very hard; they never stopped.
I liked every ballet I saw. Villella in Prodigal Son—oh my God! Agon with Allegra Kent and Arthur Mitchell was incredible. Balanchine was a genius—he made the music visible. But it wasn't a good idea to talk to him—the Soviet attitude was that he had betrayed the motherland.
My generation always felt very good about America. During World War II, when we had almost no food, we received food packages from America. They allowed us to stay alive."
Allegra Kent, adjunct professor of dance, Barnard College; former principal dancer, NYCB; author, most recently of the children's book, Ballerina Swan. 
"Before the curtain went up on opening night they played the national anthems and I started to cry. That moment was so fraught, so emotional. I was dressed for Serenade, the first ballet. The costumes were all the same; in that sea of blue, there was no differentiation between principals and corps. I thought that, quite apart from the choreography, this must be so different from what the Russians had probably seen. And then I had the honor of dancing with Arthur in Agon. He brought so much sensitivity and power to that ballet. I think the Russians had never seen a pas de deux like that. They were ecstatic.
"One of my biggest thrills was La Sonnambula in the Kremlin Palace of Congresses because the stage was so big. To cover that in the first diagonal walk—I thought, How am I going to do that? Balanchine demonstrated. He asked for the candle, and he was running and running, and then he stepped over the downstage ledge and I thought he was going to die.
"During the Cuban missile crisis, we were afraid we were going to be blown up—but we had to keep dancing! I sewed a lot of ribbons on shoes.
"There was one review that said I had some of the qualities of one of their greatest dancers, Ulanova. Balanchine understood that I was a favorite, and I think I danced every performance but one. But I got to see Kolpakova perform Sleeping Beauty. The sheer beauty of her dancing, her musicality, and her artistry were thrilling.
"We didn't have much contact with the civilian population, but my grandmother's youngest brother, who had escaped the Nazis and was living in Moscow, came to see me at the hotel. My mother hadn't told me I had a relative."
Irina Kolpakova, ballet mistress, ABT; former principal dancer, Kirov (Mariinsky) Ballet.
"We knew the name Balanchine because we learned the history of ballet in our school. But we had never seen NYCB. Balanchine taught one class for the Kirov company. The combinations were not easy because the movement was a little fast. At the Kirov, we did each step separately and very deeply, pushing from the floor. With Balanchine, there was more continuous movement, and the dancers made it look easy. I especially remember Symphony in C, Theme and Variations, Serenade, Tschaikovsky Pas de Deux with Patricia McBride and Edward Villella, and La Sonnambula with Allegra Kent. She was 'number one.' I also remember Violette Verdy, Jean-Pierre Bonnefoux, and Jacques d'Amboise.
"All our dancers loved NYCB; nobody had a bad word to say about Balanchine's company. We saw energetic movement, clear and fast, without any apparent technical difficulties, and we loved the interpretation and the wonderful music. We just wanted to see them again and again. And of course we would have been glad to dance those ballets (if someone could have come and staged them), but in my time that was impossible."
Suki Schorer, faculty member, SAB; former principal dancer, NYCB.
"When I heard we were going to Russia, I got very excited and bought myself a book called Instant Russian and started practicing. One day I said in Russian to Mr. B, 'How are you?' and he said, 'Who's your teacher—some Japanese man?'
"In the middle of the Kremlin engagement I was out with a stress fracture because the stage was so hard. I went to therapy in several hospitals, and that was interesting. The people were in horrible condition and we were whisked through, then given a massage. They were bleeding…and we got the best treatment.
"We watched one class with the Bolshoi. It had many big jumps, dancers sitting in plié, and a lot of tilting back, maybe because of the raked stage. The bodies weren't as long and lean as they are today. I think the audiences were overwhelmed by our performances. They couldn't believe what dance had become—what the ballets looked like, what the bodies looked like, what the choreography looked like—and to their music!"
Nancy Reynolds, a former NYCB dancer, is the author of Repertory in Review and co-author of No Fixed Points. She is director of research at The George Balanchine Foundation.