News
Sep. 16, 2019 11:00AM EST
Teaċ Daṁsa in Michael Keegan-Dolan's Loch na hEala. Photo by Marie-Laure Briane, courtesy Walker Art Center
The 2019–20 season is here, and with it more performances than any one person could reasonably catch. But fear not: We polled our writers and editors and selected the 31 most promising tickets, adding up to one endlessly intriguing year of dance.
Keep reading...
Show less
What did our readers care about most in 2018? Judging by our top-clicked stories, topics as broad as confronting a bullying teacher, investigating how Instagram has impacted the dance world and advocating for dance as an intellectual pursuit were the biggest stories in dance this year.
But our biggest hit, published just earlier this month, already has us looking to the new year: Our annual "25 to Watch" list for 2019, profiling the artists we think will be taking the dance world by storm sooner than later.
These are our 10 most-read stories of the year, and why we think they struck a chord with readers:
Keep reading...
Show less
Photo credits, clockwise from bottom left: Peter Mueller, Courtesy Cincinnati Ballet; Jayme Thornton; Jochen Viehoff, Courtesy Stephanie Troyak; Karolina Kuras, Courtesy National Ballet of Canada; Natasha Razina, Courtesy State Academic Mariinsky Theatre; Kim Kenney, Courtesy Atlanta Ballet; Jim Lafferty; Arian Molina Soca, Courtesy Pennsylvania Ballet; Altin Kaftira, Courtesy Dutch National Ballet; Scott Shaw, Courtesy Shamar Wayne Watt
What's next for the dance world? Our annual list of the dancers, choreographers and companies that are on the verge of skyrocketing has a pretty excellent track record of answering that question.
Here they are: the 25 up-and-coming artists we believe represent the future of our field.
Keep reading...
Show less
A couple weeks ago, I went to see New York City Ballet's Tribute To Robbins, which featured Warren Carlyle's lovely restaging of Jerome Robbins' Broadway choreography. But as the number from The King and I began, I felt a familiar discomfort.
I rolled my eyes at the faux-Thai headdresses and the "exotic" musical motifs—irritations transferred from the musical, whose Orientalist tendencies are well-documented. But my disappointment doubled as I realized that I have never seen a ballet choreographed by an Asian American on that stage.
I left frustrated and confused. As a young dancer and Filipino American, I look up to performers and choreographers who share my Asian-American heritage. Where are they?
Keep reading...
Show less
Lisset Santander is adding more contemporary works to her repertoire. Here with Jarrett Reimers in Christopher Wheeldon's Fools Paradise. Photo by Jennifer Zmuda, Courtesy BalletMet.
When Lisset Santander bourréed onstage as Myrtha in BalletMet's Giselle this past February, her consummate portrayal of the Queen of the Wilis was marked by steely grace and litheness. The former Cuban National Ballet dancer had defected to the U.S. at 21, and after two years with the Ohio company, she's now closer to the dance career she says she always wanted: one of limitless possibilities.
Keep reading...
Show less
BalletMet in company class onstage before a show. Photo by Jennifer Zmuda, courtesy BalletMet
Before she became the 20th century's most revered ballet pedagogue, Agrippina Vaganova was a frustrated ballerina. "I was not progressing and that was a terrible thing to realize," she wrote in a rough draft of her memoirs.
She retired from the Imperial Ballet stage in 1916, and for the next 30-plus years, devoted herself to creating a "science of ballet." Her new, dynamic teaching method produced stars like Rudolf Nureyev, Alla Osipenko, and Galina Ulanova and later Natalia Makarova and Mikhail Baryshnikov. And her approach continues to influence how we think about ballet training to this day.
But is the ballet class due for an update? Demands and aesthetics have changed. So should the way dancers train change too?
Keep reading...
Show less
Jim Lafferty
Having just returned to New York City after a couple weeks of guesting in Southeast Asia, American Ballet Theatre principal Daniil Simkin is in rehearsal for the lead role in Alexei Ratmansky's latest creation, Whipped Cream. In between this brief rehearsal period and ABT's Metropolitan Opera House season, Simkin will be using any days off to travel for other guest performances. That is, when he's not in production meetings or rehearsing in Chicago or New York for his own project premiering at the Guggenheim in the fall, or preparing his debut as Albrecht in Giselle for an ABT tour.
"If I have an hour break between rehearsals, I try to get my work done for the day," says Simkin. "There are emails, meetings, fundraising, a lot of administration stuff with the Guggenheim project, delegating, checking in—'Will Dior do the costumes?'—and then I might get a guesting invitation and then I have to check my schedule, book flights and hotels."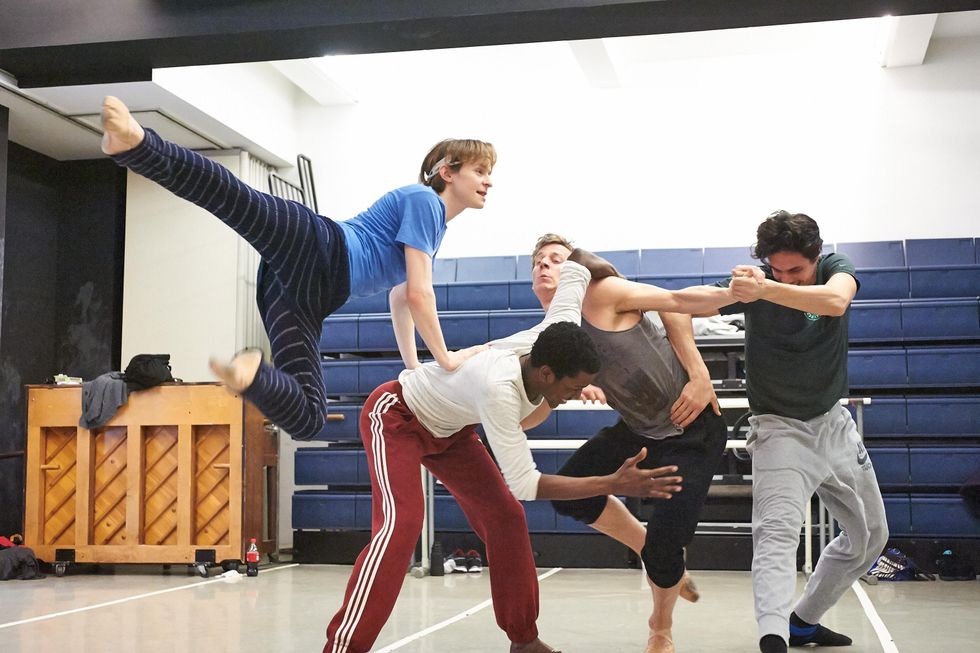 Daniil Simkin's Intensio project. Photo by Jim Lafferty
Keep reading...
Show less
Get Dance Magazine in your inbox
Sep. 01, 2014 01:56PM EST
History.In.Motion
NEW YORK CITY
Over 150 years ago, Abraham Lincoln issued the Emancipation Proclamation; 20 years ago, Nelson Mandela helped end apartheid in South Africa. New York Live Arts resident artist Kyle Abraham will premiere three works—a feat that would exhaust even the most seasoned choreographers—inspired by both momentous events. The Watershed, an evening-length piece, explores today's freedoms, and the mixed-rep program, When the Wolves Came In, takes inspiration from jazz musician Max Roach's 1960 protest album We Insist! Max Roach's Freedom Now Suite. We're in for a treat, as the performances promise plenty of dancing by Abraham himself. Not even the skilled movers of Abraham.In.Motion can quite grasp his fleeting, run-on sentences of movement like he can. Sept. 23–Oct. 4. newyorklivearts.org.
Above: Jordan Morley and Tamisha Guy in When the Wolves Came In. Photo by Carrie Schneider, Courtesy New York Live Arts.
With a Twist
COLUMBUS
Twisted: a Trio of Excellence will gather more than 200 artists from BalletMet, Opera Columbus and Columbus Symphony and Chorus. The resulting revue samples opera's greatest works, from La Bohème to The Magic Flute to Carmen. Some of the performance's intrigue is its sheer spectacle, but it also has the choreographic chops to back it up: contemporaries Val Caniparoli, Ma Cong, Edwaard Liang, James Kudelka and BalletMet dancer Jimmy Orrante will choreograph to the opera excerpts. Ohio Theatre, Sept. 25–28. balletmet.org.
Right: Adrienne Benz and David Ward in rehearsal. Photo by Jennifer Zmuda, Courtesy BalletMet.
The House That Ralph Built
MINNEAPOLIS
The next stage for interdisciplinary performance artist Ralph Lemon's work isn't a stage at all, but a two-story structure in a gallery at the Walker Arts Center. Scaffold Room, which Lemon describes as a "lecture-performance-musical," questions what qualifies as contemporary performance. Performers Okwui Okpokwasili and April Matthis will enact female historical and pop culture figures, from standup comedian Moms Mabley to singer-songwriter Amy Winehouse. Also on display is Lemon's sound and image installation Meditation, which was the final piece to his multi-year exploration How Can You Stay in the House All Day and Not Go Anywhere? After the work premieres in his hometown of Minneapolis, Sept. 25–28, it will tour the U.S. walkerart.org.
Above: Scaffold Room. Photo by Ralph Lemon, Courtesy Walker.
Witch Hunt
GLASGOW
After years of choreographing plotless works, Helen Pickett has begun experimenting with narrative. Her latest: The Crucible, commissioned by Scottish Ballet, is based on Arthur Miller's emotionally riveting 1953 play about the 17th-century Salem witch trials. Pickett has applied her Forsythe-flavored physical explorations to character portrayal by asking questions like, "How does it feel in the spine when this character is accused?" Also on the bill is Ten Poems, Christopher Bruce's tribute to poet Dylan Thomas. Quite a literary evening! Theatre Royal, Sept. 25–27, and touring. scottishballet.co.uk.
Above: Victor Zarallo in a Pickett rehearsal. Photo by Andy Ross, Courtesy Scottish Ballet.
Earth Mothers
SAN FRANCISCO
This month, Hope Mohr Dance's Bridge Project will celebrate Anna Halprin and Simone Forti. It's a rare opportunity to see these foremothers of postmodern dance perform live: In her 1999 solo The Courtesan and the Crone, Halprin shuttles from youth to old age. And Forti, prompted by nothing but the whims of her mind in motion, will dance one of her uncanny word-and-movement improvisations. Also on the program is Mohr in Lucinda Childs' absurdist solo Carnation (1964) and Peiling Kao in a new work by Mohr. Joe Goode Annex, Sept. 26–27. hopemohr.org.
Above: Simone Forti. Photo by Carol Peterson, Courtesy Hope Mohr Dance.