News
Oct. 30, 2018 09:22AM EST
Sasha Waltz in rehearsal for her new work, Kreatur. Photo by Ute Zscharnt, courtesy BAM
You could say that Sasha Waltz has had a rough few years. When she was appointed co-artistic director of Staatsballett Berlin in 2016, along with Johannes Öhman, former artistic director at Royal Swedish Ballet, it didn't go so well. She was met with petitions and protests from the dancers, who argued that under the leadership of someone with minimal ballet experience the company would lose its classical heritage and technical excellence.
But she's also had an arguably fruitful few years. She's celebrated the 25th anniversary of her company, Sasha Waltz & Guests, for which she's continued to create critically-acclaimed, highly collaborative work. The drama surrounding Staatsballett has died down significantly. And next year, when she joins Öhman at Staatsballett (his tenure began this year), she'll be at the helm of two of Berlin's greatest dance companies, creating new work for each company every other year on an alternating basis.
This week, Waltz's Kreatur will have its U.S. premiere at the Brooklyn Academy of Music. For Waltz, it's a particularly special tour stop: It's part of BAM's final Next Wave season programmed by outgoing executive producer Joseph V. Melillo, whom Waltz considers an influential collaborator and supporter.
We caught up with her about Kreatur and what she envisions for Staatsballett:
Keep reading...
Show less
Molissa Fenley (left) and her dancers in 1985. Photo by Chris Callis, Courtesy DM Archives
In the October 1983 issue of Dance Magazine, we explored the work of then-breakout contemporary artist Molissa Fenley. Having spent the late '70s sending shockwaves through the New York City arts community with her experimental works, she was tapped by Brooklyn Academy of Music to create a new commission for its first-ever Next Wave Festival. She told us, "I don't know if New York was ready for me, but the audiences were ready for some change, for some energy, and for some dancing!" Her voracious yet analytical fusion of cultures, traditions and movement caught the eye of our editors then, and still captivates today. Now 63, Fenley continues to create and perform with the same explosive energy that marked her early career.
Molissa Fenley (left) was commissioned by Brooklyn Academy of Music for its first-ever Next Wave Festival in 1983. Photo by Chris Callis, Courtesy DM Archives
News
Sep. 25, 2018 12:41PM EST
Pina Bausch's The Rite of Spring caused a sensation at the Next Wave Festival in 1984. Photo by Oliver Look, Courtesy Brooklyn Academy of Music
Brooklyn Academy of Music's Next Wave Festival, which contributed to the rise of dance icons like Trisha Brown, Pina Bausch and Bill T. Jones, will be memorialized in print this month. BAM: The Next Wave Festival offers an inside glimpse at the past 35 years.
Keep reading...
Show less
Indumba investigates an African cleansing ritual. Photo by Ken Carl, via
bam.org
When Kevin "Iega" Jeff saw Fana Tshabalala's Indumba at the annual JOMBA! Contemporary Dance Experience in South Africa, he immediately knew he would ask Tshabalala to set the work on his company.

"There's an ancient energy in Fana's movement, a deep and trusted knowing," says Jeff, director of the Chicago-based Deeply Rooted Dance Theater. "Because I witnessed the raw humanity of his dancer's souls, I wanted my dancers to have that experience."
Keep reading...
Show less
News
Apr. 16, 2018 02:35PM EST
Former Merce Cunningham Dance Company members Andrea Weber and Rashaun Mitchell in Antic Meet. Photo by Yi-Chun Wu, Courtesy MCDC
Merce Cunningham would have been 99 years old today, and, as a present to the dance world, the Merce Cunningham Trust has announced a dizzying array of celebrations to unfold over the next year in honor of the groundbreaking choreographer's 2019 centennial.
"Merce liked saying he didn't want to celebrate his birthday, and yet he always enjoyed when we threw parties for him," Trevor Carlson, producer of the Merce Cunningham Centennial, said in a press release. Though the Merce Cunningham Dance Company shuttered in 2011 (two years after the choreographer's death, per his wishes), plans to celebrate his legacy range from performances to film screenings to workshops to education programs to dinner parties.
Keep reading...
Show less
Meredith Monk, center, in Cellular Songs, PC Julieta Cervantes
Meredith Monk is a choreographer, composer and interdisciplinary artist who takes us back to the most elemental forms of what it is to be human. Experiencing her work is almost like you're hearing an oracle. Krista Tippett, the host of NPR's On Being, said, "Meredith Monk makes music and theater that feels edgy and ancient at the very same time."
For Cellular Songs, which premieres at the Brooklyn Academy of Music's Harvey Theater on March 14, the press release says, "Monk looks to underlying systems in nature that can serve as a prototype for human behavior in our tumultuous world."
The cast of five women is joined by ten singers from the Young People's Chorus of New York City.
News
Jan. 11, 2018 09:01AM EST
Miami City Ballet in Jerome Robbins' West Side Story Suite. Photo by Daniel Azoulay, Courtesy MCB
From the over-the-top antics of Fancy Free to the stylized realism of West Side Story, the discomfiting world of The Cage to the poignant humanity of Dances at a Gathering, the work of Jerome Robbins redefined what American dance could be. To celebrate the 100th anniversary of his birth, ballet companies across the country are performing his iconic works throughout the year. Here are a few of our favorites, but keep your eyes peeled for more Robbins tributes in 2018.
Keep reading...
Show less
Get Dance Magazine in your inbox
News
Nov. 23, 2017 11:00AM EST
Kimberly Bartosik's Ecsteriority4 (Part 2). Photo by Ryutaro Mishima, Courtesy BAM.
Showing choreography at a major venue in New York City is a goal and milestone for many dance artists. Yet when such an opportunity comes their way, choreographers frequently find themselves scrambling for time and technical resources to give their work that professional shine. What they end up performing may not have the polish they intended. "Far too often artists are arriving at their presenting house and the piece isn't ready," says Adrienne Willis, the executive and artistic director of Lumberyard Contemporary Performing Arts, an organization that helps dance artists develop new work.
Back when Lumberyard was known as the American Dance Institute and operated out of a strip mall in Rockville, Maryland, it pioneered its Incubator program to whip new pieces into shape, kind of like the "out-of-town" tryout model for theater. Several of the artists it supported ultimately brought their shows to the Brooklyn Academy of Music, one of New York City's most prestigious venues, which quickly recognized the positive influence of the Incubator on performances.
Keep reading...
Show less
Hofesh Shechter's Grand Finale. Photo by Rahi Rezvani, Courtesy Danse Danse.
The first time I saw a Hofesh Shechter work, the usher handed me a program and a pair of earplugs as I walked up to the theater door. I was running late so I stuffed the tiny foam pieces in my pocket. I could not imagine in what universe I would ever need such things if I didn't even use them at rock concerts. And then I walked into the theater. I was pleasantly surprised to be accosted by the decibel level of what appeared to be a death metal band playing live for Shechter's Political Mother. I never used the earplugs, but perhaps the usual concert dance audience was grateful for the gesture.
In 2012, the show was a surprise even by the standards of Brooklyn Academy of Music's Next Wave Festival. In the years since, the Israeli choreographer has continued to shock and awe American audiences with his powerful, raw dance theater. His latest creation, Grand Finale, is a mature study in the contrasts and contradictions, the violence and the transcendence, that mark the modern human condition. I caught up with Shechter, now based in London, ahead of the work's appearance at BAM Next Wave November 9–11.
Grand Finale. Photo by Rahi Rezvani, Courtesy Danse Danse
What was your inspiration for Grand Finale? Is it purely abstract or is there a story in it for you?

I try to make work that is like a real night dream: You feel a lot of things and kind of know where you are are, and you kind of understand what is happening. It is an opportunity to express and digest a lot of emotions in the world today and in my life. And the responses are subjective; some people speak to me about the absolute despair in it and some speak of the hope they see, a shining star in the dark or a celebration of life. I think these two powers just exist together. There is a feeling of celebrating life regardless of how difficult it is, and, perhaps new to me, the feeling that there is beauty in the horrifying truth of our world, in what people are and how they behave. I was trying to make poetry with atrocities around me.
Keep reading...
Show less
News
Nov. 01, 2017 08:59AM EST
ODC/Dance in Boulder and Bones
It's not often that you hear about dance companies that own not one, but two buildings, where they also run a school, theater, gallery and even a health clinic for dancers. But ODC/Dance is an inspiring success story. Since founding the company in 1971, Brenda Way, along with co-artistic director KT Nelson, has created a self-sustaining model that's still going strong almost five decades later.
Dance Magazine spoke to Way ahead of the company's performances at the Brooklyn Academy of Music this week to pick her brain on how she's done it. Here's the advice she has to offer the next generation of dance directors:
Keep reading...
Show less
Bausch's Rite of Spring, Courtesy BAM
Maybe it's just by chance, but it seems like the upcoming lineup in New York City is designed to remind us of the women giants of our field. What a great welcome to the new season!

• Twyla Tharp brings new and old work to the Joyce. She may be the most prolific living choreographer in any genre. Her movement is always bursting with inventiveness, and she challenges her mighty dancers with impossibly complex and non-stop motion.
Keep reading...
Show less
Popular
Sep. 12, 2017 08:05AM EST
Peggy Jarell Kaplan, Courtesy BAM
In 1984, New York was introduced to a choreographer who would influence generations of dance artists: Pina Bausch. Tanztheater Wuppertal stunned audiences at Brooklyn Academy of Music in performances of Bausch's now-iconic Café Müller and The Rite of Spring.
Since that groundbreaking premiere, Bausch has been revered as a genius, a trailblazer, a game changer in the dance world. And starting this Thursday, Bausch devotees will make a pilgrimage back to Brooklyn Academy of Music where Tanztheater Wuppertal reprises its historic debut program. To celebrate the occasion, BAM shared some archival photos of the choreographer and her work with Dance Magazine, and we reached out to several of today's choreographers and dancers about how Bausch inspired their own life's work.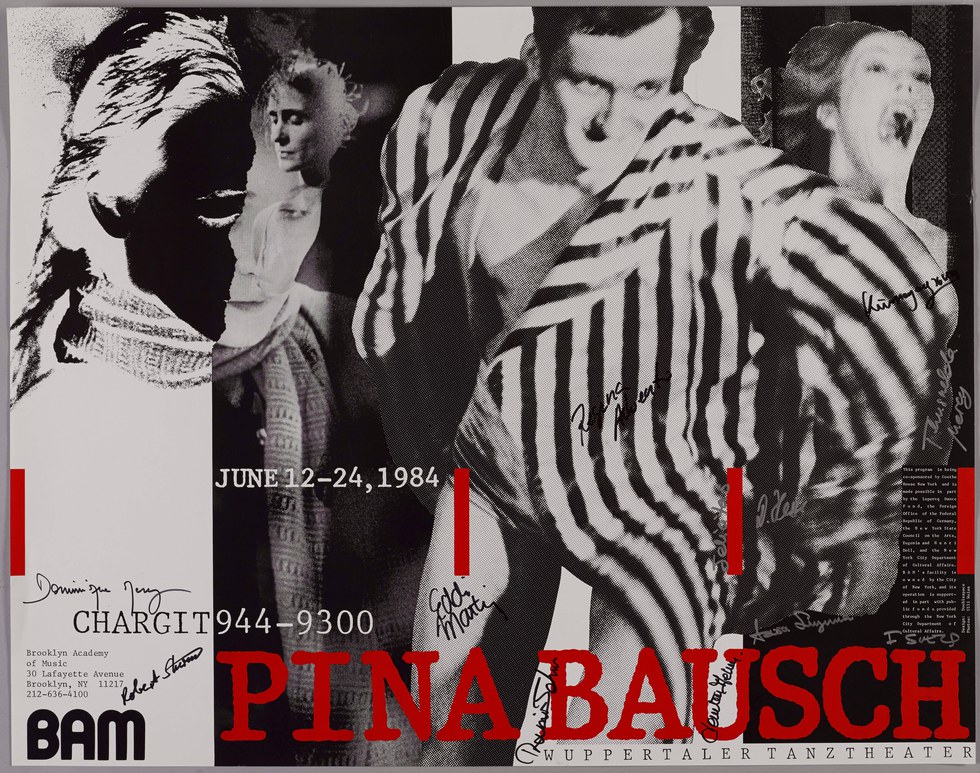 Poster signed by the company for the Tanztheater Wuppertal Pina Bausch self-titled production during BAM Spring Series, 1984
Keep reading...
Show less
Pina Bausch's The Rite of Spring. Photo by Oliver Look, Courtesy Brooklyn Academy of Music.
On the cusp of a new performance season, our calendars are chock full with shows we're dying to see. But it can be hard to know where to start with a season filled to bursting with promising premieres, tours and revivals. We've picked 12 shows that should definitely be on your radar.
Keep reading...
Show less