Carlos Acosta in a still from Yuli. Photo by Denise Guerra, Courtesy Janet Stapleton
Since the project was first announced toward the end of 2017, we've been extremely curious about Yuli. The film, based on Carlos Acosta's memoir No Way Home, promised as much dancing as biography, with Acosta appearing as himself and dance sequences featuring his eponymous Cuba-based company Acosta Danza. Add in filmmaking power couple Icíar Bollaín (director) and Paul Laverty (screenwriter), and you have a recipe for a dance film unlike anything else we've seen recently.
Keep reading...
Show less
Courtesy Birmingham Royal Ballet
Birmingham Royal Ballet announced today that international star Carlos Acosta will be taking over as director in January of 2020. Current BRB director David Bintley will be stepping down this summer, at the end of the company's 2019 season, after a 24-year tenure. "It is a tremendous honor and privilege to have been appointed to lead Birmingham Royal Ballet," Acosta said in a statement.
Since retiring from The Royal Ballet in 2015, Acosta has focused much of his attention on his native Cuba, where he's proven his directorial abilities at the helm of Acosta Danza, the contemporary company that he founded in 2016. In 2017 Acosta also opened his first Dance Academy through his foundation, which provides free training to students. We don't yet know how Acosta will balance his time between his projects in Cuba and his new role at BRB.
Keep reading...
Show less
News
Sep. 12, 2018 04:03PM EST
Yuli looks like the ballet biopic of our dreams. Screenshot via YouTube
We admit it. We're picky about dance movies. They don't always represent our beloved art form accurately, or use real dancers to play the main roles.
But we just watched the first trailer for the new Carlos Acosta biopic, Yuli, and we're kinda speechless:
Keep reading...
Show less
Misty Copeland on the set of The Nutcracker and The Four Realms. Photo courtesy Disney
Back in January, we took a look at Hollywood's 2018 dance card. While Red Sparrow and the Tiler Peck documentary Ballet Now have been released, several other films that piqued our curiosity are still in various stages of development. (And some have been radio silent, like the Carmen being helmed by Benjamin Millepied.) From Misty Copeland to Carlos Acosta, new trailers to first looks, here's the latest on the dancing we might just see on the big screen later this year.
Keep reading...
Show less
News
Apr. 25, 2018 12:01PM EST
Acosta Danza in Jorge Crecis' Twelve. Photo by Johan Persson, Courtesy Sadler's Wells
What does a superstar like Carlos Acosta do after bidding farewell to his career in classical ballet? In Acosta's case, he returns to his native country, Cuba, to funnel his fame, connections and prodigious energies back into the dance scene that formed him. Because of its top-notch, state-supported training programs and popular embrace of the art of dance, Cuba is brimming with talented dancers. What it has been short on, until recently, are opportunities outside of the mainstream companies, as well as access to a more international repertoire. That is changing now, and, with the creation of Acosta Danza, launched in 2016, Acosta is determined to open the doors even wider to new ideas and audiences.
Keep reading...
Show less
What does it take to become an international superstar? Carlos Acosta might have a few ideas.
At the Oxford Literary Festival earlier this month, the BBC sat down with Acosta to ask for his life lessons. His answers—which he says he will pass on to his kids one day—give incredible insight into how he's become such a beloved worldwide success.
Keep reading...
Show less
Oleg Ivenko and Ralph Fiennes on the set of The White Crow, an upcoming feature film dramatizing Rudolf Nureyev's defection. Photo via variety.com
Oh, Hollywood. In any given year, Tinseltown's use of dance in film veers from the woefully disappointing to the surprisingly delightful, but one thing's for certain: It's rarely boring. Here's our not-at-all-comprehensive and completely-subject-to-change list of the new dance-related movies coming soon to a theater (or laptop screen) near you.
Keep reading...
Show less
Get Dance Magazine in your inbox
Pina Bausch's The Rite of Spring. Photo by Oliver Look, Courtesy Brooklyn Academy of Music.
On the cusp of a new performance season, our calendars are chock full with shows we're dying to see. But it can be hard to know where to start with a season filled to bursting with promising premieres, tours and revivals. We've picked 12 shows that should definitely be on your radar.
Keep reading...
Show less
Francesa Hayward, courtesy Royal Ballet
Janet Collins, Raven Wilkinson, Debra Austin, Nora Kimball, Misty Copeland, Francesca Hayward. All of these successful black ballet dancers have something in common: they skew toward the fairer end of the sepia spectrum.
Onstage, the duskiness of their complexions can be all but washed out, bleached by the lights. From the audience, they could present as a white girl back from a beachside vacation, or be perceived as Latina.
This observation is in no way meant to challenge these women's "blackness," or their talent. It's to highlight a long-overlooked fact that, historically, artistic directors have shown a predilection towards black ballerinas with lighter skin tones.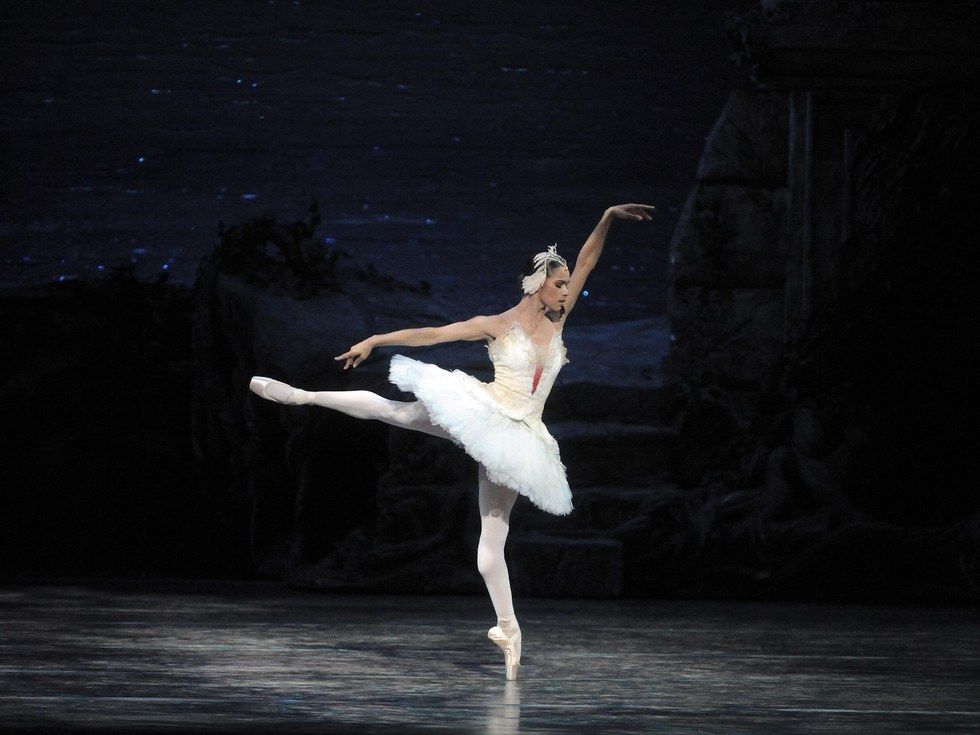 Misty Copeland in Swan Lake. Photo by Gene Schiavone, courtesy ABT
Keep reading...
Show less
Popular
Feb. 10, 2016 02:57PM EST
Whether you're flying solo or in a relationship, these nine supremely talented—and, ahem, hunky—male dancers wanted you to know they'll be thinking of you this Valentine's Day. Gift these for Galentine's Day or just consider them a gift from us to you. (You're welcome.)
Alex Wong (and his abs) wish you a fantastic day.
Photo by Nathan Sayers
Carlos Acosta may be retired from The Royal Ballet, but he still wants to dance with you.
Photo by Kristie Kahns
Master choreographer Hofesh Shechter has offered to share his craft.
Photo by Lucas Chilczuk
Tony Yazbeck, here in costume for On the Town, took a short break from Finding Neverland to say hi.
Photo by Nathan Sayers
American Ballet Theatre corps dancer Sterling Baca is looking for a partner on the dance floor.
Photo by Nathan Sayers
Downtown dancers Rashaun Mitchell and Silas Riener know how to play it cool.

Photo by Jayme Thornton
New York City Ballet's Justin Peck thinks that you could be The Most Incredible Thing.
Photo by Jayme Thornton.
Magazine
Feb. 01, 2013 02:47PM EST
Francette Levieux, Courtesy Ballet Béjart.
Le Sacre du Printemps (The Rite of Spring) was the ballet that shook the world. One hundred years ago, the chic crowd in Paris booed or cheered, argued loudly, and even came to blows. Nijinsky stood on a chair and yelled out the counts to keep the Ballets Russes dancers going, while Diaghilev commanded the audience, "Let them finish the performance!" According to legend, the riot continued out in the street.
Was it Stravinsky's jagged, haunting, crashing music that riled them? Or was it Nijinsky's primitivism: the turned-in feet and huddled circles oblivious to the outside world? Or maybe it was the idea of the sacrifice where the Chosen One brutally "dances" herself to death?
Accounts differ, and we'll never know for sure. What we do know is that Stravinsky's earth-cracking Rite of Spring has become the mountain that many choreographers feel challenged to climb—more than 30 by our count. We've chosen 18 of them for this photo essay to mark the centenary of the original Sacre du Printemps at the Théâtre des Champs-Elysées on May 29, 1913.
Diaghilev's Ballets Russes in Vaslav Nijinsky's original Sacre du Printemps (1913).
Photo from the Dance Magazine Archives.
"As the ballet looked back to the dawn of human life, so…it also looked into the future: to a war that unleashed the accumulated evil in men's souls and to a society ruled by the machine. In this sense, Sacre was a harbinger of modernity: of its assembly lines and masses, its war machines and cities of slain innocents. Stripped of their costumes, Nijinsky's masses were both the agents and victims of twentieth-century barbarism." —Lynn Garafola in Diaghilev's Ballets Russes
Left: Martha Graham as the Chosen One in Leonide Massine's Sacre du Printemps (1920) in 1930. Photo from unknown source; Right: Wendy Whelan, as guest artist with Louisville Ballet in Adam Hougland's Rite of Spring (2009). Photo by Dave Howard, Courtesy Louisville Ballet.
Heddy Maalem's Toulouse-based company, with dancers from all over Africa, in his Le Sacre du Printemps (2004) in 2008. Photo by Ben Rudick, Courtesy Jacob's Pillow.
Tanztheater Wuppertal Pina Bausch in Pina Bausch's Frühlingsopfer (Rite of Spring) (1975). Photo still from the film PINA (2012).
Hamburg Ballet in John Neumeier's Le Sacre (1972). Photo © F. Peyer, DM Archives.
Ballet Preljocaj in Angelin Preljocaj's The Rite of Spring (2001).
Photo by Regine Will, Courtesy BAM.
Shen Wei Dance Arts in Shen Wei's Rite of Spring (2003). Photo by Bruce R. Feely, DM Archives.
Left: Paul White in Meryl Tankard's The Oracle (2009). Photo by Regis Lansac, Courtesy Skirball; Right: Carlos Acosta in Houston Ballet's 1997 production of Glen Tetley's Sacre du Printemps (1974), created for Munich Ballet. Photo by Drew Donovan, DM Archives.
Nashville Ballet in a 2012 performance of Salvatore Aiello's Rite of Spring (1995).
Photo by Marianne Leach, Courtesy NB.
Reconstruction of Vaslav Nijinsky's original Sacre du Printemps (1913) by Millicent Hodson and Kenneth Archer, 1987, for Joffrey Ballet. Photo by Herbert Migdoll, DM Archives.
"As I envisaged the primitiveness of the tribal rites, where the Chosen Maiden must die to save the earth, I felt that my body must draw into itself, must absorb the fury of the hurricane. Strong, brusque, spontaneous movements seemed to fight the elements as the Chosen Maiden protected the earth against the menacing heavens. The Chosen Maiden danced as if possessed, as she must until her frenzied dance in the primitive sacrificial ritual kills her." —Bronislava Nijinska, the sister of the choreographer and originator of the role, Early Memoirs
English National Ballet in a 2012 performance of Kenneth MacMillan's Rite of Sping (1962). Photo by Arnaud Stephenson, Courtesy ENB.
Dutch National Ballet in Van Manen's Sacre du Printemps (1974).
Photo © Jorge Fatauros, DM Archives.
Left: Dominique Porte in Marie Chouinard's Le Sacre du Printemps (1993). Photo by Chouinard, Courtesy Chouinard; Right: Molissa Fenley in her own State of Darkness (1988).
Photo by Jack Mitchell.
Cedar Lake Contemporary Ballet in a 2008 performance of Stijn Celis' Rite (2005), originally for Bern Ballet. Photo by Paul B. Goode, Courtesy Cedar Lake.
Boston Ballet in Jorma Elo's Sacre du Printemps (2009). (Yes, those are real flames.)
Photo by Rosalie O'Connor, Courtesy BB.