News
Jul. 04, 2019 08:43AM EST
James Whiteside and Cassandra Trenary perform a section of Liam Scarlett's With a Chance of Rain on a Celebrity Cruises voyage. Photo courtesy Celebrity Cruises
Could the hottest new ticket in dance be at sea? While Virgin Voyages will offer immersive dance theater on its maiden ship the Scarlet Lady, Celebrity Cruises is bringing guests closer to the stars through a partnership with American Ballet Theatre. With these new ventures, Celebrity and Virgin will bring bespoke dance experiences to their guests, and dancers will have a chance to push their artistry off the proscenium stage while sailing between exotic ports of call.
Keep reading...
Show less
Irina Kolpakova in the studio with Katherine Williams. Photo by Quinn Wharton for Pointe.
Being coached by a treasure like former Kirov prima Irina Kolpakova is an experience most dancers only dream of. But company members at American Ballet Theatre have been the lucky beneficiaries of her wisdom since 1990. Thanks to Instagram, where pros like Gillian Murphy and James Whiteside share snippets of their sessions with Kolpakova, any ballet lover can be a fly on the wall during rehearsals with the famed ballet mistress.

Keep reading...
Show less
Devon Teuscher performing the titular role in Jane Eyre. Photo by Gene Schiavone, Courtesy ABT
Story ballets that debut during American Ballet Theatre's spring season at the Metropolitan Opera House are always the subject of much curiosity—and, sometimes, much debate. Cathy Marston's Jane Eyre was no different. The ballet follows the eponymous heroine of Charlotte Brönte's novel as she grows from a willful orphan to a self-possessed governess, charting her romance with the haughty Mr. Rochester and the social forces that threaten to tear them apart.
While the ballet was warmly received in the UK when Northern Ballet premiered it in 2016, its reception from New York City–based critics has been far less welcoming. A group of editors from Dance Magazine and two of our sister publications, Dance Spirit and Pointe, sat down to discuss our own reactions.
Keep reading...
Show less
Matthew Murphy
When Arthur Pita brought his Metamorphosis to the Joyce in 2013, The Royal Ballet's Edward Watson played the man who becomes a cockroach in Franz Kafka's famous story. He was slithery, spiky and sticky, and the creepiness factor loomed large. It was like the performers and audience were trapped in this brilliantly bizarre nightmare together.
Known as "the David Lynch of dance," Arthur Pita brings his new work, The Tenant, to The Joyce from November 6–11. Based on the surrealist novel by Roland Topor and the subsequent 1976 film, Pita's Tenant stars American Ballet Theatre's James Whiteside. Readers of Dance Magazine know from Whiteside's cover story that he is a maverick who will try anything. In The Tenant, a young man moves into an apartment where the previous renter, a woman, jumped out the window to her death. He becomes obsessed with her and starts to transform into her. The woman is played by ABT soloist Cassandra Trenary, and a third character, a kind of guardian, is played by Kibrea Carmichael.

The Metamorphosis was unforgettable when it came to the Joyce five years ago, so we have high hopes for The Tenant.
The role of Harlequin in Marius Petipa's comic ballet Harlequinade is one American Ballet Theatre dancer Gabe Stone Shayer knows quite well. He first performed a variation of the role when he was just nine years old. Today, he explores commedia dell'arte in Alexei Ratmansky's new take on the ballet, premiering at the Metropolitan Opera House this June.
We stepped into a rehearsal of Harlequinade with Shayer and fellow ABT dancer Cassandra Trenary for our "In The Studio" series:

Keep reading...
Show less
Dancers trying their hand at designing is nothing new. But they do tend to stick with studio or performance-wear (think Miami City Ballet's Ella Titus and her line of knit warm-ups or former NYCB dancer Janie Taylor and her ballet costumes). But several dancers at American Ballet Theatre—corps members Jamie Kopit, Erica Lall, Katie Boren, Katie Williams, Lauren Post, Zhong-Jing Fang and soloist Cassandra Trenary—are about to launch a fashion line that's built around designs that can be worn outside of the studio. Titled Company Cooperative, the luxe line of women's wear is handmade in New York City's garment district and designed by the dancers themselves.
Keep reading...
Show less
Jim Lafferty
Late one Friday night, Daniil Simkin and Cassandra Trenary are running a new duet inside the Frank Lloyd Wright–designed rotunda in New York City's Guggenheim Museum. Trenary drops her weight back into Simkin's arms and lets him slide her, spinning, into the ground. They clasp hands like children to pull each other close, an intimate moment that lasts for a breath before it slips away, lost in a cascade of slippery, detailed movement.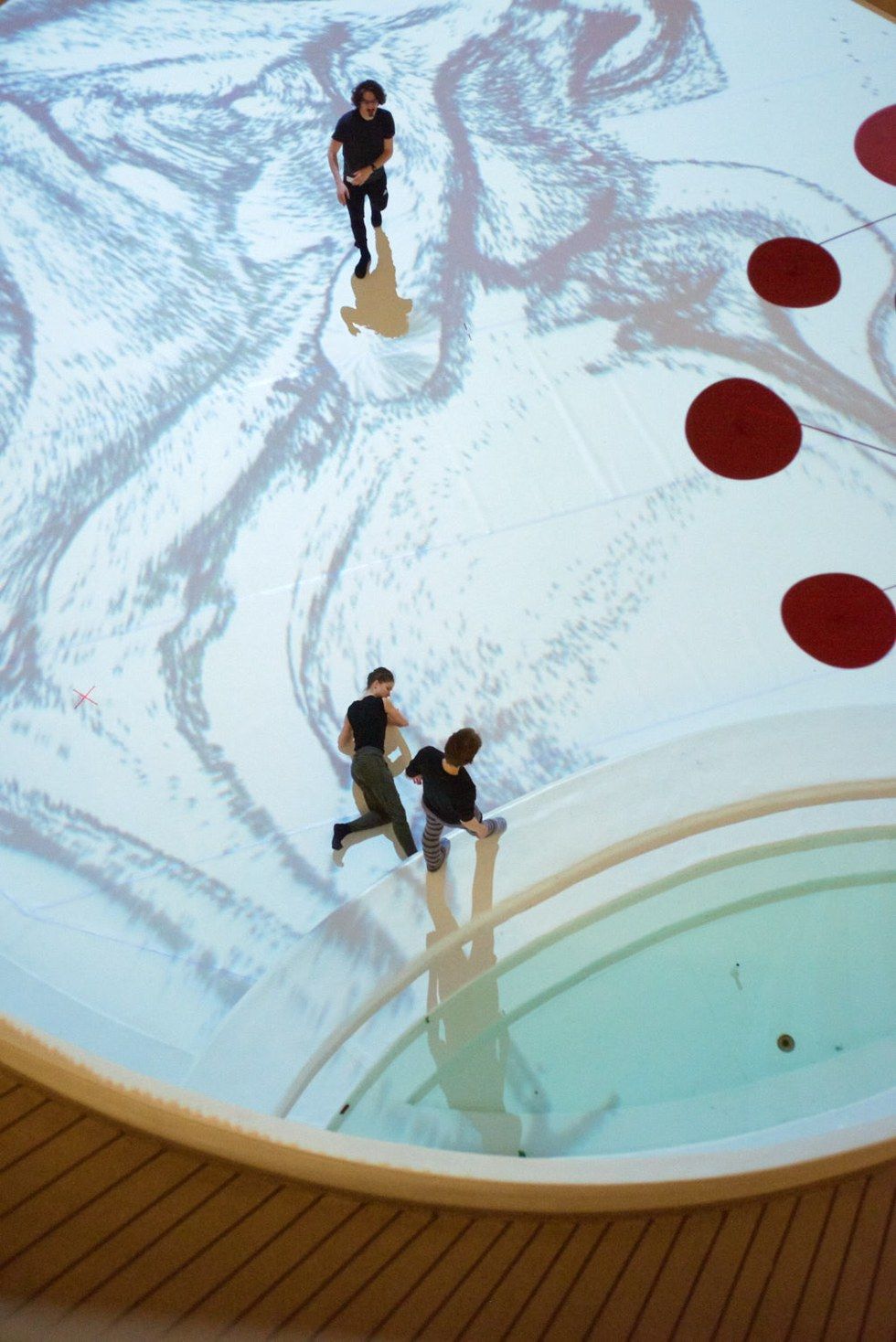 Alejandro Cerrudo (top) directing Simkin and Trenary. Photo by Jim Lafferty
Viewed from several stories up, Alejandro Cerrudo's gliding, seamless partnering becomes otherworldly. The dancers stir vaporous clouds or cast multi-hued shadows which battle each other for primacy—depending on what effect the video team is experimenting with at the moment.
Keep reading...
Show less
Get Dance Magazine in your inbox
In her many years of shooting top dancers and choreographers, photographer Rose Eichenbaum has not only captured their movement, but collected their stories and the guidance they have to offer other artists.
Now, Eichenbaum is releasing a coffee table book, Inside the Dancer's Art, filled with these artists' words of wisdom alongside their portraits. Here are a few of our favorites.
Keep reading...
Show less
Cassandra Trenary in rehearsal with Daniil Simkin. Photo by Jim Lafferty.
When the Leonore Annenberg Fellowship Fund for the Performing and Visual Arts announced their tenth and final round of $50,000 fellowships for performing and visual artists last week, it wasn't exactly a surprise to see Cassandra Trenary's name on the list. The American Ballet Theatre soloist sparkles onstage in classical rep (particularly in works by Alexei Ratmansky), but hasn't been content with a typical company career. She's constantly working on outside projects; in fact, when we caught up with her she was in between a rehearsal with Gemma Bond and a preview showing of an Alejandro Cerrudo–choreographed project she'll perform with Daniil Simkin this fall.
How did you react when you got the news that you were receiving the fellowship?
I was so overjoyed of course, but also kind of felt this pressure all of a sudden. There were so many things I had set out to do if I received it, and now that I have I've got a lot of work to do! I'm looking forward to challenging myself in ways I've never had a chance to before.
Keep reading...
Show less
Nov. 10, 2016 04:53PM EST
The dance world's abundance of talent can be dizzying, but there are a few "crystal balls" that allow dancers and fans alike to get a glimpse of tomorrow's megastars. For one, there's Dance Magazine's 25 to Watch, our annual list of promising artists across all dance genres—look for the latest edition in our January issue! (In 2005 alone, we tapped Michelle Dorrance, Matthew Neenan, Teresa Reichlen and Amy Seiwert.) The prestigious Princess Grace Awards have also been a barometer for future stardom. (Ethan Stiefel, Robert Battle, Derick K. Grant and so many others all received awards from the Princess Grace Foundation early in their careers.) And finally, international competitions, particularly for ballet, do a fantastic job at highlighting young talent.
NBoC's Félix Paquet and Calley Skalnik rehearsing for the Erik Bruhn Prize. Photo by Karolina Kuras, Courtesy NBoC.
Next Tuesday, November 15, the Twelfth International Competition for The Erik Bruhn Prize will do just that. Male and female competitors from American Ballet Theatre, Hamburg Ballet, The Royal Ballet, San Francisco Ballet and the National Ballet of Canada will come together in Toronto to display their considerable talents. The list of competitors includes some recognizable names, like American Ballet Theatre's Cassandra Trenary and Gabe Stone Shayer, as well as some lesser-known up-and-comers, like 17-year-old Natasha Sheehan, who recently joined San Francisco Ballet's corps.
Next week's event includes the following performances by each pair: a classical pas de deux and variation, plus a contemporary pas de deux or solo. Just being chosen to compete shows a real vote of confidence from these dancers' artistic directors, but only one male and female will walk away with the Erik Bruhn Prize and $7,500 cash. Additionally, four dancers will be competing for a separate prize for choreography, plus $2,000 cash. The full list of participants is as follows:
Dance Competitors
ABT's Cassandra Trenary and Gabe Stone Shayer
Hamburg Ballet's Madoka Sugai and Christopher Evans
National Ballet of Canada's Félix Paquet and Calley Skalnik
The Royal Ballet's Chisato Katsura and Harrison Churches
San Francisco Ballet's Natasha Sheehan and Angelo Greco
Choreography Competitors
ABT's Jeffrey Cirio
Hamburg Ballet's Marc Jubete
The Royal Ballet's Calvin Richardson
San Francisco Ballet's Myles Thatcher
While it's impossible to say where the winners of the 2016 Erik Bruhn Prize will end up, they could just be the some of the most famous performers, choreographers and directors of tomorrow. (Here's looking at you, Julie Kent, Johan Kobborg and Gennadi Nedvigin, just to name a few past winners.)
Aug. 01, 2015 06:56PM EST
Lately, when Daniil Simkin hasn't been performing with American Ballet Theatre or flying off to dance in international galas, he's been putting together his own project: INTENSIO. "I miss European contemporary dance," explains Simkin, who grew up in Germany. "This is an outlet for me and my colleagues to experience that and approach the ever-looming question: Where is ballet going?" The evening-long performance features new works by Jorma Elo, Alexander Ekman, Gregory Dolbashian and Annabelle Lopez Ochoa, created on a group of ABT dancers and Les Ballets Jazz de Montréal's Céline Cassone. Each piece merges dance and technology, with innovations like real-time video projections. After its world premiere at Jacob's Pillow this summer, INTENSIO will tour to Houston and Buenos Aires in November, and New York City in January.

8:30 am
Caffeine and productivity
Simkin starts his day with coffee and his iPhone. "I'm not a functional human being without a cup of java," he says, "and I just can't get enough of those endorphins from the notifications from my phone's home screen." Breakfast is usually yogurt with trail mix while checking e-mails and shopping online (typically hunting on eBay for deals on clothing from designers like Rick Owen). As one of the biggest techies in the ballet world, Simkin has set up his iPhone 6 Plus to control the temperature and lights of his apartment. "You can argue that my phone is my alter ego," he says. "All it needs is to grow legs and it'll soon be dancing!"
Simkin starts each morning online, often shopping on eBay.
When time is tight, Simkin gives himself his own barre before rehearsal.
10:30 am
Class
Before going to rehearse for INTENSIO, Simkin warms up by taking class with other company members at ABT or by giving himself his own barre. ABT provides its dancers with 36 weeks of work each year, so Simkin schedules all INTENSIO rehearsals and tours during his 16 weeks of off time. "It's a win-win situation," he says. "We get to stay in shape and do new, exciting work."
Rehearsing Annabelle Lopez Ochoa's new work with Cassandra Trenary.
Experimenting with Alexandre Hammoudi and Blaine Hoven.
12pm
Rehearsal at DANY Studios
To Simkin, the best part of rehearsals is seeing how each choreographer's approach develops. He likens learning new choreography to learning a new language. "The more you speak it, the more fluent you become and the more enjoyable the piece becomes," he says.
Filming rehearsals helps Simkin remember what they've done. He also likes to share clips with his 47,000 followers on Instagram. But he never uses the videos to judge the merit of works in progress. "Something that looks good on video in slow motion but might not look good onstage."
Simkin with Calvin Royal III.
3 pm
Break
Simkin prefers a light lunch such as salad or sushi, and during their break he often plays delivery boy. "Annabelle might request a Red Bull, somebody else wants a banana. I get myself a cookie or a coffee."
6 pm
Home
Simkin considers it a luxury when he gets to be at home alone in the evenings. "I just want to play my computer games," he admits. He has a projector and surround-sound system and plans to get a PS4 to play games like Call of Duty: Black Ops III. He also winds down by reading, typically working on two books at once—one fiction and one nonfiction. (He's read all of Haruki Murakami and recently finished The Goldfinch, by Donna Tartt.)
But first, Simkin usually attends fundraising dinners or grabs food in his Brooklyn neighborhood with non-dance friends. "I like getting to learn about different ways of thinking," Simkin says of socializing with people in different fields. After spending every day surrounded by dance artists, "outside company stimulates my imagination."