Just for Fun
Sep. 12, 2019 01:11PM EST
At this point, you'd think we'd all be used to the level of technical absurdity Daniil Simkin achieves when he's playing around in the studio. But then he did this:
...and now we're low-key appalled in the absolute best way.

After we picked our jaws up from the floor, we were inspired to dig up clips of some of our other favorite dancers turning like it's no big deal. Here are just a few standouts.
Keep reading...
Show less
Just for Fun
Sep. 06, 2019 02:09PM EST
A young Robbie Fairchild, posing for a tap number. Courtesy Fairchild.
When you hear names like Maria Kochetkova, Sutton Foster and Robbie Fairchild, you immediately picture flashes of them as the fully-formed, phenomenal performers they are today.
But even when they were kids, they had a glimmer of their future star power, giving a glimpse of what was to come. Thankfully for Instagram, we've got the pictures and home videos to prove it.
Keep reading...
Show less
One of the ballet world's busiest superstars is adding another role to his resume, and it's a big one. American Ballet Theatre principal Daniil Simkin is joining Staatsballett Berlin as a principal beginning with the 2018-2019 season. Though he will be based in Berlin, the virtuoso will maintain his position at ABT, performing with the company as often as his schedule will allow.
In some ways, the move makes perfect sense: Simkin, who grew up in Germany, has been performing all over the world as a guest artist for years, and will get to tackle contemporary work that he doesn't have the opportunity to dance at ABT. Plus, he'll be joined by a very familiar face: ABT artist in residence Alexei Ratmansky will create a new La Bayadère for the company in the 2018-19 season.
Keep reading...
Show less
Jim Lafferty
Late one Friday night, Daniil Simkin and Cassandra Trenary are running a new duet inside the Frank Lloyd Wright–designed rotunda in New York City's Guggenheim Museum. Trenary drops her weight back into Simkin's arms and lets him slide her, spinning, into the ground. They clasp hands like children to pull each other close, an intimate moment that lasts for a breath before it slips away, lost in a cascade of slippery, detailed movement.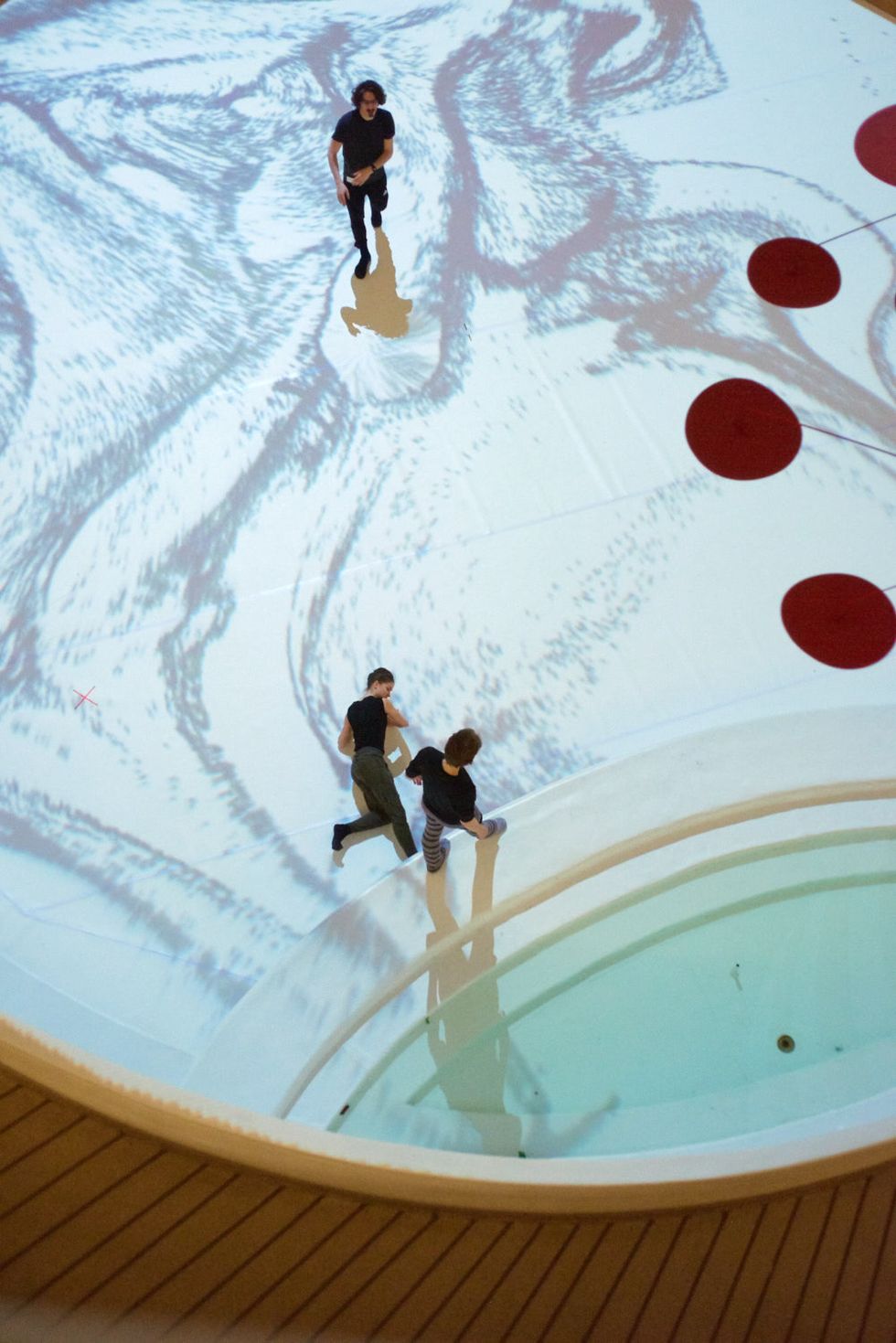 Alejandro Cerrudo (top) directing Simkin and Trenary. Photo by Jim Lafferty
Viewed from several stories up, Alejandro Cerrudo's gliding, seamless partnering becomes otherworldly. The dancers stir vaporous clouds or cast multi-hued shadows which battle each other for primacy—depending on what effect the video team is experimenting with at the moment.
Keep reading...
Show less
Photo via metopera.org
I have a guilty pleasure to confess: I kind of really, really love Le Corsaire.
I totally get why many people hate this ballet. Although it's loosely based on a Lord Byron poem, the plot as it exists in ballet form today is absurdly thin. More importantly, it's morally repugnant: Centered around the selling and stealing of sex slaves, it basically portrays women as weak, non-human objects, and Muslims as evil or buffoon-like. (Yep, the last stereotypes that need to be reinforced today.)
Much of the story is silly, unnecessary or nonsensical. Like how the women flirt coquettishly as they're being bought and sold. Or how in the end, the two lead characters survive a sinking ship solely because of "the strength of their love," as American Ballet Theatre's program notes put it.
Keep reading...
Show less
The New York City premiere of Alexei Ratmansky's sugary sweet story ballet, Whipped Cream, made for one of the most exciting spring galas at American Ballet Theatre yet. While we're usually in awe of the gowns the dancers sport on the red carpet beforehand, this time around, it was all about Whipped Cream's colorful and over-the-top costumes by Mark Ryden—and, okay, a few major dress moments, too. Ahead, check out what went on behind-the-scenes.
Keep reading...
Show less
Jim Lafferty
Having just returned to New York City after a couple weeks of guesting in Southeast Asia, American Ballet Theatre principal Daniil Simkin is in rehearsal for the lead role in Alexei Ratmansky's latest creation, Whipped Cream. In between this brief rehearsal period and ABT's Metropolitan Opera House season, Simkin will be using any days off to travel for other guest performances. That is, when he's not in production meetings or rehearsing in Chicago or New York for his own project premiering at the Guggenheim in the fall, or preparing his debut as Albrecht in Giselle for an ABT tour.
"If I have an hour break between rehearsals, I try to get my work done for the day," says Simkin. "There are emails, meetings, fundraising, a lot of administration stuff with the Guggenheim project, delegating, checking in—'Will Dior do the costumes?'—and then I might get a guesting invitation and then I have to check my schedule, book flights and hotels."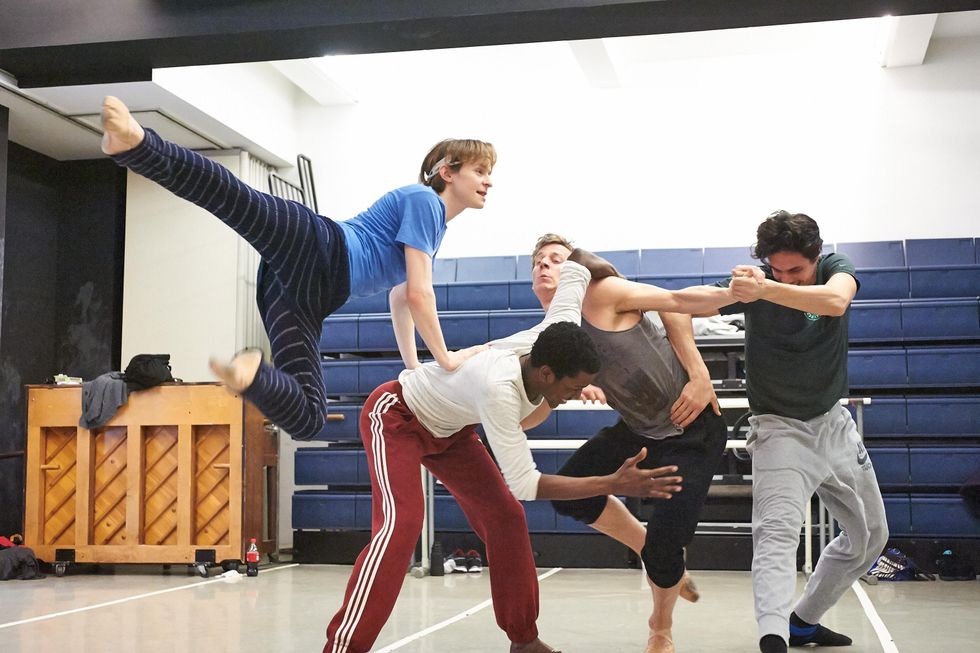 Daniil Simkin's Intensio project. Photo by Jim Lafferty
Keep reading...
Show less
Get Dance Magazine in your inbox
It's takes more than just a daily ballet barre to create this kind of strength and power:
American Ballet Theatre principal Daniil Simkin is known to be something of a nut when it comes to working out. He challenges his body in ways we've never even seen before.
Keep reading...
Show less
Oct. 25, 2016 03:24PM EST
If you still don't know what you're going to be for Halloween, don't panic just yet. Dance Magazine has your back. Whether you're heading to a party, dressing up for technique class or doing some good ol' trick-or-treating, there are countless costume options that take inspiration from modern, ballet and Broadway. (Chances are you already have the basic pieces in your closet!) Snag one of these ideas, or riff off one to create a unique look. Happy Halloween!
Cartoon by Jessica Love in The Juilliard Journal via juilliard.edu
Go Modern: Want to transform into Martha Graham? Purple fabric can do wonders. You're sure to get some confused looks from your non-dance friends. Bonus points if you do an excerpt from Lamentation and give a mini dance-history lesson.
If you're even nerdier, you can create your own version of one of Alwin Nikolais' imaginative costumes. Back in college, I showed up to a party for dance majors in this gem, based on "Mantis" from Imago. Peruse the racks at Goodwill for colorblock clothing, paint your face white and fashion a hat out of a Styrofoam cup and elastic.
Left: "Mantis" from Imago. At right: Madeline Schrock's take on the original.
Cat costumes also require meowing. The cast of Broadway's CATS. Photo by Matthew Murphy, Courtesy DKC/O&M.
Broadway Bound: Characters from the Great White Way provide endless costume ideas. If you're looking for French flair, try these dreamy pieces inspired by An American in Paris. Flouncy skirts and wrap sweaters in pastel shades evoke the fashion of late-'40s Paris.
For a classic musical theater look (but still with plenty of "razzle dazzle") rifle through your drawers for fishnets and a black leo. Or, check out these costumes based on iconic looks from Chicago.
If you've ever wanted to be a Jellicle cat, now's the time to make use of that unitard at the back of your closet. Add some fur trim, ears and creative makeup based on your favorite feline from CATS.
Dressing up as a founding father doesn't have to be stuffy. Borrow a look from the cast of Hamilton, by pairing a ruffled blouse with a military jacket and boots.
Graceful Ballet Looks: Take a page from American Ballet Theatre principals James Whiteside and Daniil Simkin and dress up as your favorite ballet legend. Last year, the two transformed into Gelsey Kirkland and Mikhail Baryshnikov.
If you are addicted to "The Walking Dead" and ballet, this costume is for you. "One year as a last-minute costume, I was a zombie ballerina," says DM assistant editor Lauren Wingenroth. "It's a super-easy one if you need something in a pinch—use an old ballet costume that you don't care about getting dirty, and paint your face white with dark eyes. Fake blood optional."
Escoyne as Terpsichore (far left), next to Nijinsky's faun
A Balanchine look is timeless and doesn't require too much planning. "When I was getting my BFA, we all got really into Halloween and would have themed days for an entire week," says DM assistant editor Courtney Escoyne. "For 'Mythical Monday,' I decided to pull some inspiration from Mr. B and go as Terpsichore from Apollo: classic white leo, white ballet skirt, pink tights. It was easy to put together, plus I got to pretend to be an NYCB ballerina for a day."
Last but not least, Halloween is the perfect excuse to dress up anyone's baby who may be crawling around the studio. Suzannah Friscia, an assistant editor at DM, says, "My very first Halloween costume as a baby was dance inspired: I was a purple Sugar Plum Fairy with a sparkly tutu and a little wand."
Jim Lafferty
Though New York City's Guggenheim Museum is principally a destination for modern- and contemporary-art enthusiasts, its dance programming seems to be getting beefier each season. This week, details were released for two site-specific events we're practically drooling over. Tapper extraordinaire Michelle Dorrance and American Ballet Theatre pyrotechnic wonderboy Daniil Simkin will perform in the museum's iconic rotunda. Though the commissions won't happen until 2017, we can't wait to see how they use the towering, circular, multi-level space designed by Frank Lloyd Wright. Here's a look at what you can expect dance-wise at the Guggenheim within the next year—and how you can relive past events online.
Michelle Dorrance is at it again. Photo by Ian Douglas, Courtesy Dorrance.
Plan Ahead: As part of the Guggenheim's Works & Process Rotunda Projects, Dorrance is choreographing a piece that will turn the space's spiraling ramp into a stage. Picture tap dancers scattered throughout the ramp, and just think how those percussive rhythms will resonate. Premieres February 16, 2017.
Simkin's self-directed side troupe INTENSIO will perform in the same space in a work by Alejandro Cerrudo, but you'll have to shift your perspective for this one. The audience will be dispersed along the ramp so they can view the dance from above. Special projections will accompany the choreography and appear on the rotunda's floor and white spaces. Premieres September 2017.
Coming Soon: The Guggenheim's regular Works & Process series, which presents conversations with artists and excerpts of new works at the museum's Peter B. Lewis Theater, has several notable dance events on its fall lineup. If you're a student under 25, you may be able to snag $10 rush tickets an hour before each show.
September 18, Kate Weare Company in Marksman. Six dancers explore the intuitive senses that help us survive.
October 31, Jonah Bokaer's Rules Of The Game. Preview the multidisciplinary work, which features a score by Pharrell Williams, in advance of its November New York premiere at the Brooklyn Academy of Music.
November 13 & 14, Jodi Melnick's Works & Process Commission. New York City Ballet dancers Sara Mearns, Tyler Angle and Gretchen Smith go modern in Melnick's new work joining movement and spoken word.
NDT dancers in León and Ligthfoot's Stop-Motion. Photo by Rahi Rezvani, Courtesy NDT.
November 15, Nederlands Dans Theater. Choreographic duo Sol León and Paul Lightfoot discuss their craft, and NDT performs excerpts of U.S. premieres by León and Lighfoot, Marco Goecke, and Crystal Pite.
November 20, Juilliard Dance Division. Preview new works that John Heginbotham, Katarzyna Skarpetowska, Pam Tanowitz and Matthew Neenan have created for students from The Juilliard School. The dancemakers will be on hand to chat about their creative process.
December 3–5, 9–11, Peter and the Wolf. Fashion maven Isaac Mizrahi returns to narrate the classic tale set to imaginative choreography by Heginbotham and live music.
Look Back, Watch Now: If you're not in the New York area or just can't wait until these dance events ramp up, check out the Works & Process at the Guggenheim's YouTube channel. From Broadway to ballet, it's stocked with footage from the past several years' events.
Aug. 01, 2015 06:56PM EST
Lately, when Daniil Simkin hasn't been performing with American Ballet Theatre or flying off to dance in international galas, he's been putting together his own project: INTENSIO. "I miss European contemporary dance," explains Simkin, who grew up in Germany. "This is an outlet for me and my colleagues to experience that and approach the ever-looming question: Where is ballet going?" The evening-long performance features new works by Jorma Elo, Alexander Ekman, Gregory Dolbashian and Annabelle Lopez Ochoa, created on a group of ABT dancers and Les Ballets Jazz de Montréal's Céline Cassone. Each piece merges dance and technology, with innovations like real-time video projections. After its world premiere at Jacob's Pillow this summer, INTENSIO will tour to Houston and Buenos Aires in November, and New York City in January.

8:30 am
Caffeine and productivity
Simkin starts his day with coffee and his iPhone. "I'm not a functional human being without a cup of java," he says, "and I just can't get enough of those endorphins from the notifications from my phone's home screen." Breakfast is usually yogurt with trail mix while checking e-mails and shopping online (typically hunting on eBay for deals on clothing from designers like Rick Owen). As one of the biggest techies in the ballet world, Simkin has set up his iPhone 6 Plus to control the temperature and lights of his apartment. "You can argue that my phone is my alter ego," he says. "All it needs is to grow legs and it'll soon be dancing!"
Simkin starts each morning online, often shopping on eBay.
When time is tight, Simkin gives himself his own barre before rehearsal.
10:30 am
Class
Before going to rehearse for INTENSIO, Simkin warms up by taking class with other company members at ABT or by giving himself his own barre. ABT provides its dancers with 36 weeks of work each year, so Simkin schedules all INTENSIO rehearsals and tours during his 16 weeks of off time. "It's a win-win situation," he says. "We get to stay in shape and do new, exciting work."
Rehearsing Annabelle Lopez Ochoa's new work with Cassandra Trenary.
Experimenting with Alexandre Hammoudi and Blaine Hoven.
12pm
Rehearsal at DANY Studios
To Simkin, the best part of rehearsals is seeing how each choreographer's approach develops. He likens learning new choreography to learning a new language. "The more you speak it, the more fluent you become and the more enjoyable the piece becomes," he says.
Filming rehearsals helps Simkin remember what they've done. He also likes to share clips with his 47,000 followers on Instagram. But he never uses the videos to judge the merit of works in progress. "Something that looks good on video in slow motion but might not look good onstage."
Simkin with Calvin Royal III.
3 pm
Break
Simkin prefers a light lunch such as salad or sushi, and during their break he often plays delivery boy. "Annabelle might request a Red Bull, somebody else wants a banana. I get myself a cookie or a coffee."
6 pm
Home
Simkin considers it a luxury when he gets to be at home alone in the evenings. "I just want to play my computer games," he admits. He has a projector and surround-sound system and plans to get a PS4 to play games like Call of Duty: Black Ops III. He also winds down by reading, typically working on two books at once—one fiction and one nonfiction. (He's read all of Haruki Murakami and recently finished The Goldfinch, by Donna Tartt.)
But first, Simkin usually attends fundraising dinners or grabs food in his Brooklyn neighborhood with non-dance friends. "I like getting to learn about different ways of thinking," Simkin says of socializing with people in different fields. After spending every day surrounded by dance artists, "outside company stimulates my imagination."
Jul. 01, 2015 03:35PM EST
Ballet stars are diving into creative projects on the side.
Ashley Bouder and Amar Ramasar before an Ashley Bouder Project performance. Photo by Dan Freeman, Courtesty Freeman.
Although he was hard at work this spring creating a new piece for Boston Ballet and performing with the company, principal dancer Jeffrey Cirio somehow made time for even more dance. This summer, his new choreographic side project, Cirio Collective, will premiere in Massachusetts. With help from his sister and fellow principal Lia Cirio, he has been working on videos for the new website, talking to costume designers and searching for music.
Cirio is among a pack of entrepreneurial ballet dancers looking to branch out at the peak of their careers. Troy Schumacher's BalletCollective, Daniil Simkin's INTENSIO, Daniel Ulbricht's Stars of American Ballet and Ashley Bouder's Ashley Bouder Project are other budding examples. And though dancers forming pickup companies isn't exactly a new notion, past iterations have mostly been summer layoff projects that combined well-known repertoire and big international stages. These talents represent a new breed of do-it-all artists who prize small-scale projects and artistic collaboration. And the DIY culture of the digital age makes it easier than ever for star dancers to give voice to their artistic visions and connect with curious fans.
Bouder, who doesn't choreograph but directs Ashley Boulder Project, felt an urgency to experiment before it was too late. "I am over 30 and I don't know when my technical ability will drop out," she says. "There are a lot of things I want to do before that happens." A large part of her vision is connecting with audiences in areas where dance is underserved, like the rural Midwest, with discussions and workshops. Currently, she's fundraising for a dance film, and is focused on showcasing female choreographers, most recently Andrea Schermoly and Adriana Pierce.
For Cirio, forming his own troupe has allowed him to experiment with his choreography in a small, intimate setting. Though he's thankful for his opportunities to make dances for Boston Ballet, he had a desire to create without the pressures of the big stage. "It's not about trying to please a director or the artistic staff," says Cirio, who hopes to expand the troupe's vision to include other choreographers and non-dance artists. "It is just about us getting in the studio and sharing our ideas."
Keep reading...
Show less
Mar. 31, 2014 12:39PM EST
The pair take on Judith Jamison and Mikhail Baryshnikov's roles in Alvin Ailey's
Pas de Duke
.
Simkin and Mack in costume for Pas de Duke. Photo by Jade Young, Courtesy YAGP.
If any two dancers could generate the buzz of Judith Jamison and Mikhail Baryshnikov, the original couple in Alvin Ailey's flirtatious Pas de Duke, it might be Ailey's own Alicia Graf Mack and American Ballet Theatre principal Daniil Simkin. The duo will bridge the worlds of ballet and modern dance—as Ailey intended when he made the duet in 1976—at the Youth America Grand Prix gala, April 10 at Lincoln Center. Siobhan Burke caught up with Mack and Simkin while rehearsals were well underway.
How did you end up dancing this piece together?
Daniil Simkin: I actually suggested it to Larissa Saveliev, the co-founder of YAGP, and she was like, Totally, we're going to make this work, and I want you to partner Alicia.
Why did you suggest it?
DS: I'm always looking for new things to try. It's a challenge, because, I mean, it's Ailey, it's an iconic piece, and especially because Mikhail Baryshnikov and Judith Jamison first danced it.
What's challenging about it?
Alicia Graf Mack: While it's very dance-y and jazzy, it's still extremely technical. So you can have a good time, but you're thinking, Okay, I gotta execute this. Also, it was designed to be a play on the classical pas de deux, but it's not supposed to be a satire; it's not supposed to be funny. That's a challenge, because you have to walk a thin line between entertainment and comedy.
DS: It shouldn't look cheesy or cheap.
AGM: Yeah. Class. All class.
Coming from different companies and backgrounds, how is dancing with each other?
AGM: It's been amazing to watch Daniil in the studio because I've admired him onstage and in YouTube clips. His work ethic is incredible. I told him at the end, "You're like a sponge! You soak it all in so quickly."
DS: I have a lot to learn. The first series of hip rolls is my favorite step. It might be the simplest in the whole piece, but for me, it's the hardest. When Baryshnikov danced it, he said that he felt like a cow on ice. The groundedness, the use of the hips. It's a different kind of coordination. So I watch Alicia not to imitate her, but to really get at what she's doing and make it my own.
What is it like to perform at a YAGP gala?
DS: The kids are so enthusiastic. There's a lot of screaming [laughs]. Sometimes it's like there's a storm coming.
AGM: The first time I did a YAGP gala I was starstruck, just looking around and thinking, I can't believe I'm taking class and performing with these people I've admired for so long. Like, Wow, I feel like I've arrived.
May. 01, 2013 04:40PM EST
Five dancers discuss how learning from their mothers shaped them.
Photo of Stacey Tookey by Joe Toreno for Dance Teacher.
At age 13, Stacey Tookey didn't like the solo her dance teacher was creating for her, and she had the audacity to say so. "I thought I could do better, so she left me to do it," says the three-time Emmy Award–nominated choreographer best known for her work on So You Think You Can Dance. "In the end it was a good thing," she adds.
That teacher was Shelley Tookey, Stacey's mother. She owns Shelley's Dance Company, a school in Edmonton, Alberta, now in its 44th year of operation. The studio started out in the family basement, where as an infant Stacey would be lulled to sleep by the sounds of tapping and jumping. As soon as she was old enough to walk, she began taking dance classes from her mother. "She taught me everything I know to this day," Stacey says. "There's not one exceptional moment in my life career-wise that I don't root back to something my mom taught me."
That's not to say it was always easy. Despite providing certain advantages, having your mother be your instructor can complicate an already fraught relationship. "We spent so much time together that at moments we wanted to kill each other," Stacey admits. Like any teenager, she tested her mother—but in her case that usually happened in the studio.
"You feel like you can take liberties, not follow direction—but she would put me right back in my place," Stacey says. She recalls the time she refused to remove her sweatshirt after warm-up, a rule Shelley strictly enforced. "I was just being a brat, and she came up and took the back of the shirt and tore it off my body," Stacey says with a laugh. But her mother's tough love ultimately paid off. "She ingrained in me that I had to set a good example because I was her daughter, and that has made me a very good leader."
Ellis Wood (aloft) and her mother, Marni Thomas, kneeling, in an early version of Wood's "Flower Fiction." Photo by Tom Caravaglia, Courtesy Wood.
Sometimes, though, being the teacher's child has the opposite effect. Ellis Wood, a noted choreographer and director of Ellis Wood Dance, trained with both her parents—Marni Thomas and the late David Wood, former Martha Graham company members who co-founded the dance department at the University of California at Berkeley. As a little girl, she recalls "doing triplets up and down the hallway" at home, and her mother and father leading her and her sisters through Graham classes on a train during a cross-country trip. But when it came to studying with them formally at Berkeley, where she was a dance major, she would hide in the back of the room for fear of looking like she was getting preferential treatment.
"I didn't want to be aggressive in my mom's class. I didn't want to stand in the front and take parts; I felt like it would look bad," says Ellis, noting that this habit hurt her at the outset of her career. "When I got to New York I would stand in the back of auditions and wonder, Why is no one taking me?" She eventually figured out that she had to put herself out there to be noticed. Ellis appreciates that her parents focused on sharing their passion for dance rather than pushing it as a profession. "But at certain times I think more guidance would have been helpful," she says. "One part of me felt like, Why didn't you teach me this?"
Susan Pilarre, visiting her daughter Zoe Zien, backstage at Miami City Ballet. Photo by Lilly Echeverria.
Miami City Ballet corps member Zoe Zien received plenty of insight into the profession from her mother, Susan Pilarre, a former New York City Ballet soloist who now teaches at the School of American Ballet. Zien was 11 when she started taking weekly technique classes from her mother. Like Tookey, she had moments of "teenage angst" in  the studio, especially when getting corrections. "As a kid it's a little more overwhelming coming from your mother rather than someone you're not emotionally attached to," she says. "But I always knew that she was giving me such valuable information—a realistic sense of the art form, what's going to be rough—in a way that I was really lucky to have." This was especially useful when it came time to look for a job. "She was very encouraging about me having a career," Zien says. "It was frustrating for her that I didn't end up at NYCB and I was disappointed, but she always made sure I knew there were other Balanchine companies, including the one I'm in."
Photo of Daniil Simkin by Nathan Sayers for Pointe.
While Tookey, Wood, and Zien mostly trained in a class setting, some dancers work with their mothers one-on-one. That was the case for American Ballet Theatre principal Daniil Simkin, whose parents were both professional ballet dancers in Russia and Germany. Simkin's mother was his only teacher for 10 years—but she never pressured him to follow in their footsteps. "I was immersed in this world from early on, but for my parents it was more important to provide me with the opportunity to decide that I really wanted to do this, because they did not have that choice," he says. "In Soviet Russia, the profession chooses you!" His mother made sure he had as normal an upbringing as possible and limited his lessons to two hours a day, a method that suited Simkin. "I think if she would have forced me to train I would have done everything in my power, for better or worse, not to do it."
Jared Grimes, performing in DRA's Fire Island Dance Festival. Photo by Rosalie O'Connor, Courtesy Grimes.
Jared Grimes' mother took a more hands-on approach. The tap artist who performs this month at the Spoleto Festival in Charleston, South Carolina, and this fall in Cotton Club Parade on Broadway started out taking dance lessons from her in Jamaica, Queens. When he latched on to tap, which was not her strong suit, she taught him the basics and then coached him around the clock. She'd drag a plank of wood from the garage into the living room, "and we'd be up in the wee hours of morning and she'd be drilling me—'Keep it clean! Watch your arms! Look up! Smile!' " recalls Grimes. "I never did anything perfect for her. Even if it was perfect for another teacher, it was not perfect for her. That used to annoy the hell out of me, but it made me a better performer."
Heightened criticism isn't the only challenge these dancers faced growing up. Tookey remembers walking into a dressing room where other mothers were gossiping about a scholarship she'd received and how her mother had orchestrated it "to keep the money in the family." (In fact, she'd had nothing to do with it.) "There were all these rumors [about nepotism], but to be honest I think it's the opposite," Tookey says. "You actually get less attention because you're family. You're almost in the shadow of paying customers." Similarly, Wood says her mother shied away from casting her in her dances at Berkeley, and Zien's mother felt she couldn't call artistic directors she knew to recommend her as she would any other student because she was her daughter.
Still, all of these dancers say the positives of being trained by your mother far outweigh the negatives. And all their relationships have continued to evolve—even from afar. "I'll be struggling with something and I'll tell her over the phone It's this section of the ballet when I do this step, and she gives me an idea of how to fix it," Zien says of her mother. "I know she's dancing the step on the phone and the next day I go in and apply that and it's extremely helpful." Simkin, too, still relies on his mom for guidance and advice. "Her vision brought me to where I am in life. I would consider it stupid to stop listening to her now."
Grimes and Tookey see their mothers' influence when they choreograph and teach. "I advocate that same kind of perfection from the students I work with," Grimes admits. "I'm probably worse than her."
Wood and her mother are charting new territory by performing together in an intergenerational dance called Flower Fiction that also includes her daughter (they are 78, 48, and 8, respectively) at the Ailey Citigroup Theater this June. "We laugh more; we hug more; we talk more. It's this incredible place to be in with her," she says.
And, of course, although your mother/teacher may be a tough critic in the studio, in the audience she's your most devoted fan. "She always reminds me that I haven't stopped growing as a dancer," Zien says of Pilarre, who recently saw her perform a lead role in Liam Scarlett's Euphotic and was moved to tears. "When she comes, it's always the best she's ever seen me," she says. "And then the next time it's even better."
Elaine Stuart is an NYC writer who has covered dance for The Wall Street Journal and The Brooklyn Rail.