News
Feb. 28, 2019 11:01AM EST
Kaleena Miller Dance. Photo by Dan Norman, Courtesy Cowles Center
In what seems to be a growing trend, regional companies are coming together to share stages and expand their audiences. These team-ups often go beyond split bills, with companies swapping choreographers and performing at least one joint work. While the logistics of co-presentations can be complicated—with more dancers to schedule, budgets to balance and creative visions to blend—the benefits can range from bigger box-office returns to lasting relationships for the artists.
Keep reading...
Show less
Kelsey Grills in rehearsal for ABT Incubator. Photo by JJ Geiger, courtesy ABT Incubator.
"Is everyone okay?" was my most used sentence during my time with American Ballet Theatre. There I was, leading world-class ABT dancers through my own choreographic process. I knew that it was unlike anything they'd ever experienced, but I think half of the time I was asking that question, it was really directed to myself.
ABT Incubator
is a two-week choreographic program created by principal dancer
David Hallberg
. Supported by The Howard Hughes Corporation, this process-oriented lab gave me and four other choreographers the opportunity to generate ideas for the work we have been inspired to create.
Keep reading...
Show less
Butler is also a choreographic fellow at Hubbard Street this season. Photo by
Lindsay Linton
, courtesy of Butler.
When I was just a little peanut, my siblings and I used to find scrap paper and use them as tickets to our makeshift dance performances at family gatherings. They were more like circus shows, really, where my brother was the ringmaster, and my sisters and I were animals; we dove through imaginary flaming hoops and showcased our best tightrope acts with the suspense of plummeting into an endless pit of sorrows. This was my first introduction to the beauty of movement as a way of communicating.
Photo by Lindsay Linton
Keep reading...
Show less
Dancers often make the best chefs. Photo by Quinn Wharton
Tired of the typical turkey and stuffing? For Thanksgiving this year, try something different with these personal recipes that dancers have shared with Dance Magazine. The ingredients are packed with dancer-friendly nutrients to help you recover from rehearsals and fuel up for the holiday performances ahead.

If anyone raises an eyebrow at your unconventional choices, just remind them that dancers are allowed to take some artistic license!
Keep reading...
Show less
Black and Shannon in their Chicago kitchen. Photo by Greg Birman.
When Craig D. Black Jr. and Kevin J. Shannon began dating long-distance four years ago, eating together was a time to get to know each other—and challenge each other. "Craig used to be very picky," says Shannon. As they grew closer, he introduced Black to a wide variety of cuisines and vegetables. "I used to not even like Chinese food, or peas!" admits Black.
Now that they're married and both dancing at Hubbard Street Dance Chicago, cooking has become their bonding time. Shannon will make the main dish, like a veggie lasagna using kale from their garden, while Black bakes dessert, often a pie. Today, both dancers love trying out new foods, getting inspiration by eating out in Chicago's Restaurant Row or watching the "The Great British Baking Show."
Keep reading...
Show less
News
Jan. 27, 2018 09:00AM EST
Peter Chu's Space, In Perspective took audiences on unmapped tours through the Harris Theater's non-theatrical spaces. Photo by Todd Rosenberg, Courtesy Hubbard Street Dance Chicago
Donning sneakers, 24 dancers performed the rapid, rhythmic contemporary movement of Benjamin Millepied's Counterpoint for Philip Johnson during American Ballet Theatre's fall season. Using members of the ABT Studio Company and Jacqueline Kennedy Onassis School, the commission was an unusual late addition to the program. But even more unusual was its setting: The work was danced not behind the proscenium, but as an intermission interlude on the tiered balconies of the David H. Koch Theater promenade, with the dancers looking down on the patrons from above.
With pieces like Counterpoint at ABT and Peter Chu's Space, In Perspective at Hubbard Street Dance Chicago, and Paris Opéra Ballet looking to set work in the public spaces of the Palais Garnier this spring, in-theater site-specific works are trending among companies whose seasoned patrons are more used to sitting comfortably in the dark.

Keep reading...
Show less
Erica Lall and Leal Zielińska, two of our 2018 "25 to Watch." Photo by Nathan Sayers
By now, you're probably as obsessed with the artists on our 2018 "25 to Watch" list as we are. But how do we decide who makes it? One answer is: carefully. Another: It's a long, long process.

Keep reading...
Show less
Get Dance Magazine in your inbox
Pascal Molat. PC Erik Tomasson
A new year calls for a new approach to your training. As you make your resolutions for 2018, think about the corrections you hear most often. Now is the perfect time to address these issues and set realistic goals to fix them. Not sure what to tackle first? These seven resolutions master teachers wish you'd make will help you start the year off on the right foot.
1. Use your eyes.
It's easy to get stuck in the mirror and constantly analyze yourself. But keeping your gaze glued to the front means you're not using épaulement efficiently or focusing your eyes. "It can be a bad habit," says Pascal Molat, trainee program assistant at San Francisco Ballet School. "The head is the heaviest part of the body, so if you direct the energy with the eyes, the position will be correct." Your head should coordinate with port de bras from the beginning of barre, says Molat. "What you do there relates to what happens in center."
Keep reading...
Show less
Klock in William Forsythe's Quintett. Photo by Todd Rosenberg, Courtesy Hubbard Street Dance Chicago
Densely dimensional, unpredictable, strangely graceful and wild, Alice Klock's dances are like elegant ribbons caught in hopelessly tangled knots. In 2018, she'll choreograph more works than she did the year before, extending a trajectory that's continued throughout her still-brief career.
Keep reading...
Show less
Jim Lafferty
Late one Friday night, Daniil Simkin and Cassandra Trenary are running a new duet inside the Frank Lloyd Wright–designed rotunda in New York City's Guggenheim Museum. Trenary drops her weight back into Simkin's arms and lets him slide her, spinning, into the ground. They clasp hands like children to pull each other close, an intimate moment that lasts for a breath before it slips away, lost in a cascade of slippery, detailed movement.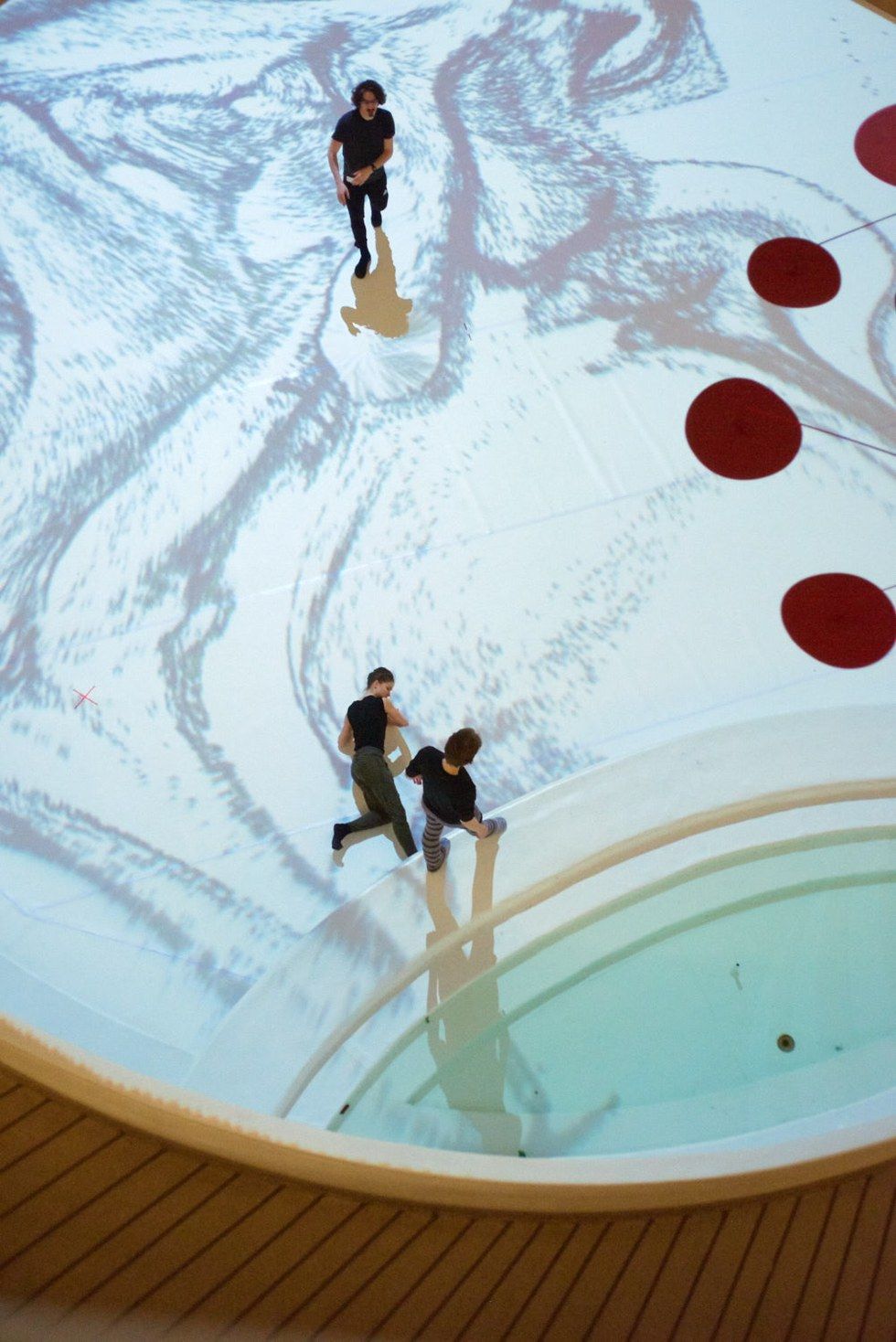 Alejandro Cerrudo (top) directing Simkin and Trenary. Photo by Jim Lafferty
Viewed from several stories up, Alejandro Cerrudo's gliding, seamless partnering becomes otherworldly. The dancers stir vaporous clouds or cast multi-hued shadows which battle each other for primacy—depending on what effect the video team is experimenting with at the moment.
Keep reading...
Show less
Kellie Epperheimer, Adrienne Lipson and Elliot Hammans of HSDC. PC Todd Rosenberg

Peter Chu, the amazing dancer/choreographer first noticed in Crystal Pite's company Kidd Pivot, is teaming up with Hubbard Street Dance Chicago for an adventure in immersive installations. Back at the 2010 Dance Teacher Summit, when his piece This Thought exploded across the stage, he rightfully won the Capezio A.C.E. Award Competition for choreography. I was so dazzled by his dancers hurling themselves in jagged stop-start patterns that I wrote about him for our "Taking Off" cover feature on new choreographers in 2011.
Keep reading...
Show less
Hubbard Street's Andrew Murdock teaches repertoire during an HS Pro pilot program. Photo by Todd Rosenberg, Courtesy Hubbard Street.
Hubbard Street Dance Chicago enters its fifth decade with a new training program designed to propel young professionals toward careers in dance. The Hubbard Street Professional Program (nicknamed "HS Pro") provides a two-year postsecondary alternative to university dance programs.
Keep reading...
Show less
PC Kyle Froman, Courtesy Ailey
Attending the right summer intensive at the right time can be life-changing—and potentially career-launching. But it's up to you to make the most of the experience. From building your technique to trying new styles to expanding your network, getting everything you want from an intensive takes focus and planning. Strategize for success with these tips from five professional dancers looking back on what they wish they'd done differently during their own summer study years.
Keep reading...
Show less
Donald O'Connor and Gene Kelly in Singin' in the Rain. Photo Courtesy DM Archives
At one performance of David Parker's Nut/Cracked in 2005, three-quarters of his audience walked out prematurely. But the same moment that caused the offense—a duet between two men with their thumbs in each other's mouths—earned Parker hearty laughs from the remaining crowd, and eventually an enthusiastic standing ovation.

Humor is subjective, and it can be tough to get right. Though there are many moments of brilliant comedy in dance, there are also so many failed attempts that, well, it's not even funny. There's no exact formula for grabbing a laugh. But experimenting with these ingredients can help you tap into your funny.
Keep reading...
Show less
Magazine
Jan. 01, 2015 12:13PM EST
Leriche in Kyle Abraham's Counterpoint. Photo by Todd Rosenberg, Courtesy HSDC.
Emilie Leriche
Both delicate and strong, Emilie Leriche can move with the softness of a cool puff of air or strike a pose worthy of the mythic huntress Diana. She crystallizes moments in time with the magic of a born performer. And she's whip-smart—as clear and mindful in her dancing as she is in conversation. At 22 years old and in her second season with Hubbard Street Dance Chicago, she's already originated major roles in four works, including Robyn Mineko Williams' Grey Horses and Fluence. Last summer, she gave the opening solo in the premiere of Kyle Abraham's Counterpoint the serenity and focus of a much more experienced dancer. —Laura Molzahn
Photo by Michael Slobodian, Courtesy Ballet BC.
Andrew Bartee
Constant reinvention is one of Andrew Bartee's hallmarks. The 2007 Princess Grace awardee danced first for Pacific Northwest Ballet, where he was known as somewhat of a rarity, thriving in contemporary work. That gift has taken him to Ballet BC, where he became a company member this fall. The new recruit will have a chance to impress Vancouver audiences with his precise moves and Gumby extensions, as he is featured in virtually every piece Ballet BC is presenting this year. His limitless curiosity also pushes him as a choreographer for Seattle-based Whim W'Him, Kate Wallich's The YC and PNB. With exactness of technique and a delightful sense of humor, Bartee is a refreshing artist in the sometimes heavy world of contemporary dance. —Gigi Berardi
Photo by Nathan Sayers.
Silas Farley
Usually fans fall in love with a dancer's onstage persona first—and then later, perhaps after a little investigative work online, his offstage personality. But most of us were initially charmed by New York City Ballet's Silas Farley after encountering him in the AOL On web series "city.ballet." Season 1 documented Farley's transition from apprentice to full corps member, and his easy, eloquent musings on the pressures of that momentous career juncture made it apparent that the 20-year-old has a remarkably insightful—and delightful—mind. "Everything up until now has been prologue," he told the camera crew the evening before his first day as a corps dancer. "Tomorrow we open to page one, chapter one!"
But Farley is delightful onstage, too. At 6' 4", he has a naturally regal presence, which he has already used to his advantage in two soloist roles: Theseus in A Midsummer Night's Dream and Von Rothbart in Swan Lake. Those character-driven parts benefited as much from his inquisitive, imaginative mind as they did from the elegant openness of his carriage. —Margaret Fuhrer
Photo by Erin Baiano, Courtesy Keigwin + Company.
Jaclyn Walsh
It's tempting to classify Keigwin + Company dancer Jaclyn Walsh as a powerhouse, but that would be selling her short. Though it's true she's compact and athletic, a natural jumper and turner (Walsh swears she was a male dancer in another life), she's just as seamless in the creamier, sultrier stuff of choreographer Larry Keigwin's pop-culture–rich rep. Whether she's prowling in the primal Natural Selection, striding confidently in the pulsing, site-specific Sidewalk or gliding through glitzy curtains in Girls, Walsh brings unmatched clarity and seemingly boundless attack to it all—and suddenly you find yourself having a hard time watching anyone else. —Rachel Rizzuto
Photo by William Cameron, Courtesy Cameron.
Alyssa Mann
Minneapolis dancer Alyssa Mann bridges many eras and forms. In Carl Flink's company Black Label Movement, she takes us back to the grounded virtues and classicism of Doris Humphrey and José Limón and forward to the raw physicality and emotional voltage of contemporary dance today. But there's a whole other side to this dancer. With hyper-crisp clarity, Mann rocks the rhythms, heat and fluid dynamics of Afro-Cuban soul in Osnel Delgado's new work for Zenon Dance Company. She embodies a rare combination of technical refinement, fierce athleticism and postmodern cool. —Linda Shapiro
Wallich in her work Super Eagle. Photo Courtesy Kate Wallich.
Kate Wallich
Where other choreographers might hesitate, wondering if they're about to alienate their audience, Kate Wallich unapologetically pushes forward. Watching this 25-year-old's work can be challenging—it takes time to reach its emotional peak. The payoff, however, is seeing Wallich's sly self-awareness; she has a knack for building tension.
For all its dark glamour, Wallich's work is not without a measure of underdog angst. In One Plus, a woman pauses to remove her sweatshirt and toss it offstage. Later, a dancer is lifted overhead by four others, only to be dropped to the floor. Members of her Seattle-based company The YC both embrace and abandon technique, resulting in a rawness reminiscent of Batsheva. Wallich is not afraid to ask her dancers to shed the excess. —Nicole Loeffler-Gladstone 
Dolven (right) with De Keersmaeker in Fase. Photo by Stephanie Berger, Courtesy Lincoln Center.
Tale Dolven
Dancing Anne Teresa De Keersmaeker's relentlessly repetitive Fase, Four Movements to the Music of Steve Reich takes a mathematical mind, a clear understanding of movement and an unwavering, but not over-pronounced, stage presence. To dance the masterpiece alongside the iconic choreographer herself takes sheer guts. Last season, when Tale Dolven joined in the hour-long duet with De Keersmaeker—which Rosas has toured for the last three years—her movements were sharp, yet mysteriously cloudy. The energy between the two women gelled like old pals proudly revisiting a work they made together long ago.
That, of course, is impossible. De Keersmaeker created Fase in 1982, when Dolven was just an infant. Old vs. young, choreographer vs. dancer, it didn't matter. Dolven translated De Keersmaeker's movement with cool ease. —Kristin Schwab
Fentroy (center) in Dove's Dancing on the Front Porch of Heaven. Photo by Christopher Duggan, Courtesy DTH.
Chyrstyn Fentroy
To get its renewed vision on solid footing, Dance Theatre of Harlem needs ballerinas like Chyrstyn Fentroy. Her chameleon-like adaptability and technical prowess is a perfect match for the company's diverse repertoire. Last season, Fentroy understood the emotional heart of Ulysses Dove's Dancing on the Front Porch of Heaven, which is reverent, spare and unfussy, with an echo of funk. It is also chock-full of intricate pointework that Fentroy danced with restrained finesse. She showed off her acting chops in Thaddeus Davis and Tanya Wideman-Davis' past-carry-forward, and her charismatic stage presence came through in Robert Garland's Return: She was all sass and dazzle, owning James Brown's tunes with her sly style. —Nancy Wozny
Photo by Laurent Liotardo, Courtesy ENB.
Shiori Kase
When Shiori Kase stepped onstage at the USA International Ballet Competition last June, there wasn't any doubt that she would win gold. Though she is a technically crisp dancer, it was her attention to style, character and detail that set her apart—her performances were beautifully complete and worlds away from the flash so common at ballet competitions. As Sugar Plum, she was as delicate as icing and as Medora from Le Corsaire she exuded natural confidence, combined with sublime technical security.
The Royal Ballet–trained Kase, 23, joined the English National Ballet in 2009 and has enjoyed a steady rise since, winning ENB's Emerging Dancer Award, which recognizes up-and-coming talent within the company. Her success at USA IBC put more wind in her sails: She was quickly promoted to first soloist in July and danced Swanilda—her first principal role outside of The Nutcracker—soon afterwards. —Amy Brandt
Photo by William Cameron, Courtesy Zenon Dance Company.
Osnel Delgado
Choreographer Osnel Delgado may have named his fledgling Cuban modern dance company Malpaso—"misstep" in Spanish. But one of the most striking things about this 29-year-old is how confident he seems in his independent path. Though steeped in the island's distinctive style of modern dance, a blend of Graham and Afro-Cuban techniques, Delgado has incorporated influences from international choreographers like Mats Ek and Itzik Galili.
Afro-Cuban dance's vitality, fluidity and musicality are innate to Delgado. But he channels them through contemporary energy and form. In his 24 Hours and a Dog, the dancers romp through an imaginary urban landscape, vaulting off Arturo O'Farrill's Afro-Cuban jazz score with exuberant movement. U.S. audiences will get a glimpse when Malpaso appears at The Joyce this spring before heading to Jacob's Pillow. —Jordan Levin
Photo by Tania Lopez, Courtesy Peugh.
Joshua L. Peugh
If Wes Anderson were a choreographer, his dances might look like those of Dallas-based Joshua L. Peugh. Whimsical with a touch of melancholy, Peugh's work occupies a colorful middle space that's equal parts kooky and tender. His music choices are all over the map, from Hall & Oates to klezmer music to moody French film scores from the 1960s. In addition to directing his Dark Circles Contemporary Dance, he's setting work all over, most recently for BalletX and BODYTRAFFIC.
Partnering is one of his brightest choreographic assets—incredibly awkward yet disarmingly charming, and full of surprise. In Marshmallow, the stuffing of square sugar pillows into a dancer's mouth becomes the beginning of a relationship. With a fling of a limb or curl of a spine, the dancers seem to pose questions to each other, letting us eagerly wait for the answer. Peugh gets that people are complicated, that they might laugh and cry in the same sentence; sometimes it's even hard to tell if his couples are breaking up or making up. —Nancy Wozny
Visceral Dance Chicago in Sidra Bell's landings, chasms. Photo by Cheryl Mann, Courtesy Visceral Dance Chicago.
Visceral Dance Chicago
If a new contemporary company in Chicago makes its debut on the same stage that Hubbard Street Dance Chicago calls home, it better be exceptional. Visceral Dance showed us it had the goods in its season at the Harris Theater in April. Artistic director Nick Pupillo presented a highly polished group of supremely confident and dramatically impressive dancers. Their technique heightened the impact of the troupe's sophisticated, poetic and rhythmically ferocious contemporary choreography. Pupillo contributed two pieces alongside dances by Robyn Mineko Williams, Monica Cervantes and Sidra Bell. For the 2014–15 season, the company has snagged the rights to a duet from Ohad Naharin's Mabul. —Hedy Weiss
Turazashvili in Coppélia. Photo by Damir Yusupov, Courtesy Bolshoi.
Ana Turazashvili
The "vili" is a giveaway: Bolshoi Ballet corps member Ana Turazashvili hails from Georgia. But that's not the only reason to compare her to Nina Ananiashvili. Similarly coltish, with expressive, tapering limbs, Turazashvili also shares the great ballerina's radiating warmth onstage. She moves with a beyond-the-fingertips expansiveness that penetrates the far corners of the theater, every gesture generously oversized. It's not over-the-top Bolshoi bluster, though: There is subtlety and sensitivity in her dancing, too. Though Turazashvili earned noisy ovations for her fresh, energetic performance of one of Don Quixote's Grand Pas variations during the company's visit to New York City last summer, her Spanish courtier wasn't all spitfire and spit curls. She also took care to show the character's aristocratic side, through genteelly refined port de bras and perfectly placed pirouettes. —Margaret Fuhrer
Campbell in John Neumeier's Nijinsky. Photo by Bruce Zinger, Courtesy National Ballet of Canada.
Skylar Campbell
Ballet latecomer Skylar Campbell was almost 15 when he started dancing. But he plunged in to make up for lost time. Now 23, Campbell is a second soloist with National Ballet of Canada and has already danced a range of leading roles. He brings touching innocence to Alain in Frederick Ashton's La Fille mal gardée, avian lightness to Bluebird in The Sleeping Beauty and unsettling emotional fragility to the title role in John Neumeier's Nijinsky. Incandescent onstage, Campbell's laid-back demeanor disguises a burning desire to succeed—and a work ethic that's enabled him to accomplish it. —Michael Crabb
Photo by Sébastien Mathé, Courtesy POB.
François Alu
At 21 years old, François Alu has rocketed up the ranks of the Paris Opéra Ballet to become its youngest premier danseur, one step shy of étoile. His explosive technique, both clean and airy, and endearing charm in Don Quixote or as Bluebird have earned him the status of audience darling. Fans have nicknamed him Alu-cinant, a pun on hallucinant, which means "incredible" in French.
There is more to Alu than pyrotechnics, however. Standing 5' 11", with a compact body type by Parisian standards, he has been keen to avoid stereotypes and expand his artistic range, dancing Frollo in Notre-Dame de Paris and new choreography with 3e étage, a contemporary touring group of POB soloists. New director Benjamin Millepied was quick to notice his raw potential. Last spring, he created a dazzlingly difficult role for him in Daphnis and Chloe. Millepied may have found his first star. —Laura Cappelle
Williams in Drink to Me Only With Thine Eyes. Photo by Gene Schiavone, Courtesy ABT.
Stephanie Williams
With a musical ear, quick study skills and a smart sense of style, Stephanie Williams is a choreographer's dancer. Since joining American Ballet Theatre's corps de ballet in 2012, she has sailed smoothly through every opportunity given to her. Most recently, Liam Scarlett cast her in his world premiere alongside some of the company's top principals. In soloist roles such as Zulma in Giselle or the Fairy of Charity in The Sleeping Beauty, she combines refreshingly classical femininity with streamlined drive and technique. Blessed with a natural lyricism, Williams gave a deliciously creamy reading of Mark Morris' Drink to Me Only With Thine Eyes during the company's spring season last year. Her hunger for movement transcends each element of ABT's varied repertoire. —Joseph Carman 
Paulos in Adam Barruch's Alchemies. Photo by Eduardo Patino, Courtesy Ailey.
Danica Paulos
Of the many terrific dancers in Ailey II, only a small fraction graduate to the senior ranks of Alvin Ailey American Dance Theater. It was no surprise when Danica Paulos was among the chosen few last spring. During Ailey II's New York City season, Paulos caught the eye with her rare blend of attack and willowy elegance. In Katarzyna Skarpetowska's Cuore Sott'olio, she instilled big, bold, fast phrases with a fine, silken quality, matching athleticism and extroversion—the kind that Ailey prizes—with a fluent ease less common among the troupe's dancers.
All of that, grounded in limpid technique and aided by effortless extensions, should serve her well as a full-fledged company member, especially as the Ailey repertoire grows increasingly diverse under Robert Battle. It's easy to picture her in something as electric as Ohad Naharin's Minus 16 or as delicate as Christopher Wheeldon's After the Rain Pas de Deux, both in Ailey's current season. —Siobhan Burke
Photo by Richard Calmes, Courtesy Indya Childs.
Indya Childs
If you're seeking an artist who embodies Atlanta's growing dance scene, look to Indya Childs. The supple and kinetic 23-year-old is the product of a culturally diverse city with longstanding dance traditions and a recent wave of contemporary influences. She seeks growth through varied repertoire, adapting to the physical and emotional demands of each choreographer's style. As a member of Ballethnic Dance Company, Childs sails across the stage with pure, neoclassical lines, then slices through space, capoeira-style, with sheer joy and athletic prowess. In T. Lang Dance's Post Up, a compelling work on grief and family separation, she begins alone onstage, her spine gently rippling, sensing the breath, rhythm and texture of a jazz singer's voice. Impulses rise rhythmically through her chest as she hinges to the floor—vulnerable, with deep strength. Whether the work is abstract or narrative, subtle or explosive, every move pulses with a sense of purpose that's unquestionably her own. —Cynthia Bond Perry
Praetorius in Lady of the Camellias. Photo by Costin Radu, Courtesy Royal Danish Ballet.
Ida Praetorius
She may have quicksilver petit allégro and charming Bournonville presence, but Ida Praetorius is not your typical dainty Royal Danish Ballet dancer. There's a feral quality in her you'd never expect to come out of a doll-like package. In contemporary rep, like Alessandro Sousa Pereria's Traditional, she can grow so wild that her pristine blond hair whips into a tangled mess across her face. Even as an apprentice, her fearless immersion into Flemming Flindt's macabre The Lesson was so total it was almost uncomfortable to watch.
These abilities have won her a string of awards, most notably the Erik Bruhn Prize for best female dancer in 2012. Few were surprised when Praetorius was named soloist this season. Just 21, she's already taken on lead roles in La Bayadère and Romeo and Juliet, and this fall danced Marguerite in John Neumeier's Lady of the Camellias. With her star rising beyond Copenhagen, at festivals from Houston to Hamburg, she might arguably be one of artistic director Nikolaj Hübbe's greatest legacies of his tenure so far. —Jennifer Stahl
Photo by Nathan Sayers.
Ryan P. Casey
First, you notice his height. At 6' 8", Boston tapper Ryan P. Casey towers over his partners. But as soon as his feet start moving, you forget about his frame and focus on his shocking talent. Tap lovers ogle at his freakishly clean footwork, with shaded in-the-pocket rhythms reminiscent of Fred Astaire.
Casey is a gifted choreographer, too. His work reaches beyond traditional notions of what tap should be. In Me & My Shadow, he dances a clever duet with a larger-than-life film projection of himself. Occasionally, he recites poetry as he taps. And his character-driven narratives prove that tap can be funny—something he says he learned while dancing for Michelle Dorrance. "With tap, people have very specific images in their heads," he says. "They see Fred Astaire or Savion Glover. Anything you can do to subvert those impressions, that's a success." —Ashley Rivers
In rehearsal with Hubbard Street. Photo by Todd Rosenberg, Courtesy HSDC.
Robyn Mineko Williams
There is a sophistication about Robyn Mineko Williams' works that many choreographers never quite attain. Her inventive movement phrases, compositional clarity and heartfelt emotion are informed by captivating simplicity—she lets the quiet spaces between movements color the work. It's especially evident in her cinematic One Take for Grand Rapids Ballet. In one section, beautifully fragile images backed by the haunting melody of Debussy's Clair de Lune reveal a mature choreographic mind that sees grace on a par with physicality.
Since her first major work in 2010, Williams has choreographed for Visceral Dance Chicago, The Nexus Project and Hubbard Street Dance Chicago, where she was a dancer for 12 seasons. Most recently, she was involved in the company's comedic dance theater collaboration with improv troupe The Second City. With her stock on the rise, Williams will create a new work in May with a group of freelance dancers at Baryshnikov Arts Center through her 2014 Princess Grace Works in Progress Residency Award. —Steve Sucato
Singer in Joanna Kotze's it happened it had happened it is happening it will happen. Photo by Ian Douglas, Courtesy Kotze.
Stuart Singer
After a notable tenure with the Bill T. Jones/Arnie Zane Dance Company, Stuart Singer has suddenly become one of the hottest freelance properties around. His technical and expressive skills have continued to grow him into one of the most versatile and distinctive dancers in today's form-expanding, progressive downtown dance scene. This past season alone, his shape-shifting expressivity lent forceful grace to Einstein on the Beach, as well as works by postmodern boundary pushers Joanna Kotze and Beth Gill, and his role in John Jasperse's Within between earned him a Bessie Award for Outstanding Performance. Singer renders surprisingly delicate physical detail and commands space with grounded fleetness—all with linear clarity worthy of a Cunningham or Balanchine star. —Gus Solomons jr
With Alysha Umphress in a scene from On the Town. Photo by Joan Marcus, Courtesy On the Town.
Jay Armstrong Johnson
As On the Town's Jay Armstrong Johnson slides down his ship's offloading ramp, it's impossible not to be swept up in his exhilarating stage presence. Johnson's Chip is hilariously endearing and boyishly sincere: His kicks lift a bit higher than his mates', his turns wind tighter, his arms fly wider. Whether performing slapstick-styled rolls and headstands in "Come Up to My Place" or twitching hip swivels during "I Can Cook Too," the Texas native wrangles his immense skill with nuance and specificity. Johnson's previous Broadway stints include Hair, Catch Me If You Can and Hands on a Hardbody. But On the Town is the first role that fully uses all of his chops, from comedian to star dancer. —Lauren Kay
Agami leads a rehearsal with Ate9. Photo Courtesy Ate9.
Danielle Agami
Israeli-born Danielle Agami is one of the hottest cultural commodities in L.A.'s thriving dance scene. A former member of Batsheva Dance Company, the 30-year-old has garnered raves for her Ate9 Dance Company. Her Gaga-inspired choreography is punctuated by breathtaking physicality, sly humor and a hip theatricality, her own dancing mesmerizing. She mixes deft unison with full-throttle lunges and off-center balances. Audiences relate to her quirky moves and music, a mash-up of original scores with fare such as Radiohead and Nina Simone. She's worked with local troupes, including L.A. Dance Project, and has already garnered international exposure for her own two-year-old company. Ate9 traveled to Moscow in November for Diana Vishneva's Context Festival, and the company tours to New York, Texas and Oregon this winter.
—Victoria Looseleaf
In the middle, somewhat elevated. Photo by Amitava Sarkar, Courtesy Houston Ballet.
Madeline Skelly
Houston Ballet's Madeline Skelly seemed to catapult out of nowhere during her standout first year in the corps. Her riveting performance of William Forsythe's relentless In the middle, somewhat elevated last season left the audience in a "who's that girl" gasp. All legs, but not remotely gangly, she also held her own partnering with principal Connor Walsh. Skelly uses her length well, balancing tension and release in a dynamic equation. Judging from her recent performances, she has the technique and stage polish to become one of the company's stars. —Nancy Wozny