News
Sep. 16, 2019 11:00AM EST
Teaċ Daṁsa in Michael Keegan-Dolan's Loch na hEala. Photo by Marie-Laure Briane, courtesy Walker Art Center
The 2019–20 season is here, and with it more performances than any one person could reasonably catch. But fear not: We polled our writers and editors and selected the 31 most promising tickets, adding up to one endlessly intriguing year of dance.
Keep reading...
Show less
PT Elizabeth Harrison works with her former company, Nashville Ballet. Photo by Martin O'Connor Photography, Courtesy Harrison
It's fall 2009, and I'm standing in Andy Blankenbuehler's midtown office where he, Lin-Manuel Miranda and others are working on their next show, Bring It On: The Musical. Already it's clear that Miranda/Blankenbuehler collaborations are just daring enough to be groundbreaking. Blankenbuehler hands me a note scribbled on a page from the script.
In that moment, I realize I've found my place in the dance world—as a writer, telling the stories of the artistic greats.
Keep reading...
Show less
Camille A. Brown (top) in her BLACK GIRL: Linguistic Play. Photo by Sharen Bradford, The Dancing Image; Courtesy Brown
Compare the gestation of new works across the performing arts and you'll find an ingredient mostly missing in concert dance that's occasionally used in opera and relatively common with plays and musical theater: the preview period. Ranging from a few days to, in the case of Spider-Man: Turn Off the Dark, a record-breaking 182 performances, previews provide extra time for fine-tuning shows after tech and dress rehearsals but before critics can review. (Previews are open to the general public, often at discounted prices.)
Keep reading...
Show less
Source: YouTube
Lately, there has been much ado about diversity, equity and inclusion in ballet. While it's clear what increased diversity would look like (having more dancers, teachers, choreographers and administrators of color working in the field), equity and inclusion are a bit more nebulous. Yet Nashville Ballet's new ballet Lucy Negro Redux might give us a glimpse of what inclusion could look like.
Choreographed by artistic director Paul Vasterling, the ballet derives its provocative title from poet Caroline Randell William's book, which explores the woman behind Shakespeare's "Dark Lady" sonnets. Through her research, Williams came to discover that Lucy Negro was in fact an Elizabethan era black brothel owner who enchanted the Bard.
Keep reading...
Show less
News
Sep. 11, 2018 09:30AM EST
Xenos, Akram Khan's final full-length solo, is an ode to the soldiers of World War I. Photo by Nicol Vizioli, Courtesy Sadler's Wells
We might have gotten a little bit carried away with this year's "Season Preview"—but with the 2018–19 season packing so many buzzy shows, how could we not? Here are over two dozen tours, premieres and revivals that have us drooling.
Keep reading...
Show less
Just for Fun
May. 22, 2018 03:42PM EST
Bucharest National Ballet's 2013 trailer for "La Sylphide,' via YouTube
Few things are more powerful for promoting ballet performances than captivating trailers—especially in today's visually-focused, digitally-connected world.
We've rounded up some eye-catching ads from seasons past and present that not only make us wish we could have seen the show, but also stand alone as short films.
Bucharest National Opera's La Sylphide
Magnifying the scarf which—spoiler alert—brings about the ballet's tragic conclusion, this 2013 Bucharest National Opera's trailer turns that fateful fabric into a beautiful, deadly web. Its windswept movements form a dance of its own.
Keep reading...
Show less
A collection of the author's programs
I've had a sticky note on my desk since 2013 with a horoscope that reads, "What would you do if you made happiness your number one priority?"
Like many things in life, at least for me, there is no single, simple answer to that question, which is perhaps why it's still sitting there.
The past year, I was very sick. You wouldn't have necessarily known it to look at me, but I was. The kind of sick that prompts soul-searching, and meaning-of-life searching. The kind of sick that has you thinking, "There has to be a takeaway from this awful experience; I can't have gone through this for nothing."
Keep reading...
Show less
Get Dance Magazine in your inbox
Alexandra Meister in Serenade. Photo by Anthony Matula, courtesy Meister
I first started pulling out my eyelashes when I was 9, after removing fake ones at a dance competition. A few of my own eyelashes came out and I felt a new sensation. It hurt, but the prick also felt so good.
Eventually, I was pulling even when I was not wearing stage makeup, sometimes unaware of what I was even doing. It happened while I was reading or doing homework, or when I was sad or angry.
For the next five years, I secretly pulled my eyelashes, then moved to my eyebrows and eventually the back of my scalp. Finally, at 14, I told my mom what I had been doing and she took me to see a child psychologist. It turned out I had trichotillomania (a.k.a. "trich"), which is one of a group of behaviors known as Body-Focused Repetitive Behaviors in which people repeatedly pull, pick, scrape or bite their hair, skin or nails.
Keep reading...
Show less
Ashley Ellis, photo by Albert Ayzenberg, courtesy of Ashley Ellis
Every dancer has learned—probably the hard way—that healthy feet are the foundation of a productive and happy day in the studio. As dancers, our most important asset has to carry the weight (literally) of everything we do. So it's not surprising that most professional dancers have foot care down to an art.
Three dancers shared their foot-care products they can't live without.
Keep reading...
Show less
Paul Vasterling. Photo by Anthony Matula
What should we dance about today and how should we go about it? Those questions were on the mind of Nashville Ballet artistic director Paul Vasterling this summer as he spent six weeks exploring new ways of telling stories through ballet as a fellow at NYU's Center for Ballet and Arts.
Over his 20 years as principal choreographer at NB, Vasterling has created a handful of narrative works, ranging from children's stories to Romeo and Juliet and Lizzie Borden (about the Fall River, Massachusetts woman tried and acquitted for the axe murders of her father and stepmother).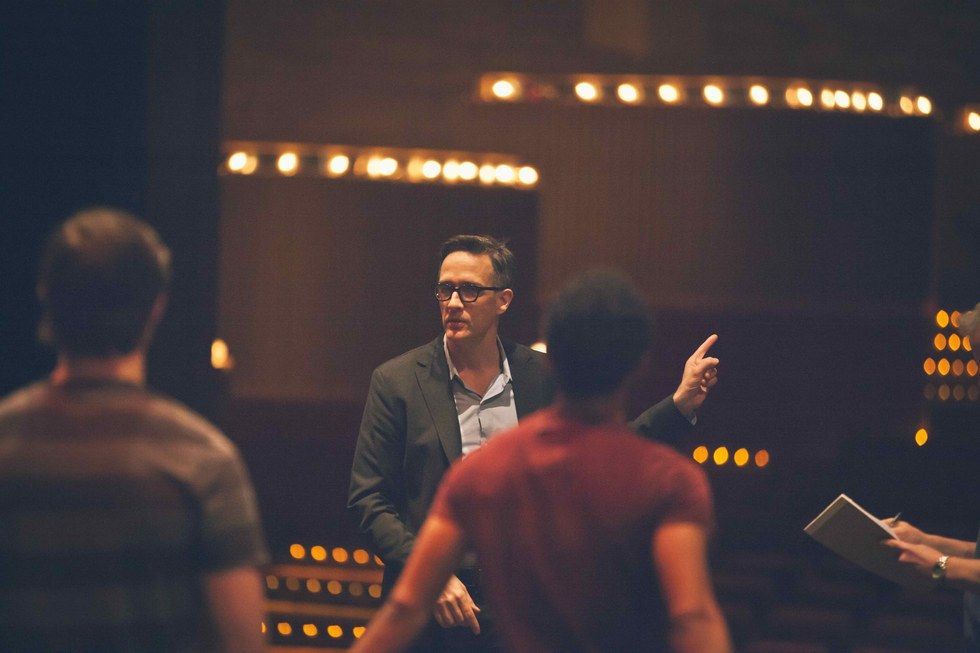 Paul Vasterling with Nashville Ballet dancers. Photo by Anthony Matula
Keep reading...
Show less
Abraham.In.Motion will make their Kennedy Center debut with Kyle Abraham's The Gettin'. Photo by Ian Douglas, Courtesy The Kennedy Center.
Ballet Across America returns to The Kennedy Center this week with a twist: programming curated by American Ballet Theatre principal Misty Copeland and New York City Ballet soloist/resident choreographer Justin Peck. It's a unique opportunity to get inside the heads of two of the most influential figures in American ballet today—so what companies and choreographers did the superstars choose to showcase?
Keep reading...
Show less
May. 01, 2014 04:02PM EST
Above: Ben Folds and Nashville Ballet's Sadie Bo Harris
Ben Folds Joins the Ballet
NASHVILLE
It's no surprise that in Nashville, aka "Music City," Nashville Ballet has become known for its collaborations with musical artists. Pop star Ben Folds visits the company May 2–4 to accompany artistic director Paul Vasterling's new Ben Folds Piano Concerto at the Tennessee Performing Arts Center. The starry collaboration with Folds, one of the biggest celebrities to pair up with Nashville Ballet, may bring new audiences to Petite Mort (a company premiere) and Serenade, which complete the program. nashvilleballet.com.
French Invasion
NEW YORK CITY
These days, it seems like French contemporary dance has gone conceptual. But there's a wide range, and we're about to see a big slice of it. From May 1–18, under the banner DANSE: A French-American Festival of Performance & Ideas, 17 U.S. premieres will fill New York City theaters, from the Chocolate Factory to the Joyce. One highlight is the excellent Lyon Opera Ballet in Christian Rizzo's dreamlike ni fleurs, ni ford-mustang at BAM. Another is the disturbingly bizarre Baron Samedi, a "choreographic opera" by the late Alain Buffard, at New York Live Arts. Look for familiar New York City dancers David Thomson and Will Rawls—and, from the Ivory Coast, the raw, awe-inspiring Nadia Beugré. frenchculture.org/DANSE.
Above: Lyon Opera Ballet in ni fleurs, ni ford-mustang
DD's Diary
NEW YORK CITY
Danspace Project has deepened the way we look at choreography through its PLATFORM programming. Launched in 2010, the series refracts many ideas through a single theme or dance artist, spreading its offerings over a month. PLATFORM 2014: Diary of an Image delves into the work of DD Dorvillier, a supremely quirky dancer/choreographer. Nothing she does can be construed as graceful, yet her antics—be they austere or silly—draw you in. From May 19–June 14, Danspace presents two new works by Dorvillier, performances by her collaborators (including favorite downtown composer Zeena Parkins) and a publication that includes writings by some of her fellow explorers: Heather Kravas, Jennifer Lacey and Jennifer Monson. danspaceproject.org.
Above: DD Dorvillier in No Change or "freedom is a psycho-kinetic skill"
Twice as Nice
AMSTERDAM
Geographically, the Netherlands may only be about the size of Maryland, but the tiny country has produced a disproportionate number of remarkable artists. Dutch National Ballet shows off that cultural abundance in Dutch Doubles, which matches up four Netherlands-based choreographers with fellow countrymen from the fields of fashion, music, photography and sculpture. Hans van Manen, one of the founding fathers of European contemporary dance, will work with renowned harpist Remy van Kesteren, 56 years van Manen's junior; honorary Dutchman Jorma Elo (he's Finnish, but danced with Nederlands Dans Theater for years) will pair his spiky pop culture–tinged choreography with fashion from red-hot design duo Viktor & Rolf. Rounding out the choreographic quartet are the acutely musical Ton Simons and rising star Juanjo Arqués. National Opera & Ballet, April 16–May 7. operaballet.nl.
Above: DNB's Igone de Jongh (right) and Rink Sliphorst in Viktor & Rolf's costumes
Romeo and Juliet Redux
CHICAGO
It takes a sort of wild courage to reimagine a work as iconic as Romeo and Juliet. But beyond the name and score, it's hard to make a side-by-side comparison between Krzysztof Pastor's contemporary take on the story, which the Joffrey Ballet gives its U.S. premiere starting April 30, and the more traditional version by Kenneth MacMillan. Choreographed on the Scottish Ballet in 2008, Pastor's ballet is set in three different decades of 20th-century Italy, following the country through fascism and war. In lieu of a set, a multimedia video backdrop allows Pastor to jump from era to era. The costuming is more pedestrian than Shakespearean, the choreography more confrontational than swoony. Roosevelt University, April 30–May 11. joffrey.org.
Above: Joffrey Ballet's Alberto Velazquez and Mahallia Ward as Romeo and Juliet
Photos from top: ANTHONYMATULA, Courtesy Nashville Ballet; Michael Cavalca; Thomas Dunn; Petrovsky & Ramone, Courtesy Dutch National Ballet; Christopher Duggan, Courtesy Joffrey Ballet
Jan. 31, 2013 04:30PM EST
Gallim Glows
Physical expression, humor, intensity—Gallim Dance takes these facets of performance way past the bounds of what's comfortable or expected, with engrossing results. The company brings director Andrea Miller's hilarious Pupil Suite and Mama Call, which draws inspiration from Miller's Sephardic-American roots, to Wesleyan University Center for the Arts Feb. 8–9 and Temecula, CA, March 22–23. Sit, Kneel, Stand, with its star turn for "25 to Watch" Jonathan Royse Windham, will be performed at Georgia State University on Feb. 16. www.gallimdance.com.
Miller's Pupil Suite. Photo by Franziska Strauss, Courtesy Wesleyan.
Set Design Swagger
Crashing waves, starry skies, and laser shows will hit the REDCAT stage on Feb. 14–16 as Japanese dancer/ choreographer Hiroaki Umeda aims to dazzle viewers with both technological effects and his choreography, a mix of hip-hop, ballet, and butoh. Umeda, who plans these effects on his laptop, will also take the two works, Haptic and Holistic Strata, to the Wexner Center in Columbus, OH, Canadian Stage in Toronto, and New York Live Arts. www.hiroakiumeda.com.
Umeda's Holistic Strata. Photo courtesy Yamaguchi Center for Arts and Media.
Bursting with energy, the New Zealand–based Black Grace embarks on a two-month North American tour. Making its Portland debut at White Bird on Feb. 19, the company performs a smattering of works including the full-length Waka. Packing power into skilled manipulations of the body, these dancers, led by artistic director Neil Ieremia, can be seen in Seattle; Pittsburgh; Saint Paul; Victoria, Canada; and Northridge, CA. www.blackgrace.co.nz.
Carl Tolentino and Thomas Fonua. Photo by Duncan Cole, Courtesy White Bird.
Performances, master classes, and other special events abound in San Francisco and Oakland this month as the 2013 Black Choreographers Festival marks its ninth year. Bay Area–based dancemakers Gregory Dawson, Raissa Simpson, and Colette Eloi, among others, will present work along with notable out-of-towners such as Camille A. Brown. A celebration of the 40th anniversary of Oakland's Dimensions Dance Theater stands out among the two weeks of festival activities. www.bcfhereandnow.com.
Co-director of the Black Choreographers Festival Laura E. Ellis. Photo by Andy Mogg, Courtesy BCF.
Hamburg on Tour
The Hamburg Ballet brings John Neumeier's sweeping dramatics to Orange County, Chicago, and San Francisco this month with two programs. The Little Mermaid swims into the Segerstrom Center of the Arts Feb. 8–10, while Nijinsky, which reimagines the ballet superstar's career with the Ballets Russes, will be danced at the Harris Theater Feb. 1–2 and the War Memorial Opera House Feb. 13–19. www.hamburgballett.de.
Alexandre Riabko in The Little Mermaid. Photo by Holger Badekow, Courtesy HB.
Spare Change
Whether you think of Anna Halprin's Parades and Changes as revolutionary, ritualistic, or raunchy, most viewers are riveted by the slow-motion undressing and dressing section—as well as the wanton ripping-huge-reams-of-paper scene. For Halprin's "final" setting of this iconic 1960s work, dancers from around the world are coming to Berkeley to participate. Leading this parade of dancer/(re)searchers will be the original collaborators: Halprin herself (see "Nine Who Dared," Nov.) and composer Morton Subotnick. Feb. 15–17, UC Berkeley Art Museum, with an exhibit of related artifacts on view in Gallery 1. www.bampfa.berkeley.edu.
A performance of Parades and Changes in 1970 in Stockholm. Photo by Ohlstrom, Courtesy BAMPFA.
Song and Dance
As the capital of country music, Nashville is bursting with tuneful talent—a situation just begging for collaboration. Nashville Ballet has put singer/songwriter Matthew Perryman Jones, known for his heartfelt pop-country lyricism, with choreographer Gina Patterson to work on a premiere. Also appearing on the program are Dominic Walsh's lively The Whistling and Sarah Slipper's passionate Ploughing the Dark, inspired by the love letters of Anton Chekhov and his wife, Olga Knipper. Feb. 15–17. www.nashvilleballet.com.
Jon Upleger and Sadie Bo Harris in Slipper's Ploughing the Dark. Photo by Marianne Leach, Courtesy NB.
Contributors: Kathleen Dalton, Wendy Perron, Kina Poon