News
Aug. 01, 2019 03:56PM EST
News
May. 16, 2018 03:44PM EST
New York City Center just announced programming for the 2018-19 season, and we're frantically marking our calendars for all the must-see dance. This year is the venue's 75th anniversary, and they're pulling out all the stops—from the reliable fan favorite Fall for Dance to the most epic Balanchine celebration and more:
Keep reading...
Show less
Crystal Pite rehearsing at National Ballet of Canada. Photo by Karolina Kuras, courtesy NBoC
Crystal Pite is a busy woman.
While her company, Kidd Pivot, toured the globe recently performing Betroffenheit—its acclaimed collaboration with Jonathon Young and fellow Canadians Electric Company Theatre—Pite herself launched three productions at three of the world's foremost dance companies: Nederlands Dans Theater (The Statement, February 2016), the Paris Opéra Ballet (The Seasons' Canon, fall 2016), and London's Royal Ballet (Flight Pattern, spring 2017).
Keep reading...
Show less
Chicago's Auditorium Theater
For most dancers, walking into the theater elicits a familiar emotion that's somewhere between the reverence of stepping into a chapel and the comfort of coming home. But each venue has its own aura, and can offer that something special that takes your performance to a new level. Six dancers share which theaters have transported them the most.
GLENN ALLEN SIMS
Alvin Ailey American Dance Theater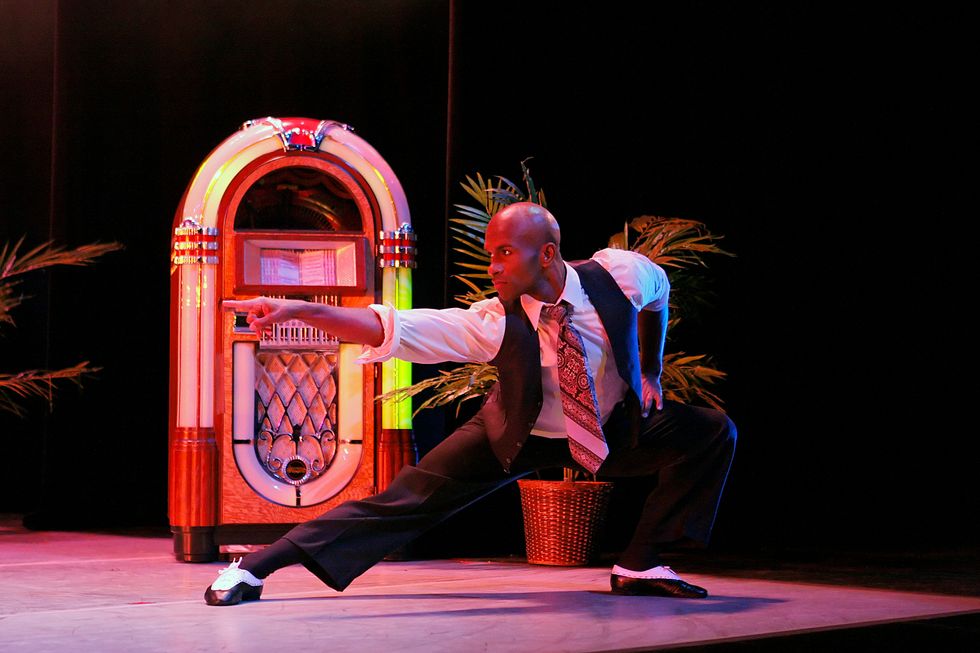 Glenn Allen Sims in Alvin Ailey's Masekela Langage. Photo by Paul Kolnik, courtesy AAADT
Favorite theater: Teatro Real in Madrid, Spain

Royal details: "The theater is gorgeous and ornate, with deep red upholstery and gold trim. There is a huge royal box in the center, which takes you back to when kings and queens were watching performances there."
Impressive facilities: Even the dressing rooms are a sight to see: Amenities for the dancers include large, carpeted rooms, and towel service.
Keep reading...
Show less
When we heard rumors earlier this summer that World Ballet Day LIVE might get cancelled this year, we thought our hearts might break.
But we needn't have worried! The happy news came out yesterday that our favorite day of the year is back: World Ballet Day LIVE 2017 is officially scheduled for October 5. Clear your calendar for a serious bunhead binge of live behind-the-scenes footage from the Australian Ballet, Bolshoi Ballet, Royal Ballet, National Ballet of Canada and San Francisco Ballet—plus special video broadcasts from other top companies.
The news got the Dance Magazine staff all nostalgic. We started reminiscing about our favorite highlights from past World Ballet Day LIVE events. Our top picks?
Keep reading...
Show less
Living the #dancerlife is no easy feat. Between daily technique classes, late night rehearsals and numerous side gigs to get the bills paid, dancers often don't prioritize self care. It may seem like the least important item on your never-ending to-do list, but it's vital to make time for your physical, mental and emotional wellbeing.
Ignoring basic needs can ultimately damage your technique and performance. We could all use some tips from these 10 professional dancers who know how to practice self love.
Keep reading...
Show less
Jan. 01, 2015 05:40PM EST
Get Dance Magazine in your inbox
Jan. 01, 2014 07:35PM EST
The company will see big changes in 2014.
When Nederlands Dans Theater announced last May that it would stop performing Jirí Kylián's work for three years, comparisons were made to a Balanchine-less New York City Ballet. But as artistic director Paul Lightfoot started factoring the decision into planning the next season, the company ran into another identity-altering change: In the fall, the city will tear down NDT's longtime performance space, Lucent Danstheater in The Hague, to build a larger venue. Without its signature rep or home stage, what will become of NDT's slick contemporary brand?
Kylián, who was NDT's artistic director for 24 years and resident choreographer from 1999–2009, suggested shelving his work because he was concerned that the troupe was becoming dependent on his rep instead of focusing on progressive choreographers—the core ethos that defined the company many years ago. "Repertoire has weight, and he believes that the identity of NDT is rebellious and creative," says Lightfoot. Initially upset by the proposal, Lightfoot says he understands that Kylián's decision is in the best interest of the company. It will also give Kylián more creative freedom to work on smaller-scale projects. Others, including some NDT dancers who came to the company specifically to perform Kylián's dances, have mixed emotions.
New commissions will be the focus of the reimagined NDT. In addition to his own work with Sol León, Lightfoot planned 10 world premieres in 2013–14. Going forward, associate choreographers Crystal Pite, Alexander Ekman, Johan Inger and Marco Goecke will stage at least one new piece or revival per season. Favorites like Ohad Naharin and Hofesh Shechter will remain regular guests. And the troupe's dancers will be encouraged to create, as Lightfoot once did under Kylián, in evenings dedicated to young talent.
Lightfoot's pressing concern, though, is finding a new performance space for the company, which has been at the Lucent Dans­theater, the largest Dutch theater designed specifically for dance, for nearly 27 years. "It's a very dangerous decision, and our main worry right now," he says. "They're going to destroy our home." The city has offered NDT a temporary location during the three- to five-year construction period for the new theater that will rise on the Lucent's site, but as of press time, the company has not yet decided whether to take it.
Above photo: NDT in Kylián's Tar and Feathers. By Joris-Jan Bos, Courtesy NDT
Mar. 22, 2013 01:19PM EST
Stuffing Her Face—or Her Soul
Picky or piggish, the act of eating has yielded plenty of ingredients for Miami-based choreographer Rosie Herrera to stir into Dining Alone. Premiered at American Dance Festival in 2011, the piece has been reworked to bring to Baryshnikov Arts Center April 18–19.  The episodes here—with their obsessive and entrancing moves—turn hunger and satiety into metaphors: the mouth as porthole to the soul. As usual, Herrera juggles the wry (a female trio writhes at a table, getting pies in the face as Snow White warbles about her prince) and the wrenching (a woman follows a lonely path of plates laid out underfoot). To her banquet, Herrera invites both rascals and angels. See www.bacnyc.org. —Guillermo Perez
Heather Maloney (standing) and Liony Garcia. Photo by Adam Reign, Courtesy Herrera.
Liberty for All
Known for dance theater works that veer between zany and sensual, athletic and absurdist, Jasmin Vardimon brings her newest creation, Freedom, to Peak Performances in Montclair, NJ. A Sadler's Wells associate artist in London, the Israeli-born Vardimon gives her dancers enticing stage sets and technology to grapple with. Stylistically owing a debt to Pina Bausch, Freedom investigates "notions of what keeps our imagination free." Alexander Kasser Theater, April 18–21. See www.peakperfs.org. —Wendy Perron
Esteban Fourmi and Julia Robert Pares in Freedom. Photo by Alastair Muir, Courtesy Vardimon.
A New NDT
Nederlands Dans Theater brings three works by Paul Lightfoot and Sol León, NDT's resident choreographers, to the David H. Koch Theater. While Lightfoot/León's choreography bears many of Kylián's hallmarks—fluid phrases punctuated with absurdist elements and quicksilver shifts in intensity—the repertoire represents a marked change in the company's vision since Lightfoot became director in 2011. Good thing the supremely adventurous dancers are up to the task. On April 11 and 12, the company dances Sehnsucht (2009), whose set includes a rotating cube, and Schmetterling (2010), in which dancers disappear behind extended stage wings. Things get glitzier on April 10 when NDT shares the bill at the Joyce Theater gala with the likes of Wendy Whelan and Desmond Richardson. The company also performs at Carolina Performing Arts this month. www.davidhkochtheater.com. —Kina Poon
Silas Henriksen in Sehnsucht. Rahi Rezvani, Courtesy NDT.
Mar. 22, 2013 01:18PM EST
Flying High at 10
Donald Byrd's 10th season at Spectrum Dance Theater has been chock-full: a national tour of his Theater of Needless Talents, Byrd's homage to artists who perished in the Holocaust; the premiere of A Meeting Place last winter; and a DanceMotion USA goodwill trip to Sri Lanka, Nepal, and Bangladesh. This month, the Seattle-based company reprises A Cruel New World/the new normal, Byrd's first piece for Spectrum after becoming director, about post-9/11 America. www.spectrumdance.org.
A Cruel New World/the new normal. Photo by Nate Watters, Courtesy Spectrum.
See the Music
Oregon Ballet Theatre's artistic director departed at the end of 2012, in response to the board-supported new direction for the company (see "Transitions," p. 58). But Christopher Stowell's vision for the season lives on, and this month's American Music Festival is but one example of his progressive leadership. Both Trey McIntyre and Pontus Lidberg have been commissioned. McIntyre's feel-good choreography will be set to music by Pacific Northwest band Fleet Foxes, and Lidberg has chosen Portland-born composer Ryan Francis. The company also performs Matthew Neenan's At the Border, set to music by John Adams and made for Pennsylvania Ballet. April 18–27. www.obt.org.
Alison Roper in McIntyre's Just. Photo by Blaine Truitt Covert, Courtesy OBT.
All That Jazz
In a pair of tributes to legendary jazz musicians, River North Dance Chicago will celebrate Eva Cassidy and Cuban jazz this month. The Cassidy premiere runs April 4–6 at the Annenberg Center for the Performing Arts in Philly. On April 13, the company combines forces with Chicago Jazz Philharmonic and the Auditorium Theatre in a co-commissioned work titled "The Cuban Project." www.rivernorthchicago.com.
Monique Haley of River North Dance Chicago. Photo by Marc Hauser, Courtesy RNDC.
One Starry Night
After hundreds of budding ballet dancers have competed, the trophies have been awarded, and the tears have dried, Youth America Grand Prix puts on a spectacular gala. Joining dancers from American Ballet Theatre and New York City Ballet, and Ballet West's Beckanne Sisk (a YAGP alumna), flying in for "Stars of Today Meet the Stars of Tomorrow" will be Dorothée Gilbert, one of Paris Opéra Ballet's most fetching étoiles, and from Ballet Nacional de Cuba, balancing queen Viengsay Valdés and Osiel Gounod, the company's promising new principal. April 18. www.yagp.org.
Viengsay Valdés of Ballet Nacional de Cuba. Photo by Matthew Karas.
Repping for Vets
Repertory Dance Theatre honors the women who have served in the United States military in "Women of Valor: In the Spirit of Service." Featuring choreography by Joanie Smith, Bill Evans, and Susan Hadley, the April 11 performance will raise proceeds to help fund the Utah Women's Military Memorial at the Fort Douglas Museum. April 11–13 at the Jeanne Wagner Theatre. www.rdtutah.org.
Katherine Winder. Photo by Scott Peterson, Courtesy RDT.
A Toast to Trisha
UCLA's Center for the Art of Performance fetes Trisha Brown and her legacy this month in "Trisha Brown Dance Company: The Retrospective Project." On April 4, the company performs Astral Converted in an outdoor amphitheater on campus. Set and Reset and Spanish Dance, among other works, come to Royce Hall on April 5 and 7. UCLA students, coached by company members, will perform the groping-through-clothing Floor of the Forest at the Hammer Museum, and two performances of Roof Piece on April 6 at the iconic J. Paul Getty Museum round out the weeklong celebration. www.cap.ucla.edu.
Brown's Spanish Dance. Photo by Alfredo Anceschi, Courtesy CAP.
The Rite Moves
Companies around the world continue to perform tributes to Nijinsky's Le Sacre du Printemps on the occasion of the ballet's centennial:
Fabulous Beast Dance Theatre dances Michael Keegan-Dolan's The Rite of Spring at Sadler's Wells in London.
GroundWorks DanceTheater performs director David Shimotakahara's new Rite of Spring with the Akron Symphony Orchestra.
Meryl Tankard's Oracle appears in Urbana, IL; Austin, TX;  and Syracuse, NY.
Tanztheater Wuppertal performs Pina Bausch's Das Frühlingsopfer in Taiwan and at the Bolshoi Theatre.
At Carolina Performing Arts: Nederlands Dans Theater dances Medhi Walerski's Chamber, inspired by Le Sacre; Martha Graham Dance Company revives Graham's Rite of Spring (1984); and students at the University of North Carolina School of the Arts perform Shen Wei's Rite of Spring.
Nederlands Dans Theater in Medhi Walerski's Chamber. Photo by Rahi Rezvani, Courtesy NDT.
Contributors: Kathleen Dalton, Kina Poon