In rehearsal for Dreamgirls. Photo Courtesy DM Archives.
Broadway musicals have been on my mind for more than half a century. I discovered them in grade school, not in a theater but electronically. On the radio, every weeknight an otherwise boring local station would play a cast album in its entirety; on television, periodically Ed Sullivan's Sunday night variety show would feature an excerpt from the latest hit—numbers from Bye Bye Birdie, West Side Story, Camelot, Flower Drum Song.
But theater lives in the here and now, and I was in middle school when I attended my first Broadway musical, Gypsy—based, of all things, on the early life of the famed burlesque queen Gypsy Rose Lee. I didn't know who Jerome Robbins was, but I recognized genius when I saw it—kids morphing into adults as a dance number progresses, hilarious stripping routines, a pas de deux giving concrete shape to the romantic yearnings of an ugly duckling. It proved the birth of a lifelong habit, indulged for the last 18 years in the pages of this magazine. But all long runs eventually end, and it's time to say good-bye to the "On Broadway" column. It's not the last of our Broadway coverage—there's too much great work being created and performed, and you can count on hearing from me in print and online.
Keep reading...
Show less
PC Kevin Berne, courtesy Boneau/Bryan-Brown
Choreographer Sergio Trujillo asked the women auditioning for ensemble roles in his newest musical to arrive in guys' clothing—"men's suits, or blazers and ties," he says. He wasn't being kinky or whimsical. The entire ensemble of Summer: The Donna Summer Musical is female, playing men and women interchangeably as they unfold the history of the chart-busting, Grammy-winning, indisputable Queen of Disco.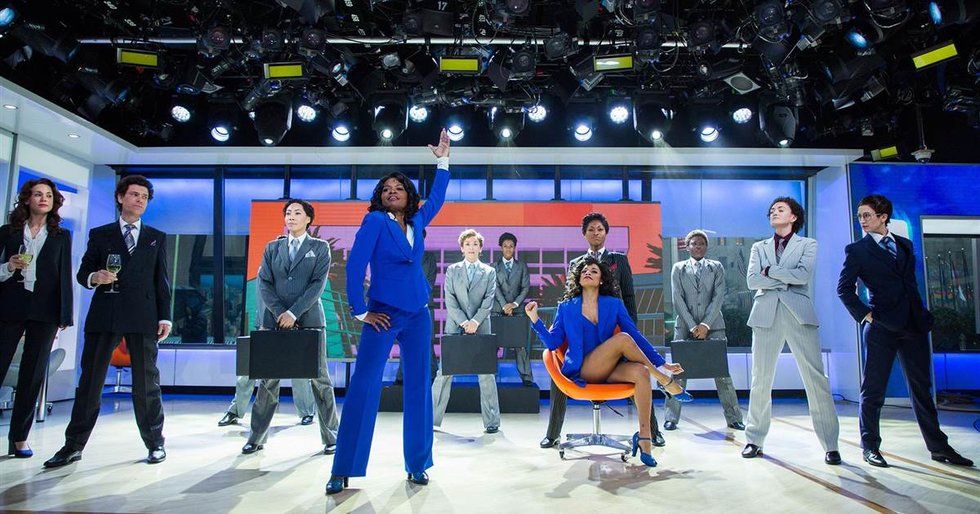 courtesy www.today.com
Keep reading...
Show less
News
Apr. 07, 2018 09:08AM EST
PC Joan Marcus, courtesy Boneau/Bryan-Brown
She had a varied, flourishing career that included dancing for Lar Lubovitch, touring with the Bad Boys of Dance, and performing at Radio City Musical Hall and in Broadway shows. But Kamille Upshaw really wanted to make Mean Girls happen.
Not because she'd known Reginas or Plastics in high school—at Baltimore School for the Arts, her classmates were too busy pursuing dance, music, or other "artsy things" to form the obnoxious cliques that Lindsay Lohan experiences in the movie. But when the teen comedy by "Saturday Night Live" giants came out in 2004, Upshaw and her friends watched Mean Girls over and over and over. It was "an obsession," she says.
Keep reading...
Show less
Photo by Rachel Papo
It doesn't look like your great-grandfather's jitterbug. Yes, the year is 1945, and yes, the setting is a jazz club. But these swing dancers are in the new musical Bandstand, directed and choreographed by Andy Blankenbuehler. The number, "Nobody," is a paean to determination—"You know who tells me, 'Stop'? Nobody."
The choreography begins as metaphor and then becomes literal as the band members, revved up by the song, perform it for the dancers at the club. It's complicated and entirely fresh, avoiding familiar jitterbug tropes without ever abandoning the period feel.
Little wonder: Blankenbuehler, whose first director/choreographer outing was Bring It On: The Musical, says his influences included Judy Garland's "Get Happy" and Michael Jackson's "Smooth Criminal." ("I'm imitating Michael Jackson imitating Fred Astaire.")
Photo by Rachel Papo
Keep reading...
Show less
Mar. 20, 2017 10:08AM EST
PC Richard Hubert Smith
As more and more stars from movies and television get their kicks doing Broadway musicals, more and more choreographers have to find steps for them to dance.
Sometimes it's not hard: Denis Jones discovered that Tony Danza had trained in tap when they worked on Honeymoon in Vegas; Spencer Liff had spent years choreographing for Neil Patrick Harris on TV when they both landed in the Broadway production of Hedwig and the Angry Inch.
Sometimes, it's not easy: Sam Pinkleton worked privately with Josh Groban, the self-proclaimed "world's worst dancer," before starting rehearsals for the wonderfully dance-heavy Natasha, Pierre & the Great Comet of 1812.
PC Richard Hubert Smith
But talk to Stephen Mear about choreographing for Glenn Close in the revival of Sunset Boulevard, running through May 28 at the Palace Theatre, and you get descriptions that are simply starstruck. She's "amazing," "wonderful," "sensational," "brilliant."
Keep reading...
Show less
Jul. 01, 2015 03:22PM EST
Hamilton may pave the way for hip hop in musicals
A rap breaks out. Photo by Joan Marcus, Courtesy Hamilton.
Given the Revolutionary War battles, pistol duels, political rivalries, sex scandals and explosive cabinet meetings taking place during Alexander Hamilton's short, busy whoosh through American history, his life hardly seems to have the makings of a typical Broadway musical. But if you've been paying attention, you know that Lin-Manuel Miranda is telling the story through rap and other genres and Andy Blankenbuehler is choreographing the battles, duels and romantic entanglements through hip hop and other moves. This unlikely show is Hamilton, the runaway off-Broadway hit of last season now likely to repeat history on Broadway—and maybe make it.
Phillipa Soo plays Hamilton's wife, Eliza Schuyler Hamilton. Photo by Joan Marcus, Courtesy Hamilton.
Broadway has not been particularly welcoming to hip hop, although Miranda and Blankenbuehler, along with Hamilton's director, Thomas Kail, cracked the door open in 2008 with their Tony-winning In the Heights. But there hasn't been a rush to follow them through that door. Despite its gold-plated Tupac Shakur score and vibrant performances, Holler If Ya Hear Me garnered tepid reviews and ran only a month last season. Bring It On, with music cowritten by Miranda and direction and choreography by Blankenbuehler, lasted for all of five in 2012. But given its critical kudos and sold-out performances at The Public Theater in the spring, Hamilton could be the show that establishes hip hop once and for all as a viable vocabulary for musical theater, in the way that Hair allowed Broadway to accept rock.
Miranda's Hamilton score is not confined to hip hop—he's included elements of R&B, jazz and standard Broadway show tunes. But Miranda, who also stars in the title role, tells much of Hamilton's story in rap, for two reasons. "One, the incredible unlikeliness of his arc, from penniless orphan in the Caribbean to architect of our financial system at the birth of our country," says Miranda. "That's a hip-hop story to me. This is a guy who consistently, against insane odds, wrote his way out of his circumstances. Hip hop was created out of the ashes of something else, and Alexander Hamilton created an incredible life out of the ashes of a very traumatic early one."
Daveed Diggs plays Thomas Jefferson. Photo by Joan Marcus, Courtesy Hamiton.
The other reason rap seemed a natural fit, Miranda says, is that "Alexander Hamilton produced over 27 volumes of written work. He's always bursting at the seams with language." Hip hop, he notes, offers "more words per capita" than other song forms. "Our country was created from indelible words, from 'life, liberty and the pursuit of happiness' all the way through Thomas Paine and all the way through our Constitution."
Like Miranda, Blankenbuehler admires Hamilton's restless need to "constantly reinvent himself," allowing the choreographer the flexibility to draw on a variety of dance forms. "There's a little bit of everything," he says. "There's a Fosse-esque number. There's a social-dance sequence where we do a contemporary take on formal social dances of the period." There's even a smattering of jitterbug and tap.
In conversation, Blankenbuehler and Miranda regularly applaud each other. The choreographer loves the nonstop music; the composer loves the nonstop movement. And they both love the idea that this show about America's rebellious youth is being told in the language of America's rebellious youth. But when Miranda praises a particular choreographic moment, Blankenbuehler credits Jerome Robbins for having invented it. "We really idolize the people who made great work before us," he says. "It's so important for us to always look back and forward at the same time." And Miranda echoes the idea in his own terms. "To me a verse by Rakim is every bit as compelling as a verse by Sondheim," he says. Together, Miranda and Blankenbuehler could turn out to be the Founding Fathers of a new kind of musical.
Keep reading...
Show less
May. 01, 2015 10:48AM EST
The "So You Think You Can Dance" choreographer transitions to Broadway.
Mia Michaels. Photo by Jim Lafferty.
The rehearsal room throbs with an upbeat, unmistakable mix of high good humor and careful rigor, as Mia Michaels runs a few numbers from Finding Neverland. The show, based on the 2004 film about J.M. Barrie and the children who inspired Peter Pan, represents a departure for Michaels, who's perhaps the most famous choreographer never to have choreographed a Broadway musical.
Above: Laura Michelle Kelly and J.M. Barrie understudy Kevin Kern lead the cast. Photo by Jim Lafferty.
"It's the hardest thing I've ever done," she says, "because of the hours, the amount of time it takes to do an original musical." The clock started ticking two years ago, at Diane Paulus' American Repertory Theater, which presented the world premiere last summer in Cambridge, Massachusetts. And doing Neverland, Michaels says, has changed her profoundly. Still, wearing black leggings and a roomy black cardigan, on her feet tweaking a lift or demonstrating a precise arm position, she's the familiar, in-charge choreographer who spent nine years on "So You Think You Can Dance." "Push the clarity," she tells the cast when they all reach upwards in a stylized tableau. Later, she's urging them to "really take up space," spreading her arms and veering about "like when you're a kid and you're flying around like an airplane."
Right: Sawyer Nunes and Aidan Gemme. Photo by Jim Lafferty.
Everyone seems to be having fun, and it's not just because the number portrays a rambunctious romp in the park, or because the bouncy song by British popsters Gary Barlow and Eliot Kennedy is matched by Michaels' bouncy movement. "We are a family," she says, "and it is the most amazing feeling." It's a theme she returns to again and again, this joy she's found in her Neverland collaboration. Throughout her career—which includes not just "SYTYCD" but concert tours, dance companies (one of them, RAW, her own) and a sprinkling of musical theater—she's been a solo act. "I've always isolated myself and been on my own journey, just doing my art, my craft," she notes. "And now, all of a sudden, I have this amazing, creative, warm family with arms open. It's changed my life."
A key member of that family is Paulus, the Tony-winning director. "There's a lot of female energy in there," Michaels notes. "I've worked with many male directors through film and television, and they've always kind of let me do my own thing. With Diane, there's an intimacy in our process, where everyone's hands-on. Probably it's because, being women, we're very passionate about every single moment and we nurture the moment. Especially her being a mom, she knows how to nurture the creative process and really pull it from people. Gestation. Gestation." And working with the child actors in the cast has "softened" Michaels, allowing her a new kind of connection.
Left: Kern with Colin Cunliffe. Photo by Jim Lafferty.
"Having a female director was key to tapping into the emotional and the intimate moments of this piece," she adds. Regular viewers of "SYTYCD" know such moments abound in Michaels' choreography. "The show taught me that I was a storyteller," she says. But how will her totally contemporary idiom work in Neverland's Edwardian England? "The score is pop," she replies. "So you've already crossed that line. It's not a museum piece." She adds that because her movement has always "come from a classical space, it works in this time period."
Nor is she thrown by the absence of the camera to underline or camouflage specific moves. "I came from the stage first," she explains. "And I always created for the viewers in the studio. Then I would adapt the camera to the piece." Grateful as she is to "SYTYCD" ("If it wasn't for that show I wouldn't be here today," she acknowledges), "I was so ready to be back on the stage. Live theater, live performance—it's real, it's honest, and what you get is what you get."
Right: Fred Ogdaard and Jaime Verazin. Photo by Jim Lafferty.
From Backstage
Dance captains: Jaime Verazin, a former MOMIX dancer making her Broadway debut, and an assistant, Julius Anthony Rubio, who made his debut in 2011 in Wonderland. Both joined Neverland after auditioning for swing jobs.
Assistants: Verazin also serves in this capacity, along with Kevin Wilson, a Los Angeles–based dancer-choreographer.
Dance ensemble: "There are seven dancers, the rest are actor-movers. But, believe me, they're dancing," says Michaels. "Actors—my god, they have so much to bring to the table. It's like this big library of knowledge and creativity and humor, and it just opened up my eyes as a choreographer."
Pre-show warm-up: "When we start we have a full circle. A moment where we all connect and we really hold hands and we look at every single person in the eyes," says Michaels. "In our own quiet way, we go through the journey that we've had together. It's the most amazing spiritual energy and connection."
Above: Jonathan Ritter and Emma Pfaeffle. Below: Jonathan Ritter and Cast. Photos by Jim Lafferty.
Get Dance Magazine in your inbox
Feb. 01, 2015 10:29AM EST
How age affects the ensemble's casting
The cast of Kinky Boots. Photo by Matthew Murphy, Courtesy O+M Co.
In Hollywood, it seems it's always kids putting on a show. But on Broadway, musicals are populated with dancers who may indeed be kids and those who manifestly aren't. Often the shows themselves dictate how old an ensemble must be: In Grease, dancers have to pass for teenagers; in Fiddler on the Roof, they're Russian villagers. But there are always shows like Oklahoma!, where neither youth nor maturity is absolutely required and directors and choreographers can decide whether to go with freshness, experience or a combination.
Ask around and you find there are all sorts of considerations that go into that decision. It isn't just about young bodies versus sore knees, or know-how versus rawness. Cultural elements and even economics come into play.
For example, says Kathleen Marshall, it can be too expensive to hire understudies for all the principals. And when ensemble members double as understudies, ages will vary, as they do in her current project, Diner. Jerry Mitchell says he prefers just that kind of age diversity. But, he remembers, the dancers in Hairspray were all making their Broadway debuts; and lately he's been choreographing on dancers over age 60 for Gotta Dance, based on the 2008 documentary film about a basketball team's senior cheerleaders. Warren Carlyle could hire dancers of any age for the plotless revue After Midnight, and he cast mostly seasoned performers. For the dance-heavy Crazy for You at the Stratford Festival in Canada last summer, Donna Feore went with a mix.
"I had women in their late 30s doing exactly the same things as the 20-year-olds," she says. She compares it to watching her daughter, a freshman college athlete, scrutinize seniors from the bench, noting that the schooling goes two ways: "When you bring in that energy behind the veterans, everybody steps up their game."
Above: Feore's Fiddler on the Roof. Photo by Cylla von Tiedemann, Courtesy Stratford Festival.
As dancers put "miles on the clock," in Carlyle's phrase, "the acting gets stronger.
Mitchell sees more "finesse," Marshall more "taste."
"Mature dancers sweat confidence," says Feore. "Younger ones are learning about it."
Mitchell, aware he's generalizing, says that younger dancers lack the discipline of earlier generations. "It's just how times have changed on every level," he says. "When you have an older group, it's much more relaxed. Everyone's much more focused."
Part of that focus is on self-preservation, says Feore, observing that veterans have fewer injuries. "At 20-something, longevity's not your issue," she says. "You think you will be able to bend yourself into a pretzel forever." On breaks, younger cast members keep working while their elders rest; by 6, it's the kids who are spent. And, she adds, "my senior players are never out. Ever. They're of the school, 'Are you kidding me, an understudy go on for me? Absolutely not!' It's a different mentality."
Mitchell saw the stamina and dedication as he taught hip-hop to the AARP-ers in his Gotta Dance workshop. "It was impressive how hard they worked," he recalls. "The second day I thought, 'Everybody's gonna be sore.' Not one complaint"—replaced hips notwithstanding.
Hard as it may be for older dancers to master hip-hop moves, it can be even harder when younger ones face unfamiliar steps. "They may be very good at executing what is popular today, like all of the stuff you see on 'So You Think You Can Dance,' " says Mitchell. "But throw them a 1940s jitterbug, and they're fumbling for the style."
Marshall finds that younger dancers can also fumble when she asks them to improvise. Experienced dancers "just naturally do it," she says, whereas with younger ones, "you probably have to map it out more specifically." And when she does so, the neophytes can't always "make it their own." Marshall has noticed that veterans "know how much to make of something. They just instinctively know when they can add their own flair or when they need to be in unison. They understand their function, and how to calibrate things—the right amount of individuality without overdoing it."
For Carlyle, whose On the Twentieth Century opens this month, "perfect dancers" are those "experienced enough to have a really good sense of themselves and a good sense of character"—the "good actors," he says. "And I want them to hear music in a similar way that I hear music." He cites his own early days: "When I was 17, I don't think I ever was aware of music; I just was aware of how many pirouettes I could do."
He sees pluses in working with older dancers, but young ones can excite him, too. "I love being in a room with people I can learn from," he says. "It doesn't matter if they're 10 or if they're 80." Feore, whose next Stratford show is The Sound of Music, keeps casting fresh faces, too: "Someone gave me a chance as a dancer," she says. "I try to keep it going."