Popular
Dec. 26, 2018 12:00PM EST
In 2005, Michelle Dorrance was an artist "On the Rise" in Dance Magazine. Photo by Jayme Thornton.
Each month at Dance Magazine, we zero in on budding talent in our "On the Rise" department. Our writers across the country and beyond are continually on the lookout for the dancers and choreographers who are bound to be majors names in the years to come.
With 2018 coming to a close, what better time to check in with some of our former "On the Rise" artists? We hate to say we told you so, but these dancers—like Michelle Dorrance and Sara Mearns—have since hit it big.
Keep reading...
Show less
Paul Taylor choreographing To Make Crops Grow on Parisa Khobdeh. Photo by Whitney Browne, courtesy PTDC
I was 22, fresh out of school. Wet behind the ears, I was using a light boom backstage as a warm-up barre before my debut performance with the Paul Taylor Dance Company. I noticed Paul Taylor walking toward me, wagging his index finger like a disciplining father, and I shrank with fear.
"Don't touch the booms. Someone has worked very hard to focus those lights," he admonished. And just before he turned to go, he paused and added, "And listen to your seniors." But he wasn't done. As he strode away, he turned back and said, "Oh, and always say thank you to the crew."
What struck me about Paul's notes—and what has stayed with me ever since—is what was at the heart of those three directives: respect, gratitude and the importance of family. They are values that are embedded in his dances and in his company.
Keep reading...
Show less
Francisco Granciano, Courtesy PTDC
The minutes after curtain comes down can be the trickiest of a dancer's day: Despite your adrenaline high and the impulse to celebrate the night's achievements, you need to jumpstart your body's recovery so that you can take the stage again the very next day.
Smart dancers like Parisa Khobdeh follow a carefully calibrated routine during busy performance weeks, whether they're at home or on the road. The 14-year Paul Taylor Dance Company veteran shares her tried-and-true post-show rituals.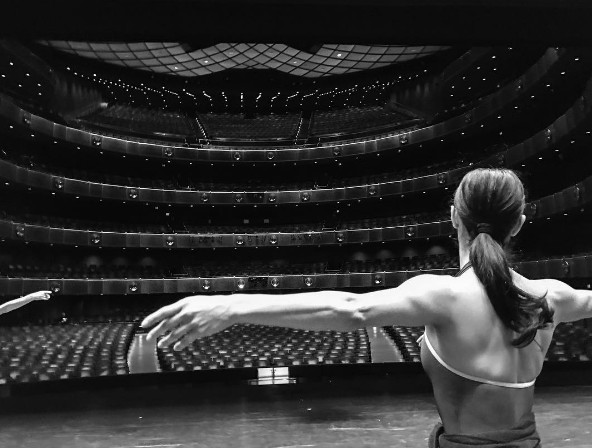 Photo by Francisco Graciano, via Instagram
Keep reading...
Show less
Dec. 28, 2015 08:50PM EST
Victoria Jaiani

Joffrey Ballet
Breakfast Philosophy: "Mornings have always been important to me. I can remember watching my mom busy in the kitchen, talking about how it would be a great day because we were sitting down together and eating good food. It's a tradition, but it's also legit—as an athlete, it certainly helps health-wise."
When: "I'm up at 6, because my baby's up. Around 7 or 7:30, my husband, son and I all have breakfast before I go to the studios for our 9:45 class. It's such a lovely time together before we start the day."
Her Go-Tos: "We always have fruit, like pineapple or berries or melon—whatever's seasonal. They're packed with vitamins and just feel fresh before a hard day at work. And protein—eggs or yogurt. Or sometimes oatmeal."
To Drink: "I always have some orange juice, even if it's just a few sips."
Victoria Jaiani's Sunny Side Up Eggs in Pepper
"This is my favorite breakfast. The first time we tried it was in Vienna. It's yummy, brings good memories, and you're getting vegetables and protein—all the good stuff."
Ingredients
• 1 bell pepper, sliced into 1/2" circles
• 1 egg per pepper slice
• salt and pepper to taste
• 1 oz. feta and a few olives
Directions
1. Slice a bell pepper into a circle, and place it on a hot, greased pan and crack an egg inside of it.
2. Season with salt and pepper and cook sunny side up until the egg white is cooked through but the yolk is still runny.
3. Serve with feta cheese and olives on
the side.
Photo by Erin Baiano for Dance Spirit.
Ashley Everett
Beyoncé's lead dancer and dance captain
Breakfast Philosophy: "I'm not the biggest morning person—but I always eat something before I dance, even if I'm not hungry, because as soon as we start I'll be starving."
When: "Around an hour or so after I get up—about 10:30 or 11."
Her Go-To: "I make a lot of smoothies. They satisfy me but leave me feeling light."
If She's On Set: "I'll do an egg white omelet with vegetables and maybe a piece of toast."
Ashley Everett's Green Smoothie
"When I was growing up, my dad used to always cook french toast and waffles and pancakes, but it was hard for my body to process all that and it would weigh me down. Smoothies have been really helpful, because they're liquid but really filling with all these nutrients in them."
Ingredients
• a handful of kale or spinach
• 1 banana
• 1 apple (green)
• 1/2 an avocado
• 1 orange (or orange juice)
• a splash of almond milk
• ice
• optional: cucumber or other veggies
Directions
Blend in a high-power blender until smooth, and enjoy!
Samantha Sturm
Sturm performing In Your Arms. Photo by Carol Rosegg, Courtesy In Your Arms.
Broadway dancer
Breakfast Philosophy: "I usually get tossed around a lot in rehearsals, so I have to make sure I have energy but won't feel sick."
When: "Breakfast tends to be the last thing I do as I'm getting ready, but I try to eat at least an hour before I dance."
Her Go-To: "I'll top an English muffin with ricotta cheese, avocado and red pepper flakes. It's perfect for energy in the morning. You get protein, fiber, carbs—everything you really need to sustain energy."
If Her Boyfriend's Cooking: "He'll make me an omelet—they're his specialty—with two or two and a half eggs, onion, tomato and sometimes avocado."
To Drink: "I have flavored coffee, like hazelnut with almond milk."
Parisa Khobdeh
Paul Taylor Dance Company
Khobdeh in Brandenburgs. Photo by Paul B. Goode, courtesy PTDC.
Breakfast Philosophy: "I find food to be almost ritualistic—eating and creating the space to eat so that I can really enjoy it."
When: "On rehearsal days, I'll wake up, have coffee and go to the gym. I don't like to dance on a full stomach, so I break my fast after rehearsal around noon."
Her Go-Tos: "I like Siggi's yogurt because it's high in protein and has a good ratio of carbs to fat. I'll add everything I can possibly fit into that cup—banana, berries, chia seeds, maybe peanut butter. Or I'll do a rice cake with peanut butter and top that with chia seeds or fresh fruit. Sometimes I'll start with a raspberry chia kombucha."
If She's Performing: "Even though I'm not hungry when I wake up, I'll eat early in the morning so that my body has time to digest before I dance. I'll have protein for muscle maintenance—egg whites with spinach, cheddar, salt and pepper, and green leaves on the side with a little bit of oil and vinegar, or a smoothie with berries, banana and yogurt or milk."
To Drink: "Coffee when I wake up, with a little bit of whole milk."
Photo by Gadi Dagon, courtesy Batsheva
Billy Barry
Batsheva Dance Company
Breakfast Philosophy: "Plain and simple does the job for me in the morning. Especially if I'm in a rush, which is usually the case."
When: "Around 9 am, before class
at 10."
His Go-To: "When I was in high school
I would commute to Manhattan, and my dad taught me how to make a quick and easy omelet, so the habit has stuck with me: Most mornings I'll make a two- or three-egg omelet with pepper, onion and tomato."
If He's in a Rush: "I'll have a bowl of Cheerios and pick up a salmon, lettuce and cream cheese sandwich on the way to the studio and have it after class at 11:30."
To Drink: "I make a pretty large mug of coffee at the studio after class."
Joy Womack
Kremlin Ballet Theatre
Photo by Quinn Wharton for Pointe.
Breakfast Philosophy: "I used to skip breakfast to avoid the feeling of being weighed down. I learned the hard way that was a bad idea."
Her Go-To: "After I wake up, I drink water and a special blend of Russian herb tea for cleansing and hormonal stability. Then I'll have two of my own energy bars, Prima Bar Minis. Each has 10 grams of protein, 9 grams of carbs and 6 grams of natural sugars."
When: "My breakfast is usually on the go—I like to work out right after I wake up. If it's a light workout day, I'll eat after the gym and before I head to class. If it's a 'push it' kind of workout day, then I have one Prima Bar Mini to fuel me through my session, and one after."B
To Drink: "I drink coffee with lemon. When I'm in the States I enjoy having coffee with almond or coconut milk, but unfortunately that's not available in Russia. Lemon is healthy, tasty, and now I prefer my coffee like this. It's kind of like a coffee lemonade." n
Ashley Rivers, a writer and dancer in Boston, once read that Ginger Rogers ate two eggs and toast for breakfast, so that's what she's eaten ever since.
Dec. 01, 2012 08:54PM EST
I know how it feels to give yourself, body and soul, to a choreographer you revere. I felt that way when I was dancing with Trisha Brown. You have so much trust in that person and curiosity in where they are going, that you are only too happy to serve their cause, be part of their vision. So I understand how thrilled Parisa Khobdeh is to be dancing with Paul Taylor—and she expresses it with great warmth and affection in Gia Kourlas' cover story, "
Mercurial & Magical
." The wide range of roles in the Taylor repertoire allows Parisa to be bursting with life onstage: They bring out her elegant side, her gutsy side, and her comic side in equal measure.
Back when "modern dance" meant Martha Graham, we knew what modern was. It reacted against the airborne nature of ballet and went for a more earthy, on-American-soil approach. Then Merce Cunningham came along. He was drastically different; he put his faith in movement for its own sake rather than as a vehicle to tell stories or portray psychological states of mind. The dance world had to find a new name, so we called it "contemporary dance." But now, with all the dance on television, the term "contemporary" has slid around to mean several different styles. Mulling over the still-shifting use of these words, we at Dance Magazine decided to canvass key figures in the field to get their takes on the difference between modern and contemporary. Turn to "Modern vs. Contemporary: Which Is More Now?" to see 10 different opinions.
It's Nutcracker season, and we report on four new Nutcrackers in "Dance Matters." We also have a "Centerwork" on coaching the Jacqueline Kennedy Onassis students who perform in American Ballet Theatre's Nutcracker. In this intriguing production, Alexei Ratmansky has integrated the children into the story more than usual. His snow scene begins with Clara and her Nutcracker innocently playing in the snow and escalates to a frightening storm—through wildly musical choreography. Read Elaine Stuart's "When Kids Run the Show" to see how the children animate the story. And to all Nutcracker dancers everywhere, have a good holiday season!
Photo of Parisa Khobdeh, above, and photo of Wendy Perron, at top, by Matthew Karas.
Dec. 01, 2012 07:36PM EST
Paul Taylor's Parisa Khobdeh blends beauty, grace, and comic timing.
Paul Taylor's Also Playing. Costume by Santo Loquasto, photo by Matthew Karas.
After nearly 10 years as a member of the Paul Taylor Dance Company, Parisa Khobdeh is being rewarded in the way every dancer loves most: showered with plum roles by a modern master. Still, one part in particular, the stoic, fearless female lead in Promethean Fire, fills her with awe. She first encountered that majestic dance in 2002; its tumultuous duet, performed by Lisa Viola and Patrick Corbin, blew her away.
"I saw Lisa run from Patrick to the edge of the stage and then she turned and threw herself at him," says Khobdeh after a rehearsal at the company's Lower East Side studios. "As he caught her, her face grazed the ground. I took the same gasp the audience took."
The moment was life-changing. "At that point, I knew: I don't want to be a great dancer—I want to be a great Taylor dancer."
To accomplish that requires range, and in Khobdeh's dancing—from her eloquent lyricism to her sly sense of humor—there is a rainbow of emotion and physicality. "I look at Paul's dances, and it's not light and dark," she says. "It's how many shades of gray. In one dance like Esplanade, you have tremendous pathos, you have romance, you have darkness, you have absolute abandon and letting go, and I feel like being a Taylor dancer is executing all of those things. That's what I try to achieve. There's beauty in the madness and the sanity, in the pure gorgeousness and exhaustion, and in the disparity and the dignity."
In many ways, Khobdeh is impossible to typecast. She's a beauty, with finely arched eyebrows that lend her dancing a sensuous air in works like Brandenburgs and Arden Court; they also seem to let you in on the joke in humorous pieces like Offenbach Overtures or Troilus and Cressida (Reduced). Despite her delicacy, she is tougher than she looks: Khobdeh is a Texan whose parents left Tehran a few years before the 1979 Islamic revolution. She grew up in Plano, a suburb north of Dallas.
Khobdeh began dancing for practical reasons: Her parents worked full-time and they needed a place for her to go after school. "Also, I think my mother always admired dancing when she was younger, so this was an opportunity for me to be exposed to the arts," Khobdeh says. "She couldn't dance. She wanted to as a youngster and her father didn't approve."
At the Chamberlain School of Performing Arts, under Kathy Chamberlain, she received rigorous training. The main focus was ballet, and Khobdeh had the chance to perform with high-level guest artists, including Carlos Acosta. "But it wasn't until I saw modern dance that it spoke to me as an expressive medium," she says. "I immediately fell in love with it. It blew my hair back."
She entered Southern Methodist University as a pre-med major, but halfway through realized that she wanted to pursue dance instead. It was at SMU that Khobdeh feels she developed, not just as a dancer but also as a person. She recalls asking herself questions like, Who am I? Where am I going? "That's where I discovered what I wanted." Khobdeh set her sights on joining the Taylor company. "And then," she continues, "it was like I'd walk through walls for it."
She auditioned twice. The first time she was cut immediately, but the second audition, about a year later, occurred after she had completed a Taylor intensive. "The line was out the door at 7:00 in the morning, and I was a little cold, so I went to the third floor to the yoga studio that I had been training at."
It wasn't open, but a cleaning woman was working; Khobdeh asked her if she could use one of the smaller studios to warm up and meditate. "As I was leaving, I looked at her—there was a window behind her—and she was just glowing like there was a halo around her," Khobdeh recalls. "She said, 'I have a very good feeling about you today.' "
At the audition, Khobdeh says that she felt superhuman. "They were pounding out choreography," she says, snapping her fingers. "When you've got so many eyes all over your body, it's incredible. The next thing I knew, the dancing was done and I couldn't believe that I had made it that far. Paul came up to us, and he was so generous. He said, 'You guys are all beautiful'—and he kind of wrapped his arm around me and gave me a little squeeze—'but I've made my choice.' "
Taylor hasn't had reason to second-guess his decision. This fall, Khobdeh performed as the lead in his newest work, To Make Crops Grow, after this piece went to press. Taylor says that the role "is one of the most demanding I've ever made for her."
"Parisa connects with you in the moment. You can tell when you look in her eyes that there is nowhere else she would rather be." —Michael Trusnovec, her frequent partner. Photos by Francisco Graciano, Courtesy PTDC. 
Khobdeh, who wears heels in the dance, laughs. "He's warned me that it doesn't end very well for me," she says. "I don't have a very good relationship with my husband. I'm kind of fancy and I'm married to an older gentleman. We have one child together, and he doesn't do it for me. Paul says I'm very flirtatious. I think it's because I'm unhappy."
Actually, offstage, Khobdeh, who is single, is as sunny as they come. Michael Trusnovec, her frequent partner, says, "She's one of those people that whenever we go somewhere on the road and get into a taxi, not two minutes into the ride, she knows everything about the driver." That curiosity, in part, is what keeps her challenged by Taylor's prodigious imagination. There's no way to know what's around the corner, and that's how she likes it.
"Maybe that's why we're so fiercely loyal and devoted to Paul," she says. "In doing parts like Piazzolla Caldera, Promethean Fire and Company B, I feel like Paul has a lot of trust in me. That he feels I'm capable of doing them justice. Being in the studio and making something is a very special process. When we find out who's going to be in the new dance, it feels like Christmas morning. It is the best part of my job. It's such a beautiful thing, especially to see him move. I admire the man so much. And I love trying to read his mind."
Khobdeh, 32, lives on New York's Lower East Side and rides her bicycle everywhere. She also attends as many theater, dance, and music performances—from the Philharmonic to a three-person band in a Brooklyn basement—as she can afford. But Khobdeh doesn't limit herself to simply sitting in the audience: She's also part of a comedy-improv troupe called the Sea Monsters.
"The reason I got into it was because Paul was challenging me with more comedy roles," Khobdeh says. "It's like the yoga, the biking, and the weight training that I do. It's cross-training for my mind. It helps me understand comedy, timing and, more specifically, Paul's timing. And that's really what I'm striving for."
Clockwise from top left: Offenbach Overtures with Michelle Fleet. Photo by Paul B. Goode, Courtesy PTDC; In costume for Piazzolla Caldera. Photo by Matthew Karas; Esplanade, from backstage. Photo by Francisco Graciano, Courtesy PTDC. 
So far, her comedy-improv life is something of a secret. "Sometimes it's really nice to walk into a random third-floor theater somewhere on MacDougal Street and perform and nobody knows who you are," she says. "Nobody knows what you do. You're just another player and I love that. I love completely being anonymous and turning into something else."
In her dancing, she manages to do that all the time, performing such disparate roles as the forlorn young woman in Company B (her solo to "I Can Dream, Can't I?" is heartbreaking) and as the lusty, space-devouring sexpot in Piazzolla. This March at Lincoln Center, Khobdeh dances with Trusnovec in three Taylor classics: Esplanade; Eventide, a delicately rendered look at love told through the simplest of means—walking; and Promethean Fire.
Photo by Matthew Karas.
Trusnovec finds something in Khobdeh's essence similar to that of the recently retired Taylor dancer Annmaria Mazzini, who danced each performance as if it might be her last. "Parisa is one of those dancers who connects with you in that moment," he says. "You can tell when you look in her eyes that there is nowhere else she would rather be, that there is no one else even onstage when you're dancing with her. I feel like the world disappears. It's very pure and beautiful."
Khobdeh relishes dancing with Trusnovec; in Promethean Fire, which hints at the events of 9/11, she calls him her rock. "I do that blind leap," she says. "I jump into the void. And I know he's going to catch me. I trust him with my life."
Photo by Matthew Karas.
At one point in Promethean Fire, the dancers collapse on top of each other only to rise up again. It's a triumphant look at the human spirit, which is why Khobdeh loves it so much. "Being human is going through obstacles and overcoming adversity," she says. "We're all faced with tragedy at some point or another, and if you are afraid of it, it might overtake you. So you look beyond the obstacle."
Before last season's Lincoln Center engagement, the company performed a run-through of Promethean Fire for Taylor. "After we bowed, he gestured to me and I went up to his chair," she says. "I bent down to hear him because he was sitting. He looked at me and he kissed me on the cheek and said, 'That's it.' It was so tender. My heart felt huge. It was a beautiful moment that I'll cherish forever."
Gia Kourlas is the dance editor of Time Out New York and writes about dance for The New York Times.
How Parisa keeps her body dance-ready
Heavy lifting "Here, the women are not the only ones being lifted. There are moments when I'm having to lift someone else, so I strength-train. I spend three days in the gym lifting weights, and I also do Pilates and Gyrotonics. I take ballet and Taylor too. I get massages and I do Thera-Band exercises and I try to eat a very high protein diet to take care of my muscles."
Outside the studio "I bike everywhere. I do yoga and I swim, and especially on our off time, I try to do all of those things. To get the Taylor back, the closest thing without doing Taylor is to be in the pool and use the resistance of the water."
On tour "I usually do some Pilates in my room. If there's a gym in the hotel, I try to utilize that just to get some blood flowing, especially if I've been on a long plane ride. I'll warm up before tech. I'll give myself a barre and I will do the Taylor back exercises and rehearse and then do it all over again before the show. And I try to stretch after, while everything's still warm."
Get Dance Magazine in your inbox