News
Sep. 01, 2019 09:23AM EST
Balanchine technique will challenge your footwork and musicality. Photo by Rosalie O'Connor, courtesy SAB
Before spending a summer at Los Angeles Ballet School, Lillian Glasscock had never learned a Balanchine variation. "The stylistic differences, like preparing for a pirouette with a straight back leg, were at first very challenging," says Glasscock, 17. "But it soon got easier."
Los Angeles Ballet company members were in class daily, motivating and inspiring her. Trying out a new style and expanding her repertoire gave Glasscock more strength, and a better understanding of the varied demands of ballet companies today. Months later, the Balanchine variations she learned are now personal favorites.
While the early years of training are typically spent diligently working through the syllabus of a single ballet technique, when you start to prepare for a professional career, versatility is key. There isn't just one correct version of each step. And as ballet companies continue to diversify their repertoires, directors need dancers who can move fluidly between an array of styles.

Keep reading...
Show less
Popular
Sep. 18, 2018 10:46AM EST
Aspen Santa Fe Ballet in Nicolo Fonte's The Heart(s)pace. Photo by Sharen Bradford, Courtesy ASFB
Small- to medium-sized companies based in cities outside dance meccas—New York City, Chicago, Los Angeles—are often written off as "regional," or somehow lesser than their big city counterparts. But in recent decades, a few have defied such categorization as they've gained traction on the national and international scene.
So how does a company build an international profile without losing connection to its hometown? We asked the directors of Tulsa Ballet, Aspen Santa Fe Ballet and Sarasota Ballet to share their strategies.
Keep reading...
Show less
Marcelo Gomes and Victoria Hulland in The Two Pigeons, PC Frank Atura
Sarasota Ballet is returning to New York City's Joyce Theater with a batch of rarely-seen Ashton works. But the big news is that guest artist Marcelo Gomes will be performing with the company. Yes, Gomes is back performing in New York, possibly for the first time since he resigned from American Ballet Theatre in December after an allegation of sexual misconduct.
Gomes is one of the greatest male ballet dancers ever to grace the ABT stage—which he did for 20 years. Watching him dance, it's easy to see why he was every woman's favorite partner: He lavishes attention on his ballerina. The audience can feel his connection and his passion.

Keep reading...
Show less
Chicago's Auditorium Theater
For most dancers, walking into the theater elicits a familiar emotion that's somewhere between the reverence of stepping into a chapel and the comfort of coming home. But each venue has its own aura, and can offer that something special that takes your performance to a new level. Six dancers share which theaters have transported them the most.
GLENN ALLEN SIMS
Alvin Ailey American Dance Theater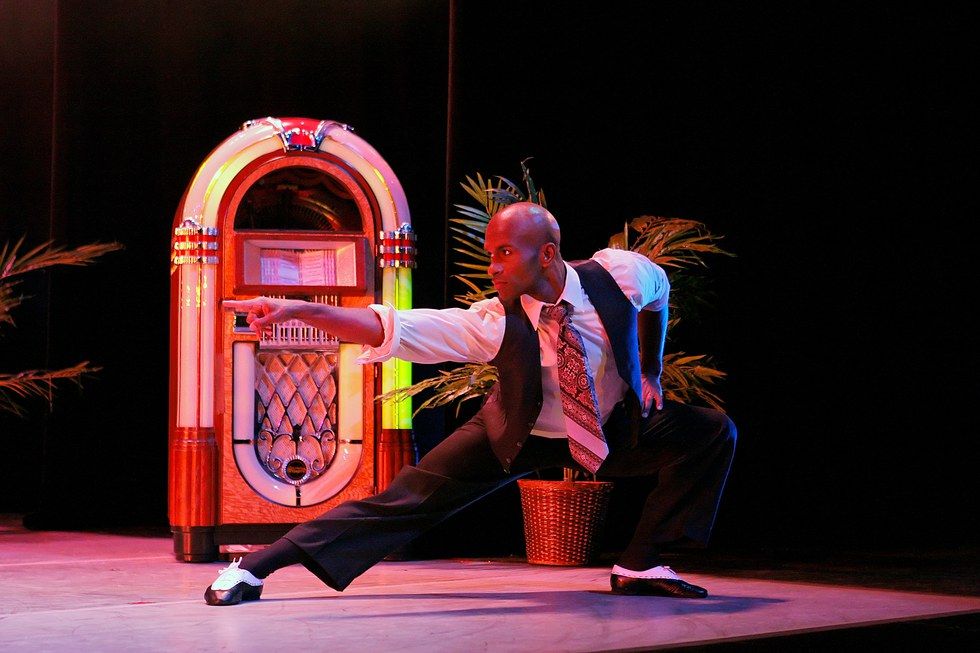 Glenn Allen Sims in Alvin Ailey's Masekela Langage. Photo by Paul Kolnik, courtesy AAADT
Favorite theater: Teatro Real in Madrid, Spain

Royal details: "The theater is gorgeous and ornate, with deep red upholstery and gold trim. There is a huge royal box in the center, which takes you back to when kings and queens were watching performances there."
Impressive facilities: Even the dressing rooms are a sight to see: Amenities for the dancers include large, carpeted rooms, and towel service.
Keep reading...
Show less
Popular
May. 19, 2017 10:56AM EST
Jim Lafferty
This weekend, Ballet West is launching the first-ever National Choreographic Festival, bringing together companies from across the country to perform world premieres and recently acquired rep.
Can't make it to Salt Lake City? Don't fret. We're hooking you up with a livestream, where you can watch dancers from Ballet West, Sarasota Ballet and Pennsylvania Ballet take company class taught by Sarasota director Iain Webb.
Keep reading...
Show less
Popular
May. 16, 2017 11:57AM EST
PNB's Angelica Generosa and Raphael Bouchard in Annabelle Lopez Ochoa's Before After. Photo by Angela Sterling, Courtesy PNB.
A breath of fresh choreographic air is coming to Salt Lake City. Ballet West artistic director Adam Sklute has invited companies from across the country to join Ballet West for the first annual National Choreographic Festival, May 19–20 and 26–27. Over the course of two weekends and two different programs, premieres and recently acquired repertory will be performed in the new, state-of-the-art Eccles Theater.
Keep reading...
Show less
Get Dance Magazine in your inbox
Dec. 28, 2015 12:00PM EST
Make the most of this career-defining transition.
When Sarasota Ballet corps member Caroline Hennekes started her apprenticeship in 2014, it was a big shock. "Being in an adult world makes you grow up fast," she says. An apprenticeship can be one of the hardest years of your career—as Hennekes learned, proving that you have the confidence and maturity to thrive in a high-pressure company is a lofty task for a first job.
But an apprenticeship is also a tantalizing glimpse of your future. You'll dance alongside elite principals, perform world-famous rep and collect that all-important paycheck. If you handle it gracefully, you can set yourself up for success at promotion time.
Steffi Cheong, now an ODC company member, in rehearsal. Photo by Andrew Weeks, courtesy ODC.
Read the Room
"First we teach apprentices about work ethic and seniority," explains Lindsay Fischer, who runs National Ballet of Canada's apprentice program. Throughout a 41-week term, Fischer shepherds young dancers through daily technique class, rehearsals and performances as supers, in outreach demonstrations and as corps de ballet substitutes.
With such a heavy workload, apprentices need to learn the ropes quickly. Observing other dancers will give you a leg up on company etiquette. "You're at the bottom of the totem pole," says 18-year-old Hennekes. "At times I felt I needed to prove myself. It's hard to do without being pushy." She says to show you're a team player by dancing towards the back of the room and letting senior dancers go first. "The point is for directors to see if you fit in. You'll get noticed more if you're working as part of the group, not as a soloist."
But that doesn't mean you should hide, especially when you're given opportunities to explore your artistry. "Our rehearsals are invested in individual performance," says Janet Eilber, artistic director of the Martha Graham Dance Company. "Apprentices are asked to think about their interpretive choices. Commitment to that process is what takes them from apprentice to New Dancer."
Be Your Own Teacher
Apprentices are expected to pick up repertory without much hand-holding. Hennekes says it's essential to absorb feedback given to others. "You have to take what they correct in other people and apply it to yourself."
Sometimes apprentices do get corrected, and it can sting. "Rehearsing La Sylphide," Hennekes recalls, "I'd be called out: 'Caroline, your head's wrong.' It can chip away at your confidence. But you learn that it's just the process."
She did ask a ballet master for guidance on vexing cabrioles in La Fille mal gardée. "I approached him casually, once or twice after rehearsal," she recalls. But, ultimately, companies prize dancers who solve problems on their own, freeing up staff to prepare casts for performance. Hennekes suggests asking for help from other dancers, who tend to be generous with advice.
Jump on Opportunities
Apprentices at small companies, like San Francisco's ODC or the Martha Graham Dance Company, might perform featured roles—but they have to be ready. "We look for people who are proactive about absorbing what we do," says Eilber. Over an apprenticeship lasting up to 20 weeks, Eilber wants to see "a desire to learn—researching roles before rehearsal, learning roles they haven't been assigned."
When Steffi Cheong apprenticed at ODC in 2013, her initiative paid off. She was thrust into the title role of The Velveteen Rabbit, ODC's holiday program, just two months into her apprenticeship. "I had learned it just in case," she recalls. While the pressure was "terrifying," she says, "it proved they could trust me."
Set the Stage for a Promotion
As your apprentice contract ends, it's natural to feel anxious about getting promoted. Directors understand that, says Eilber, who welcomes apprentices to meet with her but says "we're so busy, we won't necessarily take them aside to talk about the future." If the protocol isn't spelled out, ask an administrator how to schedule a check-in.
The transition from student to professional is challenging. But it can make you stronger physically, mentally and artistically. "Apprentices are the future," Fischer says. "I try to set them up for a productive career." It's up to you to make the most of it. 
Aug. 01, 2014 05:49PM EST
From All the Earth's Corners
EDINBURGH
The global reach of this year's Edinburgh International Festival is awe-inspiring. At the top of the dance agenda is the beguiling union of kathak/postmodern wizard Akram Khan and powerful Taiwanese modern dancer Fang-Yi Sheu. Their collaboration Gnosis is based on an ancient story about a blind king whose wife blindfolds herself for life to share in his journey. Other offerings include I AM, by New Zealand choreographer Lemi Ponifasio; Sweet Mambo, one of Pina Bausch's last works; and Rambert Dance Company director Mark Baldwin's Inala, to be performed alongside the South African choral group Ladysmith Black Mambazo. August 8–31. eif.co.uk/2014.
Above: Akram Khan in Gnosis. Photo by Richard Haughton, Courtesy Akram Khan Company.
Ballet's Little Great Britain
SARASOTA, FLORIDA  
Will Tuckett has made a career of storytelling, both as a Royal Ballet principal character artist and a choreographer whipping up whimsical fantasies. This month, the Sarasota Ballet—already well praised for its dancing of Ashton's English classics—will premiere Tuckett's full-length The Secret Garden. Based on Frances Hodgson Burnett's beloved novel, which has been adapted for the screen several times, Tuckett's ballet will feature oversized puppets and a narrator—dreamlike elements fit for a fable. August 8–16 at the FSU Center for the Performing Arts. sarasotaballet.org.
At right: Tuckett in rehearsal with Sarasota Ballet. Photo Courtesy Sarasota Ballet.
New and Classic, Outdoors and Free  
CHICAGO
Kyle Abraham's world premiere for Hubbard Street Dance Chicago is only one of the reasons why we're excited about this year's Chicago Dancing Festival. The Joffrey Ballet will perform Tharp's Nine Sinatra Songs and an excerpt from Bells by Yuri Possokhov, San Francisco Ballet's masterful (and under-recognized) resident choreographer. The Juilliard School will dance Eliot Feld's delightfully zany The Jig Is Up and Pam Tanowitz will bring her Cunningham-esque Passagen. A great sampler of genre-spanning classics awaits: Rennie Harris Puremovement in Students of the Asphalt Jungle; Robbins' Fancy Free danced by Daniel Ulbricht's Stars of American Ballet; Martha Graham's Errand into the Maze; and The Washington Ballet's stunning Brooklyn Mack and Maki Onuki in an excerpt of Le Corsaire. August 20–23. chicagodancingfestival.com.
At left: Joffrey Ballet's Fabrice Calmels and April Daly in Bells. Photo by Cheryl Mann, Courtesy Joffrey.
First Look
PORTLAND, OREGON  
Many dancers say that the stage is where they reveal the most about themselves, that it's where they feel most vulnerable. But the members of Oregon Ballet Theatre may argue otherwise. The company's annual OBT Exposed event offers audiences a chance to peer into the dancers' very first week of the rehearsal season. This year, they'll share the process of working with choreographer Nicolo Fonte on his third commission for the company, to premiere on the OBT 25 program in October. The free event will be held outdoors at Portland's Pioneer Courthouse Square, August 25–28. For rehearsal hours, see obt.org.
At right: Alison Roper and Lucas Threefoot at a previous OBT Exposed. Photo by Renata Kostina, Courtesy OBT.
Uncensored
VIENNA
Powerful, energized and politically driven, the work Lloyd Newson has choreographed for his company DV8 Physical Theatre doesn't shy away from bold topics. This time around, he's interviewed 50 men to tell the stories of "life, love, solitude and male sexuality," for John, which premieres at ImPulsTanz Vienna International Dance Festival, August 5–9. Newson, who studied psychology and social work before finding his way to dance, has created a piece that is "for grown-ups, about grown-ups and with grown-up issues, using blunt language and an unmasked physique." Hint: Leave the kids at home. impulstanz.com.
At left: DV8 in rehearsal for John. Photo by Ben Hopper, Courtesy DV8.
Apr. 01, 2014 08:34PM EST
World premieres and stellar festivals fill April's calendar.
Burgess' dancers in Homage. Photo by Mary Noble Ours, Courtesy Burgess.
DC Dreaming
WASHINGTON, DC
Science, history and research are the pride of the Smithsonian. Now, the world's largest museum complex is also gaining a foothold in dance with its first artist in residence, Dana Tai Soon Burgess. The DC-based choreographer has created a site-specific program to coincide with the National Portrait Gallery's first American dance exhibition, "Dancing the Dream"—a collection of images picturing celebrated dancers and choreographers, from Isadora Duncan to Michael Jackson. On the program is Homage, which borrows from the works of pioneers in the exhibition, as well as a premiere that honors this generation's choreographers. Performance on April 19; exhibition runs through July 13. npg.si.edu.
Ballets by a Brit
SARASOTA, FLORIDA
Sir Frederick Ashton's quintessentially English work may have its devotees at home, but some critics claim that Sarasota Ballet's restagings top even those of The Royal Ballet. The Florida company, which boasts one of the largest samplings of Ashton repertoire, will salute the choreographer with 10 of his dances, including the partnering delight Symphonic Variations; Birthday Offering, originally choreographed to celebrate The Royal's 25th year; and the ice-skating–inspired Les Patineurs. The Ashton Festival, a Sarasota-wide event, will also feature films and panel discussions. April 30–May 3. sarasotaballet.org.
Above: Also on the program, Ashton's Façade. Photo by Frank Atura, Courtesy Sarasota Ballet.
Music First
NEW YORK CITY
Renowned for his wildly flinging, pretzelly movement language, Stephen Petronio is an avid collaborator with artists of other disciplines. Highlighting his interest in new music, his 30th-anniversary program includes scores by Michael Nyman and hip-hop producer Michael Volpe, aka Clams Casino. An extra bonus will be a new solo for Petronio himself to music by Philip Glass. April 8–13 at The Joyce Theater. stephenpetronio.com.
Above: Davalois Fearon and Gino Grenek. Photo by Sarah Silver, Courtesy SPC.
Duking It Out, Through Dance
ON TOUR
Bring your boxing gloves: Amsterdam company Emio Greco | PC's theatrical work ROCCO is staged inside a boxing ring, putting audiences just feet away from Emio Greco and Pieter C. Scholten's dark, combative choreography. During the piece's creation, the company worked with boxers to intertwine throws and feints with dance. The product shows that the sport has more in common with our world than you might think: swift physicality, a rhythmic pulse and intuitive yet calculated abandon. April 4–5 at Vancouver's DanceHouse; U.S. premiere, April 10–12, at White Bird in Portland, Oregon; April 17–19 at REDCAT in Los Angeles. ickamsterdam.com.
Above: Dancer Christian Guerematchi takes his corner of the ring. Photo by Laurent Ziegler, Courtesy ICKamsterdam.
Heaven & Harlem
NEW YORK CITY
When the new Dance Theatre of Harlem made its Lincoln Center debut last year, the young dancers impressed more through spirit than technical mastery. This year, artistic director Virginia Johnson is testing her dancers with Ulysses Dove's sharply dramatic Dancing on the Front Porch of Heaven (1993) and a piece that Thaddeus Davis and Tanya Wideman-Davis made for the company, past-carry-forward, about the great migration from the South that led to the Harlem Renaissance. In tribute to the late Frederic Franklin, the season also includes his version of Petipa's "Pas de Dix" from Raymonda. April 23–27, Lincoln Center's Rose Theater. dancetheatreofharlem.org.
Above: Gabrielle Salvatto in past-carry-forward. Photo by Rachel Neville, Courtesy DTH.
Everything but the Kitchen Sink
HOUSTON
One city, three days, seven U.S. premieres. International artists will invade Houston for the 2014 Dance Salad Festival, April 17–19. Among the diverse set are Paris Opéra Ballet étoiles Manuel Legris and Laetitia Pujol in works by John Neumeier and Angelin Preljocaj. Other offerings include the Dresden Semperoper and Royal Danish Ballets, a tango-laced Sidi Larbi Cherkaoui work and Beijing troupes Beijing Dance/LDTX and Contemporary Dragon KungFu—the latter established by martial arts legend Jackie Chan. dancesalad.org.
Above: Contemporary Dragon KungFu will perform Liu Lu's Gateway. Photo by Li Huimin, Courtesy Dance Salad.
May. 31, 2013 01:46PM EST
Alison Roper, Paul DeStrooper, and Damian Drake of Oregon Ballet Theatre in Kudelka's Almost Mozart. Photo by Blaine Truitt Covert, Courtesy Kennedy Center.
In the five years since the Kennedy Center launched its Ballet Across America celebration, the focus has shifted from larger companies to those smaller in size, but large in impact. In this year's edition, six of the nine companies have fewer than 30 dancers on their rosters.
The larger companies have chosen masterworks that take advantage of their size: Boston Ballet performs Balanchine's modernist Symphony in Three Movements, Pennsylvania Ballet his iconic The Four Temperaments, and Sarasota Ballet Ashton's delightful Les Patineurs. But the smaller companies' offerings show that there is plenty of new work being made across the nation.
Along with Sarasota, new to the festival are Ballet Austin, the revamped Dance Theatre of Harlem, and Richmond Ballet, making its Kennedy Center debut. The choreography ranges from that by company directors (Stephen Mills at BA), associate directors (Sasha Janes for North Carolina Dance Theatre) and resident choreographers (Robert Garland at DTH) to dancemakers with ties to other small companies, expanding the festival's reach further. Ma Cong, who recently retired from Tulsa Ballet to focus on choreography (see "Transitions," p. 90), made Ershter Vals, Richmond's offering; and Wunderland by Edwaard Liang, recently tapped to lead BalletMet Columbus, will be danced by The Washington Ballet. Oregon Ballet Theatre performs Almost Mozart by James Kudelka, who has been leading BalletMet as an artistic consultant in the interim. Having so many smaller troupes showcased is something to applaud.