Amber Gray and the Broadway cast of Hadestown. Photo by Matthew Murphy, Courtesy DKC/O&M
Last night's Tony Awards, (aka James Corden's three-hour attempt to persuade TV-streaming-binge-watchers to put down the remote and see some live theater, for gosh sake) had a bit of everything: wisdom from celebrated actors, cheeky laughs, political quips, historical victories and, our favorite, incredible performances. Unsurprisingly, Tony frontrunner Hadestown took home eight awards, including Best Musical, Best Direction for a Musical and Best Featured Actor in a Musical.
Relive the night with some of our favorite moments from Broadway's big night, in order of appearance.
Keep reading...
Show less
Amber Gray and the cast of Hadestown. Photo by Helen Maybanks, Courtesy DKC/O&M
The Tony Award nominations were announced yesterday morning, and, as always, they gave us a lot to talk about.
Could Hadestown sweep the awards? Why didn't John Heginbotham's work on Oklahoma! garner him a Best Choreography nomination? What musical numbers will the nominated shows bring to the ceremony on June 9? To discuss, we gathered a group of musical theater–loving editors from Dance Magazine and Dance Spirit for a roundtable conversation about the nominees.
Keep reading...
Show less
Reviews help Gabrielle Lamb understand how her works come across. Photo by Glenn Goettler, courtesy Lamb
Love them or not, reviews are part of the ecology of being a dancemaker. Critical writing can validate, illuminate or sometimes get in the way of an artist's creative process. We spoke with five choreographers about their relationship to reviews.
Keep reading...
Show less
The set for last year's ceremony. Photo by Stephanie Berger, Courtesy The Tony Awards
The biggest weekend in Broadway is finally upon us: The Tony Awards are this Sunday (airing at 8 pm EST on CBS). While other media outlets might be busy forecasting winners, we're speculating about the dancing we might get to see during the broadcast.
Needless to say, we have a few ideas.
Keep reading...
Show less
PC Kevin Berne, courtesy Boneau/Bryan-Brown
Choreographer Sergio Trujillo asked the women auditioning for ensemble roles in his newest musical to arrive in guys' clothing—"men's suits, or blazers and ties," he says. He wasn't being kinky or whimsical. The entire ensemble of Summer: The Donna Summer Musical is female, playing men and women interchangeably as they unfold the history of the chart-busting, Grammy-winning, indisputable Queen of Disco.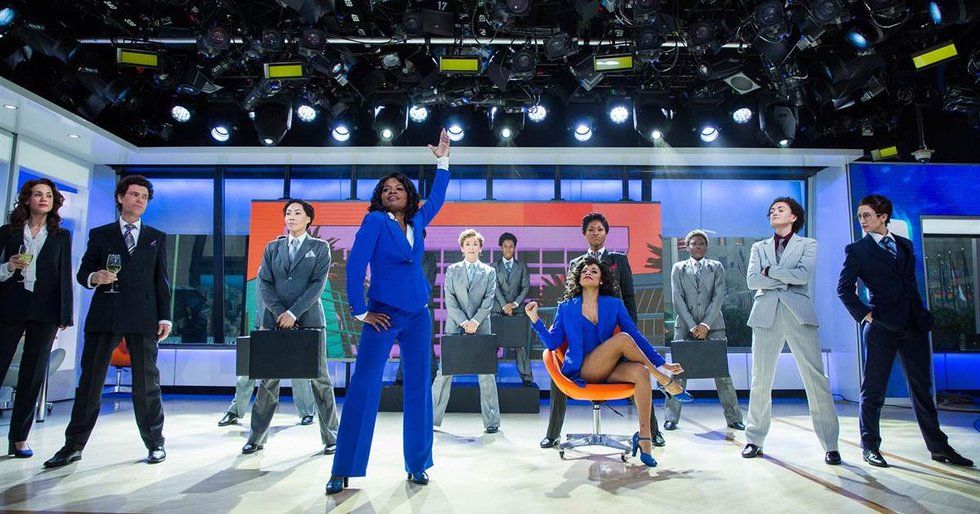 courtesy www.today.com
Keep reading...
Show less
News
Apr. 07, 2018 09:08AM EST
PC Joan Marcus, courtesy Boneau/Bryan-Brown
She had a varied, flourishing career that included dancing for Lar Lubovitch, touring with the Bad Boys of Dance, and performing at Radio City Musical Hall and in Broadway shows. But Kamille Upshaw really wanted to make Mean Girls happen.
Not because she'd known Reginas or Plastics in high school—at Baltimore School for the Arts, her classmates were too busy pursuing dance, music, or other "artsy things" to form the obnoxious cliques that Lindsay Lohan experiences in the movie. But when the teen comedy by "Saturday Night Live" giants came out in 2004, Upshaw and her friends watched Mean Girls over and over and over. It was "an obsession," she says.
Keep reading...
Show less
Joan Marcus
Conscientious theatergoers may be familiar with The School for Scandal, The School for Wives and School of Rock. But how many are also aware of the school of Fosse?
The 1999 musical, a posthumous exploration of the choreographic career of Bob Fosse, ran for 1,093 performances, winning four Tonys and 10 nominations; employing 32 dancers; and, completely unintentionally, nurturing a generation of Broadway choreographers. You may have heard of them: Andy Blankenbuehler and Sergio Trujillo danced in the original cast, Josh Rhodes was a swing, and Christopher Gattelli replaced Trujillo when he landed choreography jobs in Massachusetts and Canada. Blankenbuehler remembers that when Trujillo left, "It was as if he was graduating."
Keep reading...
Show less
Get Dance Magazine in your inbox
Andy Blankenbuehler in a Bandstand reheasal. Photo by Rachel Papo
Keep reading...
Show less
Sep. 28, 2016 10:58AM EST
Jun. 13, 2016 03:42PM EST
We're not saying that we called it, but...okay we did. The 2016 Tony Awards were last night, and Hamilton swept up 11 of 13 possible awards, including Best Musical and Best Choreography for Andy Blankenbuehler. The smash hit was nominated for 16 awards, but with multiple nods in some categories.
However, even though it was inarguably Hamilton's night, other dance-heavy shows got to have their say in performances throughout the evening. Here are some of our favorite moments.
The infectious energy brought by On Your Feet!  Choreographer Sergio Trujillo had the ensemble moving nonstop to a medley of Gloria Estafan's pop hits that feature in the musical. The dancers were fantastic in the high-speed, Cuban inspired partnering, but a pair of young boys absolutely stole the show with huge smiles that were not at all affected by their absurdly quick footwork. They even managed to get Hamilton's Lin-Manuel Miranda on his feet down in the first row.
Fiddler on the Roof reminding us of why Hofesh Shechter was nominated. If anyone still had doubts about the contemporary choreographer taking on a Broadway show, they were erased last night. The dancing in the wedding celebrations is fantastic—rhythmically surprising, beautifully detailed, exciting to watch and seamlessly fitting into the world of Fiddler.
The entire cast of Shuffle Along showing off their tap skills. Honestly, how can you pick just one favorite moment from this performance? Savion Glover took home a Drama Desk Award for his choreography, and any other year he probably would have snagged the Tony as well. From a line of chorus girls to a series of jaw-dropping soloists to the rest of the ensemble, every single person onstage brought fantastic energy and technical chops to the floor. Do yourself a favor and watch the entire performance.
The cast of Spring Awakening making us wonder why Spencer Liff wasn't nominated for Best Choreography. It takes a considerable amount of skill to sign a song using American Sign Language in a way that reflects not just the words but the meaning and emotion behind them (while being musical, to boot), and the hearing and deaf actors in the cast of Spring Awakening have talent in spades. Major kudos to Liff for integrating choreography and sign language in such a way that the signing was perfectly legible while feeling like a natural extension of the choreography and music.
Hamilton. Really, what else is there to say? It's no secret that we—and pretty much everyone we know—love this musical, even though this live broadcast is probably the closest most of us will get to seeing it. The cast is phenomenal, doing battle with invisible bayonets (they nixed the usual prop guns in light of the events that took place in Orlando yesterday) or falling into formation, changing qualities at the drop of a hat without losing an ounce of the determined conviction that characterizes the show.
If you want to hear from the fantastic ensemble of Hamilton about how they pull it off, grab our June issue!
It's anyone's guess as to what shape next year's biggest Broadway hits will take, but with works as stylistically different and undeniably innovative as these currently calling the Great White Way home, it seems like absolutely anything is possible.