Popular
Sep. 20, 2019 11:05AM EST
Lindsay Thomas
Every dancer knows that how you fuel your body affects how you feel in the studio. Of course, while breakfast is no more magical than any other meal (despite the enduring myth that it's the most important one of the day), showing up to class hangry is a recipe for unproductive studio time.
So what do your favorite dancers eat in the morning to set themselves up for a busy rehearsal or performance day?
Keep reading...
Show less
News
Aug. 02, 2019 09:04AM EST
Yang Liping's Rite of Spring. Photo courtesy EIF
It might seem like the majority of the American dance world moves to Vail or Jacob's Pillow for the month of August, but there's plenty to see elsewhere. From Royal Ballet dancers appearing in an intimate New York City theater to a new musical based on a Disney animated classic, here are the shows we plan to close out summer with.
Keep reading...
Show less
News
Mar. 06, 2018 03:35PM EST
Sara Mearns in Isadora Duncan's Narcissus. Photo by Darial Sneed, Courtesy PTAMD
One of New York City Ballet's most adventurous ballerinas will be a special guest of Paul Taylor American Modern Dance for its annual season at the Koch Theater. Sara Mearns is performing solos created by early modern dance icon Isadora Duncan as staged by Lori Belilove. Also on the menu: Paul Taylor Dance Company members in 13 classic Taylor works and world premieres from Doug Varone, Bryan Arias and Mr. Taylor himself (his 147th!), plus the resurgent Trisha Brown Dance Company in her iconic Set and Reset. March 7–25. ptamd.org.
Thinkstock
Growing up, Leah Ives always enjoyed preparing food—especially after-school snacks. So now, while she cooks to fuel her work with the Trisha Brown Dance Company, she always wants it to be "free-form in a casual, no-pressure way," she says.
That means she preps and eats whatever her body calls for. "I've gone through phases of cleanses and diets," she says. "But that can take the pleasure out of eating. And it doesn't feel nourishing to me. Now, I listen to my body."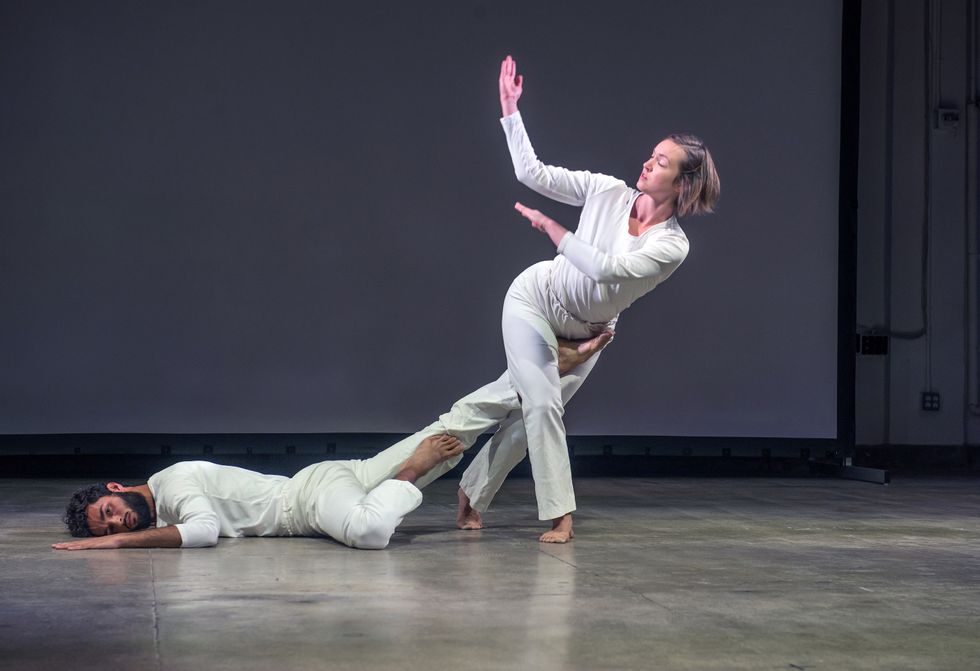 Leah Ives with Marc Crousillat. Photo by Stephanie Berger
Keep reading...
Show less
Bausch's Rite of Spring, Courtesy BAM
Maybe it's just by chance, but it seems like the upcoming lineup in New York City is designed to remind us of the women giants of our field. What a great welcome to the new season!

• Twyla Tharp brings new and old work to the Joyce. She may be the most prolific living choreographer in any genre. Her movement is always bursting with inventiveness, and she challenges her mighty dancers with impossibly complex and non-stop motion.
Keep reading...
Show less
Trisha Brown: In Plain Site. Photo by Agathe Pouponey, Courtesy Jacob's Pillow.
For a special viewing of the Trisha Brown: In Plain Site series, Jacob's Pillow is teaming up with the Clark Art Institute, one of the best museums in the Berkshires. The Institute's exquisite landscaping will no doubt provide a harmonious setting for the profound simplicity of Brown's early work on Aug. 13. This free event is a prelude to the Trisha Brown Dance Company's program at the Pillow, Aug. 16–19, that includes three works: the baroque L'Amour au théâtre (2009), the jazz-inflected Groove and Countermove (2000) and the serenely quiet Opal Loop (1980). jacobspillow.org.

Laurel Jenkins, Photo by Vincent Beaume
Efficient movement is easy to recognize—we all know when we see a dancer whose every action seems essential and unmannered. Understanding how to create this effect, however, is far more elusive. From a practical perspective, dancing with efficiency helps you to conserve your energy and minimize wear and tear on the body; from an artistic point of view, it allows you to make big impressions out of little moments, and lasting memories for those watching.
So much struggle and determination goes into your training that it can be difficult for early-career dancers to recalibrate their priorities toward simplicity and ease, says Laurel Jenkins, freelance performer and Trisha Brown Dance Company staging artist. "Your aesthetic might shift, and you might have to find new things beautiful." Mastering the art of effortless movement requires a new perspective and a smart strategy—on- and offstage.
Keep reading...
Show less
Get Dance Magazine in your inbox
Jul. 01, 2014 10:37PM EST
Repertory workshops give dancers a chance to experience a choreographer's process.
Alexandra Damiani rehearsing with dancers during Cedar Lake Contemporary Ballet's repertory workshop. Photo by Ally Duffy, Courtesy Cedar Lake Contemporary Ballet.
Although master classes and summer intensives can be a great way to hone technique, many dancers are hungry to grasp the working methods of a particular company or choreographer. Repertory intensives—shorter workshops that focus on a single piece of rep—can offer a concentrated glimpse of a choreographer's work and creative process. Briefer and less expensive than a summer intensive, they appeal to both advanced students or professional dancers looking to expand their experience.
For Tony Carlson, a rising senior dance major at The New School, signing up for the Trisha Brown Dance Company's repertory workshop was a natural choice. "It's not just taking a class," says Carlson, who fell in love with Brown's choreography during the company's residency at The New School his freshman year. "You get time to invest yourself in the movement. The nature of dance is that it's hard to hold on to—sometimes it seems like it just falls off your body. But in a workshop setting, you come back to these ideas each day, so that by the end of the week you have a certain intimacy with the work."
Inside the Working Process
Typically, repertory intensives delve into the history and thought process behind a piece. During the Trisha Brown workshops, dancers learn full or partial phrases from a certain piece. The idea is to utilize Brown's process—while the steps may not be exactly the same, the students work the way company dancers did during the piece's creation for a similar experience. The goal, says associate artistic director Carolyn Lucas, is to share the ideas about geometry, weight and alignment that shape Brown's work. "Trisha never taught technique," says Lucas. "In a certain way the rep is the technique, because it's where you're going to find a forum to take concepts you've been introduced to and put them in motion." At the end of the week, a small-scale, casual showing allows dancers to perform portions of what they've developed as a culminating synthesis.
Since the workshop, Carlson notes that Brown's choreography no longer seems foreign or lofty. "You have a sense of being enriched in the process of what the Trisha Brown dancers do," he says.
The Merce Cunningham Trust offers an ongoing, audition-only program of free repertory workshops, where dancers learn a large part of or an entire Cunningham work and give an informal showing at the end. (Upcoming sessions feature classics like Ocean and Crises.) The intensives represent one of the few opportunities to study his work outside a company setting, attracting freelance professionals as well as college students.
Patricia Lent, the Trust's director of licensing, observes that some dancers are surprised by the experience. "Often when I've worked with people who haven't studied this technique, they'll say, 'This is not what I thought his work was like!' " she says. "I think being inside of his work, seeing it from the viewpoint of the dancer, is much different from what an observer might imagine."
Meeting Master and Muse
Some repertory workshops offer the thrilling opportunity to work directly with a choreographer or company director. Israeli-born English dancemaker Hofesh Shechter often spends the first day of his repertory intensives working with students to give them personal insight into his creative process.
"The first day, Hofesh teaches a juicy, meaty bit of rep, so straightaway, they are immersed in the movement language, and it comes to them from the source," says Hofesh Shechter Company staff member Lucy Moelwyn-Hughes. That language, she says, stems from an emotional starting point and is less concerned with line and shape.
Afterwards, long-standing company members—often the ones who originated the roles being studied—take over and offer insights based on their experiences. "Each dancer has a different story or way of looking at the work based on their part in its creation, so it's like getting triple the information," adds Moelwyn-Hughes.
See and Be Seen
A repertory workshop can also be an immersion in a company's working methods—and a chance to be seen by the artistic staff. At Cedar Lake Contemporary Ballet, artistic director Alexandra Damiani uses half-day repertory workshops as a crash course in the company's style.
"I like to give insight into how we work at Cedar Lake," she says, "to make them more curious about us. Depending on the rep I choose to teach, we might work on different challenges—floor work, speed, musicality, partnering." For instance, floor work can be a new challenge for ballet-trained dancers. "I won't pretend in two hours that they will really get an in-depth understanding of what the work is about. However, I can use a section of it to give them tools they can then apply to the broader experience."
Damiani notes that she keeps her eyes open for potential company members. "If one person responds well to our style and teaching, I'll invite them to come take more classes," she says. "You get to meet dancers in more of a working environment, and they're able to show who they are. And that's what you want—to see who they are as an artist."
Keep reading...
Show less