Watching FX's "Fosse/Verdon," one thing comes across very clearly: Gwen Verdon was far more than just an extraordinary dancer—she was a creative force.
Keep reading...
Show less
News
Feb. 28, 2019 11:19AM EST
From left: Jonathan Stafford; Photo by Paul Kolnik; Wendy Whelan, Photo by Lindsay Thomas
Well over a year after the retirement of Peter Martins, New York City Ballet has announced that former principal dancer Jonathan Stafford will lead the company and its affiliated School of American Ballet as artistic director. Fellow former principal Wendy Whelan will serve as associate artistic director.
Keep reading...
Show less
Wendy Whelan spoke with Balanchine legends Allegra Kent, Kay Mazzo, Gloria Govrin and Merrill Ashley. Eduardo Patino.NYC, Courtesy NDI
George Balanchine famously wrote, that ballet "is a woman." Four of his most celebrated women—Allegra Kent, Gloria Govrin, Kay Mazzo and Merrill Ashley—appeared onstage at Jacques d'Amboise's National Dance Institute Monday evening to celebrate his legacy. The sold-out program, called "Balanchine's Ballerinas," included performances of excerpts from ballets closely associated with these women and a discussion, moderated by former New York City Ballet principal Wendy Whelan. Here are some highlights of the conversation, filled with affection, warmth and fond memories.
Keep reading...
Show less
News
Jan. 17, 2019 11:18AM EST
Credits with photos below.
For the past few months, the dance world has been holding its collective breath, waiting for New York City Ballet to announce who will take over the helm as artistic director.
Though former ballet master in chief Peter Martins retired over a year ago after accusations of sexual harassment and abuse (an internal investigation did not corroborate the accusations), the search for a new leader didn't begin until last May.
Nine months later, the new director's name could be released any day now. And we have some theories about who it might be:
Keep reading...
Show less
Passing dance history on to the next generation is a bit like handing down the family jewels, says Wendy Whelan, seen here teaching. Photo by Christopher Duggan, courtesy Whelan.
When I was a young dancer in Louisville, Kentucky, my ballet teacher used to speak a lot about Merrill Ashley. She brought neoclassical technique to exquisite new heights under Balanchine, and as a technician, she famously paved the way for today's balletic whiz kids. (Later, when I was a teenager, I was lucky enough to have her as a teacher.) Today, as I travel around the country giving master classes, I often find myself bringing up the names of quintessential American ballerinas, dancers like Merrill. But now, if I mention her name, I can't help but notice my students' eyes widening as they look to each other wondering who exactly this famous ballerina named Merrill is.
Keep reading...
Show less
Inside DM
Dec. 20, 2017 02:00PM EST
Jayme Thornton
2017 has been quite a year here at Dance Magazine. From launching our new website to celebrating the magazine's 90th anniversary, it's been a thrilling 12 months. To wrap up the year, the Dance Magazine team took a moment to share each of our favorite highlights.
Keep reading...
Show less
Wendy Whelan with Kyle Abraham
While it's appalling that any male leader would use his power to humiliate women, the accusations against Peter Martins opens up a wonderful, rosy possibility. In an email conversation about Martins stepping down temporarily, a friend of mine wrote, "They won't hire a man in this climate."
I suddenly found myself getting giddy with the thought that a woman might lead New York City Ballet. I pictured a former NYCB principal coming in and calming the dancers down, respecting them, inspiring them, treating them like adults, listening to them and encouraging communication between all factions of the company.
Keep reading...
Show less
Get Dance Magazine in your inbox
Popular
Aug. 25, 2017 12:45PM EST
Michelle Dorrance and Nicholas Van Young's "Works & Process Rotunda Project" at the Guggenheim Museum, PC Matthew Murphy
It's time! You submitted your nominations for the most memorable dance you saw this year. We narrowed down our favorites, and now it's up to you to decide what will make it into our December issue.
Voting will be open until September 25th. Only one submission per person will be counted.
Keep reading...
Show less
Lurking on dancers' social media pages, among the video clips of superhuman pirouettes and the photos that immortalize them above the stage in grand jeté or crouched on a windowsill wearing lingerie, pointe shoes and a sultry expression, is the occasional political post.
It's hard not to have a political opinion in the age of Trump. And on social media, opinions are easy to express. We might have to thumb the history book all the way back to Abraham Lincoln to find a more polarizing president (alas, the two leaders' similarities decisively end there).
Keep reading...
Show less
Wendy Whelan can surprise you. For someone so highly-revered as a dance icon, her incredible down-to-earth candor can take you aback the first time you meet her. While reporting our May cover story, I uncovered a few fun facts I had to share.
Keep reading...
Show less
Jayme Thornton
Wendy Whelan gave away all her leotards in December. It was a Christmas surprise for her Ballet Academy East students—and an experiment. By getting rid of her uniform of more than 30 years, she hoped her muscle memory would let go of old movement patterns.
"The minute I got myself out of leotards, my body opened up: I didn't feel so strict and tight and bound," she says. "I never expected you could change so much from the outside-in."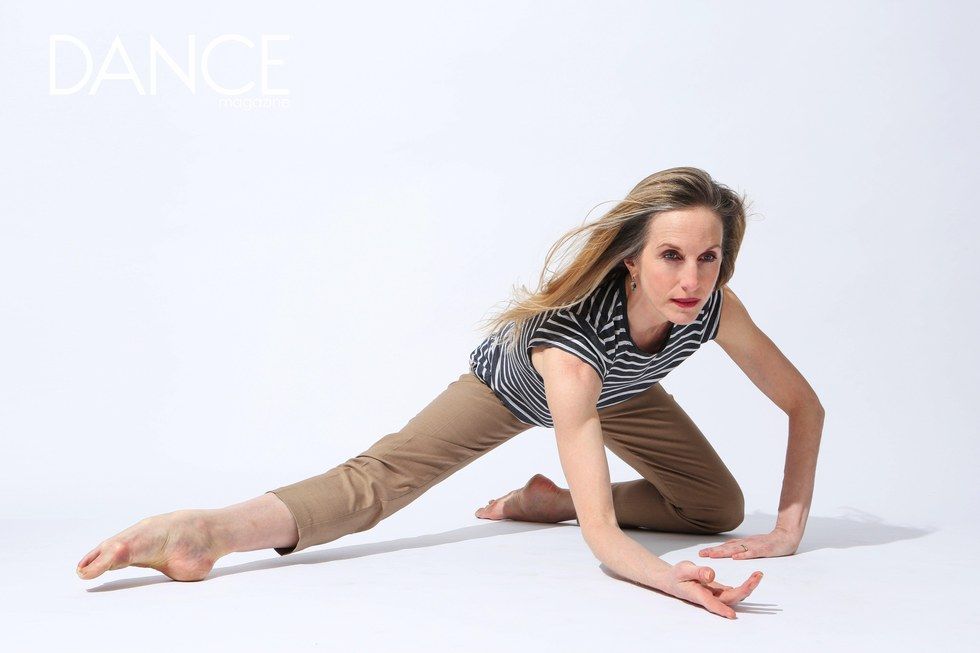 Jayme Thornton
Leaving the ballet world—and life inside such a massive institution as New York City Ballet—has been a revelatory experience for the former reigning ballerina. Since retiring from the company in 2014, she's taken on everything from dance theater collaborations with Royal Ballet star Edward Watson to a multidisciplinary opera choreographed by David Neumann to grounded modern dance duets with Brian Brooks.
She doesn't have a defined vision of where she's going so much as a mission to explore what's possible. With no structured company schedule telling her what to do, she can seek out whatever work she wants, with whomever she connects with.
"I feel like I can be myself," says Whelan, who's turning 50 this month. "I'm thinking and doing things I never would have imagined as a ballet dancer."
Keep reading...
Show less
Despite intense hip pain, Annmaria Mazzini waited until leaving the the Paul Taylor Dance Company to have one hip replaced in 2011, followed by the other in 2016.
But, it turns out, a hip replacement no longer spells an automatic end to a dance career. While the surgery remains a last resort, new technologies work better and last longer, allowing dancers to continue performing for several years after getting a replacement.
Mazzini, for example, has continued to dance. She even performed a duet just three months after her second hip replacement, having rehearsed for four months prior on a deteriorating hip. "It was really a gift to have that dance to do right before and after the surgery, because I had something to compare," she says. "There were parts of the duet where my whole body used to tense up, and now to be able to do them so easily is just euphoric."
Keep reading...
Show less
Magazine
Sep. 01, 2014 10:15PM EST
The edgy ballerina says good-bye to New York City Ballet and hello to new experiments.
In her Restless Creature duet with Brian Brooks. Photo by Christopher Duggan, Courtesy Whelan.
Wendy Whelan has practically defined the term "contemporary ballerina." With her crystal-cut shapes and unsentimental, almost spiritual energy, she brings clarity to whatever she dances, whether it's Balanchine, Wheeldon, Ratmansky or McGregor. Her last season with New York City Ballet, which opens September 23, is bound to be bittersweet for many in the ballet world. The sweet part is that after her farewell performance on October 18, she will begin a two-year term as artistic associate at New York City Center and resume her duet project Restless Creature, touring 17 U.S. cities in 2015.
How do you feel when you look back on your 30 years with NYCB?
It's been the greatest gift of my life. I was really lucky to be chosen for this company and to be noticed by Peter Martins, Jerome Robbins and all the choreographers that have come in and out. I've had a strong body that's kept me injury-free pretty much the whole time so I could get it all in. I tried to eat everything up because it was so nutritious and bountiful.
What are you planning for October 18?
Something old, something new, something borrowed, something blue. I have an idea to use each of those elements in my own way—though I might have to forgo the something blue.
What does your role at City Center entail?
My residency starts in November. I'll get studio time and have showings for City Center people and my funders. I'll also partake in studio talks and things like that.
I hear you'll be working on duets with The Royal Ballet's Edward Watson. Why were you drawn to him?
Besides being an incredible artist and having the highest level of integrity, he's one of the funniest people I've ever met. He's smart and thoughtful and loves to try new things. He's tireless and I'm like that, too. I'd like to get crazy with Ed. To put something out there and maybe be embarrassed or maybe be like, "That's so cool. I never felt that before!"
You had hip surgery over a year ago. How is your body holding up?
In April, I had a hard time walking. I was very scared. I found out that a spinal stenosis had been causing the pain in my hip this whole time. Two weeks before my return to NYCB, I got relief from an epidural shot. I'm doing core exercises for endurance and it has helped my gait. I don't crumble or break like I did.
For most of my career I didn't think about the food I was putting in my body. I'm on this kick now of eating well. I've cut out sugar and gluten and I'm drinking more water. A dancer is like a fantastic car—a Porsche or a Maserati—and you need to have the best fuel.
Did injury inspire this transition?
I actually planned to leave NYCB on my 30-year anniversary for a while. With injury and surgery, it became clearer that my body and mind were really ready for something new. I don't know if I could have said this a year ago, but I'm ready.
Magazine
Feb. 01, 2014 04:00PM EST
While many dancers hide their injuries, New York City Ballet star Wendy Whelan writes about how she took ownership of hers by sharing her recovery on social media.
1. #sothishappenedtoday
2. #4hourslater #newlabrum #SOHAPPY
3. #andshesoff #alreadywalking #onestepinfrontoftheother #slowlybutsurely
Denial, confusion and frustration are the words that come to mind when I recall the months I spent trying to figure out how a minor slip in ballet class could have ignited such a physical retaliation within my body. I still wonder: If I'd been standing in a less slippery part of the studio, or if I hadn't tried to explore the teacher's correction, maybe I wouldn't have injured my hip and been forced to endure such a lengthy return to normal.
The emotional challenge of dealing with a mysterious injury is often as painful as the physical aspect. When I consider why I turned to social media during my recovery, I think about how very lonely it can be when your vocation has suddenly been crossed off your "to do" list. You are driven out of your practice, and feel lost without answers. My friends were dancing all day and night, and all I wanted to do was be there with them.
I tried everything to help the pain: acupuncture, yoga, cranial-sacral therapy, active release therapy. I had X-rays and MRIs. I had injections into my hip. Eventually, one of my doctors discovered I had a complex labral tear. I was told that torn labrums were common among dancers, and that many of my friends who had tears were dancing beautifully, without a lot of pain. But after months of failed attempts at finding relief, I was forced to realize that my tear required surgery. At the recommendations of my physical therapist and orthopedist, I put myself into the hands of Dr. Marc Philippon, the renowned hip surgeon at the Steadman Clinic in Vail, Colorado. Dr. Philippon told me he would clean up the tear, as well as the debris floating in my hip that had accumulated as a result, and he would also shave down impingements along the bone that had developed over my lengthy dance career.
4. #progress #transverseabdominal #corestrength #narrowing
5. Finally not afraid of me anymore #curiouscat #charleyrose
Since I'd never had surgery before, I began using Facebook as a research tool. I reached out to some friends who'd had the surgery, and through them I was connected with other dancers who told me their stories. I wanted to understand as best as I could from a dancer's perspective what I was looking at: what their symptoms had been, how long the recovery took, if they had any complications from the surgery, if they felt they'd made a full recovery. I learned that my surgery would require a four- to six-month recovery period—and a tremendous amount of patience. I scheduled it for late August, a week after the premiere of my new duet project, Restless Creature, which meant I had to clear my calendar of any Nutcracker gigs or outside engagements, and miss New York City Ballet's four-week fall season.
While I was in Colorado for surgery, I posted photos of my experience on Facebook and Instagram for my family and friends to see. Since I'd never had surgery, I took a picture of my hospital wristband to prove that I hadn't chickened out. One of the nurses took a picture of my first steps on crutches. A friend took a picture during the operation. I wanted to show that I wasn't afraid anymore, that I was now on the upswing—I had finally begun to heal.
I felt so proud of every new accomplishment: riding a stationary bike, learning to walk with my crutches, gently stretching in ways I couldn't possibly do before the surgery. The little things became cause for celebration, and I shared them all. I focused my posts on all the good that was finally happening, because to me it felt miraculous.
6. Question of the day... #willthelegswalk after #56daysoncrutches
7. #lookma #passe #nohelpnecessary #progress #nextphaseturnout
Through my photos and updates, I took ownership of the process and the progress of my recovery. Each image became a statement of where I had been and the positive direction in which I was heading. It became my healing diary. I watched my bruising subside and my scars heal, and I could take pride in my own regeneration. To be able to see my musculature and pointed toes was comforting; it showed me that even though I was on crutches, there was still a dancer living inside of me. The first time I tried passé was a particular milestone, and I wanted a photo to keep as a reminder that my hip joint was beginning to open up again.
Only later did I absorb the fact that I had a much larger audience. My nearly 6,000 followers on Instagram were also sharing in my healing process—and commenting on it. My posts were hitting close to home for some of them. In comments, young dancers wrote that they'd found out they had labral tears and asked for advice; other dancers had recently gone through the surgery themselves and offered me their wisdom and good wishes. One follower even commented that watching me work through a lengthy recovery was inspiring "and represents the best of what social media has to offer."
It was a virtual melting pot of well wishes, and although I wasn't yet back in the studio, I was invigorated to receive such supportive words from total strangers. I have always found that good energy feeds upon itself and magnifies and grows and generates more of the same, and I could feel the power of that "good" developing not only within my photo feed, but within my own healing body as well.
Right: Whelan at lunch with Marcelo Gomes, who was also injured: #brokebutnotbroken
I look forward to the day when I am back to dancing and don't have quite as much time for social media. But for now, I am grateful for the outpouring of warmth, creativity, humor and support that has fueled me over such an emotionally and physically challenging time.
Wendy Whelan, a principal at New York City Ballet, will be back on stage in her freelance project, Restless Creature, and will appear in NYCB's spring season.