News
Feb. 28, 2018 03:27PM EST
Affairs & Accusations: What's Going On At English National Ballet?
Tamara Rojo. Photo by Jeff Gilbert, courtesy ENB
British ballet fans have been in a tizzy over Tamara Rojo lately.
Last month, a number of current and former English National Ballet dancers made anonymous claims of mismanagement to The Times, blaming Rojo for the fact that a third of the company's dancers have left over the past two years. The blog Ballet Position followed up earlier this month with further accusations, and Rojo responded in a feature in the Evening Standard yesterday.
Until this all came out, Rojo had really only been covered in recent press as someone who'd transformed ENB into a darling of the ballet world with her forward-thinking repertoire.
So what's all the drama about? We broke it down:
---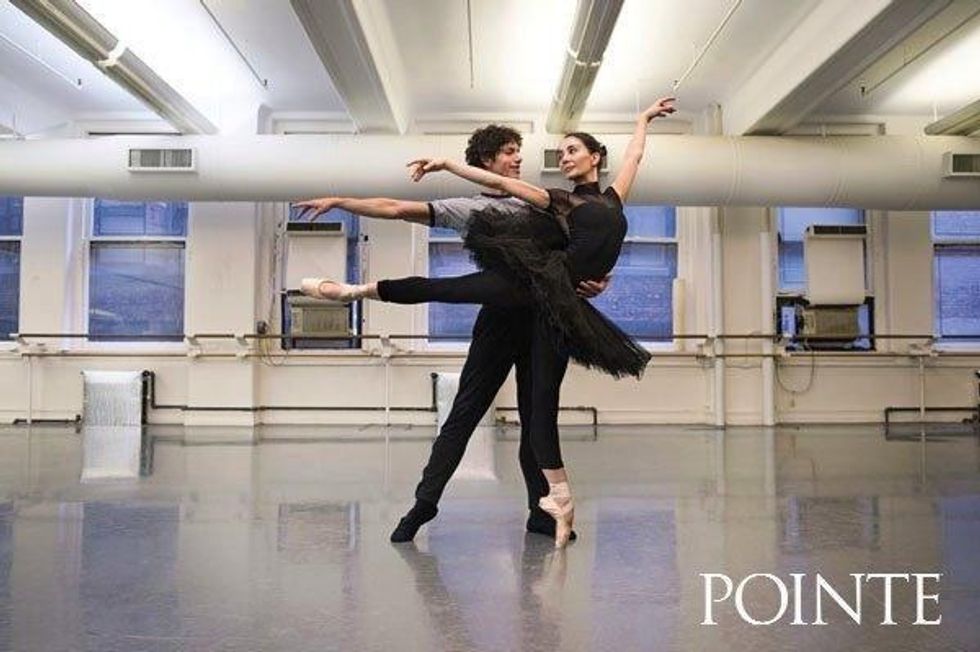 Hernández and Rojo rehearsing the Black Swan pas de deux. Photo by Taylor-Ferné Morris for Pointe.
Accusation: Company members say they felt uncomfortable about Rojo's relationship with lead principal Isaac Hernández—who's 16 years younger—and some say it played a part in their decision to leave.

Rojo's Response: The Evening Standard reports that Rojo seems a little bemused, if hurt, by these claims. She told the writer that Hernández arrived in London in 2015 as "a fully fledged star" and that there's "not even a possibility" of conflict because "he has won all the awards you can possibly win, so there was nowhere I could promote him." Also, she added, "I don't deal with contracts." She said the pair never made a secret of their relationship, which began a year and a half ago. "All I can say is that we've always been honest and I hoped there was no animosity towards us."
Our Take: Rojo neglected to mention the sudden departure of Cesar Corrales to The Royal Ballet in December. It's not hard to imagine that competing with the boss's boyfriend would have grown tiresome, and might have been part of the rising star's motivation to look for opportunities elsewhere.
Accusation: Sources say Rojo perpetuated a culture of intimidation by screaming at dancers in front of other company members. Others say they were given the silent treatment by both Rojo and assistant artistic director Loipa Araújo, never receiving corrections. Decisions also felt capricious: Dancers say roles and opportunities would be taken away with no explanation.

Rojo's Response: "We couldn't recognize our company in that description," she told the Evening Standard. "People had left, yes, but we felt it was explicable because a lot of change had been going on. We didn't feel it was unnatural, that there was anything to be concerned about." She said she's gone through all the issues raised with the ENB board, as well as the UK Arts Council (which funds 40 percent of the company's income) and the unions, and reports that "they were satisfied." ENB has since added new channels of communication.
Our Take: Of course, behaviors like screaming and silence aren't examples of great people skills. But they don't seem all that unusual in the ballet world. Not that that's an excuse, but if it's a conversation we're going to have, we can't only point the finger at ENB.
Also, we can't help asking: Rojo is known to be an exacting director, and not exactly the warmest personality—but would those qualities be taken differently in a male director? And would her relationship with someone 16 years younger seem as scandalous, for that matter?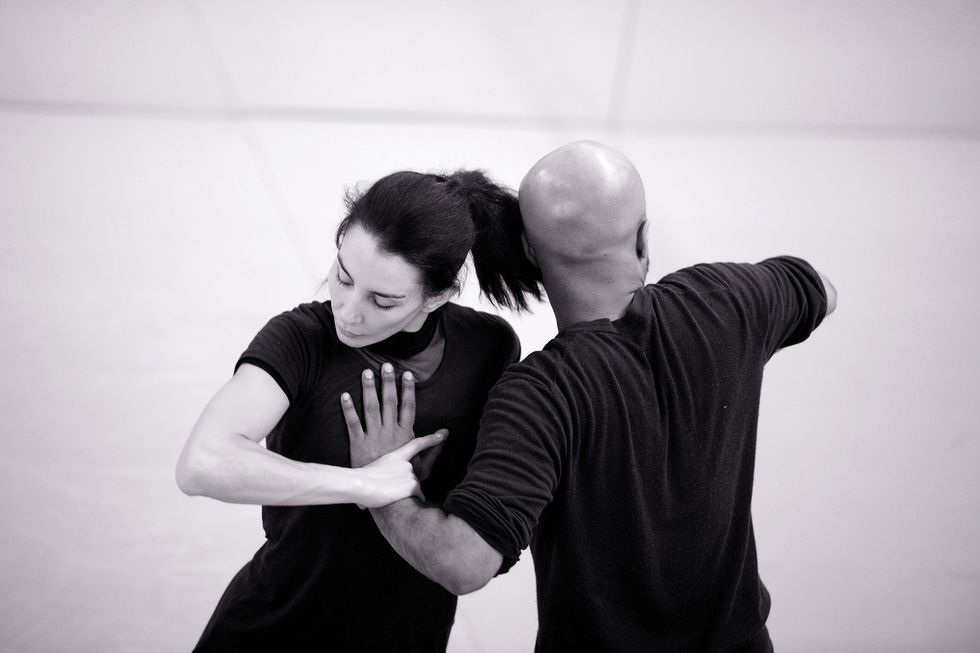 Rojo still performs with ENB in addition to directing. Here with Akram Khan rehearsing his Giselle. Photo by Laurent Liotardo, courtesy ENB.
Accusation: Dancers say they felt pressured to perform despite injury. One told Ballet Position that they hid their condition after Rojo said asking for more recovery time showed "a lack of commitment to the company." Ballet Position also reports that advice from the medical staff was consistently ignored.
Rojo's Response: When Rojo arrived as artistic director in 2012, she immediately invested in the dancers' health: She replaced the studios' sprung floors; she brought on a sports scientist, nutritionist and psychologist; and she increased physical therapy hours for the dancers.
Our Take: In the same Evening Standard feature where she lists what she's done for the dancers, Rojo appears to boast about performing even when her appendix burst while she was onstage, and how ignoring a sprained ankle led to her big break at The Royal Ballet. We need to stop glorifying these kinds of decisions. Sure, almost all dancers have performed in some level of pain at some point. But if they are being pushed—whether explicitly or implicitly—despite medical advice to rest, that needs to be addressed seriously.
Courtesy Macy's, Inc.
As you're prepping your Thanksgiving meal, why not throw in a dash of dance?
This year's Macy's Thanksgiving Day Parade is stuffed (pun intended) with performances from four stellar Broadway shows, the Radio City Rockettes and students from three New York City dance institutions.
Tune in to NBC November 28 from 9 am to noon (in all time zones), or catch the rebroadcast at 2 pm (also in all time zones). Here's what's in store:
Keep reading...
Show less
Ailey II artistic director Troy Powell teaching an Ailey Workshop at NYCDA. Courtesy NYCDA
Back in 2011 when Joe Lanteri first approached Katie Langan, chair of Marymount Manhattan College's dance department, about getting involved with New York City Dance Alliance, she was skeptical about the convention/competition world.
"But I was pleasantly surprised by the enormity of talent that was there," she says. "His goal was to start scholarship opportunities, and I said okay, I'm in."
Today, it's fair to say that Lanteri has far surpassed his goal of creating scholarship opportunities. But NYCDA has done so much more, bridging the gap between the convention world and the professional world by forging a wealth of partnerships with dance institutions from Marymount to The Ailey School to Complexions Contemporary Ballet and many more. There's a reason these companies and schools—some of whom otherwise may not see themselves as aligned with the convention/competition world—keep deepening their relationships with NYCDA.
Now, college scholarships are just one of many ways NYCDA has gone beyond the typical weekend-long convention experience and created life-changing opportunities for students. We rounded up some of the most notable ones:
Keep reading...
Show less
Sergei Polunin. Photo by British Broadcasting Corporation and Polunin Ltd., Courtesy Sundance Selects.
Last week, Variety reported that Sergei Polunin would reunite with the team behind Dancer for another documentary. "Where 'Dancer' looked at his whole life, family and influences," director Steven Cantor said, " 'Satori' will focus more squarely on his creative process as performer and, for the first time ever, choreographer." The title references a poorly received evening of work by the same name first presented by Polunin in 2017. (It recently toured to Moscow and St. Petersburg.)
I cannot be the only person wondering why we should care.
Keep reading...
Show less
Left: Hurricane Harvey damage in Houston Ballet's Dance Lab; Courtesy Harlequin. Right: The Dance Lab pre-Harvey; Nic Lehoux, Courtesy Houston Ballet.
"The show must go on" may be a platitude we use to get through everything from costume malfunctions to stormy moods. But when it came to overcoming a literal hurricane, Houston Ballet was buoyed by this mantra to go from devastated to dancing in a matter of weeks—with the help of Harlequin Floors, Houston Ballet's longstanding partner who sprang into action to build new floors in record time.
Keep reading...
Show less