Why Dancers' Skills Are More Valuable Than Ever
It's not uncommon to hear dancers planning for their "second act": what they will do after their performance career ends. Wrapped into this term is an assumption that the skills a dancer has developed are valueless in other work environments.
But as the rest of the world panics to create a workforce that will withstand automation and artificial intelligence, dancers may actually be prepared with just the skills our future economy needs.
---
Cognitive skills, like math and reading, are losing their value in the workplace. A recent study found that "In the past 30 years, job tasks in the U.S. have shifted dramatically towards tasks requiring noncognitive skills." Sometimes known as "soft skills," these noncognitive skills include problem solving, communication and innovation. As technology advances, it is becoming less important for workers to do and more important to organize and innovate.
The ideal employee of the future still has strong math and reading skills, but—more importantly—is equipped with creativity, resilience, perseverance and self-control.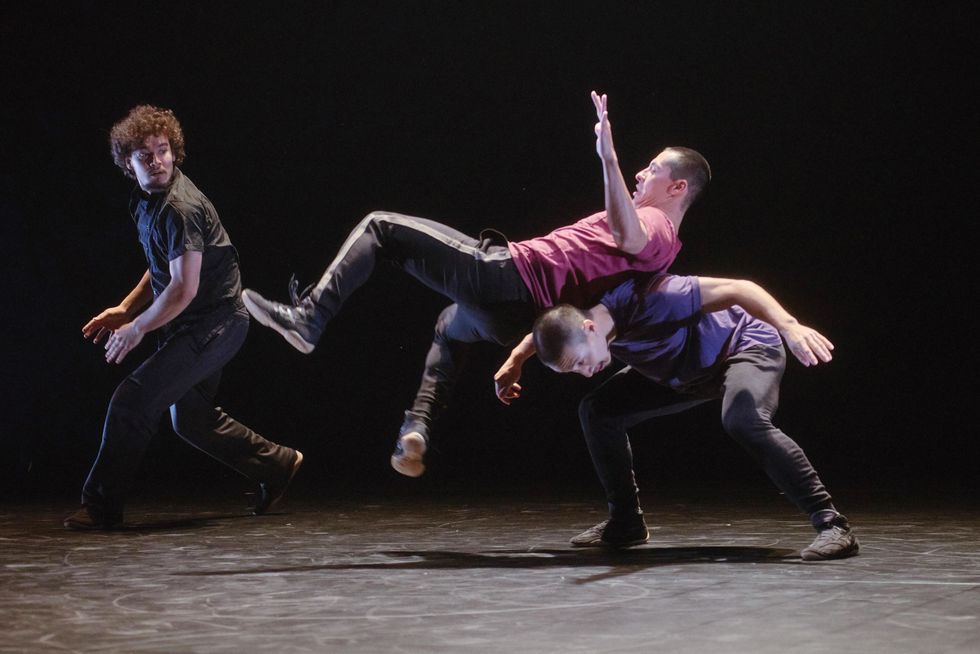 Rubberbandance. Photo by Jim Lafferty
Dancers have the skills to be the ideal 21st-century worker. As practitioners of non-verbal communication, dancers have strong interpersonal, team-working skills and have the ability to interpret and organize abstract concepts through visual learning.
Additionally, dancers develop a sense of entrepreneurship and self-advocacy. It is no small feat to simultaneously collaborate with a company of competitive peers while trying to cultivate one's own artistic voice. Even the most talented face setbacks and insecurities; it's only through self-control and determination that any dancer sees their first paid opportunity.
Current culture has perpetuated the opinion that art is nice to have, but not necessary. Especially in cities where dancers struggle to make a living wage, there is a resounding anxiety that time is being wasted not developing more "valuable" skills.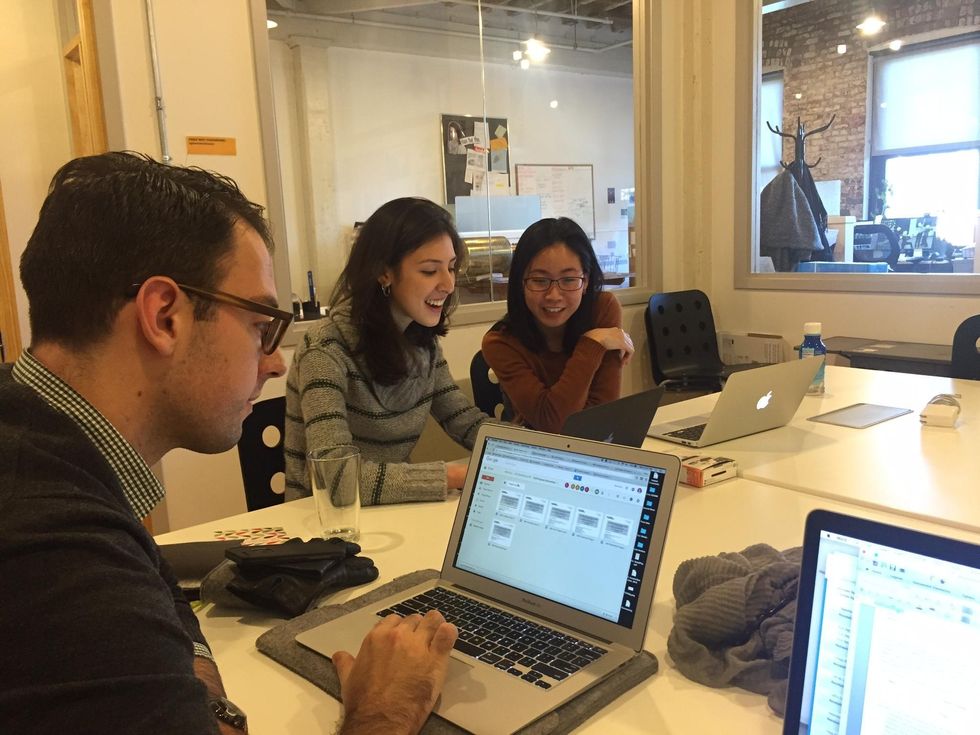 Dancers like Connie Shiau (right) take on administrative roles at Abraham.In.Motion. Photo courtesy AIM.
We need to challenge this misconception and pressure administrators to spearhead a new discourse. Dancers should be recognized for all of their skills and encouraged to value themselves beyond performance. Involving artists in administrative discussions will enlighten dancers to their interpersonal and leadership skill sets. Providing artists opportunities to be a part of the business and administrative aspects of a company will help bolster a dancer's confidence and support the company's overall health.
If you are dancing professionally, you are already prepared to step into this rapidly-changing economy. Be proud of the valuable traits you possess. There is nothing "soft" about the skills you have spent years acquiring.
Ailey II artistic director Troy Powell teaching an Ailey Workshop at NYCDA. Courtesy NYCDA
Back in 2011 when Joe Lanteri first approached Katie Langan, chair of Marymount Manhattan College's dance department, about getting involved with New York City Dance Alliance, she was skeptical about the convention/competition world.
"But I was pleasantly surprised by the enormity of talent that was there," she says. "His goal was to start scholarship opportunities, and I said okay, I'm in."
Today, it's fair to say that Lanteri has far surpassed his goal of creating scholarship opportunities. But NYCDA has done so much more, bridging the gap between the convention world and the professional world by forging a wealth of partnerships with dance institutions from Marymount to The Ailey School to Complexions Contemporary Ballet and many more. There's a reason these companies and schools—some of whom otherwise may not see themselves as aligned with the convention/competition world—keep deepening their relationships with NYCDA.
Now, college scholarships are just one of many ways NYCDA has gone beyond the typical weekend-long convention experience and created life-changing opportunities for students. We rounded up some of the most notable ones:
Keep reading...
Show less
We knew that Ivo van Hove and Anne Teresa de Keersmaeker's production of West Side Story would challenge our preconceived notions about the show.
But a recent Vogue story gives us a taste of just how nontraditional the Broadway revival will be. Most notably, van Hove is cutting "I Feel Pretty" and the "Somewhere" ballet, condensing the show into one act to better reflect the urgency of the 48-hour plot. (The choice has been approved by the West Side Story estate, including Sondheim, who has "long been uncomfortable" with some of the "I Feel Pretty" lyrics.)
Keep reading...
Show less
Left: Hurricane Harvey damage in Houston Ballet's Dance Lab; Courtesy Harlequin. Right: The Dance Lab pre-Harvey; Nic Lehoux, Courtesy Houston Ballet.
"The show must go on" may be a platitude we use to get through everything from costume malfunctions to stormy moods. But when it came to overcoming a literal hurricane, Houston Ballet was buoyed by this mantra to go from devastated to dancing in a matter of weeks—with the help of Harlequin Floors, Houston Ballet's longstanding partner who sprang into action to build new floors in record time.
Keep reading...
Show less