Why Dancers' Skills Are More Valuable Than Ever
It's not uncommon to hear dancers planning for their "second act": what they will do after their performance career ends. Wrapped into this term is an assumption that the skills a dancer has developed are valueless in other work environments.
But as the rest of the world panics to create a workforce that will withstand automation and artificial intelligence, dancers may actually be prepared with just the skills our future economy needs.
---
Cognitive skills, like math and reading, are losing their value in the workplace. A recent study found that "In the past 30 years, job tasks in the U.S. have shifted dramatically towards tasks requiring noncognitive skills." Sometimes known as "soft skills," these noncognitive skills include problem solving, communication and innovation. As technology advances, it is becoming less important for workers to do and more important to organize and innovate.
The ideal employee of the future still has strong math and reading skills, but—more importantly—is equipped with creativity, resilience, perseverance and self-control.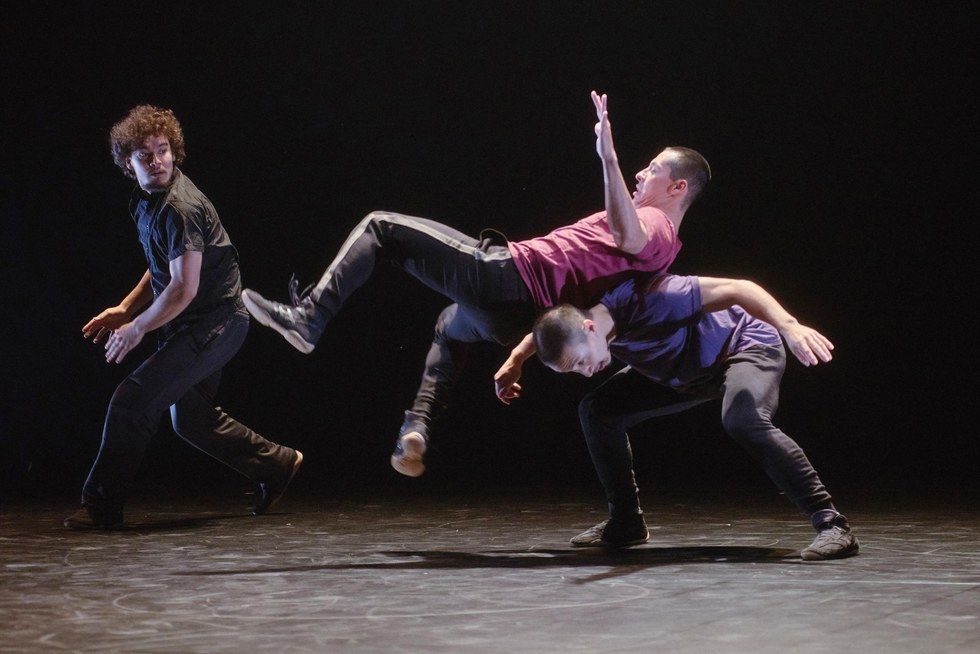 Rubberbandance. Photo by Jim Lafferty
Dancers have the skills to be the ideal 21st-century worker. As practitioners of non-verbal communication, dancers have strong interpersonal, team-working skills and have the ability to interpret and organize abstract concepts through visual learning.
Additionally, dancers develop a sense of entrepreneurship and self-advocacy. It is no small feat to simultaneously collaborate with a company of competitive peers while trying to cultivate one's own artistic voice. Even the most talented face setbacks and insecurities; it's only through self-control and determination that any dancer sees their first paid opportunity.
Current culture has perpetuated the opinion that art is nice to have, but not necessary. Especially in cities where dancers struggle to make a living wage, there is a resounding anxiety that time is being wasted not developing more "valuable" skills.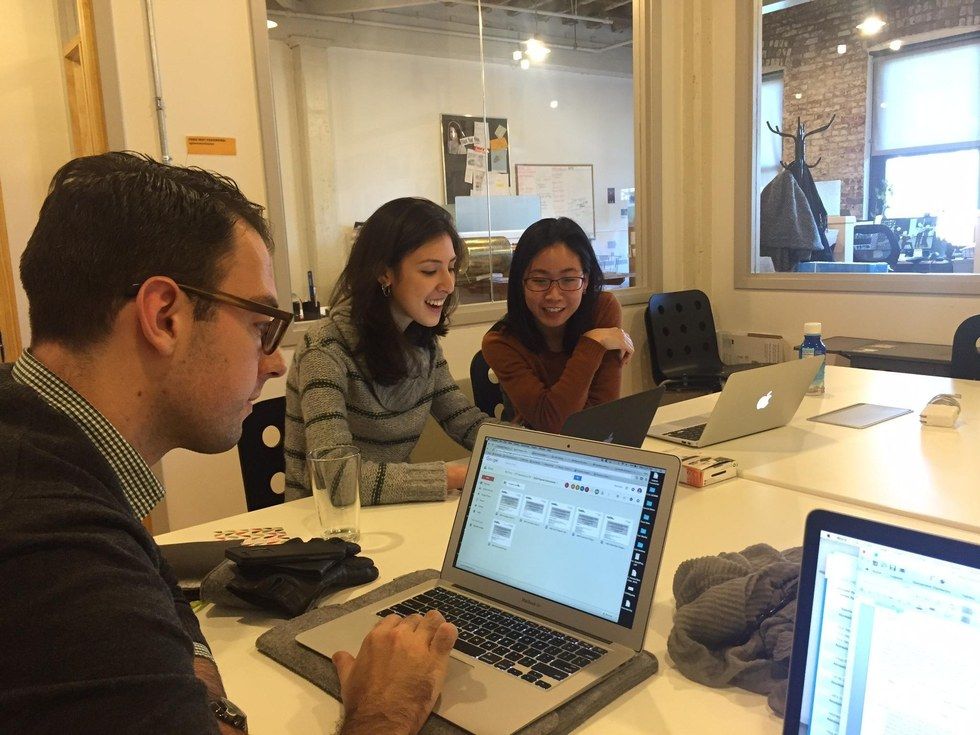 Dancers like Connie Shiau (right) take on administrative roles at Abraham.In.Motion. Photo courtesy AIM.
We need to challenge this misconception and pressure administrators to spearhead a new discourse. Dancers should be recognized for all of their skills and encouraged to value themselves beyond performance. Involving artists in administrative discussions will enlighten dancers to their interpersonal and leadership skill sets. Providing artists opportunities to be a part of the business and administrative aspects of a company will help bolster a dancer's confidence and support the company's overall health.
If you are dancing professionally, you are already prepared to step into this rapidly-changing economy. Be proud of the valuable traits you possess. There is nothing "soft" about the skills you have spent years acquiring.
A flyer showing Alberto Alonso, Fernando Alonso, Benjamin Steinberg and Alicia Alonso. Photo courtesy the author
Alicia has died. I walked around my apartment feeling her spirit, but knowing something had changed utterly.
My father, the late conductor Benjamin Steinberg, was the first music director of the Ballet de Cuba, as it was called then. I grew up in Vedado on la Calle 1ra y doce in a building called Vista al Mar. My family lived there from 1959 to 1963. My days were filled with watching Alicia teach class, rehearse and dance. She was everything: hilarious, serious, dramatic, passionate and elegiac. You lost yourself and found yourself when you loved her.
Keep reading...
Show less
Left: Hurricane Harvey damage in Houston Ballet's Dance Lab; Courtesy Harlequin. Right: The Dance Lab pre-Harvey; Nic Lehoux, Courtesy Houston Ballet.
"The show must go on" may be a platitude we use to get through everything from costume malfunctions to stormy moods. But when it came to overcoming a literal hurricane, Houston Ballet was buoyed by this mantra to go from devastated to dancing in a matter of weeks—with the help of Harlequin Floors, Houston Ballet's longstanding partner who sprang into action to build new floors in record time.
Keep reading...
Show less
Hansuke Yamamoto in Helgi Tomasson's Nutcracker at San Francisco Ballet, which features an exciting and respectful Chinese divertissement. Photo by Erik Tomasson, Courtesy SFB
It's Nutcracker time again: the season of sweet delights and a sparkling good time—if we're able to ignore the sour taste left behind by the outdated racial stereotypes so often portrayed in the second act.
In 2017, as a result of a growing list of letters from audience members, to New York City Ballet's ballet master in chief Peter Martins reached out to us asking for assistance on how to modify the elements of Chinese caricature in George Balanchine's The Nutcracker. Following that conversation, we founded the Final Bow for Yellowface pledge that states, "I love ballet as an art form, and acknowledge that to achieve a diversity amongst our artists, audiences, donors, students, volunteers, and staff, I am committed to eliminating outdated and offensive stereotypes of Asians (Yellowface) on our stages."
Keep reading...
Show less
Allegra Bautista in Nevertheless, by ka·nei·see | collective. Photo by Robbie Sweeny
An audience member once emailed Dallas choreographer Joshua L. Peugh, claiming his work was vulgar. It complained that he shouldn't be pushing his agenda. As the artistic director of Dark Circles Contemporary Dance, Peugh's recent choreography largely deals with LGBTQ issues.
"I got angry when I saw that email, wrote my angry response, deleted it, and then went back and explained to him that that's exactly why I should be making those works," says Peugh.
With the current political climate as polarized as it is, many artists today feel compelled to use their work to speak out on issues they care deeply about. But touring with a message is not for the faint of heart. From considerations about how to market the work to concerns about safety, touring to cities where, in general, that message may not be so welcome, requires companies to figure out how they'll respond to opposition.
Keep reading...
Show less