Why Dancers' Skills Are More Valuable Than Ever
It's not uncommon to hear dancers planning for their "second act": what they will do after their performance career ends. Wrapped into this term is an assumption that the skills a dancer has developed are valueless in other work environments.
But as the rest of the world panics to create a workforce that will withstand automation and artificial intelligence, dancers may actually be prepared with just the skills our future economy needs.
---
Cognitive skills, like math and reading, are losing their value in the workplace. A recent study found that "In the past 30 years, job tasks in the U.S. have shifted dramatically towards tasks requiring noncognitive skills." Sometimes known as "soft skills," these noncognitive skills include problem solving, communication and innovation. As technology advances, it is becoming less important for workers to do and more important to organize and innovate.
The ideal employee of the future still has strong math and reading skills, but—more importantly—is equipped with creativity, resilience, perseverance and self-control.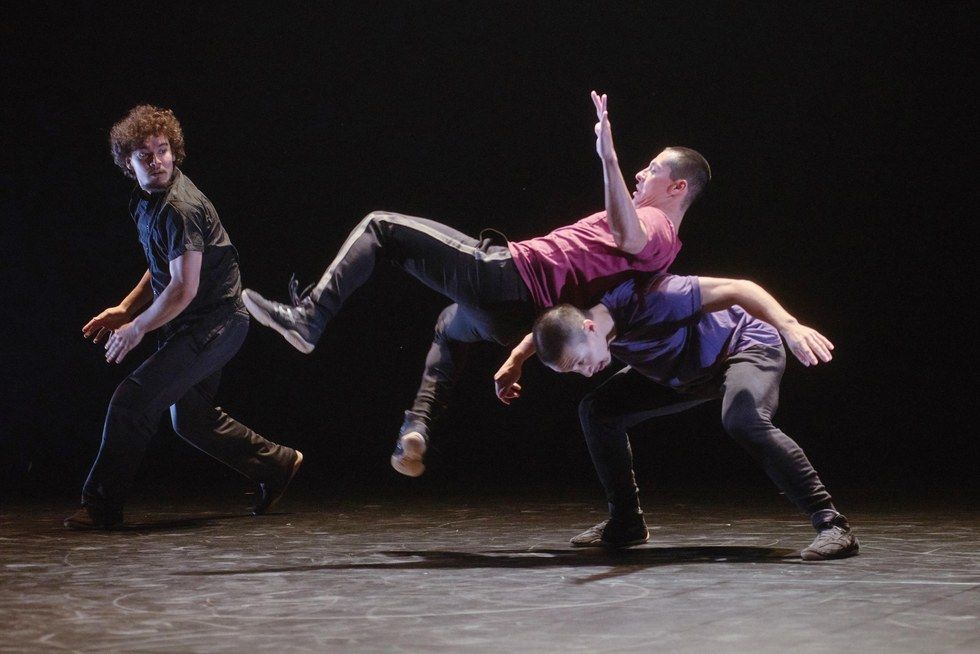 Rubberbandance. Photo by Jim Lafferty
Dancers have the skills to be the ideal 21st-century worker. As practitioners of non-verbal communication, dancers have strong interpersonal, team-working skills and have the ability to interpret and organize abstract concepts through visual learning.
Additionally, dancers develop a sense of entrepreneurship and self-advocacy. It is no small feat to simultaneously collaborate with a company of competitive peers while trying to cultivate one's own artistic voice. Even the most talented face setbacks and insecurities; it's only through self-control and determination that any dancer sees their first paid opportunity.
Current culture has perpetuated the opinion that art is nice to have, but not necessary. Especially in cities where dancers struggle to make a living wage, there is a resounding anxiety that time is being wasted not developing more "valuable" skills.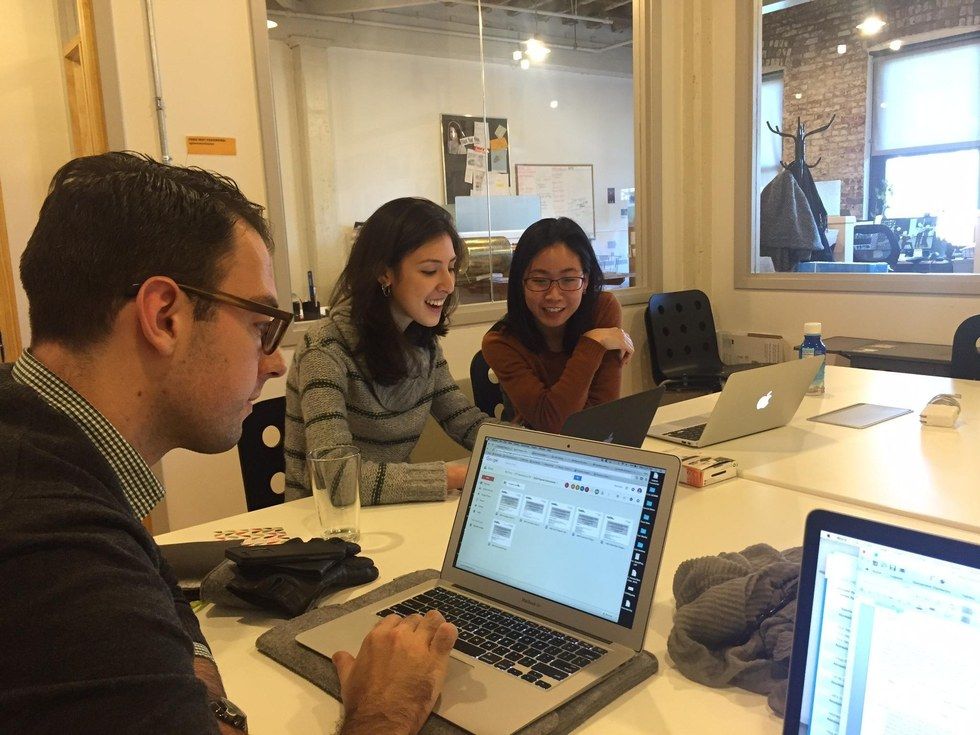 Dancers like Connie Shiau (right) take on administrative roles at Abraham.In.Motion. Photo courtesy AIM.
We need to challenge this misconception and pressure administrators to spearhead a new discourse. Dancers should be recognized for all of their skills and encouraged to value themselves beyond performance. Involving artists in administrative discussions will enlighten dancers to their interpersonal and leadership skill sets. Providing artists opportunities to be a part of the business and administrative aspects of a company will help bolster a dancer's confidence and support the company's overall health.
If you are dancing professionally, you are already prepared to step into this rapidly-changing economy. Be proud of the valuable traits you possess. There is nothing "soft" about the skills you have spent years acquiring.
Courtesy Boneau/Bryan-Brown
If "Fosse/Verdon" whet your appetite for the impeccable Gwen Verdon, then Merely Marvelous: The Dancing Genius of Gwen Verdon is the three-course meal you've been craving. The new documentary—available now on Amazon for rental or purchase—dives into the life of the Tony-winning performer and silver-screen star lauded for her charismatic dancing.

Though she's perhaps most well-known today as Bob Fosse's wife and muse, that's not even half of her story. For starters, she'd already won four Tonys before they wed, making her far more famous in the public eye than he was at that point in his career. That's just one of many surprising details we learned during last night's U.S. premiere of Merely Marvelous. Believe us: You're gonna love her even more once you get to know her. Here are eight lesser-known tidbits to get you started.
Keep reading...
Show less
Lindsay Thomas
Every dancer knows that how you fuel your body affects how you feel in the studio. Of course, while breakfast is no more magical than any other meal (despite the enduring myth that it's the most important one of the day), showing up to class hangry is a recipe for unproductive studio time.
So what do your favorite dancers eat in the morning to set themselves up for a busy rehearsal or performance day?
Keep reading...
Show less
News
Sep. 20, 2019 09:17AM EST
Simon Soong, Courtesy DDT
When it comes to dance in the U.S., companies in the South often find themselves overlooked—sometimes even by the presenters in their own backyard. That's where South Arts comes in. This year, the regional nonprofit launched Momentum, an initiative that will provide professional development, mentorship, touring grants and residencies to five Southern dance companies.
Keep reading...
Show less
News
Sep. 19, 2019 12:46PM EST
Alice Pennefather, Courtesy ROH
You ever just wish that Kenneth MacMillan's iconic production of Romeo and Juliet could have a beautiful love child with the 1968 film starring Olivia Hussey? (No, not Baz Luhrmann's version. We are purists here.)
Wish granted: Today, the trailer for a new film called Romeo and Juliet: Beyond Words was released, featuring MacMillan's choreography and with what looks like all the cinematic glamour we could ever dream of:
Keep reading...
Show less