Why "World of Dance" Choreographer Tessandra Chavez Believes Failure is Essential
Louise Flores, courtesy Chavez
Tessandra Chavez has always had a desire to create: The San Diego native founded her own company, Unity Dance Ensemble, when she was just 15 years old. Today, her intensely emotive work on music videos, concerts and TV shows like "So You Think You Can Dance" and "Dancing with the Stars" has garnered her an Emmy win and two World Choreography Awards. Her latest endeavor brings her back to her company as they compete for the top spot on NBC's "World of Dance."
Chavez recently spoke with Dance Magazine about how the show has taught her new skills, and why she embraces both criticism and failure.
---
On "World of Dance":
"In competing on "World of Dance," I'm faced with the challenge of maintaining my authenticity. We may be playing in a very flashy sandbox, but I'm still trying to hold on to what I do and what my dancers are about.
"There are times where I find that for the flash of the show, I need to add some elements that maybe I wouldn't in another venue. Instead of resisting the change, I embrace it, and look at how these elements can enhance my work and teach me new skills to use later on.
"I never view challenges as a bad thing, just ways to push me as a creator. I'm learning how to communicate in different ways."
On what she looks for in dancers:
"Personally, as a creator, I focus on the mind-set of dancers even more than their quality. It's so much more than the physical experience of movement. It's where it starts in the mind and what they've decided to become in front of me, if they choose to transform."
On why she embraces criticism:
"I'm not prideful about receiving critiques or asking peers for feedback. I'm always asking, 'What do you think of this?' Or, 'Should I try this?' A lot of artists are very attached to their work and avoid asking for feedback for fear that they'll be rejected. I'm always curious, and I want to feel like I'm still growing.
"In the moments where people doubt you or don't believe in your ideas, just remind yourself that your truth works. Someone can easily derail us with just one word, a 'no,' maybe. I think, intuitively, we know when something works. We can't allow ourselves to be swayed."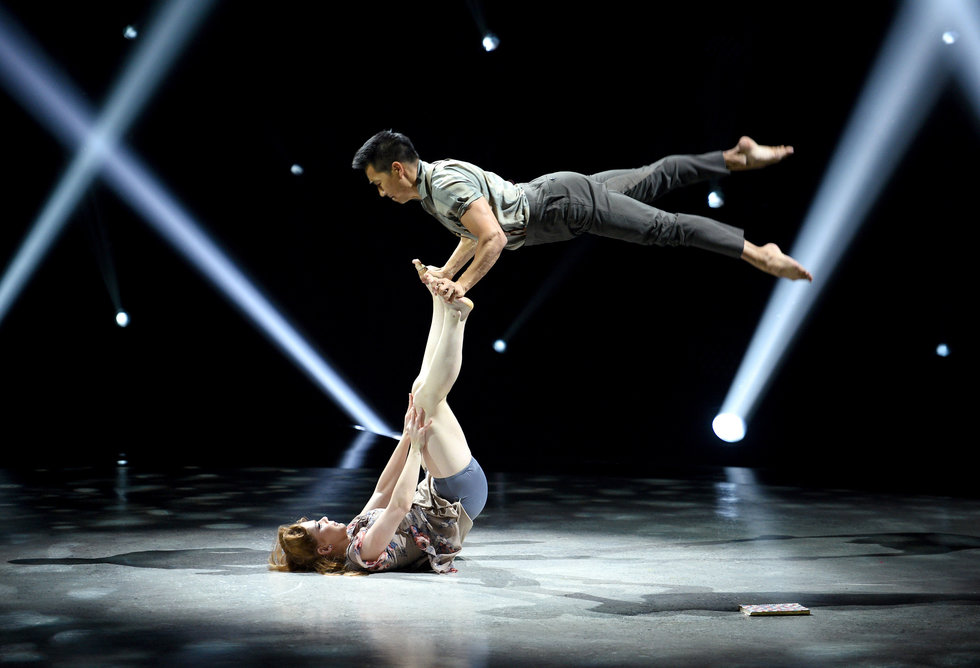 Chavez's choreography on "So You Think You Can Dance"
Michael Becker, Courtesy FOX
On getting over creative blocks:
"Like any artist, sometimes I hit a creative block. I don't allow myself to get caught up in it. I go face-first and keep digging into it until something makes sense.
"Try all the things that fail, and don't be afraid to fail, and fail a lot. Do the ugly things that don't make sense and don't work, and eventually you'll land on something really beautiful."
From Your Site Articles
Related Articles Around the Web
The USC Kaufman graduating class with Mikhail Baryshnikov. Gus Ruelas/USC
Just four years ago, the University of Southern California's Glorya Kaufman School of Dance welcomed its first class of BFA students. The program—which boasts world-class faculty and a revolutionary approach to training focused on collaboration and hybridity—immediately established itself as one of the country's most prestigious and most innovative.
Now, the first graduating class is entering the dance field. Here, six of the 33 graduates share what they're doing post-grad, what made their experience at USC Kaufman so meaningful and how it prepared them for their next steps:
Keep reading...
Show less
Rena Most at work backstage. Photo courtesy ABT
Every dancer knows there's as much magic taking place backstage as there is in what the audience sees onstage. Behind the scenes, it takes a village, says American Ballet Theatre's wig and makeup supervisor, Rena Most. With wig and makeup preparations happening in a studio of their own as the dancers rehearse, Most and her team work to make sure not a single detail is lost.
Dance Magazine recently spoke to Most to find out what actually goes into the hair and makeup looks audiences see on the ABT stage.
Keep reading...
Show less
James Yoichi Moore and Noelani Pantastico warm up onstage. Angela Sterling, Courtesy SDC.
On a sunny July weekend, hundreds of Seattle-area dance fans converged on tiny Vashon Island, a bucolic enclave in Puget Sound about 20 miles from the city. They made the ferry trek to attend the debut performance of the fledgling Seattle Dance Collective.
SDC is not a run-of-the-mill contemporary dance company; it's the brainchild of two of Pacific Northwest Ballet's most respected principal dancers: James Yoichi Moore and Noelani Pantastico. The duo wanted to create a nimble organization to feature dancers and choreographers they felt needed more exposure in the Pacific Northwest.
Keep reading...
Show less