Why "World of Dance" Choreographer Tessandra Chavez Believes Failure is Essential
Louise Flores, courtesy Chavez
Tessandra Chavez has always had a desire to create: The San Diego native founded her own company, Unity Dance Ensemble, when she was just 15 years old. Today, her intensely emotive work on music videos, concerts and TV shows like "So You Think You Can Dance" and "Dancing with the Stars" has garnered her an Emmy win and two World Choreography Awards. Her latest endeavor brings her back to her company as they compete for the top spot on NBC's "World of Dance."
Chavez recently spoke with Dance Magazine about how the show has taught her new skills, and why she embraces both criticism and failure.
---
On "World of Dance":
"In competing on "World of Dance," I'm faced with the challenge of maintaining my authenticity. We may be playing in a very flashy sandbox, but I'm still trying to hold on to what I do and what my dancers are about.
"There are times where I find that for the flash of the show, I need to add some elements that maybe I wouldn't in another venue. Instead of resisting the change, I embrace it, and look at how these elements can enhance my work and teach me new skills to use later on.
"I never view challenges as a bad thing, just ways to push me as a creator. I'm learning how to communicate in different ways."
On what she looks for in dancers:
"Personally, as a creator, I focus on the mind-set of dancers even more than their quality. It's so much more than the physical experience of movement. It's where it starts in the mind and what they've decided to become in front of me, if they choose to transform."
On why she embraces criticism:
"I'm not prideful about receiving critiques or asking peers for feedback. I'm always asking, 'What do you think of this?' Or, 'Should I try this?' A lot of artists are very attached to their work and avoid asking for feedback for fear that they'll be rejected. I'm always curious, and I want to feel like I'm still growing.
"In the moments where people doubt you or don't believe in your ideas, just remind yourself that your truth works. Someone can easily derail us with just one word, a 'no,' maybe. I think, intuitively, we know when something works. We can't allow ourselves to be swayed."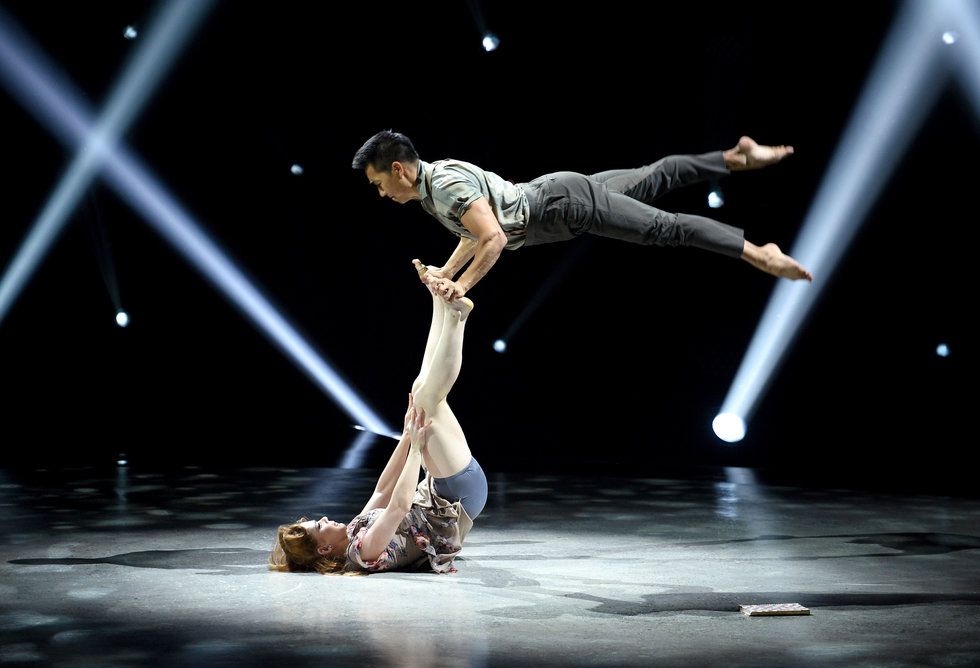 Chavez's choreography on "So You Think You Can Dance"
Michael Becker, Courtesy FOX
On getting over creative blocks:
"Like any artist, sometimes I hit a creative block. I don't allow myself to get caught up in it. I go face-first and keep digging into it until something makes sense.
"Try all the things that fail, and don't be afraid to fail, and fail a lot. Do the ugly things that don't make sense and don't work, and eventually you'll land on something really beautiful."
From Your Site Articles
Related Articles Around the Web
The "Merde" bag. Courtesy Scenery
Jennifer Kahn knew the theater industry could do better. As a professional stage manager for 17 years she worked on regional, off-Broadway and Broadway shows. Nearly each time a show closed, something unsettling happened: "I would watch them throw away our shows. All of the beautiful artwork by my friends in the paint shop would go in the trash." The elaborate backdrops? Gone.

But she had an idea: What if the material used in the backdrops and legs could be upcycled into something new? And what if theater lovers could literally keep a piece of a beloved show?
Keep reading...
Show less
Left: Hurricane Harvey damage in Houston Ballet's Dance Lab; Courtesy Harlequin. Right: The Dance Lab pre-Harvey; Nic Lehoux, Courtesy Houston Ballet.
"The show must go on" may be a platitude we use to get through everything from costume malfunctions to stormy moods. But when it came to overcoming a literal hurricane, Houston Ballet was buoyed by this mantra to go from devastated to dancing in a matter of weeks—with the help of Harlequin Floors, Houston Ballet's longstanding partner who sprang into action to build new floors in record time.
Keep reading...
Show less
News
Oct. 18, 2019 11:54AM EST
Photo by Gabriel Davalos, Courtesy Valdés
For decades the name Alicia Alonso has been virtually synonymous with Ballet Nacional de Cuba, the company she co-founded in Havana in 1948. Alonso died on October 17, just shy of what would have been her 99th birthday. In recent years, she had stepped back from day-to-day decision-making in the company. As if preparing for the future, in January, the company's leading ballerina, 42-year-old Viengsay Valdés, was named deputy director, a job that seems to encompass most of the responsibilities of a traditional director. Now, presumably, she will step into her new role as director of the company. Her debut as curator of the repertory comes in November, when the troupe will perform three mixed bills selected by her at the Gran Teatro de la Habana Alicia Alonso. The following has been translated from a conversation conducted in Spanish, Valdés' native tongue.
Keep reading...
Show less
Sara Mearns in the gym. Photo by Kyle Froman.
New York City Ballet principal Sara Mearns wasn't sure she was strong enough. A ballerina who has danced many demanding full-length and contemporary roles, she was about to push herself physically more than she thought was possible.
"I said, 'I can't. My body won't,' " she says. "He told me, 'Yes, it will.' "
She wasn't working with a ballet coach, but with personal trainer Joel Prouty, who was asking her to do squats with a heavier barbell than she'd ever used.
Keep reading...
Show less