What Makes the Dance Magazine Awards So Uplifting
Rennie Harris Puremovement. Photo by Christopher Duggan
Some nights, you head home buzzing with energy. After last night's Dance Magazine Awards, we were dancing with it.
We had the privilege of honoring four legends of our field—Rennie Harris, Marika Molnar, Linda Celeste Sims and Diana Vishneva—in a ceremony that was filled with inspiration and beauty.
---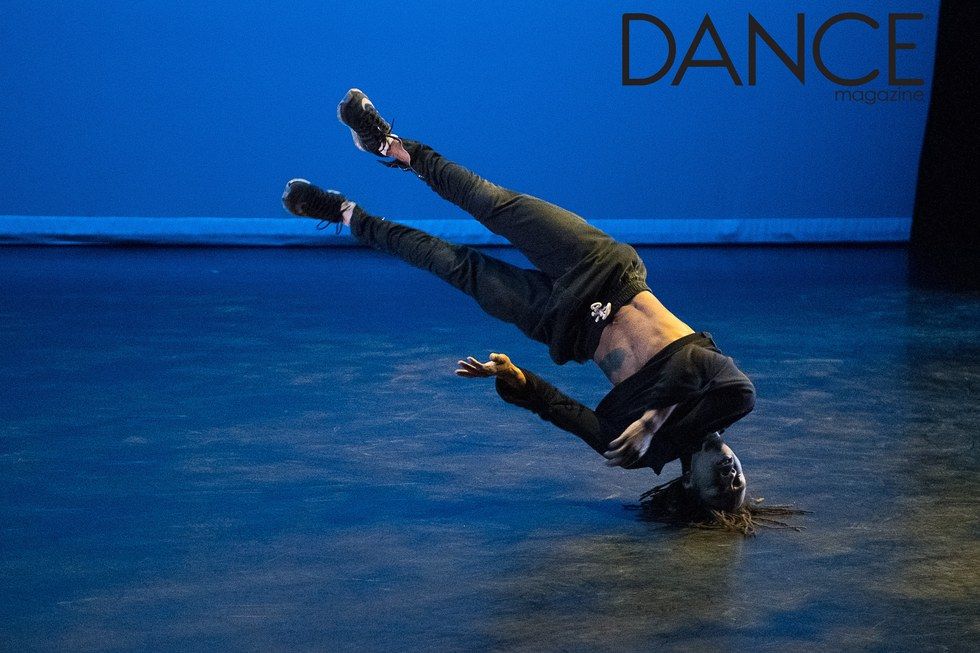 Joshua Culbreath in Doubt & Dolo. Photo by Christopher Duggan.
The night opened with an incredible performance by Rennie Harris Puremovement in The Word, plus Doubt & Dolo, a gripping solo that Harris said he choreographed for his mother, who had just passed.
Harris went on to thank all of the surrogate mothers who still look out for him: Brenda Dixon Gottschild (who presented his award with an adorably awesome rap), Joan Myers Brown, and his "sister" Charmaine Warren.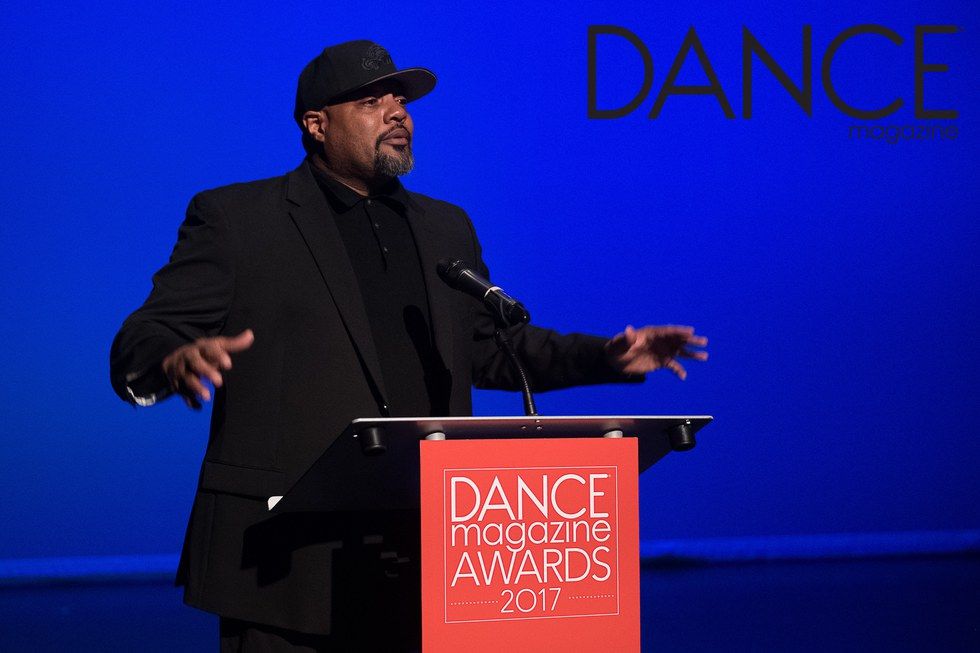 Rennie Harris. Photo by Christopher Duggan
Although Diana Vishneva wasn't able to fly in from St. Petersburg due to illness, she sent a lovely video sharing that, "New York lifted me up; Marcelo lifted me higher."
That Marcelo she was referring to was of course Marcelo Gomes, her former partner at American Ballet Theatre. He presented Vishneva the award with a hilarious speech recounting their first time dancing together: She'd requested Gomes partner her in Manon—with just four days notice. But their first rehearsal together ended up being one of the best hours of his career. Gomes learned that Vishneva's "magical, intense stillness" is one of her greatest gifts. "She's a professional pauser," he joked. "That's her job."
To honor Marika Molnar, her daughter Veronika Jokel sang live to accompany New York City Ballet star (and long-time Molnar patient) Tiler Peck, in a solo she choreographed for the event.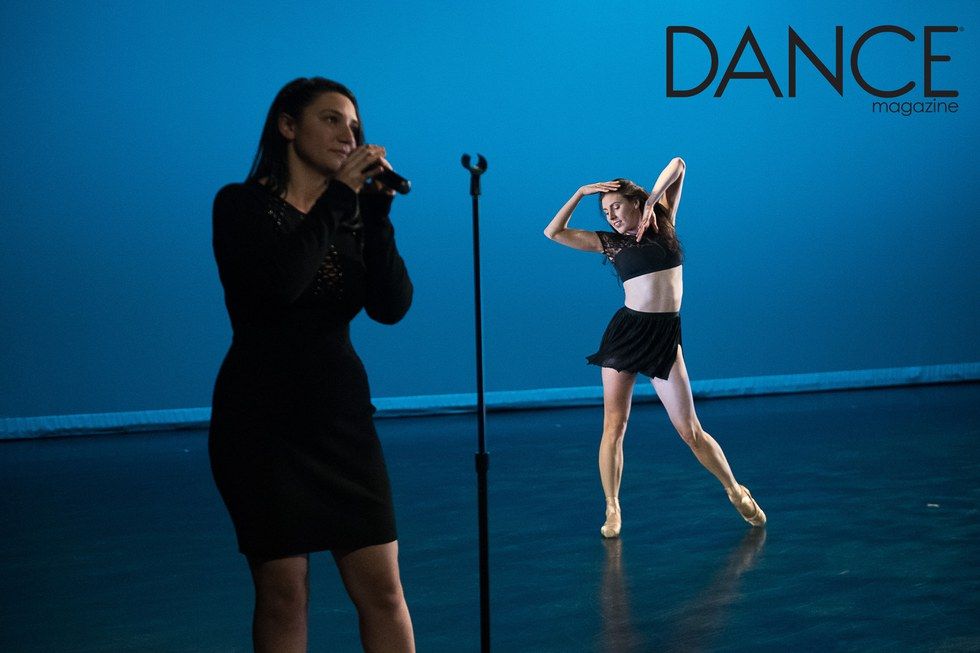 Veronika Jokel and Tiler Peck. Photo by Christopher Duggan.
In presenting Molnar with her award, Miami City Ballet artistic director Lourdes Lopez thanked her for not only helping dancers to perform, but for helping them to keep moving and demonstrating long after they retire from the stage, so that they can pass everything on to the next generation.
Molnar then told the story of how she became NYCB's physical therapist: When she was fresh out of school, Balanchine was one of her first patients. Mr. B hated doing PT exercises like squats and heel raises, so, at his suggestion, they danced the exercises by waltzing together—three times a week around his living room!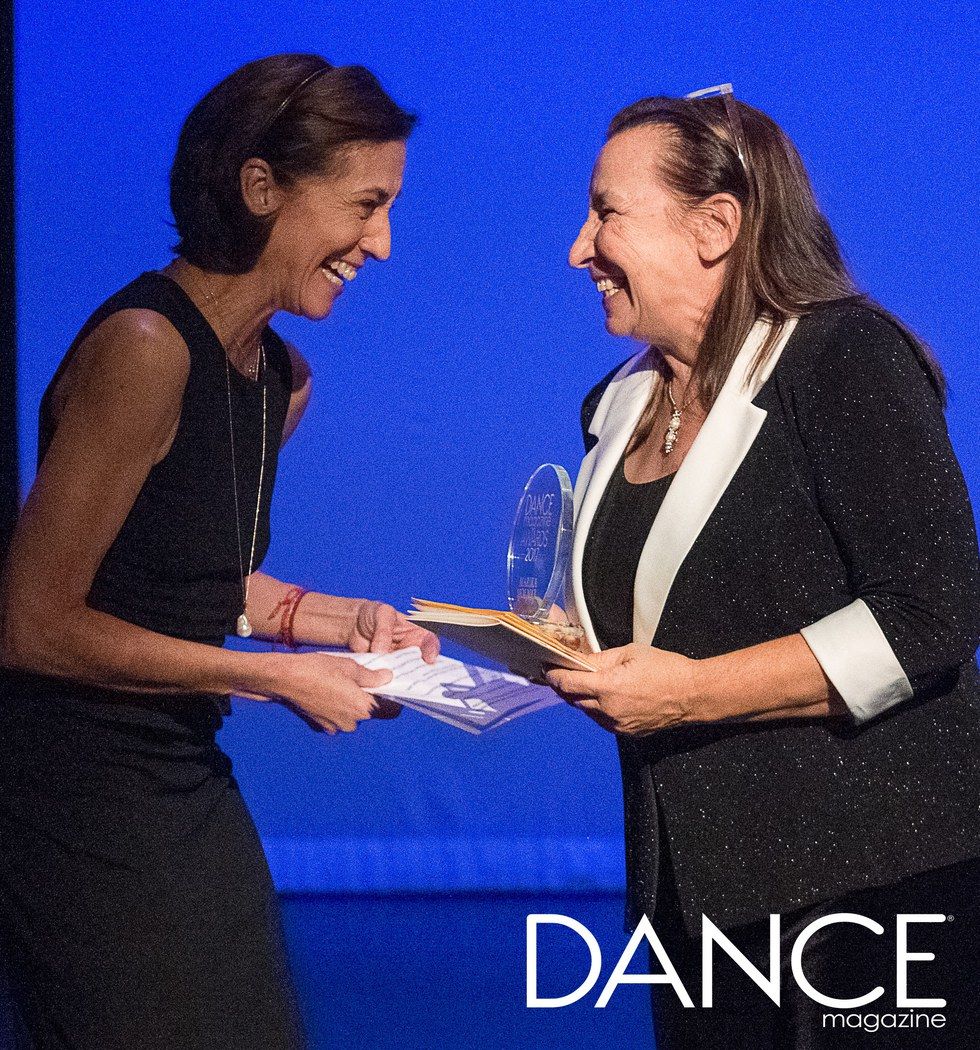 Lopez presenting to Molnar. Photo by Christopher Duggan
The night wrapped up with a searing performance of Alvin Ailey's Cry by honoree Linda Celeste Sims, who showed off her ability to be equal parts "a Sherman tank and rose petals" as presenter Judith Jamison put it. "She's like steel, but then there's that heart and vulnerability."
Co-presenter Robert Battle playfully compared Sims to her famous pernil recipe: "She seasons it perfectly with salt and garlic and sazon; marinates it for three days. It's the kind of thing where you savor it, and the next day you say, 'Mmm, I can still taste it!' " said Battle. "Well, that's what her dancing is."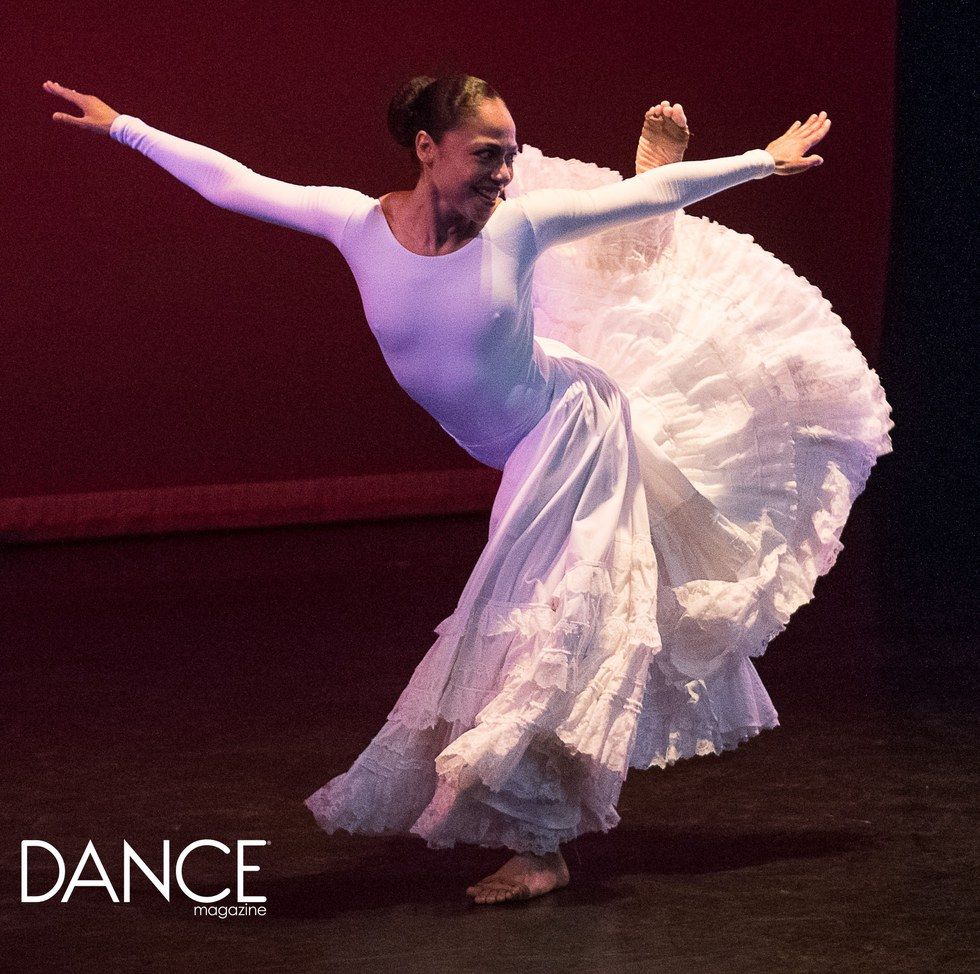 Linda Celeste Sims. Photo by Christopher Duggan.
A huge "thank you" to everyone who traveled from near and far to help us celebrate. With so much joy, talent and love for dance, the Dance Magazine Awards was something we know we'll be savoring for many days to come.
From Your Site Articles
Related Articles Around the Web
Rosalie O'Connor, Courtesy Mark Morris Dance Group
You know compelling musicality when you see it. But how do you cultivate it? It's not as elusive as it might seem. Musicality, like any facet of dance, can be developed and honed over time—with dedicated, detailed practice. At its most fundamental, it's "respect for the music, that this is your partner," says Kate Linsley, academy principal of the School of Nashville Ballet.
Keep reading...
Show less
Ross Parkes, right, teaching in Shanghai in 1983. Lan-Lan Wang is at left. Courtesy Lan-Lan Wang.
Notable dancer and beloved teacher, Ross Parkes, 79, passed away on August 5, 2019 in New York City. He was a founding faculty member at Taipei National University of the Arts in Taiwan, where he taught from 1984 to 2006. Lin Hwai-min, artistic director of Cloud Gate Dance Theater, said: "He nurtured two generations of dancers in Taiwan, and his legacy will continue."
About his dancing, Tonia Shimin, professor emerita at UC Santa Barbara and producer of Mary Anthony: A Life in Modern Dance, said this: "He was an exquisite, eloquent dancer who inhabited his roles completely."
Keep reading...
Show less
The USC Kaufman graduating class with Mikhail Baryshnikov. Gus Ruelas/USC
Just four years ago, the University of Southern California's Glorya Kaufman School of Dance welcomed its first class of BFA students. The program—which boasts world-class faculty and a revolutionary approach to training focused on collaboration and hybridity—immediately established itself as one of the country's most prestigious and most innovative.
Now, the first graduating class is entering the dance field. Here, six of the 33 graduates share what they're doing post-grad, what made their experience at USC Kaufman so meaningful and how it prepared them for their next steps:
Keep reading...
Show less
Lindsay Martell at a class performance. Courtesy Martell.
More than once, when I'm sporting my faded, well-loved ballet hoodie, some slight variation of this conversation ensues:
"Is your daughter the dancer?"
"Actually," I say, "I am."
"Wow!" they enthuse. "Who do you dance with? Or have you retired...?"
"I don't dance with a company. I'm not a professional. I just take classes."
Insert mic drop/record scratch/quizzical looks.
Keep reading...
Show less