Dance Magazine Awards
Dec. 05, 2017 02:34PM EST
What Makes the Dance Magazine Awards So Uplifting
Rennie Harris Puremovement. Photo by Christopher Duggan
Some nights, you head home buzzing with energy. After last night's Dance Magazine Awards, we were dancing with it.
We had the privilege of honoring four legends of our field—Rennie Harris, Marika Molnar, Linda Celeste Sims and Diana Vishneva—in a ceremony that was filled with inspiration and beauty.
---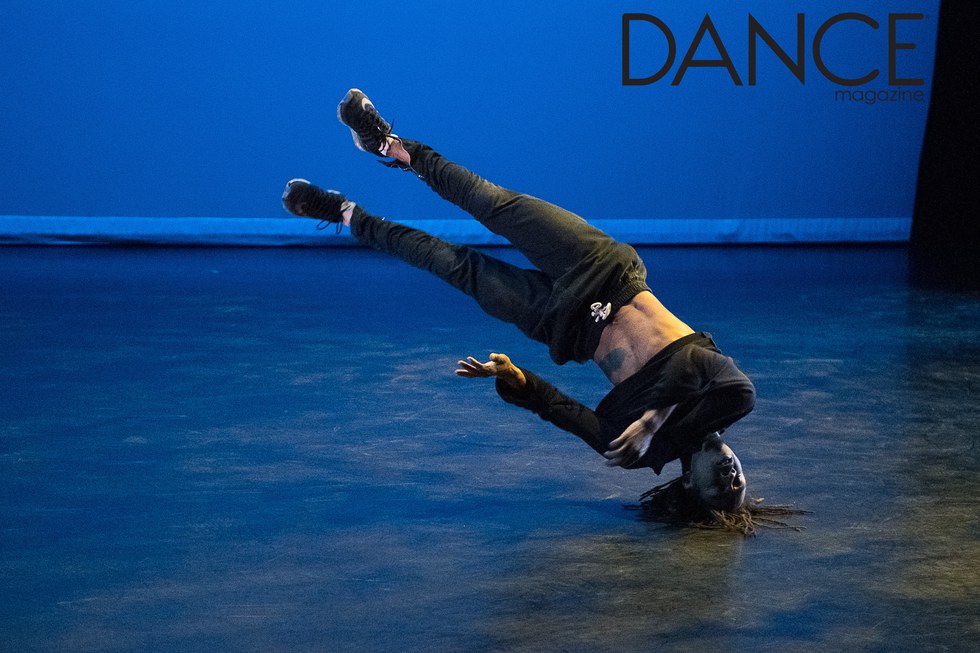 Joshua Culbreath in Doubt & Dolo. Photo by Christopher Duggan.
The night opened with an incredible performance by Rennie Harris Puremovement in The Word, plus Doubt & Dolo, a gripping solo that Harris said he choreographed for his mother, who had just passed.
Harris went on to thank all of the surrogate mothers who still look out for him: Brenda Dixon Gottschild (who presented his award with an adorably awesome rap), Joan Myers Brown, and his "sister" Charmaine Warren.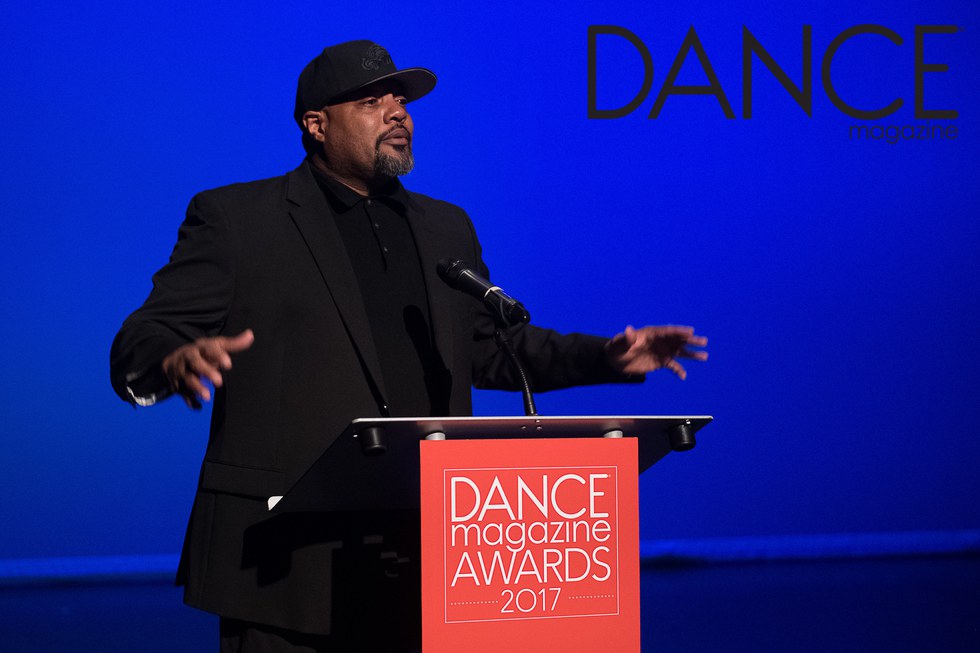 Rennie Harris. Photo by Christopher Duggan
Although Diana Vishneva wasn't able to fly in from St. Petersburg due to illness, she sent a lovely video sharing that, "New York lifted me up; Marcelo lifted me higher."
That Marcelo she was referring to was of course Marcelo Gomes, her former partner at American Ballet Theatre. He presented Vishneva the award with a hilarious speech recounting their first time dancing together: She'd requested Gomes partner her in Manon—with just four days notice. But their first rehearsal together ended up being one of the best hours of his career. Gomes learned that Vishneva's "magical, intense stillness" is one of her greatest gifts. "She's a professional pauser," he joked. "That's her job."
To honor Marika Molnar, her daughter Veronika Jokel sang live to accompany New York City Ballet star (and long-time Molnar patient) Tiler Peck, in a solo she choreographed for the event.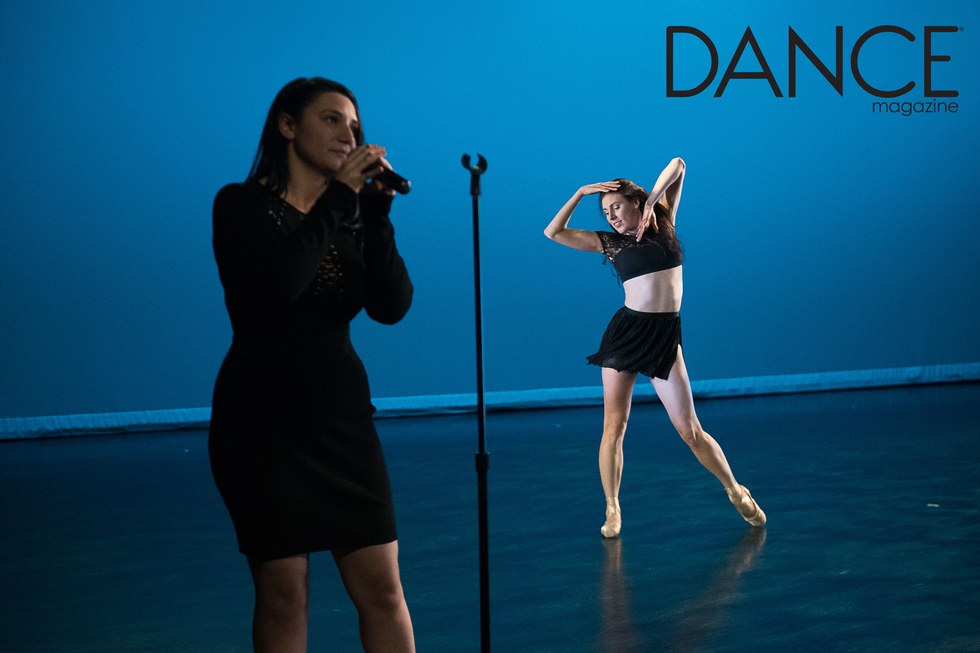 Veronika Jokel and Tiler Peck. Photo by Christopher Duggan.
In presenting Molnar with her award, Miami City Ballet artistic director Lourdes Lopez thanked her for not only helping dancers to perform, but for helping them to keep moving and demonstrating long after they retire from the stage, so that they can pass everything on to the next generation.
Molnar then told the story of how she became NYCB's physical therapist: When she was fresh out of school, Balanchine was one of her first patients. Mr. B hated doing PT exercises like squats and heel raises, so, at his suggestion, they danced the exercises by waltzing together—three times a week around his living room!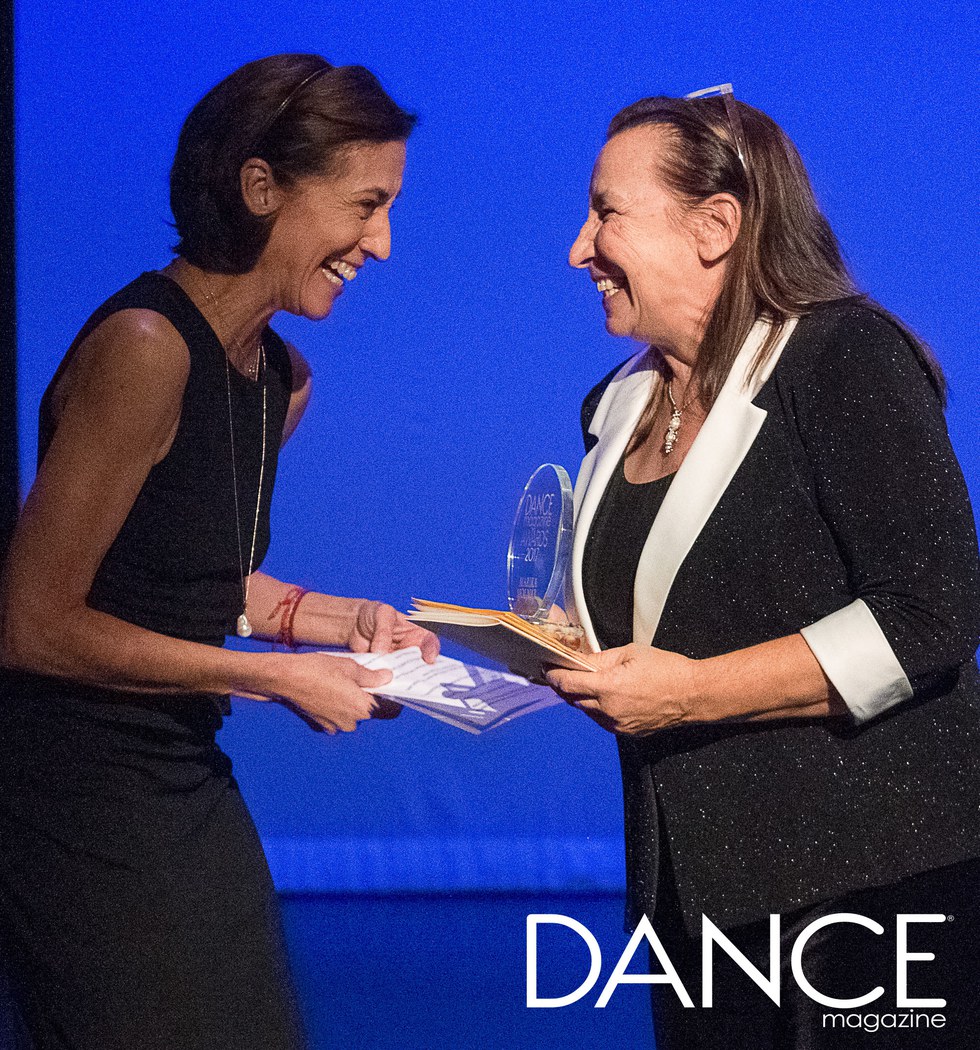 Lopez presenting to Molnar. Photo by Christopher Duggan
The night wrapped up with a searing performance of Alvin Ailey's Cry by honoree Linda Celeste Sims, who showed off her ability to be equal parts "a Sherman tank and rose petals" as presenter Judith Jamison put it. "She's like steel, but then there's that heart and vulnerability."
Co-presenter Robert Battle playfully compared Sims to her famous pernil recipe: "She seasons it perfectly with salt and garlic and sazon; marinates it for three days. It's the kind of thing where you savor it, and the next day you say, 'Mmm, I can still taste it!' " said Battle. "Well, that's what her dancing is."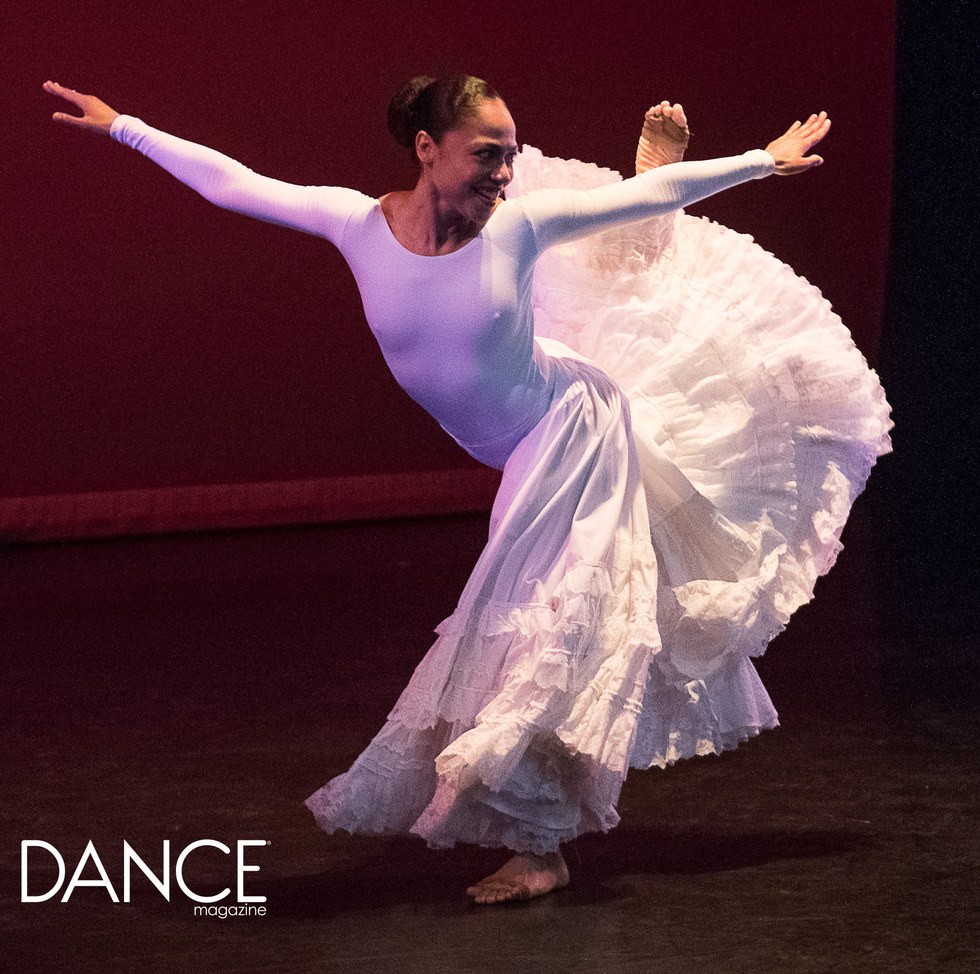 Linda Celeste Sims. Photo by Christopher Duggan.
A huge "thank you" to everyone who traveled from near and far to help us celebrate. With so much joy, talent and love for dance, the Dance Magazine Awards was something we know we'll be savoring for many days to come.
Related Articles Around the Web
Alexander Ekman's Midsummer Night's Dream was created for Royal Swedish Ballet. Photo by Hans Nilsson, Courtesy The Joffrey Ballet
Bales of hay, black umbrellas, bicycles—this Midsummer Night's Dream would be unrecognizable to the Bard. Alexander Ekman's full-length, inspired by Scandinavian solstice traditions and set to music by Mikael Karlsson, is a madcap celebration of the longest day of the year, when the veil between our world and that of the supernatural is said to be at its thinnest. The Joffrey Ballet's performances mark the seductively surreal work's North American premiere. April 25–May 6. joffrey.org.
Indumba investigates an African cleansing ritual. Photo by Ken Carl, via
bam.org
When Kevin "Iega" Jeff saw Fana Tshabalala's Indumba at the annual JOMBA! Contemporary Dance Experience in South Africa, he immediately knew he would ask Tshabalala to set the work on his company.

"There's an ancient energy in Fana's movement, a deep and trusted knowing," says Jeff, director of the Chicago-based Deeply Rooted Dance Theater. "Because I witnessed the raw humanity of his dancer's souls, I wanted my dancers to have that experience."
Keep reading...
Show less
StockSnap
When I wrote about my struggle with depression, and eventual departure from dance because of it, I expected criticism. I was prepared to be challenged. But much to my relief, and horror, dancers from all over the world responded with support and stories of solidarity. The most critical response I saw was this one:
"Dance isn't for everyone."
This may as well be a mantra in the dance world. We have become entrenched in the Darwinian notion that the emotionally weak will be weeded out. There is no room for them anyway.
Keep reading...
Show less
Cover Story
Apr. 16, 2018 04:00PM EST
Robert Fairchild is jumping into the next phase of his career feet-first. Photo by Jayme Thornton
In his final bow at New York City Ballet, during what should have been a heroic conclusion to a celebrated ballet career, Robert Fairchild slipped and fell. His reaction? To lie down flat on his back like he meant to do it. Then start cracking up at himself.
"He's such a ham," says his sister Megan Fairchild, with a laugh. "He's really good at selling whatever his body is doing that day. He'll turn a moment that I would totally go home and cry about into something where the audience is like, 'That's the most amazing thing ever!' "

Keep reading...
Show less
Name calling, physical intimidation and cyberbullying are all-too-common experiences among male dancers. Photo by Goh Rhy Yan/Unsplash
Growing up in a family-owned dance studio in Missouri had its perks for tap dancer Anthony Russo. But it also earned him constant taunting, especially in high school.
"There was a junior in my sophomore year health class who was absolutely relentless," he says. "I'd get tripped on my way to the front of the classroom and he'd say, 'Watch out, twinkle toes.' If I raised my hand and answered a question incorrectly, I'd hear a patronizing 'Nice one, Bojangles.' "
Keep reading...
Show less
Dance on Broadway
Apr. 21, 2018 09:30AM EST
PC Kevin Berne, courtesy Boneau/Bryan-Brown
Choreographer Sergio Trujillo asked the women auditioning for ensemble roles in his newest musical to arrive in guys' clothing—"men's suits, or blazers and ties," he says. He wasn't being kinky or whimsical. The entire ensemble of Summer: The Donna Summer Musical is female, playing men and women interchangeably as they unfold the history of the chart-busting, Grammy-winning, indisputable Queen of Disco.
courtesy www.today.com
Keep reading...
Show less


Get Dance Magazine in your inbox