What It Takes To Dance 9 Characters 8 Times a Week On Broadway
India Bolds has been in The Lion King for five years. Photo by Jim Lafferty
As an ensemble dancer in The Lion King, India Bolds, age 32, plays nine characters in every show, eight times a week. That's a lot of entrances and exits, costume changes and choreography to remember. But after five years of dancing in the production, she has the show down pat.
Dance Magazine followed her through a performance day to see what it takes to be in Broadway's third-longest-running production.
---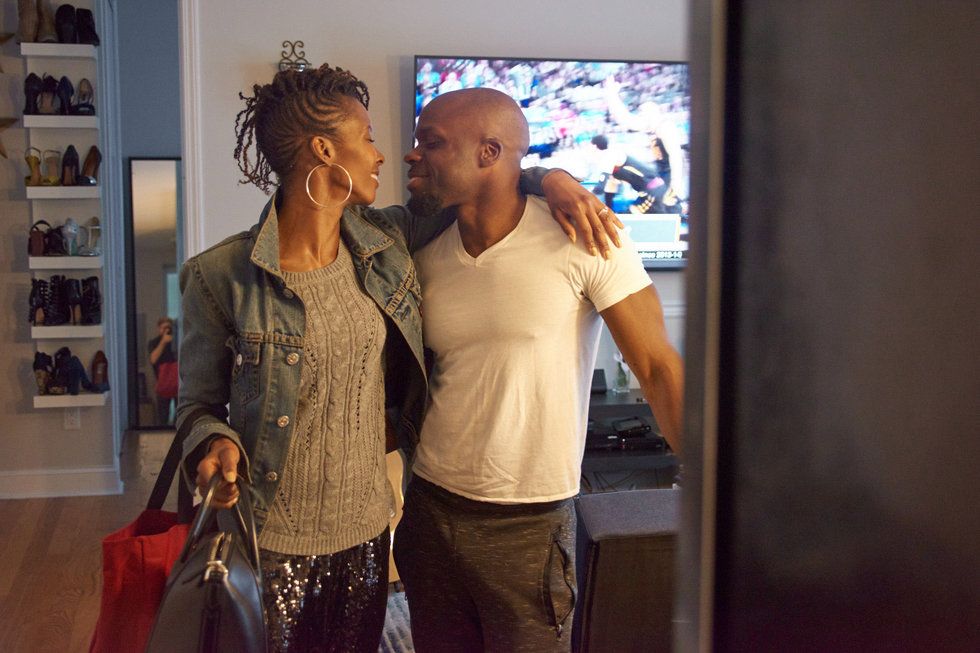 Bolds and her fiancé at home. Photo by Jim Lafferty
9 am: Dancing on Broadway means late nights in the theater, so Bolds sleeps in. She and her fiancé will wake up, make some tea and go over their days. "Mornings are the only time Dale and I have together, especially on a two-show day like today," says Bolds.
"I got the call when I was on the subway," says Bolds about being hired for The Lion King. Before Broadway, she got her degree through the Ailey/Fordham BFA Program, then danced with Elisa Monte and the Brooklynettes, the dance squad of the Brooklyn Nets NBA team. She auditioned for The Lion King twice a full two years before she got the job—they had saved her resumé the whole time and contacted her when there was an appropriate opening. "I tried to play it cool when I answered the phone," she says. "But of course I was stunned. And I made my debut on my birthday."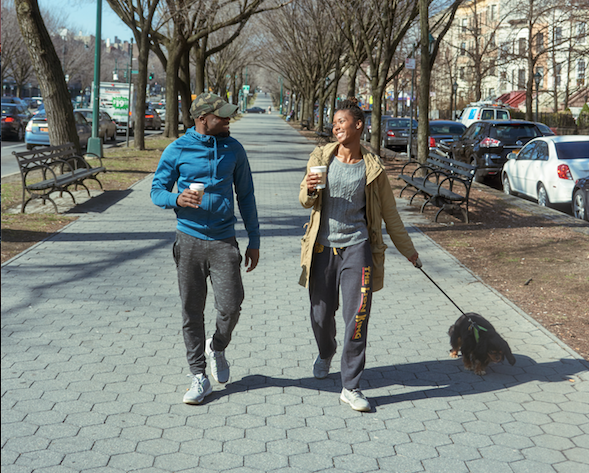 Walking Lincoln in their Brooklyn neighborhood. Photo by Jim Lafferty
10 am: The couple head out for a walk with their dog, Lincoln. He's a 4-year-old cavalier King Charles spaniel. Halfway through their walk, they stop for some caffeine at a local shop. Bolds is a tea drinker, and tries to cap herself at two cups a day. This morning's treat is a chai tea latte.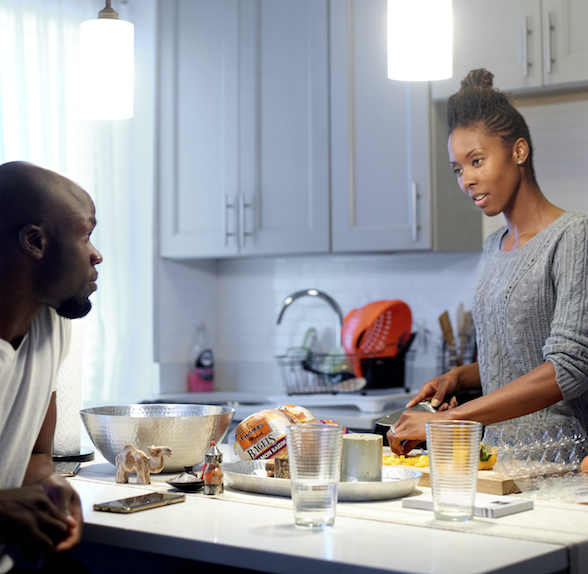 Breakfast with her fiancé Dale usually consists of an omelet and toast. Photo by Jim Lafferty
11 am: Back at the apartment, Bolds and her fiancé cook breakfast, which is usually an omelet with sausage, veggies and toast. She'll also pack her lunch—often whatever is left over from dinner the night before. Today's is spaghetti. "My diet is carb-heavy," says Bolds. "I like to feel full before a show." She might listen to her favorite inspirational podcast that her friend hosts called She's Beauty and the Beast.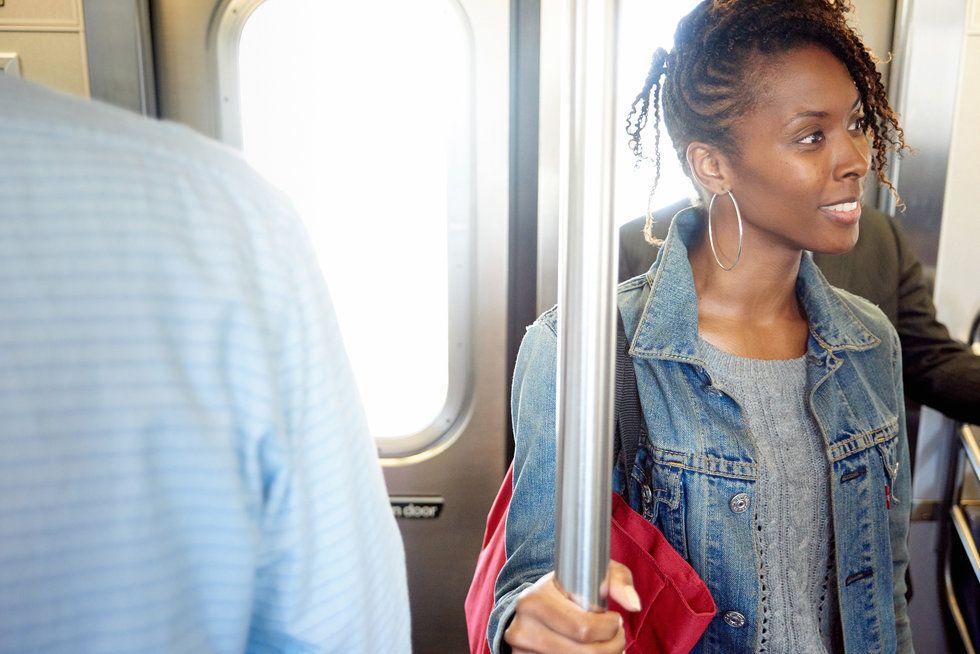 Bolds often reads mysteries on her subway ride to the theater. Photo by Jim Lafferty
12 pm: It takes about a half-hour to get to the theater from Bolds' apartment in Brooklyn, but she usually leaves an hour, "because you never know what the subway might do." On the way, she'll read a book. She loves mysteries.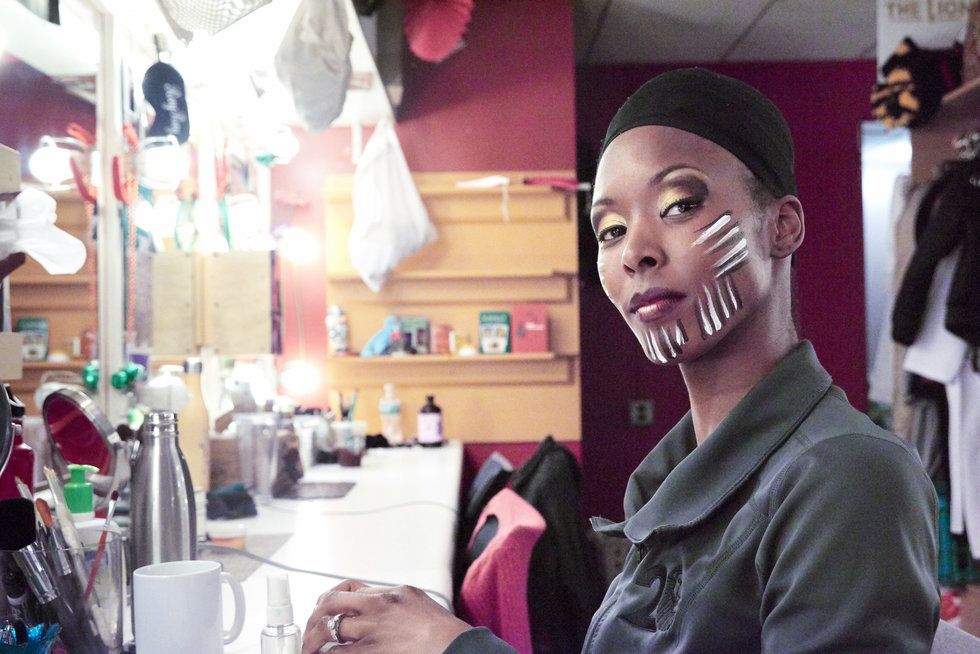 The Gazelle stripes are painted with special brushes. Photo by Jim Lafferty
1 pm: Call is at 1:30, a half-hour before curtain for the matinee show, but Bolds arrives earlier to get ready. First is about 15 to 20 minutes of makeup. Ensemble members are responsible for their base layer, and makeup artists and dressers help them through the rest of the show. Special brushes make painting Gazelle stripes on her face easy. Meanwhile, she snacks on a peanut butter and jelly sandwich.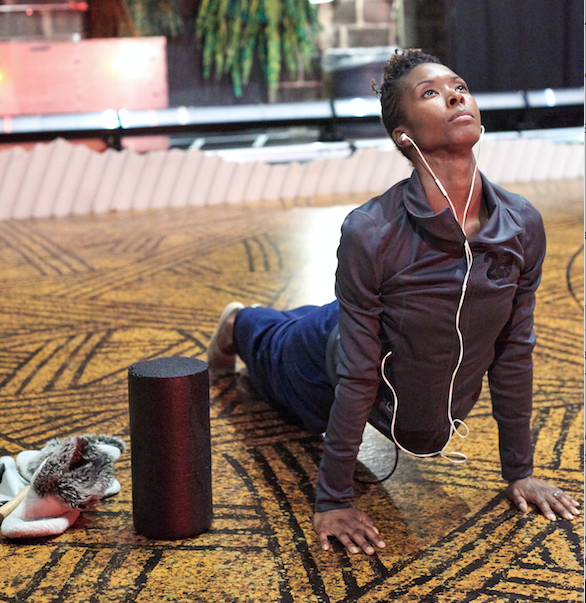 Horton, graham and yoga poses makeup Bolds' warmup. Photo by Jim Lafferty
1:30 pm: Bolds' warm-up incorporates Graham- and Horton-based stretches, as well as some yoga poses. Her breath is audible throughout, to help her get centered. If it's a two-show day, like today, the second warm-up will be a short ballet barre. "Because we do the same choreography over and over, my body gets too comfortable. I have to change my warm-up constantly."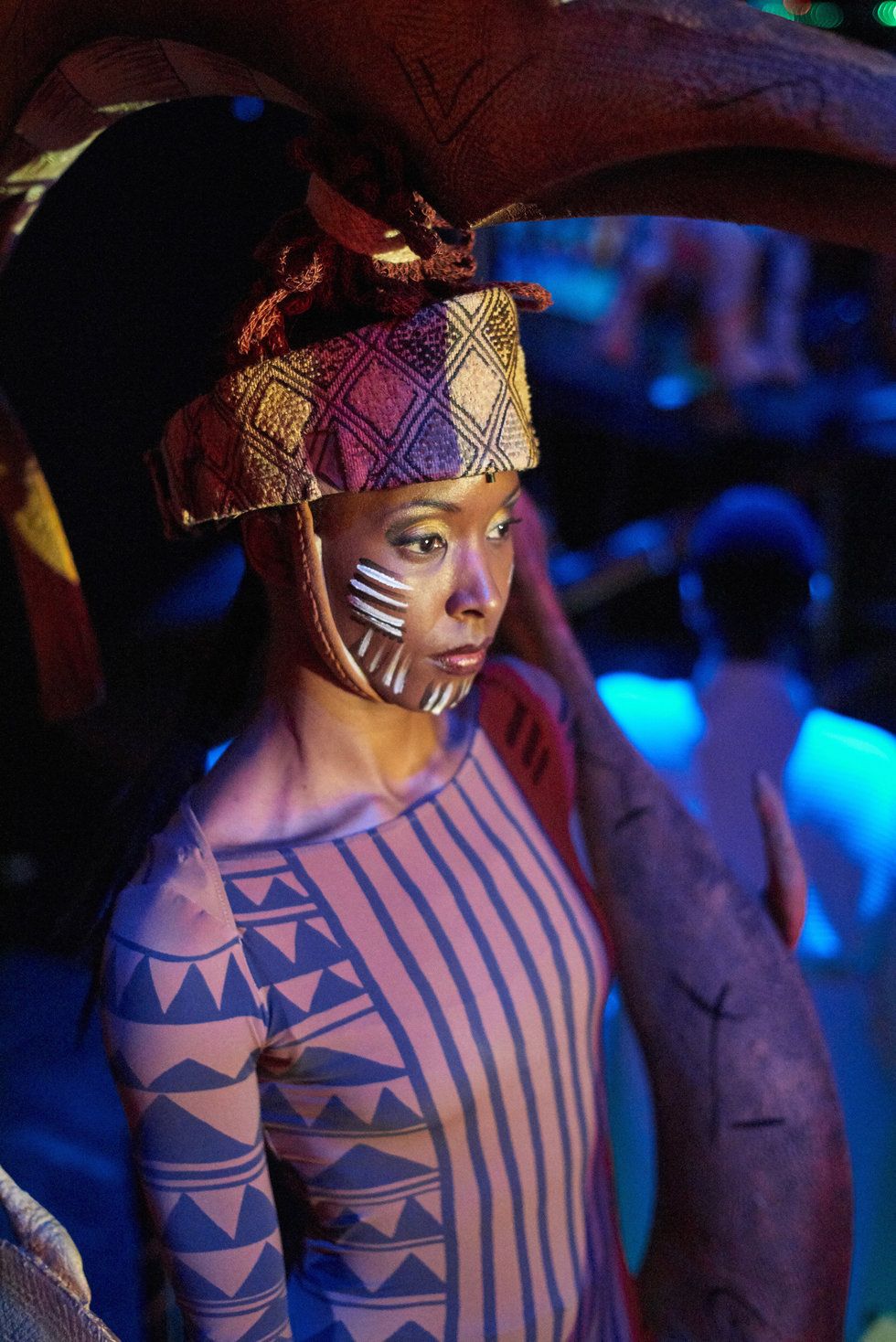 The Circle of Life reminds Bolds of why she does this—the smiles on the audience members' faces. Photo by Jim Lafferty
2 pm: The curtain rises, and Bolds is onstage for the first song, "Circle of Life." "My favorite part of the whole show is this first scene because of the music and the fact that you can see a lot of faces in the audience," she says. Though "The Lioness Hunt" is a close second. It's one of the few sections where the women of the ensemble move together and there's a lot more dancing. "Female power," Bolds says.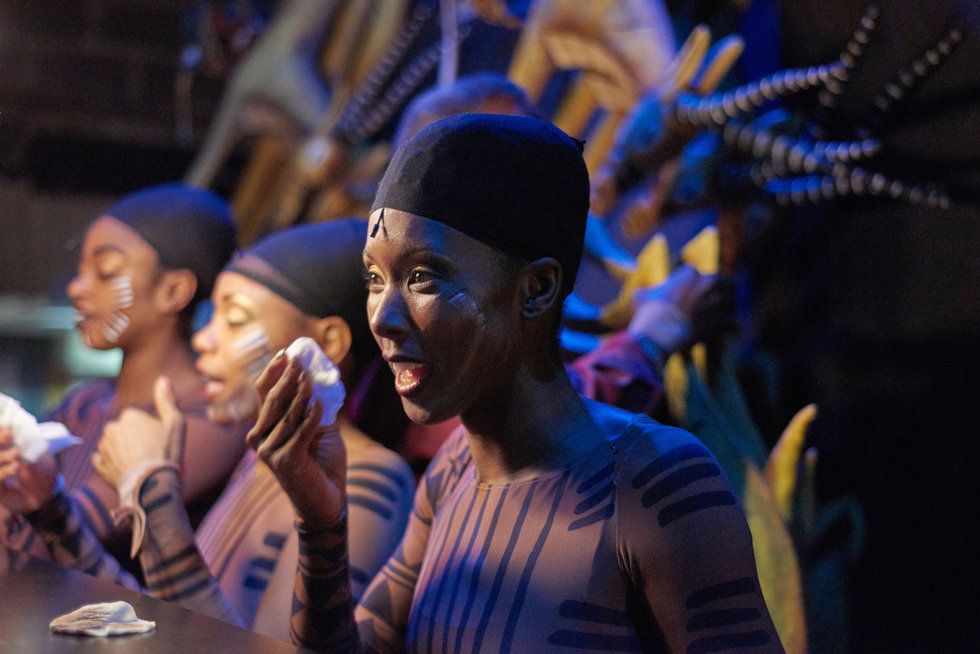 Bolds taking off her makeup. Photo by Jim Lafferty
4:30 pm: The matinee ends and Bolds gets a break before the next show. A late lunch and a second pre-show peanut butter sandwich are in order. After show number two ends around 9:30 pm, she treks back to Brooklyn and will eat with Dale. The night usually ends with a movie on the couch.
Even though she's in her fifth year dancing in The Lion King, but she considers herself a newbie among her fellow cast members. "Some of these people have been in the show since the beginning when it opened 20 years ago," she says. "When I got here it was hard—hard on the mind and body. You're doing the same show every day, and that affects your artistry and your muscles. But during the 'Circle of Life,' when I can see the first three rows of the audience light up and see their faces, it reminds me why every time onstage is special."
Related Articles Around the Web
Gettty Images
It's a cycle familiar to many: First, a striking image of a lithe, impossibly fit dancer executing a gravity-defying développé catches your eye on Instagram. You pause your scrolling to marvel, over and over again, at her textbook physique.
Inevitably, you take a moment to consider your own body, in comparison. Doubt and negative self-talk first creep, and then flood, in. "I'll never look like that," the voice inside your head whispers. You continue scrolling, but the image has done its dirty work—a gnawing sensation has taken hold, continually reminding you that your own body is inferior, less-than, unworthy.
It's no stretch to say that social media has a huge effect on body image. For dancers—most of whom already have a laser-focus on their appearance—the images they see on Instagram can seem to exacerbate ever-present issues. "Social media is just another trigger," says Nadine Kaslow, a psychologist who works with the dancers of Atlanta Ballet. "And dancers don't need another trigger." In the age of Photoshop and filters, how can dancers keep body dysmorphia at bay?
Keep reading...
Show less
Courtesy Boneau/Bryan-Brown
If "Fosse/Verdon" whet your appetite for the impeccable Gwen Verdon, then Merely Marvelous: The Dancing Genius of Gwen Verdon is the three-course meal you've been craving. The new documentary—available now on Amazon for rental or purchase—dives into the life of the Tony-winning performer and silver-screen star lauded for her charismatic dancing.

Though she's perhaps most well-known today as Bob Fosse's wife and muse, that's not even half of her story. For starters, she'd already won four Tonys before they wed, making her far more famous in the public eye than he was at that point in his career. That's just one of many surprising details we learned during last night's U.S. premiere of Merely Marvelous. Believe us: You're gonna love her even more once you get to know her. Here are eight lesser-known tidbits to get you started.
Keep reading...
Show less
Lindsay Thomas
Every dancer knows that how you fuel your body affects how you feel in the studio. Of course, while breakfast is no more magical than any other meal (despite the enduring myth that it's the most important one of the day), showing up to class hangry is a recipe for unproductive studio time.
So what do your favorite dancers eat in the morning to set themselves up for a busy rehearsal or performance day?
Keep reading...
Show less
News
Sep. 20, 2019 09:17AM EST
Simon Soong, Courtesy DDT
When it comes to dance in the U.S., companies in the South often find themselves overlooked—sometimes even by the presenters in their own backyard. That's where South Arts comes in. This year, the regional nonprofit launched Momentum, an initiative that will provide professional development, mentorship, touring grants and residencies to five Southern dance companies.
Keep reading...
Show less