Dance on Broadway
May. 07, 2018 11:30AM EST
What It Takes To Dance 9 Characters 8 Times a Week On Broadway
India Bolds has been in The Lion King for five years. Photo by Jim Lafferty
As an ensemble dancer in The Lion King, India Bolds, age 32, plays nine characters in every show, eight times a week. That's a lot of entrances and exits, costume changes and choreography to remember. But after five years of dancing in the production, she has the show down pat.
Dance Magazine followed her through a performance day to see what it takes to be in Broadway's third-longest-running production.
---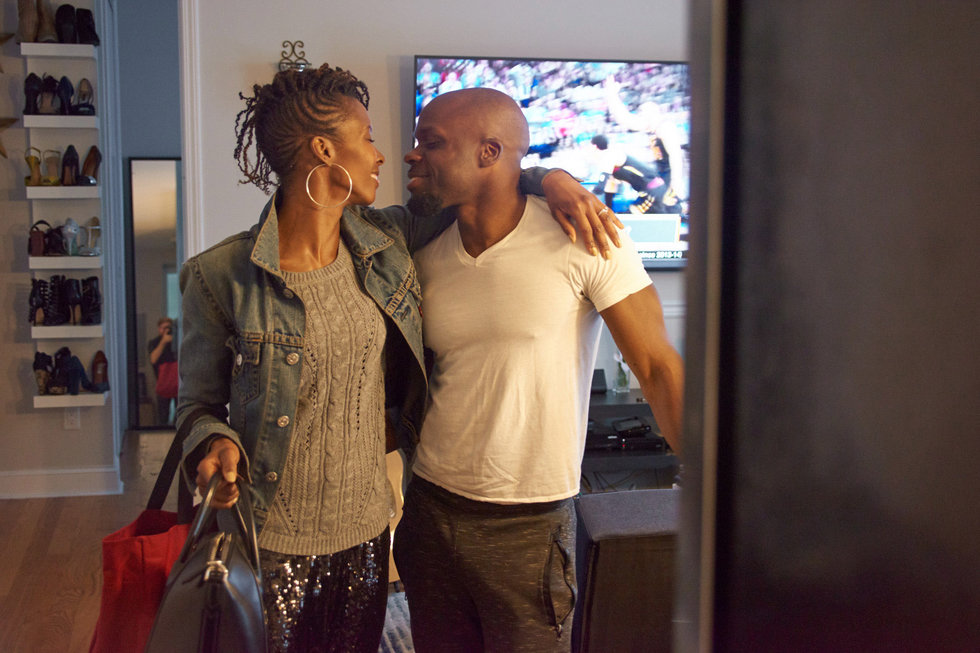 Bolds and her fiancé at home. Photo by Jim Lafferty
9 am: Dancing on Broadway means late nights in the theater, so Bolds sleeps in. She and her fiancé will wake up, make some tea and go over their days. "Mornings are the only time Dale and I have together, especially on a two-show day like today," says Bolds.
"I got the call when I was on the subway," says Bolds about being hired for The Lion King. Before Broadway, she got her degree through the Ailey/Fordham BFA Program, then danced with Elisa Monte and the Brooklynettes, the dance squad of the Brooklyn Nets NBA team. She auditioned for The Lion King twice a full two years before she got the job—they had saved her resumé the whole time and contacted her when there was an appropriate opening. "I tried to play it cool when I answered the phone," she says. "But of course I was stunned. And I made my debut on my birthday."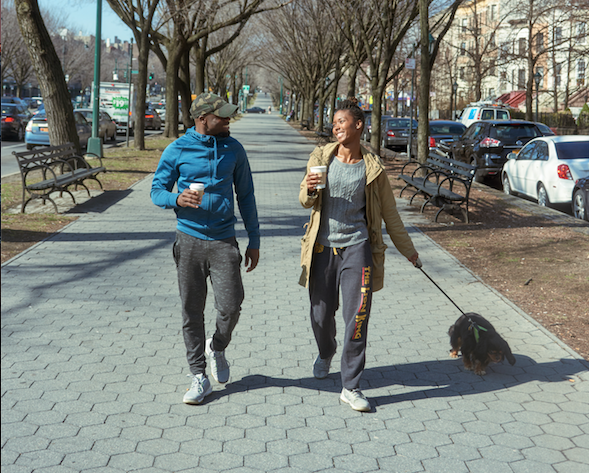 Walking Lincoln in their Brooklyn neighborhood. Photo by Jim Lafferty
10 am: The couple head out for a walk with their dog, Lincoln. He's a 4-year-old cavalier King Charles spaniel. Halfway through their walk, they stop for some caffeine at a local shop. Bolds is a tea drinker, and tries to cap herself at two cups a day. This morning's treat is a chai tea latte.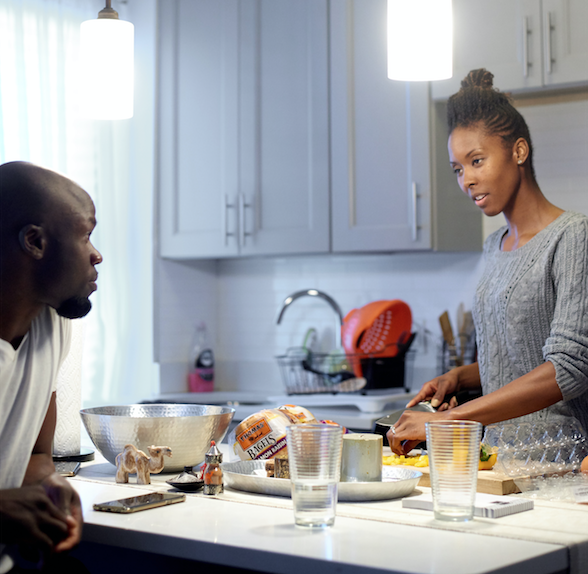 Breakfast with her fiancé Dale usually consists of an omelet and toast. Photo by Jim Lafferty
11 am: Back at the apartment, Bolds and her fiancé cook breakfast, which is usually an omelet with sausage, veggies and toast. She'll also pack her lunch—often whatever is left over from dinner the night before. Today's is spaghetti. "My diet is carb-heavy," says Bolds. "I like to feel full before a show." She might listen to her favorite inspirational podcast that her friend hosts called She's Beauty and the Beast.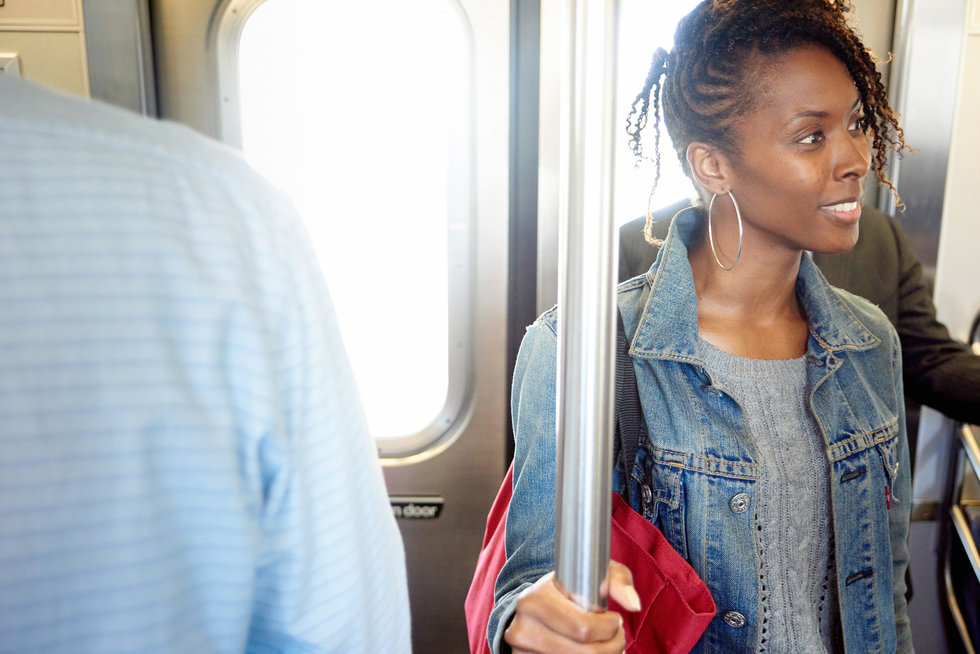 Bolds often reads mysteries on her subway ride to the theater. Photo by Jim Lafferty
12 pm: It takes about a half-hour to get to the theater from Bolds' apartment in Brooklyn, but she usually leaves an hour, "because you never know what the subway might do." On the way, she'll read a book. She loves mysteries.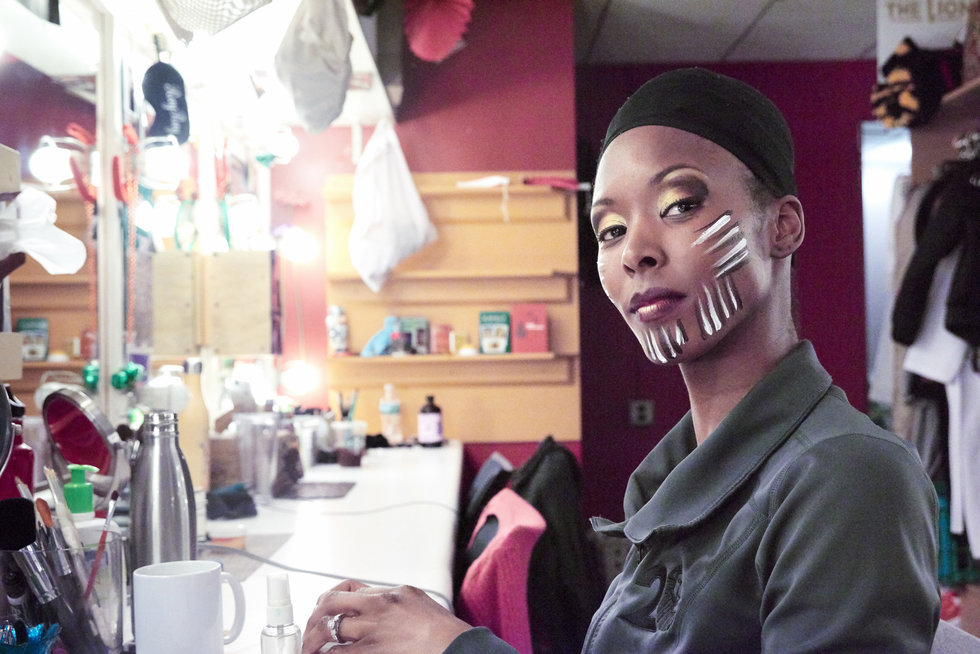 The Gazelle stripes are painted with special brushes. Photo by Jim Lafferty
1 pm: Call is at 1:30, a half-hour before curtain for the matinee show, but Bolds arrives earlier to get ready. First is about 15 to 20 minutes of makeup. Ensemble members are responsible for their base layer, and makeup artists and dressers help them through the rest of the show. Special brushes make painting Gazelle stripes on her face easy. Meanwhile, she snacks on a peanut butter and jelly sandwich.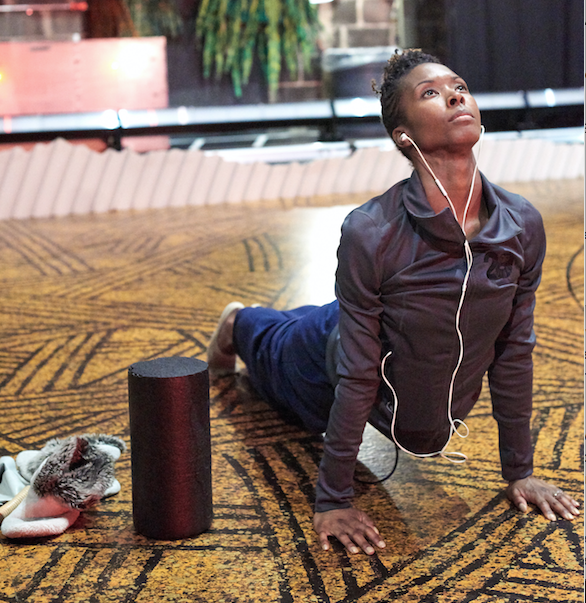 Horton, graham and yoga poses makeup Bolds' warmup. Photo by Jim Lafferty
1:30 pm: Bolds' warm-up incorporates Graham- and Horton-based stretches, as well as some yoga poses. Her breath is audible throughout, to help her get centered. If it's a two-show day, like today, the second warm-up will be a short ballet barre. "Because we do the same choreography over and over, my body gets too comfortable. I have to change my warm-up constantly."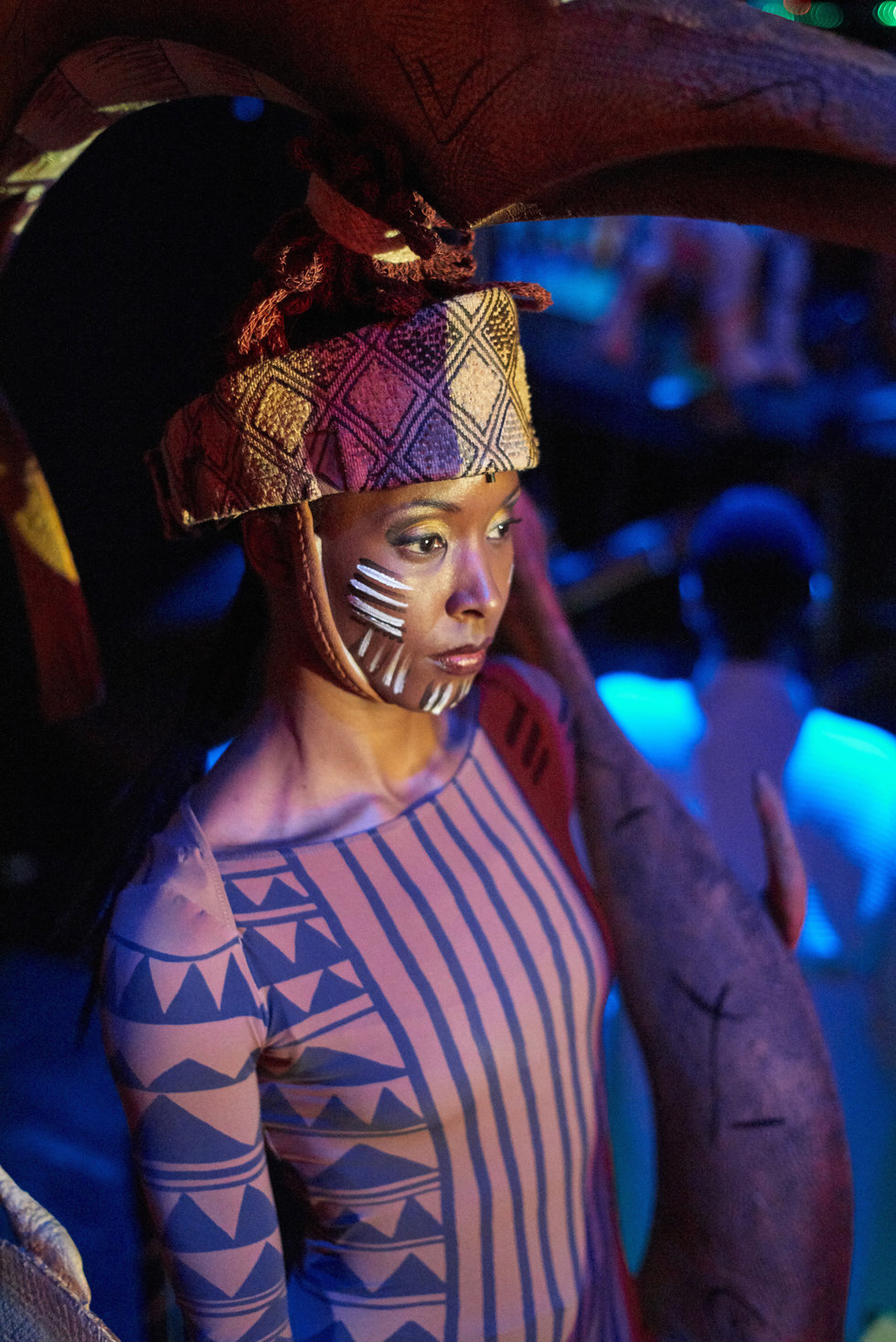 The Circle of Life reminds Bolds of why she does this—the smiles on the audience members' faces. Photo by Jim Lafferty
2 pm: The curtain rises, and Bolds is onstage for the first song, "Circle of Life." "My favorite part of the whole show is this first scene because of the music and the fact that you can see a lot of faces in the audience," she says. Though "The Lioness Hunt" is a close second. It's one of the few sections where the women of the ensemble move together and there's a lot more dancing. "Female power," Bolds says.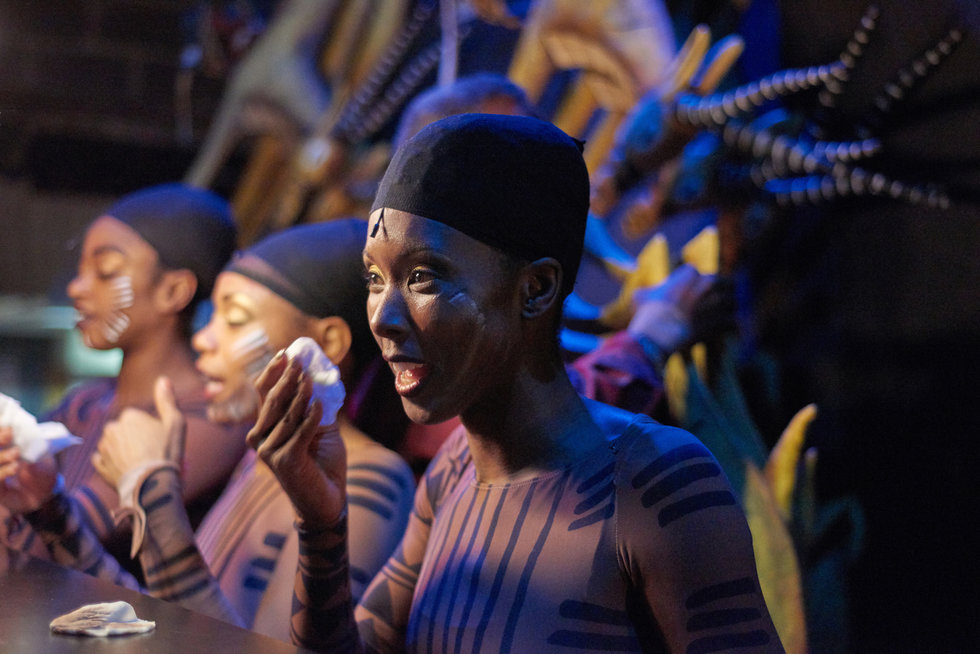 Bolds taking off her makeup. Photo by Jim Lafferty
4:30 pm: The matinee ends and Bolds gets a break before the next show. A late lunch and a second pre-show peanut butter sandwich are in order. After show number two ends around 9:30 pm, she treks back to Brooklyn and will eat with Dale. The night usually ends with a movie on the couch.
Even though she's in her fifth year dancing in The Lion King, but she considers herself a newbie among her fellow cast members. "Some of these people have been in the show since the beginning when it opened 20 years ago," she says. "When I got here it was hard—hard on the mind and body. You're doing the same show every day, and that affects your artistry and your muscles. But during the 'Circle of Life,' when I can see the first three rows of the audience light up and see their faces, it reminds me why every time onstage is special."
Related Articles Around the Web
News
May. 24, 2018 01:26PM EST
New York City Ballet dancers will be led by the interim leadership team for at least several more months. Here, the company in Justin Peck's The Times Are Racing. Photo by Paul Kolnik, Courtesy NYCB.
Since December an interim artistic leadership team has been guiding New York City Ballet, and in January, Peter Martins officially resigned. But only now has the search for Martins' permanent replacement begun. Here's what we know about how the process will unfold.
Keep reading...
Show less
Dance As Activism
May. 24, 2018 11:54AM EST
Rebecca Warthen teaching at a public school in Dominica. Photo courtesy Peace Corps
Rebecca Warthen was on a year-long assignment with the Peace Corps in Dominica last fall when a storm started brewing. A former dancer with North Carolina Dance Theatre (now Charlotte Ballet) and Columbia City Ballet, she'd been sent to the Caribbean island nation to teach ballet at the Dominica Institute of the Arts and in outreach classes at public schools.
But nine and a half months into her assignment, a tropical storm grew into what would become Hurricane Maria—the worst national disaster in Dominica's history.
Keep reading...
Show less
News
May. 18, 2018 12:05PM EST
The inimitable Alicia Alonso, now 97, remains at the helm of Ballet Nacional de Cuba. Photo by Leysis Quesada, Courtesy BNC
On the occasion of its 70th anniversary, the Ballet Nacional de Cuba tours the U.S. this spring with the resolute Cuban prima ballerina assoluta Alicia Alonso a the helm. Named a National Hero of Labor in Cuba, Alonso, 97, has weathered strained international relations and devastating fiscal challenges to have BNC emerge as a world-class dance company. Her dancers are some of ballet's best. On offer this time are Alonso's Giselle and Don Quixote. The profoundly Cuban company performs in Chicago May 18–20, Tampa May 23, Washington, D.C., May 29–June 3 and Saratoga, New York June 6–8.
The baby swan can help strengthen your serratus anterior. Modeled by Marimba Gold-Watts, photographed by Jayme Thornton
Ever wonder why some dancers' port de bras appears to be disconnected from their body? It typically comes down to how they stabilize their shoulder blades, says Marimba Gold-Watts, Pilates instructor to dancers like Robert Fairchild.
"Dancers often hear the cue to pull down on their latissimus,"—the biggest muscle in the back—"which doesn't allow the shoulder blades to lie flat," she says. "It makes the bottom tips of the shoulder blades wing, or flare out, off the rib cage."
Keep reading...
Show less
In The Studio
May. 24, 2018 11:26AM EST
Choreographer Sidra Bell, Photo courtesy David Flores Productions
Sidra Bell is one of those choreographers whose movement dancers are drawn to. Exploring the juxtaposition of fierce athleticism and pure honesty in something as simple as stillness, her work brings her dancers to the depths of their abilities and the audience to the edge of their seats.
We stepped into the studio with Sidra Bell Dance New York as they prepare for their upcoming season at New York Live Arts.

Keep reading...
Show less
Rant & Rave
May. 23, 2018 04:25PM EST
Jessica Lang's Her Notes, one of ABT's few recent commissions from women. Photo by Rosalie O'Connor
A few weeks ago, American Ballet Theatre announced the A.B.T. Women's Movement, a new program that will support three women choreographers per season, one of whom will make work on the main company.
"The ABT Women's Movement takes inspiration from the groundbreaking female choreographers who have left a lasting impact on ABT's legacy, including Agnes de Mille and Twyla Tharp," said artistic director Kevin McKenzie in a press release.
Hypothetically, this is a great idea. We're all for more ballet commissions for women. But the way ABT has promoted the initiative is problematic.
Keep reading...
Show less


Get Dance Magazine in your inbox