The Met Museum's Dance Love is Real: Choreographer Andrea Miller Named Artist in Residence
Matthew Karas
The Metropolitan Museum of Art has been seriously getting into dance lately. But now it's taking its love affair one step further: Gallim Dance director/choreographer Andrea Miller was just named the museum's artist in residence for the 2017-18 season—the first dance artist ever chosen for that distinction!
We caught up with Miller to find out exactly what this means.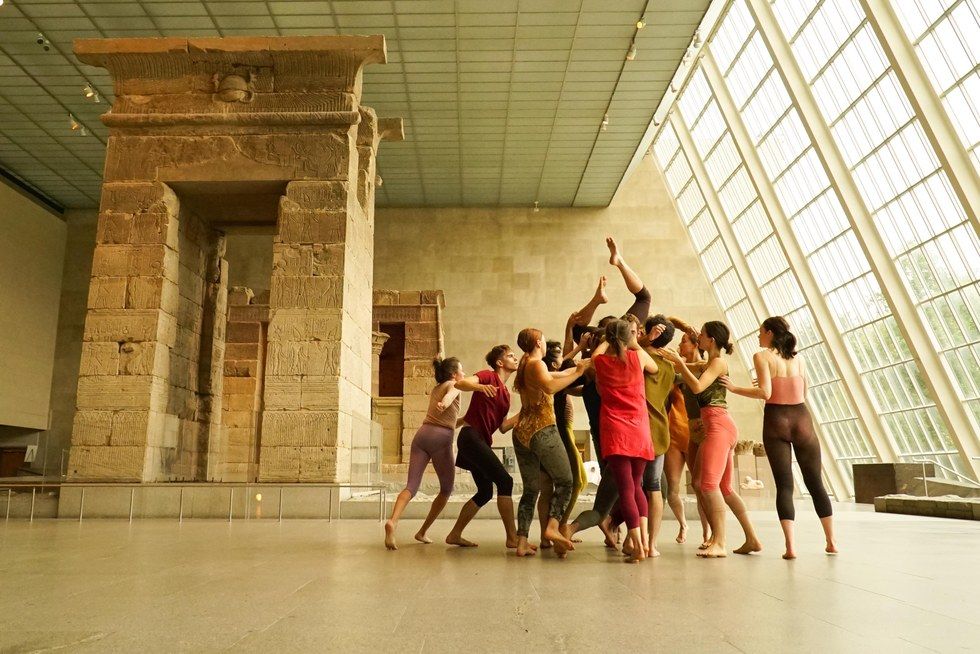 Gallim Dance at the Temple of Dendur. Photo by Ani Coller, courtesy Metropolitan Museum of Art
---
Congratulations on being named artist in residence! How did this come about?
I was offered an opportunity to create a work in progress for a private event at the Temple of Dendur last September. It was a really great experience. I was learning about ancient Egyptian dance and art and music. I got to meet archaeologists and work with the curators and the Met Live Arts team. I think they thought it might be a relationship to develop with a residency.
What did you like about working at the Met?
For a while now I've been enjoying working outside of the proscenium theater. The conversations and the restrictions are different. What you can do, what you can't do. Having new set of variables intrigues me—it pushes my craft further.
What does it mean to you to be the first dance person named artist in residence at the Met?
Dance hasn't always been welcomed into these homes for art, but it makes a lot of sense for a museum to be thinking about dance as art. I'm so happy to be running with my ideas in these halls. They are really open about working with me and thinking really closely with me about what could be possible and letting me direct quite a bit what I'd like to do there.
And what do you plan to do?
First, I'm going to build the Temple of Dendur piece into an evening-length work, to premiere in October. That's called Stone Skipping. It has some scenes about the environment and climate change, thinking about the journey of the temple from the Nile to the museum.
The next piece is going to happen during museum hours, a durational work throughout the day. It's very exciting to me because it's going to completely break with the start-and-stop, beginning-and-end setup of most traditional dance.
One of the things I'm trying to do is think about what is "Met-only" about these works. How am I engaging with the Met and its permanent collections and its architecture, making work that is housed in that space?
But the third work will be treating the dance as its own art. Taking art off the walls, into the gallery space, observing dance in a similar way you do with visual art.
We'll also have open rehearsals and workshops.
What do you think this residency will mean for your company?
I definitely hope that there will be a definitive time before the Met, and after the Met. The imprint of this experience is going to be inextricable from my future creative language and process.
How do you see your aesthetic meshing with the museum's very formal, reverential atmosphere?
I think some of it is gonna fly and some of it is gonna be difficult, and maybe a little controversial. I imagine a lot of it will have to do with the curators of the areas I'm working in, and how they see other elements defining the existing art, and how they interact with each other. My aesthetic is very raw and can sometimes feel wild; there's a sense of abandonment. That's very different from how a lot of art is experienced at the Met. Even if the content has that same level of fierce rawness or extreme expression, that only stays within the canvas—everything else is super controlled. We're taking that out into the space.
Chantelle Pianetta competing at a West Coast swing event. Courtesy Pianetta.
Just hearing the word "improvisation" is enough to make some ballet dancers shake in their pointe shoes. But for Chantelle Pianetta, it's a practice she relishes. Depending on the weekend, you might find her gracing Bay Area stages as a principal with Menlowe Ballet or sweeping in awards at West Coast swing competitions.

She specializes in Jack and Jill events, which involve improvised swing dancing with an unexpected partner in front of a panel of judges. (Check her out in action below.) While sustaining her ballet career, over the past four years Pianetta has quickly risen from novice to champion level on the WCS international competition circuit.
Keep reading...
Show less
Jayme Thornton
Sean Dorsey was always going to be an activist. Growing up in a politically engaged, progressive family in Vancouver, British Columbia, "it was my heart's desire to create change in the world," he says. Far less certain was his future as a dancer.
Like many dancers, Dorsey fell in love with movement as a toddler. However, he didn't identify strongly with any particular gender growing up. Dorsey, who now identifies as trans, says, "I didn't see a single person like me anywhere in the modern dance world." The lack of trans role models and teachers, let alone all-gender studio facilities where he could feel safe and welcome, "meant that even in my wildest dreams, there was no room for that possibility."
Keep reading...
Show less
Getty Images
It's hour three of an intense rehearsal, you're feeling mentally foggy and exhausted, and your stomach hurts. Did you know the culprit could be something as simple as dehydration?
Proper hydration helps maintain physical and mental function while you're dancing, and keeps your energy levels high. But with so many products on the market promising to help you rehydrate more effectively, how do you know when it's time to reach for more than water?
Keep reading...
Show less