The Met Museum's Dance Love is Real: Choreographer Andrea Miller Named Artist in Residence
Matthew Karas
The Metropolitan Museum of Art has been seriously getting into dance lately. But now it's taking its love affair one step further: Gallim Dance director/choreographer Andrea Miller was just named the museum's artist in residence for the 2017-18 season—the first dance artist ever chosen for that distinction!
We caught up with Miller to find out exactly what this means.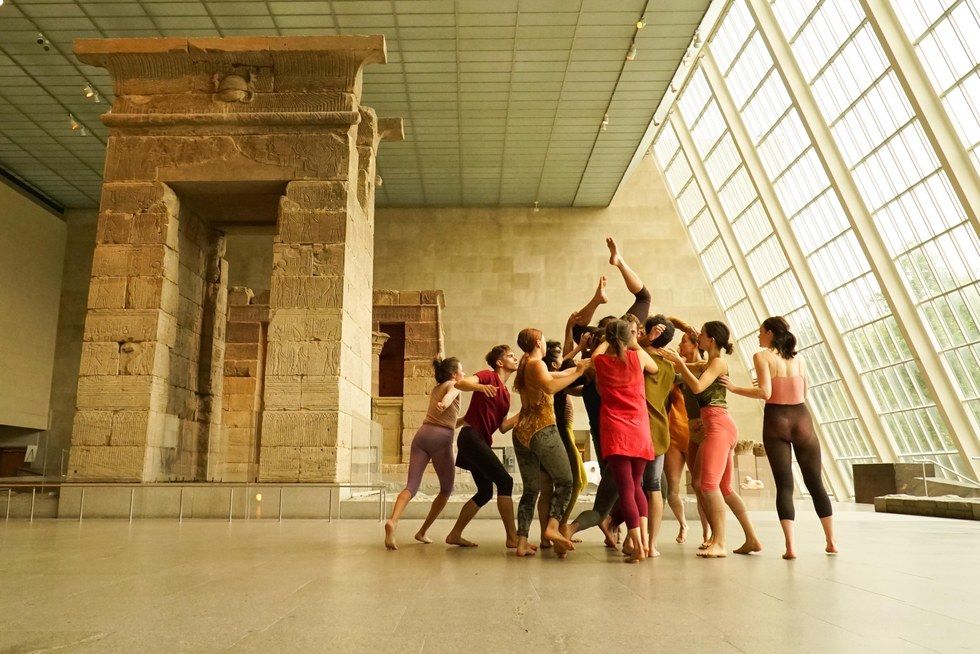 Gallim Dance at the Temple of Dendur. Photo by Ani Coller, courtesy Metropolitan Museum of Art
---
Congratulations on being named artist in residence! How did this come about?
I was offered an opportunity to create a work in progress for a private event at the Temple of Dendur last September. It was a really great experience. I was learning about ancient Egyptian dance and art and music. I got to meet archaeologists and work with the curators and the Met Live Arts team. I think they thought it might be a relationship to develop with a residency.
What did you like about working at the Met?
For a while now I've been enjoying working outside of the proscenium theater. The conversations and the restrictions are different. What you can do, what you can't do. Having new set of variables intrigues me—it pushes my craft further.
What does it mean to you to be the first dance person named artist in residence at the Met?
Dance hasn't always been welcomed into these homes for art, but it makes a lot of sense for a museum to be thinking about dance as art. I'm so happy to be running with my ideas in these halls. They are really open about working with me and thinking really closely with me about what could be possible and letting me direct quite a bit what I'd like to do there.
And what do you plan to do?
First, I'm going to build the Temple of Dendur piece into an evening-length work, to premiere in October. That's called Stone Skipping. It has some scenes about the environment and climate change, thinking about the journey of the temple from the Nile to the museum.
The next piece is going to happen during museum hours, a durational work throughout the day. It's very exciting to me because it's going to completely break with the start-and-stop, beginning-and-end setup of most traditional dance.
One of the things I'm trying to do is think about what is "Met-only" about these works. How am I engaging with the Met and its permanent collections and its architecture, making work that is housed in that space?
But the third work will be treating the dance as its own art. Taking art off the walls, into the gallery space, observing dance in a similar way you do with visual art.
We'll also have open rehearsals and workshops.
What do you think this residency will mean for your company?
I definitely hope that there will be a definitive time before the Met, and after the Met. The imprint of this experience is going to be inextricable from my future creative language and process.
How do you see your aesthetic meshing with the museum's very formal, reverential atmosphere?
I think some of it is gonna fly and some of it is gonna be difficult, and maybe a little controversial. I imagine a lot of it will have to do with the curators of the areas I'm working in, and how they see other elements defining the existing art, and how they interact with each other. My aesthetic is very raw and can sometimes feel wild; there's a sense of abandonment. That's very different from how a lot of art is experienced at the Met. Even if the content has that same level of fierce rawness or extreme expression, that only stays within the canvas—everything else is super controlled. We're taking that out into the space.
NBCUniversal
Jellicle obsessives, rejoice: There's a new video out that offers a (surprisingly substantive) look at the dancing that went down on the set of the new CATS movie.
Keep reading...
Show less
Via Wikimedia Commons
When Dr. Mae Jemison was growing up, she was obsessed with space. But she didn't see any astronauts who looked like her.
"I said, Wait a minute. Why are all the astronauts white males?" she recounts in a CNN video. "What if the aliens saw them and said, Are these the only people on Earth?"
Keep reading...
Show less
Wayne McGregor. Photo by Johan Persson, Courtesy ROH
It's no surprise that dancers make some of the best TED Talk presenters. Not only are they great performers, but they've got unique knowledge to share. And they can dance!
If you're in need of a midweek boost, look no further than these eight presentations from some incredibly inspiring dance artists.
Keep reading...
Show less
Just for Fun
Jul. 16, 2019 02:13PM EST
As Dance Magazine editors, we admittedly spend more time than we'd like sifting through stock photography. Some of it is good, more of it is bad and most of it is just plain awkward.
But when paired with the right caption, those shots magically transform from head-scratchers to meme-worthy images that illustrate our singular experience as dancers. You can thank the internet for this special salute to dancer moods.
Keep reading...
Show less