A Dancer's Take on "This is America": Is The Dance A Distraction Or Something Deeper?
One of the most disturbing parts of This Is America is the juxtaposition of violence and dance
When 59-second clips of "This is America" began to take over my Insta feed last week, I didn't know how to feel. Graphic images from the music video showed the execution of a man with a guitar and the mass shooting of a church choir.
What truly struck me was physical and facial animation of Donald Glover a.k.a. Childish Gambino, as well as the gaggle of children shadowing his movement. Many saw the dance as a distraction from the mayhem in the background.
---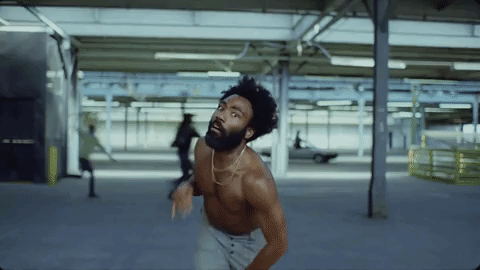 media.giphy.com
Not many people analyzed Sherrie Silver's choreography and her use of African and social dance. In an interview with Pigeons & Planes Silver explains that the only guideline she was given was to include the Gwara Gwara from South Africa, which she did, along with the Shaku Shaku dance from Nigeria, Alkayida and Azonto from Ghana, as well as dances that hail from Uganda, Angola and her own Rwanda.

I reached out to choreographer Camille A. Brown, whose visual history of social dance went viral in 2016, for her take. What was she seeing?
What were your first impressions?
"There is a lot there to unpack and to be honest, I'm still processing it all. I saw flashes of the past and present, African-influenced sounds and dances.
"What sticks out the most to me is that he's dancing throughout the scenes. I love that.
"When I read the Pigeons & Planes article, I was sad to learn that people are saying to ignore the dancing. Sherrie Silver is giving us both a historical and contemporary lesson of the dances from the continent and its diaspora. If you ignore the movement, then you ignore the commentary in its entirety.
"The vehicle that drives the narrative is dance.
"It is a very rich commentary on America."
People have picked up the reference to minstrelsy in that first pose he strikes when he shoots the man in the chair. But I don't think they are connecting it specifically to the movement.

"Minstrelsy was a form of entertainment—people telling jokes, dancing and performing—and that is what is Glover is doing. Dance was part of the entertainment factor of minstrelsy. The social dance supports the commentary of black people being 'lazy,' 'happy' and 'dim-witted.' There is an underlying grotesqueness."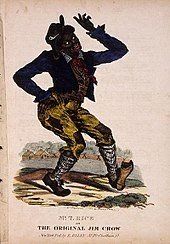 Photo via Wikipedia Commons
This reminds me of what you were getting at in Mr. Tol E RAnce.
"Yeah, especially in the beginning after he shoots the guy and sings, "this is America." His facial expressions in particular really stood out to me. It reminded me of the idea of black people constantly having to be in a performative state. The smile drops and comes back. It's the mask of double consciousness. In the midst of chaos, the black body fights for its humanity. It is both the smile and the movement that (for me) propels that narrative.
"Underneath, what is America supposed to stand for? Black bodies are being shot in backyards, in churches... When he's running at the end I feel like that is what he has really been doing throughout the whole video, but you're just seeing it literally played out."
The children in the uniforms dancing immediately reminded me of the Instagram videos of African school children dancing, and the perseverance of black joy in spite of circumstance. What did you think?
"I thought about the brilliance of black people. You see videos of these kids in Africa and Cuba, the way they are moving with sophistication and clarity—we always find our groove. The Lindy Hop is one of the most explosive and virtuosic dances but it came at a time of segregation—decades before the civil rights movement. Black people have constantly been able to generate power without skipping a beat.
"The children in uniforms also reminded me of the importance of our youth and how kids contribute (and are affected by) what's happening. Throughout history, the voices of the youth have always been strong and powerful. Dance-wise, they received the information from the past and translate it their way."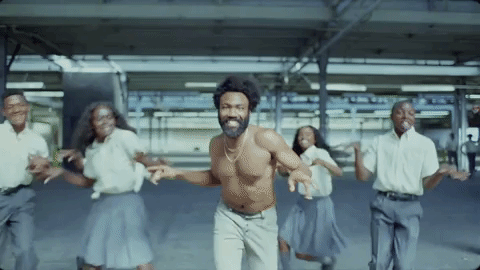 media.giphy.com
Some read their dancing and smiling as them being oblivious or desensitized. I felt their "smiling" was not real organic "joy," but more like a frenetic drive to keep moving to distract themselves from the violence. We all do that through dance, music, technology. For the children, it's an involuntary action, but Glover knows that he is using it as a tool of disconnection.

"It's complex. It could be read as children's innocence and being oblivious. (I read that's what the director and Gambino were going for.) Watching the kids dance with joy also speaks to the history of black people constantly rising in the midst of pain. We will never stop. We will always press on. That's the brilliance of black movement and this video."
Rosalie O'Connor, Courtesy Mark Morris Dance Group
You know compelling musicality when you see it. But how do you cultivate it? It's not as elusive as it might seem. Musicality, like any facet of dance, can be developed and honed over time—with dedicated, detailed practice. At its most fundamental, it's "respect for the music, that this is your partner," says Kate Linsley, academy principal of the School of Nashville Ballet.
Keep reading...
Show less
Ross Parkes, right, teaching in Shanghai in 1983. Lan-Lan Wang is at left. Courtesy Lan-Lan Wang.
Notable dancer and beloved teacher, Ross Parkes, 79, passed away on August 5, 2019 in New York City. He was a founding faculty member at Taipei National University of the Arts in Taiwan, where he taught from 1984 to 2006. Lin Hwai-min, artistic director of Cloud Gate Dance Theater, said: "He nurtured two generations of dancers in Taiwan, and his legacy will continue."
About his dancing, Tonia Shimin, professor emerita at UC Santa Barbara and producer of Mary Anthony: A Life in Modern Dance, said this: "He was an exquisite, eloquent dancer who inhabited his roles completely."
Keep reading...
Show less
The USC Kaufman graduating class with Mikhail Baryshnikov. Gus Ruelas/USC
Just four years ago, the University of Southern California's Glorya Kaufman School of Dance welcomed its first class of BFA students. The program—which boasts world-class faculty and a revolutionary approach to training focused on collaboration and hybridity—immediately established itself as one of the country's most prestigious and most innovative.
Now, the first graduating class is entering the dance field. Here, six of the 33 graduates share what they're doing post-grad, what made their experience at USC Kaufman so meaningful and how it prepared them for their next steps:
Keep reading...
Show less
Lindsay Martell at a class performance. Courtesy Martell.
More than once, when I'm sporting my faded, well-loved ballet hoodie, some slight variation of this conversation ensues:
"Is your daughter the dancer?"
"Actually," I say, "I am."
"Wow!" they enthuse. "Who do you dance with? Or have you retired...?"
"I don't dance with a company. I'm not a professional. I just take classes."
Insert mic drop/record scratch/quizzical looks.
Keep reading...
Show less