Dance in Pop Culture
May. 10, 2018 02:10PM EST
A Dancer's Take on "This is America": Is The Dance A Distraction Or Something Deeper?
One of the most disturbing parts of This Is America is the juxtaposition of violence and dance
When 59-second clips of "This is America" began to take over my Insta feed last week, I didn't know how to feel. Graphic images from the music video showed the execution of a man with a guitar and the mass shooting of a church choir.
What truly struck me was physical and facial animation of Donald Glover a.k.a. Childish Gambino, as well as the gaggle of children shadowing his movement. Many saw the dance as a distraction from the mayhem in the background.
---
media.giphy.com
Not many people analyzed Sherrie Silver's choreography and her use of African and social dance. In an interview with Pigeons & Planes Silver explains that the only guideline she was given was to include the Gwara Gwara from South Africa, which she did, along with the Shaku Shaku dance from Nigeria, Alkayida and Azonto from Ghana, as well as dances that hail from Uganda, Angola and her own Rwanda.

I reached out to choreographer Camille A. Brown, whose visual history of social dance went viral in 2016, for her take. What was she seeing?
What were your first impressions?
"There is a lot there to unpack and to be honest, I'm still processing it all. I saw flashes of the past and present, African-influenced sounds and dances.
"What sticks out the most to me is that he's dancing throughout the scenes. I love that.
"When I read the Pigeons & Planes article, I was sad to learn that people are saying to ignore the dancing. Sherrie Silver is giving us both a historical and contemporary lesson of the dances from the continent and its diaspora. If you ignore the movement, then you ignore the commentary in its entirety.
"The vehicle that drives the narrative is dance.
"It is a very rich commentary on America."
People have picked up the reference to minstrelsy in that first pose he strikes when he shoots the man in the chair. But I don't think they are connecting it specifically to the movement.

"Minstrelsy was a form of entertainment—people telling jokes, dancing and performing—and that is what is Glover is doing. Dance was part of the entertainment factor of minstrelsy. The social dance supports the commentary of black people being 'lazy,' 'happy' and 'dim-witted.' There is an underlying grotesqueness."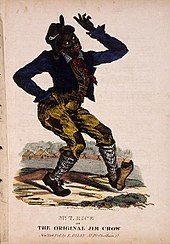 Photo via Wikipedia Commons
This reminds me of what you were getting at in Mr. Tol E RAnce.
"Yeah, especially in the beginning after he shoots the guy and sings, "this is America." His facial expressions in particular really stood out to me. It reminded me of the idea of black people constantly having to be in a performative state. The smile drops and comes back. It's the mask of double consciousness. In the midst of chaos, the black body fights for its humanity. It is both the smile and the movement that (for me) propels that narrative.
"Underneath, what is America supposed to stand for? Black bodies are being shot in backyards, in churches... When he's running at the end I feel like that is what he has really been doing throughout the whole video, but you're just seeing it literally played out."
The children in the uniforms dancing immediately reminded me of the Instagram videos of African school children dancing, and the perseverance of black joy in spite of circumstance. What did you think?
"I thought about the brilliance of black people. You see videos of these kids in Africa and Cuba, the way they are moving with sophistication and clarity—we always find our groove. The Lindy Hop is one of the most explosive and virtuosic dances but it came at a time of segregation—decades before the civil rights movement. Black people have constantly been able to generate power without skipping a beat.
"The children in uniforms also reminded me of the importance of our youth and how kids contribute (and are affected by) what's happening. Throughout history, the voices of the youth have always been strong and powerful. Dance-wise, they received the information from the past and translate it their way."
media.giphy.com
Some read their dancing and smiling as them being oblivious or desensitized. I felt their "smiling" was not real organic "joy," but more like a frenetic drive to keep moving to distract themselves from the violence. We all do that through dance, music, technology. For the children, it's an involuntary action, but Glover knows that he is using it as a tool of disconnection.

"It's complex. It could be read as children's innocence and being oblivious. (I read that's what the director and Gambino were going for.) Watching the kids dance with joy also speaks to the history of black people constantly rising in the midst of pain. We will never stop. We will always press on. That's the brilliance of black movement and this video."
What Wendy's Watching
May. 22, 2018 02:50PM EST
PC Paul Kolnik
New York City Ballet is celebrating the Jerome Robbins Centennial with twenty (20!) ballets. The great American choreographer died in 1998, so very few of today's dancers have actually worked with him. There are plenty of stories about how demanding (at times brutally so) he could be in rehearsal. But Peter Boal has written about Robbins in a more balanced, loving way. In this post he writes about how Robbins' crystal clear imagery helped him approach a role with clarity and purpose.
Keep reading...
Show less
92Y Harkness Dance Center is hosting the first festival dedicated to dance films captured on mobile devices. Photo by Adam Grannick, Courtesy 92Y
Who says you need fancy equipment to make a festival-worthy dance film? Right now, two New York City–based dance film festivals are calling for aspiring filmmakers to show their stuff—and you don't need anything more cumbersome than a smartphone to get in on the action.

Here's everything you need to know about how to submit:
Keep reading...
Show less
News
May. 18, 2018 12:05PM EST
The inimitable Alicia Alonso, now 97, remains at the helm of Ballet Nacional de Cuba. Photo by Leysis Quesada, Courtesy BNC
On the occasion of its 70th anniversary, the Ballet Nacional de Cuba tours the U.S. this spring with the resolute Cuban prima ballerina assoluta Alicia Alonso a the helm. Named a National Hero of Labor in Cuba, Alonso, 97, has weathered strained international relations and devastating fiscal challenges to have BNC emerge as a world-class dance company. Her dancers are some of ballet's best. On offer this time are Alonso's Giselle and Don Quixote. The profoundly Cuban company performs in Chicago May 18–20, Tampa May 23, Washington, D.C., May 29–June 3 and Saratoga, New York June 6–8.
Dance in Pop Culture
May. 17, 2018 10:12AM EST
Participants show off their plié. Screenshot via YouTube
We all know that the general population's knowledge of ballet is sometimes...a bit skewed. (See: people touching their fingertips to the top of their head, and Kendall Jenner hopping around at the barre.)
Would your average Joe know how to do ballet's most basic step: a plié? Or, more to the point, even know what it is?
SELF decided to find out.
Keep reading...
Show less
Lisset Santander is adding more contemporary works to her repertoire. Here with Jarrett Reimers in Christopher Wheeldon's Fools Paradise. Photo by Jennifer Zmuda, Courtesy BalletMet.
When Lisset Santander bourréed onstage as Myrtha in BalletMet's Giselle this past February, her consummate portrayal of the Queen of the Wilis was marked by steely grace and litheness. The former Cuban National Ballet dancer had defected to the U.S. at 21, and after two years with the Ohio company, she's now closer to the dance career she says she always wanted: one of limitless possibilities.
Keep reading...
Show less
James Samson in Three Dubious Memories. Photo by Paul B. Goode, courtesy Paul Taylor Dance Company
For 17 years, James Samson has been the model Paul Taylor dancer. There is something fundamentally decent about his stage persona. He's a tall dancer—six feet—but never imposes himself. He's muscular, but gentle. And when he moves, it is his humanity that shines through, even more than his technique.
But all dancing careers come to an end, and James Samson's is no exception; now 43, he'll be retiring in August, after a final performance at the Teatro Romano in Verona, where he'll be dancing in Cloven Kingdom, Piazzolla Caldera and Promethean Fire.
Keep reading...
Show less


Get Dance Magazine in your inbox