Could A Tight Back Be Limiting Your Flexibility?
Jim Lafferty
Dancers looking to increase their flexibility rarely think about their upper backs. But this common place of tension could limit your neural mobility.
"The mobility of your back, especially your upper back, is very important when thinking about the mobility of the nervous system, fascial system and flexibility in general," says leading dance physiotherapist Lisa Howell in her Front Splits Fast Program. "If your upper back is very tight, then the nerves and fascia that lie along the spine can get restricted."
---
It may seem strange to mobilize your upper back in order to improve your splits or extension. Yet this may be the missing link that you've been looking for.
Try incorporating these exercises into your cross-training to improve your range of motion.
MOBILIZE
A healthy torso should be able to move forward, backward and side-to-side, and rotate without pain or the feeling that your muscles are being pulled.
Flexion & Extension
1) Starting on your hands and knees, articulate from tail to head into full spinal flexion, or "cat" position.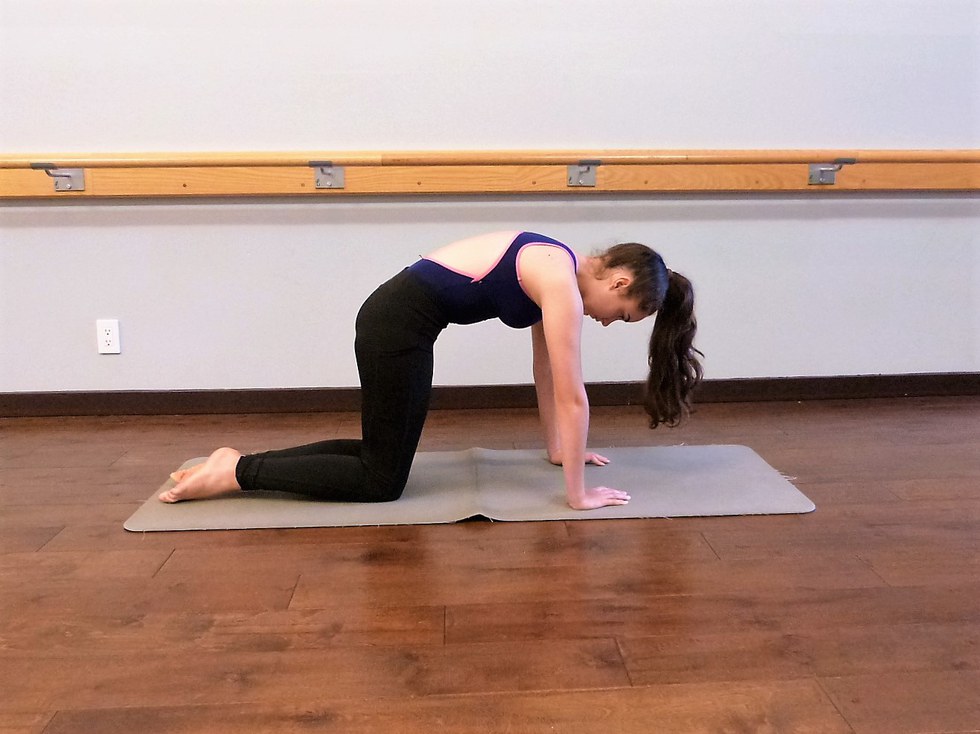 2) Take a few breaths through the back and sides of your ribs. Breath is a great way to break up any tissue that might be restricting your range.
3) Unwind the spine into spinal extension, or "cow" position. Being careful to support your spine with your abdominals. If you tend to be hypermobile in your lumbar spine (low back) focus on the thoracic spine (mid back) extension by reaching your heart forward and feel a gentle opening of the ribcage.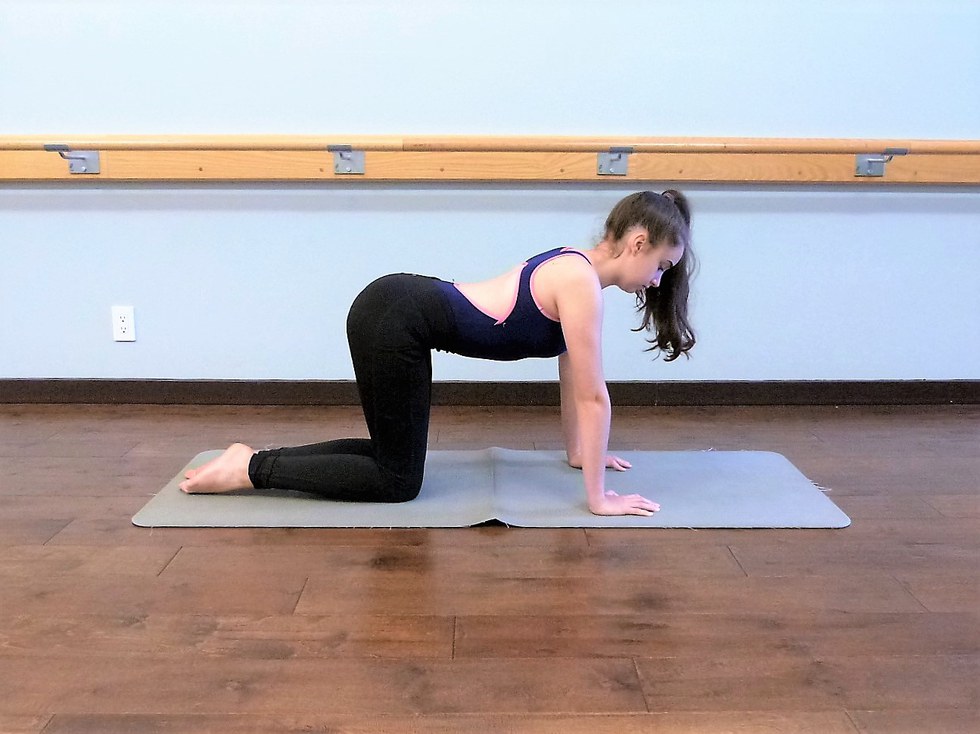 Return to starting and repeat four to five times
Lateral Flexion
1) Sitting in a comfortable position, rest your hand on a fitness circle, stability ball, or the floor on your right side.
2) Press down on your prop, or the floor, and bend to the right.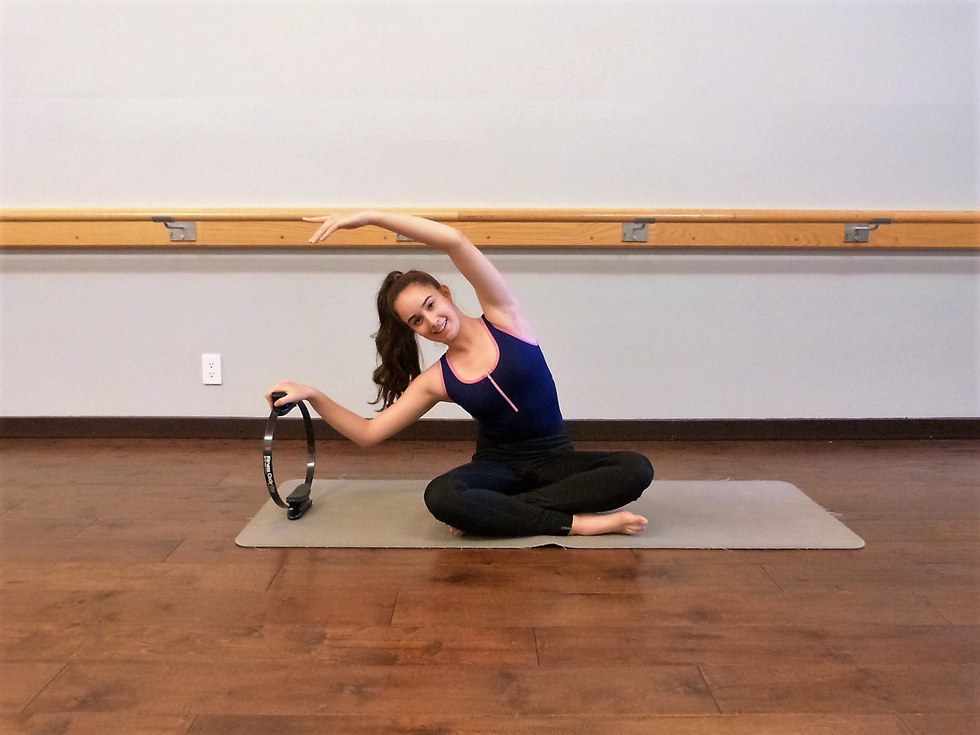 3) Gently breathe into the left side of the ribcage. Inhale and exhale three times, using the image of creating space between each rib on every inhale.
Return to starting position, do it on the left side and repeat the series three times
Rotation
1) Start on your knees with one hand on the floor and the back of your other hand on a stability ball or the floor.
2) Rotate your ribcage by rolling the ball or sliding your hand to the opposite side of your body. Breathe out as you rotate to let go of any tension you might be holding.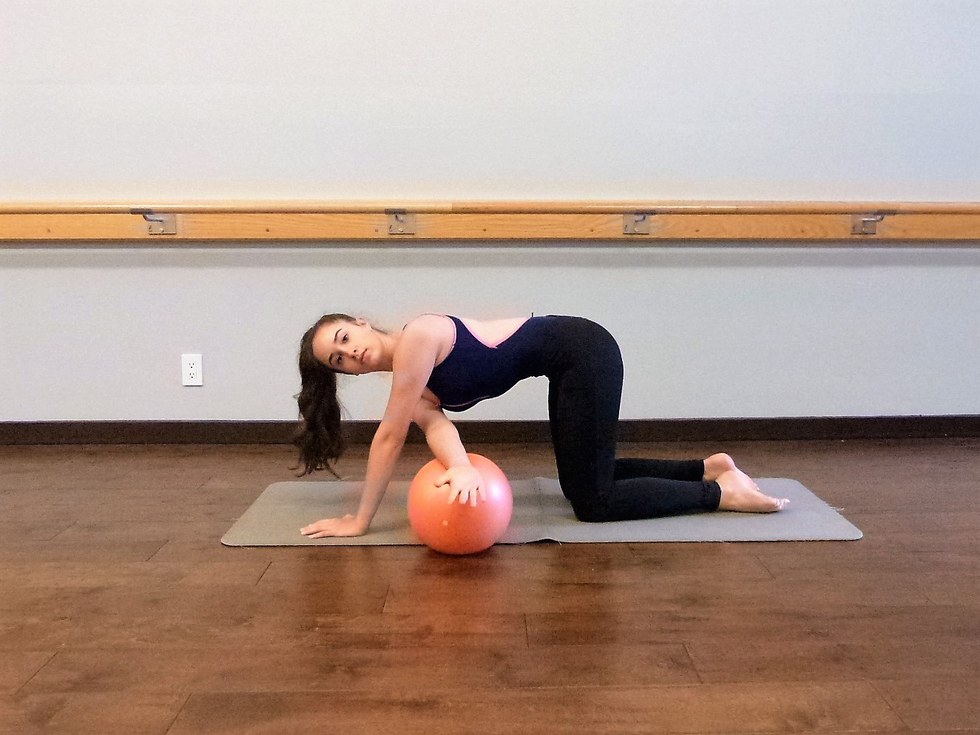 Return to starting position and repeat four to five times, then do the same on the opposite side.
PRACTICE
Training proper ribcage placement can prevent back tightness in the future.
Quadraped Thera-band
1) Place a light Thera-band around the bottom of your ribcage and hold it with some tension in quadruped position.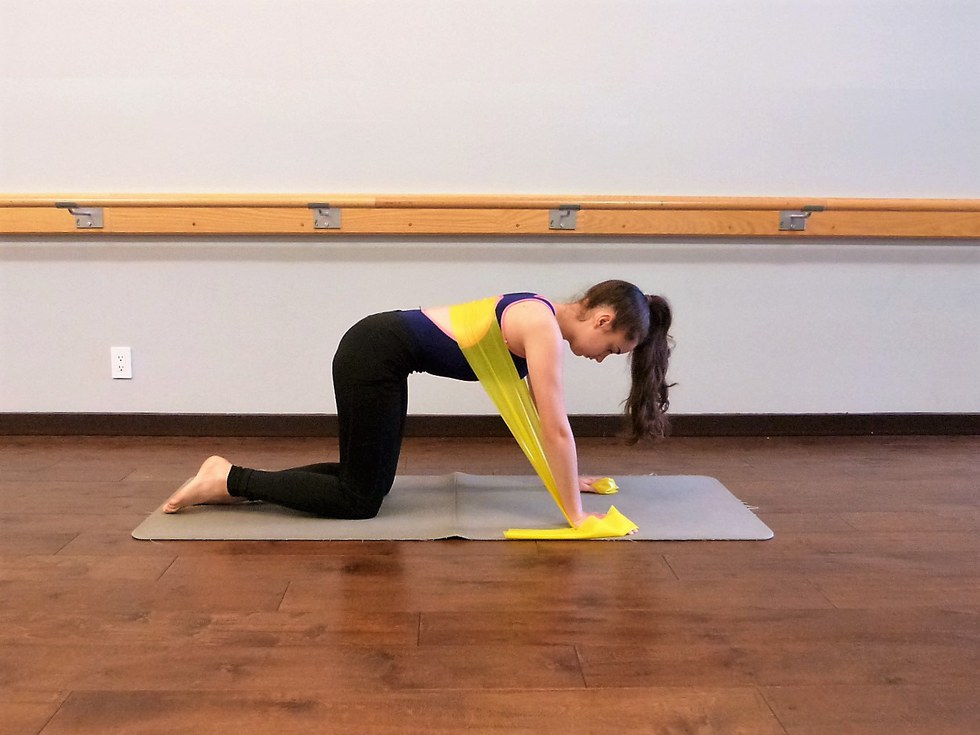 2) Let your ribcage relax and let the Thera-band open up the ribcage.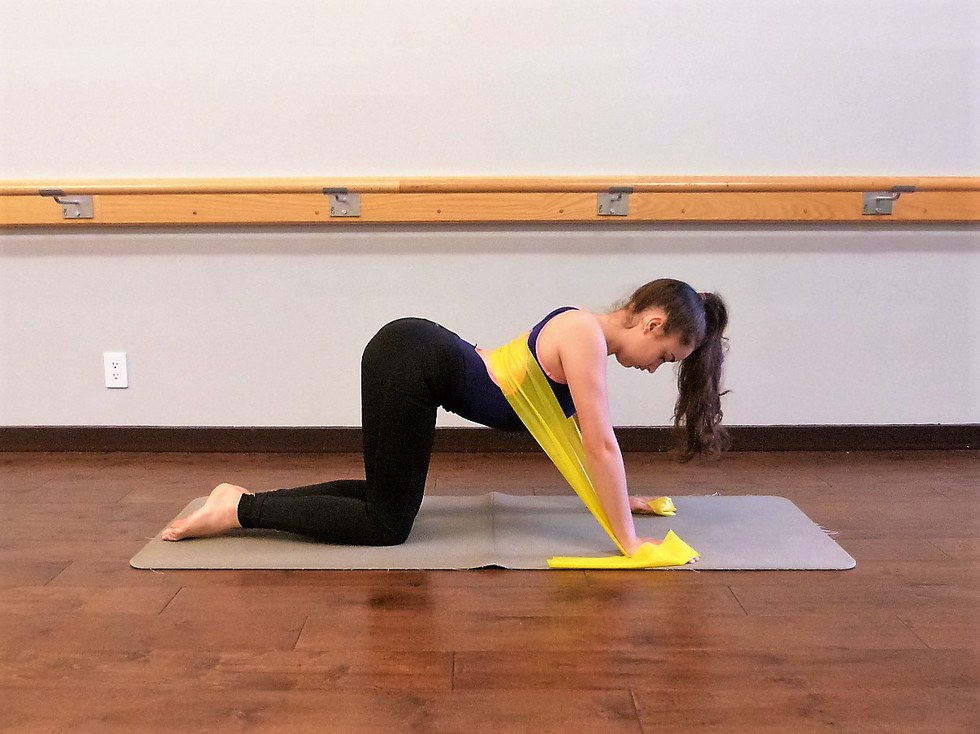 3) Press into the Thera-band using your abdominals. The Thera-band will give you great feedback as to where your ribs should be.
Return to starting position and repeat five times
STRENGTHEN
Strengthening the ab muscles will help keep your ribcage in place. But, if you have a tight back, you may not have enough range of motion to perform a full crunch. Give your back some support by performing ab preps/crunches on a mini stability ball until strength and mobility is gained.
Ab Prep
1) Start in a neutral spine resting your upper back on the ball. Both feet can be on the floor or one leg can be in tabletop.
2) Gently flex the thoracic spine, taking weight off of the stability ball but maintaining contact.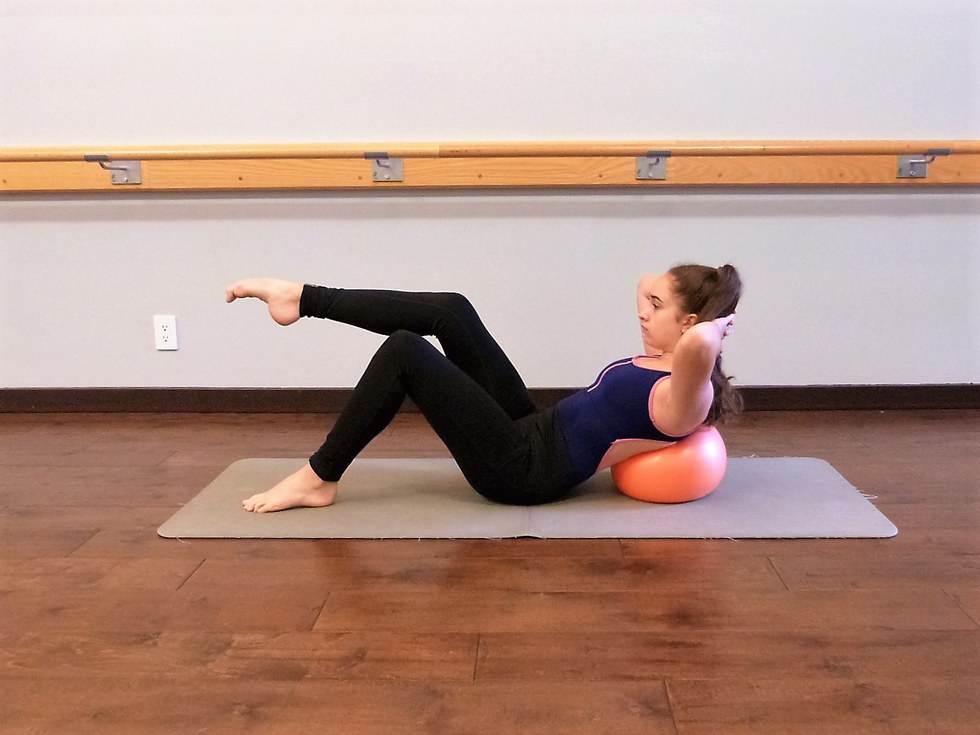 Repeat eight to 10 times.
Dance in Pop Culture
May. 25, 2018 01:48PM EST
Ne-Yo, Jennifer Lopez and Derek Hough return to "World of Dance" on May 29
Season 2 of World of Dance is almost here! The new season officially kicks off on Tuesday on NBC, and it's bringing a whole new crew of talented dancers with it (plus, some old favorites). Dance pro judges Jennifer Lopez, Derek Hough and Ne-Yo are back, too, with Jenna Dewan serving as the show's host.
Obviously we'll be watching, but just in case you're not completely sold, here's why you're not going to want to miss out:
JLo Might Be Performing
Earlier this week, JLo (who serves as the show's executive producer) posted this insane promo clip to her Instagram. Dancing to a mashup of Cardi B's "Bodak Yellow" and her new single "Dinero," JLo reminded us all of her dance skills while also leading us to believe she might just hit the stage herself for a performance.

Keep reading...
Show less
May. 25, 2018 12:14PM EST
Travis Wall draws inspiration from dancers Tate McCrae, Timmy Blankenship and more.
One often-overlooked relationship that exists in dance is the relationship between choreographer and muse. Recently two-time Emmy Award Winner Travis Wall opened up about his experience working with dancers he considers to be his muses.
"My muses in choreography have evolved over the years," says Wall. "When I'm creating on Shaping Sound, our company members, my friends, are my muses. But at this current stage of my career, I'm definitely inspired by new, fresh talent."
Wall adds, "I'm so inspired by this new generation of dancers. Their teachers have done such incredible jobs, and I've seen these kids grown up. For many of them, I've had a hand in their exposure to choreography."

Keep reading...
Show less
Rant & Rave
May. 23, 2018 04:25PM EST
Jessica Lang's Her Notes, one of ABT's few recent commissions from women. Photo by Rosalie O'Connor
A few weeks ago, American Ballet Theatre announced the A.B.T. Women's Movement, a new program that will support three women choreographers per season, one of whom will make work on the main company.
"The ABT Women's Movement takes inspiration from the groundbreaking female choreographers who have left a lasting impact on ABT's legacy, including Agnes de Mille and Twyla Tharp," said artistic director Kevin McKenzie in a press release.
Hypothetically, this is a great idea. We're all for more ballet commissions for women. But the way ABT has promoted the initiative is problematic.
Keep reading...
Show less
News
May. 18, 2018 12:05PM EST
The inimitable Alicia Alonso, now 97, remains at the helm of Ballet Nacional de Cuba. Photo by Leysis Quesada, Courtesy BNC
On the occasion of its 70th anniversary, the Ballet Nacional de Cuba tours the U.S. this spring with the resolute Cuban prima ballerina assoluta Alicia Alonso a the helm. Named a National Hero of Labor in Cuba, Alonso, 97, has weathered strained international relations and devastating fiscal challenges to have BNC emerge as a world-class dance company. Her dancers are some of ballet's best. On offer this time are Alonso's Giselle and Don Quixote. The profoundly Cuban company performs in Chicago May 18–20, Tampa May 23, Washington, D.C., May 29–June 3 and Saratoga, New York June 6–8.
Courtesy Soffe, Dicsount Dance Supply, Danskin. LeaMarie leotard photographed by Jayme Thornton
Considering we practically live in our dance clothes, there's really no such thing as having too many leotards, tights or leggings (no matter what our mom or friends say!). That's why we treat every sale as an opportunity to stock up. And thanks to the holiday weekend, you can shop all of your dancewear go-tos or try something totally new for as much as 50% less than the usual price.
Here are the eight sales we're most excited about—from online options to in-store retailers that will help you find the perfect fit. Happy Memorial Day (and shopping)!
Now through Monday, Danskin's site will automatically take 25% off your entire purchase at checkout. Even new items like their Pintuck Detail Floral Print Sports Bra and Pintuck Detail Legging (pictured here) are fair game.
Keep reading...
Show less
News
May. 25, 2018 12:38PM EST
Ailey dancers and stagehands rallied together yesterday. Photo by Jen Peters
"The sun may be shining brightly, but we are not in a very sunny mood today!" said New York State assemblywoman Linda Rosenthal during yesterday's rally for the Artists of Ailey.
The dancers and stage crew are demanding increased wages and more comprehensive benefits, what they have termed "reaching for the standard" and "fair wages."
Keep reading...
Show less


Get Dance Magazine in your inbox