Two questions I'm often asked as an advocate for diversity in ballet are, "Do you think ballet organizations are genuine?" and, "Do you think it's changing?"
Quite honestly, there are times when I am not so certain. Then there are days when I get texts and Facebook messages alerting me to a story that reinforces my belief that ballet might just be shifting.
One such moment was in late November when Andrea Long-Naidu texted me the image of Pacific Northwest Ballet's Clara, Samrawit Saleem. There she was, seated on the floor in her party dress, gazing down lovingly at her Nutcracker with an elegant use of épaulement. Andrea called me, "Theresa, she's gorgeous, she's brown and look at her hair!!" She was referring to Saleem's double strand twists that were styled half-up half-down. My mouth was agape.
---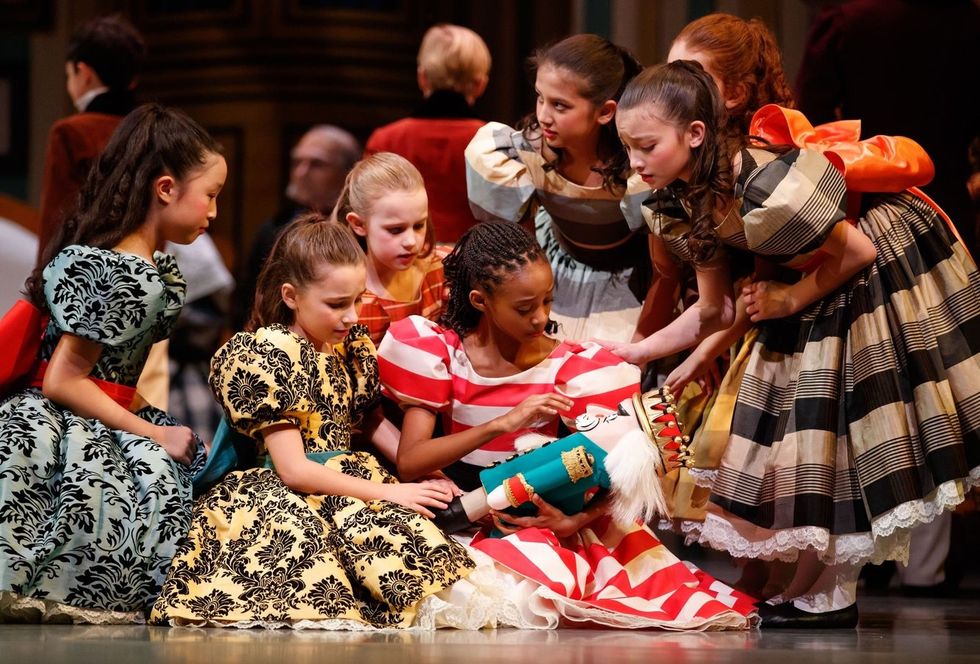 Photo by Erika Schultz for Seattle Times
On social media, "skin-folk" had gotten hold of the image and were reposting it, prizing the casting and, of course, her hair. African American hair has been stigmatized since slavery, when women were forced to wear head scarves because it was deemed unsightly. Even today there are court cases against employers who forbid black women to wear their natural hair in corporate settings, deeming it "unprofessional." PNB's casting of a black Clara was courageous, but a black Clara with natural hair was radical.
I needed to get to the bottom of it.
I soon learned that, over the past three years, PNB has had five Claras, who perfectly represent the demographics of Seattle: two are white, one is Korean, one is Japanese/Spanish and the last is Saleem (who is the first African American Clara in PNB's Balanchine version of Nutcracker). Artistic director Peter Boal makes it clear that she was not chosen because she was black. "Samrawit was cast as Clara because of her talent and presence," he says, "and there were no barriers at PNB to block her from this opportunity."
Often in my advocacy, I find myself to be a sounding board for the frustration and mistrust the African American community has when it comes to ballet's push for diversity. It's warranted. Often our issues are treated as fads, and organizations pocket large amounts of money for simulating support and offering "exposure" that yield little-to-no sustainable change. It is natural for folks to be suspect. I've made it my self-imposed job to suss out the authentic players from the face savers. When I saw the PNB picture of Saleem, I was warmed, not only because of her undeniable coco-ness and her twists, but because I knew deep down the work was working.
Samrawit Saleem as Clara. Photo by Angela Sterling, via seattletimes.com
I have seen how Boal and PNB's executive director Ellen Walker have been unafraid to hear hard truths, and have committed to listening, learning, then doing the right thing. PNB has been part of Seattle's Justice and Equity Committee, and together they are dedicated to making changes organization-wide. "Hearing the perspective of others reiterated the importance of being intentional about our casting, and showing audiences, families, board and the community what our values are," Boal says. "It reiterated the importance of putting role models in the front of the room, or at the center of the stage."
When asked about earning the coveted role of Clara, 11-year-old Saleem says, "I was really excited and worked really hard on this." Saleem joined PNB's school three years ago through its DanceChance program in partnership with Seattle's public schools, after training with Edna Daigne of Ewajo Dance Studio, a veteran dance teacher in the African American community.
Saleem's parents are acutely aware of the culture of whiteness in ballet and do not hesitate to speak up. When her mother accompanied her to the DanceChance orientation, there was talk about hair and the traditional bun. Mrs. Saleem approached DanceChance coordinator Lauren Kirchner, and suggested that she include hair alternatives. Kirchner was responsive. PNB is on a learning curve, but seems to be leaning in.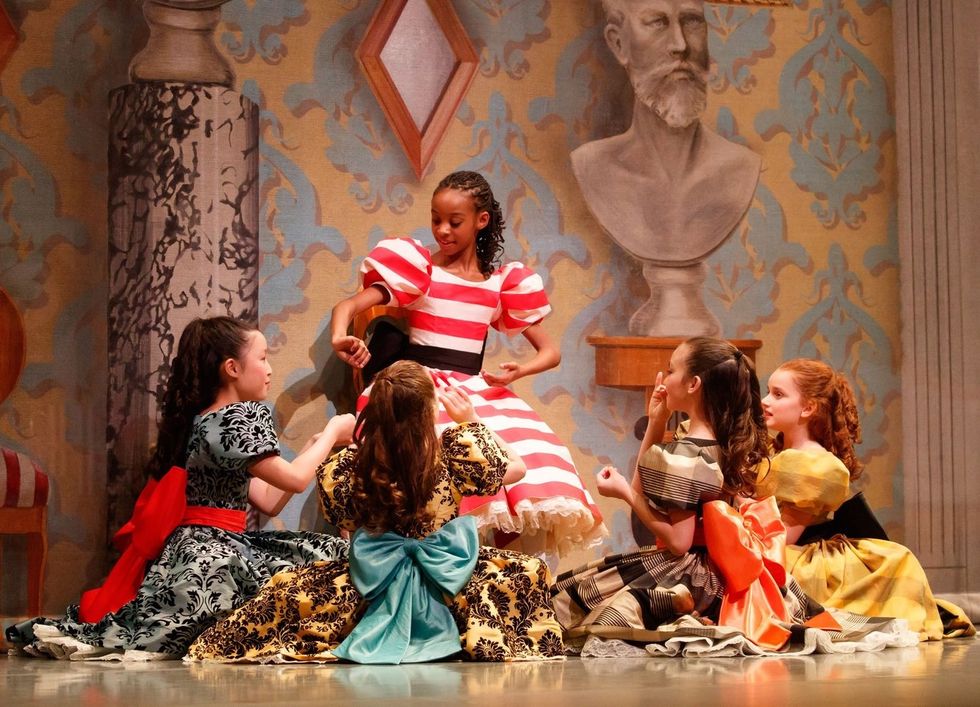 Photo by Erika Schultz for Seattle Times
Samrawit's father Zithri Saleem, is a critical theorist, and keeps this event in perspective. "We celebrate, but we celebrate in the context of whiteness," he says. "It is a reflection—the 'first black' anything is an indictment of where we are, and we can't lose sight of that." As parents, the Saleems are vocal when necessary—something that quite frankly frightens most ballet organizations: having to "deal" with parents. However, PNB has been receptive. "We have never had any issue getting access," says Mr. Saleem, "and we don't let anything slide."
After her casting, Samrawit says that there was a discussion about her hair amongst her classmates. "There were some girls who were saying, 'Well you know you're going to have to change your hair.' "
They were wrong. Boal was clear from the onset: "I felt quite strongly about this and started a conversation about her hair as soon as she was cast. I didn't want Samrawit or her family to think they needed to change her hair to fit a tradition. I also didn't want Samrawit to feel obligated to keep her braids. We communicated with Samrawit and her mom, letting them know that her hairstyle was their call: As long as the crown would stay on her head, my needs were satisfied. She wears that crown beautifully."
As a major ballet company, PNB is emerging as a leader in the diversity movement. "It's no longer good enough for PNB to be a welcoming place for people of color," Walker says. "We need to do that intentional work of finding people of color to join our school, our company, our staff and board."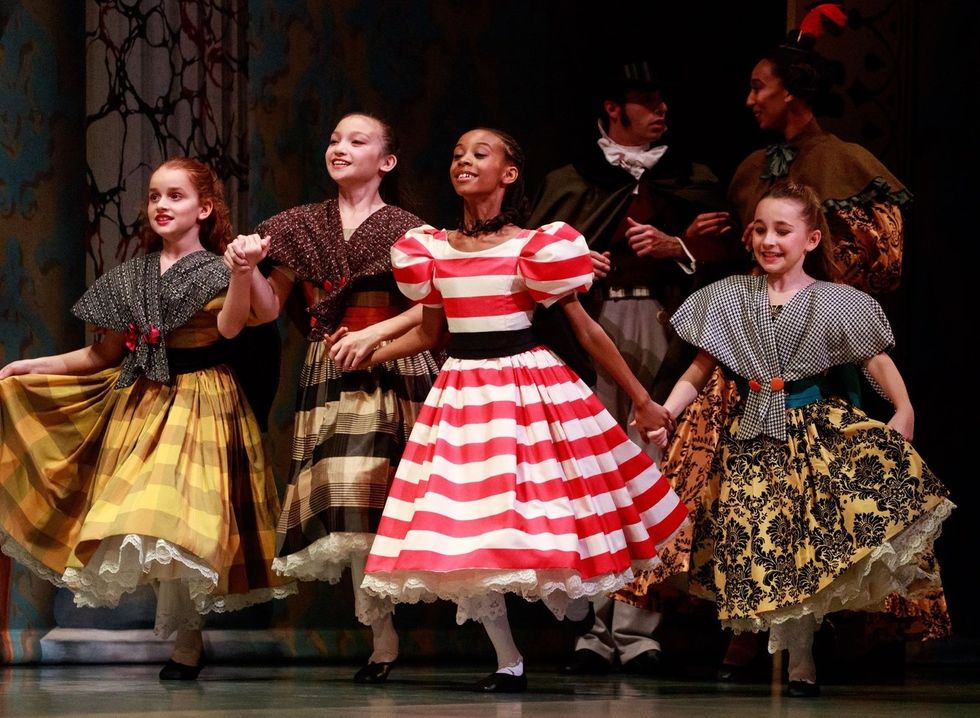 Photo by Erika Schultz for Seattle Times
Zithri Saleem has seen a conscious shift. "Over these three years, I've seen an awakening," he says. "It has been a great experience for Samry. I feel that she is valued here."
PNB might be the largest ballet company to feature a brown Clara this season, but it is certainly not the only one. Is this a trend or is the media just picking it up more?
At Ballet Memphis, Felicia Baker is not the company's first non-white Clara, but she is its first African American Clara. Diverse casting has been the norm at Ballet Memphis for a long time now, says artistic director Dorothy Gunther Pugh. "We have had interracial lead couples in our Nutcracker, as we have in all our work we present. I think it is enormously important for all audiences to see non-white boys and girls and women and men on the stage."
Salomé Tregre is Cincinnati Ballet's first black Clara in 50 years. (There have only been two non-white Claras in the role previously). The 13-year-old has been at the academy for 10 years. "Salomé is a student that we have watched for quite some time," says second company director Suzette Boyer Webb. "Her drive, hard work, attention to detail and coachable manner earned her this role."
You have to wonder if audiences were taken aback after almost a half a century of traditionally white Claras. But Webb says Tregre was welcomed by the audience and everyone involved in the production "with open arms."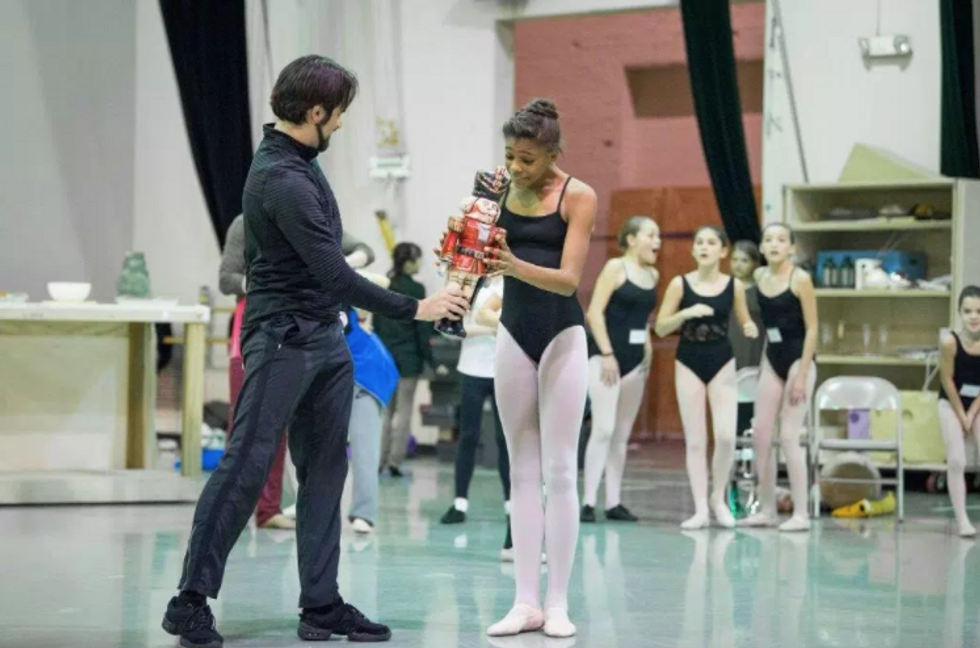 Salomé Tegre in rehearsal. Photo via thevoiceofblackcincinnati.com
I see these Claras as evidence that the work for equity is beginning to make a difference, not solely because of casting but the thinking that motivates it. However, I would be remiss if I did not mention that some of the productions that feature African Americans at Christmastime are nontraditional, like Debbie Allen Dance Academy's Hot Chocolate Nutcracker and Brooklyn Ballet's Brooklyn Nutcracker.
For 25 years, Atlanta-based Ballethinc has been presenting its Urban Nutcracker rewritten by co-founder and director Waverly Lucas. "I was motivated by the fact that I had performed in many Nutcrackers as a guest artist and only one had a black Clara," he says. "I began by changing the perspective of the story with characters that reflect African American or African diasporic culture." Taking a page out of Karel Shook and Arthur Mitchell's Creole Giselle book (both Lucas and co-founder/director Nina Gilteath are DTH alums), he flipped the script and culturally redesigned the characters making Clara into Sarah, Sugar Plum Fairy became Brown Sugar, and the Cavalier (I love this one) became The Chocolatier.
The thing that makes this rendition so brilliant is that it eradicates the offensive stereotypes that we all try to look beyond in the second act. Lucas also added culturally-specific characters like Big Mama, Mother Spice, Sassy Sadie and the Sailor, and The Reggae Ragdolls. He even reimagined the actual Nutcracker. "Ours is in the image of Marcus Garvey and his Garveyite Soldiers," he says.
Demographically, it's genius. Atlanta is a majority African American city. If Atlanta Ballet—which only has one African American dancer—is interested in drawing African Americans into the theater, a collaboration with Ballethnic on something like a reimagined Nutcracker might do the trick!
Perhaps Ballethnic has it right in reimagining the traditional ballet, because when we talk about creating equity in ballet, essentially we are talking about reimagining the ballet tradition—Eurocentric whiteness. It won't happen overnight, and it may take a while until the work is visible. In the meantime, Peter Boal is right when he says, "We are thrilled that more children in both the audience and at PNB School can see themselves onstage as future Claras and ballerinas."