Apr. 06, 2018 09:30AM EST
What It's Like To Be Backstage With Tommy Tune
Tune is still at home onstage. Photo by Franco Lacosta, courtesy Tune.
Tommy Tune is a man of many talents. The 10-time Tony Award–winning director, choreographer and star is famous for shows like Nine, My One and Only, The Will Roger's Follies and The Best Little Whorehouse in Texas.
Tune is in a special class of gifted director/choreographers that includes George Balanchine, Jerome Robbins and Michael Bennett—yet he also danced and starred in his musicals.
Today, he is touring the country with his nightclub act Tommy Tune Tonight. At 79, he is still lithe, graceful and willowy, and looks right at home onstage.
So what's it like to be backstage with the legend? Tune recently invited Dance Magazine behind the scenes for a rehearsal and performance in Los Angeles.
---
Everyone Dresses Their Best For Tommy Tune
When you work for Tune, looking your best is expected. Perfectly groomed and dressed, he is the epitome of class. His costume for this show is a bright red sequined suit, paired with shiny silver tap shoes.
Although most audiences today attend the theater in casual clothes, Tune's performers are meticulously dressed to the nines, and they look fabulous. Tune's pianist and musical director Michael Biagi, for example, is excited about his new black suit—he bought it for himself as a birthday present. He carefully folds and refolds his handkerchief backstage to get it placed just perfectly in his pocket.


He Might Make Changes Right Up Until Curtain
Towards the end of the afternoon rehearsal, Tune suddenly decides to cut a monologue from the show. He substitutes a song from Chicago, "Nowadays." Biagi, his pianist, seems stressed; he didn't bring the chart for this song with him. To complicate matters, Tune is also now singing it in a different key.
You've got to be flexible to adapt in these situations. The change is worth it; there's a surge of energy on stage as they run through the number. This last-minute, split-second change breathes new life into the show.


He is Loyal To Those In His Inner Circle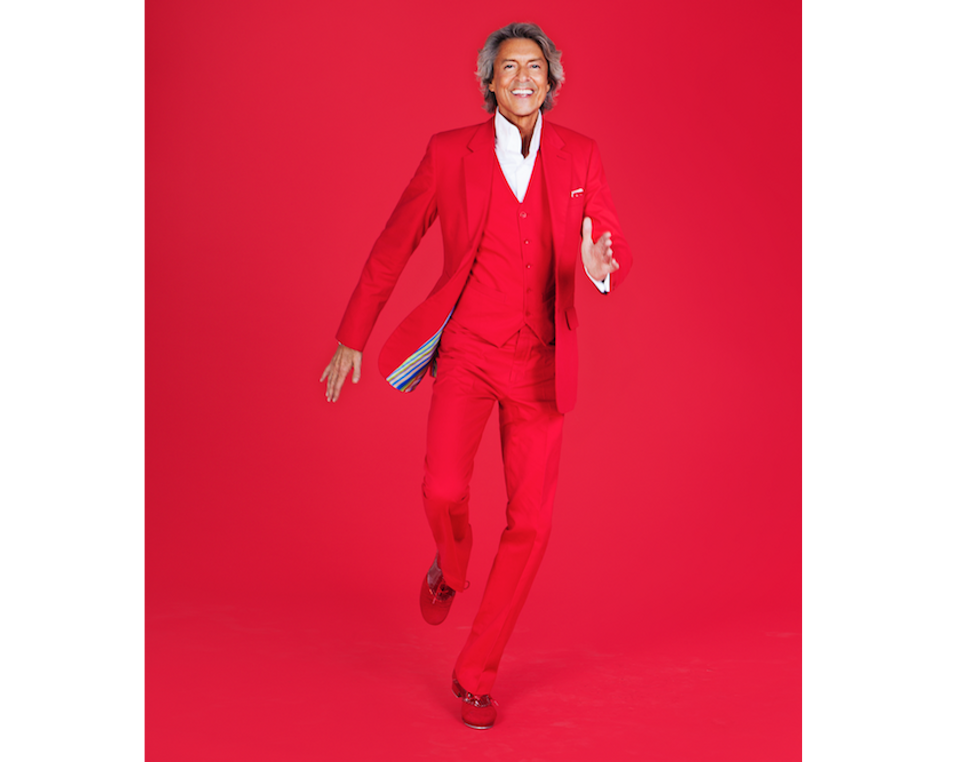 Tune still brings his favorite team on tour. Photo by Franco Lacosta, courtesy Tune.
Peter Glebo, Tune's creative director, explains that Tune could hire local musicians, which would be cheaper. Instead, he brings his own, because this group is so in tune. Each has worked with him anywhere from 12 to 48 years. They have a fun, healthy and happy group energy. You can feel it.
Tune also uses the same devoted dance assistants on his shows. He is a loyalist.
Before the show starts, they all stand in a circle together, joining hands, and setting their intention to be the best that they can be.
Related Articles Around the Web
Ailey II artistic director Troy Powell teaching an Ailey Workshop at NYCDA. Courtesy NYCDA
Back in 2011 when Joe Lanteri first approached Katie Langan, chair of Marymount Manhattan College's dance department, about getting involved with New York City Dance Alliance, she was skeptical about the convention/competition world.
"But I was pleasantly surprised by the enormity of talent that was there," she says. "His goal was to start scholarship opportunities, and I said okay, I'm in."
Today, it's fair to say that Lanteri has far surpassed his goal of creating scholarship opportunities. But NYCDA has done so much more, bridging the gap between the convention world and the professional world by forging a wealth of partnerships with dance institutions from Marymount to The Ailey School to Complexions Contemporary Ballet and many more. There's a reason these companies and schools—some of whom otherwise may not see themselves as aligned with the convention/competition world—keep deepening their relationships with NYCDA.
Now, college scholarships are just one of many ways NYCDA has gone beyond the typical weekend-long convention experience and created life-changing opportunities for students. We rounded up some of the most notable ones:
Keep reading...
Show less
We knew that Ivo van Hove and Anne Teresa de Keersmaeker's production of West Side Story would challenge our preconceived notions about the show.
But a recent Vogue story gives us a taste of just how nontraditional the Broadway revival will be. Most notably, van Hove is cutting "I Feel Pretty" and the "Somewhere" ballet, condensing the show into one act to better reflect the urgency of the 48-hour plot. (The choice has been approved by the West Side Story estate, including Sondheim, who has "long been uncomfortable" with some of the "I Feel Pretty" lyrics.)
Keep reading...
Show less
Left: Hurricane Harvey damage in Houston Ballet's Dance Lab; Courtesy Harlequin. Right: The Dance Lab pre-Harvey; Nic Lehoux, Courtesy Houston Ballet.
"The show must go on" may be a platitude we use to get through everything from costume malfunctions to stormy moods. But when it came to overcoming a literal hurricane, Houston Ballet was buoyed by this mantra to go from devastated to dancing in a matter of weeks—with the help of Harlequin Floors, Houston Ballet's longstanding partner who sprang into action to build new floors in record time.
Keep reading...
Show less