What Will We See During the 2018 Tony Awards? We Have a Few (Dance-Centric) Requests
The set for last year's ceremony. Photo by Stephanie Berger, Courtesy The Tony Awards
The biggest weekend in Broadway is finally upon us: The Tony Awards are this Sunday (airing at 8 pm EST on CBS). While other media outlets might be busy forecasting winners, we're speculating about the dancing we might get to see during the broadcast.
Needless to say, we have a few ideas.
---
First off, let's get some dancing in that opening number.
Hosts Josh Groban and Sara Bareilles are known more for their pipes than their dancing feet, but that's what ensembles are for! Will they reach the heights of Neil Patrick Harris' legendary 2013 opener? (Can anyone?)

Since Mikhail Baryshnikov is reportedly presenting (!!!)...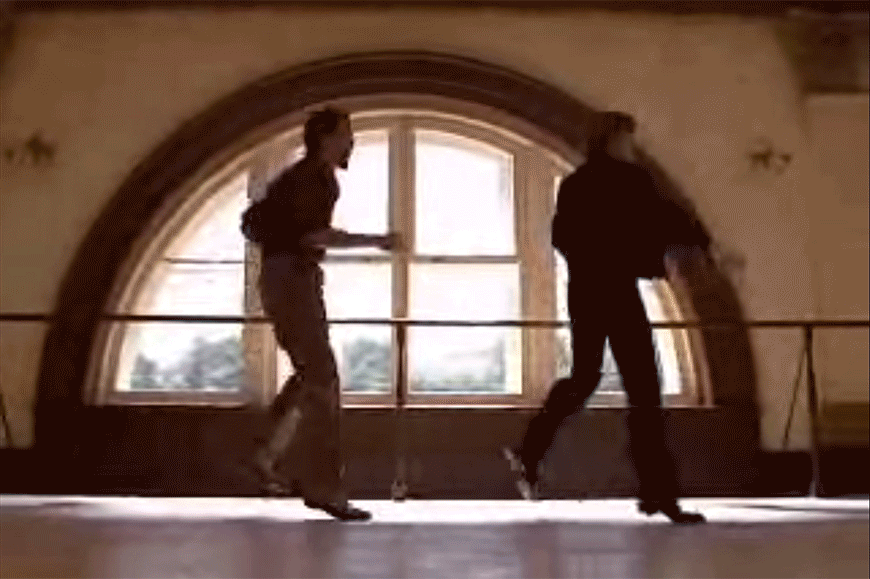 Via Giphy
Can someone convince him to dance a bit while he's up there? Just a little bit? Please?

Will we get to see Ariana DeBose tear it up on the dance floor?
Hamilton's original "bullet" nabbed an Actress in a Featured Role in a Musical nomination for her performance in Summer: The Donna Summer Musical. While we don't know what song(s) the production will be bringing, we're desperately hoping for a glimpse of her "Disco Donna" dancing Sergio Trujillo's heels work, especially after she took home a Chita Rivera Award for it.

Speaking of Chita Rivera, is she going to dance to the podium to receive her Lifetime Achievement Award?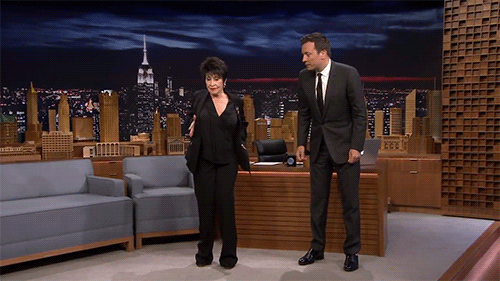 Via Giphy
Because we really hope she does—or at least that there's some serious dancing in her honor.

While we're on the topic of dream performers, can we also get some Amar Ramasar?
Amar Ramasar and the ensemble of Carousel. Photo by Julieta Cervantes
What can we say, we've missed the New York City Ballet principal this spring! The "Blow High, Blow Low" number from Carousel has gotten a lot of critical buzz due to the heady combination of Justin Peck's choreography and Ramasar's irresistible performance chops. Plus, it would give viewers outside NYCB's orbit a chance to drool over Ramasar's dreaminess.

What about some moves from Camille A. Brown?
Once On This Island racked up eight nominations, giving nods to virtually the entire production team—except for Brown, the show's choreographer. But the revival's performance at the Tonys would be the perfect opportunity to show those nominators what they may have overlooked.

And we wouldn't complain about another glimpse of the SpongeBob ensemble.
We'd love another chance to see Gavin Lee/Squidward's tap skills or Wesley Taylor/Plankton's rap skills—the same ensemble gives excellent dance backup to both, choreographed by Christopher Gattelli, in drastically different styles. But we acknowledge that it'll probably be breakout star (and Actor in a Leading Role in a Musical nominee) Ethan Slater repping SpongeBob SquarePants.

Oh, and we still really want to see the presentation of the Best Choreography Tony.
Come on, we deserved to see Andy Blankenbuehler's acceptance speech in 2016! Photo by Shevett Studios, Courtesy The Tony Awards
I know, we bring this up every year, it's a long show, something has to happen during the commercial breaks, etc. But if Peck takes home a Tony for his first Broadway outing—after nabbing both the Drama Desk and Chita Rivera Awards for his work on Carousel, he's the easy favorite—we'd really like to witness it.

Most people may know Derek Dunn for his impeccable turns and alluring onstage charisma. But the Boston Ballet principal dancer is just as charming offstage, whether he's playing with his 3-year-old miniature labradoodle or working in the studio. Dance Magazine recently spent the day with Dunn as he prepared for his debut as Albrecht in the company's upcoming run of Giselle.
Rosalie O'Connor, Courtesy Mark Morris Dance Group
You know compelling musicality when you see it. But how do you cultivate it? It's not as elusive as it might seem. Musicality, like any facet of dance, can be developed and honed over time—with dedicated, detailed practice. At its most fundamental, it's "respect for the music, that this is your partner," says Kate Linsley, academy principal of the School of Nashville Ballet.
Keep reading...
Show less
The USC Kaufman graduating class with Mikhail Baryshnikov. Gus Ruelas/USC
Just four years ago, the University of Southern California's Glorya Kaufman School of Dance welcomed its first class of BFA students. The program—which boasts world-class faculty and a revolutionary approach to training focused on collaboration and hybridity—immediately established itself as one of the country's most prestigious and most innovative.
Now, the first graduating class is entering the dance field. Here, six of the 33 graduates share what they're doing post-grad, what made their experience at USC Kaufman so meaningful and how it prepared them for their next steps:
Keep reading...
Show less
Ross Parkes, right, teaching in Shanghai in 1983. Lan-Lan Wang is at left. Courtesy Lan-Lan Wang.
Notable dancer and beloved teacher, Ross Parkes, 79, passed away on August 5, 2019 in New York City. He was a founding faculty member at Taipei National University of the Arts in Taiwan, where he taught from 1984 to 2006. Lin Hwai-min, artistic director of Cloud Gate Dance Theater, said: "He nurtured two generations of dancers in Taiwan, and his legacy will continue."
About his dancing, Tonia Shimin, professor emerita at UC Santa Barbara and producer of Mary Anthony: A Life in Modern Dance, said this: "He was an exquisite, eloquent dancer who inhabited his roles completely."
Keep reading...
Show less