What Will We See During the 2018 Tony Awards? We Have a Few (Dance-Centric) Requests
The set for last year's ceremony. Photo by Stephanie Berger, Courtesy The Tony Awards
The biggest weekend in Broadway is finally upon us: The Tony Awards are this Sunday (airing at 8 pm EST on CBS). While other media outlets might be busy forecasting winners, we're speculating about the dancing we might get to see during the broadcast.
Needless to say, we have a few ideas.
---
First off, let's get some dancing in that opening number.
Hosts Josh Groban and Sara Bareilles are known more for their pipes than their dancing feet, but that's what ensembles are for! Will they reach the heights of Neil Patrick Harris' legendary 2013 opener? (Can anyone?)

Since Mikhail Baryshnikov is reportedly presenting (!!!)...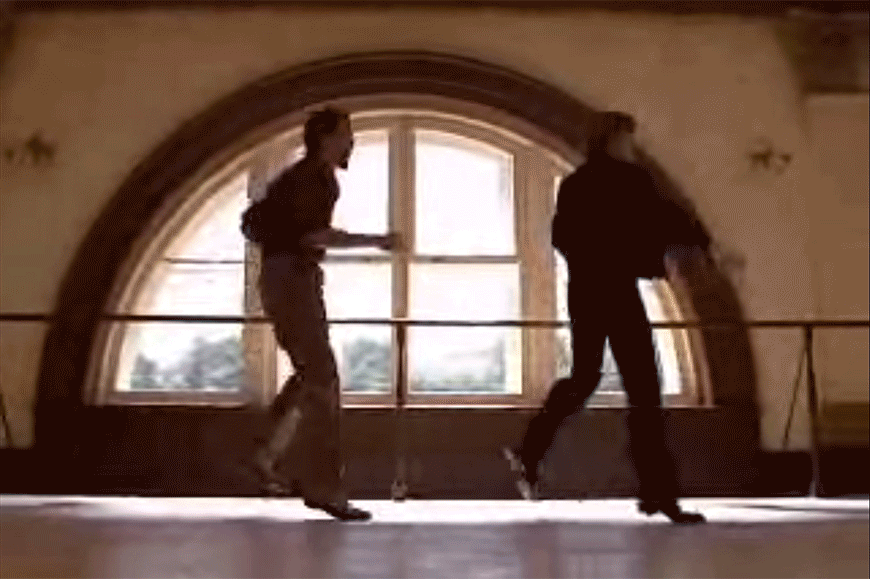 Via Giphy
Can someone convince him to dance a bit while he's up there? Just a little bit? Please?

Will we get to see Ariana DeBose tear it up on the dance floor?
Hamilton's original "bullet" nabbed an Actress in a Featured Role in a Musical nomination for her performance in Summer: The Donna Summer Musical. While we don't know what song(s) the production will be bringing, we're desperately hoping for a glimpse of her "Disco Donna" dancing Sergio Trujillo's heels work, especially after she took home a Chita Rivera Award for it.

Speaking of Chita Rivera, is she going to dance to the podium to receive her Lifetime Achievement Award?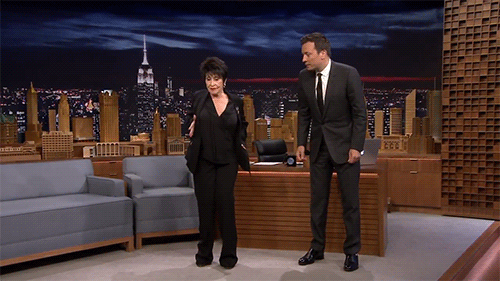 Via Giphy
Because we really hope she does—or at least that there's some serious dancing in her honor.

While we're on the topic of dream performers, can we also get some Amar Ramasar?
Amar Ramasar and the ensemble of Carousel. Photo by Julieta Cervantes
What can we say, we've missed the New York City Ballet principal this spring! The "Blow High, Blow Low" number from Carousel has gotten a lot of critical buzz due to the heady combination of Justin Peck's choreography and Ramasar's irresistible performance chops. Plus, it would give viewers outside NYCB's orbit a chance to drool over Ramasar's dreaminess.

What about some moves from Camille A. Brown?
Once On This Island racked up eight nominations, giving nods to virtually the entire production team—except for Brown, the show's choreographer. But the revival's performance at the Tonys would be the perfect opportunity to show those nominators what they may have overlooked.

And we wouldn't complain about another glimpse of the SpongeBob ensemble.
We'd love another chance to see Gavin Lee/Squidward's tap skills or Wesley Taylor/Plankton's rap skills—the same ensemble gives excellent dance backup to both, choreographed by Christopher Gattelli, in drastically different styles. But we acknowledge that it'll probably be breakout star (and Actor in a Leading Role in a Musical nominee) Ethan Slater repping SpongeBob SquarePants.

Oh, and we still really want to see the presentation of the Best Choreography Tony.
Come on, we deserved to see Andy Blankenbuehler's acceptance speech in 2016! Photo by Shevett Studios, Courtesy The Tony Awards
I know, we bring this up every year, it's a long show, something has to happen during the commercial breaks, etc. But if Peck takes home a Tony for his first Broadway outing—after nabbing both the Drama Desk and Chita Rivera Awards for his work on Carousel, he's the easy favorite—we'd really like to witness it.

Related Articles Around the Web
From Your Site Articles
Just for Fun
Jul. 16, 2019 02:13PM EST
As Dance Magazine editors, we admittedly spend more time than we'd like sifting through stock photography. Some of it is good, more of it is bad and most of it is just plain awkward.
But when paired with the right caption, those shots magically transform from head-scratchers to meme-worthy images that illustrate our singular experience as dancers. You can thank the internet for this special salute to dancer moods.
Keep reading...
Show less
Wayne McGregor. Photo by Johan Persson, Courtesy ROH
It's no surprise that dancers make some of the best TED Talk presenters. Not only are they great performers, but they've got unique knowledge to share. And they can dance!
If you're in need of a midweek boost, look no further than these eight presentations from some incredibly inspiring dance artists.
Keep reading...
Show less
News
Jul. 16, 2019 03:58PM EST
Including this extraordinary Travis Wall number for "So You Think You Can Dance" (Adam Rose/FOX)
The Primetime Emmy Award nominations are out! Congrats to the seven choreographers who earned nods for their exceptional TV work this year. Notably, that work was made for just two shows, "So You Think You Can Dance" and "World of Dance."
And there was a particularly remarkable snub: While the dance-filled hit "Fosse/Verdon" earned 17 nominations across many of the major categories, Andy Blankenbuehler's fabulous Fosse remixes weren't recognized in the Outstanding Choreography field.
Here are all the dance routines up for Emmys:
Keep reading...
Show less

abezikus/Getty Images
"Dancers can do everything these days," I announced to whoever was in earshot at the Jacob's Pillow Archives during a recent summer. I had just been dazzled by footage of a ballet dancer performing hip hop, remarkably well. But my very next thought was, What if that isn't always a good thing? What if what one can't do is the very thing that lends character?
Keep reading...
Show less