Six years after shuttering his popular dance troupe Trey McIntyre Project, its eponymous founder is relaunching the company as a conduit for digital dance films, with a project called FLTPK. "It's not a company of dancers," McIntyre insists. "It's a community of artists."
In March, McIntyre was ready to premiere his David Bowie ballet Pretty Things, his first new work for Houston Ballet in nearly two decades, when the city shut down. With COVID-19 infections in the New York City area spiking, he decided to stay put.
---
Having transitioned to dance filmmaker since the initial closing of TMP, he was eager to move beyond the lonely dancer in the living room trope—and to put the furloughed Houston Ballet dancers to work. "The COVID crisis has put the need for new digital content into high gear as people find ways to spend their time at home," says McIntyre. "There is a great hunger for art presented in this way, but a lack of great content."
So he made three dance films: Who Am I Here? with Chun Wai Chan, Karina Gonzáles and Syvert Lorenz Garcia; The Call with Chandler Dalton, Connor Walsh and Chae Eun Yang; and Prāṇāyāma with Harper Watters. The films go live today as he announces the relaunch of TMP.
He sees his film work more of a continuation of his work as a photographer rather than as a choreographer. "In making films, I'm more interested in capturing an authentic moment," he says. "Much like photography, I spend a fair amount of time talking with collaborators about the ideas we are exploring and seeing what comes up for both of us. Sometimes I create movement and sometimes I work with dancers on an improvisational structure."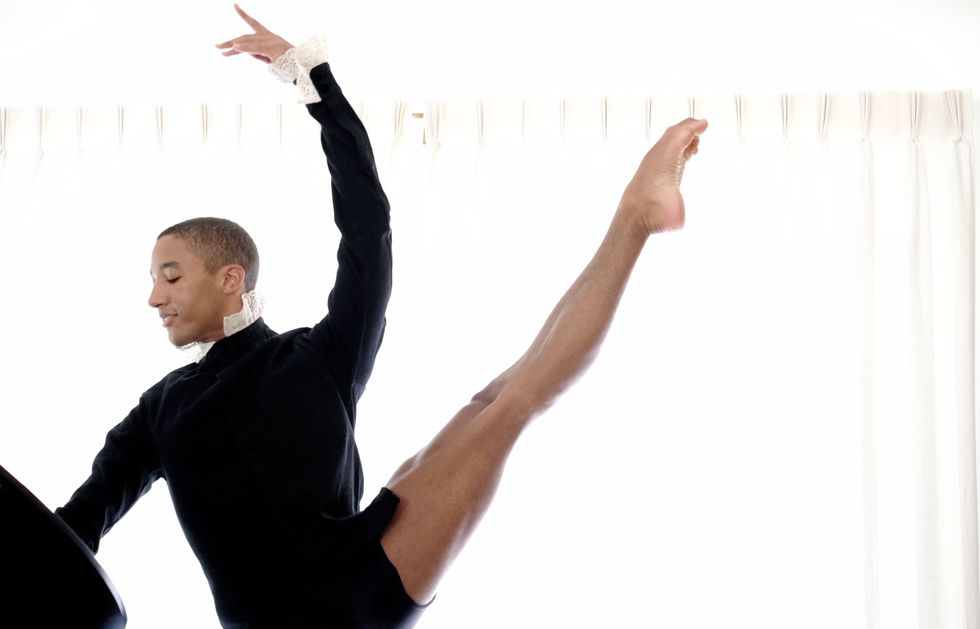 Still from Prāṇāyāma with Harper Watters
Courtesy McIntyre
While working with the Houston Ballet dancers, he had his big idea: Why did it just have to be about him? Why not have others join the digital dance film party?
"My mind doesn't really have a brake system when it comes to dreaming, so naturally it just grew in more and more directions," he says. "I'm interested in the medium of digital work evolving into a more compelling and widely enjoyed art form. That's not a goal I can achieve alone."
He has organized 13 teams of artists that each include a choreographer, designer and composer. (It's up to the group to decide who they need—many also have cinematographers and some will have multiple dancers.) Some are experienced digital content producers, while others are newer to the process. The list includes Micaela Taylor, Sidra Bell, Cass Mortimer Eipper, David Dawson, Cathy Marston, Eoghan Dillon, Javier de Frutos, Yin Yue, Dores André, Melissa Barak, Alan Cumming, Steven Hoggett and Mike Tyus, who launches with the first team film the first week of September.
The project is funded using Patreon, which McIntyre has had some success with as a photographer. The crowdfunding platform provides ongoing support for artists to do their work. "This could be something that speaks to this very moment in history and provides income and an audience for many artists who don't know where to go next," he says. "The pot of money gets divided evenly."
For McIntyre, it's the best of both worlds to be an artist working in a community, but with everyone taking stock in how it moves out into the world. "Choreography is such a solitary and frankly competitive profession. I really love having colleagues who we can mutually benefit from each other's successes."
As for the future of this version of TMP, he sees it growing even more viable post-pandemic. "The fate of the world has suddenly opened up this opportunity for the new environment to move into the forefront," he says. "The world is different now and there is no going back to how it was. How exciting it is: the potential for something we haven't seen before to open like a flower. It could be magic."