What Dancers Eat: Make This Trisha Brown Dancer's Egg Strata Recipe
Thinkstock
Growing up, Leah Ives always enjoyed preparing food—especially after-school snacks. So now, while she cooks to fuel her work with the Trisha Brown Dance Company, she always wants it to be "free-form in a casual, no-pressure way," she says.
That means she preps and eats whatever her body calls for. "I've gone through phases of cleanses and diets," she says. "But that can take the pleasure out of eating. And it doesn't feel nourishing to me. Now, I listen to my body."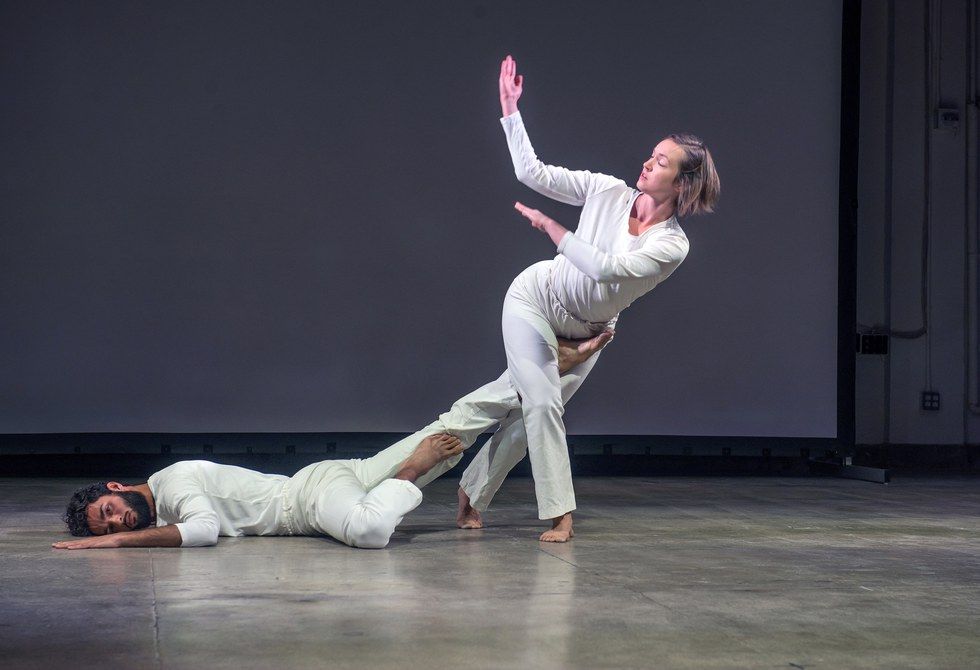 Leah Ives with Marc Crousillat. Photo by Stephanie Berger
---
What does her body crave? Often, it's simply eggs. "I look for eggs that are omega-enhanced, cage-free and from a small farm, preferably," she says. Preparing several hard-boiled eggs once a week keeps them in heavy rotation, whether she uses them for breakfast, snacks or on a salad with kale, nuts and cheese.
One favorite dish is an egg strata, a mixture of eggs, toppings and bread baked to perfection for easy transport. It provides a hefty protein punch, along with carbohydrates and veggies. Ives likes that it can be altered to any of her body's shifting needs. "Every day is going to be different," she says. "I pay attention to that."
Here's one version of Ives' egg strata recipe. Change up the fillings and their amounts to suit your preferences.
Ingredients
12 eggs
2 cups milk
salt and pepper (to taste)
basil and other herbs (to taste)
dried-out bread, torn in pieces (enough to line the bottom of the pan)
precooked chicken breast, torn in pieces
feta cheese, in chunks
cherry tomatoes, halved
spinach, sautéed
Directions
Spray the bottom of a 9x13 baking dish with cooking spray, then line the bottom with the bread.
In a separate container, beat the eggs and milk, adding salt, pepper, basil and other herbs (or Dijon mustard) to your liking.
Evenly place the feta, tomatoes, spinach and chicken on top of the bread.
Pour the egg mixture over the fillings and bread. Some pieces might float up—push them down.
Cover with Saran wrap and leave in the fridge overnight.
In the morning, bake at 350° F for 45 minutes or until set.
Related Articles Around the Web
Courtesy Boneau/Bryan-Brown
If "Fosse/Verdon" whet your appetite for the impeccable Gwen Verdon, then Merely Marvelous: The Dancing Genius of Gwen Verdon is the three-course meal you've been craving. The new documentary—available now on Amazon for rental or purchase—dives into the life of the Tony-winning performer and silver-screen star lauded for her charismatic dancing.

Though she's perhaps most well-known today as Bob Fosse's wife and muse, that's not even half of her story. For starters, she'd already won four Tonys before they wed, making her far more famous in the public eye than he was at that point in his career. That's just one of many surprising details we learned during last night's U.S. premiere of Merely Marvelous. Believe us: You're gonna love her even more once you get to know her. Here are eight lesser-known tidbits to get you started.
Keep reading...
Show less
Lindsay Thomas
Every dancer knows that how you fuel your body affects how you feel in the studio. Of course, while breakfast is no more magical than any other meal (despite the enduring myth that it's the most important one of the day), showing up to class hangry is a recipe for unproductive studio time.
So what do your favorite dancers eat in the morning to set themselves up for a busy rehearsal or performance day?
Keep reading...
Show less
News
Sep. 20, 2019 09:17AM EST
Simon Soong, Courtesy DDT
When it comes to dance in the U.S., companies in the South often find themselves overlooked—sometimes even by the presenters in their own backyard. That's where South Arts comes in. This year, the regional nonprofit launched Momentum, an initiative that will provide professional development, mentorship, touring grants and residencies to five Southern dance companies.
Keep reading...
Show less
News
Sep. 19, 2019 12:46PM EST
Alice Pennefather, Courtesy ROH
You ever just wish that Kenneth MacMillan's iconic production of Romeo and Juliet could have a beautiful love child with the 1968 film starring Olivia Hussey? (No, not Baz Luhrmann's version. We are purists here.)
Wish granted: Today, the trailer for a new film called Romeo and Juliet: Beyond Words was released, featuring MacMillan's choreography and with what looks like all the cinematic glamour we could ever dream of:
Keep reading...
Show less