PT Elizabeth Harrison works with her former company, Nashville Ballet. Photo by Martin O'Connor Photography, Courtesy Harrison
It's fall 2009, and I'm standing in Andy Blankenbuehler's midtown office where he, Lin-Manuel Miranda and others are working on their next show, Bring It On: The Musical. Already it's clear that Miranda/Blankenbuehler collaborations are just daring enough to be groundbreaking. Blankenbuehler hands me a note scribbled on a page from the script.
In that moment, I realize I've found my place in the dance world—as a writer, telling the stories of the artistic greats.
Keep reading...
Show less
The Joffrey Ballet has created a workout series. PC Cheryl Mann, Courtesy Joffrey
It's an ongoing question for large and small companies alike: How can we increase ticket sales? Tickets are the primary product dance troupes are selling. But what if there were other untapped avenues to make money, and even expand your audience in the process?
Some companies are exploring the possibilities. L.A. Dance Project recently launched the subscription-based ladanceworkout.com, offering streaming workout videos led by company members. Groups of all sizes and even some individual dancers have launched merchandise lines bearing their logos. And, of course, there's the perpetually innovative Pilobolus, which has been in the creative-revenue game for years, with books, advertisements, corporate appearances and more. Companies told us what it takes to expand revenue streams beyond ticket sales:
Keep reading...
Show less
Image courtesy "We Speak Dance"
Even as a teen, Vandana Hart knew she wasn't headed for a cookie-cutter dance career. "Growing up with a family that really cared about social change, pursuing dance as a standalone career—without linking it to something more—felt like I wasn't completely fulfilling my purpose," she says.
Linking dance to "something more" is just what she did: In her downtime from her role as a coordinator for UN Women's "safe cities" initiative, she has choreographed and taught dance around the world. Now, she produces a Netflix series called "We Speak Dance," in which she travels the globe to learn new dance styles and the deeply human stories behind them.
Keep reading...
Show less
Ashley Ellis, photo by Albert Ayzenberg, courtesy of Ashley Ellis
Every dancer has learned—probably the hard way—that healthy feet are the foundation of a productive and happy day in the studio. As dancers, our most important asset has to carry the weight (literally) of everything we do. So it's not surprising that most professional dancers have foot care down to an art.
Three dancers shared their foot-care products they can't live without.
Keep reading...
Show less
Colorado Ballet, PC Mike Watson
One of the toughest moments in the ballet world is watching a life-changing performance—and then looking around to see that only half the seats were filled to witness it. The discussion about how ballet can stay relevant and build new audiences has been going on for decades. However, these debates often end in speculation about the relevance of the product, rather than placing the onus on the marketing and sales crew.
But recently, a few U.S. ballet companies have done the latter, leading to full houses on weeknights and proving that revenue growth is possible: In 2016, Boston Ballet saw record-breaking ticket revenue and had the highest attendance in more than a decade. Colorado Ballet has exceeded revenue goals the last four seasons, with the 2016–17 season being the most successful to date.
Keep reading...
Show less
Your first year in a dance company can be a shocking transition. It's also a high-stakes one. "Everyone's looking at you to see what you can do, but also the kind of person you're going to be," says Philadanco founder Joan Myers Brown. How can you succeed when you're suddenly the least experienced person in the room?
Keep reading...
Show less
All photos by Liza Voll
Most corps members have one thing in common: little rest. When you're the backbone of the company, you're cast in almost every major ballet, and expected to give just as much to each character and peasant role as you do the rare soloist opportunities thrown your way. Recently, Dance Magazine followed Boston Ballet's Hannah Bettes and Lawrence Rines through a typical rehearsal day as they juggled a nonstop load of dance.

Hannah Bettes
7 am
Bettes is an early riser, up by 7 to have a slow breakfast and watch the news. "I like to stay up to date," she says. "It makes me feel more productive." The company is known for its fashion, and most dancers put together separate street and studio outfits each day. Bettes says, "Lawrence has taught me a lot about fashion actually—he's taken me shopping. I think my style is 'hobo chic.' When I arrived, it was just 'hobo.' "
9:45 am
Bettes starts her day in the PT room so she can get occasional advice from the PT team while she warms ups with hip and shoulder stabilization exercises. Then she uses company class to focus on improving her technique. "Recently it's been all about shoulder and arm placement."
11:35 am
Hour-long rehearsal for Swan Lake, which opens later in the season.
12:35 pm
Bettes eats her lunch early, since she has a coaching session during the company break. Her typical lunch includes a peanut butter chocolate chip Zing Bar; a beet, kale and chicken dish; and a small lentil salad with cherries and hazelnuts.
1:20 pm
Bettes runs downstairs to the costume shop for a hairpiece fitting for Gaîté Parisienne and grabs an extra pair of pointe shoes from her cubby in the shoe room.
2:30 pm
Her one-on-one rehearsal is with Peter Stark, with whom she trained at the Patel Conservatory before he moved to Boston last year to head up the men's program and become the associate director of Boston Ballet II. Bettes is preparing for the Helsinki International Ballet Competition. "Competitions give dancers that little extra push," Stark says. As Bettes runs through Aurora's Act I variation, he calls out simple cues that evidence their history together: things like "fingers," "audience, audience" and "chin down."
3:35 pm
Bettes uses her five-minute break to switch gears by marking through choreography on her own before a run-through of portions of Onegin, which the company is performing later in the week.
4:35 pm
The day ends with a two-hour rehearsal for the raucous Gaîté Parisienne, where Bettes builds her character as a spunky maid.
6:30 pm
"I probably go out to dinner with friends every other night," says Bettes. "It's where the majority of my salary goes."
Lawrence Rines
8 am
Rines wakes up with just enough time to shower, eat and walk the 10 minutes to the studio for pre-class exercises.
9:45 am
Loose in his lower back and hips, Rines warms up for the day by strengthening his rotators and core. "That way, instead of using my bones and ligaments at the barre, my muscles are ready to work," he says. He uses company class to prepare for the day ahead. On tough rehearsal days, he might practice steps from his rep in the back of the room towards the end of class. On lighter ones, he'll push full-force to make sure he gets in a good workout.
Pushing the limits of extension in William Forsythe's The Vertiginous Thrill of Exactitude.
11:35 am
Rehearsals start with a full-out run of the intense The Vertiginous Thrill of Exactitude, which opens in two weeks. Rines is known for excelling in neoclassical rep.
12:35 pm
Next is a rehearsal for Balanchine's Kammermusik No. 2. Rines manages the quick transitions between one-hour rehearsal blocks by mentally compartmentalizing each ballet. "I don't think ahead, because that would drive me crazy," he says. "I take it like the chapters of a book—I walk in and say, 'What am I doing now?' "
2:30 pm
Rines runs out to grab lunch (which changes daily, but he stays away from anything too heavy).
2:50 pm
Rines uses his break for a quick visit to the PT room for maintenance on a prior calf issue. The treatment includes massage and an exercise on the Pilates chair equipment.
3:35 pm
Onegin rehearsal. Tomorrow the dancers will switch over to their theater schedule, beginning their day at noon and finishing with a 7:30 pm show.
4:35 pm
In Gaîté Parisienne, Rines is learning three different roles and must stay on top of his "live in the moment, don't anticipate" approach to mental multitasking.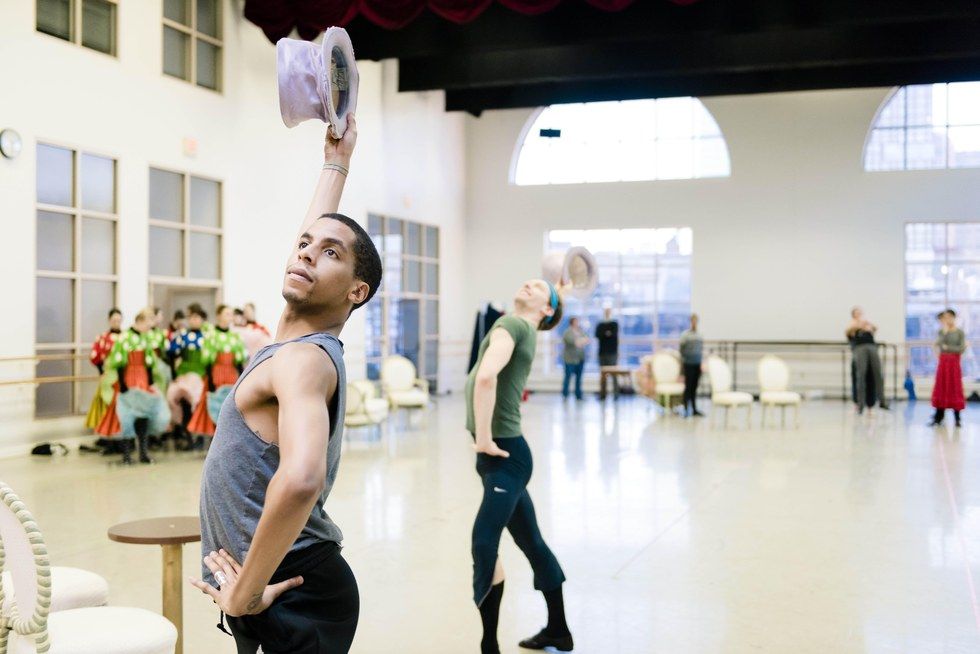 6:30 pm
Rines believes after-work time is essential to maintaining a balanced life. "I like to keep myself social—I get angry at myself when friends want to do something and I'm like, 'No, I'm tired,' " he says. "You can't let ballet run your whole life."
Get Dance Magazine in your inbox
Inside DM
Oct. 31, 2016 09:48PM EST
"Forsythe pulls something good out of you," says Kuranaga, here in The Vertiginous Thrill of Exactitude. PC Gene Schiavone, Courtesy BB.
Misa Kuranaga had just arrived in Taipei, and was already eager to get in a rehearsal. At the following night's last-minute gala engagement she would dance Don Quixote and Balanchine's Tschaikovsky Pas de Deux. But at that point, she still hadn't met her partner.

"He has a great reputation," Kuranaga says of New York City Ballet principal Joaquin De Luz, "so I thought, Okay, let's do this. I wouldn't take such a crazy risk if I didn't know his name."
Gone are the days of comfortable career partnerships in ballet, of one-track dancers, of ballerinas who rely on a company to build their fan base. Kuranaga, whose killer work ethic and lyrical lines have long made her a fan favorite, has come to embody the future of ballet—a world of dancers who are independent and endlessly versatile. Dancers who supplement full-time company lives with part-time commercial gigs, and fill their vacations with guest appearances spanning the globe. "Being a dancer is almost a superhuman commitment, and Misa seems to understand that," says Boston Ballet artistic director Mikko Nissinen. "She has always been a wonderful dancer—but she's matured and become a true ballerina."
Growing up in Osaka, Japan, Kuranaga won early ballet success in competitions, then started her career as a San Francisco Ballet apprentice. But one year and a bad case of culture shock later, she wasn't rehired. She faced a decision: to leave ballet behind or to start over. Kuranaga chose to go back to school, enrolling at the School of American Ballet. By the end of the year, she received multiple job offers and chose Boston Ballet, earning her first principal role in La Sylphide only one year later.
She quickly built a reputation as a workhorse, spending hours in the studio alone. "I haven't seen anybody work as hard as her—in every class, every rehearsal," says American Ballet Theatre principal Herman Cornejo, a favorite partner of Kuranaga's at the Vail International Dance Festival. Her determination led to steady promotions: second soloist in 2005, soloist in 2007 and principal in 2009.
"When I got to principal, that was actually my start," says Kuranaga. "You have more freedom to express yourself." Having spent years in search of "perfect" technique, she now faced the challenge of figuring out who she was—and communicating that from the stage. Rather than adopting a flashy persona, she was simply herself: the always-striving, never fully satisfied, vulnerable but determined ballerina. "She is a very honest artist, that's what makes her so pure," says Nissinen. "She's very sincere, in life and onstage."
Company life has now become her artistic safe space. "I'm getting to a point that I don't have to feel nervous about every single thing anymore," she says. That comfort has given her the security to relax and deepen her artistry. "Only she knows her weaknesses," says Cornejo. "Sitting in the audience, I would never know."
Today, Kuranaga's fame reaches far beyond Boston. She brings her characteristic honesty to her tens of thousands of followers on social media, which she approaches as a public diary, whether she's feeling silly in rehearsal, challenged by altitude sickness or inspired by a new partner. "I used to hate to post videos on YouTube, because I didn't feel like I should be promoting myself—I felt like somebody else should do it," she says. "But now, promoting myself makes me feel good. It's a wonderful way to be independent." That self-promotion has earned her notable side gigs, including advertising campaigns for Freed of London, Japanese skin-care line SK-II and Italian jewelry company Bulgari. Earlier this year, Bulgari chose Kuranaga as one of 10 inspiring Japanese women from a variety of professions, and after completing a series of photo and video shoots over the summer, this month Kuranaga will attend a red carpet event in Tokyo where one of the 10 women will win an achievement award.
It's just the latest stop on a never-ending schedule of galas, festivals and events around the world, from Vail to Taipei to Havana. "I'm seeking inspiration," she says. "That's why I love guesting—because I grow. And then when I go back to Boston I train myself differently."
For now, the work is what fuels her. The thrilling challenges like meeting a new partner right before a performance or dancing at high altitudes remind her that even now at the pinnacle of her career there's still more to learn. "It's hard, but once you've done it, it becomes your confidence," she says. "Then you're like 'At sea level I can do anything.' "
Carla Körbes and Seth Orza in Jean-Christophe Maillot's Roméo et Juliette. Photo by Angela Sterling, Courtesy PNB.
Partnering training is one of the most nuanced parts of dance education. And yet, so much of it is entirely focused on male students. Beyond the basic principles—like holding your core and avoiding slippery leotards—young women often have little direction other than performing steps they already know with the help of a male dancer. But they have just as much to learn about becoming a good partner. Communication is key—but there are also some mistakes that your counterpart may not think to mention.

Keep reading...
Show less
How building a side business within the dance world can transform your career
Allison DeBona with artÉmotion Summer Intensive students. Photo by Alexis Ziemski, Courtesy DeBona.
Early during her career at Pennsylvania Ballet, Abigail Mentzer discovered a new creative outlet: sewing. "I needed something outside the studio to stimulate my brain in a different way," she says. "I was taking ballet too seriously. Once I let go, I enjoyed it more." But her sewing soon became more than an outlet. Today, her custom-designed dance skirts have blossomed into a full-grown business with an office, three administrative employees and a sewing team she manages remotely while performing on tour with The Phantom of the Opera.
Mentzer's not alone in the desire for a secondary outlet within the dance world. Many dancers find opportunities to flex their creative and managerial muscles, building businesses that lay the groundwork for post-performance careers. "Knowing I'm capable of doing something else gives me confidence that once I'm done dancing I won't be lost," Mentzer says. Not only does entrepreneurship prepare dancers for the future—the sense of empowerment it brings can add depth to your artistry now.
Explore the Possibilities
Like Mentzer, New York City Ballet soloist Craig Hall's photography business grew out of a hobby. "I realized that there was a side of ballet that so many people don't get to see—the whole studio setting, the rehearsals, the downtime, the prep time," says Hall. As he honed his eye on Instagram and started uploading images to the photography website EyeEm.com, people began asking to purchase his work—and as simple as that, a business was born.
For Ballet West first-soloist Allison DeBona, who co-founded the artÉmotion Summer Intensive last year in collaboration with Cleveland's Ballet in the City, where she had previously taught master classes, entrepreneurship grew out of a love for teaching combined with strong ideas about what she wanted to see in dance education. "It's about building children up to succeed," she says. "What they learn from dancing will make them successful at anything."
Learn the Trade
Dancers are already equipped with the basic skills of entrepreneurship: discipline, drive and a willingness to take risks. For DeBona, this was all the foundation she needed to launch a summer intensive from scratch. "I'm sort of bullheaded—I just kind of learned along the way," she says. "We didn't have any money. The only advertising was on my personal social media accounts—but we ended up with 70 kids."
The key is networking—and knowing when to ask for help. For Mentzer, as demand exceeded what she was able to sew herself, she had to learn the all-new role of managing a business. "I realized there are no stupid questions," she says, "and that people are really eager to help. The ballet world can be cutthroat, and I was expecting the rest of the world to be that way—but it wasn't." Some of her most helpful contacts were PAB board members, who connected her with advisors and lawyers who could explain the complex paperwork of hiring employees and setting up an office. While on tour, she takes advantage of the opportunity to meet with boutique owners around the country.
Find Your Balance
Launching a business while maintaining a performing career is a careful balance. "I'm on my computer all morning and evening," says DeBona. "I feel stressed at times, but I've never felt overwhelmed."
For Mentzer, balance comes from learning to delegate to her employees. "I do everything remotely," she says. "If I have two days off, sometimes I'll go back to Philly to meet anyone new that I've hired while on the road. It's not easy." The hardest part, she says, is keeping a steady routine. "I take class or work out in the morning, and then work on my computer for a few hours in the afternoon before going to the theater," she says. "Seeing people wear my skirts is what keeps me going."
Hall's approach is to keep dance his first priority. "I would like my second business to become bigger, but right now I need to focus on being a performer," he says. "Photography is downtime physically, but not downtime creatively." Rather than scheduling time with his camera, he follows his inspiration. Hall always has his camera in his bag and often snaps behind-the-scenes portraits during spare moments. When he's on the subway, which has become one of his favorite places to create portraits, he might watch for unique people.
Enjoy the Rewards
Any dancer will tell you—the balancing act is worth it. "Our art isn't tangible," says Mentzer. "You rehearse and then you perform and it's gone. After spending a few hours sewing, I have something to show for my efforts." 
DeBona believes the outside work has made her a better dancer. "Dancing is more what I like to do and not a means to survive," she says. "It's wild what you're capable of when you're passionate."
Inside DM
Apr. 14, 2016 12:15PM EST
Every anatomical gift comes with a downside. Here's how to strengthen your body so you can dance to your fullest potential.
Flexibility meets strength: American Ballet Theatre's Catherine Hurlin. Photo by Rosalie O'Connor, Courtesy ABT.
If you are lucky enough to have any of the desired "perfect dancer-body" traits—like high arches, a bendy back, hyperextended legs or long lines—it's fair to say that your peers are envious. But what they may not realize is that these blessings come with serious challenges. You often need to work harder to build extra strength. Otherwise you won't be able to harness the power of those gifts, and you could do serious damage to your body.
The Gift: High Arches
Beyond being aesthetically pleasing, flexible feet and high arches allow dancers to better articulate their feet and find an easier balance on pointe. But that comes with less stability in pointe shoes, which can lead to injury.
Dancers with very high arches should have a PT examine their feet in pointe shoes to make sure they are tight enough to provide support. For dancers with bendy feet, a loose shoe tends to put too much pressure
on the second and third metatarsals. You might need an extra piece of elastic to extend the shoe's vamp and keep your foot from falling out.
Annette Karim, a Pasadena-based physical therapist and ballet teacher, says dancers with high arches are also vulnerable to injuries in the mid-foot. They form when the wrong part of the foot absorbs the shock of a jump.
Countering this starts with making sure the tripod of the foot—the first metatarsal, fifth metatarsal and heel—is fully on the floor while dancing, says Karim. Support your turnout from your deep hip rotators to avoid rolling in.
The Gift: Hyperextended Knees
They help create gorgeous lines, but hyper­extended knees require extra care. "A hyperextended leg is weaker than a line that's straight from hip to knee to ankle," says Ana Marie Forsythe, who teaches Horton technique at The Ailey School. Dancers often push too far beyond the knee, which strains the joint and throws off your center of gravity. That imbalance trickles to other parts of the body, making many movements more difficult to achieve.
To combat this, focus on maintaining correct leg alignment, using the quadriceps and building core strength. Also pay attention to how you stand in casual situations—and never lock the knees back. To find your own anatomically correct leg alignment, Forsythe suggests sitting on the floor with the legs stretched out in front of you and feet flexed. If your heels pop up, you've hyperextended your legs. At the same time, the knees should not feel bent, but the legs should feel stretched long with quads extended.
Then, translate this feeling to your standing position. "You want to feel lengthening and stretching," says Dalia Rawson, director of the Silicon Valley Ballet School. "Make sure to think about the leg grounding down into the floor while also lengthening up. It will help you find a solid base."
The Gift: Long Limbs
Long lines are like the holy grail of dance—but they can also make dancers feel uncoordinated, which stems from a lack of control. Rawson says if this is an issue, it can be beneficial to take a step back and work on simplified barre exercises, especially if you're going through a growth spurt.
For strengthening, Karim recommends strategic bodywork that concentrates on the kinetic chains of the body, the muscular connections between the extremities. Try this: Grab a Thera-Band with your right hand and stand on the other end of the band with your left foot. With the band slightly in front of your body, pull it upward on a diagonal,
feeling the connection between the opposite sides of your body. Then, try the same exercise with your other hand and foot, noting the difference.
Also, practice modified planks. Unlike single-plane strength training, these coordinate whole-chain partnerships between muscle groups: On your elbows with your right leg in a turned-out arabesque, move to a side plank on your left arm, transitioning your right leg to passé. Then, développé to the side before moving back into passé and then into front or back attitude, reaching your top arm in the opposite direction of the working leg. 
The Gift: Hypermobile Back
A flexible back is one of the most eye-catching traits a dancer can have—but also one of the most vulnerable to injury. "We get a lot of dancers with L-6, L-5 fractures," says Karim. "That can happen if you don't strengthen and support through the full spine." Apart from sudden injuries, chronic lower back pain is common.
The answer here lies in building strength not only in the back, but also in the abdominals, including the lower abs, plus the psoas and external obliques. But strength is nothing without good alignment of the rib cage and shoulder blades. To find it, stand straight, legs in parallel, with your back against a wall. Slide down into a small squat, breathing and bracing your abdomen to make sure your lower back remains against the wall. Pull the shoulders back so you have good posture, and close the rib cage. Try to retain this feeling of supported length while standing at the barre. 
As a long-limbed powerhouse, yet soulful soubrette, Maria Baranova defies "type." At 16, she signed her first contract with Hamburg Ballet. At 19, she became a principal at Finnish National Ballet. This season, with a persistent glimmer still in her eyes, she has joined Boston Ballet as a soloist, where she's eager to test the limits of her artistry.
The Neumeier-trained Baranova sparkles in his works, like Préludes CV, which she danced at Finnish National Ballet. Photo by Stanislav Belyaevsky, Courtesy Boston Ballet.
Company: Boston Ballet
Age: 23
Hometown: Helsinki, Finland
Training: Helsinki Dance Institute, School of the Hamburg Ballet—John Neumeier
Accolades: Notable prizes from the Prix de Lausanne, Helsinki International Ballet Competition and Erik Bruhn Prize, among others
Career prep at competitions: "They are great practice to control yourself—when you are nervous and you only have that one chance," says Baranova. "I learned how to focus myself."
Her most meaningful role: The title role in Sir Kenneth MacMillan's Manon in 2012 at Finnish National Ballet. "I had spent all summer preparing, but it still didn't feel honest," she says. "One week before the performance, my partner Friedemann Vogel, a principal with Stuttgart Ballet, came to rehearse. He started very young as a principal, too, and knew how hard it was. He taught me how to create in myself this character. When you find this incredible chemistry with a partner, it can open you and drive you into the story."
Her path to Massachusetts: When Boston Ballet toured to Finland in 2012, Baranova fell in love with its broad repertoire. Last year when BB's resident choreographer Jorma Elo set A Midsummer Night's Dream at Finnish National, Baranova connected with artistic director Mikko Nissinen, who is also from Finland. In August, she became the first Finnish dancer he has hired for the company.
On adjusting to company life in the U.S.: "The working rhythm is different," she says. "In Europe, you rehearse one ballet and then perform, then rehearse another. Here, we prepare many ballets for three months, and then start to perform. There's a lot of homework."
What Nissinen is saying: "She is a powerful dancer—with lots of spunk and speed. Now I want to see her go deeper into neoclassical repertoire and tackle things that are not as natural for her."
Her dream roles: "Whatever I'm dancing at the moment is my favorite," she says. "But I like to keep the dreams to myself. I'm looking forward to everything." n
Victoria Jaiani

Joffrey Ballet
Breakfast Philosophy: "Mornings have always been important to me. I can remember watching my mom busy in the kitchen, talking about how it would be a great day because we were sitting down together and eating good food. It's a tradition, but it's also legit—as an athlete, it certainly helps health-wise."
When: "I'm up at 6, because my baby's up. Around 7 or 7:30, my husband, son and I all have breakfast before I go to the studios for our 9:45 class. It's such a lovely time together before we start the day."
Her Go-Tos: "We always have fruit, like pineapple or berries or melon—whatever's seasonal. They're packed with vitamins and just feel fresh before a hard day at work. And protein—eggs or yogurt. Or sometimes oatmeal."
To Drink: "I always have some orange juice, even if it's just a few sips."
Victoria Jaiani's Sunny Side Up Eggs in Pepper
"This is my favorite breakfast. The first time we tried it was in Vienna. It's yummy, brings good memories, and you're getting vegetables and protein—all the good stuff."
Ingredients
• 1 bell pepper, sliced into 1/2" circles
• 1 egg per pepper slice
• salt and pepper to taste
• 1 oz. feta and a few olives
Directions
1. Slice a bell pepper into a circle, and place it on a hot, greased pan and crack an egg inside of it.
2. Season with salt and pepper and cook sunny side up until the egg white is cooked through but the yolk is still runny.
3. Serve with feta cheese and olives on
the side.
Photo by Erin Baiano for Dance Spirit.
Ashley Everett
Beyoncé's lead dancer and dance captain
Breakfast Philosophy: "I'm not the biggest morning person—but I always eat something before I dance, even if I'm not hungry, because as soon as we start I'll be starving."
When: "Around an hour or so after I get up—about 10:30 or 11."
Her Go-To: "I make a lot of smoothies. They satisfy me but leave me feeling light."
If She's On Set: "I'll do an egg white omelet with vegetables and maybe a piece of toast."
Ashley Everett's Green Smoothie
"When I was growing up, my dad used to always cook french toast and waffles and pancakes, but it was hard for my body to process all that and it would weigh me down. Smoothies have been really helpful, because they're liquid but really filling with all these nutrients in them."
Ingredients
• a handful of kale or spinach
• 1 banana
• 1 apple (green)
• 1/2 an avocado
• 1 orange (or orange juice)
• a splash of almond milk
• ice
• optional: cucumber or other veggies
Directions
Blend in a high-power blender until smooth, and enjoy!
Samantha Sturm
Sturm performing In Your Arms. Photo by Carol Rosegg, Courtesy In Your Arms.
Broadway dancer
Breakfast Philosophy: "I usually get tossed around a lot in rehearsals, so I have to make sure I have energy but won't feel sick."
When: "Breakfast tends to be the last thing I do as I'm getting ready, but I try to eat at least an hour before I dance."
Her Go-To: "I'll top an English muffin with ricotta cheese, avocado and red pepper flakes. It's perfect for energy in the morning. You get protein, fiber, carbs—everything you really need to sustain energy."
If Her Boyfriend's Cooking: "He'll make me an omelet—they're his specialty—with two or two and a half eggs, onion, tomato and sometimes avocado."
To Drink: "I have flavored coffee, like hazelnut with almond milk."
Parisa Khobdeh
Paul Taylor Dance Company
Khobdeh in Brandenburgs. Photo by Paul B. Goode, courtesy PTDC.
Breakfast Philosophy: "I find food to be almost ritualistic—eating and creating the space to eat so that I can really enjoy it."
When: "On rehearsal days, I'll wake up, have coffee and go to the gym. I don't like to dance on a full stomach, so I break my fast after rehearsal around noon."
Her Go-Tos: "I like Siggi's yogurt because it's high in protein and has a good ratio of carbs to fat. I'll add everything I can possibly fit into that cup—banana, berries, chia seeds, maybe peanut butter. Or I'll do a rice cake with peanut butter and top that with chia seeds or fresh fruit. Sometimes I'll start with a raspberry chia kombucha."
If She's Performing: "Even though I'm not hungry when I wake up, I'll eat early in the morning so that my body has time to digest before I dance. I'll have protein for muscle maintenance—egg whites with spinach, cheddar, salt and pepper, and green leaves on the side with a little bit of oil and vinegar, or a smoothie with berries, banana and yogurt or milk."
To Drink: "Coffee when I wake up, with a little bit of whole milk."
Photo by Gadi Dagon, courtesy Batsheva
Billy Barry
Batsheva Dance Company
Breakfast Philosophy: "Plain and simple does the job for me in the morning. Especially if I'm in a rush, which is usually the case."
When: "Around 9 am, before class
at 10."
His Go-To: "When I was in high school
I would commute to Manhattan, and my dad taught me how to make a quick and easy omelet, so the habit has stuck with me: Most mornings I'll make a two- or three-egg omelet with pepper, onion and tomato."
If He's in a Rush: "I'll have a bowl of Cheerios and pick up a salmon, lettuce and cream cheese sandwich on the way to the studio and have it after class at 11:30."
To Drink: "I make a pretty large mug of coffee at the studio after class."
Joy Womack
Kremlin Ballet Theatre
Photo by Quinn Wharton for Pointe.
Breakfast Philosophy: "I used to skip breakfast to avoid the feeling of being weighed down. I learned the hard way that was a bad idea."
Her Go-To: "After I wake up, I drink water and a special blend of Russian herb tea for cleansing and hormonal stability. Then I'll have two of my own energy bars, Prima Bar Minis. Each has 10 grams of protein, 9 grams of carbs and 6 grams of natural sugars."
When: "My breakfast is usually on the go—I like to work out right after I wake up. If it's a light workout day, I'll eat after the gym and before I head to class. If it's a 'push it' kind of workout day, then I have one Prima Bar Mini to fuel me through my session, and one after."B
To Drink: "I drink coffee with lemon. When I'm in the States I enjoy having coffee with almond or coconut milk, but unfortunately that's not available in Russia. Lemon is healthy, tasty, and now I prefer my coffee like this. It's kind of like a coffee lemonade." n
Ashley Rivers, a writer and dancer in Boston, once read that Ginger Rogers ate two eggs and toast for breakfast, so that's what she's eaten ever since.
Should you attend an intensive connected to a company? It depends on your stage of training.
Houston Ballet Academy Summer Intensive. Photo by Jaime Lagdameo, courtesy HB.
A summer intensive can be a chance to be taught by artistic directors, to learn repertoire that you dream of performing and maybe even land a contract. But with so many options and only a handful of summers, a dancer must be strategic in choosing where to attend. 
Of course, there are high-profile company schools where dancers can get to know a potential future employer. But there are also top-notch independent programs not affiliated with companies whose students go on to highly successful careers. Which will best further your goals? Should you declare loyalty to your dream company and spend every summer at its school? Or should you focus on building versatility (and broader employability) at independent programs? The answers depend on two factors: where you are in your training, and where you want to go. 
Build a Foundation
A dancer's summer intensive choices can—and should—differ based on her age and level. "You have to experience different things to know where you belong—that's what summers are for," says Shelly Power, director at Houston Ballet Academy. "But sooner or later you're going to have to decide where you want to place your focus."
Partnering class at CPYB. Photo by Bruce Thornton, courtesy CPYB.
For younger dancers going to an intensive for the first time, the focus should be on quality of training, says Kay Mazzo, co-chairman of faculty at the School of American Ballet, which is affiliated with New York City Ballet. She recommends that younger dancers stick to one intensive for a couple of years for consistency of training. 
Once dancers reach their mid-teens, they can start to explore. "They're trying to find where they fit best," Power says. The goal is to discover where you belong on the ballet spectrum before focusing on a potential future company during the last years of training. 
Find Your Fit
When you're testing different techniques and paths in ballet, an independent program might be right for you. Intensives at Next Generation Ballet at the Patel Conservatory in Florida, Central Pennsylvania Youth Ballet, Kaatsbaan International Dance Center or Chautauqua Institution in New York, to name a few, offer diverse training and performance opportunities and are a chance to network with less pressure than a company school. "The biggest benefit of independent programs is just that—they're independent," says CPYB school principal Alecia Good-Boresow. "When students come here, their focus is just on getting the most out of their training. They're not worrying about 'Are they going to choose me? Am I good enough?' "
Students at these programs may have the chance to experiment with a variety of styles. "A lot of students come here because they don't know what path they want to take, and we provide a lot of opportunities—classical ballet, contemporary, musical theater, acting, character and mime," says Philip Neal, artistic director of Next Generation Ballet. "We throw it all out there—a lot of the kids don't know what it is they're looking for until they have the opportunity to try it." At many independent programs, students are taught by guest faculty from companies around the world. "They're taking from so many different teachers that they see what they like and what feels good on them," says Good-Boresow. "It gives them insight into where they fit—or where they don't." 
SAB Summer Course. Photo by Rosalie O'Connor, courtesy SAB.
Teachers can also help students target future career options. "We see ourselves as a stepping stone to company schools," says Neal, who's placed students in high-profile schools and companies like the Royal Ballet School and Boston Ballet. Each independent program has a different emphasis, so pay attention to where alumni typically go on to perform. CPYB students, for instance, often join companies with Balanchine rep.
Pursue Your Dream Company
If you have one company in mind that stands out far above the others, audition for its summer intensive as soon as possible. "If you've zeroed in on some place you like, get your foot in the door—physically, literally," says Mazzo. Use your first summer to test out whether the school is indeed what you're looking for, and if it is, make a goal of joining the year-round program. "If you are unable to attend year-round, visit during the year to keep the relationship growing," suggests Power. "Don't just disappear."
While teachers and faculty do appreciate seeing familiar faces year after year, there is danger in being too loyal to one school at the expense of diverse training and networking. If you're dead-set on one company but after two years in the intensive you haven't been asked to stay year-round, it may be time to reassess. "I think at that point a student needs to have a very honest and open conversation with the director or teachers about their potential at the school," says Power. "Ask, 'Am I a good fit?' If you've gone to a summer program for four years and never experienced anything else, you've limited yourself." Make sure that the interest is mutual.
Go Beyond What You Know
Philip Neal teaching class at Next Generation Ballet. Photo by Soho Images, courtesy NGB.
If you are already studying year-round at a company program, it might be tempting to stick around for the summer. However, that can undercut your options in the long term. Most school directors advise students to attend other programs to diversify their training and develop a Plan B. "In the end, NYCB can't take everybody from our most advanced division," says Mazzo. "That's why we send our students off every summer to look at different schools and companies. Rather than saying, 'I only want to dance for a certain company,' it's better to keep students' minds open to 'I want to find the place that is right for me.' " 
There is no formula for achieving your career goal. In the end, as long as you're getting great training and making the most of the networking opportunities you have, trust your experience to be your guide. "The more you know," says Neal, "the sooner you can discover the right path for you." 
Why they exist, and when you can make exceptions.
Wearing pointe shoes at barre helps prepare your muscles for center. Here, class at Houston Ballet Academy. Photo by Jaime Lagdameo, courtesy Houston Ballet.
Imagine this: You've spent your whole life working to keep your hips perfectly square in arabesque. But one day you take class with a new teacher, and she not only says it's okay to open your hip—but that you should. You begin to move with more freedom, and are amazed by the length of your line. But you also wonder, What about all my teachers who said this is wrong? Were they wrong?
In an art form where rules are set to maintain technique, style and dancers' safety, it can be confusing to hear opposing ideas from different teachers. But the reasonings behind these debated principles aren't usually black and white. It's up to you to learn when to follow them—and when to break away.
1) The heels should always touch the ground in demi-plié.
Nearly every teacher will tell you that the heels must touch the floor in plié. It allows you to access more power, while lengthening the Achilles tendon and protecting the ankles. If a dancer develops the habit of not fully relaxing into the floor, she's more prone to joint injuries and shin splints.
But watch professional dancers closely and you'll see that sometimes it just doesn't happen. "Mr. Balanchine's choreography was all about moving big and fast, and it's just the reality that you're moving from position to position so quickly that the heels don't come down," says Darleen Callaghan, director at Miami City Ballet School. It's no coincidence that Balanchine choreography is typically reserved for advanced dancers, whose ankles are already well developed, and who have the necessary technical base to support the joints when landing and transitioning quickly.
The bottom line: Embrace your plié, striving to get the heels down. But it's okay if certain rep calls for something a little different.
2) Don't wear pointe shoes at the barre.
Teachers argue that wearing ballet slippers at the barre helps dancers articulate and develop the small muscles of the feet. "When you wear pointe shoes at the barre you're missing lots of little steps, especially rolling through pointe and feeling all five toes on the floor," says Stanislav Issaev, faculty member at the Kirov Academy of Ballet in Washington, DC.
But there are positives for wearing pointe shoes, too. "It strengthens the feet, abdominals, hamstrings," says Shelly Power, director at Houston Ballet Academy. "It's a whole different ballgame when you have pointe shoes on in the center—wearing them at the barre is getting that muscle control ready."
The bottom line: Think about the rehearsal you have to prepare for, and what would benefit you most. Regardless of what you choose, warm up your feet before you start barre.
3) Turnout comes solely from the hips.
Forcing turnout—pushing your feet into an unnatural fifth position—is dangerous for the ankles and knees. But in reality, a small amount of rotation should come from the lower legs. A paper published by the International Association for Dance Medicine & Science (IADMS) says that "on average, 60 percent of turnout is created by outward rotation of the hip. Twenty to 30 percent of turnout may then emanate from the ankle, with the remaining percentage created by the tibia and knee joint."
Teachers tell students to turn out only from the hips because dancers can easily get carried away and cram their feet into unsafe positions. At the same time, only thinking about hip rotation doesn't allow you to realize your maximum potential. "Turnout is outside of the comfort zone, and sometimes people think that is forcing," says Issaev.
The bottom line: Think of turnout as starting from the hips, rather than living there exclusively. "Rotation begins in the hip socket, but extends down the femur into the knee, shin and foot," says Callaghan. "It engages a lot more than the gluteal muscles. It is a total rotation of the leg, supported by the musculature, especially the inner thigh and back of the leg." 
To help engage turnout muscles, Power recommends floor barre, which gives dancers the feeling of full-leg turnout, without any danger of using the floor to tweak the joints.
4) Don't open your hips in arabesque.
Most teachers will agree that you should strive for squareness in all positions because it's ultimately the most correct. "You have to make sure that the supporting leg is really strong before you open that hip," says Callaghan. "But if you've got an upper-level student who has a strong standing leg, strong core and everything is well established, then they can begin to open up that beautiful arabesque line."
Even Vaganova teachers who praise squareness say there is an acceptable degree of hip opening based on your body type. "It would be great if everyone was built like Zakharova, but most of us have limits and you have to work through them," says Issaev. "It's little compromises, a little bit here, a little bit there."
The bottom line: Once you've got a solid, square base, allow yourself enough freedom so you can move a little bigger and achieve a correct, but aesthetically pleasing, line.