Brian Schaefer
Brian Schaefer is a journalist/writer whose work has appeared in The New York Times, New York Magazine, NewYorker.com, Philadelphia Inquirer, Haaretz, The Jerusalem Post, The Daily Beast, Out Magazine, Dance Magazine, The Forward, and Moment Magazine, among others.
Brian was a Finalist for the 2012 Livingston Award for Young Journalist in the International Reporting category for his exploration of the history and politics of Israel's lesbian, gay, bisexual and transgender community.
In 2007, Brian received a National Endowment for the Arts Fellowship in Arts Journalism for Dance Criticism. He was a Board Member of the Dance Critics Association from 2011-2014.
Batsheva's U.S. performances are often met with protests, like this one outside the Brooklyn Academy of Music. Photo Courtesy Brian Schaefer.
The United States has never had a strong tradition of government support for the arts. But we take what we can get and, since its founding in 1965, American artists have gratefully accepted whatever the National Endowment for the Arts is willing and able to give. Though the NEA has at times been aggressively politicized, for the most part, we have maintained a delicate separation of art and state.

Keep reading...
Show less
News
Sep. 05, 2018 05:45PM EST
Batsheva Dance Company in Ohad Naharin's Three. Photo by Gadi Dagon, Courtesy Batsheva
On the Mediterranean coast in Tel Aviv, a wave of change is headed toward shore. For nearly 30 years, Israel's magnetic Batsheva Dance Company has been led by the influential choreographer Ohad Naharin, who has provided the troupe with a vast repertory of evocative works as well as a bold physical identity thanks to Gaga, his distinctive movement language. This month, Naharin, 66, will transition from artistic director to house choreographer, handing the management reins to Gili Navot, a former dancer with the company.
Keep reading...
Show less
Popular
May. 10, 2018 01:45PM EST
Dormeshia Sumbry-Edwards, Jason Samuels Smith and Derick K. Grant take the floor during our cover shoot.
In 1989, Congress passed a resolution naming May 25—the birthday of tap legend Bill "Bojangles" Robinson—as National Tap Dance Day, and it has been celebrated annually on that date ever since. For years, the May issue of Dance Magazine featured a tap dancer on its cover to coincide with the holiday and highlight the form.
But some considered the gesture to be mere tokenism. "It feels like a handout," says tap dancer Jason Samuels Smith. "Our art form deserves more than that."
Keep reading...
Show less
Jim Lafferty
More than 2,000 years ago, the Temple of Dendur sat on the west bank of the Nile River in Egypt. Today it overlooks Central Park from a large, sunlit hall at the Metropolitan Museum of Art.
"It always hits me when I see the temple, what an incredible transition it's been through," says choreographer Andrea Miller, the museum's current artist in residence, a week before the premiere of her new work inspired by the ancient structure. "That lifecycle is something I can't avoid."
Keep reading...
Show less
News
Nov. 23, 2017 04:00PM EST
Kimberly Bartosik's Ecsteriority4 (Part 2). Photo by Ryutaro Mishima, Courtesy BAM.
Showing choreography at a major venue in New York City is a goal and milestone for many dance artists. Yet when such an opportunity comes their way, choreographers frequently find themselves scrambling for time and technical resources to give their work that professional shine. What they end up performing may not have the polish they intended. "Far too often artists are arriving at their presenting house and the piece isn't ready," says Adrienne Willis, the executive and artistic director of Lumberyard Contemporary Performing Arts, an organization that helps dance artists develop new work.
Back when Lumberyard was known as the American Dance Institute and operated out of a strip mall in Rockville, Maryland, it pioneered its Incubator program to whip new pieces into shape, kind of like the "out-of-town" tryout model for theater. Several of the artists it supported ultimately brought their shows to the Brooklyn Academy of Music, one of New York City's most prestigious venues, which quickly recognized the positive influence of the Incubator on performances.
Keep reading...
Show less
Ryan Heffington shot by Jacob Sutton, styled by Mindy Le Brock in jacket by Jil Sander, pants by McQ and shoes by Opening Ceremony
On paper, the finale of last year's Netflix series "The OA" looks absurd: Choreography as a pivotal plot device for a cerebral sci-fi show? Please.
"It could be truly amazing, or the worst part of the series," admits Ryan Heffington, the man behind the moves, which were introduced over eight surreal episodes.
But the climax proved powerful and poignant, an utterly unique use of the body to not just tell a story but drive it. "They're healing," he says of the show's gestures, which echo ancient rituals and his own personal philosophy. "It's a very spiritual set of movements. And I always say, 'Dance is a portal to spirituality.' "
Keep reading...
Show less
Jayme Thornton
Michelle Dorrance has just returned from Stockholm, where she was teaching without pause for much of the previous week. Before that, she had a pit stop in New York, a quick gig in Los Angeles and performances in New Hampshire. "It was relentless," she says in a huskier-than-usual voice, owing to a cold. The breakneck itinerary is an apt illustration of what an in-demand artist she has become, especially since receiving a prestigious MacArthur Fellowship in 2015.
While that recognition may have introduced her to a new audience, dance fans and critics were already swooning for her sophisticated musicality, thrilling ensemble arrangements and layered choreography that hits a wide range of emotional notes.
Yet Dorrance would rather not be the subject of this profile. Though a proud ambassador for her art form and always eager to promote it, she resists the false narrative that often accompanies stories about her of a so-called tap revival, and the impulse to identify a "lone ranger" to represent it. "Tap's always been around. There's always been brilliant artists, it's just not in the spotlight," she says. "It was the same conversation when I was a teenager in the '90s." (Then, Savion Glover, with whom Dorrance has performed, was the "It" tapper.)
Keep reading...
Show less
Get Dance Magazine in your inbox
Jim Lafferty
"Start with less." Those are the first words that Keren Lurie Pardes says as she guides her fellow dancers through a pre-rehearsal class in New York City. They have recently arrived to make their debut at The Joyce Theater as members of L-E-V, the small, intriguing company founded in 2013 by Israeli artists Sharon Eyal and Gai Behar. Eyal is a former star dancer and choreographer-in-residence at Israel's renowned Batsheva Dance Company, and Behar is a former party producer.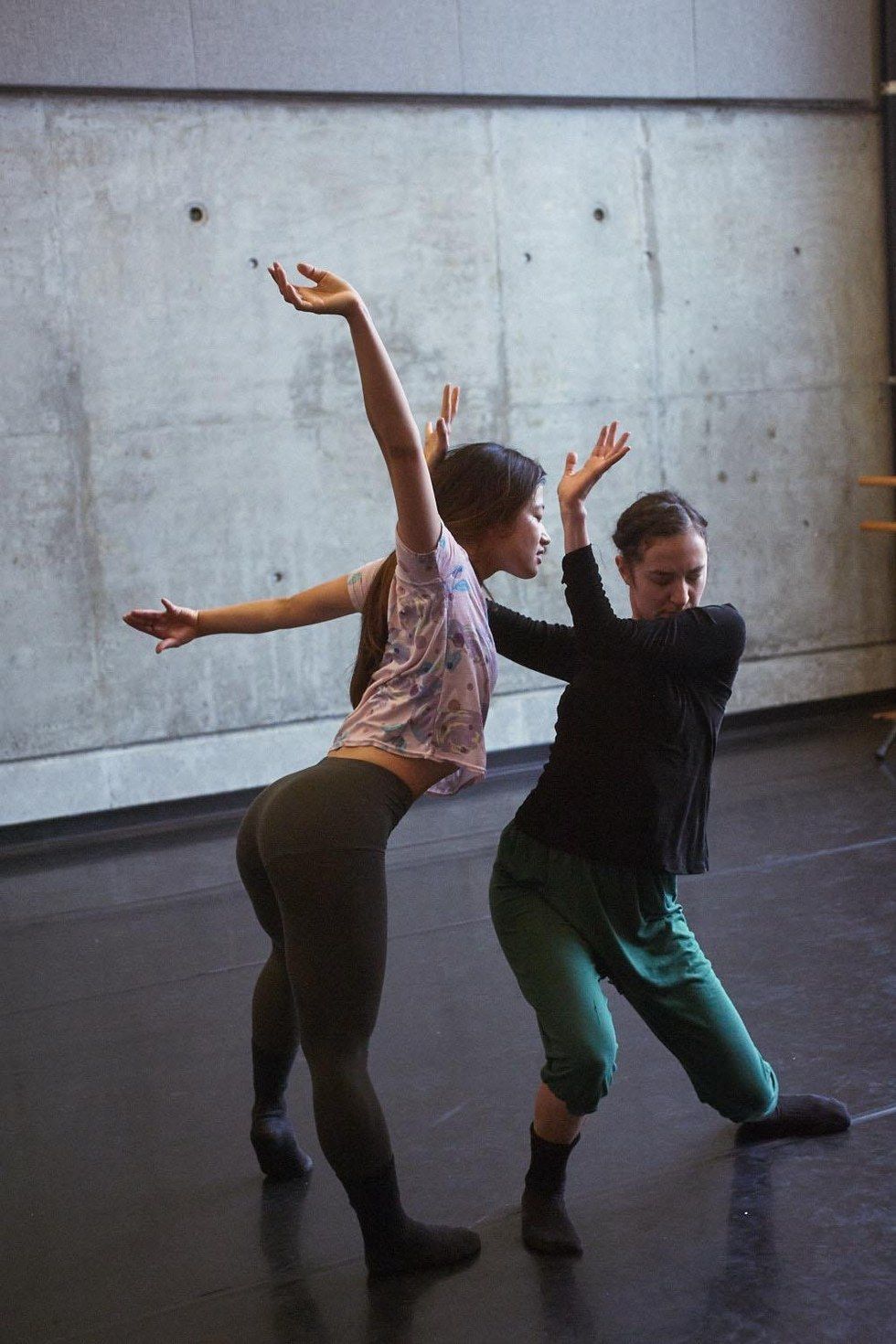 Keren Lurie Pardes with Mariko Kakizaki. Photo by Jim Lafferty.
Keep reading...
Show less
For Sean Dorsey, the dance studio used to be a source of pain that had nothing to do with dancing. "I would go to the women's dressing room and change there," he says. "That was, every day, this kind of knife in my heart."
Though the classes thrilled him, having to use facilities that didn't correspond with his gender identity made him feel extremely self-conscious and ashamed. Later, as an adult, Dorsey noticed that "people like me weren't onstage. Our stories weren't being told through dance."
An increasing number of out transgender performers and choreographers like Dorsey (one of Dance Magazine's "25 to Watch" in 2010) are working to fill that gap by challenging gender norms in dance, onstage and off. For an art form with deeply ingrained gender divisions, that's no easy task. Currently, from the moment a child steps into a dance studio, their training is often determined by gender. Ballet in particular breaks up genders into separate classes, demands gender-specific clothing, teaches gender-specific combinations and values gender-specific qualities. By explicitly addressing the politics of gender in their work and advocating for changes to these traditions, transgender artists today are helping to expand dance's representation of gender.
Keep reading...
Show less
Dance performances often encourage audiences to escape reality. But on July 7, dance forced the audience at the Jacob's Pillow Dance Festival to face it. During a performance of And Still You Must Swing, tap dancers Dormeshia Sumbry-Edwards and Derick K. Grant stopped mid-show, near tears, and acknowledged the killings of Alton Sterling and Philando Castile. In the previous 72 hours, Sterling and Castile had become the latest in a string of black men killed by police officers. At a candid post-performance conversation, fellow dancer Jason Samuels Smith told the audience, "These are our extended family members, our cousins, our uncles, our brothers, our fathers…You feel that pain." The evening also included guest artist Camille A. Brown performing the buzzard lope, a ritual that was once danced by slaves. "It was extremely hard," she says, but "understanding the power of movement rooted in the African-American experience made me feel proud of the history that lives in our bodies."
Pride and pain have always been intertwined for black dancers and choreographers in America. Dance has sometimes eloquently expressed this dichotomy. It has also at times reflected the country's indifference to ongoing racial violence and discrimination, allowing discourse to lean on the wobbly pillar of "diversity" instead. But as the Black Lives Matter movement has returned race to the center of the national debate, it has galvanized some artists of color and challenged white dance audiences to confront their discomfort with racial issues.
Renaldo Maurice rehearsing Untitled America. PC Jim Lafferty.
The visibility of Black Lives Matter paired with the echo chamber of social media and the heightened debate of an election year—particularly one that was something of a referendum on the nation's first black president—can make this moment feel unique. In some ways it is, simply because, as Hope Boykin, a longtime dancer with Alvin Ailey American Dance Theater, explains, "We're present in it, we feel it." Brown adds, "The current sociopolitical climate makes this work even more relevant to audiences."
But both Boykin and Brown quickly add that using dance to respond to racial issues is not new. "Mr. Ailey founded his company in 1958 in the middle of the Civil Rights movement, when incredible speeches were being made, while people were marching across bridges, while people were being beaten and hosed down and had food thrown at them at lunch counters," says Boykin. Brown points to a number of her contemporaries and predecessors who have documented racism and represented the black experience over decades, including Ronald K. Brown, Nora Chipaumire, Marlies Yearby, Eleo Pomare, Jawole Willa Jo Zollar.
Whether in the past or today, addressing this contentious national issue can be a creatively daunting task. But transposing the anger, pain and sadness of the outside world onto the body, and then onto the stage, is a burden that dance has embraced. "That's the very foundation of modern dance and this company, to address the issues of the day," says Ailey's artistic director Robert Battle. The company's 2016 winter season at New York City Center illustrates its ongoing contribution to the dialogue on race. Vintage examples include the first piece Ailey made for his company, Blues Suite, a vibrant portrait of a community nearly absent from dance stages at the time, and his Masekela Langage, a 1969 work about apartheid in South Africa. Newer works include Rennie Harris' formidable Exodus from 2015, which includes haunting images of violence in the streets, and Untitled America, by Kyle Abraham, an intimate depiction of the effects of mass incarceration on black American families. Boykin's new work, r-Evolution, Dream, is inspired by the speeches and sermons of Dr. Martin Luther King Jr. "I named it r-Evolution with a little 'r,' " she says, "because the evolution is more important than the revolt, to me."
Beatrice Capote and Fana Fraser in Camille A. Brown's BLACK GIRL: Linguistic Play. Photo by Kirk Richard Smith, Courtesy Brown.
Although Boykin's goal is to connect with audiences, rather than alienate them, it doesn't mean she is offering easy reassurances. She and other black artists are ready to confront audiences. "It is definitely okay for me to tell you that I'm angry, to tell you that my heart is broken, to tell you that you've offended me," says Boykin of her work. Battle agrees: "That's what we're supposed to do as artists, is challenge systems."
Donald Byrd, for one, has been challenging audiences for decades. In the past year, the veteran choreographer, now at the helm of Seattle's Spectrum Dance Theater, adopted the season theme "#RACEish" that included The Minstrel Show Revisited, his provocative exploration of the history of blackface. After each show, Byrd invited audience members—mostly white, he points out—to share their thoughts and found that a common response was discomfort, which he welcomes. "If it makes you uncomfortable, you should go running toward it," he says. The theater, he adds, is a "safe place to be uncomfortable."
Brown has long explored the modern American black experience in her work, but the shift in national consciousness has affected the way audiences and presenters receive it. For example, she notes that with 2012's Mr. TOL E. RAncE, an explicit indictment of racial stereotypes that coincided with Obama's reelection, "I got pushback because some people saw America as being a post-racial society," she says. "I was told the conversation was dated and no longer needed to be discussed." She says that last year's BLACK GIRL: Linguistic Play is not a political piece, but notes that people's expectations and perceptions of black girls sometimes cause them to view it that way. Some presenters see it as a piece that their audiences need to prepare for. In fact, the work uses childhood games to explore universal coming-of-age themes. "What about seeing black girls playing do people have to get ready for and why?" she asks.
Spectrum Dance Theater in The Minstrel Show Revisited. Photo by Ian Douglas, Courtesy SDT.
Many choreographers resist the expectation that they must use their art to make a statement. Abraham laments the "slack" he's received from some white critics for what they see as "watered down" politics in his work. He defends his freedom to create in the postmodern tradition of abstraction. "I'm not hyper-literal," he says, which he considers one of dance's strengths. "The abstraction of the art form can help people individualize the experience."
Paloma McGregor, a former member of Urban Bush Women and Liz Lerman Dance Exchange, founded the initiative Dancing While Black in 2012 to bring the voices of black dance artists to the center of the artistic conversation. She points out that while art and activism may inform each other, for some artists they are separate practices. "They're not making work necessarily about racial justice, they're making work that honors their humanity and vision and where they come from," she says. Even an article like this, which asks black artists to comment on politics in their work, demonstrates the inequity of expectations, since white dance artists are rarely required to explain the politics that they do or do not include in their work. When asked to comment on this contradiction, Brown simply says: "Exactly."
In the current climate, it can be tempting to read politics into every-thing. Audiences and critics see statements where none are intended. "Unfortunately, I have encountered those who insist on labeling surface meanings of race to my works based on the appearance of my dance company," says T. Lang, an Atlanta-based choreographer and chair of the dance department at Spelman College, a historically black college for women. Some viewers and writers can see work by black artists as protests even when the artists themselves make no such claim.
If an artist does choose to address politics, finding the right tone can be challenging. Byrd detects the need for "uplift" from dance audiences, and a desire to "see that there's hope." He wonders whether that hinders some artists from addressing race in more direct ways. "I think artists are conflicted because the public wants a safe delivery system, an easy delivery system," he says.
During the post-performance discussion of And Still You Must Swing this summer, Jason Samuels Smith pointed to another facet of that conflict. White audiences "love the dance moves," he said, "but they don't want to connect with the people and the communities who are creating these dance moves." In other words, we can't cheer a tap performance and ignore the systemic racism in America that shaped the daily experiences of the form's founders and continues to affect many of its practitioners. "If you love the dance, love the people," Smith said. "You can't separate us."
Brian Schaefer writes on dance for The New York Times, among other publications.
Is This a Protest Dance?
Sean Aaron Carmon. Photo by Richard Calmes, Courtesy AAADT.
In July, following fatal shootings in Minnesota, Louisiana and Texas, Ailey dancer Sean Aaron Carmon noticed the tension and despair among members of the Ailey company as they gathered in small groups before a performance of Rennie Harris' emotionally raw Exodus. Carmon sensed the need for an outlet, so he invited them to dance their feelings in a one-minute piece he choreographed to Beyoncé's "Freedom." He filmed and posted it on the company's Instagram account (which he runs). The post went viral, and attracted the attention of The New York Times, which dubbed it a "protest dance," a label that Carmon takes issue with.
"I never said it was a protest dance," he says. His intention was simply to offer a space for release. "If you need to let it out, if you need to dance, if you need to not talk—just do what we do best, get it all out in the studio and then take your fresh self to the stage. Let's do it now," he recalls telling the dancers. In other words, the video, while it may look like a statement from the outside, was intended as a moment of collective processing.
Carmon gave the Ailey dancers choreography that he'd taught at various studios in Houston, Texas, including to some young, white, affluent students in the suburbs. Dance became a conduit to discussing the country's racial history and contemporary reality with them, and their parents, who were invited into the room. "I'm telling them, 'You have a teacher who dances for a company that was founded because of things like this. Because I couldn't have had a place to dance before 1958…You have to understand that things haven't changed as much as you think they have, as much as you're being led to believe they have.' "
Carmon was encouraged by the positive response to the video, and hopes to further develop the work. He says of the racial issues involved, "I'm not done with it, America's not done with it, I don't think the world is done with it. And I know that the Ailey dancers aren't done with it, either." —BS
For a timeline of dance works that address racial injustice, get the December issue of Dance Magazine.
Adrianne Mathiowetz, Courtesy Three Acts.
In sequined dresses and tennis shoes, Monica Bill Barnes and Anna Bass march up to the statue of Perseus with the Head of Medusa, and start doing jumping jacks to the sounds of '70s music. From there, they lead a small cohort through a French Renaissance gallery of the Metropolitan Museum of Art, then to an Italian Renaissance gallery for stretching, then to the American wing for squats. They are testing out possibilities for a new concept: The Museum Workout, which the Met Museum will present in its 2016–17 season. It's not a dance, per se, but it's movement as a means to connection. And in the past few years, that philosophy has taken this adventurous pair to some pretty unexpected places.

One such place was a live episode of the popular radio program This American Life. As a follow-up, Ira Glass, the program's famous host, offered to moderate post-show talks at performances of Monica Bill Barnes & Company. Barnes countered with a proposal to integrate him into a show instead. The result was Three Acts, Two Dancers, One Radio Host, a delightfully poignant evening of storytelling and dance that wasn't meant to last more than a few performances. But nearly three years later, the trio is still touring it across the country with dates booked through this summer. "It's been so much more than we ever thought it would be," Barnes says.
Barnes and her artistic partner Anna Bass share a similar awkward charm. Photo by Adrianne Mathiowetz.
Most small dance companies are lucky for the occasional chance to show their work to intimate audiences out of town. But the popularity of Three Acts has exposed tens of thousands of viewers to Barnes' singular blend of vaudeville, variety show, slapstick and showmanship. "A large part of my mission is to bring in audiences who aren't as familiar with dance," she says, which is one reason the collaboration with Glass was such a good fit. From the beginning, Barnes has been intentional about the impact she wants to make, and tenacious about creating a business model that allows dance to be not just a lifestyle but a living.
After completing her MFA at New York University in 1997, Barnes started a "company" (her air quotes), which basically meant "making solos for anyone who would watch." Her goal was to sustain herself financially entirely through dance, which she managed to do after only two years, with "a combo of the most ridiculous work you could imagine." If she got a teaching gig in Virginia, she'd call schools in a 300-mile radius to offer master classes and performances. If a school three hours away accepted, she'd spend her entire fee on gas to get there. In other words, she hustled.
She danced for other artists, like Guta Hedewig and Allyson Green, and started making duets and quartets. For a long time, she got asked "Is the company ever going to get bigger?" as if an increase in size would indicate an increase in seriousness. "It's intentionally smaller," she says, noting that she has always believed in paying her dancers fairly. "Partially for finances but also because I think you identify more. In a smaller group you can see individuals better."
Photo by Christopher Duggan, Courtesy Barnes.
In recent years, the individual that cannot be missed is Bass, who started working with Barnes in 2003 and is now her associate artistic director. "We discovered that our physicality and instinct and impulses are so similar," Bass says. They share an uncanny sense of charmingly awkward swagger. Onstage, they portray characters—overeager hosts, cocky high-rollers or corporate businessmen out for a good time, as in their most recent show, Happy Hour, a weekly after-work performance complete with cocktails, karaoke and a raffle. It's fun, and funny. Humor, perhaps more than anything else, is Barnes' signature. But dance audiences aren't generally primed to laugh, so to let them know it's okay, Barnes and Bass borrow a trick from comedians like Louis C.K. and Bill Burr.
"Comedians tend to present themselves with a lot of self-deprecation," Barnes says. If they do it well and with confidence, it's a joy to laugh at them. "You can't laugh at somebody that you're worried about," she adds, explaining, "We give the audience permission to laugh at us because beneath it all, they know that we're fine." As in comedy, the humor is the real-time feedback that lets you know you've hooked an audience: When you hear the laughter, Barnes says, "you know they understood."
Audience enjoyment is the raison d'être of the company. "For me the purpose of making a show is to connect with an audience," says Barnes. "And if the show fails to connect…that's our fault." Unlike some choreographers for whom steps are sacred, with Barnes, the moves come second. "She privileges the experience over everything," observes Robert Saenz de Viteri, who joined the company to help manage Three Acts and stayed on in a role created for him as creative producing director. "The choreography is just material."
Photo by Mallory Lynn, Courtesy Barnes.
Yet that connection takes different shapes when the duo performs Three Acts one night in a 3,000-seat hall and Happy Hour a few days later for a small audience in a room that fits 70. The dramatic shift is by design. "There is a really strategic eye on not being redundant," says Barnes. The obvious choice after Three Acts, given its reception and box office receipts, would have been to capitalize on the concept and launch version 2.0. Happy Hour, in many ways, is counterintuitive. But it has led to exciting new partnerships, such as with the Ace Hotel, which presented Three Acts in Los Angeles in the fall and is now discussing bringing Happy Hour to some of its properties.
"Partnering with the Ace is really asking us to think about the show in a different way," says Barnes. They've brainstormed with hotel executives about venues, audiences and even ticket prices. She loves working with a business because it looks at dance differently—just as Barnes has done from the beginning.
Part of her longevity comes from operating like a business herself (though the company is a nonprofit). Barnes, Bass and Saenz de Viteri all draw full-time salaries; Kelly Hanson, their costume and set designer, and Jane Cox, their lighting designer, are part-time contractors, and all of them receive annual raises. With the help of Three Acts, the company now has a savings account, which "just lets you sleep better at night," says Barnes.
But this financial security only comes from being unafraid to take big risks, and by being patient enough to give quirky ideas generous gestation periods. The impending museum workout, two years in the making, is another such gamble, but one that has already earned the enthusiasm of curators. "The museum hasn't done anything like this before," says Juliana Dweck, of the Princeton University Art Museum, where much of the piece was developed. "To Anna and Monica, everything is an experiment. They're working outside any boxes."
Joining forces with radio hosts, hotel chains and museums isn't so different from cold-calling a university 300 miles away—it comes from the same "anything goes" and "make it work" attitude. Nearly two decades later, Monica Bill Barnes is still hustling, just on a much larger scale.
Magazine
Nov. 30, 2015 02:30PM EST
Following its surprise hit Then She Fell, immersive-theater troupe Third Rail Projects embarks on an ambitious new adventure.
Joshua Reaver, Photo Credit: Julieta Cervantes
As a sweaty, seedy Florida resort circa the 1970s was being constructed in a dusty Brooklyn warehouse one night this fall, passersby paused to watch dancers climb a sign that read "Open All Nite" to the tune of Barry Manilow's "Mandy." Rehearsals were underway for The Grand Paradise, the latest theatrical adventure by dance-theater troupe Third Rail Projects.
The production, set to open in January with previews starting December 10, marks an exciting, amplified next phase for the 15-year-old company. The heightened anticipation follows the surprise success of Then She Fell, a theatrical journey down Lewis Carroll's Alice in Wonderland rabbit hole. When it opened in 2012, Then She Fell was supposed to run for six weeks. It is still running today, offering 12 shows a week.
Ashley Robicheaux and Niko Tsocanos. Photo by Julieta Cervantes.
Now, Third Rail's three co-artistic directors—Jennine Willett, Zach Morris and Tom Pearson—are planning for a long run of The Grand Paradise. They are working with investors for the first time and negotiating the challenges associated with scaling up. This includes venue size, audience capacity (up from Then She Fell's intimate 15 to approximately 60) and two casts of 20 performers each, 11 of whom are moving over from Then She Fell.
In other words: "How do we become a real business that can maintain this?" Pearson asks. One thing they're not doing is relying on a safe formula. Says Pearson: "We're not trying to replicate Then She Fell."
The company uses furniture as a partner, testing how seamlessly they can dance with it. Photo by Julieta Cervantes.
The concept for The Grand Paradise expands upon an earlier work, Roadside Attraction (2013), about a family traveling in a vintage camper. The Grand Paradise imagines that family rolling up to a mysterious Florida resort where death, desire and the Fountain of Youth collide, and inhibitions are unleashed.
The show arrives in a boom time for immersive theater, the performance genre in which the audience is placed in the middle of the action and often invited to participate. In 2011, the still-running Sleep No More by Punchdrunk became a hit and introduced the concept to theatergoers; Queen of the Night, by the same team, gave the genre an R-rated dinner-theater twist. "Sleep No More expanded the dialogue around this type of performance," says Pearson. "It became a genre that everyone recognized and you didn't have to explain it."
It was a genre that Third Rail Projects had been working in for years, albeit on a much smaller scale. Willett and Pearson met as students at Florida State University, where both studied dance, and later hooked up with Morris, who studied directing at Carnegie Mellon University.
Initially, they made what Willett calls "very traditional concert dance" but soon began experimenting with site-specific work. Productions like Steampunk Haunted House allowed them to experiment with leading audiences through immersive environments, and paved the way for Then She Fell, which is set in a hospital and has a similarly macabre feeling.
From left: co-artistic directors Tom Pearson, Zach Morris and Jennine Willett. Photo by Julieta Cervantes.
Whereas audience members at Sleep No More are set free to stumble onto the action, Then She Fell carefully guides its guests through the experience with invisible paths laid out for each audience member. Though it feels spontaneous, it also always feels like you're exactly where you should be. The Grand Paradise will maintain this strategic intentionality, but dials up the audience agency. "We are experimenting with giving the audience more freedoms within the work," says Pearson.
It's the logical next step for the three directors' pursuit of transformative experiential theater. Their success thus far is due largely to the unique chemistry of their partnership. From project to project, they rotate who takes the lead, then all three write, choreograph and craft together. Their combination of contributions, says Morris, "makes a piece really three-dimensional."
The three-dimensionality applies to the physical environment, too. The company practices a technique called Soft Bodies, Hard Surfaces, using the furniture as a partner. "It's about using good contact-improvisation skills, but with an inanimate object," says associate artistic director Marissa Nielsen-Pincus. "It's also about testing it out, seeing how can it support me or not, taking your time to get to know it."
The learning curve of climbing walls, sliding down stairs and flipping tables may be steep, but once set, the choreography remains relatively constant after a show opens. Each night, however, a new audience arrives and with it, a thrilling degree of unpredictability.
Photo by Julieta Cervantes
"Because we're so clear in what we're doing and what we expect from the audience, it's a structure embedded in such a way that they don't even notice there's a structure," says Tara O'Con, who has danced with Third Rail since 2006. Hand gestures and expressive eyes convey when audiences should sit or stand, follow or remain, peel a tangerine or drink a cup of tea. The company tests out these dynamics initially with other members of the cast, and holds multiple test-runs with close friends, family, supporters and collaborators.
Maintaining the illusion of "anything goes" inside a tightly controlled environment is a tricky balancing act, but Third Rail Projects has managed to walk the tightrope while creating fully realized fictional worlds that explore profound questions about life and love. For a company always seeking to involve its audience in fresh ways, The Grand Paradise offers an opportunity to go even further. The big question, says Pearson, is: "How far can we go?" 
Brian Schaefer writes on dance for The New York Times and other publications.
Rafailedes joined LADP for its rep: Here, Justin Peck's Murder Ballades with Nathan Makolandra. Photo by Laurent Philippe, Courtesy LADP.
In February 2013, Rachelle Rafailedes sat in an airport with tears in her eyes and a knot in her stomach. After eight fruitful years in New York City—four as a student at The Juilliard School and four dancing for Kyle Abraham—she was relocating to California to join L.A. Dance Project, the company founded in 2012 by Benjamin Millepied, now artistic director of the Paris Opéra Ballet.
"I thought, What am I doing?" Rafailedes recalls. "It was a moment of, Okay, I hope I made the right decision because I just changed everything in my life in one moment." To add to the stress, when Mille­pied offered her the job, he had also just announced his new position in Paris. (He assured her that he was committed to LADP's longevity by convening a top-notch artistic and administrative team.) Yet today, she reports that the leap of faith has paid off. "It's been so rewarding and so worth it," she says. "I've grown so much."
In the past few decades, Los Angeles has perhaps unfairly earned a reputation as something of a concert dance wasteland. But that label is quickly changing, thanks in part to the establishment of LADP and other independent contemporary companies, like BODYTRAFFIC, L.A. Contemporary Dance Company and Ate9, led by former Batsheva dancer Danielle Agami, who occasionally teaches Gaga for LADP. "There is an audience here and it is younger, which is exciting," Rafailedes says. "People are hungry for it."
That hunger is satiated by LADP's bold and sophisticated programming, which includes works by Millepied, Justin Peck, Merce Cunningham and William Forsythe—the rep is what drew Rafailedes to the company—and collaborations with noted visual artists and composers. "What's cool about this company, and the most challenging part, is that you have to be in three different worlds in one evening," she says.
Still, Rafailedes' transition to the West Coast wasn't easy. One reason is the speed at which it all took place. After discovering on Facebook that LADP was seeking another dancer, she sent in a tape and, a month later, was invited to audition. She flew to Los Angeles and was offered a job after one day, a Thursday. By Monday she had found an apartment and, a week later, had passed off her residence and furniture in New York City. Soon, she was in a Southern California studio, marveling at the winter warmth. "It was insane," she says of the move.
In addition to learning a whole new repertory, Rafailedes had to adapt to a different social scene. "I was trying to make L.A. into New York, but they're completely different cities and vibes," she says. "Once I realized that, it became easier." She spent the first year negotiating L.A.'s limited metro system from her East Hollywood apartment to the company's downtown home before finally buying a car (a blue Chevy Cobalt). "I'm able to explore L.A. a lot more," she says. "It makes life a lot better."
Rafailedes also has to regularly shift gears culturally, since much of LADP's touring has included long stretches in Millepied's native France. "I'm a little bit ashamed that I don't speak better French because we spend so much time there," she says with a laugh. Ballet master Charlie Hodges notes that on tour, Rafailedes takes on the motherly role. "She is a nurturer," he says. "Always watching over the schedule, the group, the events, the rehearsals." But in performance, he adds, "she brings a power to the stage that is as wild as her hair."
Before making the move, Rafailedes says that she hadn't considered Los Angeles to be a place that would offer her what she was seeking as a dancer. But sometimes from supposed wastelands sprout unexpected gifts. "With the rep we get to do, the touring and opportunities…I would move anywhere for that," she says. "It's a dancer's dream, really. My dream."
Magazine
Apr. 01, 2015 02:55PM EST
Although Uprising, Hofesh Shechter's smoky, shadowy study in male camaraderie on the verge of violence, premiered in 2006, it was eerily relevant when Alvin Ailey American Dance Theater performed it at the opening of its recent winter season. That same day, a grand jury had failed to indict a police officer in the death of Eric Garner, sparking a new round of public rage around issues of power and racial inequality. Now here was a group of African-American men expressing that unrest onstage through Shechter's charged choreography, complete with a chillingly prescient chokehold. "It wasn't lost on me," says Robert Battle, Ailey's artistic director, of the piece's imagery. "It forces you to think." However unintended, the connection underscored the sense that Shechter's work somehow captures a certain current mood.
Uprising features a score by Shechter himself. Photo by Ben Rudick, Courtesy Hofesh Schecter Company.
That thrilling urgency and unsettling relevance helps explain how the 39-year-old has managed to catapult into an elite club of highly in-demand international choreographers in less than a decade. This year alone, Shechter premiered his first work for The Royal Ballet, will make his choreographic Broadway debut with Fiddler on the Roof and is working on another as-yet-unannounced high-profile collaboration, in addition to a triple bill of new work for his own company. For all his devoted followers, though, Shechter has detractors, too. His loud, large-scale productions can feel more rock concert than dance event, and their amped-up volume either ignites or offends you. The division can't be explained purely in generational terms, though he does tend to attract younger, rowdier crowds. But there's an anger and anti-authoritarian impulse that resonates with some and turns others off. For Shechter, it's simply the way he makes sense of his surroundings. "It always comes from trying to understand the situation around me and how I understand the world," he says of his thematic interests.
And Shechter hails from a rather turbulent corner of the world: He was born in Jerusalem, studied Israeli folk dance from a young age and performed for three and a half years with the Batsheva Dance Company under the guidance of Ohad Naharin (two in the junior troupe, while also fulfilling his compulsory military service). But before he was a dancer, Shechter was a musician, picking up piano at age 6. When he left Batsheva, seeking to re-engage with music, he began studying drums. After a stint in France, a relationship and a bandmate eventually pulled him to London. He didn't mind leaving Israel: "It feels like a very small, narrow, intense place to be."
Above: Shechter works with his company on Sun Dust, a compilation of sections cut from Sun as it grew into a darker piece. Photo by Victor Frankowski, Courtesy Hofesh Schecter Company.
After two years of dance and music gigs (both performing and teaching to make ends meet), he was restless and unsatisfied artistically. In 2003, he decided to go at it alone. "I told myself I don't want to dance for anyone else anymore," he says. "I wanted to have my own fantasies." He gave himself a year to create, to see if he could make it work financially. "I remember the first days in the studio," he recalls, "the feeling of dread on one hand and excitement on the other." He took inspiration in something he learned from Naharin: "Everything is allowed."
The duet that emerged from this period, Fragments, earned him notice at The Place, one of London's main dance venues. Six months later, he won an award at a choreographic competition. Then came Uprising, which caught the eye of Alistair Spalding, chief executive and artistic director of Sadler's Wells, the UK's most prestigious contemporary dance center, which co-commissioned the equally moody follow-up In your rooms. Suddenly Shechter was one of the country's most buzzed-about young dancemakers. Arts Council England invited him to form a company (which they still support, covering almost a quarter of his budget), and Spalding named him a Sadler's Wells associate artist. All within three years.
The Art of Not Looking Back. Photo by Dee Conway, Courtesy Hofesh Schecter Company.
"It's been a pretty rapid rise," admits Spalding, who says he was attracted to Shechter's ambitious visions and untamed energy. "We wanted to give him the opportunity to fly, and he did." For Shechter, the speed of his ascent was "phenomenal and weird," he says. Though gratified by the attention, he adds, "I remember feeling careful because I could see the fragility of it."
So far, there's nothing fragile about the opportunities coming his way. Hofesh Shechter Company employs 16 full-time dancers, and nearly as much staff. (A junior company will soon perform his repertory, as well.) Several high-profile projects are taking him to new artistic territory, like the one with The Royal Ballet that premiered in March. As with much of his work, Shechter composed an original score for the project (in this case, with Nell Catchpole as a co-composer). Composing his own music, though exhausting and time consuming, is an integral part of his vision. "What I like about it is the ability to control a whole atmosphere, a whole situation, a flavor that comes from every direction," he says.
Working with The Royal Ballet's dancers has been a pleasant surprise. "I actually quite enjoy it," he says, "which is rare. Sometimes with creation I can get into a dark place." That darkness manifests in the finished products and reflects the struggle of an artist deeply ambivalent about the state of the world. "He's quite a peaceful person, he's relaxed, he's funny, he's joyful—but when he creates, what's interesting is the conflict," says Bruno Guillore, who has danced with Shechter for nine years and serves as the company's associate artistic director. He points to Shechter's 2013 work Sun. "When we started he wanted to do a light piece but he couldn't. After a month and a half of fighting it, it became darker and darker. He said: 'I have to do a piece I connect with and I don't connect with happy people dancing around.' "
As the father of two young daughters, Shechter's home life is often quite bright and playful, and he isn't sure why he gravitates to turmoil in his work. He offers the following explanation: "I'm interested in looking at unsolved things, open questions, uncomfortable places," he says. "It's where I feel the most, it's where something can evolve and move and heal."
Despite the darkness, Shechter's work isn't cold. What distinguishes it from the polished, metallic rigor of some of his contemporaries is its cinematic sweep (Stanley Kubrick and Paul Thomas Anderson are influences), flawed humanity and deep emotional core. "He's very connected to his emotions," says Guillore, who points out that harmony between head, heart and body is what Shechter seeks in his dancers, as well. "He's really looking for people who can express emotion through movement."
For his most unexpected project this year, Shechter will give physical expression to the joy and anxiety of the Russian shtetl of Anatevka. Initially, Shechter balked when Fiddler on the Roof director Bartlett Sher approached him. "I told myself I'd never choreograph a musical," he says, laughing. But when it turned out to be Fiddler, something shifted. "I thought, Yeah, that's me."
Political Mother. Photo by Tom Medwell, Courtesy Hofesh Schecter Company.
Shechter's Jewish identity—more a personal reference point than a religious practice—is a subtle, recurring theme in his work. "There's something very Jewish about Political Mother," he says, referring to his 2010 blockbuster that has the feel of a political rally, a punk rock concert and a tribal ritual. The movement, as in much of his work, nods to his Israeli folk dance roots with group circles, deconstructed "grapevine" steps and trembling, outstretched arms as if beseeching God. Early in the process of working with The Royal Ballet, he says, "I wondered when was the last time they had a Jewish choreographer walking into that building?" He started to think about his own status as an immigrant from the Middle East, then about the contentious debate around immigration in the UK, particularly regarding its Muslim population. "It makes me feel like shaking the house a little bit," he says.
That impulse may be shared by a number of choreographers, but few have managed to wrap the urge in such an appealing package that seduces, and unnerves, large audiences. "He doesn't want us to feel too comfortable about this kind of enjoyment," says Sadler's Wells' Spalding. "He wants there to be some grit in the oyster."
STREB's Samantha Jakus.Courtesy Bergdorf Goodman.
How the daredevils of STREB Extreme Action deal with the element of danger on a daily basis
It's not every day that auditions are held for superheroes. Especially not in Williamsburg, Brooklyn, home planet of the mortal hipster. But on a spotless day in September, approximately 75 hopefuls gathered at the Streb Lab for Action Mechanics (SLAM) to test their mettle and face their fears.
STREB's Samantha Jakus runs down the side of Bergdorf Goodman. Photo Courtesy Bergdorf Goodman.
"Skip your brain and go right to the gut," instructed Elizabeth Streb, the woman with the spikey black hair, thick black glasses and all-black outfit who had attracted them there to audition for STREB, her "extreme action" company. After an admonition to "use the wiser side of prudence to protect yourself," company members taught a routine based on pop action, the technique Streb developed to train and protect the body in its frequent attempts to outsmart physics. The dancers were on their stomachs as much as they were on their feet. It was the first of a three-day process to determine who had what it takes to be a STREB warrior, which, according to associate artistic director Fabio Tavares, an 11-year veteran of the troupe, includes "good muscles, good lines and good energy."

For the past three decades, Streb's brand of extremism has challenged and disrupted the very tenets of dance, an art form that is perhaps an imperfect fit for her physical interests. For the most part, dance has embraced her, even if it doesn't always understand her. As part of an artistic community that treats the body like a sacred vessel, her eagerness to throw it in harm's way has sometimes been met with a degree of discomfort. Indeed, the tasks Streb asks of her dancers—running on the top of a giant hamster wheel, narrowly dodging a spinning I-beam, nose-diving from a 35-foot platform—strike many traditional choreographers and performers as more akin to stunt work.
Flying through air and water: STREB in Kiss the Water. Courtesy Antoine Douaihy.
But there is also the clear stamp of an artist in the clarity of her intent and the imagination behind her ideas. Her dancers are always responding in the moment to the conditions she places before them, usually in the form of site-specific obstacles or custom-made giant apparatuses. Though running, jumping and falling are essentially pedestrian acts, Streb's application of them requires a strong and highly specific technique. "What we do is train the body to be a single unit to really go places in space, and deal with taking impact," she says. Once dancers are in the air, she considers the picture. Lines matter, but "the images are secondary and tertiary, even." She says she may "inflict slightly artificial decisions into the choreography" by shaping a position or pausing it for visual effect. Ultimately, though, the focus is not on what her performers do, it's where they go.

Inevitably, thanks to gravity, that direction is usually down. Acknowledging this, Streb has many safety nets in place to help her dancers protect their bodies. She has had mathematicians calculate the velocity of falling bodies so her landing pads are appropriately engineered; the customized mats are usually replaced every three years. And in addition to extensive training, company members are supported with full health insurance as part of their yearlong contracts. During stretches of performance, they are also entitled to one bodywork session of their choice each week.
Left: Playing with physics in Forces. Photo by Elyssa Goodman, Courtesy STREB.
But for such uncompromising work, the dancers also rely on supplemental training. Former company member Sarah Donnelly, who now teaches at SLAM, says she worked out seven days a week during her years with STREB. "I had to work very, very, very hard to get myself prepared for the work," she says. Having studied classical ballet but with no previous acrobatic experience, she did cardio every day, weight training three times a week and took extra pop action classes in the evenings, focusing on gymnastics and aerial work. Tavares, on the other hand, who was an acrobat in his native Brazil, is now a certified instructor of Alexander and Klein techniques, and many of the STREB dancers take class from him. He also practices zero balancing (essentially massage for the bones, rather than the muscles), tai chi and meditation. He says he has no knee, wrist or back problems. Next year, he'll be 40.

Which isn't to say he hasn't been seriously injured while working for Streb. In early 2012, he fell in a show in Holland and broke his ankle in three parts. On her third day of rehearsal, Donnelly dislocated her shoulder, but attributes most of her lingering issues to nearly two decades of ballet. In 2007, the company was thrown into the spotlight when dancer deeAnn Nelson broke her back at what should have been a benign moment during a performance. But in Streb's work, a second's miscalculation can have drastic repercussions. "It reminded you that injury can happen at any point and time," says Streb, who was criticized for continuing the performance. She doesn't like talking about the incident, largely because it has perhaps unfairly come to symbolize the dangers of her work, even though no other such injuries occurred before or since. "I felt that as a director I had failed," she says, acknowledging that dynamics in the company at the time might have contributed to tension in the room. Ultimately, she takes full responsibility: "It was all my fault."
The incident hasn't diminished Streb's appetite for risk or softened the company's sense of recklessness. There is a rule in STREB that dancers can't say no. But that doesn't mean they are forced to do tasks against their will. "We never use the word 'no,' but we come up with creative elusions," says company member Cassandre Joseph. As in, "I don't have it today, maybe next month." Limits may include falling from a certain height, or bowing out of a move that has bred injury in the past. "When I think about my career, I want to pick and choose my battles," says Joseph. Streb has her limits, too, but often can't identify them until it's too late. When asked if her limits will only reveal themselves once crossed, she says: "I think so."
Right: Hanging off Millennium Bridge at the 2012 London Olympics Festival. Photo by Julian Andrews, Courtesy STREB.
Still, her band of superheroes will follow their Professor X to wherever her mind takes them. Part of this trust, says Donnelly, is Streb's ability to create a cohesive community. But she also points out that "the work automatically builds camaraderie because you're forced to rely on someone." Tavares explains his willingness to follow Streb another way: "It's a combination of the inner appetite we have for extreme action and falling in love with her and her persona."
At least half of Streb's work is a test of psychological endurance as much as a physical one. "The fear is so overpowering and so crippling that you have to develop many methods to combat it," says Joseph. One of her methods is a personal mantra, which she draws from quotes by Muhammad Ali: "I am the champion of the world" and "I'm gonna show you how great I am." Joseph listens to a track of Ali quotes as part of her pre-show playlist. "It's all about filling myself with undeniable confidence," she says. "Confidence that is so strong that there is no room in my head for doubts and hesitations." Donnelly, for her part, engaged in what she called "fear training" to push past her comfort zones; she tried extreme sports like skydiving as well as mountain biking at dusk to train the body to orient itself with less and less light. "The more you practice taking risks," she says, "the better you are at saying yes and understanding what is required of you when you do."
Photo by Elyssa Goodman.
Fear isn't just for the dancers; it's a unique ingredient in viewing Streb's work as an audience, as well. Ballet may evoke a spectrum of emotion, but rarely does it inspire the kind of pulse-racing, gasping thrill of witnessing Streb's intense experiments. "She teaches us with the work that you can't be fearless unless you are also fearful, at least at some point," says Catherine Gund, the director of Born to Fly: Elizabeth Streb vs. Gravity, a new documentary film that follows the artist and her company over several years. "Because there's no way to let go of something you don't own." Not all dancers wish to face their fears on a daily basis, which is why Streb attracts a specific type of performer and why they remain so loyal to her. "If you're in love with the work," says Tavares, "you stick around as long as you can." Of the current team, more than half have been with the company for five years or more. Members say there is a sense, when one is a part of STREB, of truly living life to the fullest and being able to conquer any obstacle. Leaving, therefore, can induce an especially difficult withdrawal. "It's probably the hardest thing you'll ever do," says Donnelly. "I got very addicted to the adrenaline."

Brian Schaefer writes on dance for The New York Times.