The new ballet shoe emoji will be released later this year. Image via Emojipedia.
Imagine this scenario: You get a text from a friend just as you're heading into ballet class, and have to answer as quickly as possible. Now, if you were heading into a juggling class, or water polo match, or fencing practice, you'd be able to send a quick emoji in response. But alas, you're forced to type out a full sentence. Because, to the ballet world's collective frustration, There. Is. No. Ballet. Emoji. Until now...
According to Emojipedia, the site for all things emoji-related, a ballet shoe emoji is slated to come out later this year (the exact date hasn't been announced yet) as part of Emoji Version 12.0. The proposal came from Australia-based tech company manager and ballet fan Rüdiger Landmann. Landmann proposed three separate ballet emojis: a ballerina, a male ballet dancer and a pair of pointe shoes. Only the pointe shoe emoji was approved, and we'll be honest, it doesn't look like any pointe shoe we've ever seen. It's more like a pink loafer with ribbons attached. But we're trying not to complain, as this is definitely a (wobbly, given the shape of that shoe) step in the right direction.
Keep reading...
Show less
James Whiteside and Isabella Boylston. Courtesy In the Lights PR.
"Cindies" fans, this one's for you. February 9-10, American Ballet Theatre's James Whiteside and Isabella Boylston are collaborating with pop singer Rozzi to put on a full-length show titled When I Think Of You at The Argyros Performing Arts Center in Ketchum, Idaho. Set to Rozzi's debut album Bad Together, performed live by the singer and her band, the show features choreography by Whiteside, Boylston, ABT's Gemma Bond and commercial dancer Ai Shimatsu with dancing by Whiteside, Boylston and ABT soloist Calvin Royal III.

Whiteside is no stranger to pop music. The principal dancer doubles as singer/songwriter JbDubs, known for choreographing and producing his own wild music videos and performances. We touched base with Whiteside to hear all about how When I Think of You came to be, what this unique show will look like, and how he balances his musical career with his work at ABT.
Keep reading...
Show less
Courtesy Birmingham Royal Ballet
Birmingham Royal Ballet announced today that international star Carlos Acosta will be taking over as director in January of 2020. Current BRB director David Bintley will be stepping down this summer, at the end of the company's 2019 season, after a 24-year tenure. "It is a tremendous honor and privilege to have been appointed to lead Birmingham Royal Ballet," Acosta said in a statement.
Since retiring from The Royal Ballet in 2015, Acosta has focused much of his attention on his native Cuba, where he's proven his directorial abilities at the helm of Acosta Danza, the contemporary company that he founded in 2016. In 2017 Acosta also opened his first Dance Academy through his foundation, which provides free training to students. We don't yet know how Acosta will balance his time between his projects in Cuba and his new role at BRB.
Keep reading...
Show less
News
Dec. 21, 2018 12:17AM EST
Raven Wilkinson in Les Sylphides. Photo Courtesy Wilkinson.
Ballerina Raven Wilkinson passed away on Monday at her home in New York City at age 83. Wilkinson is best known as the first African American woman to dance full-time with the Ballet Russe de Monte Carlo and as a cherished mentor to Misty Copeland.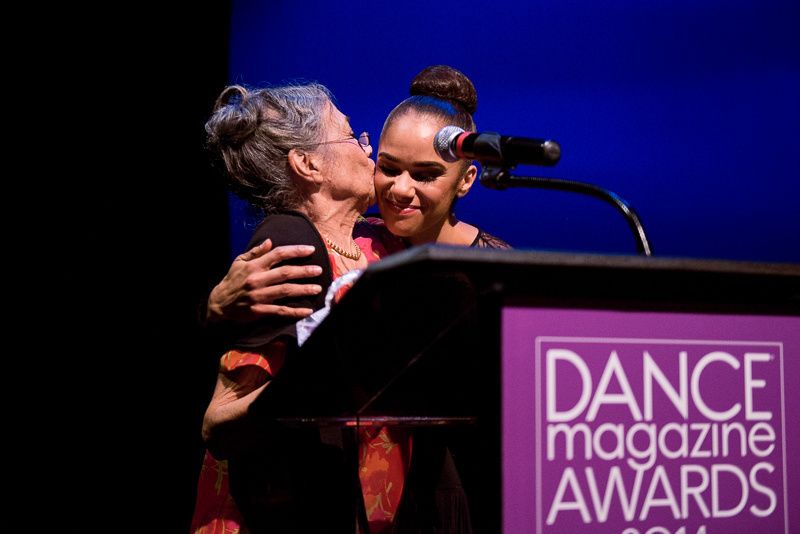 Raven Wilkinson presenting Misty Copeland with the Dance Magazine Award in 2014. Photo by Cherylynn Tsushima for Dance Magazine.
Keep reading...
Show less
New York City Ballet soloist Georgina Pazcoguin. Photo by Nick Nakahara, Courtesy Pazcoguin.
As conversations in the ballet world about race and representation have opened up in the past few years, its most beloved holiday tradition, The Nutcracker, has come under scrutiny as well. Last year New York City Ballet made changes to its second act Chinese Tea variation, removing elements of racial caricature from both the costume and makeup and the choreography.
NYCB soloist Georgina Pazcoguin, who is part Filipino, was one of the voices fighting for that change. This year, as companies and schools worldwide are gearing up for Nutcracker season, Pazcoguin, along with former dancer and arts administrator Phil Chan, is back with a new campaign. Final Bow For Yellowface is an online platform dedicated to educating companies and schools on how to veer away from offensive Asian stereotypes (yellowface) and providing resources on how to make those changes. The site also lets readers join dance world luminaries including Virginia Johnson, Julie Kent, Adam Sklute, Troy Schumacher and Christopher Wheeldon in signing a pledge to end the practice of yellowface onstage. We touched base with Pazcoguin to hear about how this initiative came to be, and what she and Chan have in the works for the future.
Keep reading...
Show less
Screenshot via YouTube
As all bunheads know, there's so much more to dancing on pointe than sewing and bourées. In this new video, The Australian Ballet lays it all out for us, from A-Z. Or rather from "Arch" to "Zzzzzz's." Using a super fast-paced style, this four-and-a-half minute long video skips back and forth between ultra-sleek minimalism and sepia-toned nostalgia. Both educational and insider-y (see "cashews" at 0:54), this video includes some gorgeous shots (Apollo-inspired arabesques at 2:00) interspersed with quirky humor (note adorable pointe shoe bed at 3:53).

Keep reading...
Show less
From left: ABT principals Isabella Boylston, James Whiteside, Gillian Murphy, Stella Abrera and Cory Stearns with Harvard Business School professor Anita Elberse. Photo Courtesy HBS.
Between long rehearsal days, performances and hectic touring schedules, it can be hard for professional dancers to plan for their post-performance careers while they're still onstage. This fall, that changes for five American Ballet Theatre principals. Stella Abrera, Isabella Boylston, Cory Stearns, James Whiteside and Gillian Murphy have been chosen as the first dancers to participate in Crossover Into Business at Harvard Business School, a semester-long program designed for professional athletes.
Last year, Crossover Into Business program director and HBS professor Anita Elberse was developing a case study on ABT, and reached out to the company executive director Kara Medoff Barnett, an alumna of HBS. "Anita mentioned the Crossover Program as an experience that has been transformative for professional athletes," says Barnett. "We looked at each other and had the same idea: How about inviting the ABT dancers to sit next to the NBA players?"
Keep reading...
Show less
Get Dance Magazine in your inbox
Just for Fun
Jul. 12, 2018 06:29PM EST
Think "biscuits" should be in the dictionary? Now's your chance. Photo by Jazmin Quaynor via Unsplash
Have you ever referred to your feet as biscuits or your pointe shoes as dead in front of a non-dancer friend or family member and seen a wave of confusion cross their face? Dance, like most activities, is chock-full of words and phrases used only by those in the know. In honor of their 90th anniversary, the Oxford English Dictionary wants to change that. They've put out an appeal to gather "hobby words," and dance is on their list (we know that dance is more than a hobby—try not to take offense).
Keep reading...
Show less
News
Apr. 19, 2018 04:49PM EST
Olga Smirnova. Photo by Quinn Wharton.
Several weeks ago, Youth America Grand Prix announced that the lineup for tonight's Stars of Today Meet the Stars of Tomorrow gala at Lincoln Center's Koch Theater would include Bolshoi Ballet principal Olga Smirnova and first soloist Jacopo Tissi. But an article in Page Six published last night states that Smirnova and Tissi were denied visas to enter the US.
YAGP organizers "believe the Department of Homeland Security's decision may be motivated by the myriad tensions between the superpowers," says the piece, noting that "Smirnova is so revered in Moscow that her treatment could create a Russian backlash."
Raven Wilkinson in "Les Sylphides" as illustrated by Leda Schubert. Photos Courtesy Wilkinson.
When children's book writer and illustrator Leda Schubert first reached out to Raven Wilkinson about writing a book on her life, Wilkinson had qualms. She was worried that the racism she experienced as an African American dancer touring the South with the Ballet Russe de Monte Carlo in the 1960s might scare the intended audience of 6-9 year olds. With time, Wilkinson came to an understanding. "If we keep hiding everything from our children we'll never get these things solved," she told me in an interview. The result is a picture book, released earlier this month, titled Trailblazer: The Story of Ballerina Raven Wilkinson.
Trailblazer opens with a foreword by Misty Copeland, who has has often cited Wilkinson as a mentor. Copeland's words are accompanied by a photo of Wilkinson presenting her with a bouquet onstage after her Swan Lake debut with American Ballet Theatre. "Since learning about Raven, sharing her journey and those of the many black ballerinas who have paved the way has become part of my mission," writes Copeland. And indeed, Copeland's fame and success has pushed Wilkinson's story into the public eye.
Keep reading...
Show less
News
Dec. 22, 2017 08:29PM EST
Nathan Sayers for Pointe
This fall, English National Ballet wunderkind Cesar Corrales graced the cover of our sister publication, Pointe, and spoke about searching for new ways to grow at ENB. Yet today ENB announced that after three years with the company, Corrales has decided to leave to join The Royal Ballet as a first soloist.
Corrales rose swiftly through the ranks at ENB; he was promoted to principal this past summer at just 20 years old. He was best known for his highly charismatic performances which inflected roles such as Ali in Le Corsaire, Mercutio in Romeo & Juliet and Hilarion in Akram Khan's 2016 re-imagining of Giselle.
Read the full story at pointemagazine.com.
Video still by Nel Shelby Productions, Courtesy Dancio.
"What if you could learn from the world's best dance teachers in your living room?" This is the question that Dancio poses on their website. Dancio is a new startup that offers full length videos of ballet classes taught by master teachers. As founder Caitlin Trainor puts it, "these superstar teachers can be available to students everywhere for the cost of a cup of coffee."
For Trainor, a choreographer and the artistic director of Trainor Dance, the idea for Dancio came from a sense of frustration relatable to many dancers; feeling like they need to warm up properly before rehearsals, but not always having the time, energy or funds to get to dance class. One day while searching the internet for a quick online class, Trainor was shocked to not be able to find anything that, as she puts it, "hit the mark in terms of relevance and quality. I thought to myself, how does this not exist?" she says. "We have the Daily Burn for Fitness, YogaGlo for yogis, Netflix for entertainment and nothing for dancers! But then I thought, I can make this!" And thus, Dancio (the name is a combination of dance and video), was born.