Emma Sandall
Emma Sandall danced with Béjart Ballet Lausanne, the Royal Ballet, Scottish Ballet and West Australian Ballet. She teaches for companies and schools in Australia, Europe and America. She writes a regular column, Ask Emma, in Dance Australia Magazine. She is a certified personal trainer and Pilates instructor, and still performs from time to time and will keep on dancing as long as her hips allow!
Jayme Thornton
When Michelle Dorrance put on her first show as Dorrance Dance in 2011, in a shared evening with Dormeshia Sumbry-Edwards, a charismatic teenager was featured in both choreographers' works. Critic Gia Kourlas described Caleb Teicher in The New York Times as "a sleek dancer who possesses a beguiling combination of a relaxed upper body with switchblade feet." His appearance won him a Bessie for Outstanding Individual Performance.
The day after the award ceremony, he was back in class—ballet class. His growing reputation as a hot young tap dancer was making Teicher nervous that he would find himself pigeonholed before he had time to explore other options. So, he aggressively pursued anything that would let him be "not a tap dancer."
Keep reading...
Show less
A recent trip I took to Nashville coincided with the NFL draft. As we drove into town, my Uber driver was a fount of information on the subject.
I learned that there are 32 NFL teams and that the draft takes place over seven rounds. That the team that did the poorest during the previous season gets first pick. That during an earlier event called the scouting combine, the teams assess college football players and figure out who they want.
There is also the veteran combine for "free agents"—players who have been released from their contracts or whose contracts have expired. They might be very good players, but their team needs younger members or ones with a certain skill set. All year round, experienced NFL scouts scan games across the country, checking out players and feeding that information back to the teams. Players' agents keep their eyes on opportunities for their clients which might be more rewarding.
While I sat in the traffic of 600,000 NFL fans I got thinking, is there something ballet could learn from football? Could a draft system improve young dancers' prospects and overall company caliber and contentment?
Keep reading...
Show less
Patricia Delgado in rehearsal with Pam Tanowitz. Photo by Rachel Papo
When Patricia Delgado was a young dancer in Miami City Ballet, she always felt the need to keep practicing immediately after a performance. "It was a bit of a neurosis," she says. "I felt like I should use the warm, ener­gized feeling to work on things for the future."
Then a series of injuries and surgeries forced her to rethink her post-performance practice. Instead of continuing to push herself, she started to take some quiet time to de-stress and be grateful for what she had been able to do. She was truly surprised by the results. "I started to wake up with my head filled with ideas of how to make that new day productive," she says. "It's like I was getting out of my own way by doing some meditation after the show."
Keep reading...
Show less
Forsythe's in the middle, somewhat elevated uses the battement like an attack. Photo by Alexander Iziliaev, courtesy Pennsylvania Ballet
Just before retiring in 2015, Sylvie Guillem appeared on "HARDtalk with Zeinab Badawi," the BBC's hard-hitting interview program. Badawi told Guillem,
"Clement Crisp of the Financial Times, 14 years ago, described your dancing as vulgar."
Guillem responded,
"Yeah, well, he said that. But at the same time, when they asked Margot Fonteyn what she thought about lifting the leg like this she said, 'Well, if I could have done it, I would have done it.' "
They were discussing Guillem's signature stroke—her 180-degree leg extension à la seconde. Ballet legs had often flashed about in the higher zones between 135 and 160 degrees before. But it wasn't until the virtuoso French ballerina regularly extended her leg beside her ear with immaculate poise in the 1980s that leg extensions for ballet dancers in classical roles reached their zenith. Traditionalists like Clement Crisp were not taken with it.
Keep reading...
Show less
A pointe class at Youth America Grand Prix, where performing on pointe before age 11 is now prohibited. Photo by VAM Productions, courtesy YAGP
In 2018, the Youth America Grand Prix added a rule: For participants under age 12, performing on pointe became strongly discouraged. For those under 11, it became prohibited.
The competition organizers made these changes after jury members, teachers and others raised concerns about students being pushed to perform on pointe too early. Larissa Saveliev, YAGP co-founder and director, says, "Ten years ago we didn't have to have these rules because nobody was progressing that fast."
As ballet prodigies get younger and their abilities more extraordinary, many are asking, How young is too young to let their bodies dance on the tips of their toes?
Keep reading...
Show less
Learning to harness your hormones can help you use them to your advantage. Photo by David Beatz/Unsplash
For dancers, the ups and downs of a menstrual cycle can be inconvenient, to say the least. But learning how the monthly hormone fluctuations affect you can help you understand your mood, energy and appetite, and even your focus, coordination and confidence in the studio. It also makes your cycle that much easier to manage—and even embrace.
Keep reading...
Show less
News
May. 05, 2018 04:06PM EST
"This work is about daring to see we are full of paradoxes," says Sidi Larbi Cherkaoui. Photo by Koen Broos, Courtesy Cherkaoui
In 1995, when Alanis Morissette's Jagged Little Pill album stormed the airwaves, Sidi Larbi Cherkaoui was a young dancer in Antwerp, Belgium, taking his first steps toward a genre-mixing, category-defying career. In 2018, with more than 50 choreographic works and two Olivier Awards, he takes on the choreography of Jagged Little Pill, the musical, premiering May 5 at American Repertory Theater.
Keep reading...
Show less
Get Dance Magazine in your inbox
BalletMet in company class onstage before a show. Photo by Jennifer Zmuda, courtesy BalletMet
Before she became the 20th century's most revered ballet pedagogue, Agrippina Vaganova was a frustrated ballerina. "I was not progressing and that was a terrible thing to realize," she wrote in a rough draft of her memoirs.
She retired from the Imperial Ballet stage in 1916, and for the next 30-plus years, devoted herself to creating a "science of ballet." Her new, dynamic teaching method produced stars like Rudolf Nureyev, Alla Osipenko, and Galina Ulanova and later Natalia Makarova and Mikhail Baryshnikov. And her approach continues to influence how we think about ballet training to this day.
But is the ballet class due for an update? Demands and aesthetics have changed. So should the way dancers train change too?
Keep reading...
Show less
Paul Vasterling. Photo by Anthony Matula
What should we dance about today and how should we go about it? Those questions were on the mind of Nashville Ballet artistic director Paul Vasterling this summer as he spent six weeks exploring new ways of telling stories through ballet as a fellow at NYU's Center for Ballet and Arts.
Over his 20 years as principal choreographer at NB, Vasterling has created a handful of narrative works, ranging from children's stories to Romeo and Juliet and Lizzie Borden (about the Fall River, Massachusetts woman tried and acquitted for the axe murders of her father and stepmother).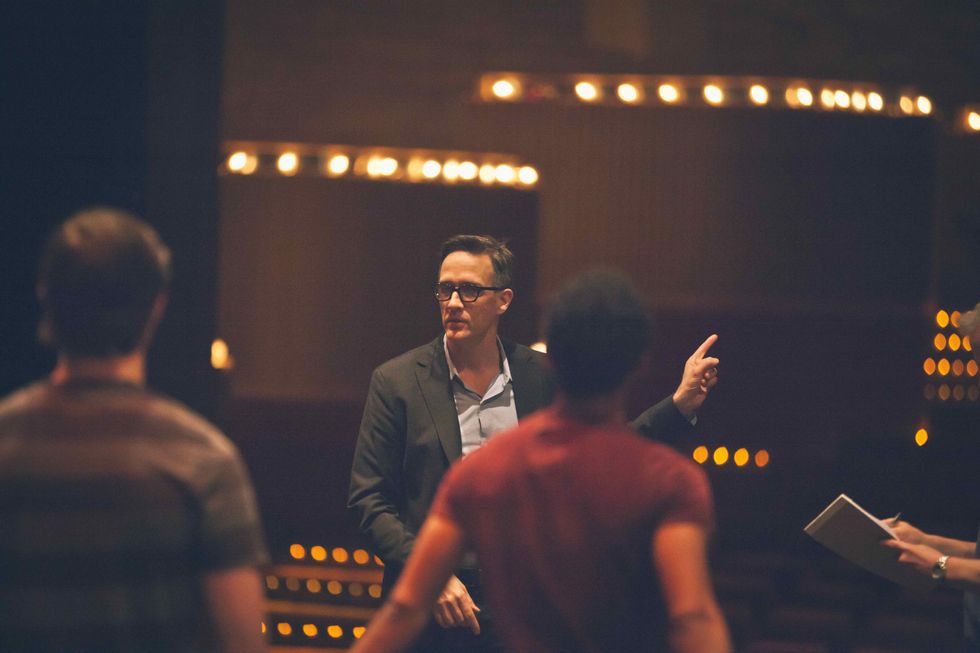 Paul Vasterling with Nashville Ballet dancers. Photo by Anthony Matula
Keep reading...
Show less