Lauren Phoenix Kay
As a writer, editor and communications consultant, Lauren Kay has worked for a wide range of platforms including ELLE.com, BeautyandWellBeing.com, Time Out New York, Dance Magazine, Backstage and TDF.org.
Emma Hawes in class at National Ballet of Canada. Photo by Karolina Kuras, courtesy NBoC
Growing up with a father who's a swim coach at Ohio Wesleyan University, Emma Hawes was in the water almost from the time she was born. From ages 6 to 12, she swam competitively.
"I would have two swim practices a day during season, then go to ballet class," says Hawes, who's now a first soloist at both National Ballet of Canada and English National Ballet. "It was pretty normal for me since my parents are both athletes." (Her father is also an avid cyclist and triathlete; her mom was a competitive runner.)
While swimming gave Hawes stamina, dance helped her body awareness in the pool. "I was able to make fine-tuning adjustments—like rotating the angle of my forearm—because of ballet," she says.
Keep reading...
Show less
Rachel Papo
Aside from a solid warm-up, most dancers have something else they just have to do before performing. Whether it's putting on the right eyelashes before the left or giving a certain handshake before a second-act entrance, our backstage habits give us the comfort of familiar, consistent choices in an art form with so many variables.
Some call them superstitions, others call them rituals. Either way, these tiny moments become part of our work—and sometimes even end up being the most treasured part of performing.
Keep reading...
Show less
Steele relies on carbs for Broadway-worthy energy. Photo by Lee Gumbs, courtesy Steele
Ryan Steele has a simple rule for demanding days on Broadway: "I listen to my body," he says. "I have whatever I'm craving: If I need more protein, I go straight for that. If I'm tired, I know I need carbs."
This wasn't always Steele's approach. Growing up, shuttling between the studio and school meant relying on McDonald's and Burger King.
Keep reading...
Show less
The intensive dancers learn what it takes to move specifically enough for a kickline. Photo courtesy MSG Entertainment
On a humid summer day in midtown Manhattan, construction goes on outside the Church of St. Paul the Apostle. Inside, another type of building goes on: In separate basement studios, two groups of 40 dancers focus their attention on their instructors. It's the Rockettes' summer intensive, a rare chance for students to work with professional Rockettes, not to mention Julie Branam, their director and choreographer.
Rockette Bailey Callahan demonstrates in front of one group. Hers is a classic Rockette story. She attended their intensive every summer from 2009 to 2011; being a Rockette was her dream. Then, in 2012, she was asked to attend the program's invitational week. At the end, she received her Rockette contract.
Keep reading...
Show less
Thinkstock
It can take a full team of experts to keep a dancer dancing—from masseuses and acupuncturists to yoga teachers and personal trainers. But, that comes at a cost, literally. When do you really need to invest in pricier options, and when can you take the more budget-friendly route? We broke it down for the most popular options.
Keep reading...
Show less
Thinkstock
Growing up, Leah Ives always enjoyed preparing food—especially after-school snacks. So now, while she cooks to fuel her work with the Trisha Brown Dance Company, she always wants it to be "free-form in a casual, no-pressure way," she says.
That means she preps and eats whatever her body calls for. "I've gone through phases of cleanses and diets," she says. "But that can take the pleasure out of eating. And it doesn't feel nourishing to me. Now, I listen to my body."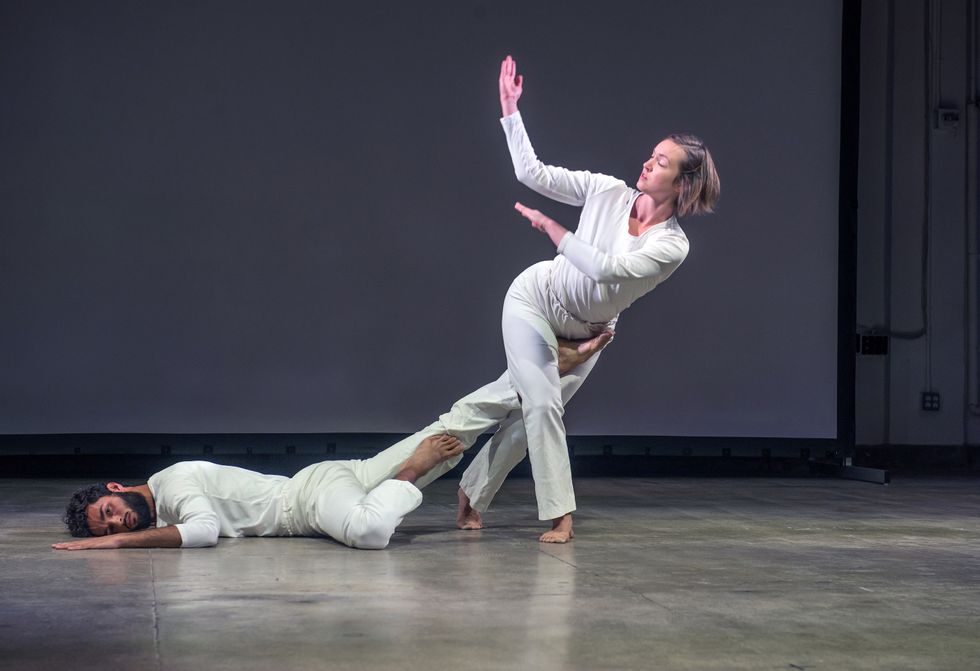 Leah Ives with Marc Crousillat. Photo by Stephanie Berger
Keep reading...
Show less
Christopher Bloom in CARMEN.manquia. Photo by Paula Lobo, Courtesy Ballet Hispanico
Do you feel like your obsession with dance has gone too far? You're not alone. Many dancers find themselves laser focused on dance to an unhealthy degree. But that doesn't mean you won't ever be able to find a more balanced life.
Ballet Hispánico dancer Christopher Bloom is a great example. When he started training seriously at age 15, he put every ounce of concentration into dance. In many ways, it served his swift improvement. But an overly obsessive tendency emerged: "When I went on vacation for a week when I was 17, I was so antsy and upset," he admits. "I thought I'd lose everything."
Keep reading...
Show less
Get Dance Magazine in your inbox
Thinkstock
At some point in your dance career, friends might have used the word "obsessed" to describe you. Perhaps you smiled in response. Priding ourselves on how hard and tirelessly we work seems locked in our dancer DNA.
That's partly because dancers need a certain amount of laser focus to make it in the competitive professional world. But when you spend "one extra hour" in the studio too often, the scales can tip. Dancers can rehearse themselves into an injury, or try a combination so many times that the result is simply frustration.
"Sometimes your body and mind need a break—a day, afternoon or weekend," says Dr. Nadine Kaslow, resident psychologist at Atlanta Ballet. "But dancers feel bad about these things. They don't feel entitled. It feels like you might lose all your training or your spot in a company in that little time off."
Keep reading...
Show less
Ingrid Silva in Vessels. Photo by Renata Pavam
Since moving from Rio de Janeiro, Brazil, to New York City in 2008, Dance Theater of Harlem's Ingrid Silva has used her family's recipes to energize her throughout the rehearsal day.
That means lots of white rice, black beans, chicken and steak.
While some consider this too heavy for dancing, for her, the concentrated nutrition amps up her strength and stamina. Her go-to? Rice and beans with steak. "With this lunch," she says, "I feel ready to work with energy for the rest of the day."
Keep reading...
Show less
Elena d'Amario approaches every chance to perform as though a judge on a TV show were urging her to "dance for your life." Her movement explodes past the expanse of her skin, her face alive and passionate with every fearless battement, breathy swing and fluid undulation. So it was little surprise when the lively native of Pescara, Italy, landed a job with Parsons Dance through a popular Italian TV talent competition in 2010.
But it turns out that the secret behind her extraordinary power onstage is thoughtful, simple work on her body. During daily company class—a Parsons-style ballet warm-up—d'Amario starts barre by focusing closely on her back and core. In the center, she shifts her attention to energetic intention. "Each shape should be a statement of energy," she says. "Then, in jumps, which we do so much of, I work toward that lovely silent landing."
To handle all the jumps in Parsons' rep, d'Amario keeps her core strong and her IT bands loose. PC Lois Greenfield, Courtesy Parsons.
Whenever she has downtime throughout the rehearsal day, d'Amario performs crunches in various positions to keep her core ready to control her long limbs. She also uses a ball to roll out the tense spots of her hips or hamstrings, since healthy IT bands keep her knees safe for the deluge of jumping.
D'Amario finds this preventative and proactive approach keeps her body healthy. "Throughout the second season, I had pain in my knee, but I made a huge mistake and ignored it," she says. "I would roll out my IT band and leave it at that. But on the last day of work, I went to jump in class, and I felt something 'flip.' It was my meniscus."
She was fortunate to recover relatively quickly by working carefully with her physical therapist. "At first, she would just bend and straighten my knee, which was so painful," d'Amario remembers. "Two weeks later, we started flexing my foot and just lifting my leg 15 times." Soon, she added a Thera-Band for resistance, and, eventually, small ankle weights. Now, even though she's recovered, d'Amario continues to practice the same exercises every morning, making sure to fortify all the muscles around her knees. "It's elementary, but sometimes to gain muscle back, you have to just go slowly and carefully."
Dec. 01, 2016 12:00AM EST
Broadway dancer Jonalyn Saxer is a dazzling juxtaposition of old and new. Onstage, her taps echo with the zing of traditional hoofing, while her long lines, playful hip-hop hits, comedic timing and stellar voice deliver what's expected of a contemporary triple threat. A favorite of choreographers, her versatile skill set got her cast in her third Broadway show: Holiday Inn, the New Irving Berlin Musical, a feel-good tale about trading the big city for the country.
Saxer (center) in Holiday Inn's showstopping tap-dance-meets-jump-rope number. PC Joan Marcus, Courtesy Polk & Co
Broadway shows: Currently in the ensemble of Holiday Inn. In the past, she was a swing in Honeymoon in Vegas and Bullets Over Broadway.
Age: 24
Hometown: Agoura Hills, CA
Training: Ballet, jazz and tap at California Dance Theatre; BFA in musical theater from Syracuse University
Broadway debut: Saxer was wrapping up college when she received a callback for Susan Stroman's production of The Merry Widow at the Metropolitan Opera. She booked the gig, but when a swing position opened in Stroman's new Bullets, the choreographer hired Saxer for that instead.
Defining her brand: Though Saxer is largely hired as a dancer, using the label with confidence was initially challenging. "Growing up," she says, "I didn't consider myself a full-out dancer, but more of a tapper. Syracuse gave me the confidence to be a triple threat, with 'dancer' coming first."
Learning to swing: In Bullets, Saxer relied on her swing cohorts and a program called Stage Write that allows users to map out choreography clearly. Honeymoon, however, changed continuously during its initial performances. "For Honeymoon, I had four sets of notes," says Saxer. "There's nothing harder than swinging in an original cast!" Now, she's taking a break from multitasking and is enjoying fleshing out her ensemble track.
What others are saying: "She's very much a chameleon, adapting to the time period, setting and genre," says Holiday Inn choreographer Denis Jones. "I appreciate a dancing actor: someone who's able to go beyond the steps and actually experience a truthful moment through dance. That's what Jonalyn delivers."
On the horizon: Saxer plans to continue performing and working as a dance captain, a role she had in the regional show Moonshine: That Hee Haw Musical, also choreographed by Jones. Eventually, she'd like to add choreography to her plate. "That's my ultimate dream. But for now, I believe you have to go where your jobs take you. You can't plan it," she says. "I audition for everything. Until something is for sure, you have to keep putting yourself out there." 
Blankenbuehler updated the choreography, but kept its sensual felinity. PC Jim Lafferty.
CATS holds a sacred place in many dancers' hearts. Tackling T.S. Eliot's alternate, feline universe offers a chance to be part of a legacy, and cast members speak reverentially of the show's whimsy and technical demands. Now, in the current revival on Broadway, a new litter is exploring Andy Blankenbuehler's movement layered in with Gillian Lynne's original choreography.
Pazcoguin runs through her solo 30 minutes before curtain. PC Jim Lafferty.
Georgina Pazcoguin: Victoria
Backstory: Also a New York City Ballet soloist, Georgina Pazcoguin is known for exploring unorthodox roles. But although she was always drawn to CATS' theatricality, she never thought she'd perform it. Now she's donning a white unitard as Victoria, the balletic kitten coming of age.
Committing: "CATS is a weird show, so you must be fully committed. That's why we do our own makeup and spend so much time crawling around finding our own cat."
Solo Work: Victoria's iconic solo is filled with endless développés punctuated by twitches and swerves, ending in a Pilates-teaser–like seat. Pazcoguin first learned it from Lynne for a performance with American Dance Machine for the 21st Century last year. "Gillian, an 89-year-old woman, schooled me! I was sore for days. The tempo and control are difficult, and at the same time, Victoria's exploring her own body. The second I start, I think of a waterfall flowing off my body."
Hanes channels his Fosse felinity as Rum Tum Tugger. PC Matthew Murphy, Courtesy CATS.
Tyler Hanes: Rum Tum Tugger
Working With Andy Blankenbuehler: "Andy's brain is always going. He takes this show to a different level. He understands a dancer's body and knows what looks good."
Becoming Tugger: "Since my background is Fosse, with that slink and felinity to it, I'm giving myself permission to be free in that vein. But also, I feel like the character has a mind of its own. Before, I felt like I was trying to emulate Andy to be 'correct.' Now, the movement is coming from a place of character. It's more fun. Tugger dancing is not Tyler trying to dance like Andy!"
Body Prep: Because of the snug costume, Hanes had a clear
vision of what he wanted the character to look like: Adam
Levine. So, he hired a trainer who's helped him to build strength, not bulk, through basic strength-training moves like squats and
bench presses.
Shonica Gooden: Rumpleteazer
Ubeda (left) and Gooden (right). PC Jim Lafferty.
Backstory: Gooden had never seen CATS, but she wanted to work with Blankenbuehler again after performing in Hamilton. "When I watched the video, I thought, What did I get myself into?!" Now, she's fallen in love with the show's themes of forgiveness and community.
Becoming Rumpleteazer: Gooden and Blankenbuehler worked together to make her Rumpleteazer sassier than other versions. "I made her unapologetically part of my culture: Being a black woman, that sass and attitude was naturally coming out. I didn't want to suppress it."
Two-Person Cartwheels: To tackle the tricky double cartwheels with Mungojerrie, danced by Jess LeProtto, the two initially practiced daily during the lift call preshow. "I learned to place my hands on his thighs exactly the same every day. If you hesitate, it's not happening!"
Feline Features: "If I'm relaxed, I keep my fingers closed for a calm paw. But when Grizabella comes on, I open up my fingers for claws and my shoulders tense up."
The Naming of Cats: The cast often calls each other by their cat names. But, there are variations. "Georgina is so spicy in the show, and she has so much attitude. So I said, 'Your name is Lakisha.' It stuck."
Ricky Ubeda: Mister Mistoffelees
Backstory: Ubeda wore out his VHS copy of the London production as a kid. "I cried for three days when I got this part."
Making Mister Mistoffelees: While Mister Mistoffelees is traditionally pulled up and über-clean, Ubeda and Blankenbuehler agreed theirs would be a cooler, more personable cat. "He loves to get the party started, and I have this theory that he teaches the other cats to dance."
Rough Rake: "In rehearsal I had found my flow, but then I got to the rake and cried. Now, I've gotten to the point where I don't fight the rake. If it's throwing me, I just go with it."
Fauré as Demeter. PC Jim Lafferty.
Kim Fauré: Demeter
Backstory: This show was one of the reasons Fauré started dancing. "It was my plan to be in a ballet company for a few years—and then CATS for the rest of my life."
Feline Features: To keep her sophisticated character intact even when she's not dancing, Fauré lies on her stomach, paws crossed and one leg bent.
Body Prep: To handle the demands of the show, Fauré cut out sugar to avoid inflammation and upped her potassium, vitamin B, calcium and magnesium to keep her muscles pliable.
Fame: Tons of fans wait outside to meet the cast, and Fauré thinks it's because everyone can find a cat they connect with. "You can see yourself in the cats."
Corey John Snide and Emily Tate: Coricopat and Tantomile
Tate (left) and Snide (right) danced together at Juilliard before joining the show. PC Jim Lafferty.
Backstory: Pre-Broadway, the two danced together at Juilliard. Now, they play twin cats.
Twin Tales: The twins are clairvoyant, and Blankenbuehler allowed Tate and Snide a large role in creating their movement. "During one moment when the whole stage goes into slow motion, he said, 'I want the intuition to come from your head,' " says Tate. "We created a movement where we take our hands next to our ears as if a thought bubble is popping out."
Bloopers: Since the pair works so closely, snags are unavoidable. Snide says, "One day, my unitard got stuck on her tail, I ripped my arm away and it went flying!"
Duo Details: The whole cast improvises certain sections. But for their version of improv, Tate and Snide have to maintain almost identical movement. Snide says, "The details, the position of our legs and contraction of our backs, are essential to creating the look."
Blankenbuehler updated the choreography, but kept its sensual felinity. PC Jim Lafferty.
Layers of Choreography
When CATS first opened on Broadway in 1982, Gillian Lynne's choreography earned much of the accolades. Infused with jazzy ballet lines, her now-iconic movement struck spectacularly odd shapes to depict energetic, sensual felinity.
For the revival, the team brought in man of the moment, Tony Award–winner Andy Blankenbuehler to add his take. Fresh off Hamilton, he integrated his blend of gestural hip hop and cool jazz into the framework. Fans still find Lynne's trademark portions. But audiences looking for a modern stamp now enjoy details like a techno-fab Mister Mistoffelees nailing tilts in an LED-light jacket. "We don't move the way they did in the '80s," says Ricky Ubeda. "But it's great training to dive into that style and then be balanced by Andy's storytelling choreography."
For the dancers, this combination meant double benefits—and double challenges. To ensure Lynne's portions were tackled correctly, one of her associates oversaw rehearsals. "She'd explain the heart and the direction of those sections," says Kim Fauré. "Then, we could approach the layers of Gillian's and Andy's work more easily."
Sep. 29, 2016 02:38PM EST
Most dancers' meals are filled with healthy food choices. But splurges are also part of a well-balanced diet—and life.
Broadway performer and member of physical comedy troupe Parallel Exit
Typical meals: Eggs and yogurt in the morning; a salad or sandwich for lunch; chicken, veggies and couscous for dinner.
Splurges: Pad Thai or Domino's pizza with pepperoni and banana peppers.
Tips: "Before I eat, I ask, 'Do I really want or need this, or would I be full with some chicken and veggies?' Or, 'How will I feel onstage after I eat a pizza the night before?' I try to realize when I'm thirsty versus hungry, which happens a lot! But you must reward yourself sometimes."
Ghrai DeVore
Dancer with Alvin Ailey American Dance Theater
Typical meals: Boiled eggs and green juice or lemon juice with cayenne for breakfast; a bento box with teriyaki salad during the workday; and pasta and seafood (or steak, if she's been dancing hard) for dinner.
Splurges: Pie. "I usually buy them at Magnolia Bakery. I also love Girl Scout Cookies!"
Tips: "When I'm fatigued, I'll add carrots, nuts and cranberries for energy and drink more water. And whenever I feel the need to comfort or to treat myself, I do. And that's healthy."
Mikey Winslow
Broadway performer
Typical meals: Homemade green juices with kale, spinach, romaine, apple and cucumber. Chicken and veggies for lunch and dinner.
Splurges: "When I'm dancing a lot, I eat a lot of Domino's pizza with pepperoni and pineapple—plus ranch for dipping! I try to keep it to once a week. Dove chocolate squares are also special—my mom had them at home when I was growing up, and now she sends them to me when I'm on tour."
Tips: Winslow focuses on separating hunger from boredom. "If it's been a hard day, I'll eat healthy, but also get Lucky Charms or enjoy a couple of Oreos."
Sarah Ricard Orza
Soloist with Pacific Northwest Ballet
Typical meals: Eggs, oatmeal or a bagel with cream cheese for breakfast; sandwich and fruit for lunch, with nuts and pretzels to snack on; organic vegetables and a Cuban pork roast for dinner.
Splurges: "I love to bake with my daughter, and we often make lemon bread or chocolate cake. I also love strawberry balsamic gelato or great coffee, like brewed espresso from Stumptown or Caffè Fiore in Seattle."
Tips: Orza tries to only eat what she prepares at home. "It's about a healthy and happy life. Splurging is a part of that. We have so much stress from our work, so when I want something, I'll enjoy myself."
Courtney Henry
Dancer with Alonzo King LINES Ballet
Typical meals: A substantial breakfast, like brown rice and kale; light lunch; and tropical fruit like oranges, bananas or mangoes for snacks. Dinner is a big meal of fish, veggies and some kind of grain, like couscous.
Splurges: Peanut butter. "My friends laugh because I put it on everything. My favorite is Peter Pan, from my childhood!"
Tips: "Cravings are a way of your body communicating: Honor that. And remember, everyone is different. Don't let what other people look like or what they eat make you judge what works for you." 
Apr. 14, 2016 10:41PM EST
In Broadway's An American in Paris, Allison Walsh whirls through the streets of the City of Light with the aplomb of a veteran musical theater dancer. In The Lion King, Jaysin McCollum stalks the jungle with the presence required of a performer dedicated to the Great White Way. Though both are clearly at home on Broadway, it's not their natural habitat: Instead, they're former ballet dancers.

And they're not alone. Dance-centric shows like An American in Paris, On the Town, Finding Neverland and Fiddler on the Roof have made a comeback in the last 10 years, a happy return after several seasons in which smaller, more intimate musicals proved the norm. Now, classical ballet dancers are being hired for their technique, quick pick-up skills and in-depth partnering knowledge. "For On the Town, much of the dancing was ballet-based, so we were looking for great ballet training," says choreographer Joshua Bergasse. "Dancers with a ballet background understand body lines and partnering."
But, not everything gleaned in the ballet studio will help if you're hoping to switch out your pointe shoes for LaDucas. What does it take to make it on the Great White Way after a career in ballet?
"It's been beyond worth it to see my artistry grow in an unexpected way."—Jennifer Gruener. Photo by Justin Patterson Photography.
Why Switch?
For many ballet dancers, there are a variety of perks. To start, because musicals continually open and close in New York City and around the country, different types of dancers are needed more often, and the chances of getting hired are better. For Jennifer Gruener, this larger volume of opportunities was attractive. After studying at Philadelphia Dance Theatre and The Rock School for Dance Education, a degree in dance from Indiana University garnered her only an unpaid trainee position. Taking her mother's advice, she journeyed to New York City, shifted her focus to musical theater and has embraced the diverse styles of dance available to her: She's performed with the Radio City Christmas Spectacular national tour, at regional theaters and, currently, in the ensemble of off-Broadway's Trip of Love.
Walsh, a 30-year-old ensemble member and lead understudy in AAiP previously performed with the Joffrey Ballet and BalletX. She saw AAiP as an opportunity to continue her career in a less physically demanding way: "I was at a point where I wanted to try something new before I retired," she says.
"We're smart and intuitive: That counts." —Allison Walsh. Photo by Ted Ely.
Finding Your Voice
When dancers make the leap, they're often surprised to find how vastly different the musical theater audition scene is—leaving many unprepared for their first stabs. Having to learn new dance styles, sing, and read lines and monologues can be daunting. "After we did ballet, Horton and choreography from the show, they asked if we could sing," remembers McCollum of The Lion King audition. "I didn't know I was supposed to bring music! I sang a cappella, which isn't appropriate."
Gruener adds: "When I started auditioning, I hated singing. I had to get over that—quickly. With casting now, it's important to be able to understudy roles: You must sing."
She started taking as many voice lessons as possible. "When I'm not good at something immediately, it's hard for me to stick with it. In auditions, I didn't always know what would come out of my mouth! But just like I kept working at ballet, I kept at the voice aspect, even though it was uncomfortable."
Walsh did the same: "Breathing for singing is so different than dancing. Just to sing and be comfortable in front of people is the biggest challenge," she says. "But if you're comfortable, the casting team can see you're someone they can work with." McCollum adds that he consulted his new cast mates to understand where to go for future auditions: Now he has a music book and monologue choices, and he goes to acting classes regularly.
"Go to every possible audition," says Gruener. "Get in the practice of it, largely so you can understand the process, see how many styles you have to pick up and start to understand what you're right for."
"I didn't know I was supposed to bring music to auditions!" —Jaysin McCollum. Photo by Rick Stockwell.
Ballet Benefits
But take comfort: Your ballet base will hold you in good stead in many ways. "The strength and technique of ballet dancers is always helpful in the rehearsal room, and they speak that common language of ballet vocabulary that can make creating faster," says Bergasse. "I can say do eight counts of jeté turns and then fouettés, and a ballerina can execute it quickly without demonstration."
Walsh's attention to detail and ability to retain information has also allowed her to spend time as a dance captain for AAiP. "I learn quickly, I can help choreographers and I know how to communicate with other dancers because of my time in the ballet world," she says. "Actors often comment how quickly ballerinas learn and how eager we are to adapt. We're smart and intuitive: That counts."
But not all ballet studio protocol is helpful. "In ballet you don't necessarily talk to teachers or those you audition for. There's a sort of 'pedestal' situation," says Gruener. "But in musical theater, it helps to network." Gruener noticed that taking classes with teachers who she'd later see in auditions was a natural—and common—way to create connections, and chatting with them afterward was appropriate.
The vibe of musical theater auditions and rehearsals also shocks many former ballet dancers: They bustle with energy and chatting instead of quiet gravitas, and big personalities are much more apparent. It's important to find your own center of fo­cus and relax. "I'm looking to see if the dancers can let loose. Not everyone can: They're not necessar­ily trained in that, and sometimes it's harder than you think to adapt," says Bergasse. "Try to be yourself, that person who loves dance and finds joy in it."
Bergasse notes that this more high-energy situation can be intimidating. But, trusting in your training and ability to adapt will help. "Sometimes the personalities in the musical theater world can be overwhelming," he says. "But, rather than be afraid of it, embrace it. In the end, we're all cut from the same dancer cloth."
For Gruener, trusting in this fact has paid off. "I think back and am always so happy I didn't get a job in ballet," she says, with a laugh. "Musical theater has allowed me to live in New York, go on tour to places I wouldn't have before and enjoy jazz and other styles I always loved. When I first moved here and wasn't getting jobs, I wondered if I made a mistake. But it's been beyond worth it to see my artistry and abilities grow in such a fun, unexpected way."
Lauren Kay is an NYC–based writer and dancer.
Mar. 31, 2016 08:56AM EST
The Broadway dancer teaches 12 fitness classes a week.
Vo appreciates the community atmosphere of group classes. Photo by Robert Hart.
Christopher Vo's career redefines the term "impressive resumé." He's danced with Lar Lubovich, on TV's "Smash," in the national tour of Twyla Tharp's Come Fly Away, and now appears in Broadway's The King and I. But since graduating from Juilliard in 2008, he's also maintained a parallel career as a group fitness instructor at Equinox Fitness Club. After teaching Zumba for five years, today he leads a range of classes exclusive to Equinox: Tabata, Metcon3, Ropes and Rowers, The Cut, Body Sculpt and EQX Barre Burn. All told, his weekly routine consists of performing in eight shows, teaching 12 classes and taking five.
Most of the classes he teaches focus on his favorite type of fitness, high-intensity interval training. Bouts of high-intensity intervals followed by rest intervals, in conjunction with smart compound-movement patterns, result in burning more calories during class and even long after the workout is finished. "Tabata classes, which are 8 rounds of exercises, each for 4 minutes of working for 20 seconds and resting for 10 seconds, are based on the findings of a Japanese scientist," he says. "They force you to work at maximum intensity so you are continuously burning calories."
Meanwhile, EQX Barre Burn and Body Sculpt are designed to heighten proprioception and help lift, lengthen and tone. Vo designed his EQX Barre Burn class to be similar to other barre approaches, integrating dance, Pilates and yoga-inspired movements with light weights, a yoga block and body barre. He finds it particularly helpful when recovering from injury, or whenever he needs to reconnect with his body. "The light weights and high repetition help retrain the body's motor mechanics," he says. "It's a great add-on with physical therapy."
This diverse blend helps Vo balance his body. "So much of dance is one-sided, especially on Broadway, when you're doing something eight times a week," he says. It also improves his endurance, which dancers often lack due to the stop-and-start nature of dancing.
Vo finds group classes translate to the stage from a mental standpoint, too. "They all have a community component to them," he says. "On Broadway, so much of it is about ensemble work. Moving together in a class environment helps you tune in to the people around you, just as you do in a show." 
Keep reading...
Show less
Feb. 29, 2016 12:58PM EST
The Ballet Hispanico dancer teaches one of NYC's trendiest fitness classes.
SLT's isolation exercises strengthen Van Woesik's core and back. Photo by Paula Lobo, Courtesy Ballet Hispanico.
Kimberly Van Woesik used to be a dedicated gym enthusiast, visiting regularly. But while weight lifting and cardio gave her extra stamina and definition, they didn't produce any major changes in her technique.
Then a year ago, a friend recommended SLT, the New York City–based "Strengthen Lengthen Tone" class on a machine called the Megaformer (basically an enhanced Pilates reformer). "The first class I took was so hard," she says. "But I was on a high because my body was burning in all the right places: my abs, obliques and upper body."
First Time at SLT? While the many moving parts of the Megaformer machine can be scary for first-timers, Van Woesik reminds dancers: "You're in control. The machine doesn't move unless you make it. There's no shame in taking a break as you work to get stronger."
Now, she's a full-blown SLT addict, taking the 50-minute class four to five mornings a week before company class at Ballet Hispanico. She's seen such striking results onstage that she's even become an instructor. "My core is stronger, my balances have gotten more solid and I'm also turning better," she says, crediting SLT's abundance of planking movements and exercises that work in contrast to planking, like the chest-opener for the shoulders and lats. "SLT has helped my back and shoulder girdle come together for a more solid base."
These benefits come from the system's grouping off of muscles: Moving the Megaformer's carriage with different body parts at a slow, controlled pace, while maintaining constant pressure on the springs, allows students to isolate and exhaust specific muscles. "A lot of times you should be using your obliques, but you'll use your leg, for example," Van Woesik says. "So in SLT we practice finding just the obliques, which means the leg simply floats in as a result."
Van Woesik loves exercises that challenge her this way. "I'm five years into my career, and each year the body wears more," she says. "But since doing SLT, I'm not feeling as much pain anymore; I'm not compensating for a weakness. I now have the strength to hold things."
Dec. 28, 2015 06:50PM EST
The Miami City Ballet dancer works out on a mini-trampoline.
Spigner rebounds three to four times a week. Photo courtesy MCB.
Christina Spigner conditions her body with everything from the Feldenkrais Method to weight training. But the Miami City Ballet corps member's favorite option—rebounding—is far less traditional. Rebounders bounce on a small trampoline in a variety of positions for an intense cardio workout as well as strength training for the legs and core. While some boutique fitness locations offer classes, online resources also make it easy to try at home. "It's like an invigorating dance party combined with an effective workout," says Spigner.
The 22-year-old Arizona native discovered rebounding after a hip surgery for an impingement and labral tear. During recovery, Spigner used Pilates, swimming, Feldenkrais and physical therapy exercises to heal and stabilize. But when she was ready to challenge herself, rebounding (recommended by a Feldenkrais instructor) fit the bill.
Now Spigner rebounds for 20 minutes three to four times a week. Her ballet-related routine moves from jumping with both legs in parallel, to single legs in parallel and repeating the pattern in turnout. "Then, I'll increase the steps like petit allégro, moving to échappées, then beating the legs, changements and sometimes entrechats," she says. Switching directions and sides help Spigner feel more confident when jumping in the studio and onstage. For her core, Spigner sits on the edge of the rebounder with her feet planted on the floor and bounces up and down, engaging her abs in a fresh way. "It creates a different type of tension," she says. "I'm so sore afterward."
Spigner says rebounding has improved her core, foot strength, jumps and overall stability (even during adagio). "Rebounding reveals your body's weaknesses," she says. "Is the chain of when you're pushing off and how you're landing safe? Are you getting maximal air in each position? Where are your instabilities? By the end, your body has fixed the problem areas. In class, it's difficult to have the time and awareness of where the issues are. Rebounding clarifies that, and allows room to correct them."
Keep reading...
Show less
Oct. 21, 2015 08:57PM EST
The growing trend towards self-production allows artists to take the reins.
Jennifer Jancuska performing her own choreography in BC Beat. Photo by Travis Magee, courtesy Jancuska.
Breton Tyner-Bryan remembers the day she became dissatisfied with her longtime San Francisco gig. Despite respecting the dancers she  worked with, she thought, "I can't walk down this hallway anymore," she says. "But, if you're complaining about the situation or you're not seeing work you're drawn to, throw your hat in the ring and do something yourself."
So she did—and she's not alone. In a perpetually under-funded dance landscape, dancers thirsty for artistic opportunities are pulling up their dance bootstraps and self-producing work on their own terms.
Start With Your Vision
Self-producers often find motivation in the power of taking charge of their career, manifesting new artistic experiences and creating opportunities for their communities. The essential quality of all self-producers? A hefty amount of gumption and perseverance. As Tyner-Bryan puts it: "Self-producing is fulfilling a vision from start to finish, wearing all hats—from choreographing and payment to location and technical elements."
Your vision should be the starting point that leads to the specifics of your project. For Tyner-Bryan, this meant combining her contemporary ballet background with "cabaret, theater, darkness and jewels," she says. "People aren't really interested in producing that in dance festivals, so I ventured into the club world: It's a golden opportunity to use my original stamp." Over the summer she produced a show that blended a cabaret structure, live music and a focus on both musical theater dance and contemporary ballet at The Folly in New York City. 
Broadway Connection co-founder Jennifer Jancuska found her vision when she moved to New York and was struck by her desire to "bring artists together to be their best, to follow their instincts and create," she says. "I soon realized that a community of choreographers wanted a place to learn and explore together. I wondered, How do I develop that supportive environment?" BC Beat, a recurring mixed bill of narrative dance shown at the nightclub Cielo, was her answer.
Make It Happen
Logistics are the bedrock of self-producing, and finding a space you can afford, negotiating partnerships, creating a budget and looking at a timeline are essential for realizing your vision. Gather the best possible team to help you accomplish these tasks. "Picking people who are amazing at what they do is key," says Tyner-Bryan.
Jessica Chen, founder of modern dance company J CHEN PROJECT, has used what she calls "levels of self-producing," from working with institutions that co-present her work (covering technical and rehearsal costs) to mounting a full-length piece on her own. Participating in collaborations allowed her to build confidence and skills before tackling complete self-production.
Chen also takes a step-by-step approach to budgeting. First, create a projected budget including technical, costume, space, talent and team costs. Then, figure out what you can cut. This will inspire you to find other ways to make money. "Think about promo performances, sponsorships, master classes and grants," Chen says. After the show, compare your prep budget to what actually was spent for future reference. Resources like Fractured Atlas, The Field and New York Live Arts can help self-producers learn about fundraising, fiscal sponsorship and other financial tools.
A cohesive marketing strategy is another priority. Start with a simple email to friends and family explaining your project. Send newsletters through programs like MailChimp and link social media channels like Facebook, Instagram and Twitter for a more streamlined outreach. Eventually, your strategy should become specific to your project. You may even include tie-ins to fundraising: "When we did a campaign for Identity, the show we were putting up," says Chen, "we created masks, and sponsors could pay $100 to receive one." 
Curtain Up on the Unexpected
The main challenge of self-producing is the element of unpredictability. For Jancuska, the lighting often changes at Cielo without notice, and she then has to reconsider technical cues. For Chen, it was an even bigger surprise: She planned a show at Dance New Amsterdam in 2013, and when the institution was facing inevitable closure, her show's future was in jeopardy: "I jumped into gear to find a second option, emailing tons of places to find a plan B," she says. "I made sure I had a solution—and that my dancers knew the special work we made would be performed."
But the chance to create on your own terms is worth the risks. "As an artist, it's essential to discover your own language," says Jancuska. "You consider, What do I bring to the table? Then you can be clear when you offer that to others." 
DO
 Give your audience plenty of notice

 Follow up with crew, dancers, reviewers, audience and theater staff

 Seek out the best rates and locations for rehearsals

 Hire a stage manager

 Take hints from other press/marketing materials you receive
DON'T
 Use your personal email account; set up a separate account for your project to keep it professional

 Schedule a show on a holiday or citywide event

 Be afraid to approach those with similar projects/organizations for advice
Jun. 01, 2015 07:59PM EST
After hitting the Broadway boards in The Phantom of the Opera and Nice Work If You Can Get It, Paloma Garcia-Lee adapted to the exhausting load of an eight-show week. But now, dancing Joshua Bergasse's daredevil choreography for On the Town, she's taken on even more: Not only is she assistant dance captain, but in her role as a swing, she's prepared to go on for eight female ensemble tracks—and seven male tracks!

To stay at-the-ready, Garcia-Lee relies on a specialized fitness routine that varies with her schedule. "Since I'm usually performing about half the week, I need something that can 'waste' me the other half, so I'll go to either SoulCycle spinning or Physique 57 classes," she says. "They work for my body without hurting it. As a performer, I'm looking for something that keeps me toned, tight and includes cardio strength." On performance days, she takes a dance class instead so she's not overtired.
Garcia-Lee was an early adopter of spinning mecca Soul­Cycle when she first moved to New York City at 17. She loved the spiritual atmosphere of the 45- to 90-minute spin classes complete with toning arm exercises, pumping music and motivating instructors. "The instructors' long, lean bodies and sculpted abs and arms shattered the myth that cycling will bulk you up," she says. "When I left, I'd be wobbly, but I loved seeing how my body was changing." When a friend started working at Physique 57, Garcia-Lee found that adding the hour-long classes to her weekly lineup was her "magic potion." The high repetitions of small, dance-like movements at the barre, on the mat and with weights were a perfect counterpoint to spinning. Between the two, she amped up her endurance and added lean, toned muscle mass.
Garcia-Lee was so enamored of SoulCycle in particular that she became an instructor. "When I was in Phantom and riding all the time, my core and legs had never been stronger. It made everything easier, especially on pointe," she says. But when her contract at Nice Work began, the routine became too much. "About six months into Nice Work, I was teaching four to six classes a week—and my voice was fried," she remembers. "I developed polyps on my vocal chords from screaming in the classes and couldn't sing in the show. My voice was gone for four days." Although she doesn't teach these days, she still enjoys taking class. "You have to think about your priorities: I came to New York City to be a Broadway performer," she says. "Finding the ingredients that keep you in shape but uphold your performance is the sweet spot."
Keep reading...
Show less
Apr. 01, 2015 10:08PM EST
Skye Mattox. Photo by Lucas Chilczuk.
When Skye Mattox struts across the stage, she's sassy yet elegant. Her carriage reflects the legacy of her last name—her grandfather is classic jazz legend Matt Mattox—while the sizzle of her precise, flirty movement is the epitome of today's style. Now she's hitting the Broadway boards in the ensemble of On the Town, a revival perfectly suited to her time-traveling blend.
Age: 23
Hometown: Danville, NH
Training: Her mother's studio in New Hampshire and the Jeannette Neill Dance Studio in Boston
Family affair: Mattox's parents and brother are also dancers. "I always knew I'd be a professional dancer, though I was never pushed," she says. "My grandfather lived in France for the better part of my life, and I only met him twice. But he played a part without physically being there. When I was first in Joshua Bergasse's class, he came up and asked if I was related to Matt Mattox: People recognize my name. I'm proud of that. There's a distinct through-line in terms of old-school lines and sensibility, too."
Breakout role: Mattox attended the auditions for the Broadway revival of West Side Story, and she later landed the role of Mugsy in the international tour. Soon after she returned, fate stepped in: "The girl who had my track on Broadway left. It was the epitome of a dream coming true. My first night, I ran onstage for 'Dance at the Gym,' the lights flared up and I was in my glory."
Choreographic connection: Mattox was also cast in "Smash" on TV, as well as in New York City Center's Encores!'s It's a Bird…It's a Plane…It's Superman and Little Me, all with her current choreographer and mentor, Bergasse.
Reality strikes: "You think having a Broadway credit will make it easier, but for a year after WSS, it was hard to get a job: I was still working on my voice, as I still am," admits Mattox. "But that's how the business is." Bergasse boasts: "She is an extremely strong and versatile dancer with an incredible sense of line, especially in some of the classic jazz styles of Jack Cole, Cyd Charisse and Michael Kidd."
OTT understudy challenge: Understudying New York City Ballet's Megan Fairchild (who plays Ivy) is calling on all of Mattox's ballet training. Her pre-show ritual includes a daytime ballet or hot yoga class to handle the tricky choreography.
Feb. 01, 2015 03:05PM EST
Behind the scenes at an L.A. Dance Project audition
Ballet master Charlie Hodges breaking down a phrase. Photo by Kyle Froman.
On a chilly October day, 30 dancers warm up inside a New York City Center studio. Around 250 had submitted video reels, photos and a resumé to be considered for the L.A. Dance Project audition for just one open spot for a female member. Founded by Benjamin Millepied in 2012, LADP is touted as a nurturing environment for contemporary artistry with a classical underpinning. With nearly year-round contracts and repertoire including the works of inspiring masters like William Forsythe and newcomers like Justin Peck, the spot in question is coveted to say the least.
Dive In  
When the clock strikes noon, elegant Sébastien Marcovici and dynamic Charlie Hodges, the company's yin and yang ballet masters, gather the dancers for a brief welcome and within just two minutes, Marcovici has taught a complicated section from Benjamin Millepied's Hearts and Arrows. With furrowed brows and undulating ribcages, the dancers begin to unpack the combination, straining to keep up with Marcovici. The speed is undeniably challenging. "We picked this piece because when you first learn it, it doesn't feel natural," says Marcovici later. "But the more information you get, the more you can find a groove. It challenges the dancers to find that code, like a standardized test."  
Deciphering that code is Jourdan Epstein, 25. To handle the deluge of movement, she counts on her experience as a former Complexions Contemporary Ballet member. "There, I learned that picking up quickly comes from practice and experience," she says. "Beyond that, I always focus on the details and the quality, using cue words to put a vocabulary to the movement. Then I say it to myself when learning and repeating."  
Rebecca Diab, 22, a recent Loyola Marymount graduate and New York City newcomer found a solid approach by focusing on sequencing. "If there's a moment I keep getting stuck, I'll take time to find the connecting step and repeat the pattern," she says.  
The ballet masters, looking for a quick study, agree with these approaches. "We want to see who is adapting, who is fast to handle the work without much info," notes Marcovici. "Can they hear, understand and execute?" Hodges agrees: "It's as if we gave everyone the same IKEA cabinet, and are seeing how you are choosing to build your cabinet."  
For the LADP hopefuls, this particular cabinet comes with two manuals: Hodges and Marcovici, who tag-team in teaching and giving notes, often differing slightly. To temper the variations, Hodges suggests dancers note places that are the same and those that aren't. "If there's a conflict in how we presented a moment, those are impressionable, and then you're looking for a middle ground," he says.  
While Epstein quickly picks up the basics of the movement, when she notices incongruous versions, she sees them as opportunities to find herself. "They're looking for details, but they're looking for the dance in you, too."  
Throughout the audition, Hodges and Marcovici pepper the group with corrections about intention, phrasing and dynamics. When Diab receives a correction to reach farther with an angled arm, she takes comfort in the attention. "It made me know Charlie was watching me and wanted to help me," she says. "They're asking: Can you listen, fix and have a good attitude about it? It's an opportunity to show these things."
Above: As Hodges demonstrates, the dancers pick up as many details as possible. Photo by Kyle Froman.
One for You, One for Them  
After 40 minutes of working, Hodges offers the familiar but often anxiety-inducing statement: "This time, just do it for you. We're not watching." The dancers' body language seems to say: "Are you really not watching?"  
While Diab doesn't think the creative team's attention has been removed, she focuses on "playful tasks" regardless. "They're always watching us," she says, with a laugh. "They want to see how you'll be working in a rehearsal setting as you figure things out—and that's fair. But I'm concentrating on my own tasks: Where can I focus my eyes? How can I find space in my body? What's interesting about this shape? That keeps me engaged productively."  
In contrast, Epstein trusts in the creative team's word. "When they say this one is for you, take that time for you!" she says. "I'm as much a mental dancer as physical, so I'm grateful to go through it in my mind without caring what I look like. Then when I perform, I can be confident."  
When it's time for the actual audition, the hum of anticipation builds even more. But with encouragement and smiles from the team up front, the groups glide and twist through the phrase. "I approach it like an exploration," says Epstein. "Directors are dancers, too, and they know mistakes can be made. It's the recovery that counts."
Above: Benjamin Millepied and ballet master Sébastien Marcovici observing the dancers. Photo by Kyle Froman.
Second-Round CurveBall  
After about half of the performers are cut, the remaining 16 refuel with health bars and water before Hodges and Marcovici launch into a second, yearning, technically challenging selection: Forsythe's Quintett. "We do a huge range in our company, so it's important to test versatility," says Hodges.  
As the dancers prepare to show the phrase, Benjamin Millepied enters, then sits on the floor up front. Backs become a bit straighter and arms reach wider in hopes of his approval. Afterward, the team asks the dancers to circle back to the first piece they learned, another test in adaptability. As they begin to swirl and dip in the fluid, beautifully off-kilter work, Millepied jumps up to instruct them, offering an invaluable third perspective on the movement—notes from the creator himself. A few flustered looks pass quickly across the dancers' faces, but as they watch him demonstrate, they find new resolve.  
"Initially I felt a bit frustrated because we worked hard on those original details," says Diab. "But really, it's wonderful—and a relief—to have that clarity from the director himself! It makes the choice defined. Plus, his version felt better in my body."
Above: Marcovici watches closely as the dancers run through a phrase. Photo by Kyle Froman.
Thank You  
After multiple rounds of each combination, the exhausted dancers are released with a simple thank-you and promise of contact within a week. While neither Diab nor Epstein was offered the spot, both felt the day was a productive and inspiring experience. "I didn't book the job, but that's okay," says Epstein. "Many companies want you to audition multiple times so they can see your interest, as well as how you grow and change. I'm excited to do that."  
Afterward, Hodges reflects on the experience. "Remember: It's about the hole in the company that needs to be filled. We need to find a woman that matches and can partner our company's men," he says. "Be honest. Be authentic. You can see the energy when it's not that. Present yourself as true." Marcovici agrees: "Don't pretend to be what we want," he says. "Just be what we don't realize we need."
Video Submission Savvy
Many contemporary companies, including L.A. Dance Project, now require video submission for pre-screening purposes. Ballet master Charlie Hodges reminds dancers that as you create your reel, think about the "brand" you're presenting. "Every part says something about you: your outfit, your music, your pieces. If the first thing you show is in a leotard and a bun, you're putting forward your ballerina foot. If you're in heels and shorts, that says another genre. So it's a matter of understanding not only who you are, but who the company is."  
Hodges recommends dancers have multiple reels to choose from. Dancer Jourdan Epstein has two: one for classical concert dance and another for commercial contemporary dance. If an audition calls for a mix of clips, she can adjust the reels by switching out clips as needed.