Marissa DeSantis
Marissa is the style and beauty editor at Dance Magazine, having worked as a beauty editor for publications like Teen Vogue and InStyle. She graduated from Rider University with a BFA in dance and journalism, training at the Princeton Ballet School during her studies. She has also danced with The Rock School and South Jersey Ballet Theater.
Photo by Andrew Werner
James Whiteside sometimes seems larger than life. He knows how to effortlessly command any room he's in, whether he's playing a noble prince onstage or appearing in fashion campaigns for designers like Marc Jacobs and Thom Browne. During a rare day off, Whiteside gave us a glimpse into a quieter side of his personality—which is perhaps most endearing of all.
Keep reading...
Show less
Popular
Dec. 24, 2018 02:00PM EST
Murphy admits it's going to take her a lifetime of trying to find Giselle's nuances. Photo by Gene Schiavone, courtesy ABT
As a member of American Ballet Theatre for more than 20 years—and a principal for 16—Gillian Murphy has danced her fair share of iconic roles. Yet what transforms each of her performances from entertaining to unforgettable is not just her rock-solid technique or wow-worthy turns, but her artistic approach.
She recently told Dance Magazine about the work that goes into her seemingly effortless portrayals of everyone from a calculating Gamzatti to a head-over-heels Juliet.
Spending Time in the Corps Made Her a Better Principal
"For something like Giselle or Juliet, I'm so familiar with the stories from dancing all of the other roles as I came up through the ranks. I already know that there's going to be a lifetime of trying to delve into those characters and find nuances."
Getting Into The Character's Skin Takes Research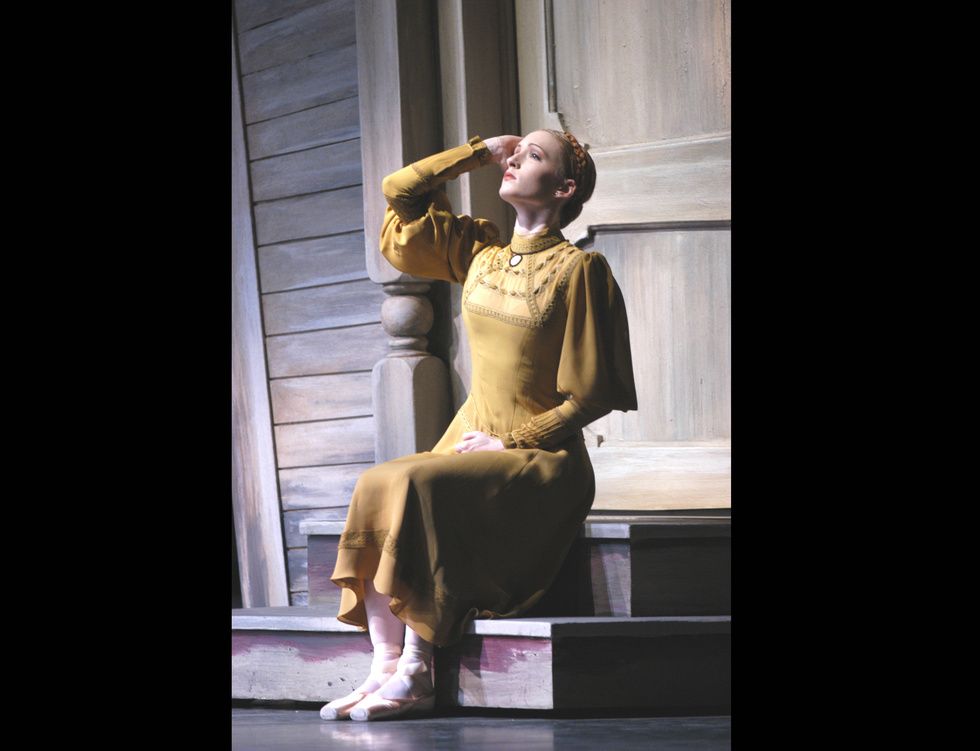 Murphy channeling Lizzie Borden. Photo by Marty Sohl, courtesy ABT.
"I like to go into dramatic roles with a sense about who the character is. I did the most research for Lizzie Borden in Fall River Legend. I went to Fall River, Massachusetts, and got some books to read about her. That character is not about the steps. It's really about who she is and what she's going through."
"Once I have a general sense of who the character is, the next step is understanding where the tricky bits are in the choreography. And then, it's playing with my imagination and perhaps having an internal dialogue."
"My aim is not to create a stage persona, but to really immerse myself in the character in an authentic way. I want to channel their feelings through my understanding of that experience."
Her Approach To Movement Isn't What It Used to Be
"I've learned that doing everything full force at every moment isn't particularly interesting. You want to work as hard as you can at all times, but I've found that it can be good to pull back and breathe. Having those parts makes the dynamic moments resonate more."
She Brings Her Personal History to Her Roles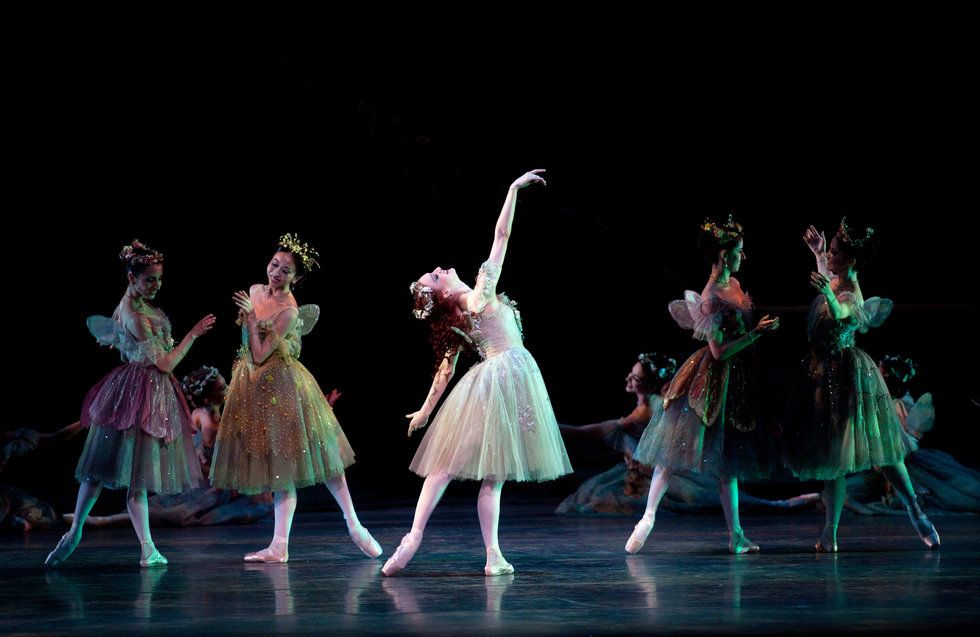 Murphy in The Dream. Photo by Rosalie O'Connor, courtesy ABT.
"I definitely pull from my own experiences of falling in love or suffering loss. But there's also my imagination, which has been cultivated by reading, going to museums and live theater and concerts."
Her Ideal Partnership Is a Silent One
"With my partner, if we can purely respond to each other's characters through dance in the moment, I find that ideal. There's no need to discuss anything because it's really a physical body language, and I can read and feel what he's conveying to me. I want to be totally immersed in the live music and the character or the style, and just see where it goes."
She Never Stops Questioning Her Choices
"In a long season or a role I've done countless times, it's vital to keep it fresh and rethink things in rehearsal, but also to just go with the flow emotionally. If the dancer is inspired, that comes across to the audience that something special is happening."
The Radio City Rockettes in their new finale costumes. Photo courtesy of MSG.
Given how regimented the Radio City Rockettes are, from their precise kick lines to their Christmas Spectacular season show schedule (which can include up to four performances a day), it's no surprise they're just as strict with their skincare routines. After all, sweating in stage makeup six days a week can cause dryness and breakouts for even the most easygoing skin types. We caught up with Rockettes Alyssa Lemons and Nina Linhart for all of their tried-and-true skincare picks.

Keep reading...
Show less
Albert Watson, courtesy of Pirelli Calendar
We were beyond excited to see the annual Pirelli Calendar when it was announced last summer that Misty Copeland was to be one of four women featured in the 2019 edition. And now, the wait is finally over.
Albert Watson, courtesy of Pirelli Calendar.
Keep reading...
Show less
Black Friday and Cyber Monday dance sales include 30% off leotards (like the one pictured here) from Five Dancewear. Photo via Five Dancewear.
We're all for Thanksgiving, or really any holiday that let's us spend the whole day eating. But we're also here for the Black Friday and Cyber Monday shopping that follows it. And while a flat screen TV or designer sneakers might be tempting, they're not quite as practical as stocking up on tights so you can finally throw out all those pairs with holes.

Thankfully, many of our favorite dance brands have jumped on board with Black Friday and Cyber Monday sales. And bonus: You don't even have to leave your house to shop them!
Photo via Danskin
Now through November 25, Danskin is offering 50 percent off their entire site (excluding their new collection with Jenna Dewan). Once you load up your cart, simply add the promo code BLKFRI50 to watch your total drop by half.
danskin.com
Tiler Peck's CFDA Fashion Fund red lip also makes for the perfect
Nutcracker
makeup. Photo via Instagram,
Rebecca de Ravenel
Earlier this week, New York City Ballet principal Tiler Peck gave us some major onstage makeup inspiration while attending an offstage event. While walking the red carpet at the CFDA/Vogue Fashion Fund gala, Peck's beauty look was still perfectly suited for the ballet with her top knot hairstyle and stage-worthy red lip. Peck's makeup artist for the night, Daniel Duran, shared his exact breakdown on the look, working exclusively with beauty brand Chantecaille. So, whether you're in need of a waterproof brow pencil, volumizing mascara or long-lasting red lip this Nutcracker season, we've got you covered.

Keep reading...
Show less
via Eleve Dancewear
Classwear has come a long way in terms of pairing style with practicality. But while designs like mesh inserts and bold prints can work all year round, other elements lend themselves to particular seasons. Case in point: velvet. The fuzzy fabric has made its way from the runway to real life, and now, even dance rehearsal. Thicker than your average cotton or lycra leotards, velvet's extra cozy material and luxe look makes it perfect for the cooler months ahead. Shop our top picks, and get ready for a barrage of leotard compliments at the barre.
Keep reading...
Show less
Get Dance Magazine in your inbox
Natalie Gilmore (center) with the Man of the Woods tour dancers. Mark Nguyen, courtesy of Gilmore.
With limited space for luggage on the tour bus, Justin Timberlake dancer Natalie Gilmore makes sure her beauty routine can pull double duty. "Most of the stuff I use day to day I also use onstage," she says, adding that the dancers do their own hair and makeup for every show. "They give us a lot of freedom to use what we want, and I really enjoy getting to play with new products and experiment with different looks." That same freedom she has with her look carries over into her performance. "There's a lot of freestyle in the show," Gilmore says. "We have certain places we need to be, but we're able to map out how we want things to flow—I have a lot of fun with it."
Keep reading...
Show less
San Francisco Ballet soloist Koto Ishihara stretches in her warm-up boots. Photo by Quinn Wharton for Dance Magazine.
With cooler weather finally here, it's time to talk warm-ups. And while your dancewear drawer is probably overflowing with oversized sweaters, leggings and enough leg warmers to outfit the whole class, warm-up boots are often forgotten. To keep your feet and ankles cozy in between rehearsals, we rounded up dance warm-up boots that suit every style.
Bloch Inc. Printed Warm-up Bootie
via Bloch Inc.
Created by Irina Dvorovenko and Max Beloserkovsky, this collection comes in a variety of tie dye, floral and even butterfly prints.
blochworld.com, $48
via Instagram
Keep reading...
Show less
Longer ballet skirts are having a major moment. We've seen them popping up in the Instagram studio clips of dance fashionistas around the world—from American Ballet Theatre's Isabella Boylston to The Royal Ballet's Beatriz Stix-Brunell to Berlin State Ballet's Iana Salenko. And with cooler weather on the way, we have a feeling we'll be seeing even more calf-length skirts.
Beyond being trendy, long ballet skirts give any studio ensemble a sophisticated prima ballerina vibe (hi, Natalia Makarova). Try out one of these long skirt options.
Keep reading...
Show less
Sergei Polunin joins the models dubbed the Balmain Army for the fashion house's Fall/Winter 2018 campaign. Photo by An Le, via Instagram.
Joining all of the fashion month festivities is Sergei Polunin—but you won't catch him walking down the runway. The dancer- turned-actor is dipping his toes into the modeling world as part of the campaign for Balmain's Fall/Winter 2018 collection in designs by Olivier Rousteing (known for his embellished creations favored by celebrities like Beyoncé and Jennifer Lopez).
Keep reading...
Show less
Pete Bellis via Unsplash
Back to school is just around the corner, and that means back to your regular dance routine, too. Whether you're looking for a new bag that's strictly for the studio or an option that will work for whatever the day throws your way, we've got you covered. Scroll through for our top five picks.
Augusta Glitter Backpack
via Discount Dance Supply
We're of the belief that you can never have too much sparkle (unless we're talking loose glitter, which we all have a love-hate relationship with). But when glitter comes in backpack form, there's no danger of being covered in it for weeks to come, which is exactly why we're putting this bag on our wish list. Also available in silver and pink, the drawstring backpack features a magnetic top flap and a zip-up pocket in the front designed to keep your smelly dance shoes separate from the rest of your belongings.
discountdance.com, $23.10
Just for Fun
Aug. 13, 2018 07:42PM EST
Why yes, we did just photoshop Jennifer Garner's head onto our 2017 cover with Isabella Boylston.
In case you missed it, our favorite actress/dance fangirl Jennifer Garner hit the studio this weekend to brush up on her technique (stars, they really are just like us). And the end result might be even better than Garner's #TutuTuesday posts. At the request of American Ballet Theatre principal Isabella Boylston, Garner took to her Instagram story to participate in Lil Buck's #GoinInCirclesChallenge.
Keep reading...
Show less
News
Aug. 11, 2018 06:10PM EST
MOMIX dancers in "Marigolds." Photo by Max Pucciarello, courtesy of MOMIX.
For most dancers, the costumes act as the finishing touch. At MOMIX, however, the costumes are just the starting point. In order for the company of dancer-illusionists to become marigolds or stars onstage, founder and artistic director Moses Pendleton sets his movement to the costumes (designed by Phoebe Katzin), letting the sometimes-unconventional designs shape the finished piece.
So, what's it like working on a piece like Paper Trails, where the dancers are costumed in paper that later transforms into a 12-foot dress? We spoke with Pendleton and MOMIX dance captain Sarah Nachbauer to learn all of the details of how they get their concepts from the studio to the stage—and all of the costume mishaps in between.
Keep reading...
Show less