What Touring The U.S. Taught These Choreographers About Stereotypes and Prejudice
Vander Hoop and Clements driving down the highway. Photo by John Suhar
Sometimes as an artist, you need to leave the studio behind.
Just ask Summation Dance co-founders Taryn Vander Hoop and Sumi Clements. In 2016, the U.S. election was dominating the air waves just as they were finishing their company's fifth season in New York City. Feeling burned out by the assembly-line-like hustle of pumping out new work, they decided to hit the road.
---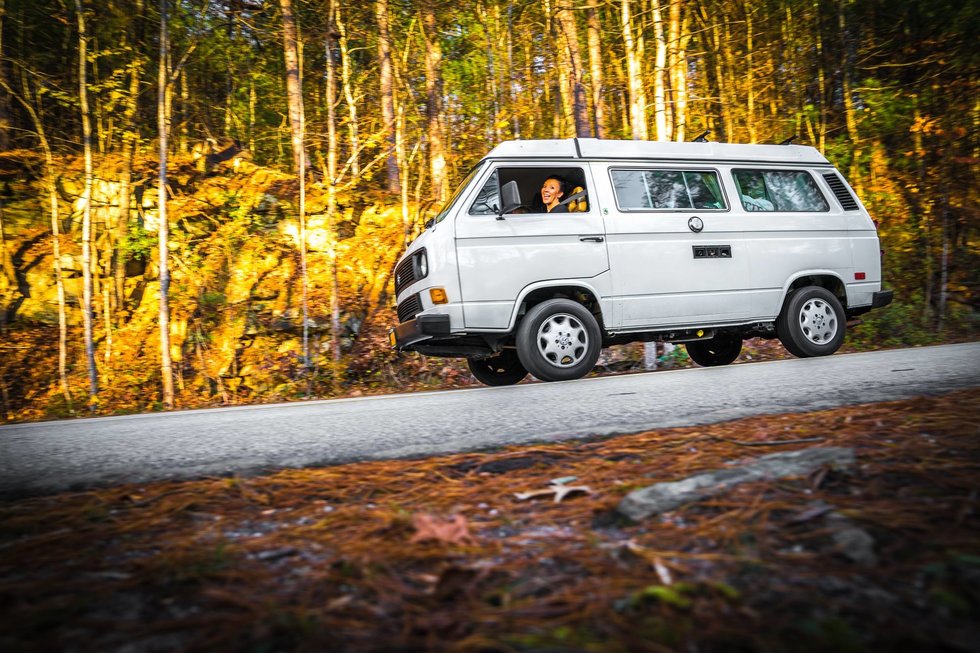 Clements takes to the road. Photo by John Suhar
"We were looking at the divisiveness we saw happening," says Clements, "and thought it was an appropriate time to go interact with people who inhabit this country who are very unlike ourselves, and give them a voice by presenting anything they wanted to share."
The goal of their HabitUS project is to create an evening-length work that incorporates interview footage and soundbites from the people they meet.
So far, they've traveled to 14 states, organizing the tour around a series of university residencies. In each place they visit, they engage with the local community.
So what have been the biggest surprises so far?
Kentuckians Pointed Out The Power of Speech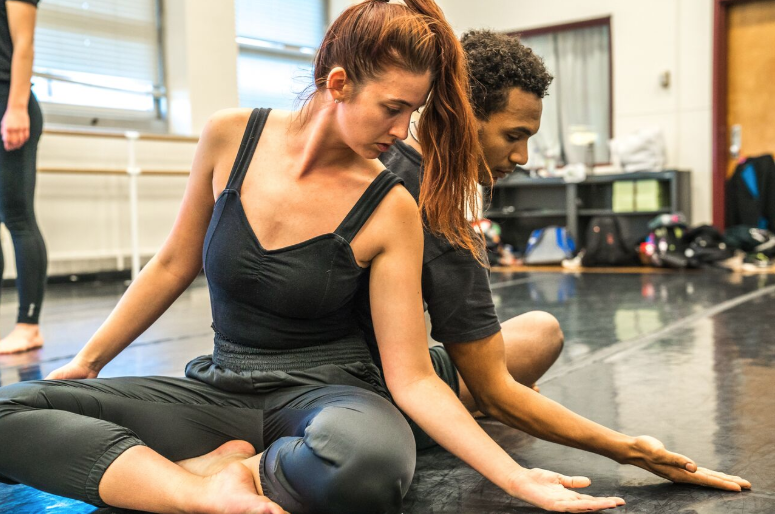 Working with college dancers in Kentucky. Photo by John Suhar
In Kentucky, Vander Hoop and Clements had fun asking residents whether they considered themselves to be part of the North or the South. The answer changed every time.
But locals pointed out something even more elemental: "How we in New York speak and understand words is not how people in Kentucky would understand those same words," says Clements. They found out that when a politician gives a speech, what's said reads very differently in different parts of the country.
North Carolina Taught Them That Sticking Around Can Lead To Connection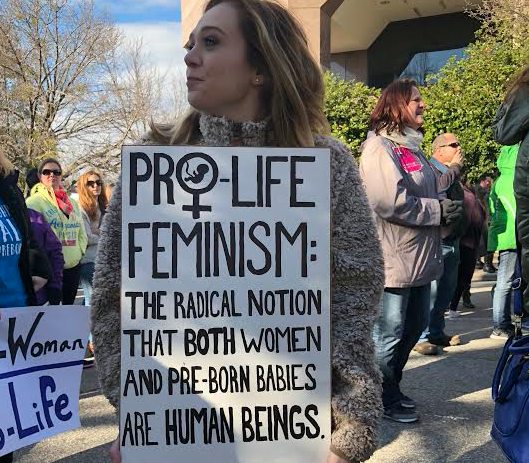 A pro-life rally in North Carolina. Photo by Taryn Vander Hoop
Last month, the choreographers attended a pro-life breakfast rally and march in North Carolina. "We wouldn't normally attend an event like that in New York," says Vander Hoop. But once they got there, they realized they were surrounded by people who reminded them of their own friends.
"We stayed after the march and ended up having an amazing conversation with a man who explained his stance in a way that made total sense, even if we didn't agree," says Vander Hoop. "The moments of connection that happen after an event is over are often more magical than during the event."
Texas Overturned Their Assumptions About Trump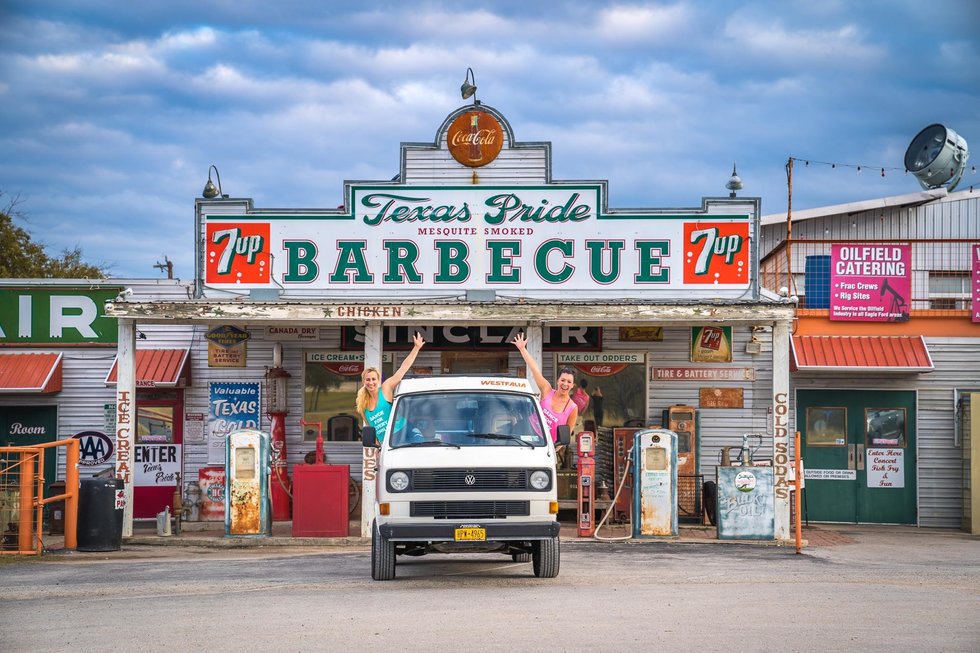 The choreographers and their camper van in Texas. Photo by John Suhar
In the border town of Laredo, Texas, Vander Hoop was surprised to learn just how narrow the Rio Grande is. "You can have a conversation with someone in Mexico very easily!" she says.
Even more shocking? Many of the Mexican immigrants they met supported Donald Trump because they didn't identify as the Mexicans he had disparaged during the election. "We learned that they were prejudiced against other Mexicans, just as society as a whole is prejudiced against each other," says Clements.
The Trip Has Changed The Way They Think About Stereotypes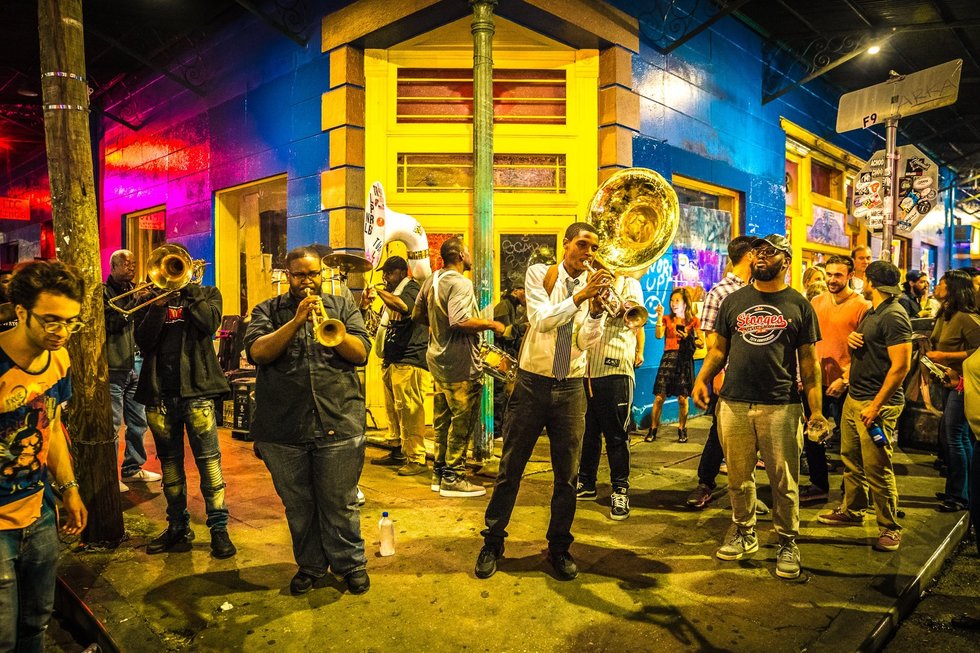 Music on the streets of New Orleans. Photo by John Suhar
"With contact grows empathy," says Clements. "Part of the reason this country has so much division is that we don't have contact with each other."

Getting to meet people and turn strangers into friends has given them new perspective. "This country relies on categorizations—black/white, right/wrong—that make us unable to have productive conversations and listen to each other," says Vander Hoop. They've realized that when we understand other people as more than an oversimplified category, more often than not, we begin to find common ground.
Follow more of Clements' and Vander Hoop's adventures—and hear from people they've interviewed—on their blog.

A Ladies of Hip-Hop battle. Photo by Loreto Jamlig, Courtesy Ladies of Hip-Hop
Michele Byrd-McPhee's uncle was a DJ for the local black radio station in Philadelphia, where she was born. As a kid she was always dancing to the latest music, including a new form of powerful poetry laid over pulsing beats that was the beginning of what we now call hip hop.
Byrd-McPhee became enamored of the form and went on to a career as a hip-hop dancer and choreographer, eventually founding the Ladies of Hip-Hop Festival and directing the New York City chapter of Everybody Dance Now!. Over the decades, she has experienced hip hop's growth from its roots in the black community into a global phenomenon—a trajectory she views with both pride and caution.
On one hand, the popularity of hip hop has "made a global impact," says Byrd-McPhee. "It's provided a voice for so many people around the world." The downside is "it's used globally in ways that the people who made the culture don't benefit from it."
Keep reading...
Show less
The USC Kaufman graduating class with Mikhail Baryshnikov. Gus Ruelas/USC
Just four years ago, the University of Southern California's Glorya Kaufman School of Dance welcomed its first class of BFA students. The program—which boasts world-class faculty and a revolutionary approach to training focused on collaboration and hybridity—immediately established itself as one of the country's most prestigious and most innovative.
Now, the first graduating class is entering the dance field. Here, six of the 33 graduates share what they're doing post-grad, what made their experience at USC Kaufman so meaningful and how it prepared them for their next steps:
Keep reading...
Show less
Rena Most at work backstage. Photo courtesy ABT
Every dancer knows there's as much magic taking place backstage as there is in what the audience sees onstage. Behind the scenes, it takes a village, says American Ballet Theatre's wig and makeup supervisor, Rena Most. With wig and makeup preparations happening in a studio of their own as the dancers rehearse, Most and her team work to make sure not a single detail is lost.
Dance Magazine recently spoke to Most to find out what actually goes into the hair and makeup looks audiences see on the ABT stage.
Keep reading...
Show less