News
Jan. 22, 2019 04:12PM EST
Cuban Prima Viengsay Valdés Named Deputy Artistic Director of Ballet Nacional de Cuba
Valdes and Alonso. Photo by Nancy Reyes, courtesy BNC
Alicia Alonso's famed ballet company in Cuba has a new leader: the beloved hometown prima ballerina Viengsay Valdés.
Ballet Nacional of Cuba just named Valdés deputy artistic director, which means she will immediately assume the daily responsibilities of running the company. Alonso, 98, will retain the title of general director, but in practice, Valdés will be the one making all the artistic decisions.
---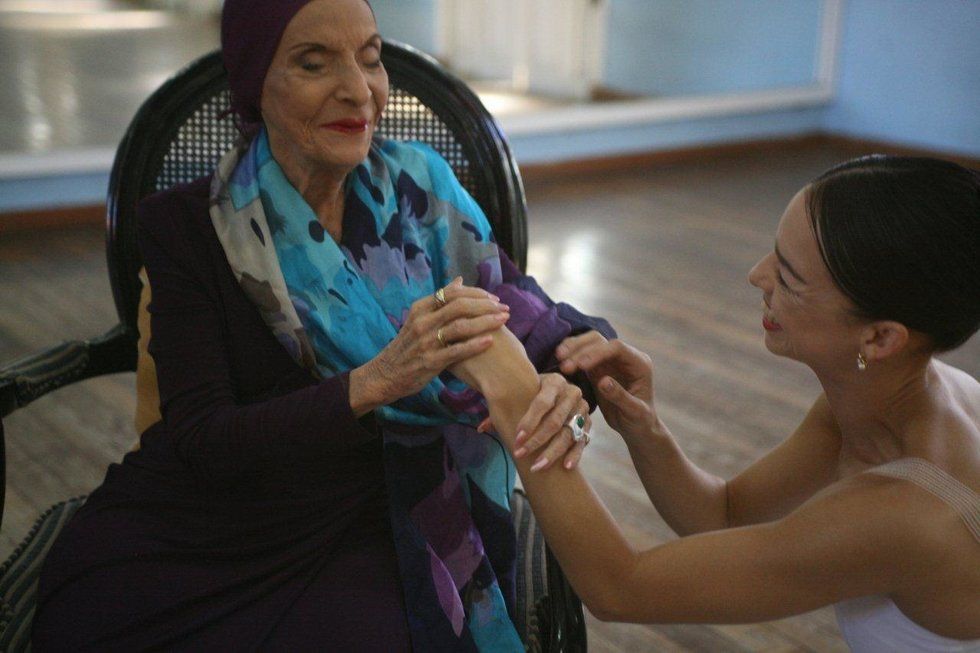 Photo by Nancy Reyes
Alonso has been the company's sole artistic director since she founded BNC along with her husband Fernando and his brother Alberto in 1948. As she's grown older, ballet lovers have been speculating about whom she might leave the company to. Questions over a possible successor started to feel even more urgent this fall, when Alonso didn't make any appearances at Havana's International Ballet Festival due to poor health.
Valdés, most likely nearing the end of her performing career at age 42, has long been considered a top contender for the position. She is beloved in Cuba—her performances there can take on the quality of rock concerts, with audiences screaming in delight at her superhuman balances and turns.
Another name that had been floated was prodigal son Carlos Acosta. However, last week's news that he would become artistic director of Birmingham Royal Ballet effectively ruled out that possibility. (We can't help wondering if the timing of these two back-to-back announcements was a coincidence, or if one decision affected another).
Valdés told Prensa Latina earlier today that Alonso has always been an idol for her, and that she hopes to continue to inspire the dancers to "share that common dream of a united and strong company." She also told reporters that she hopes to strengthen the company's relationship with the school, and feels she has a lot to offer the company's dancers in their training and professional development.
She didn't mention anything about the company's repertoire, which many lament is as outdated as some of the cars in the parking lot. For now, we'll just have to wait to see if having a younger decision maker at the helm might bring a fresher perspective.
Robin Worrall via Unsplash
Social media has made the dance world a lot smaller, giving users instant access to artists and companies around the world. For aspiring pros, platforms like Instagram can offer a tantalizing glimpse into the life of a working performer. But there's a fine line between taking advantage of what social media can offer and relying too heavily on it.
Keep reading...
Show less
UA Dance Ensemble members Candice Barth and Gregory Taylor in Jessica Lang's "Among the Stars." Photo by Ed Flores, courtesy University of Arizona
If you think becoming a trainee or apprentice is the only path to gaining experience in a dance company environment, think again.
The University of Arizona, located in the heart of Tucson, acclimates dancers to the pace and rigor of company life while offering all the academic opportunities of a globally-ranked university. If you're looking to get a head-start on your professional dance career—or to just have a college experience that balances company-level training and repertory with rigorous academics—the University of Arizona's undergraduate and graduate programs have myriad opportunites to offer:
Keep reading...
Show less
Alice Sheppard/Kinetic Light in DESCENT, which our readers chose as last year's "Most Moving Performance." Photo by Jay Newman, courtesy Kinetic Light
Yes, we realize it's only August. But we can't help but to already be musing about all the incredible dance happenings of 2019.
We're getting ready for our annual Readers' Choice feature, and we want to hear from you about the shows you can't stop thinking about, the dance videos that blew your mind and the artists you discovered this year who everyone should know about.
Keep reading...
Show less
Sergei Diaghilev, who was terrified of the sea, posing with a life preserver aboard a ship. Photo courtesy DM Archives
On August 19, 1929, shockwaves were felt throughout the dance world as news spread that impresario Sergei Diaghilev had died. The founder of the Ballets Russes rewrote the course of ballet history as the company toured Europe and the U.S., championing collaborations with modernist composers, artists and designers such as Igor Stravinsky, Pablo Picasso and Coco Chanel. The company launched the careers of its five principal choreographers: Michel Fokine, Vaslav Nijinsky, Léonide Massine, Bronislava Nijinska and George Balanchine.
Keep reading...
Show less