Op-Ed: Dance Theatre of Harlem Was My Wakanda
Black Panther, screenshot via
YouTube
Recently, I went to see Black Panther. When the aircraft penetrated the invisible force-field cloaking the fictional African nation of Wakanda—a country unmolested by European colonization, one that is powerful, prosperous, thriving and the most technologically advanced society in the world—I literally gasped.
Evan Narcisse, a pop culture critic who co-writes "The Rise of the Black Panther" miniseries told The Washington Post, "Wakanda represents this unbroken chain of achievement of black excellence that never got interrupted by colonialism." It presents African peoples with agency, self-definition and identity. In Wakanda there is no "black" excellence, there is just excellence.
---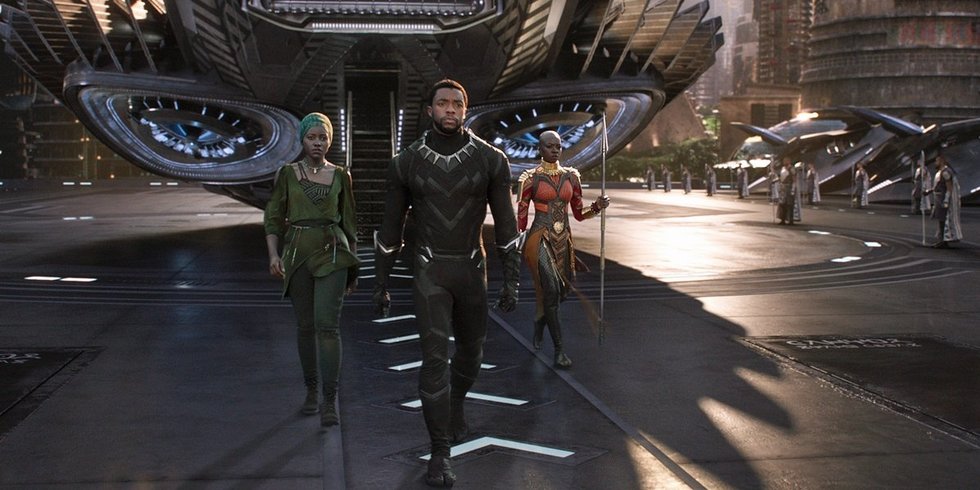 Entering Wakanda in Black Panther. Photo via movies.disney.com/black-panther
As a watched, I began to I understand the phenomenon that was taking over the black community: We were seeing an image of pan Africanism where we were all welcomed and included. For the first time, we were watching how we feel about ourselves before the world projects its image upon us and tells us differently. In it we see "what might have been."
Leaving the theater, I was experiencing a sense of awe and pride for my people and repeating, "Wakanda forever." I realized that this utopian world was triggering real-life memory harkening back to the first time I saw Dance Theatre of Harlem as child in 1978.
I was 8 years old when Arthur Mitchell and his Dance Theatre of Harlem came to Philadelphia with the show Doin' It, which incorporated 12 local children in every city. My father took me to the audition, and out of 200 children I was selected to be one of the 12.
To me, Mr. Mitchell was like a King T'Challa: regal, charming, dynamic and mystical. His voice boomed, his smile lit up the universe. When he made the pronouncement that since we were to be paid, we were now "professionals," we all pulled up a bit more, and puffed out chests our as if we had been inducted into the Dora Milaje special forces of Wakanda.
We rehearsed separately from the company until tech rehearsal, when we were ushered into the theater to be integrated with the rest of the production. That, for me, was like entering Wakanda. My eyes were greeted by a cornucopia of sepia-toned ballet dancers, all with tights and pointe shoes that matched their faces and arms. It was revelatory, akin to the feeling I had watching the five tribes of Wakanda gather at Warrior Falls.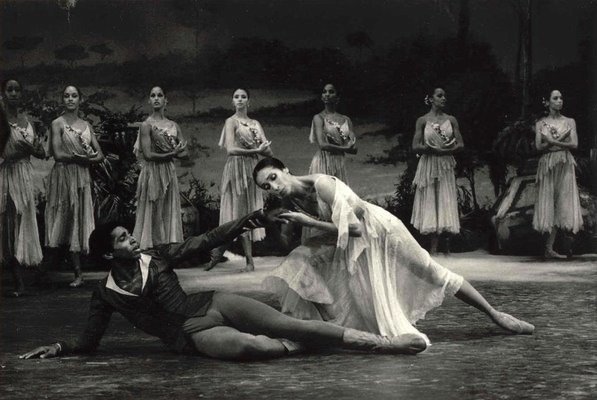 DTH in Creole Giselle (with corps dancers crossing their arms like a balletic Wakanda salute)
As a black ballet dancer, you experience an incredible sense of isolation while training in the oppressively white world of classicism. It does not have to try to be exclusionary or antagonistic because historically, this is its tradition. For young black bodies, entering that space is the antithesis of "entering Wakanda"; it feels as though you are penetrating a force-field of white privilege. The otherness of your skin tone seems to illuminate like the vibranium fibers of the Black Panther suit, and like the suit you must learn absorb all the opposing energy that comes at you (directly or through micro-aggressions) and sublimate it into a shield, much like those worn by the border tribes of Wakanda.
To my 8-year-old self, DTH was like an oasis, something that I could only dream of. When I laid eyes on a world of ballet dancers who looked like me and loved what I loved, it was life-altering.
Though my "ballet" Wakanda is in many ways a direct contradiction to the actual one (since ballet is a European art form), this correlation is less about the "what" it is, and more the "how" it made me feel.
DTH normalized blackness within the European aesthetic of ballet. While adhering to the technical strictures of ballet, it took artistic license with things like the color of tights and shoes, hairstyles, the uniformity of the corps de ballet. The DTH ballerina was allowed to be a woman—she had hips, tits and agency onstage. Our signature walk dubbed "the DTH tip" had a sassy flirtatious switch about it, apropos to the women of our culture. Yes, it was a European form, but we were "Doin' it" and doing it well. DTH made it ours—culturally.
During the '80s, the profound pride and awe that DTH inspired could not be denied. The elegance, sophistication and grace of the artists both onstage and off was cultivated by Arthur Mitchell, who understood better than anyone what dancers endured to arrive at that level. He drilled into students and professionals alike the adage, "You represent something larger than yourself."
It was something that we already knew, but he sublimated that reality from an albatross around our necks to a necklace of diamonds we wore like that of the Black Panther's—at our command it would transform into an impenetrable suit of protective armor able to absorb the slings and arrows of bigotry, racism and inequality.
Like the Wakandans, we too were sent out into the world to teach and build. Whether dance educators and directors, choreographers, college professors, administrators, lawyers or entrepreneurs we sailed forth carrying with us the standard of excellence and pride that had been embossed on us from our experiences within the walls of 466 West 152nd Street, Harlem, New York. Those of us who had the privilege to inhabit that rarified space remember because it lives within us.
Dance Theatre of Harlem was our Wakanda, forever.
Courtesy Rachel Hamrick
When Rachel Hamrick was in the corps of Universal Ballet in Seoul, her determination to strengthen her flexibility turned into a side hobby that would eventually land her a new career. "I was in La Bayadere for the first time, and I was the first girl out for that arabesque sequence in The Kingdom of the Shades," she says. "I had the flexibility, but I was wobbly because I wasn't stretching in the right way. That's when I first started playing around with the idea of the Flexistretcher. It was tied together then, so it was definitely more makeshift," she says with a laugh, "But I trained with it to help me get the correct alignment so that I would have the strength to sustain the whole act."
Now, Hamrick is running her own business, complete with an ever-growing product line and her FLX training method—all because of her initial need to make it through 38 arabesques.
Keep reading...
Show less
The cast of Head Over Heels performs "We Got the Beat." Photo by Joan Marcus, Courtesy Boneau/Bryan-Brown.
For the new Broadway season, Ellenore Scott has scored two associate choreographer gigs: For Head Over Heels, which starts previews June 23, Scott is working with choreographer Spencer Liff on an original musical mashing up The Go-Go's punk-rock hits with a narrative based on Sir Philip Sidney's 1590 book, Arcadia. Four days after that show opens, she'll head into rehearsals for this fall's King Kong, collaborating with director/choreographer Drew McOnie and a 20-foot gorilla.
Scott gave us the inside scoop about Head Over Heels, the craziness of her freelance hustle and the most surprising element of working on Broadway.
Keep reading...
Show less
Get the print edition!
Just for Fun
Jun. 21, 2018 01:27PM EST
Including, of course, Center Stage (Screenshot via Vimeo)
Keep reading...
Show less
In rehearsal for Dreamgirls. Photo Courtesy DM Archives.
Broadway musicals have been on my mind for more than half a century. I discovered them in grade school, not in a theater but electronically. On the radio, every weeknight an otherwise boring local station would play a cast album in its entirety; on television, periodically Ed Sullivan's Sunday night variety show would feature an excerpt from the latest hit—numbers from Bye Bye Birdie, West Side Story, Camelot, Flower Drum Song.
But theater lives in the here and now, and I was in middle school when I attended my first Broadway musical, Gypsy—based, of all things, on the early life of the famed burlesque queen Gypsy Rose Lee. I didn't know who Jerome Robbins was, but I recognized genius when I saw it—kids morphing into adults as a dance number progresses, hilarious stripping routines, a pas de deux giving concrete shape to the romantic yearnings of an ugly duckling. It proved the birth of a lifelong habit, indulged for the last 18 years in the pages of this magazine. But all long runs eventually end, and it's time to say good-bye to the "On Broadway" column. It's not the last of our Broadway coverage—there's too much great work being created and performed, and you can count on hearing from me in print and online.
Keep reading...
Show less
Jeremy Pheiffer, Michael Watkiss in THEM, PC Rachel Papo
If you want to know how scary the AIDS epidemic was in the 1980s, come see Ishmael Houston-Jones' piece THEM from 1986. This piece reveals the subterranean fears that crept into gay relationships at the time. Houston-Jones is one of downtown's great improvisers, and his six dancers also improvise in response to his suggestions. With Chris Cochrane's edgy guitar riffs and Dennis Cooper's ominous text, there's an unpredictable, near-creepy but epic quality to THEM.
Keep reading...
Show less
Popular
Jun. 06, 2018 01:13PM EST
Stagestep's Encore hardwood flooring for full-service broadcast production facility, dance center and venue, Starwest, in Burbank, CA.
What is the right flooring system for us?

So many choices, companies, claims, endorsements, and recommendations to consider. The more you look, the more confusing it gets. Here is what you need to do. Here is what you need to know to get the flooring system suited to your needs.
Keep reading...
Show less
Catherine Conley is now a member of the National Ballet of Cuba. Photo courtesy Riley Robinson
This time last year, Catherine Conley was already living a ballet dancer's dream. After an exchange between her home ballet school in Chicago and the Cuban National Ballet School in Havana, she'd been invited to train in Cuba full-time. It was the opportunity of a lifetime, and one that was nearly unheard of for an American dancer. Now, though, Conley has even more exciting news: She's a full-fledged member of the National Ballet of Cuba's corps de ballet.
"In the school there were other foreigners, but in the company I'm the only foreigner—not just the only American, but the only non-Cuban," Conley says. But she doesn't feel like an outsider, or like a dancer embarking on a historic journey. "Nobody makes me feel different. They treat me as one of them," she says. Conley has become fluent in Spanish, and Cuba has come to feel like home. "The other day I was watching a movie that was dubbed in Spanish, and I understand absolutely everything now," she says.
Keep reading...
Show less
Get the print edition!
Aguirre taking a cooking class in Thailand. Photo courtesy Aguirre
Chantel Aguirre may call sunny Los Angeles home, but the Shaping Sound company member and NUVO faculty member spends more time in the air, on a tour bus or in a convention ballroom than she does in the City of Angels.
Aguirre, who is married to fellow Shaping Sound member Michael Keefe, generally only spends one week per month at home. "When I'm not working, I'm exploring," Aguirre says. "Michael and I are total travel junkies."
Keep reading...
Show less
Florence Welch and Akram Khan share the choreography credit for Florence + the Machine's new music video "Big God." Via Instagram @florence
Akram Khan and Florence Welch (of Florence + The Machine) is not a pairing we ever would have dreamt up. But now that the music video for "Big God" has dropped, with choreography attributed to Khan and Welch, it seems that we just weren't dreaming big enough.
In the video, Welch leads a group of women standing in an eerily reflective pool of water. They seem untouchable, until they begin shedding their colorful veils, movements morphing to become animalistic and aggressive as the song progresses.
Keep reading...
Show less
Savannah Lowery in George Balanchine's "Rubies." Photo by Paul Kolnik
Savannah Lowery is about as well acquainted with the inner workings of a hospital as she is with the intricate footwork of Dewdrop.
As a child, the former New York City Ballet soloist would roam the hospital where her parents worked, pushing buttons and probably getting into too much trouble, she says. While other girls her age were clad in tutus playing ballerina, she was playing doctor.
"It just felt like home. I think it made me not scared of medicine, not scared of a hospital," she says. "I thought it was fascinating what they did."
Keep reading...
Show less
Get the print edition!
Alice Sheppard photographed by Jayme Thornton for Dance Magazine
It can be hard to focus when Alice Sheppard dances.
Her recent sold-out run of DESCENT at New York Live Arts, for instance, offered a constellation of stimulation. Onstage was a large architectural ramp with an assortment of peaks and planes. There was an intricate lighting and projection design. There was a musical score that unfolded like an epic poem. There was a live score too: the sounds of Sheppard and fellow dancer Laurel Lawson's bodies interacting with the surfaces beneath them.
And there were wheelchairs. But if you think the wheelchairs are the center of this work, you're missing something vital about what Sheppard creates.

Keep reading...
Show less
News
Jun. 20, 2018 10:28AM EST
The Broadway revival of CATS. Photo by Matthew Murphy
A Jellicle Ball is coming to the big screen, with the unlikeliest of dancemakers on tap to choreograph.
We'll give you some hints: His choreography can aptly be described as "animalistic," though Jellicle cats have never come to mind specifically when watching his hyper-physical work. He's worked on movies before—even one about Beasts. And though contemporary ballet is his genre of choice, his choreography is certainly theatrical enough to lend itself to a musical.
Keep reading...
Show less


Get Dance Magazine in your inbox